Essential apps for the self-employed
Self-employment is a very common career choice nowadays. And it can be very lucrative, when done right. However, to become a successfully self-employed individual, one needs to know how to monitor a lot of different aspects of one's business. That is why apps and tools that help people navigate solo entrepreneurship are abundant. We're here to help you choose the best of the lot.
We've addressed the kinds of apps a self-employed person needs, the most notable ones in each category, as well as additional resources that can help your entrepreneurial endeavor.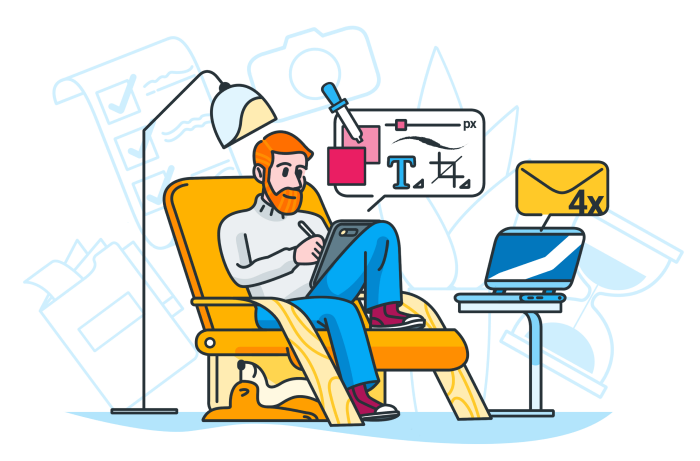 What is the best app for the self-employed?
Here's something you may have already guessed: there is no single best app that will cover all of your business needs.
No one app to rule them all.
Whether you are simply freelancing or trying to run a one-person company, you have to cover a lot of different avenues: client invoicing and reporting, website traffic, finances, customer support and communication, and much more. While some of these avenues can differ depending on your industry, the main ones remain the same. There are essential apps every self-employed person must have to keep their business afloat, and also enable it to grow steadily.
Without further ado, let's take a look at the list of best apps for the self-employed.
1. Apps for time management
Time management has a huge part to play in self-employment. It dictates how well you manage your most valuable resource – time. Where you spend in, what aspects of your job you invest it in, and most importantly, how you handle wasted time. That is why you need to find apps that can help you reign in the haphazardness in your mind when dealing with hundreds of things self-employment brings.
You want something that will make you productive, point out holes in your workflow, and help you make smarter choices with how you spend your time.
Clockify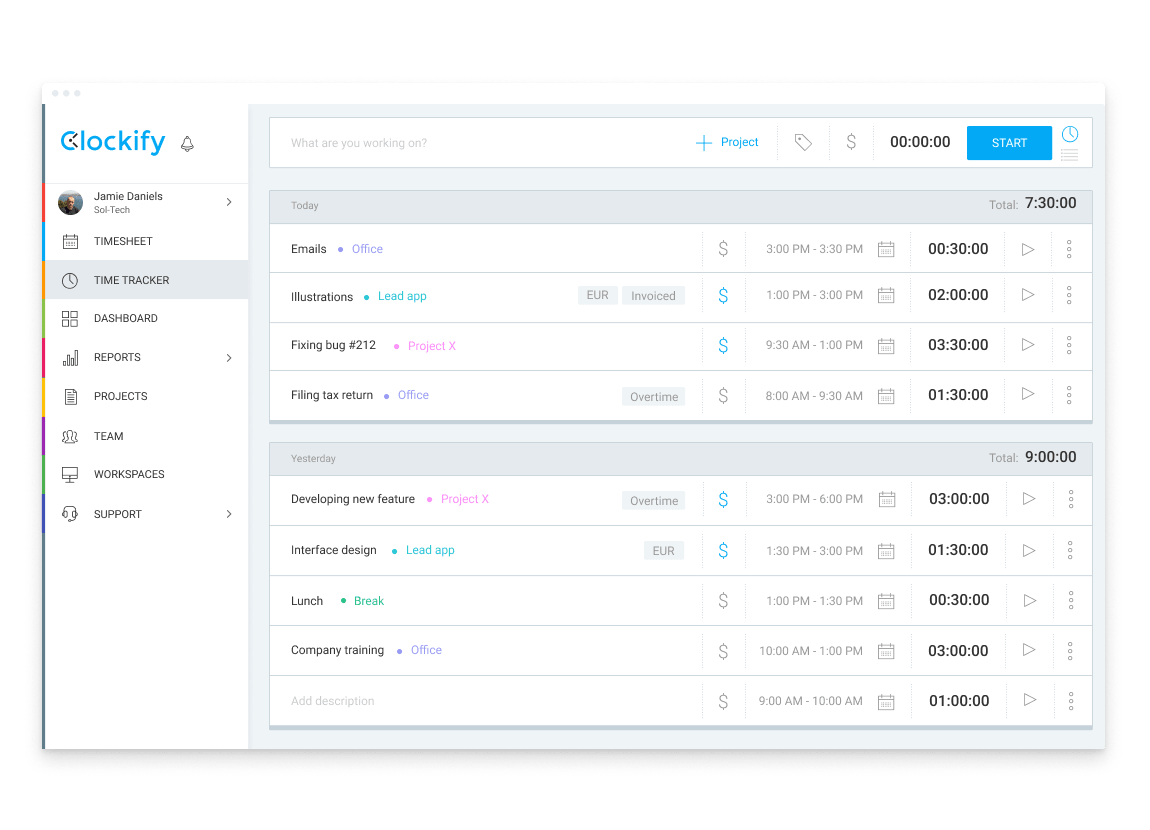 Clockify is a free time clock app at its core that can grow into a full-fledged time management tool depending on what you need. It can handle project tracking, weekly reports, lightning-fast time entries, and crafting timesheets to show your clients or customers upon invoicing. Clockify is a digital assistant with all things concerning productivity and it's perfect for freelancers and smaller businesses, scaling along with your workload without a hitch.
Some of its most notable features are:
Seamless integration with hundreds of other popular apps;
Tracking billable and non-billable hours for detailed reporting;
Dozens of project templates;
Visual charts;
Time audit;
Branded reports.
💡 Want to know more about wrangling time when self-employed? Here are 58 time management tips to choose from, which will guide you to a massive uptick in productivity in no time.
Flipd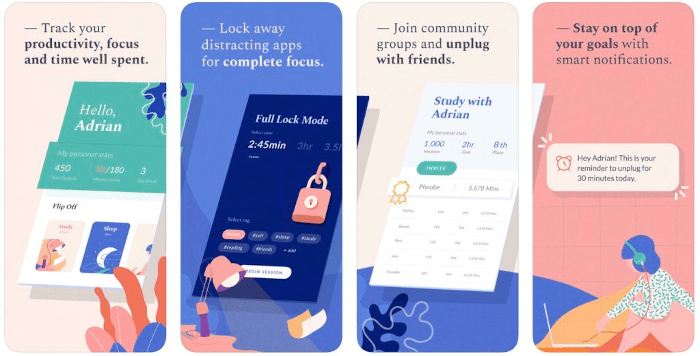 The workload you face in self-employment can be overwhelming more often than not. In order to combat it, to prevent the burnout that comes with such stress, it's important to practice mindfulness. To stay on top of your tasks, customer requests, projects, and other, you need to know when to unplug from your phone. Flipd is an app that helps with that.
It has music tracks for meditation, a community feature, mindfulness statistics, coaching and productivity tips, and much more. There is also a full locked mode if you find it difficult to stay away and need to cut yourself off from the device completely. It also features:
Schedule creation;
Productivity tracker;
Smart notifications;
Guided audio resources.
2. Apps for writing up business plans
A solid business plan is crucial to getting investors to back up larger/financially demanding projects. And even if you don't plan on getting outside help, a document that outlines how you plan to develop your business one, five, ten years from now is more than just a useful roadmap. It should be the framework you fall back on whenever difficult decisions need to be made, or you decide to change the course of your business.
Enloop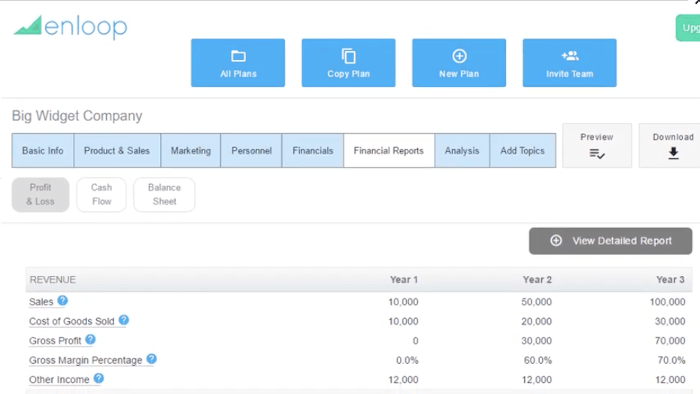 Enloop is an app that makes business plan building as easy as it can be. You simply enter specific data, and the app generates the plan based on it. It formulates everything, from sales to projections, profits and possible losses, all with clear and simple visuals. Some notable features include:
Additional users (accountant, business partner);
Performance score that changes in real-time;
Automatic text generation;
Forecast comparison to industry peers.
So, if you aren't that interested in detailed involvement with the business plan, Enloop is a good choice. It takes the tediousness out of the process. However, if you are the kind of person who needs more agency, the next app could be more useful.
RocketLawyer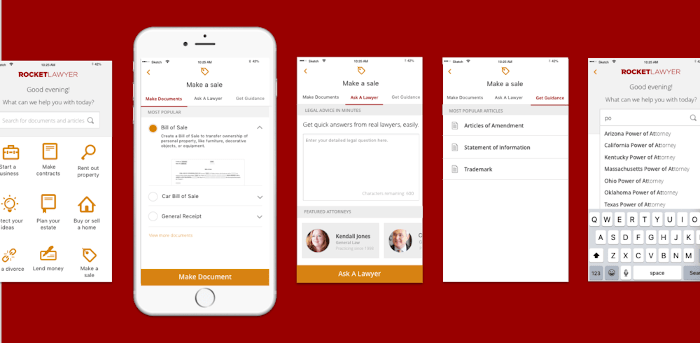 Rocket Lawyer helps you build a business plan by guiding you through the process step-by-step. Additionally, they offer legal advice online and let you sign not only your business plan, but also other online forms and contracts, making them legal documents. Other features include:
Legal staff support;
Instructions and useful FAQ on their website;
Access from multiple devices.
3. Bookkeeping and financial apps
When it comes to bookkeeping, a lot of self-employed people find themselves wondering "how to keep track of expenses?" There's plenty to pay attention to – invoices, taxes, business expenses regarding commute, courses, and payment processing fees. So, to stay on top of all the business spending, you need an app or two that will keep track of several things:
Payment processing;
Invoicing;
Basic bookkeeping and tax processing.
So, let's see which apps can offer these services.
QuickBooks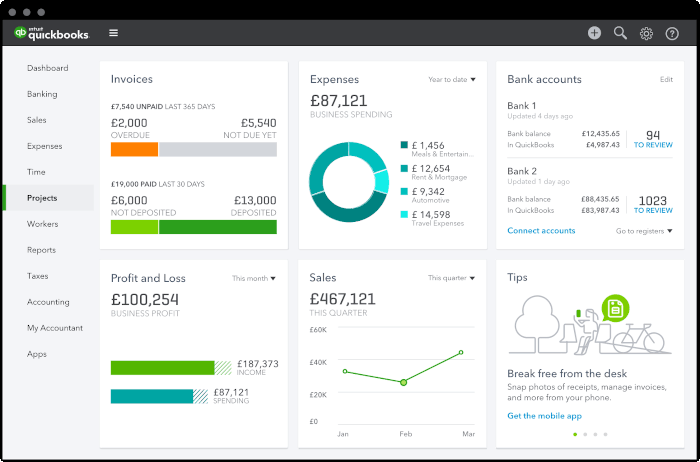 QuickBooks is your small personal accounting firm. It's an established tool with years of experience and perfecting its features. QuickBooks handles everything – invoicing, expenses, tax calculation and more. It's available on all devices and keeps all data up-to-date on every one of them. Additionally, it comes with:
Cloud accounting;
Data preparation for your accountant;
Integration with other apps;
High-level data security.
Square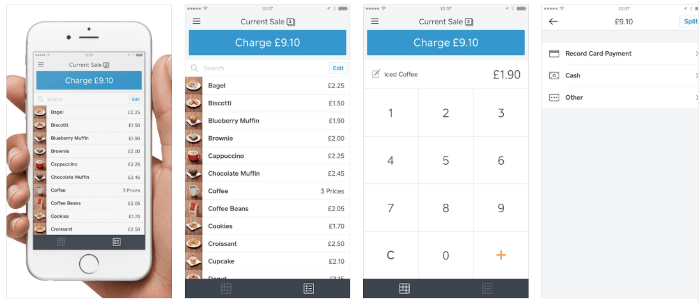 Square is a great payment processing tool for small businesses and those self-employed. You can also get their card reader for easy and effortless on-the-go payment. Square also offers simple, flat rates for credit card processing, which makes it a favorite among numerous small businesses and entrepreneurs. Perhaps most notably, it works really well with tablets and on mobile, for those who are always on the move. Square is also:
Applicable to any industry;
Easy to set up and use;
Tracks inventory;
Integrates with accounting software;
Prints receipts;
Sets discounts, etc.
Stripe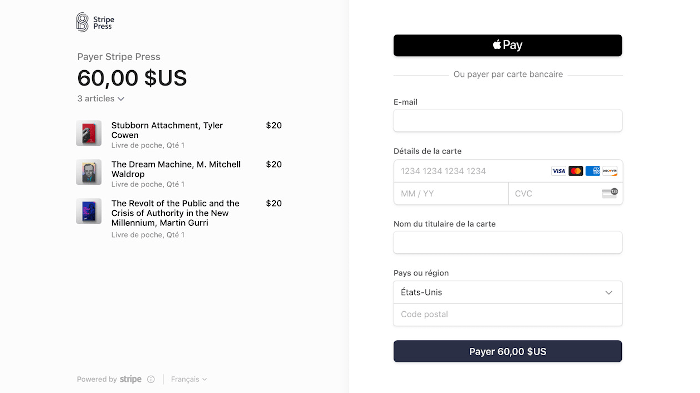 Stripe is an online solution designed for developers. It is probably the most branched-out service with several hundred integrations. If your business doesn't require you to process payments on the go or in person, then Stripe could be the right match. Especially since you can integrate it with your other tools to make for a seamless workflow. Stripe also boasts:
A highly customizable, premade checkout;
Customer information and subscription plans;
Tutorials and guides for beginners.
💡 If you're still on the fence about a financial app, there's a list we have compiled of the most popular choices for billing software for freelancers. It's a guide to help you find the most suitable tool for your business, and to eliminate months of trial and error.
Other financial resources for freelancers that might interest you:
4. Website building apps
Every self-employed person striving to succeed in the market today needs a strong online presence. The first step towards it is to build a website. Reliance on social media can only get you so far.
A website, on the other hand, allows you to display your address (in case of brick and mortar businesses), important information, announcements, reviews, and much more. As such, it's an invaluable catalog of your services and the face of your business. The following apps proved to be great for beginner entrepreneurs for letting users easily build a website from scratch.
So, if you can't afford a designer at the moment, here are your best options:
GoDaddy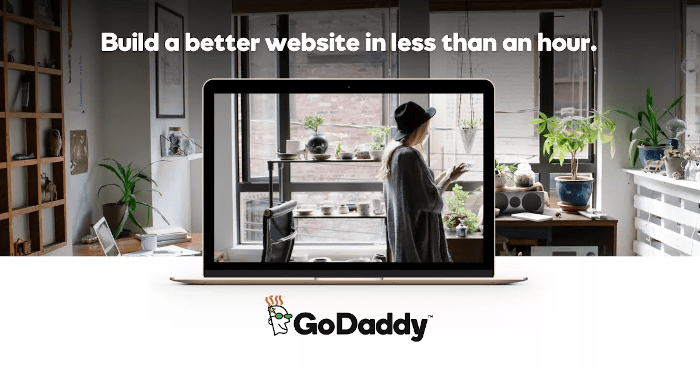 GoDaddy is a great tool for first-timers in blogging and website building. It is very user friendly with plenty of templates, customizable themes, hosting, and so on. You also get access to all social media widgets, drag-and-drop page builder, easy call to actions, etc. If you need a high level of customization with some room for advanced tinkering later on, GoDaddy could be a good match for you. Lastly, GoDaddy seems to be a leader in loading speed times, which is essential for customer retention nowadays. Other notable details include:
Premade promotional banners for your storefront;
Customer contact forms;
Easy to set up call-to-action;
Insight score and metrics.
Wix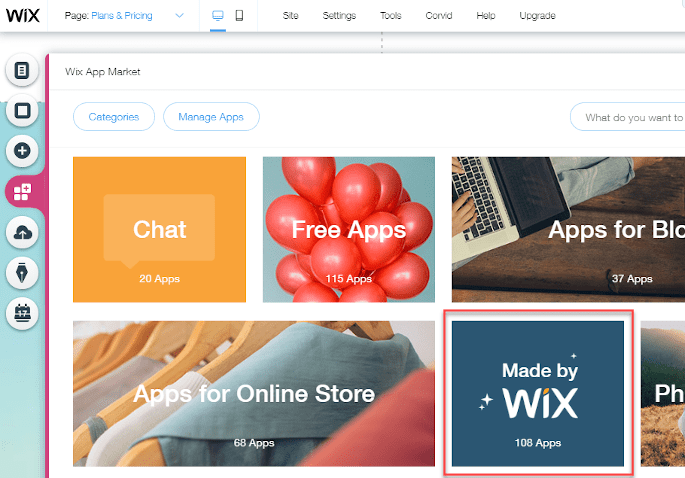 Very similar to our previous mention, Wix is a user-friendly website builder tailored to self-made businesspeople. Whether you're opening a storefront, making a writing or artwork portfolio, Wix welcomes hundreds of different industries and boasts templates that are designed specifically for them. It is intuitive to use, has very high recommendations by other users, and is based around the drag-and-drop method of building a website. This makes it extremely easy to use. There's also:
Unlimited fonts archive;
SEO plans;
Marketing and business tools;
Product pages;
Shipping, payment process integration, etc.
5. Contracting and legal apps
Legal apps are an important addition to your self-employment journey. By legal apps we mean those that help you write up contracts, define legal terminology you're unfamiliar with, or serve as a pocket helper for any question you may have. It's easier than ever to get scammed by unpaying clients, or get into a dispute over poor documentation. If you really cannot afford a lawyer or a tax advisor (which is always better, of course), these apps can come in handy to prevent some legal mishaps.
Forms by LegalShield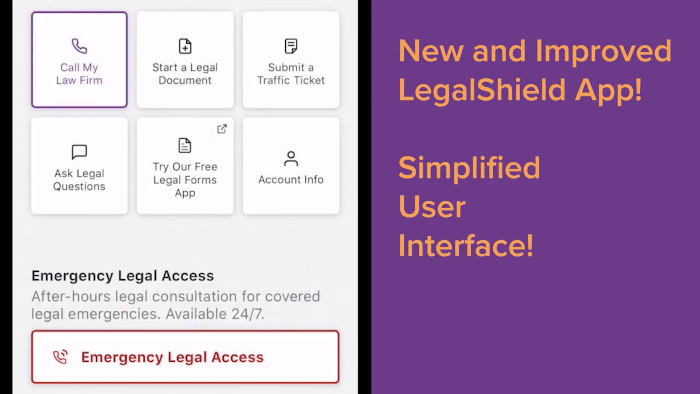 Forms is a legal document mobile app, and truly one of a kind. It has a database of over 300 legal documents and forms available for download and use. The legal forms they offer are easy to read and understand, and include loan and lease agreements, contract work, bills of sale, etc. It was designed to help freelancers and small businesses understand and employ legal agreements for day-to-day affairs, without having to hire expensive legal advisors.
Some other features are:
Additional free form templates on the website;
On-person and remote signing;
Audit trails;
Lawyer consultation with LegalShield membership.
GoCanvas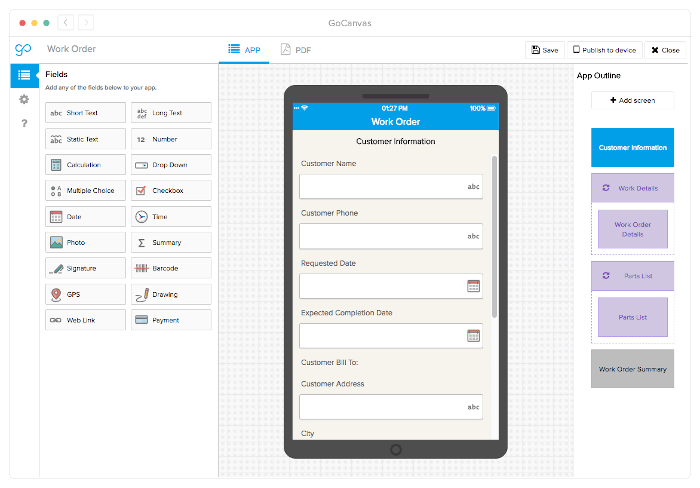 GoCanvas is a tool that focuses on saving you from a mountain of paperwork. Through its signature drag-and-drop feature, forms, contracts, and agreements can be constructed easily through its signature drag-and-drop feature, electronically signed, and stored away. It's worth noting that GoCanvas is made for formulating contracts between two individuals.
It also features:
Integrated calculations;
Barcode scanning;
Customized .pdf reports;
Integrations with multiple document storage and financial apps.
6. Networking apps
Networking lets you connect with other like-minded entrepreneurs, and open up new opportunities for growth and more visibility both online and offline. The following apps have specific features that can help you find potential new clients, collaborators, or to expand your professional address book.
LinkedIn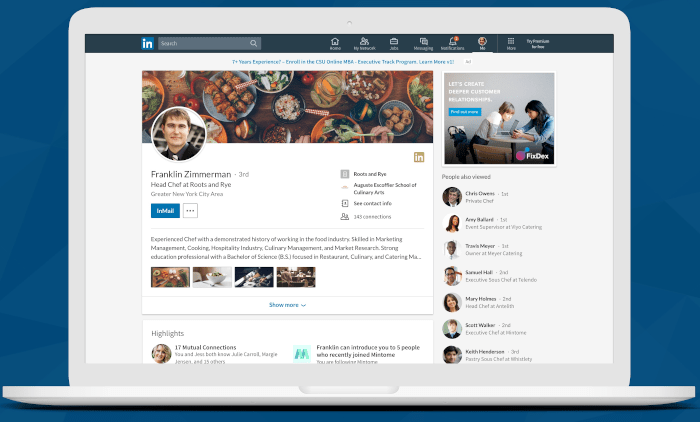 LinkedIn is an established, one could say – household – name in the online space. It is like social media for professionals. You can connect with people from different industries, write posts and articles, join courses and get the latest news concerning conferences and events. LinkedIn makes for a semi-formal networking app that brings many industry professionals and clients closer to you for possible collaborations or work.
Some other notable features are:
Professional portfolio/CV embedded;
The ability to create your business page;
Analytics;
Networking suggestions, etc.
Invitly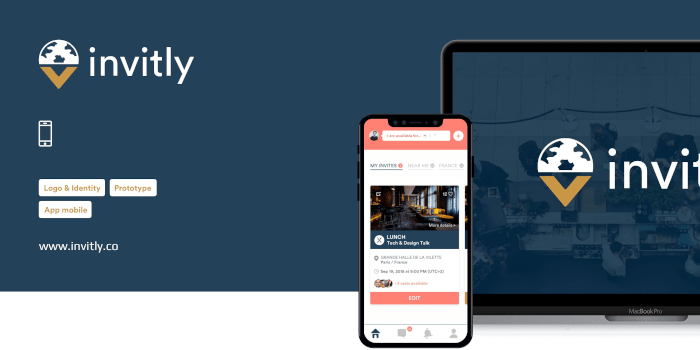 Invitly is an app that can connect you to like-minded business people. Every day, it presents you with batches of profiles suggested based on your business's information. Using your personal profile, work history, career goals, education, and more, they can find the best people you can connect with to expand or improve your business. It's worth noting that Invitly is a members-only group you need to sign up for.
Invitly also features:
Access to workshops, seminars, and events;
A selection of coaches;
Face-to-face meetings with your connections.
HARO (Help A Reporter Out)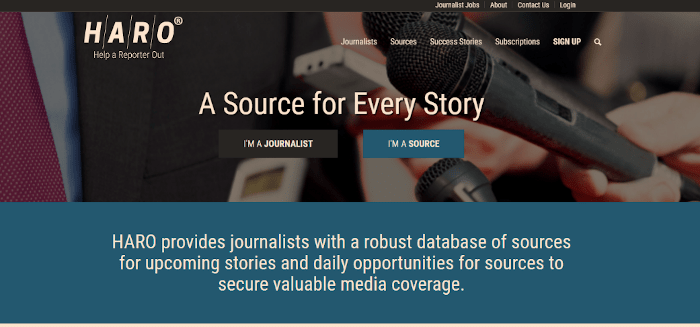 Haro is a networking app with a slightly different method of increasing your visibility. It is a service where writers and experts can find interviewees for their online articles, and interviewees can give their two cents on topics of interest. Three times a day, HARO sends an email blast with a list of queries that need answers. You can connect with the author and send a reply to their query. If used in the article, your answer will be signed with your name and a link to your business.
As such, HARO can be an unusual but good method of getting the word out about you and your business.
VoilaNorbert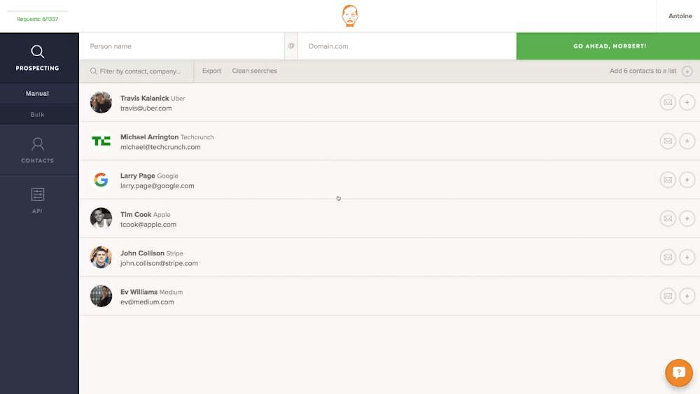 VoilaNorbert is a tool that helps speed up your lead finding process. If you want to get in touch with someone but can't seem to find their contact, the app will "dig it out" for you. As a bonus, you get a virtual address book of all your ongoing, potential and dropped leads, which keeps from accidentally spamming the same people. The app helps you with:
Contacting news outlets or relevant blogs;
Content marketing;
Building a professional contact list;
Finding sales.
💡 Here are some of our takes on tackling collaboration and partnerships for cross-promotion or expanding your business:
7. Customer communication apps
If you're providing a service, or have a steady stream of recurring customers, you definitely want to keep them informed about any deals, discounts or changes. While you can always put this on your website, the odds of all of your customers seeing the information in a timely manner are small. Newsletters can be a great step forward in keeping good relations with old customers and solidify a connection with new ones.
MailChimp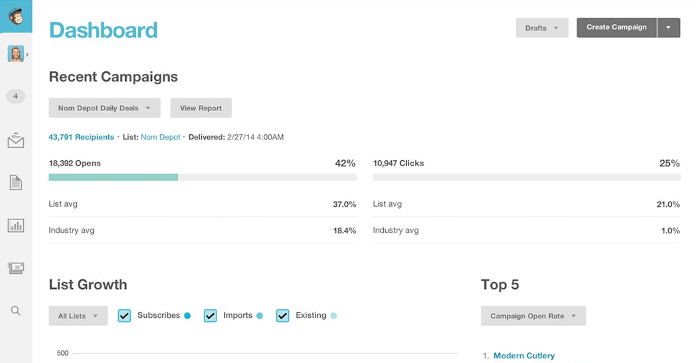 MailChimp is a popular choice among entrepreneurs and small business because of its affordable plans and powerful features. It's email marketing at its best. With MailChimp you can create email campaigns, manage subscribers, check your analytics and much more. Their free plan has everything a freelancer or a small business could need, which makes it a popular option. The service offers:
Email blasts and targeted emails;
Customized sign-up forms;
Google analytics integration.
Typeform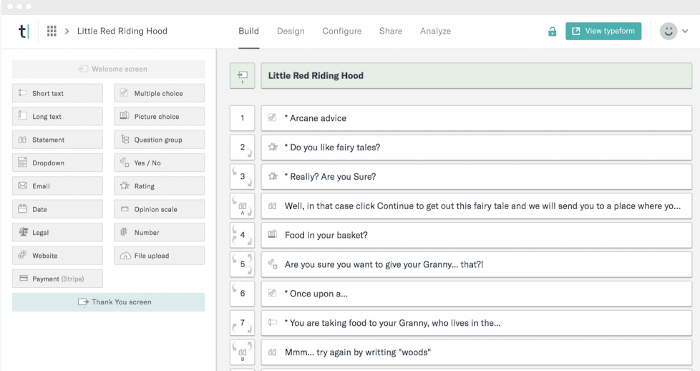 Typeform is a simple, yet effective tool to get feedback from customers and clients. It allows you to ask questions concerning customer satisfaction, quality assurance, and more. When paired with MailChimp, you get to reach out to every subscriber via regular email blasts and get important information concerning their preferences, comments, suggestions, etc. This is a great way to build trust and rapport, further ensuring customer retention.
Typeform also offers:
Questionnaires and quizzes;
Form templates;
Conversational forms that function like chatbots.
Customer engagement is highly important nowadays. A word of mouth can still go a long way, so consider investing some time and resource into it, as it can guarantee great rewards in retention and conversion.
Conclusion
Being your own boss, as freeing as it sounds, is a lot of work. There are so many details to look out for, one could easily get overwhelmed into quitting. Fortunately, we do have tools in the form of online services and apps that help us navigate that demanding space. You need a solid time management app, invoicing and accounting tool, customer communication software, and basic legal apps to keep a level head in a very insecure market.