Free employee time clock app
Clockify is the most popular free online time clock app for employees. With it, employees can clock-in and clock-out using an online timer. Great for tracking employee attendance, seeing who works on what, and exporting data for payroll or billing.
Available for web, desktop, and mobile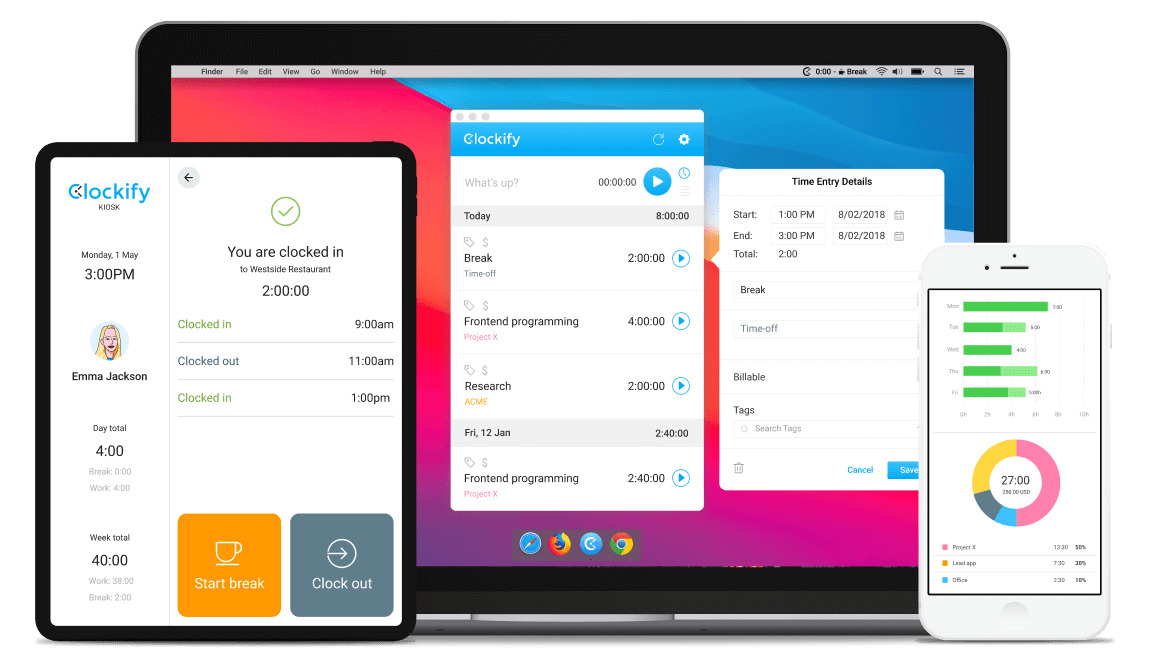 Insanely simple time clock app
With Clockify, a free time clock app, you can turn any internet-connected device into a time clock. No more expensive hardware or paper time cards. Using Clockify is much easier than dealing with time cards, calculators, or cumbersome spreadsheets.
Your office and remote/offsite employees can clock in on their mobile phones or desktop computer using the Clockify time clock, and that way record their attendance and breaks. If someone forgot to clock in, they can add the missing time manually.
Clockify is a web app, but it can also work offline. When your internet connection goes down, you can use our iOS and Android app time clocks to keep tracking data at all times.
Track work hours for each projects
Calculate billable hours, labor costs, and payroll
Track attendance, paid/unpaid breaks, and time off
Track project progress and budget
Track employee productivity
How Clockify works
Step 1
Create Clockify account
Step 2
Invite your team
You can invite unlimited number of people, for free.
Step 3
Employees track their hours
Each team member gets their own time clock. They just type what they are working on and clock-in and clock-out manually with a single click, or automatically when they turn on/off the computer (they need Chrome or Firefox extension for automatic start/stop).
If you don't need live time tracking, employees can also log hours manually in a timesheet.
Step 4
See when someone clocks-in or clocks-out
See who currently works on what (their running timer), when was their last activity, and see a visual breakdown of their workweek.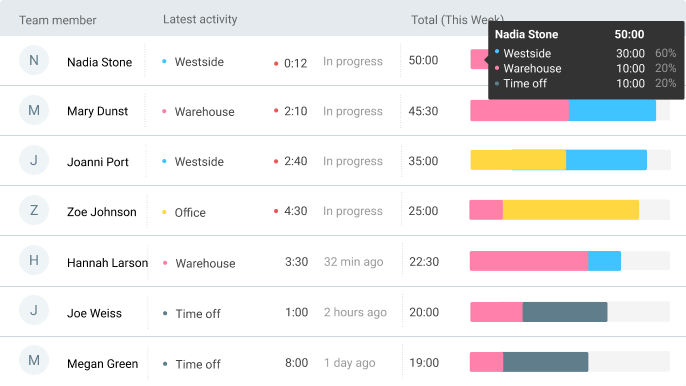 Step 5
See who worked when
Weekly report shows you who logged how much time each day in the week. If people forget to log time, Clockify can automatically send them reminders.
Step 6
Export reports
You can run an online report and break down time tracking data however you need. When the time comes, export the report as PDF, Excel, or CSV.
Download PDF samples: Summary • Detailed • Weekly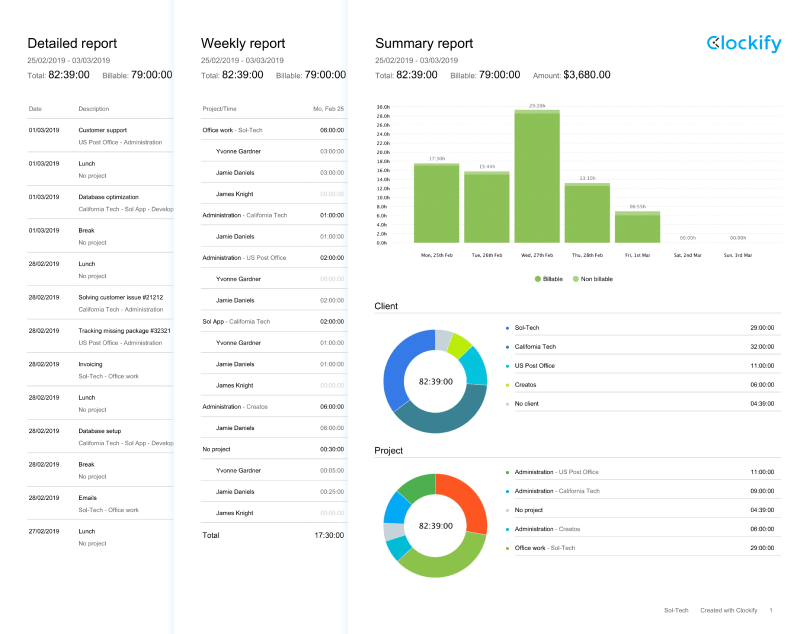 Step 7
See GPS locations
See current or last known locations of your onsite field workers and all visited worksites.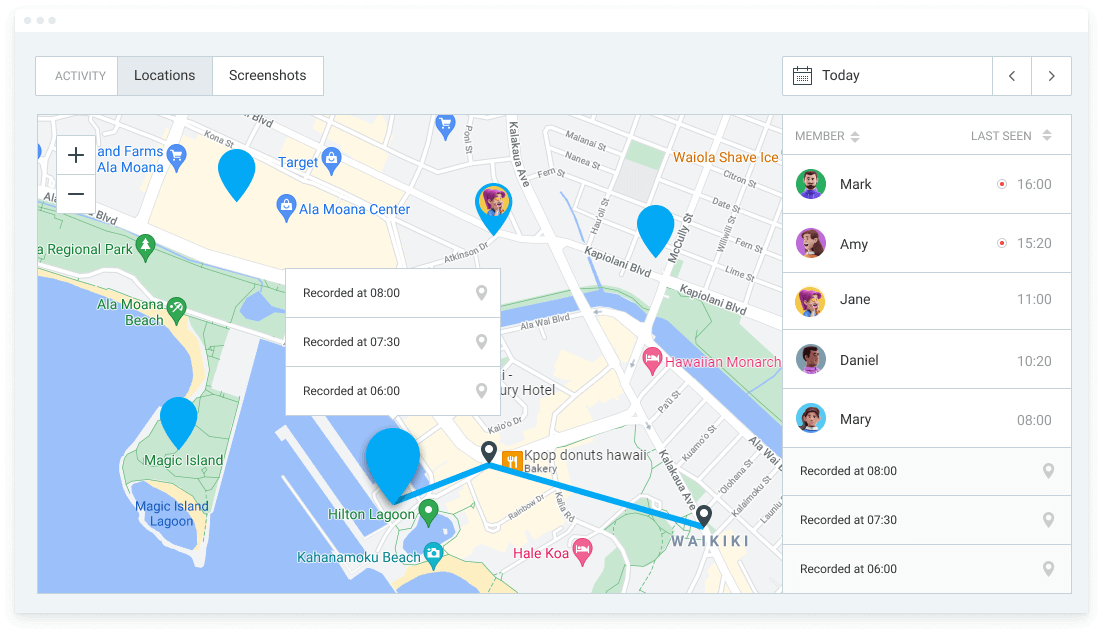 Time clock features
Insanely simple
Start timer for activities with one click.
Works everywhere
Track time in browser, or via desktop or mobile app.
Timesheet
Manually fill your weekly timesheets.
Unlimited users
Free no matter how many users you have.
Export reports
Download data in PDF, CSV, and Excel.
Hourly rates
Automatic calculation of billable and payroll hours.
Reminders
Automatic emails when people forget to log hours.
Approvals
Team managers can approve employee timesheets.
Integrations
Integrates with 50+ apps for easier tracking.
★★★★★
Perfect for tracking our employees' hours
"We needed a better way to keep track of everyone's time, attendance, projects, and budgets in one place. Enter, Toggl! It seemed like a dream come true except... you had to pay per month and per person! There was no way our little company could afford that.
As a company just starting to get off the ground, we need every penny we can spare and a good way to track our employees' hours and project investments. Now that Clockify time clock app is available, I have even higher hopes for our company's success this year."
— Katelyn Salem‎, Video editor at Synema Studios