Are you good with money or it seems to just slip through your fingers?
Do you assign a job to every dollar you earn or do you just go with the flow when it comes to money management?
Do you control your finances or do they control you?
You don't have to answer out loud – if you choose at least one of the latter options, just keep reading.
In this article, we'll learn what expense tracking is, why you should do it, and we'll offer you some resources that can help you regain control of your finances, both personal and business.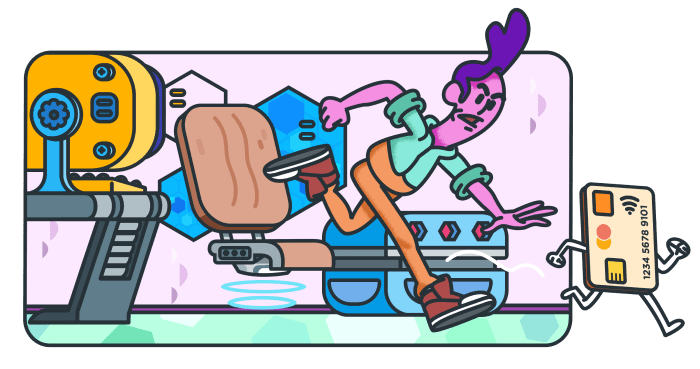 What is expense tracking and why it's important
Whether you're unsure where exactly your paycheck goes (and why it goes so fast) or you are aiming to take the wheel of your business finances, you can benefit from tracking your expenses.
On this blog, we talk a lot about time tracking and how it helps you become aware of how you spend your time and if you need to implement some changes in your schedule. Similarly, expense tracking helps you have a clear overview of where your money goes, what expenses you can cut off, and helps you create a good weekly or monthly budget.
If you're still not convinced, we'll go over a few of the expense tracking benefits.
Puts you in control of your finances
As Francis Bacon said, "Money is a good servant, but a bad master."
While "just go with the flow" is not a bad motto to have, it can't be applied to managing money (at least not if you want to keep it). You have to control your money instead of letting your money control you.
Tracking your expenses will help you stay on top of your budget and not overspend or waste money on things you don't need. This is especially important if you own a small business.
Keeps you focused on your financial goals
Being in control of your finances makes you more focused and more confident when it comes to reaching your financial goals. Expense tracking will ensure you're on the right path and putting money towards your priorities, whether that's getting out of debt, saving for a house, or investing in a new business venture.
Reveals spending issues
The first step to solving a problem is knowing what the problem is.
When you start tracking your expenses, you can see if you have some bad spending habits (no judgment, we all do) or a budget category that you need to reevaluate.
It will also make you catch expenses you forgot about, such as a subscription you don't use anymore or a free trial that's not free anymore.
Makes business forecasting easier
Another perk of expense tracking is that it makes business forecasting easier, as you can make more educated guesses based on all the data you gathered.
Also, it will facilitate calculating your business' profitability – you can easily see if you're making money and how much, which will help you attract investors, keep your employees happy, and fund your day-to-day expenses.
Helps you stick to your budget and cut out impulse spending
Expense tracking makes you aware of how much you've already spent and how much more you can spend in each budget category. Being aware of the amount of money you have at all times, you'll know if you need to cut some unnecessary costs.
What is more, it will motivate you to spend your money consciously, instead of impulsively and recklessly. Knowing that you'll have to write down that you wasted your hard-earned money on something trivial will make you think twice if you actually need that thing.
Helps you solve problems on time
When you track your expenses, you know how much money you have at all times. That means that if a certain amount of money disappears from your bank account, you'll notice – and when it comes to finding out your account was compromised, it's better to know sooner rather than later. That way you can take the necessary steps to resolve the problem as soon as possible.
Frauds are not the only problem that can occur – unexpected costs can pop up anytime. When you're in control of your finances, they're not as big of an issue as they could be if you were freestyling your monthly money management.
How to track expenses?
Create a budget and divide it into categories. It's important to determine in advance how much money you can spend in each category so that when you subtract your expenses from your income, you get zero (or a positive number). That's called zero-based budgeting.
If you're a small business, choose accounting software. A lot of new small businesses choose a single-entry bookkeeping system as it's the easiest to use – you record income when you receive it and expenses when you pay them.
Also, set up all the accounts you'll need, such as checking and savings account, credit card, payroll, accounts payable and receivable, etc.
Track your expenses every day to have accurate data. Ideally, you should track your expenses as soon as you make them, but tracking them once a day may be more realistic.
You can automate the process – check out the resources we recommend later in the article.
Keep the receipts for several reasons, from tax purposes to having proof for all of your spendings.
See if there's room for improvement. After each month, check what you spent the money on and see if you need to implement some changes in your budget or alter your spending habits.
Expense tracking resources
There are many resources that can help you to make expense tracking even easier – from templates to apps, free and paid.
These are free expense report templates you can use to seek reimbursement for business-related expenses. They can be used for things such as business travel expenses, project expenses, money spent on business lunches and dinners with clients, or lodgings during business travels.
Alongside these templates, you can use Clockify to facilitate expense tracking even further. Clockify is a free time tracking app that allows you to track the time spent on tasks and projects, but it can also speed up your expense reporting if you use Clockify's custom fields. The custom fields feature lets you add a special custom field to your time entries where you'll be able to add your expenses for each task you track time on, specify your mileage on business trips, add links to your receipts, etc.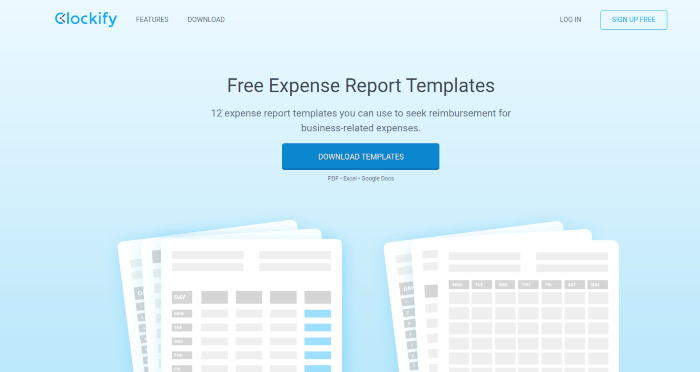 Expensify is a tool used for automating expense management and receipt tracking.
One of its most valuable features is making expense reports on the go, making it a great choice for those who take business trips frequently. You can both scan/take photos of the receipts and manually log expenses, and organize expenses by categories.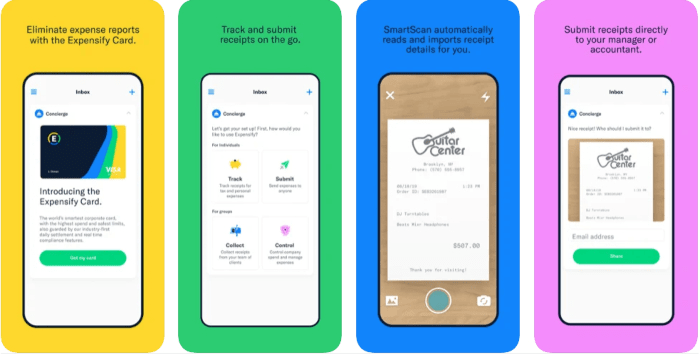 Quickbooks is an easy-to-use accounting tool for small and growing businesses. When you sign up, you'll have to answer a couple of questions, so that the site can accommodate your specific type of business.
It offers features such as:
Creating custom invoices, sales receipts, and estimates;
Tracking income and expenses;
Photographing and saving receipts;
Cloud accounting.
QuickBooks Self-employed is great if you're (as the name of the app suggests) self-employed, as you can easily separate business and personal expenses, and track both.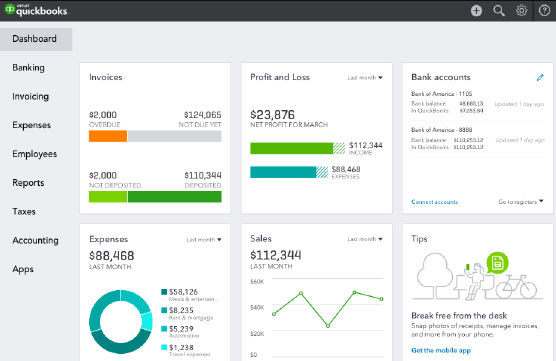 Continuing with everyone's favorite app by Intuit – Mint is a free personal finance tool. It allows you to:
Connect all of your accounts (checking or savings accounts, credit cards, loans, investments, mortgages, etc), so you can have a complete financial picture;
Track your cash flow;
Get notified if subscriptions' costs increase or when your bills are due;
Create a personalized budget;
Track spending by categories;
Monitor your credit score.
All of that is packed in a user-friendly interface and it's fairly simple to use.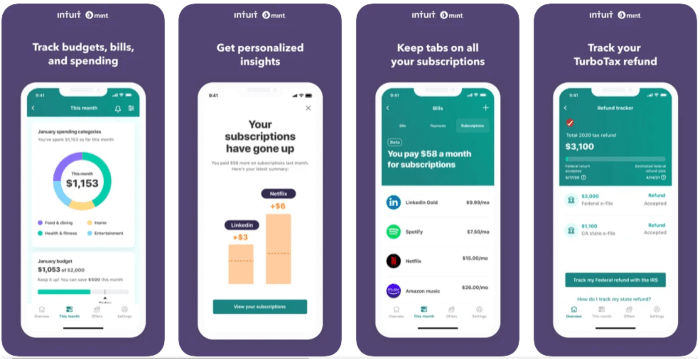 YNAB means You Need A Budget – and you really do. If you're not sure how to create one, this app may be your cup of tea. Their strategy has four rules:
Every dollar should be given a "job" / a purpose even before it's spent.
Break down your big, less frequent expenses (e.g. Christmas gifts) into smaller chunks that you can pay monthly.
Be flexible and roll with the punches – if you overspend in one category, it's okay to move money around.
Be purposeful with your spending and live within your means.
The features of the app include tracking your spending, flexible data export, switching between multiple budgets, as well as syncing with multiple devices and a large number of banks.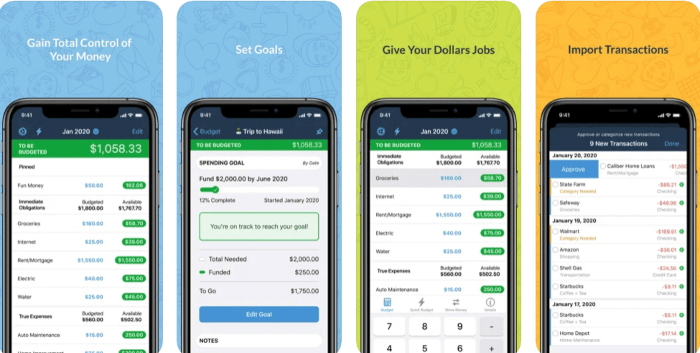 Wally is an app for managing your personal finances and maybe even your side hustles. You can track your expenses, either manually or by taking photos of receipts, and categorize them.
They aim to help you save up, so you can:
Track your income and see your projected savings for each month;
Budget to suit your needs;
Track your progress;
Stay accountable with real-time updates, among many other features.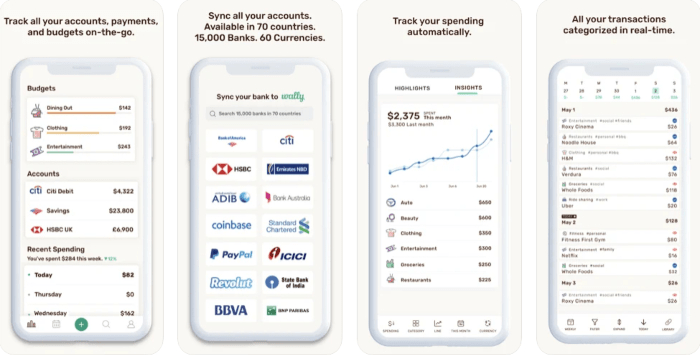 Conclusion
Expense tracking is a useful practice whether you need to do it for your business or you're just trying to take your personal finances to the next level. It puts you in control of your finances, keeps you focused on your financial goals, reveals spending issues, makes business forecasting easier, and helps you stick to your budget and solve eventual problems that may occur as quickly as possible.
✉️ Do you track your expenses? What way of doing it do you find the most efficient? Do you have any tools to recommend? Write to us at blogfeedback@clockify.me for a chance to be featured in one of our future articles.