"It's not what we do once in a while that shapes our lives. It's what we do consistently." -Tony Robbins
Why is it so difficult to find a goal tracking app that covers everything we need?
So much time is spent looking for a good app, that we often grow tired of testing them out and just give up. Then our goals get a setback for a while until we're motivated again to research the app stores. Only to be disappointed again, or settle for a sub-par app that we give up on days later.
Here's the truth – we don't know ourselves that good.
Because depending on our type of goal-setter and goal-getter, some apps will work, while others won't. That is why we decided to test out apps that play on different kinds of motivations. Going through the list, you'll get an idea of what type of person you are, and which goal tracking app will suit you the most.
In short, these are the best goal tracker apps in our experience:
Clockify
Joe's Goals
Boss As a Service
Go F***ing Do It
Coach.me
Super Better
Habitica
Time Planner
Carrot
Evernote
Way of Life
Now:
For the more in-depth review of each one of these apps, keep on reading.
For detailed tracking
🔷 Clockify – "Everything you need for tracking goals, without costing a fortune"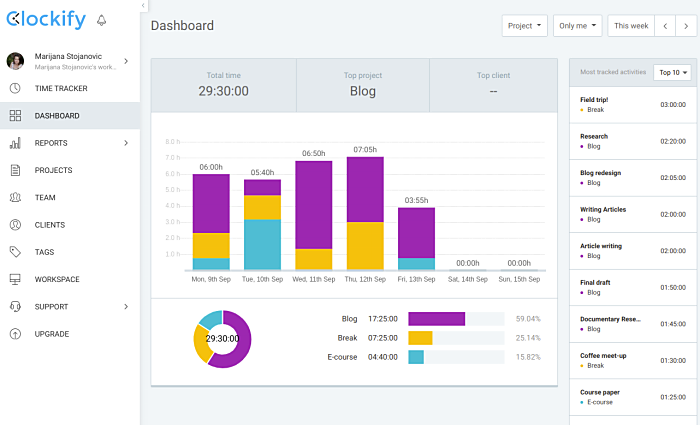 What makes it different: 
Clockify was created with the clear intention to help you follow your progress. While it's perfect for team projects, it's also a great tool for personal use. The best part is that Clockify is very handy at tracking goals as it gives you an accurate look at your workweek. From there, you can see how much you worked towards the goal, and where you wasted time. It's easy and precise for those who want to track their goal progression in greater detail.
How it works:
You set your goal as a project and break it down into tasks. Then you start tracking how much time goes into finishing those tasks. After a week you'll have an idea of how much time went into the project. Clockify is especially useful for freelancers and people looking to kick their own startup into high gear. If you want to improve your focus on career-oriented goals and stay on track with your professional life, then this app is perfect for you.
For keeping it simple
🔷 Joe's Goals – "A simple tool I built to help me keep track of my goals. Now you can use it too. – Joe"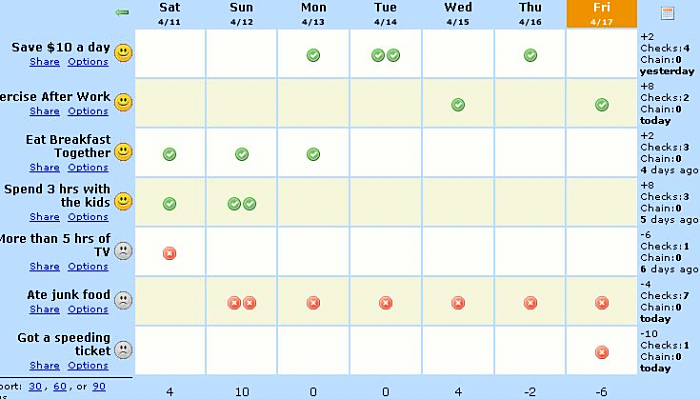 What makes it different:
This desktop-only app is as simple as they come. It's ideal for people who want a no-fuss interface and a simple day-to-day browser-based habit journal.
How it works:
As we mentioned before, Joe's Goals keeps things simple – you sign up and create your own goal tracking table. Every time you complete a task, you mark it down in the calendar. The same is done with habits you want to abandon, such as spending less time on your phone, or eating junk food.
If you need accountability
The ugly reality is that most of us don't stick to a goal tracker, no matter how clever its design is. Unless there's some accountability tied to the process, it's oh-so-easy to abandon the app within a week of using it.
🔷 Boss As a Service – "We make sure you achieve your goals"
What makes it different:
That's where Boss As a Service (or BaaS as the creators themselves call it) comes in. Unlike other goal tracking apps, this one has a team of people that act as your personal boss.
How it works:
Baas is the only app on our list that has no free version. It requires a monthly payment since the company behind the software hires real humans who monitor your progress. It all comes down to three simple steps:
You send them your goal and to-do list;
You update them when you finish a goal (send a FitBit screenshot for example);
Fail to update, and they'll follow up with emails and messages.
For those who have a difficult time keeping promises to themselves, this is a really good solution. Not only do you get regular check-ups, but you also have money invested in this website, which is an added incentive.
🔷 Go F***ing Do It – "If you fail, you pay."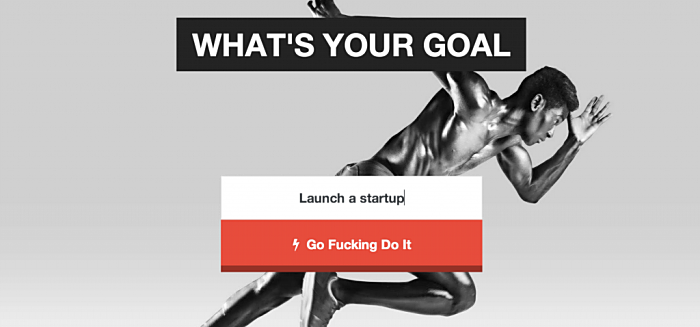 What makes it different: 
Pieter Levels made a website that boosts your accountability by holding your money "hostage". Fail to complete a goal you set for yourself, and you have to pay up. It incentivizes goal tracking by playing into our fear of losing a bet on ourselves.
How it works:
Go F***ing Do It has several steps: you set a goal, a deadline, give your friend's (here called supervisor) email, and set the penalty amount for failing. A referee is a person who holds you accountable. When the deadline comes, they receive an email from the website, asking if you completed your task. If you did, the money stays intact, but if you didn't, it goes to the founder of the website. Some find this controversial, but Levels claims that raises the stakes even higher than if your money went to your friend or a charity.
🔷 Coach.me  – "A home for ambitious people"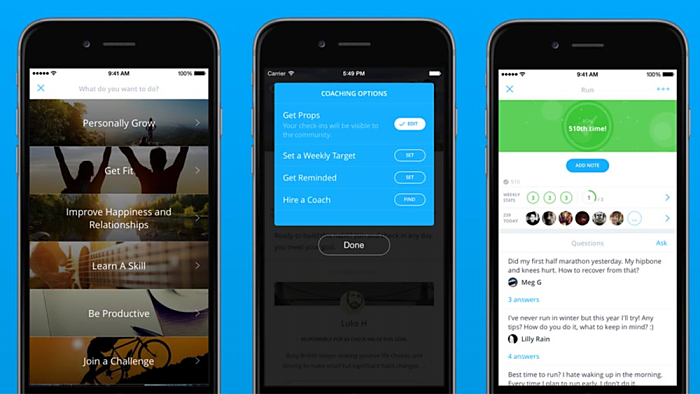 What makes it different:
Unlike the first two apps, Coach.me works as a community-driven accountability app, plus you can opt-in for consult calls with various coaches. It relies more on positive reinforcement. So if you're not the type to want a supervisor emailing you, and you prefer to go through procrastination struggles with likeminded people, this could be the app for you.
How it works:
After signing up, you set a goal you want to follow, or choose one from their suggestions. Each goal has a community tied to it – members and coaches. Aside from being a standard goal tracking app, you can also turn on the "Get Props" option, which allows other users from the same community to check in on your progress.
If you're looking for something different
🔷 Super Better – "Everyone has heroic potential"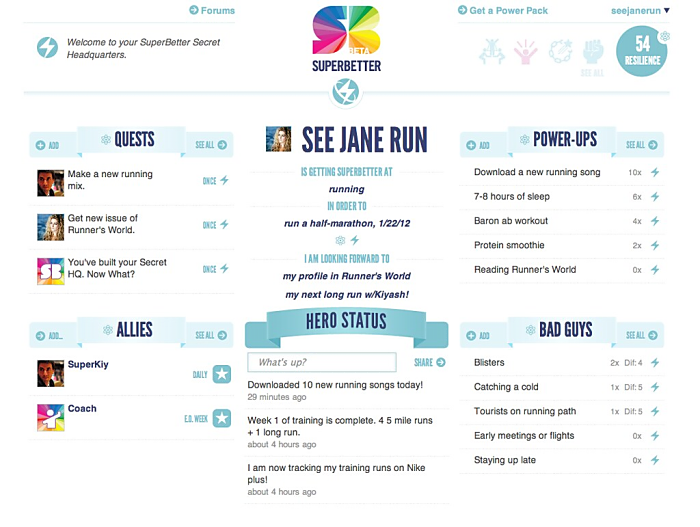 What makes it different:
Jane McGonigal is a game designer whose life turned around after she suffered a head injury. Due to an office accident, she had a severe concussion which took months to recover from. To stave off depressive episodes, she asked her friends to give her small tasks to each day. This was key to her mental and physical recovery.
Seeing how well this method worked for her, McGonigal decided to design an app that would help others facing similar challenges.
How it works:
With SuperBetter, users can take up a quest of their own, whether it's getting better at their career, recovering from depression or anxiety, or simply wanting to live healthier. You choose the end goal, and the app generates a series of everyday tasks that take you a step closer to that goal. If you already know what needs to be done to reach your end goal, SuperBetter offers custom-made quests as well.
🔷 Habitica – "Gamify your life"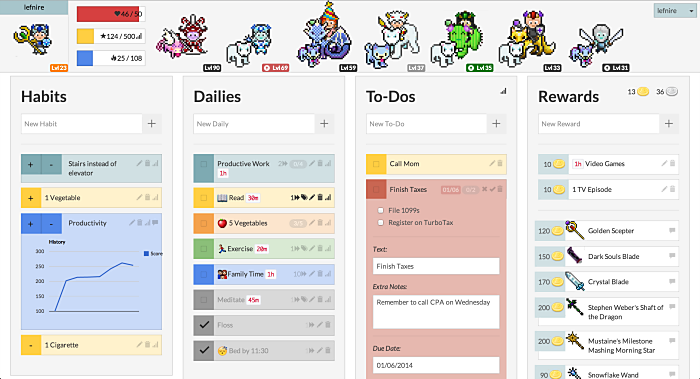 What makes it different:
Formerly known as HabitRPG, it was created by Tyler Renelle who, similarly to McGonigal, wanted a way to track his own goal progression. Over the years, it grew into one of the most prominent gamified goal-tracking apps. It's colorful, resembles a medieval adventure style game, while your real-world actions affect your in-app character and environment.
How it works:
Habitica lets you create your own character, choose a class (wizard, knight, rogue, etc), and then lets you set the daily habits you want to track. Each performed task gives you experience points. You can use these to power up, to tackle more demanding tasks. You can also team up with friends and family, or join a guild centered around a common goal (ex. No Sugar for a Month). Rewards come in the form of avatar items, experience points, and loot that you can use in-app.
🔷 Time Planner  – Schedule and to-do list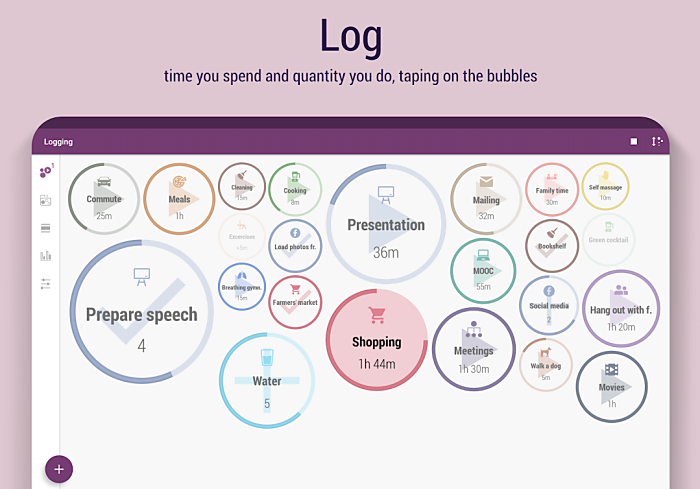 What makes it different:
This app was made by Oleksandr Albul, and it differs from other apps in its user interface. Time Planner has a variety of categories that represent your personal and professional life. It offers an interesting view of your goals and improvement path through pie charts and icon bubbles.
How it works:
Although it can prove to be a little complicated for newcomers, after some tinkering, Time Planner becomes a great app with an abundance of features. It allows for a detailed setup of each step of your goal. From icons and color schemes to viewing your progress in schedules, graphs, and charts. Time Planner will prove to be best suited for those who love customizability and digging up all the features an app can offer.
🔷 Carrot – "The To-Do list with a personality"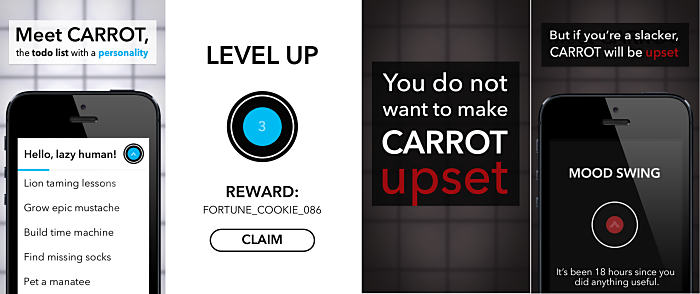 What makes it different:
If you've ever used Alexa, Google Assistant, or Apple's Siri, then you've seen firsthand how far virtual assistants have come. But, have you wondered what it would be like to have an AI drill sergeant to follow you on your goal progressions?
Enter CARROT, the AI who knows only of tough love. She has mood swings and her responses to your completed tasks range from supportive to downright harsh. For those wondering what it would be like with AI overlords in the future, CARROT just might be for you.
How it works:
In its essence, this is a to-do app. Except, it has voiced comments to your actions. Succeed or fail with a task, and CARROT will be there to make a remark. CARROT's attitude depends on your task-solving tempo and whether you stray too far from your goal. The app's interface even changes from white to black if she gets in a bad mood. It's simple and straightforward, which gave the developers room to expand on this unique voiced feature.
If you want to journal
🔷 Evernote – "Focus on what matters most."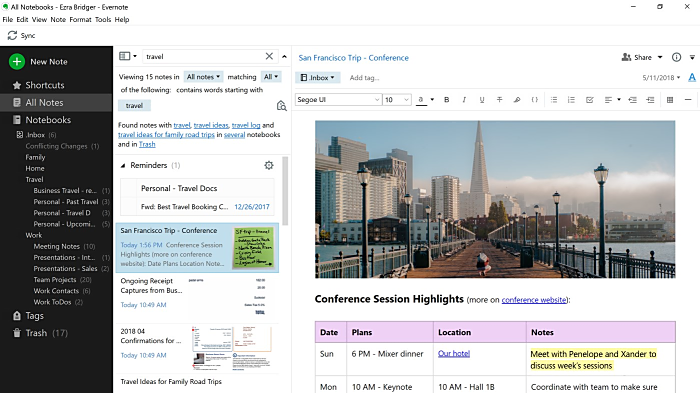 What makes it different:
Bullet journaling has exploded in popularity in the past year. Creatives across numerous social media platforms have started a new aesthetic trend by showcasing their decorated bullet journals. For the same reason, those who can't afford fancy-looking stationery turn to apps like Evernote. It offers a high level of customizability if you prefer to keep your goal tracking in the form of a journal.
How it works:
Evernote lets you upload photos, pictures, links, and notes that reflect on your day. While keeping an accent on storing notes and online snapshots you found relevant, the app still boasts a to-do list that can closely track your goal progression.
ℹ️ You can track time on your notes with Clockify-Evernote integration. You can set it up here.
🔷 Way of Life – "Changing habits is hard. Having the right tool is half the battle"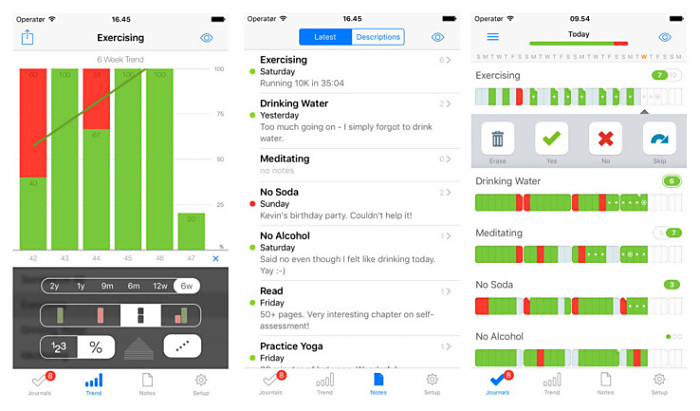 What makes it different:
Similar to traditional bullet journals, this app features lists of simple goals, where all you have to do is color in the required fields each day. It's visually simple enough, but also inviting, as you're motivated to keep your streaks green. Breaking a habit means having to color in a field with red, which ruins the momentum. Graphs are there to give an overall look at your goal progress.
How it works:
Way of Life is based on creating simple lists. You can write a goal (in-app called a journal), and then set how often you need to perform related tasks to stay on track. There is the option to write up notes for each day in case you want to comment on, say, how many pages of a book you read that day. All in all, Way of Life represents slightly more simplistic journaling while letting you jot down everything important related to the goals.
What is the takeaway?
Well, first and foremost – there are as many goal tracking apps as there are people. Every now and then a new one gets released, catering to a specific audience. As they evolve and branch out, they still fall into several broad categories:
Detailed goal trackers
Simplistic
Accountability apps
Atypical
Journal-like
Depending on the type of goal-getter you are, you'll find that some types suit you better than others. Once you know that, it's easier to find the perfect one.
Happy hunting!