11 Best goal tracker apps for 2022
"It's not what we do once in a while that shapes our lives. It's what we do consistently." — Tony Robbins
We all set goals — both business and personal. Goals may differ in complexity, size, or due dates. However, they have one thing in common — if we don't keep track of our goals, they are doomed to fail eventually.
Therefore, it's not enough to just set a goal and sit tight — setting a goal is only half the job. To make progress toward achieving them, one must carefully keep track of their goals' progress.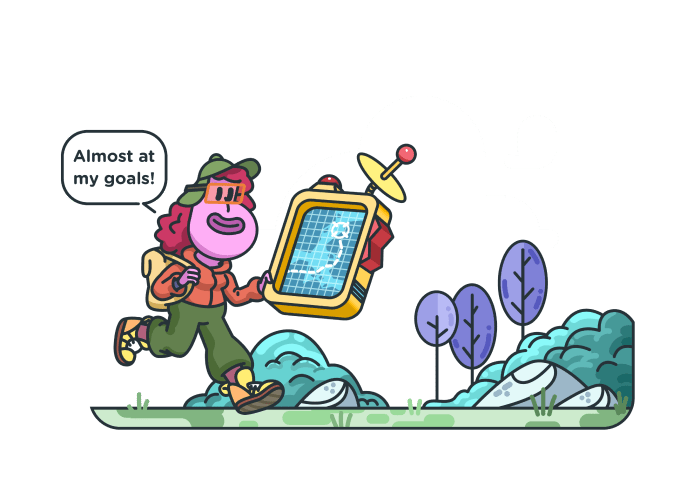 How can we keep track of goals effectively?
While simple pen and paper may work for some — the majority of people would still opt for a computer-based tracking system or a smartphone app.
As a matter of fact, according to a two-year study among 811 people with weight problems, the utilization of the computerized tracking system helped them achieve their ultimate goal — losing excess weight.
The participants used different tracking software to record food intake and physical activity. This resulted in increased weight loss compared to the participants who used such software less.
Therefore, goal-tracking tools allow us to self-monitor our behavior while providing direct feedback on our progress and motivating us to achieve more.
Who can use goal tracker tools?
The other day, out of the blue, my mom asked me how many steps I made yesterday. I bafflingly answered: "I have no idea." Then, she told me I should start using a pedometer app to keep track of my fitness goals.
Inspired by my mom, I did some research — how many people track their steps, i.e. their health goals?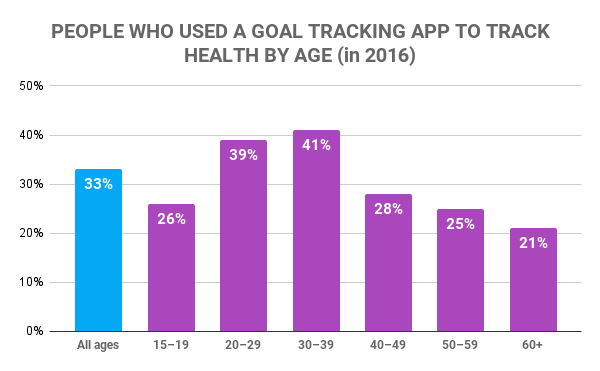 Interestingly, millennials are not the only ones who utilize different goal tracking apps day-to-day, according to Statista. Yes, people aged 30–39 (41%) are among the most frequent users of apps related to health tracking. But, a whopping 25% of people aged 50–59 and 21% of people aged over 60 reported using some goal tracker app to track their fitness goals.
Anyone can benefit from goal-tracking tools — since most of them are quite easy to use and customize.
In the following paragraphs, we'll talk about the most prominent goal-tracking apps currently available on the market. These apps can help you track progress toward achieving your goals.
The best goal tracking apps you can use
Sometimes, it's difficult to find a goal tracking app that covers everything we need.
So much time is spent looking for a good app that we often grow tired of testing them out and just give up. Then our goals get a setback for a while, until we're motivated again to research the app stores.
Only to be disappointed again or settle for a sub-par app that we give up on a few days later.
Here's the truth — we don't know ourselves that good.
Because, depending on our type of goal-setter and goal-getter, some apps will work while others won't.
That is why we decided to test out apps that play on different kinds of motivations.
Going through the list, you'll better understand what type of person you are and which goal tracking app will suit you the most.
In short, whether aimed at personal, fitness, or business goals — these are the best goal tracker apps in our experience:
Clockify
Coach.me
Habitica
Evernote
Way of Life
Strides
ProProfs Project
Goals on Track
nTask
Toodledo
ClickUp
Lifetick
For a more in-depth review of each one of these apps, keep on reading.
1. Clockify — best for detailed goal-tracking
Clockify: "Everything you need for tracking goals, without costing a fortune"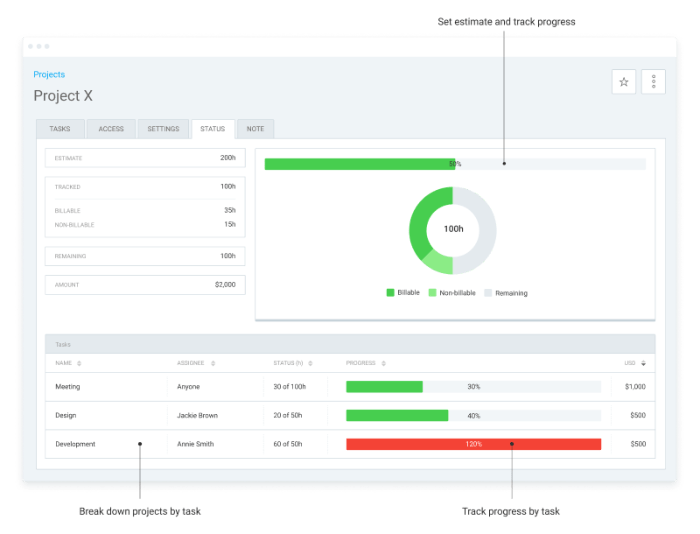 🔹Why Clockify?
Clockify was created with the clear intention to help you track progress on your tasks or projects. While it's perfect for team projects — it's also an amazing tool for personal use. The best part is that Clockify is quite handy at tracking goals as it gives you an accurate look at your workweek. From there, you can see how much you worked towards the goal and where you wasted time. It's easy and precise for those who want to track their goal progression in greater detail.
​​🔹How to track goals in Clockify?
To keep track of your goals in Clockify, you need to set your goal as a project and break it down into more manageable tasks. Next, you start tracking how much time goes into finishing those tasks. Clockify will then track progress on each task separately.
The Clockify website offers a plethora of to-do list templates — so you can easily monitor all your tasks — whether work tasks, school assignments, or daily chores around the house.
After a certain period, you'll have a deeper understanding of how much time went into the project since Clockify gives you detailed reports on your time use. What's more, you can set estimates for activities to later compare tracked vs estimated goal time.
Clockify is especially useful for freelancers and people looking to kick their own startup into high gear. If you want to improve your focus on career-oriented goals and stay on track with your professional life, then this app is perfect for you.
➕ The free plan offers an unlimited number of goals, projects, progress reports, and users.
➖ Once you start using Clockify, you become an avid time-tracking passionista. 🙈
2. Coach.me — great for personal growth
Coach.me: "A home for ambitious people"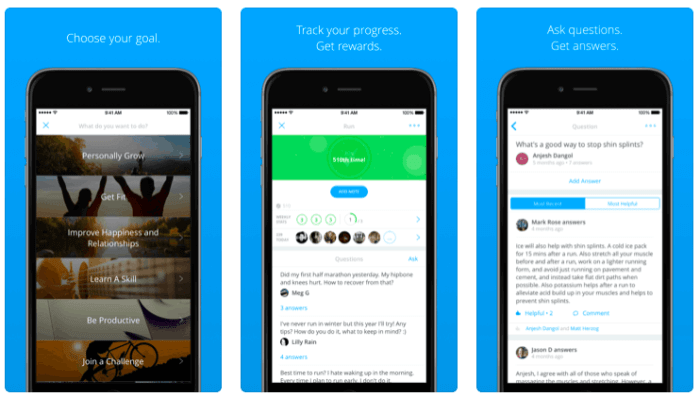 🔹Why Coach.me?
Coach.me works as a community-driven accountability app, plus you can opt-in for consultation calls with various coaches — fitness, productivity, mindfulness, business coach, and many more. It relies more on positive reinforcement.
So if you're not the type to want a supervisor emailing you, and you prefer to go through procrastination struggles with like-minded people — this could be the app for you.
🔹How to track goals in Coach.me?
After signing up, you set a custom goal you want to follow or choose one from their suggestions. Each goal has a community tied to it — members and coaches. Aside from being a standard goal tracking app, you can also turn on the "Get Props" option which allows other users from the same community to check in on your progress.
➕ It offers to hire a specialized coach for your specific needs.
➖ You can't add check-ins further than seven days back if you forget to check in for the day.
3. Habitica — a gameful way of setting goals
Habitica: "Gamify your life"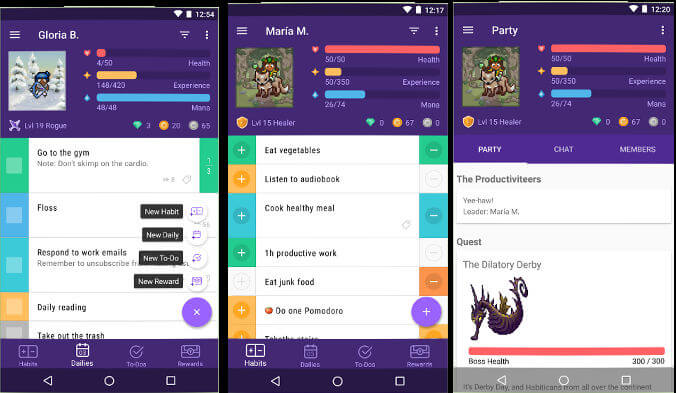 🔹Why Habitica?
Formerly known as HabitRPG, it was created by Tyler Renelle who wanted a way to track his goal progression. Over the years, it grew into one of the most prominent gamified goal-tracking apps. It's colorful, resembles a medieval adventure-style game, while your real-world actions affect your in-app character and environment.
🔹How to track goals in Habitica?
Habitica lets you create your character, choose a class (wizard, knight, rogue, etc.), and then set the daily habits you want to track. Each performed task gives you experience points. You can use these to power up and tackle more demanding tasks.
You can also team up with friends and family or join a guild centered around a common goal (ex. no sugar for a month). Rewards come in the form of avatar items, experience points, and loot that you can use in-app.
➕ It boosts your motivation to carry on with your goals by giving rewards.
➖ Tech-savvy users can benefit from this app more.
4. Evernote — best for keeping a goal-based journal
Evernote: "Focus on what matters most"

🔹Why Evernote?
Bullet journaling has exploded in popularity in the past year. Creatives across numerous social media platforms have started a new aesthetic trend by showcasing their decorated bullet journals. For the same reason, those who can't afford fancy-looking stationery turn to apps like Evernote.
It offers a high level of customizability if you prefer to keep your goal tracking in the form of a journal.
🔹How to track goals in Evernote?
Evernote lets you upload photos, pictures, links, and notes that reflect your day. While keeping an accent on storing notes and online snapshots you found relevant, the app still boasts a to-do list that can closely track your goal progression.
💡 Clockify pro tip
You can track time on your notes and run reports later with the Clockify-Evernote integration:
➕ It offers a time-tracking integration.
➖ Its free plan is quite limited.
5. Way of Life — best for breaking bad habits
Way of Life: "Changing habits is hard, having the right tool is half the battle"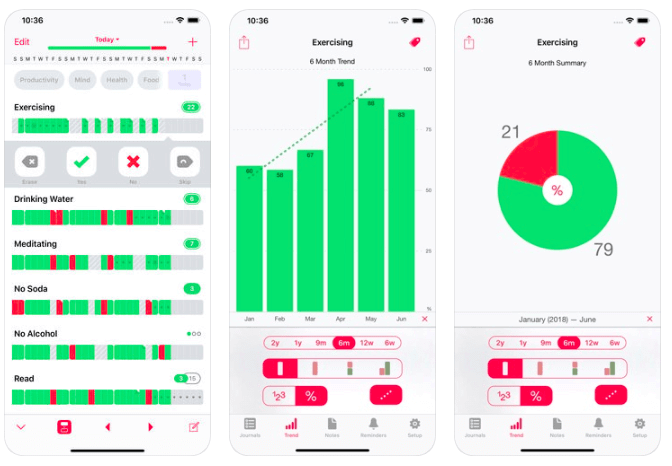 🔹Why Way of Life?
Way of Life uses a unique color-coded system where all you have to do is color in the required fields each day. It's visually inviting, as you're motivated to keep your streaks green. Breaking a habit means having to color in a field with red, which ruins the momentum. Graphs are there to give an overall look at your goal progress.
🔹How to track goals in Way of Life?
Way of Life is based on creating simple lists. You can write a goal (in-app called journal) and then set how often you need to perform related tasks to stay on track. There is the option to write up notes for each day in case you want to comment on, say, how many pages of a book you read that day.
All in all, Way of Life represents slightly more simplistic journaling while letting you jot down everything important related to the goals.
➕ It's visually appealing and it helps break bad habits.
➖ The free plan has a limited number of goals.
6. Strides — best for setting SMART goals
Strides: "Track anything you want…any way you want"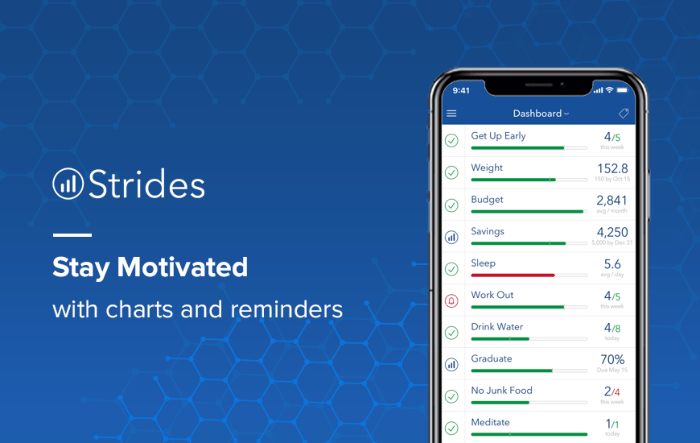 🔹Why Strides?
Strides is an extremely flexible app since it allows you to customize your goals to fit your specific needs. Whether you want to track progress on your projects, reach a target, or drink more water — Strides has it all.
To make sure your goals are smart, Strides will help you incorporate the SMART criteria into your goal-setting process easily.
🔹How to track goals in Strides?
Strides has a clear dashboard where you can see all your goals listed at a glance or add new ones. You can choose from a plethora of templates or make a custom goal. The best thing about Strides is that it allows you to create smart goals by making a thorough plan for each. You can later set reminders, add time, due date, statistics, or even see a goal forecast that the app creates automatically.
Finally, export neatly organized progress reports to see how you're doing across your goals.
➕ The green and red bars visually help you see if you are on track (green) or behind pace (red).
➖ You need to shift to a paid plan to track more than three goals and get progress reports.
7. GoalsOnTrack — if you prefer keeping a journal for your goals
Goals On Track: "Achieve more by doing less"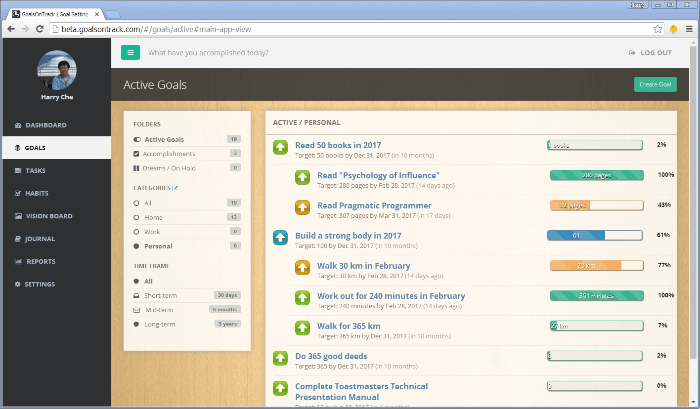 🔹Why GoalsOnTrack?
GoalsOnTrack is a goal management software for high achievers. It helps you set SMART goals and break them down into smaller subgoals. The Goals tab lets you organize all your goals by category, time frame, and status. To maintain the momentum and keep you motivated to achieve your goals — GoalsOnTrack keeps track of your goals' progress.
Furthermore, it creates detailed action plans with to-do tasks and reminders for reaching your goals. Apart from that, with GoalsOnTrack, you can start building good habits — whether for work or personal life.
GoalsOnTrack can transform you into a high achiever by keeping a journal for your goals due to a built-in journal tool.
🔹How to track goals in GoalsOnTrack?
When you open the home page in the GoalsOnTrack app, you will see three columns:
Goal widgets with progress and actual metrics.
Tasks to be done listed by date.
Habits that you want to build and you can check them off as you go.
When you click on the Create Goal tab, you can see a detailed form that you should fill in with the information about the goal. This includes start/end date, how you want to track your progress (whether by the total outcome from all tasks, total progress from subgoals, etc.), add a description and/or a picture to personalize your goal.
Most importantly, you can break down your goals into subgoals and tasks to be done. This is a helpful feature since it lets you have a detailed action plan to achieve your goals more successfully. The app lets you see your progress automatically.
Now, it's time to take action!
➕ You can create goals from built-in goal templates.
➖ There is only a free trial.
8. nTask — best for agile enthusiasts
nTask: "Get more done with nTask"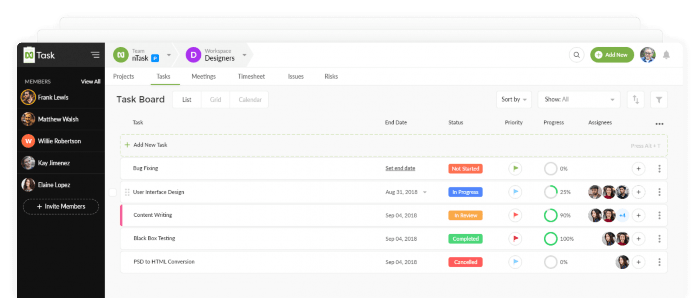 🔹Why nTask?
Apart from their numerous project management features, one of the newest updates is the interactive Kanban board and custom statuses.
To make sure you achieve your goals and stay on track, nTask lets you set deadlines for your goals, update statuses, create milestones, prioritize your goals, and much more.
🔹How to track goals in nTask?
Even though nTask is not solely a goal tracking app, it does let you track progress on your tasks and reach your goals thanks to its amazing Kanban boards.
Simply create a workspace, add new tasks, give status to your tasks (ex. in-progress tasks, in review, canceled), select date and priority, and start tracking the status of your tasks.
➕ It uses Kanban boards for better task management.
➖ Users claim the support team needs a long time to respond to tickets.
9. Toodledo — best for To-do list lovers
Toodledo: "Get more done, your way"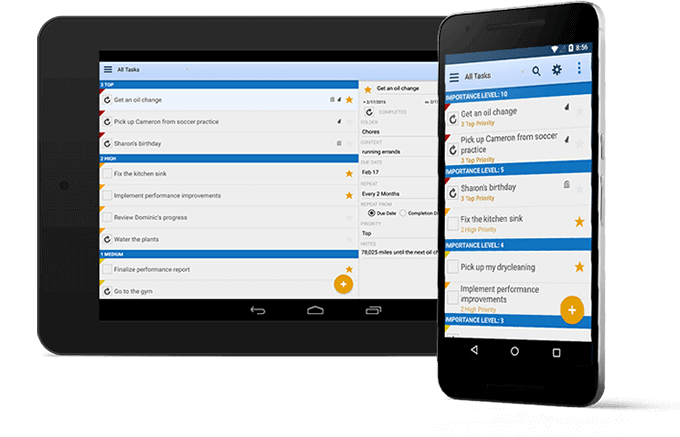 🔹Why Toodledo?
With Toodledo, you will never forget or fail to reach your goals due to its extensive to-do lists, notes, custom lists, and habit tracking features. What's best about this app is that it uses customizable alarms so that you complete tasks on time. Toodledo reminds you about your tasks and habits via email or mobile app. It even offers a location-based reminder so when you are close to a place where you have tasks to do — the alarm reminds you about your tasks. Toodledo breaks bad habits since it supervises your wellness and monitors your eating habits, too.
🔹How to track goals in Toodledo?
Let's say your goal is to avoid eating junk food. Simply add a new habit in the dashboard and mark it with a check, number, or star rating. Then, choose a schedule — the days you wish your habit to recur or simply set a reminder. In the Inbox section, you can see habits that need to be logged for a specific day. After you've done your habit, mark it the way you chose prior — by clicking the check, picking a star rating, or typing a number.
Below each habit, you will be able to see a habit chain that will show how many days in a row you've logged your habits. As your habits progress, you can check which ones are trending and how're doing with logging. Another great thing is that at any time, you can adjust your habits manually.
➕ It offers audible reminders and a time-tracking integration.
➖ No color-coding to distinguish the progress of goals.
10. ClickUp — helps teams keep their goals on track
ClickUp: "All of your work in one place: Tasks, Docs, Chat, Goals, & more"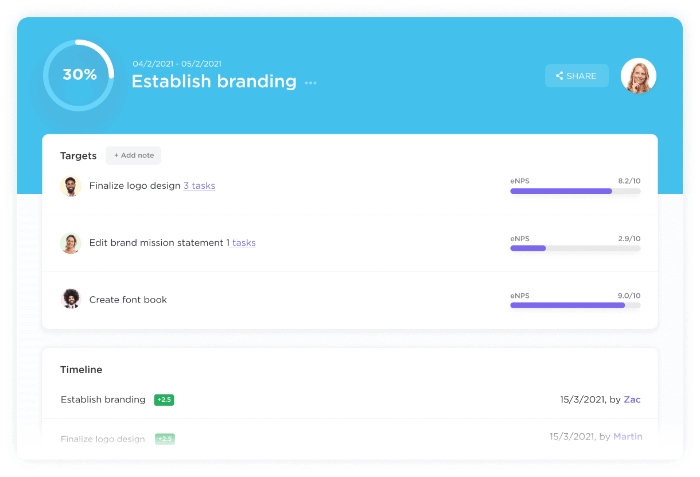 🔹Why ClickUp?
ClickUp lets you stay on track to achieve your objectives using measurable targets and tracking your progress along the way. It's convenient for teams since ClickUp allows you to share your goals inside your organization, control who has access, easily manage view or edit permissions. ClickUp uses the OKR goal-setting framework (Objectives and Key Results) as a very transparent way of creating measurable goals and engaging team members to make sure everyone is going in the same direction.
🔹How to track goals in ClickUp?
After you create a new goal in ClickUp, simply name your goal, set a due date, and share access with others. You can track the progress of your goal by creating a target. Targets are measurable milestones that you should do to achieve your goal. It's like breaking down your goals into smaller pieces.
ClickUp allows you to create different types of targets: numerical, monetary, true/false, or task targets. This hands-on feature allows you to categorize your targets accordingly and finish them more easily.
➕ You can add widgets to track your goals on the go.
➖ Users reported issues with tracking time on your tasks.
11. Lifetick — makes your dreams come true
Lifetick: "Goal setting — made simple"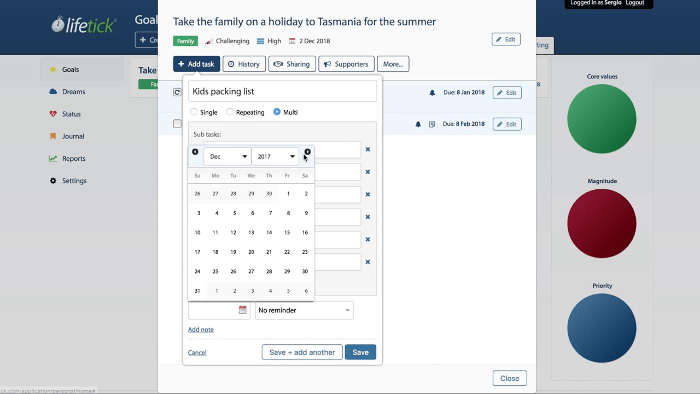 🔹Why Lifetick?
Lifetick is another time tracking app that uses the SMART goal methodology. It's perfect for setting education, health, finance, or family goals. Share your goals with friends, family, or colleagues since Lifetick has the option of sharing your goals with others to ensure you work together as a team.
Keep a personal diary with Lifetick with the intention that you track your metrics and don't forget your previous accomplishments.
Finally, Lifeticks offers detailed reports with various charts to have a better understanding of your goals and tasks.
🔹How to track goals in Lifetick?
Create a custom goal in Lifetick by giving it the magnitude — choose from easy, doable, daunting, or audacious. Lifetick wants to make sure your goals are smart, so you will be asked to check if your goals follow the SMART goal criteria before you start tracking them.
What's interesting about Lifetick is that it has a separate Dreams tab where you can capture your aspirations — things you want to do before you die, things you want to do but don't know when, and similar. You can create these and, when ready, convert them into goals to start working toward.
➕ It allows you to review your achievements in a date-sequenced journal.
➖ The app lacks goal-tracking features compared to other apps in this blog post.
What is the takeaway?
Well, first and foremost – there are as many goal tracking apps as there are people. Every now and then a new one gets released, catering to a specific audience. As they evolve and branch out, they still fall into several broad categories:
Detailed goal trackers
Simplistic
Accountability apps
Atypical
Journal-like
Depending on the type of goal-getter you are, you'll find that some types suit you better than others. Once you know that, it's easier to find the perfect one.
Happy hunting!
✉️ How did you track your goals so far? Did we help you find a goal-tracking app that suits your needs? Write to us at blogfeedback@clockify.me for a chance to be featured in this or one of our future articles.