Free goal tracker app
All-in-one goal tracking app. Track time you spend on your goals, track goal progress, and beat procrastination for good.
4.7 (4,492 reviews)
Why track goals in Clockify
Clockify is a FREE time and goal tracking app that can be used for tracking personal or business goals. Ideal for those who want to track their goal progression in greater detail.
Benefits of tracking goals in Clockify
All-in-one goal tracker app Clockify offers its users:
Unlimited number of goals
Progress tracking
Setting estimates
Extensive reporting
A plethora of to-do list templates
Setting deadlines
How to track goals in Clockify
Follow these simple steps to stay on top of your goals using Clockify:
Step 1
Create Clockify account
To start tracking your goal progress in Clockify, the first thing you need to do is create an account.
Step 2
Download Clockify goal tracker
Clockify is an online app that works across devices.
Track your goals from anywhere — all data is synced online.

Step 3
Track time on your goals
First, set your goal as a project and break it down into smaller, more manageable tasks. Next, start tracking how much time goes into finishing each task. Clockify will then track progress on each task separately.
In Clockify, you can track time on your goals in the:
Timer mode — by using a timer
Manual mode — by logging time manually
Timesheet view — by logging time in a timesheet
You can create an UNLIMITED number of projects in Clockify and track as many goals or tasks as you want.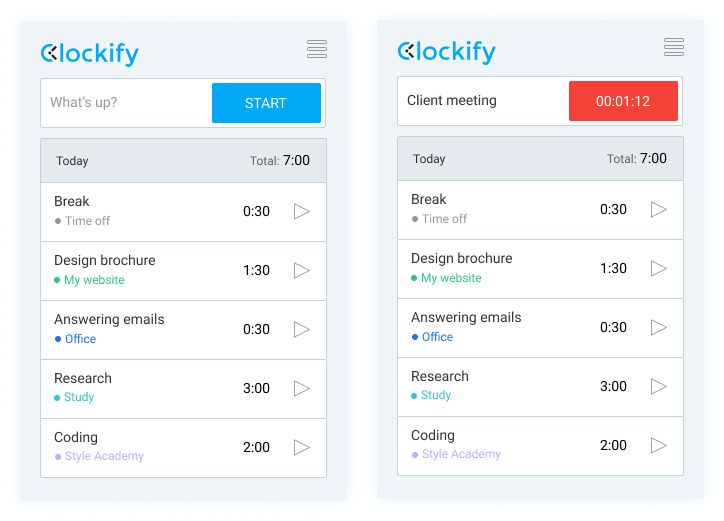 Step 4
Set estimates
Set estimates for activities so you can later compare tracked vs estimated goal time. You can estimate the length of a goal, and then monitor progress to see how well you and your team perform.
In the Status tab in Clockify, you are able to get more details about goal progress.
You get insight into:
Total tracked time
Earnings
Time breakdown for each task
Track goal progress using estimates
Step 5
See and export reports
In Clockify, you can filter data by project, task, or tag and see how your goals change from week to week. This helps you keep track of where you are with your goals and where your time goes.
Export data reports as: PDF, CSV, Excel.
Download PDF samples: Summary • Detailed • Weekly