I tried 6 to-do list methods: Here's my verdict
If planners and stick-it notes have always been an aid for your memory and organization, I'm sure you're already a fan of to-do lists. That has certainly been the case for me.
Writing down my tasks and thoughts has always been a great tool to help me stay organized and stop worrying about the future — whether I fear I'll forget to complete an important task, miss an appointment, or realize I'm lacking an ingredient in the middle of cooking.
However, lately, there's just been too much to keep track of, so I started reading about different ways to organize a to-do list. Once I learned about the great number of methods that exist, I was stunned.
Naturally, I had to check out if some of those methods make me more productive, so I decided to try the 6 I found the most interesting.
If you'd like to find out the pros and cons of each method and learn some useful to-do list tips and tricks, read on.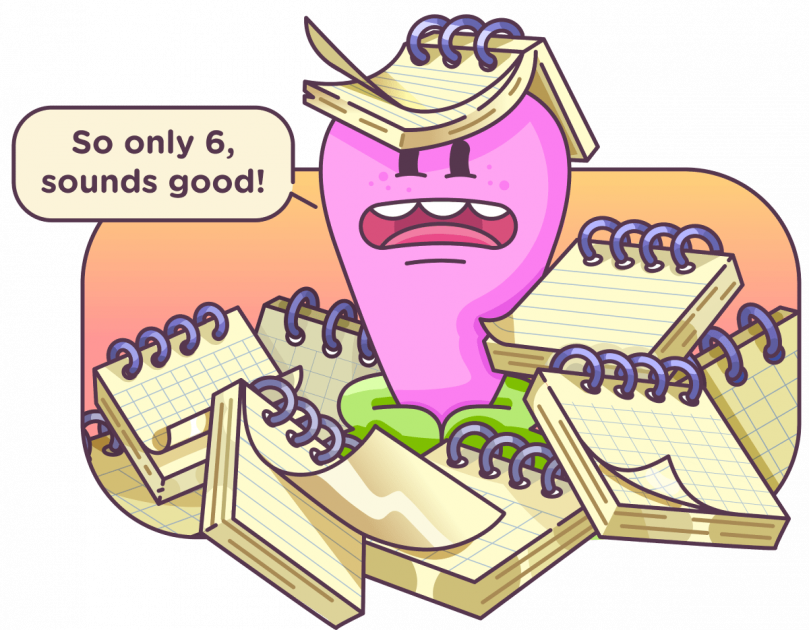 The main purpose of to-do lists
As we all have different preferences and habits, we all prefer different types of to-do lists. It's mostly because increasing our productivity levels must be in accordance with our personality type.
Here are several variations of to-do lists people often create:
Daily lists,
Weekly lists,
Ongoing lists,
Separate lists for different areas of life,
Deadlines list, etc.
It's exactly those distinctions that served as a basis for the creation of different to-do list methods.
And, it's not only about the content of your list. There are also other types of to-do list preferences, such as whether your productivity weapon of choice will be:
Color-coded stick-it notes,
Regular planners,
Phone and/or computer apps, etc.
You get the gist.
Before diving into details about the 6 methods I tested, I have to mention another important concept — microproductivity. It is relevant to all types of to-do list methods.
Microproductivity refers to our ability to break large tasks into smaller segments, components, and activities.
When talking about to-do lists, microproductivity is of the essence, as breaking down tasks helps us see each assignment as more doable.
The role of microproductivity in creating to-do lists (+ an example)
Let me provide an example of microproductivity and elaborate on it.
Say your daily to-do list includes the following item:
You are aware the deadline is tomorrow, yet you're procrastinating for hours, avoiding work on the task, and doing some mundane tasks instead.
Well, the main reason you're struggling is that your task is not actually a single task, but rather consists of several segments:
Collect the statistical data for the last quarter,
Compare to the data from the previous period,
Create graphics, charts, and other visual representations of the data,
Write a segment on data comparison,
Write a forecast segment, with the predictions for the following quarter,
Check the text for spelling and grammar, and
Compose an email in which you'll attach the report.
As you can see, this one complex and lengthy task actually consists of 7 smaller ones — i.e. 7 to do's.
What I want to point out here is — bear in mind that increasing productivity is directly linked to your ability to break down complex tasks, and define your to do's. Dealing with smaller, more manageable components instead of one complex task will heavily impact your motivation.
I'm speaking from experience, as luckily, I've been working on task breakdown for years now.
So, I was ready to start by trying out different to-do lists, and I chose the 6 methods below.
💡 Clockify Pro Tip
You've noticed you tend to procrastinate, yet have no idea what causes your procrastination, let alone how to deal with this issue? This guide is a must-read:
The to-do list methods I tried and how they worked for me
Now that I've explained some crucial elements of to-do lists in general, let's dive right into the specific methods I tried using.
The 6 I choose are:
My planner,
To-do list templates,
Digital task manager,
A running list,
A calendar, and
The Do One Thing method.
For this comparison, I focus on my regular business days and the tasks I have to complete as a writer.
So, here's what I learned about each method and how I rate them.
Method #1 Using my planner
As I've mentioned, I've always been one of those people who regularly use their planners for organization, taking notes, and brainstorming sessions.
What I didn't know was that I'd been doing it the wrong way.
Well, at least when it comes to to-do lists per se.
These were the main issues for me:
I'd simply write everything down in no particular order,
I'd mix my tasks with my other notes, and
I'd mix my daily and future tasks.
So, the planner method that actually keeps you organized consists of several to-do lists of your tasks.
I created separate to-do lists for the following 3 categories:
Work,
Chores and errands, and
Self-care.
While conducting my research, I've noticed many variations in the categories — so here are several suggestions you may want to consider:
Deep work,
Staying up to date (communication, learning, preparing for meetings)
Parenting,
Sports and exercise,
Prep and cooking, etc.
My work to-do list segment
Here's what one day of using my planner as an actual to-do list method for work looked like.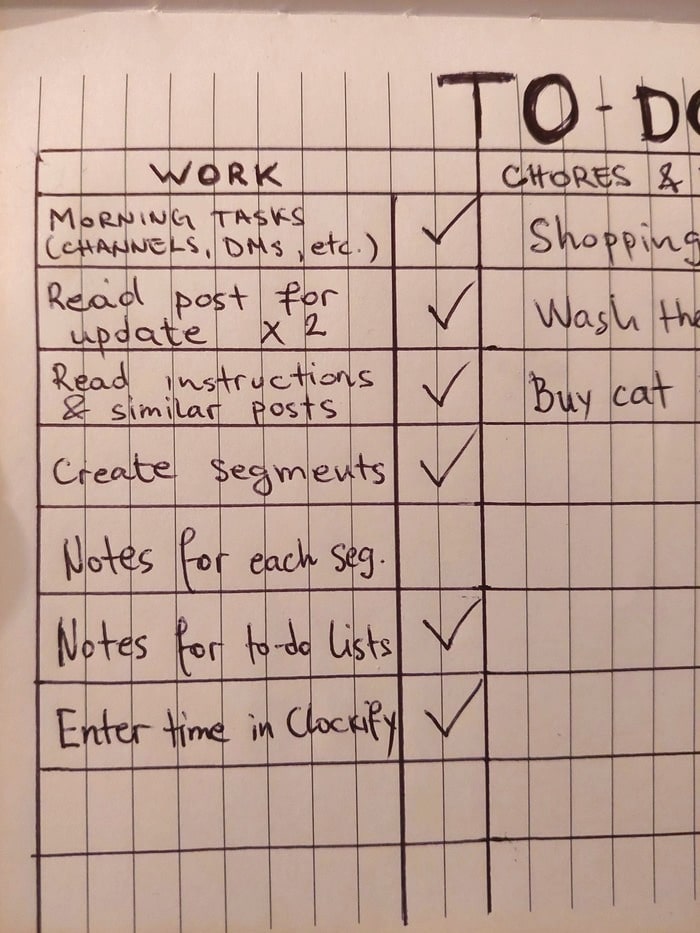 As you can notice, I wrote down 7 tasks that I was absolutely certain I would complete during my shift.
As it turned out, I managed to complete 6. The remaining task was:
Writing notes for each segment.
I started this task and made some progress (finished my notes for 5 out of 8 segments), but still couldn't count it as completed.
So, one thing was crystal clear — I'm often not realistic in terms of how much time I assign to each of those tasks.
The same thing happened in the other 2 categories — so this was quite an important realization for me.
The first thing that occurred to me was this — there were many times I felt bad about procrastinating.
Now, upon further reflection, I think it was more likely that it just took me more time to complete a task than I'd allocate in my head.
After all, the planning fallacy starts and ends with wishful thinking.
So, as I had concluded, having unrealistic expectations and missing deadlines may result in:
Lower self-esteem,
Feelings of inadequacy, and even
Damage to our relations with other people.
On top of you already feeling bad about your lack of progress, other people can start perceiving you as untrustworthy and unreliable.
Also, if you've overestimated your capabilities in relation to your time management skills (yet, your deadline is still set in stone) you are likely to increase your margin of error and reduce the quality of your work.
💡 Clockify Pro Tip
Have you noticed that you often miscalculate the time you need to complete a task? No worries, we've got you covered — check out this guide:
Pros of using your planner for to-do lists
✅ Highly versatile and personalized method
✅ Helps you set realistic goals for yourself
✅ Reduces anxiety and boosts self-esteem
Cons of using your planner for to-do lists
❌ It may take you a while to find adequate categories for this to work
❌ May be time-consuming to do it on a daily basis
❌ Some people simply don't like writing by hand
Who is the planner to-do list method best for?
There's one thing I'm certain of — this method will work wonders for people who use planners on a daily basis. Based on my own experience, I can confidently say that you'll likely build an efficient system over time.
So what happened to me was that I learned to differentiate between tasks and objectives or goals. Once I had only 3 categories for my daily tasks, I realized that I needed space for the rest of my notes and brainstorming sessions.
That's how I found out how important is to know the distinction between goals, objectives, and tasks:
Objectives show what you want to achieve (e.g. Increase sales);
Goals reflect on how and when you plan to do that (e.g. Hire 3 additional sales reps within a month);
Tasks are specific actions you need to complete to achieve your objectives (post an ad, conduct interviews, conduct research on possible territories for expansion, etc.)
Summary for the planner to-do list method
Overall, I have to admit that I'm extremely motivated to try out this method again. I want to find the right categories for my daily routine and further implement those to-do lists to improve my productivity.
Moreover, it will definitely help me improve my time management skills.
Rating: ⭐️⭐️⭐️⭐️⭐️
Method #2 To-do list template
The second method I was eager to try was using a to-do list template.
Even though I'm used to writing things down on paper, I have to admit that it takes some valuable time.
I imagined a ready-made framework would simplify my workflow, as I wouldn't have to reinvent the wheel.
All templates in general serve the same purpose — to streamline the processes and help you save time on creating a system that works.
That's exactly the purpose of to-do list templates, and I immediately found an abundance of variations available for download.
I chose to use a combination of a regular to-do list for my work tasks, to present here, and an additional 2 for my personal life tasks.
For my next day at work, I set a goal of completing 8 tasks.
Interestingly, the results were quite similar to my planner list.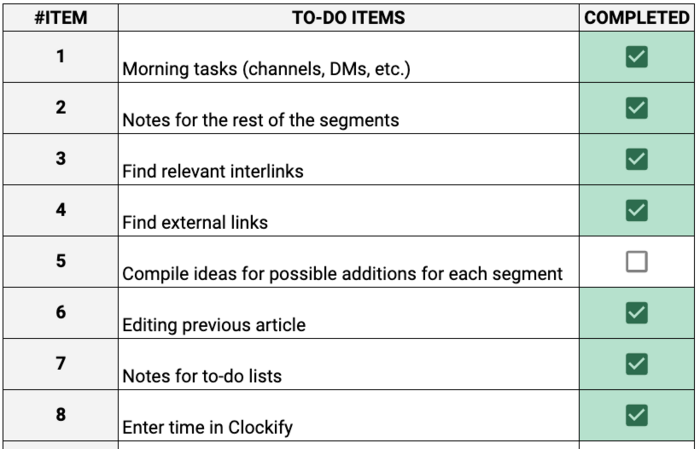 I completed 7 out of 8 tasks, and once again, felt the urge to work on more precise time estimates.
However, I have to admit — for people working in any creative industry, setting precise estimates may be a challenge.
Pros of using to-do list templates
✅ Various templates are available for free download
✅ You won't lose any time creating a system
✅ Templates provide consistency
Cons of using to-do list templates
❌ You may not find a suitable template for your specific needs
❌ You can't update or alter all existing templates
❌ Some people prefer writing by hand
💡 Clockify Pro Tip
Want to check out which templates exist and try out some? Check out our resource page with an abundance of variations:
Who are to-do list templates best for?
If you're not the most creative type, and you simply want to try an easy solution to get and stay motivated — templates will work like a charm.
I'd highly recommend to-do list templates to people who:
Don't have any experience with to-do lists,
Often feel overwhelmed,
Simply want to spend less time planning and more executing the tasks,
Want to start tracking their progress, and
Prefer all things digital.
Summary for the to-do list template method
Templates were an interesting method to try out.
For me, it was mostly because a variety of templates I found gave me a nudge in the right direction in terms of better organization of my own to-do lists I create in my planner.
I learned about different ways of categorization and prioritization.
However, since the results were almost the same as with my planner to-do lists, I think I'll just stick to my preferred way in the future — writing things down by hand.
Rating: ⭐️⭐️⭐️
Method #3 Digital task manager
Here's another example of a digital to-do list method that is supposed to help us achieve more every day.
Even though I'm a huge fan of paper, I'll have to admit — leveraging the power of technology comes with various advantages.
While not trying to sound like Captain Obvious, I have to state that digital task manager apps are specifically designed for this purpose.
So, listing tasks is their primary purpose — but in most task managers, you'll also be able to:
Add deadlines,
Assign tasks to projects,
Add other people to specific tasks,
Add your goals in a separate category,
Upload files,
Set recurring tasks, etc.
I must say I'd already had some experience with using digital task managers before, but it was mostly because I had to use them.
So, using them voluntarily for my personal needs was kind of uncharted territory.
Here's a sneak peek into my tasks for the day.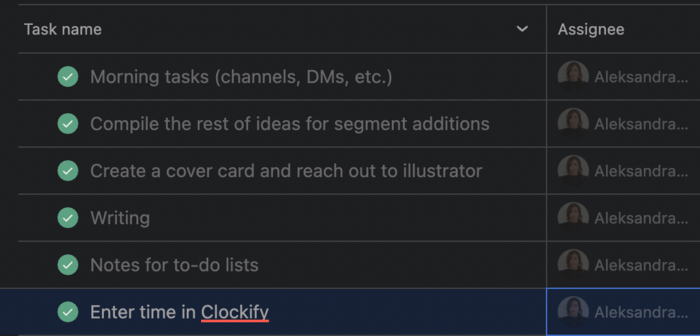 This time, my tasks were a bit different, and I completed all of them. However, I must mention that one of the tasks was "writing", so I can't say I had a specific goal to reach within the task.
Pros of using a digital task manager
✅ Automation and availability on different devices
✅ Reminders are available
✅ You can add collaborators
Cons of using a digital task manager
❌ Features you don't use may be distracting
❌ You depend on developers for regular software maintenance (or you may lose all the data)
❌ It can be overly complicated for user's simple needs
Who are digital task managers best for?
I'm sure everyone who's into apps will benefit from this method.
I'd also highly recommend digital task management to people:
Working on multiple projects,
Whose team members are willing to use the same tool,
Who simply prefer having their tasks open in one of their tabs.
Summary for the task manager method
Even though the "writing" task was a bit vague, I loved the fact I had no incomplete tasks at the end of my shift.
I'll definitely try out the method again — but next time around, I'll try to define each task more precisely.
Rating: ⭐️⭐️⭐️⭐️
Method #4 A running list
Don't worry — a running list is not a record of your jogging activity.
A running list is actually a planning method for logging your weekly tasks, commonly used to keep track of deadlines.
In a running list, there are 4 categories of task progress, which you appoint to a certain day of the week:
Scheduled,
Started,
Moved, and
Completed.
This is an amazing method if you want to have all the tasks together with their dates of completion on a single page. Additionally, I haven't found another to-do list method that allows you to keep track of tasks that you've started but haven't completed yet.
As we all know, life can be hectic and legit reasons for rescheduling and even missing deadlines exist. However, we can also start a task and completely forget about it the next day. That's why it's crucial to include the said task in our tomorrow's workload.
So, bear in mind that running to-do lists don't really make sense if you're not planning to commit to making weekly arrangements.
I tried a running list method on a specific task, and this is what it looked like.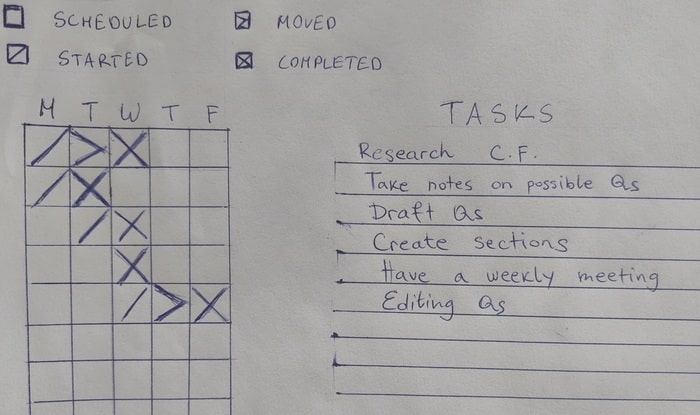 As you can see above, my primary task was to write a set of questions for an interview. All the subtasks were completed on time, but with no deadlines shown, the list doesn't actually indicate whether I was on time, or late with any of the tasks.
I liked the option of marking the task as started, but apart from that, I didn't notice (or had a way to track and compare) any changes in my productivity levels.
Pros of using a running to-do list
✅ Frees up your memory, as all important tasks are on a single page
✅ Helps you create balance in your week
✅ You can keep track of tasks you've started but haven't finished
Cons of using a running to-do list
❌ Can create confusion if multiple tasks are listed
❌ Only works if combined with another time management method
❌ Must be used on a weekly basis
Who are running to-do lists best for?
I'm sure many people would benefit from using this method, such as:
People with multiple jobs,
People who are on multiple projects,
Working parents, etc.
Summary for the running to-do list method
That being said, I have to admit — a running list is not really my cup of tea.
Even though I'm really glad I've tried the method, I am almost certain this experiment was enough. For this method to work, I'd have to create lists for each of my primary tasks, and those can occasionally overlap. Additionally, I'm simply a bigger fan of daily to-do lists, as those obligatorily help me free my memory. I've noticed that longer lists can even negatively impact my productivity.
So, my verdict is — I don't think I'll ever be using a running list method regularly. But, at least now I'm aware of its benefits, so you never know.
Rating: ⭐️⭐️
Method #5 A calendar
Another digital method I tried was putting my daily tasks in a calendar. For this purpose, I used the Clockify calendar view.
The method itself is quite self-explanatory — you need to enter your future tasks into a digital calendar and appoint a specific time slot to it.
It's quite a practical way to organize your day, as it helps you visualize the allocated time slots. They will appear as blocks of time, and you'll get a better idea of what your day should look like.
Let's take a look at my example first.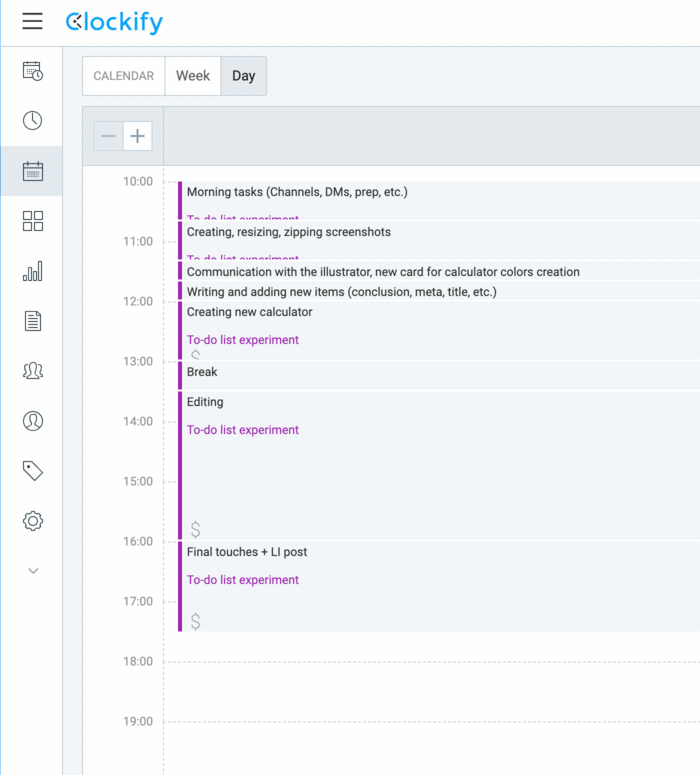 Even though my plan seemed perfect, I did not complete all the tasks.
More precisely, once again, I miscalculated the time for 2 tasks, so my actual schedule didn't look like this.
Additionally, I overlooked the fact that the creation of a new calculator would require new screenshots — so my final touches and the LinkedIn post had to be pushed to tomorrow's schedule.
Pros of using a calendar for a to-do list
✅ Ease of scheduling and visualization of your day
✅ You can separate tasks by projects
✅ Available on multiple devices
Cons of using a calendar for a to-do list
❌ Must be an expert at time estimates
❌ A hassle to change everything if you miscalculate a single task
❌ A hassle to enter every routine task separately
Who is the calendar best for?
I can see how this method can be extremely useful to people:
Who are often on the go,
Who are great at time estimation of their tasks,
Whose tasks are repetitive and predictable,
Who have a lot of time-limited meetings in their day, etc.
Summary for the calendar method
However, for me, calendars are more for keeping track of future meetings and what's already done.
Some of my tasks are still a bit abstract and vague, such as "writing" or "editing", so I have to admit I'm not inclined to use a calendar as a to-do list method in the future.
Rating: ⭐️⭐️⭐️
Method #6 The Do One Thing method
The Do One Thing method consists of choosing only one thing from your to-do list and giving complete attention to your selected task. Only after you've completed the task you've decided to tackle first are you allowed to move on to the next one.
The core concept of The Do One Thing method includes the following steps:
Step #1: Create a list of all the tasks you want to complete,
Step #2: Choose the top priority task and write it on a separate sheet,
Step #3: Put the full list aside until you're finished with the first task,
Step #4: Once you've completed the first task, cross it off the list and choose the next priority, and
Step #5: Repeat until you're done with the whole list.
Since it's not surprising that multitasking can decrease productivity by 40%, it makes perfect sense that chasing deadlines gets much easier if you're fully committed and focused on the task at hand.
That's exactly why I decided to exploit the magic of doing one thing at a time.
Here's what my typical day looked like using this method.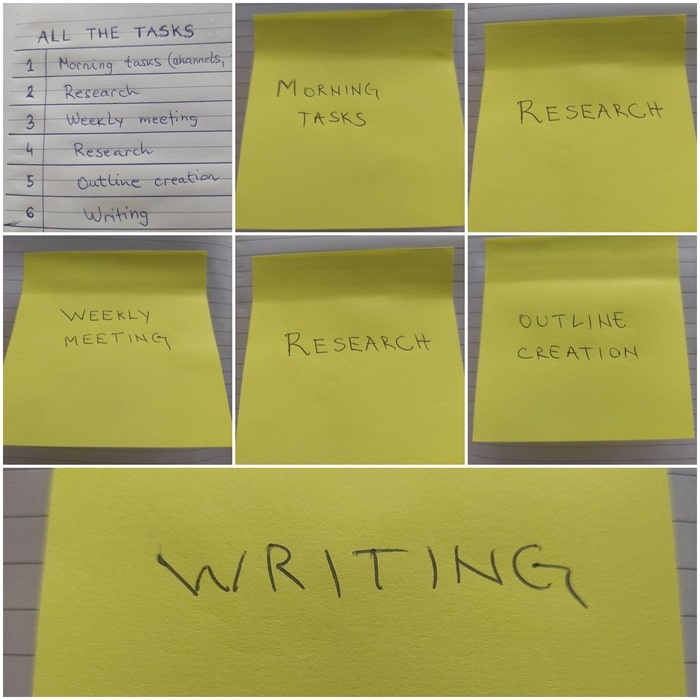 As you can see, first I created my full list of tasks for the day. Then I wrote each of them on a stick-it note and dedicated it to a separate page in my planner. As I was done with a task, I'd turn a page and focus on the next one.
I have to admit I didn't notice any changes in my productivity, but it definitely helped me focus on one task at a time.
I'm sure this method must be used for a while to notice any bigger changes.
Pros of the Do One Thing method
✅ Helps you improve focus
✅ Helps you get better at prioritizing
✅ Helps you reduce multitasking
Cons of the Do One Thing method
❌ Enables you to procrastinate
❌ If not fully focused, it may take you longer to complete your task at hand
❌ You can't ever switch between tasks
Who is the Do One Thing method best for?
Overall, I'd definitely recommend trying out this method to all of you who tend to multitask.
And, while I can clearly see many advantages of focusing on a single task, sometimes, it's simply not realistic — coworkers may reach out, you can get an email that requires an urgent response, etc.
Summary for the Do One Thing method
One thing is for certain — The Do One Thing method is great for improving prioritization, and I'll definitely try it out again in the future.
Rating: ⭐️⭐️⭐️⭐️
Why should you try using to-do list methods?
So, why should anyone bother to experiment with different to-do list methods?
To-do list methods will:
Help you prioritize your tasks,
Make you less likely to miss deadlines,
Improve focus.
As you can see from the above-mentioned reasons, the gist is that they help us be better organized, stay on track with all the tasks we need to complete, and ultimately get things done.
There are 2 main reasons why this works for the majority of people, and finding the method that suits you will definitely help you achieve peace of mind.
The first reason is more obvious and practical — to-do lists serve as reminders of our priorities and help us track our progress.
The second one operates on a deeper, more psychological level. The thing is, when we keep our future tasks only in our heads, we fuss over them worrying we'll forget to do something.
To-do lists actually trick our brains to stop worrying. This is crucial, as the less we worry about the future, the more we can focus on the task we're currently doing.
Additionally, there's a sense of achievement when you tick things off your list. As a consequence, you'll definitely be more goal-oriented.
Based on my observations, I want to share 3 benefits of using to-do lists I noticed during my experiment.
💡Clockify Pro Tip
If you're still not convinced to-do lists could be your ultimate productivity booster, how about the opposite thing? My colleague tested and wrote about keeping a to-don't list, so check it out:
Benefit #1 Better focus
This benefit is especially important for 2 categories of people:
Multitaskers, and
Procrastinators.
Correct me if I'm wrong, but I'd say that the vast majority of us would fit into at least one of the two categories, at least occasionally.
Finding a to-do list method that works for you will help you avoid distractions and worry, and even stop thinking about future tasks.
The primary result of less brain clutter is a much better focus on the task at hand.
Benefit #2 Increased productivity
Once you're fully focused on your task, your overall performance will improve, especially your productivity levels. After all, focus and productivity do go hand in hand.
Finding the right to-do list method allows you to go through work one step at a time, and there's no doubt that will work in your favor. I believe we've all heard the expression "A journey of 1,000 miles begins with a single step", which is exactly the case here.
Once you start working your way through the lists, you'll feel your workflow improving and get more mental bandwidth.
Benefit #3 Increased motivation
Not having to worry about our future tasks comes with many psychological benefits. A combination of better focus and increased productivity naturally leads to higher self-esteem while we're tackling a task.
This sense of accomplishment truly reduces stress and anxiety levels, and you'll feel more motivated to complete another task. You will be up for it, even if it's challenging.
Additionally, I noticed I'd sometimes do an additional task — purely for the satisfaction of ticking another item off my list and freeing some time from tomorrow's schedule.
Wrapping it up: To-do lists help me follow through on my own promises
All in all, to-do lists are an amazing tool to stay organized and give our brains permission to occasionally forget stuff.
After all, we have to remind ourselves that our working memory is limited, and our brain simply isn't wired to remember everything at all times.
However, even though there's no doubt everyone will benefit from having a simple to-do list, I have to admit — finding a method that works for you takes it to another level.
You will have to experiment a bit, and it may take you a while to find the right one, but hear me out — the process itself will help you be more accountable and improve your memory, as well as your productivity levels.
Eventually, when you hit the bullseye, your only regret will be that you haven't tried to-do lists sooner.
✉️ Have you tried any of these to-do list methods, or perhaps another one? If the answer is yes, which one worked best for you? Feel free to share your thoughts on the topic, or even better, some tips and tricks. Write to us at blogfeedback@clockify.me, and you'll get a chance to be featured in this or one of our future articles. Also, if you liked this post and found it useful, share it with someone you think would benefit from it.