Top 20 business management software
Business management software is meant to automate certain work processes that would otherwise take a lot of unnecessary time and effort.
This comprehensive guide will show you which aspects of your work should be automated by using business management software, as well as help you decide on the one that best suits your company.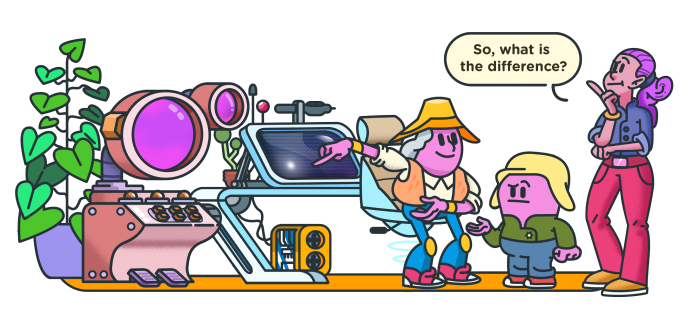 What is a business management software?
Business management software encompasses all of the tools that help you run your business smoothly.
They range from timesheet apps to complex accounting platforms that let you juggle several dozen clients.
These tools are meant to automate certain processes, such as payroll, for example. They can also cut down on tedious tasks like inbox management. But they can also handle large-scale tasks, like project management.
Therefore, we'll use the following paragraphs to demonstrate the capabilities of business management software and the best way to apply it to help your business prosper.
You use it to maximize efficiency
As you'll see in the following paragraphs, business management software encompasses all major aspects of running a company. If your business is having issues with delivering results, investing in an app that will improve team collaboration and performance will surely be impactful in the long run.

Furthermore, the overall efficiency is reflected in the time your team spends to finish a certain task, which can be greatly improved with applications such as Clockify or Everhour.
You use it to resolve business challenges
Needless to say, the type of business management software depends on the areas you struggle with the most. Maybe it's financing, maybe it's insufficient data storage, HR, customer management, and so on. Decide which aspects of the business are a priority and patch those holes first.
You can make a choice between free and premium plans
It goes without saying that the software will need to match your budget. If at all possible, you should try signing up for a free version until you know for certain that a paid plan can benefit the company.
You use it to grow your business
If you plan on growing your business, then you'll want software that can scale along with the company. Look for tools and solutions that can help with the workflow whether you're at 10-50 employees or 150-300.
In most cases, all-in-one software platforms are the most efficient, but they're also the most expensive choices. Therefore, try to find the middle ground between a budget solution and features your company needs.
You can collaborate 24/7 with your team
Finding a software that caters to all devices is something you'll definitely need, even if you're working from the office. Nowadays, most teams operate from remote locations, so it's not a bad idea to invest in a software that offers full accessibility, both online and offline.
You can customize the management software to your liking
Apps and software that have at least a dozen different integrations will give you more freedom to mold it to fit your business. In the end, you'll be taking that software and tailoring the service to maximize its potential.
Now that we've, hopefully, clarified what business management software is, it's time to go in-depth with the subcategories and offer some examples of the best software on the market for your business.
What are examples of business software?
Apps, tools, and solutions are there to make our jobs easier by finding shortcuts or automating certain tasks. So let us first take a look at what type of work can be automated, and to what extent it should be automated.
It'll give us a better overview of what our business management software should entail.
Activities and processes that can be automated for optimal business management are:
Tracking employee and team work hours
Managing workforce
Customer relationship management and sales
Project management and collaboration
Accounting and invoicing
Storing and sharing documents
If you're not quite familiar with the aforementioned processes, we've dedicated some lines to clear up any confusion. Also, we have the appropriate tools for each category that are considered by many to be the best in the business.
1. Time tracking software tools
For time management, you will need a tool that tracks your time, helps with scheduling and ensures you (and your employees) stay focused when needed.
More specifically, time management apps need to:
track time,
act as a timer (Pomodoro or other),
keep distractions away, and
have schedules/to-do lists/habit trackers.
Any tool that saves you time on mundane tasks and helps with the day-to-day schedule is irreplaceable.
Clockify — Best free time tracker for businesses of all sizes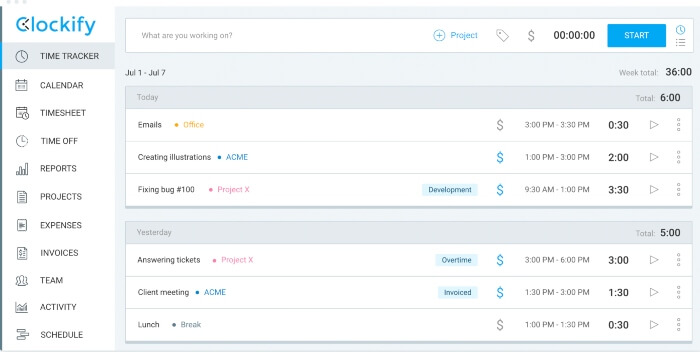 Clockify is an easy-to-use tool with a robust set of features. Made for freelancers and big businesses alike, you can easily track and log your time, check your progress and even improve your overall productivity. And with complete transparency on designated projects, you can see what everyone is working on at any given time.
🔹 Notable Clockify features:
Individual and team-wide time tracking
Time audits
Timesheets
Identifying wasted time
Improving productivity with daily/weekly/monthly reports
🔹 Best value for: Freelancers, businesses of all sizes
🔹 Platforms: Browser extensions for Google Chrome, Mozilla Firefox, and Edge; Mac, Windows, and Linux Desktop applications; Android and iOS mobile platforms.
Everhour — Best lightweight tracker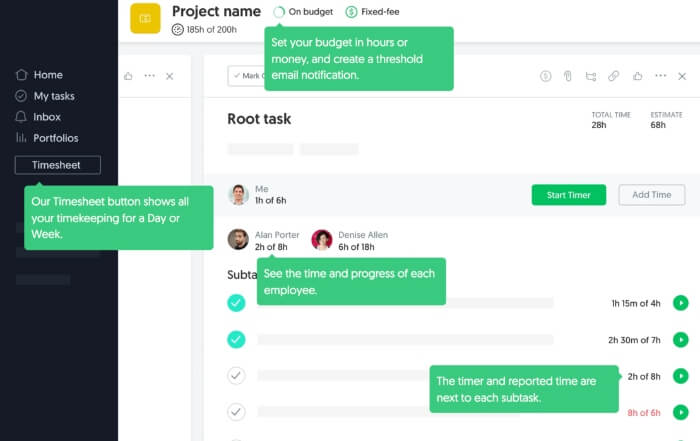 If you want a tool that simply tracks time, without any bells and whistles, then Everhour might just be for you. It is an online-only tracker that acts as a supplement to an already-established business model.
🔹 Notable Everhour features:
Individual and team-wide time tracking
Time audits
Editing time entries
Lightweight invoicing system
🔹 Best value for: Freelancers, mid-sized businesses
🔹 Platforms: Web app, extensions, as an integration (Asana, QuickBooks, etc)
2. Workforce management software
These types of tools are intended to help you manage staff — their work schedules, project tasks, to optimize productivity, etc. Workforce management software is a be-all-end-all solution that will do wonders for company transparency and boost workflow.
WMS needs to have:
time tracking and timesheets
project transparency/task scheduling
monitoring and analyzing the workflow
expense and productivity reporting
Clockify — Best for time, project and team tracking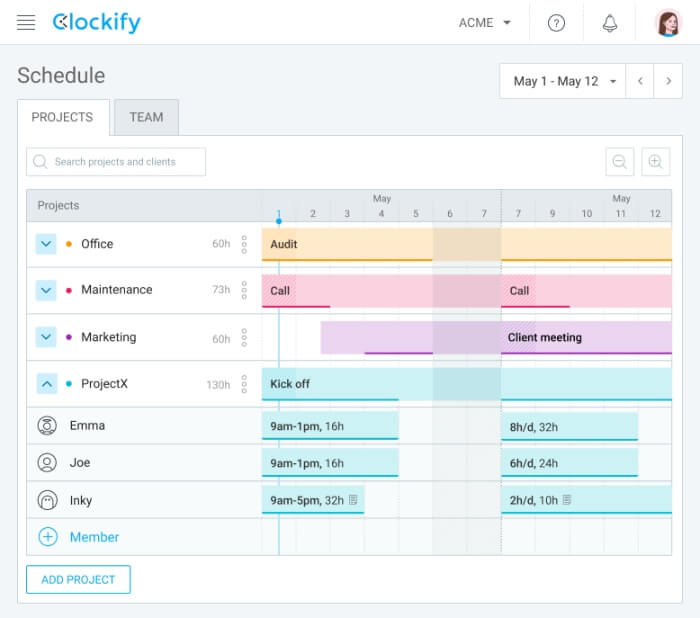 Aside from tracking time, Clockify can easily become an indispensable workforce management tool. Track your and others' time, have full transparency over projects and tasks, calculate rates for separate projects and more. Useful for automating the more tedious sides of project management, whether you're a freelancer or a business.
You can also choose the premium package that offers some advanced features, such as scheduling and GPS tracking, which are quite useful for large companies with a lot of teams working on different projects.
🔹 Notable Clockify features:
Individual and team-wide time tracking
Time audits
Task categorization and labeling to improve workflow
Billable vs non-billable hours in different currencies
Set estimated times and compare them to actual progress
Advanced scheduling system and project visualization
🔹 Best value for: Freelancers, businesses of all sizes
🔹 Platforms: Cloud-based, Mac, Linux, and Windows desktop, Apple and Android tablets and smartphones, Chrome, Firefox, and Edge browser extensions
ADP Workforce Now — Best for payroll, benefits, and attendance tracking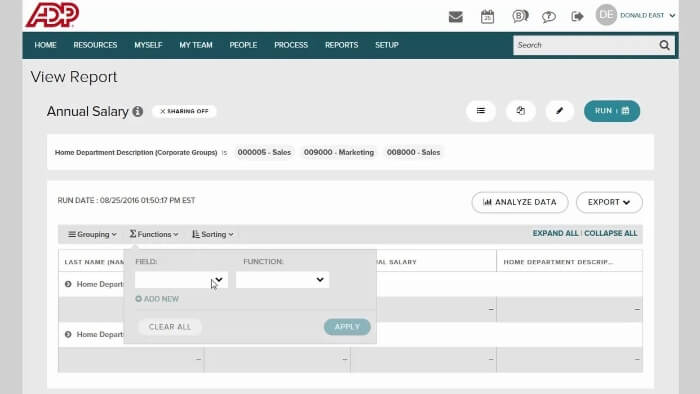 ADP Workforce Now was created with the intent to automate staff-related administrative tasks. Both managers and employees can use the software. Employees get access to paychecks, can calculate taxes, check their balance, submit work hours, check benefits, etc. Managers can track the same, with the addition of analytics and benchmarks, as well as compliance requirements.
🔹 Notable Workforce Now features:
Access to timecards, payrolls, benefits
Integrated human resources to optimize teams
Predictive algorithms to help with staffing
Cost control
🔹 Best value for: Mid-large businesses
🔹 Platforms: Cloud-based
3. CRM and sales tools
CRM stands for Customer Relationship Management. As such, it concerns your business's relationship with customers, both present and potential. Today we are able to automate some of the more tedious parts of the CRM process, including:
customer service and relationships,
sales — helps with understanding the sales targets,
marketing — helps with forecasting, and
social media — helps with customer interaction and engagement.
CRM is on this list of absolutely necessary tools because of its large role in company growth.
Hubspot CRM — Best in simplicity and usability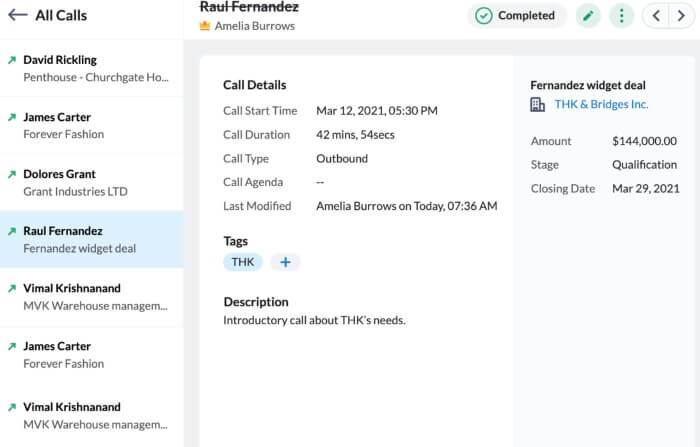 Hubspot is a smart solution for all aspects of CRM. It boasts a wide variety of features for each department: sales, marketing, customer service, operations, and business owners.
🔹 Notable Hubspot features:
Email, prospect and deal tracking
Sales pipeline management
Ad management
Chatbot creation
🔹 Best value for: Businesses of any size and from any industry
🔹 Platform: Cloud-based, Apple and Android device
Bitrix24 — Excellent for large companies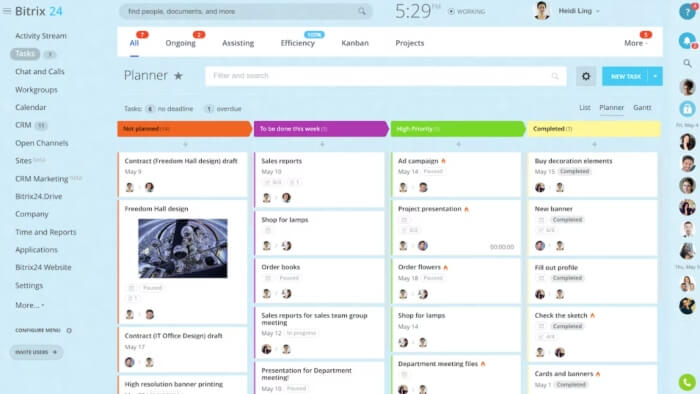 Bitrix24 is a relatively new platform that offers its user the ability to perform multiple operations from running sales and team management to billing and financial analysis.
Primarily, it is a CRM tool that's absolutely free, but the paid version offers more versatility when it comes to management capabilities and customer contact services.
Overall, the pricing suggests that it's most applicable for large companies, but the free features aren't something you should miss out on.
🔹 Notable Bitrix24 features:
Practical CRM management
Collaboration tools
Kanban boards
Time-tracking software
🔹 Best for: All types of businesses (all-in-one platform)
🔹 Platform: Mac and Windows desktop applications
Salesforce — Best for growing businesses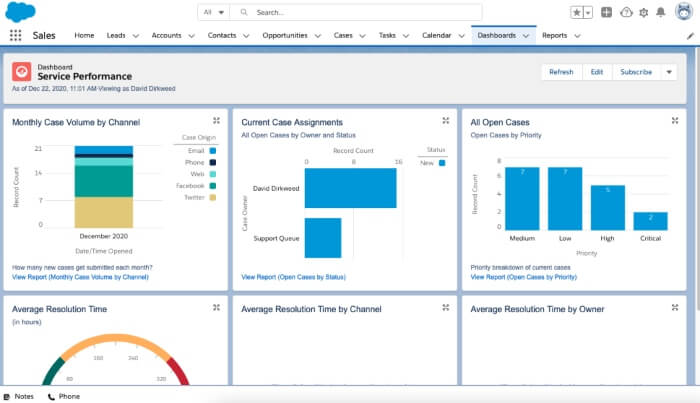 Salesforce is a more serious player in the CRM game. Its complex set of features and tools extending beyond other versions of CRM software make it a valuable asset to any growing or large company. Because as the business grows, one can integrate new features and expand the platform along with the business.
🔹 Notable Salesforce features:
Automated B2B marketing
Thousands of integrations (both Salesforce and third-party)
User forum/community for peer-to-peer help and exchange
🔹 Best value for: Large, growing businesses
🔹 Platform: Cloud-based
Apptivo —Best for beginners, most user-friendly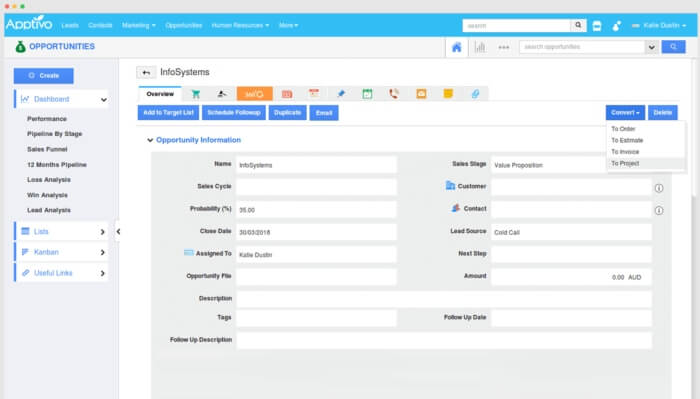 Apptivo works as a smart collection of integrations that together form a strong CRM tool. Housed on a single platform, this powerful solution lets you customize any process to fit your business. It's user-friendly, especially for CRM beginners.
🔹 Notable Apptivo features:
40+ integrations to choose from depending on the type of business
Easy accounting and invoicing
Syncing timesheets, projects and data for accurate reports
🔹 Best value for: Small-medium sized businesses
🔹 Platform: Cloud-based
4. Project management and collaboration tools
Project management requires the aid of all-encompassing tools. Your teams should have a platform that allows them to communicate, collaborate, delegate tasks and discuss issues.
Likewise, a business owner needs a place for monitoring the project's progress and overseeing the work. In these regards, a good project management tool contains at least:
project planning — funds, milestones, deadlines, progress tracking
resource management — pre-planning, allocating resources and staff according to deadlines, scheduling
task management — assignment, analysis, overview
Naturally, certain platforms will offer more intricate features for a price.
💡 Clockify pro tip
That being said, if you want to learn how to improve interpersonal employee relationships, and help them by developing a healthier work environment, you might want to look into our Team Management Guide. It can easily show you problem areas in your own workplace and offer solutions.
Pumble — Best intuitive collaboration tool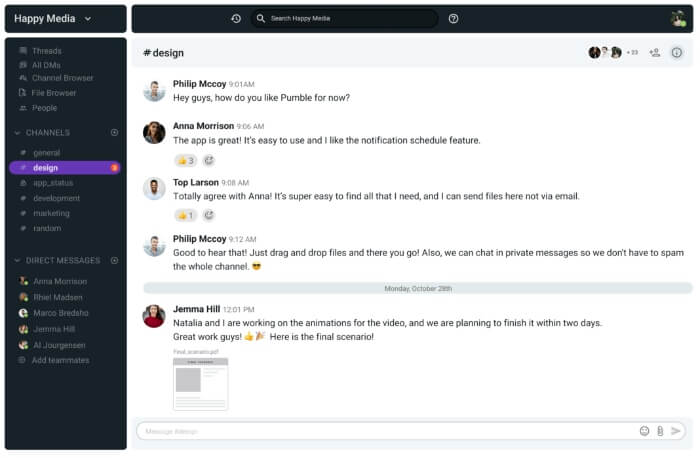 Taking the industry by storm, Pumble has proven to be a worthy competitor to apps such as Slack or Discord when it comes to collaboration and team messaging.
The interface is extremely user-friendly and intuitive, messaging has never been easier, and you can use it on all popular platforms with no limitations on the number of users. Also, guess what? It has a free version and a premium version with extra features.
🔹 Notable Pumble features:
Unlimited number of users
Communication through channels and DMs
Text messaging and file sharing
Advanced filtering system
🔹 Best value for: Freelancers, small-to-mid sized businesses, and large companies.
🔹 Platform: Linux, Mac, and Windows desktop applications, Android and iOS apps, and web version.
💡 Clockify pro tip
Productivity often relies on the efficient use of time. The best way to explain it to your team on Pumble is by inviting them to share their schedules and figure out the best way to increase efficiency.
Wrike — Best for IT companies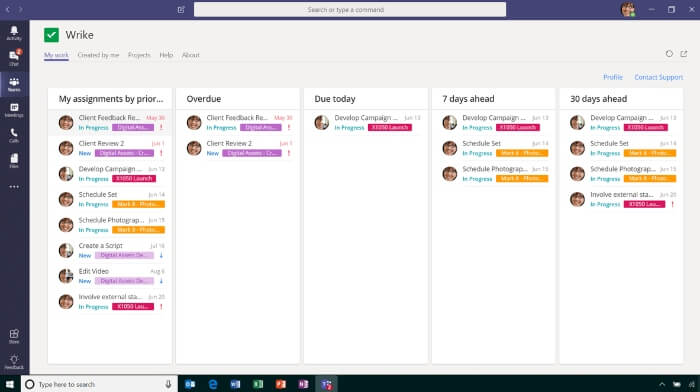 Wrike has surfaced as a great tool for growing IT companies. With its scalability option and high customization, it's become a fast favorite of many.
🔹 Notable Wrike features:
Ease of use — creating and assigning tasks
Kanban boards, Gantt charts, lists, tables, etc
Highly customizable project dashboards
Detailed reports and report templates
🔹 Best value for: Mid- to large-sized businesses
🔹 Platform: Mac and Windows desktop, Apple and Android tablets and smartphones
💡 Clockify pro tip
Setting up a foolproof project timeline is half the work. And when it's paired up with the right software, your projects will run as smoothly as ever.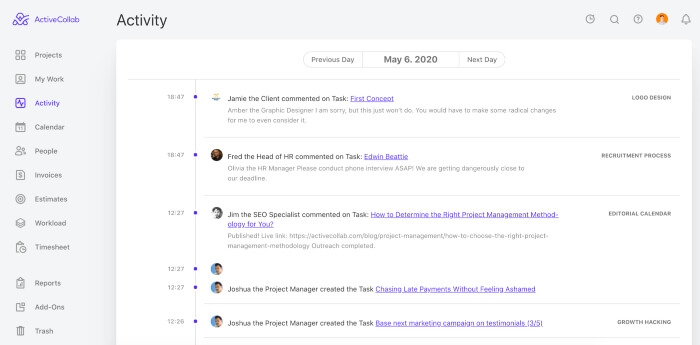 Active Collab is a good choice for businesses that tackle multiple projects at one time. It's also a great help for any one team member involved in several projects, as it makes "project-hopping" seamless.
🔹 Notable Active Collab features:
Organizing tasks based on features, urgency, type, etc
Setting task dependencies
Setting and tracking budget/resources and time for each task
Ease of use and simple UI
🔹 Best value for: Small- to mid-sized companies
🔹 Platform: Cloud-based
Trello — Most adaptable to any industry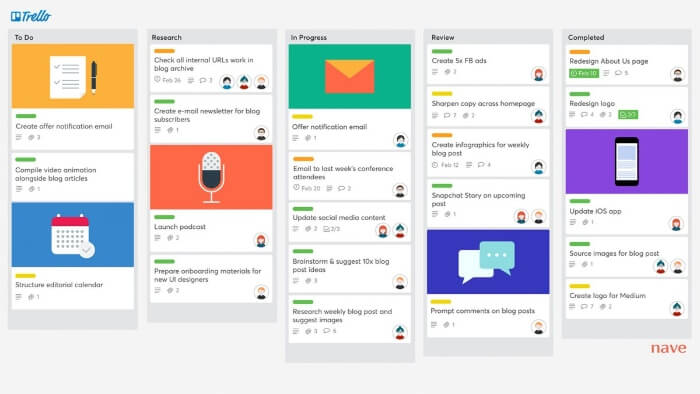 Trello has been in the game for a long time. It made a name for itself, and rightfully so. Trello is easy to use, very user-friendly for beginners and small teams, and by having only the kanban-board view, Trello also minimizes clutter. Many project managers swear by this organizational tool. It's a deceptively powerful solution with a simple design.
🔹 Notable Trello features:
Collaboration with external users
Intuitive interface
Kanban board exporting
Easy overview and task organization
Highly customizable
🔹 Best for: Freelancers, small, mid and large-sized businesses
🔹 Platform: Web browser, Apple and Android devices, Mac and Windows OS
💡 Clockify pro tip
And if you are already using Trello, you can take a look at our tips on how to effectively track time in Trello via integrated Clockify app to get the most out of the platform.
nTask – Best for Project Collaboration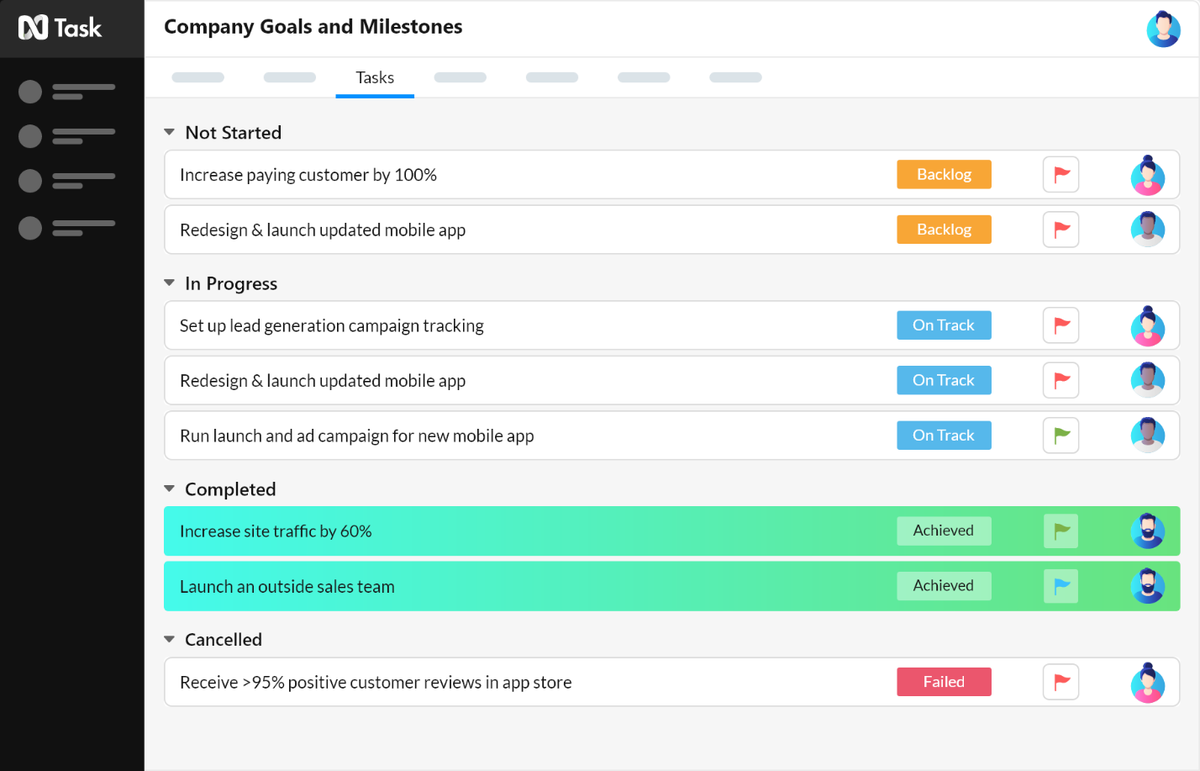 nTask is an amazing business management software to use in 2023. With its user-friendly interface, you can easily organize and manage all your projects and tasks in one place.
It helps you to stay on top of deadlines, track progress, and collaborate with your team. Its features include task boards, Gantt charts, project timelines, time tracking, reminders and notifications, and much more.
🔹 Notable features:
Task Management: Manage tasks, assign them to team members, track progress and due dates
Gantt Charts: Visualize project timelines and track progress with Gantt charts
Time Tracking: Track how much time is spent on each task
Collaboration: Share notes, comments, and documents with team members
Reminders & Notifications: Receive automated reminders for upcoming tasks and activities
🔹 Best for: Suitable for teams of all sizes, from small startups to large enterprises
🔹 Platform: Web version, iOS and Android apps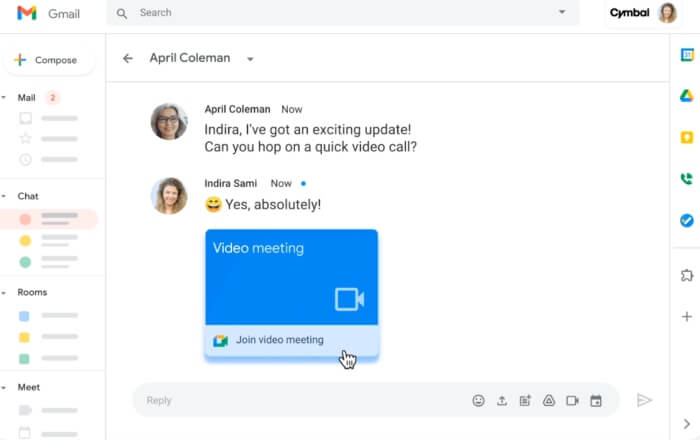 Google Workspace (formerly G Suite) has been around for a long time. As such, it had the opportunity to grow and evolve into the most widely used collaborative tool to date. Even now, it is essential for schools, large enterprises, and organizations. With a vast number of integrations and user-friendly UI, it remains among the top tools.
🔹 Notable features:
Video conferencing, screen sharing, remote meetings
High email security
Fully collaborative
🔹 Best for: Freelancers, small, mid and large-sized businesses
🔹 Platform: Web browser, Apple and Android devices
5. Accounting tools
One key tool for good business management is, of course, accounting. More than with any other tool, we aim to eliminate the possibility of human error and automate as much as possible. Luckily, we can find plenty of accounting software solutions to choose from. And when you go looking into the right one for you, pay attention that they have the following basic features:
invoicing
budgeting
finance management
reporting (for clients)
Depending on the size of your business, the features you require will vary. Keep that in mind before any purchase, or else you end up with a tool that is too robust, or too barebones.
FreshBooks — Best accounting tool for beginners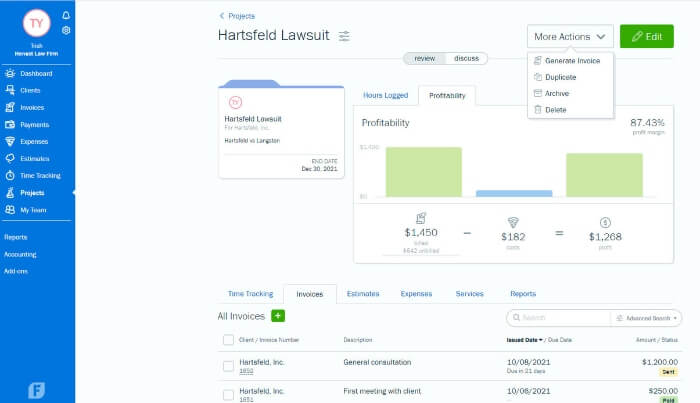 While FreshBooks had made its name as an invoicing tool, it is now a full-fledged accounting app. It's ideal for freelancers and small businesses due to its ease of use and intuitive design. Larger companies will want a more robust tool to be able to cover all avenues.
🔹 Notable FreshBooks features:
Connectivity to Stripe
Data import from financial institutions
Automated reminders for late payments
Double-entry accounting
🔹 Best value for: Freelancers and small businesses
🔹 Platform: Web browser, Apple and Android devices, Mac and Windows OS
Xero — Best all-around accounting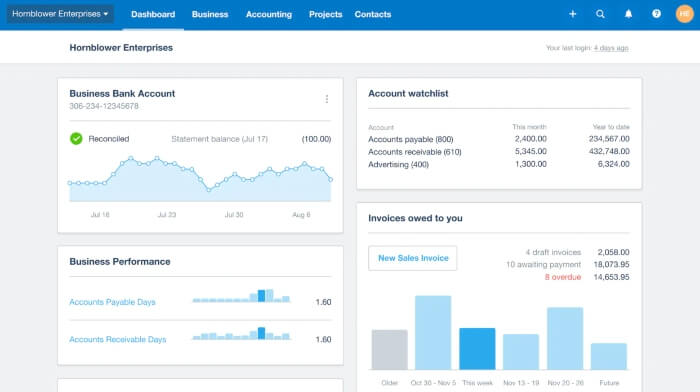 Xero keeps being the strongest contender to the leading QuickBooks in the accounting world. And for those of you managing a bigger company, it will be a better option than FreshBooks. In order to compete, they had to expand their palette of integrations and offer features very few in the market did. But it does come with a price.
🔹 Notable Xero features:
Double-entry accounting
800+ integrations
Unlimited users
Project management
Multi-currency support
🔹 Best value for: Mid-large sized businesses
🔹 Platform: Cloud-based
Wave — Best free accounting software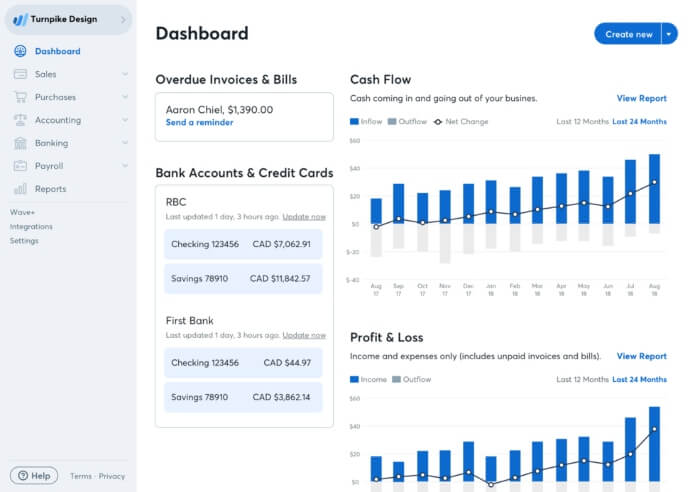 Wave is an excellent tool for freelancers and small businesses which plan to remain small. It provides all the necessary tools and features without having to pay a hefty monthly price. It's especially useful for service-based businesses that have a limited budget.
🔹 Notable Wave features:
Account coaching (for an additional fee)
Cloud storage and automatic backups
Multi-business support
Unlimited collaborators
🔹 Best value for: Freelancers and small businesses
🔹 Platform: Cloud-based, for Apple and Android devices
6. Document storing and sharing tools
When it comes to in-office (or remote) collaboration, having easy access to sharing and storing data is crucial. You also need a tool that facilitates communication between teams, helping project transparency. A good tool for this aspect of the work should feature:
intuitive and easy to use interface
a platform with varying degrees of access
easy storing and sharing of data
integrated chat rooms/other communication channels
project/task boards and progress visuals/reminders
How well your staff collaborates mainly depends on their own dynamic. However, a quality document sharing/storing tool can make communication much easier.
Bit.ai — Best versatile tool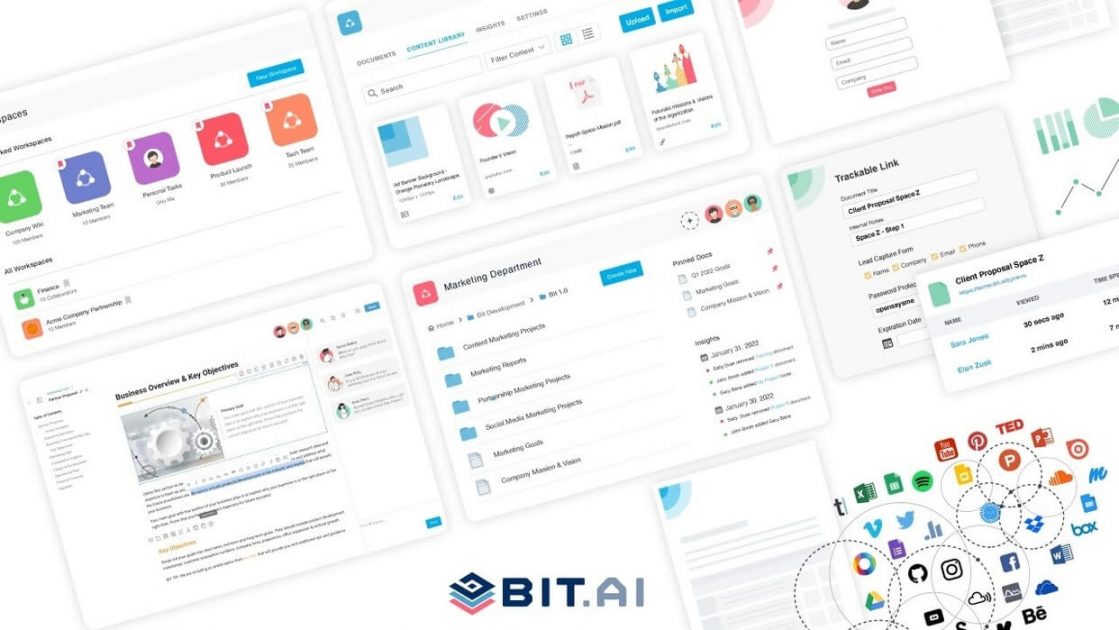 Versatility is everything with storing and sharing documents. That's what Bit.ai is all about — flawless search options and document organization, dynamic environment, and easy-to-use platform.
Also, Bit.ai supports both small and large teams, as well as guests outside your work environment.
🔹 Notable Bit.ai features:
Modern and intuitive UX
Excellent organizational structure
Customizable work structures
Team collaboration
🔹 Best for: Small and mid-sized businesses
🔹 Platform: Cloud-based
Evernote Business — Best multipurpose document storage

While Evernote Business doesn't seem as versatile as some of its competitors when it comes to advanced features, it's a fine tool in and of itself. It makes document sharing, archiving and storing much easier.
🔹 Notable Evernote Business features:
User activity monitoring
Limited access and restrictions setup
Supports multiple file types (audio, video, documents, pdfs, spreadsheets, etc)
Offline access
🔹 Best value for: Small-mid- large-sized businesses, too pricey for freelancers
🔹 Platform: Cloud-based, for Apple and Android devices, Mac and Windows OS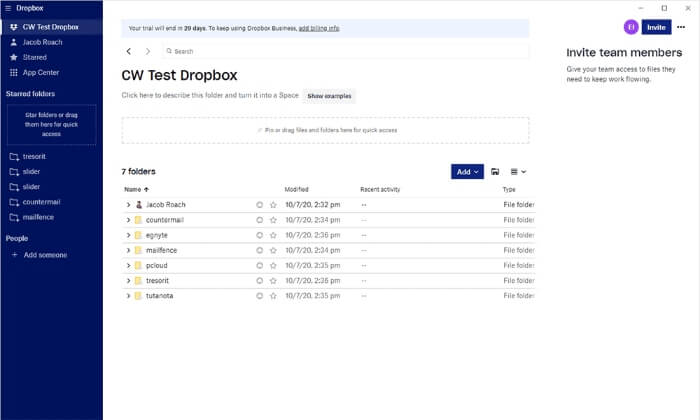 Dropbox Business is an upgraded version of the regular dropbox software. It offers a good set of features that a document management software needs today.
🔹 Notable Dropbox Business features:
A large number of integrations
Ease of access and sharing with clients
Starts at 3TB of storage, with the option to expand for no charge
Simple and easy to use
🔹 Best value for: Small-mid- large-sized businesses, too pricey for freelancers
🔹 Platform: Cloud-based, for Apple and Android devices, Mac, Windows, and Linux OS
Wrapping up
We've seen that finding the right business management software isn't as easy as we think. It requires you to know what aspects of a business can be automated, and to what extent. You need to know what it is that your business needs to grow and improve, and if the appropriate software will help. Because with the right tools, your work will be streamlined better, you save yours and your employees' time and boost overall productivity.
✉️ If you're not new to business management software, we'd like to hear more from you and your experiences with different applications. We value each opinion, so if you'd like to share it with us, you can do so by sending us your thoughts to blogfeedback@clockify.me.