Trello is an invaluable free web-based project management system and visual collaboration tool – it offers you a straightforward way to organize tasks, collaborate with team members, and keep track of your project progress.
Trello will help you streamline your project management, but just like with any app, you have to make sure all your time on it is productively spent. For this purpose, the best practice would be to introduce time tracking to the system – you'll be able to tell how much time you spend on individual Trello tasks, and then generate reports based on this data, to later assess your own, and your teams' productivity.
As there is no native Trello time tracker app, here is how you can best track time in Trello by using the Clockify Chrome extension, while having in mind how both Trello and the Clockify Chrome extension work.
How Trello works?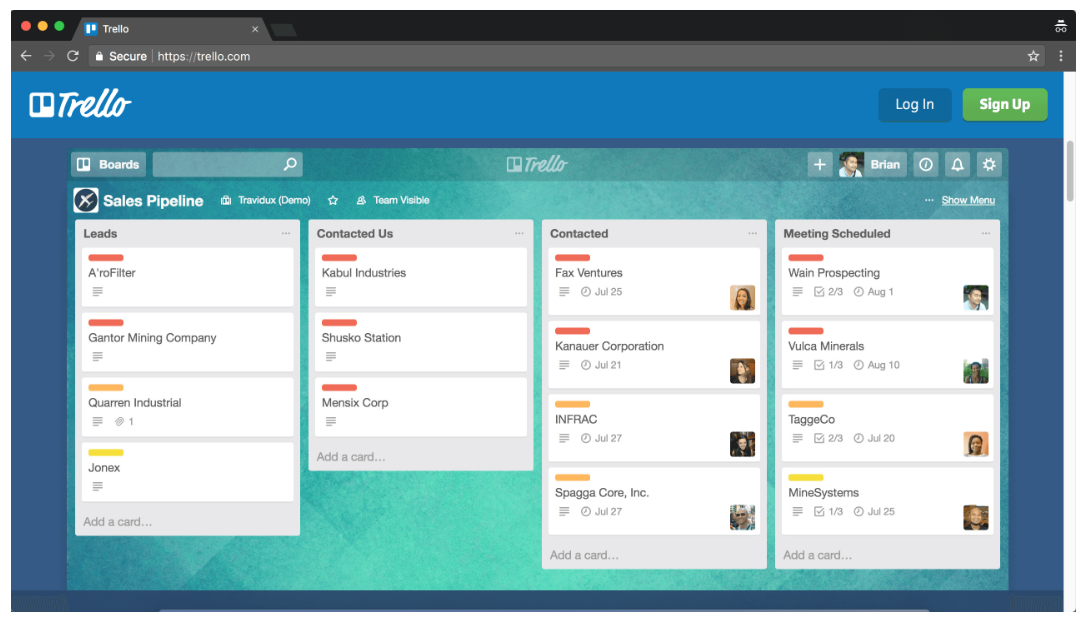 The Trello system is based on boards (which usually represent projects) and cards (which usually represent tasks). Once you create a board, you can create lists and add as many cards as you want to these lists. The cards can also serve as notes, shared files, or a commenting area, depending on your desired workflow.
A card has several features you can make use of:
attaching files up to 10MB (or 250MB, for Trello Gold and Business Class members) – this includes importing files from Google Drive, DropBox, One Drive, or your PC
adding team members, and arranging them so that they can collaborate on specific cards – you can determine everyone's permissions within a board, and distinguish between administrators ("Admin") and regular users ("Normal")
labeling a card with specific colors, so that it's easier to find it on the board
adding a checklist, which serves as a to-do list
setting due dates for the task, to keep an eye on deadlines
moving or copying a card to a different position within a list, to a different list altogether, or to a different board
the "watch" option, which allows you to track all changes made to the card
archiving the card, once you no longer need to actively work on it, but wish to keep it on records
You can choose how you want to manage cards in Trello, and there are two main ways:
Creating an interactive Kanban board
Organizing tasks per type
The Kanban approach is more mobile and interactive, as it involves a lot of card movements:
First, you create lists which can be various in number and name – for example, you add four lists, and name them "Ideas", "To Do", "Doing", and "Done".
Then,  you move your cards according to their progress status in your work:
you put all your brainstorming ideas in the "Ideas" list (you'll later decide whether you'll put these ideas in motion and forward in the board, and when)
you move all the cards you wish to start working on, from the "Ideas" list, to the "To Do" list
once you start actively working on each item from the "To Do" list, you move it to the "Doing" list
as soon as you finish working on an item, you move it to the "Done" list

The second approach, organizing tasks per their type, serves as a contrast to the mobile and interactive Kanban approach, as it is much more static:
First, you name each list by the type of task (e.g. front-end development, back-end development, content…)
You name each card by its task (e.g. update design, optimisation, writing the features page…)
If one of the tasks changes type, or is for whatever reason needed in another list, you can simply move it there – but this is optional

Once you've selected an approach, invited your team members, and had your boards and cards sorted out, you can start tracking time on the activities you perform in Trello.
How Clockify Extension for Chrome works?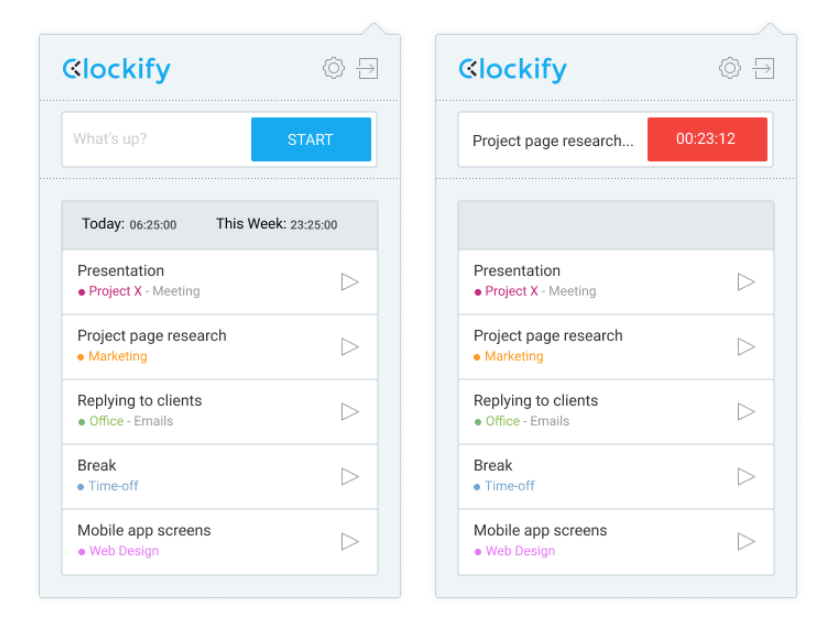 The Clockify Chrome extension is 100% free (just like the other Clockify apps) – it enables you to track time on activities for 100+ apps, including Trello, directly from those apps.
Once you download it from the Chrome web store, you'll be able to:
easily start and end time tracking for your activities
continue tracking time on time entries whenever you need to
add the project, tags and tasks by clicking on the running entry
determine billability status for all your entries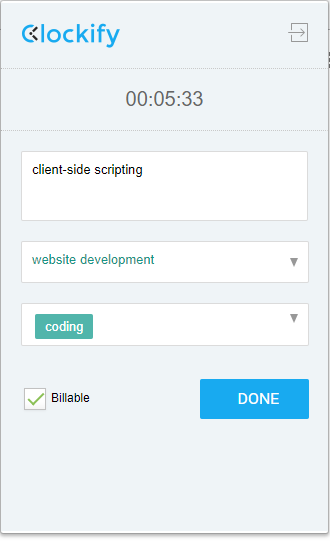 Before you start tracking time with the extension, first make sure that you've set up all your necessary tasks, tags, projects and clients, in your Clockify web version – this way, they'll become available to you in the Chrome version.
The extension is connected with your other Clockify apps, so all the data syncs in together – as soon as you enter time in the Chrome extension, the same data is also displayed in your other Clockify apps, and you can stop the timer from running from there (the web version, mobile, desktop versions, and of course, the Chrome extension itself).
Recommendation
If you are new to time tracking and Clockify time tracker, we suggest you take a few minutes to watch our video tutorials and learn just how easy it is to use our tool:
How you can track time with Clockify in Trello
Considering both Trello and Clockify are free apps, combining the two will give you a completely free project management system, with time tracking and robust reporting.
After adding the extension to your Chrome browser, you'll get a compact Time Tracker button, so you and your team will be able to track the time you spend on Trello tasks directly from your cards.
You'll be able to do so, by clicking on the "Start Timer" button located within the "Actions" list on your card.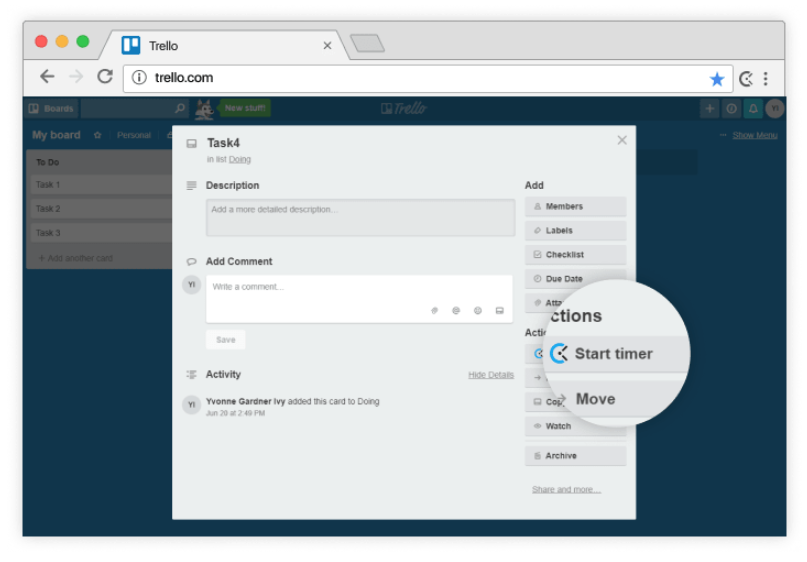 Or, as an alternative, you can select the text within the card, the one describing the activity you are performing, right-click on it, and start the timer from there.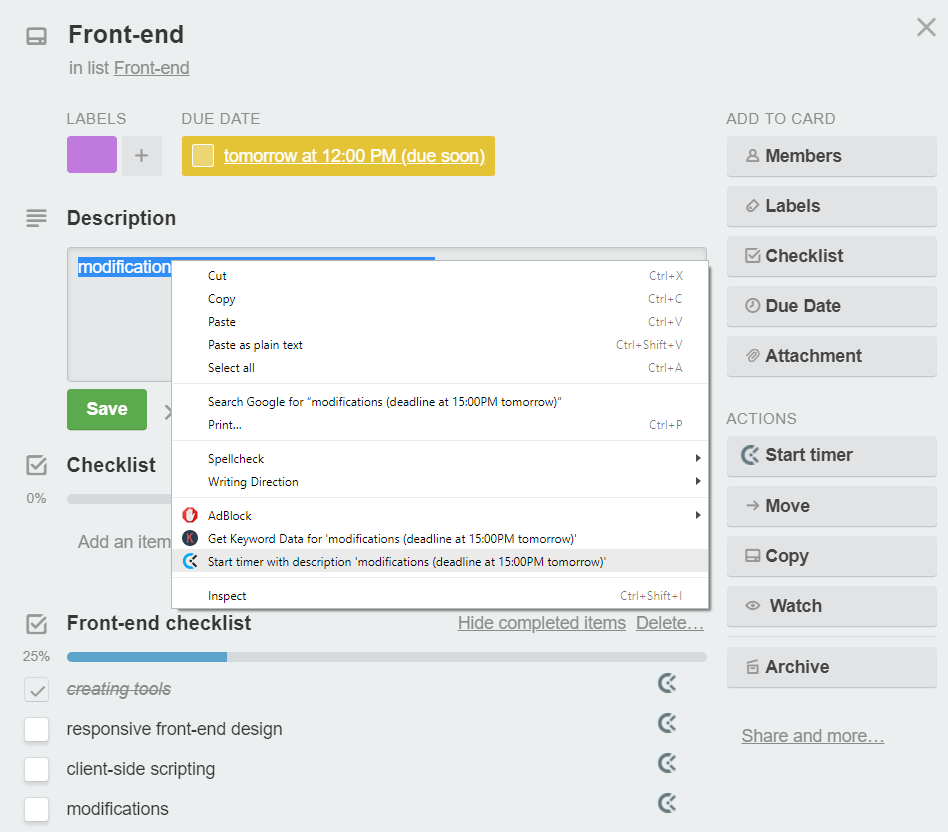 Either way, the timer will automatically start ticking in your Chrome extension, where you can stop it whenever you're finished with an entry.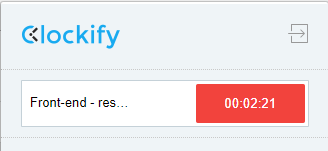 At the same time as in the Chrome version, the timer will also start ticking  in your other Clockify apps, including the web version. If your project has a client associated with it, the client's name will also appear in the web version of the time entry.

Once you and your team are done with Trello activities for a time, you can go to your Clockify web account, and check your hours tracked on the project you worked on in Trello. Just, pick a report (Summary, Detailed, or Weekly), filter by project that served as your Trello board, filter by your Trello board team members, select a time period (say, a week), and you'll get a breakdown of the exact hours you and your team clocked in for the project during that time.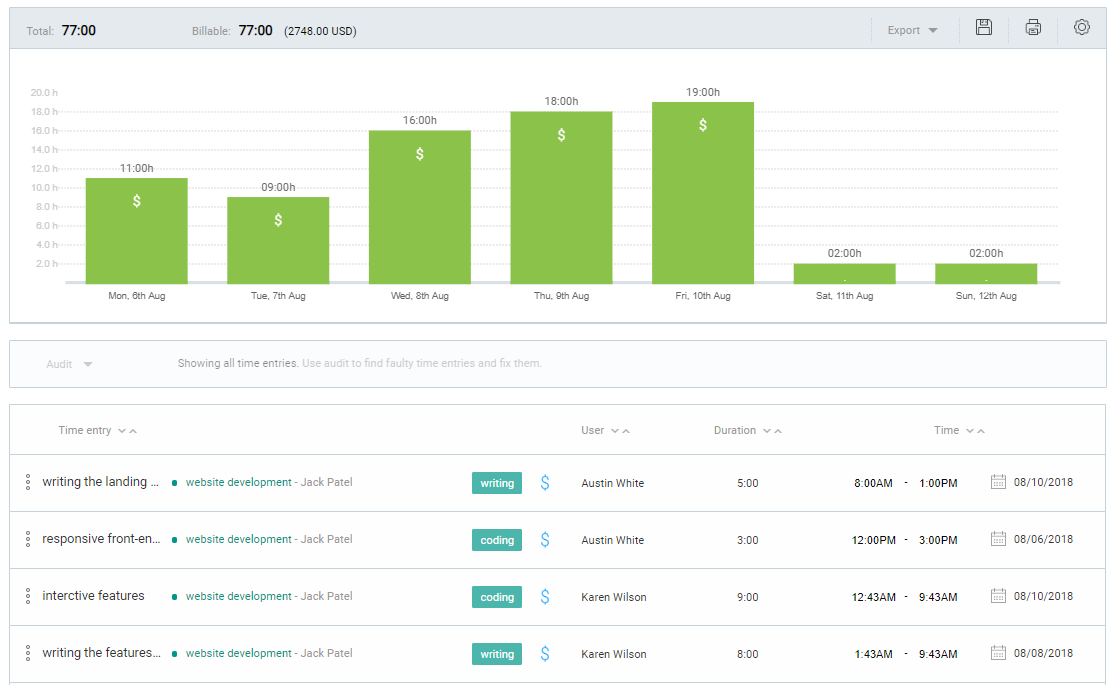 Tips for Tracking Time in Trello
Apart from the basic time tracking, there are certain tips that can help you perfect time tracking in Trello, and really make the best of both apps:
Managing your to-do lists
Adding checklists to a Trello card is perfect for when you want to keep all your to-do lists in check. Just, click the "checklist" button and add your items, preferably in the order of importance, so that you encourage yourself to start working on your most important item first.

You'll notice that there is a Clockify button next to each item – as soon as you start working on an item, click the button, and you'll see the timer immediately start ticking in your Clockify Chrome extension.
Later on, as you finish working on each checklist item in your Trello card, you'll put a checkmark next to it, and the system will automatically cross it out. This way, you'll be able to maintain a sense of progress with your tasks, – this will encourage you to continue working on items until you're finished with the list.
Once you're done with all your checklist items, stop the timer on your last item, and go to the web version of the Clockify app. Here, you'll be able to view all your Trello checklist time entries in the form of a list.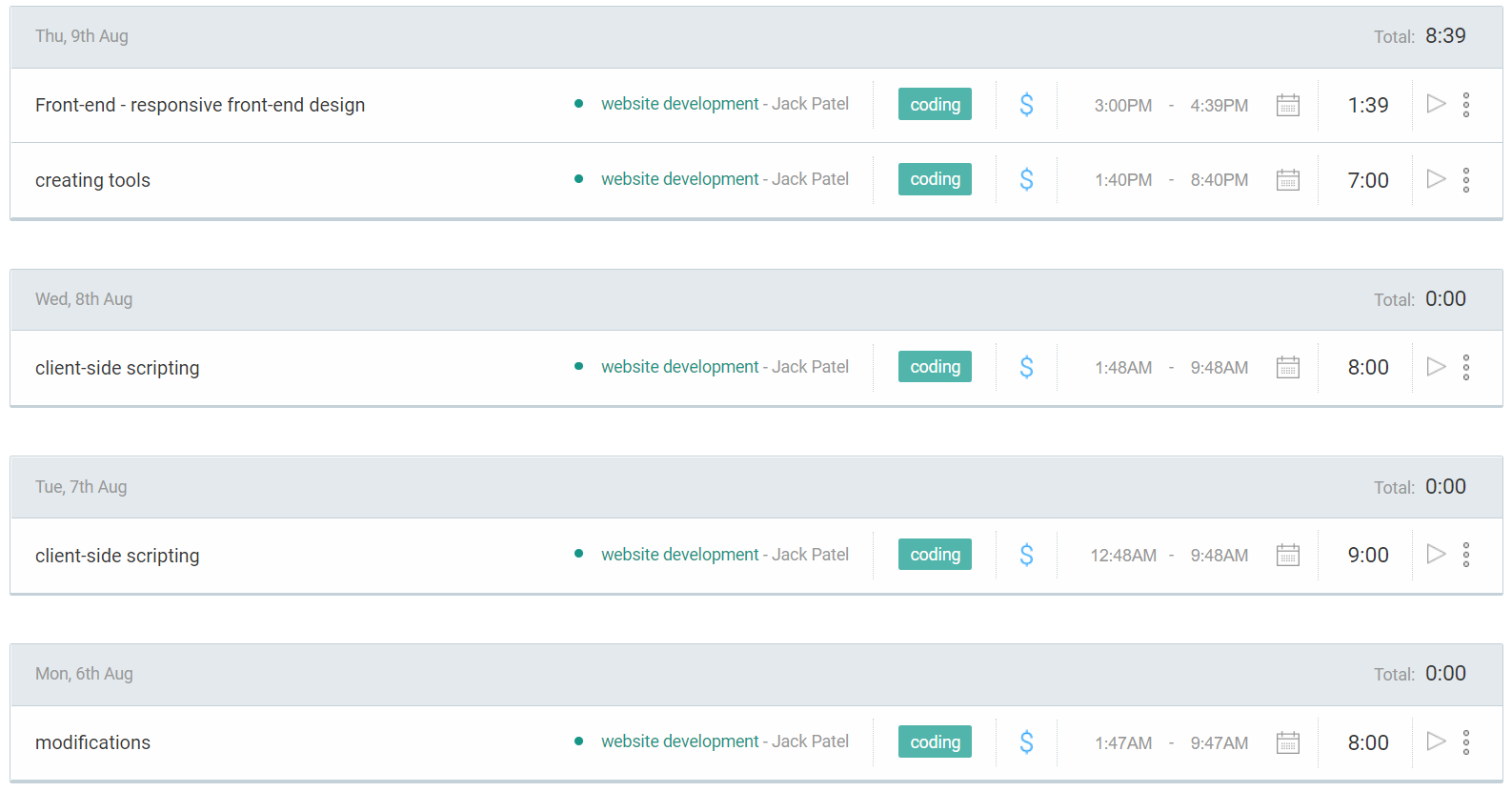 Also, you'll be able to generate a Summary Report showing how you fared with your to-do list, and then export it as a PDF. If you're looking to generate a report for yourself only, filter by you as the user, filter by the project you worked on in Trello, and export the results.
Managing deadlines and estimates
Trello offers deadlines, so you can set the due date for each card on your board – this way, your team members will know exactly how much time they have left before they have to finish their tasks.
If deadlines are the norm in your industry, it's best that you opt for the Kanban approach – you'll learn to check your "Doing" list cards for deadlines from time to time, and determine which one is a priority. Based on the card's deadlines, you can update their ordering frequently, so that you put priority cards at the top – this way, your team will know what card to tackle first.
Before you start tracking time on the cards marked with deadlines, go to your Clockify web version, select the project you are working on in Trello and set an estimate for it. Or, if you've set deadlines for each individual card, the best practice would be to create tasks corresponding to those cards in Clockify and then set individual estimates for each. You can also indicate assignees here, so that your team members are certain what tasks they should tackle in Trello.
As you work on your Trello cards (indicated as tasks in the Clockify web version), you'll be able to check how much time you have left before your deadlines (indicated here as estimates) are up.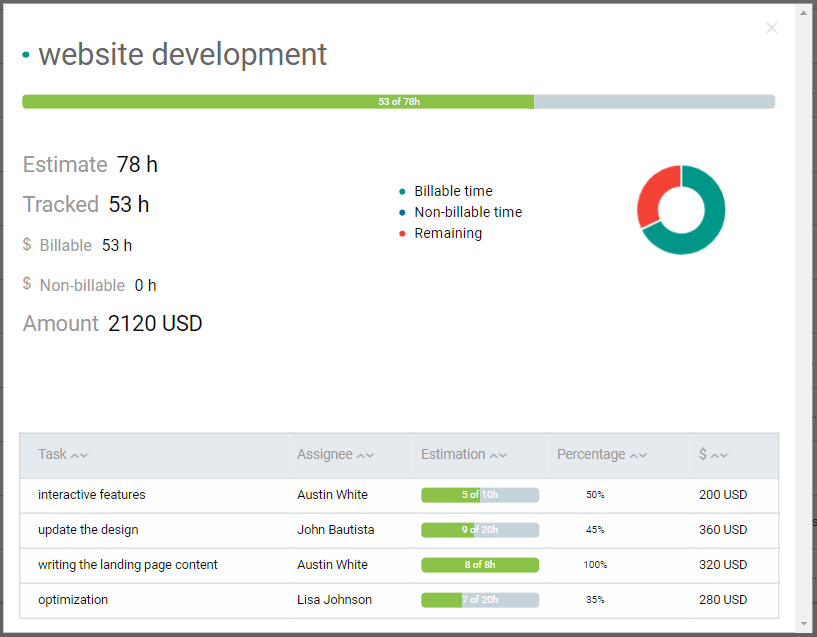 Tracking time can also tell you a lot about your deadline's efficacy – you may find that your deadlines are too strict in relation to the time it actually takes to perform the tasks, so that you always rush them in the end.
Or, you may find that your deadlines are too lenient, so that employees spend a lot of time procrastinating instead of working, just to fill the time they have available before the deadline – this phenomenon is known as the Parkinson's law, and is common when people are given much more time than they really need to finish an assignment.
Using Clockify to calculate Trello earnings
If you bill by the hour, time tracking your Trello card activities can tell you what your earnings are and how much you need to bill your clients.
When setting up time tracking for the team in Clockify, indicate your hourly rates, per:
workspace
team member
project
or, team member within a particular project
The most specific hourly rates you set (team member within a particular project being the most specific of the four), will be used by the system to calculate your own, and your team's earnings.

Each time you start working on a card in Trello, just start the timer from the card, a checklist item, or by selecting the text and right-clicking on it, before clicking on the timer option in the menu.
Mark all the necessary entries as billable in the Clockify extension for Chrome, and once you're done tracking time for this card (or project, if you want to bill for all of this Trello board's activities altogether), just go to your Summary report.
Here, you can select the time period when you worked on that Trello project (say, this month) and filter by said project, to view your total hours tracked and earnings in the header.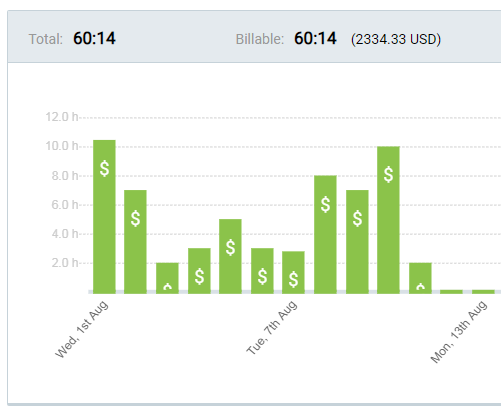 Once you have your earnings clear, you can use one of the free invoicing tools, and note in the final figure, before sending it out to your client.
This way, you'll have a free project management tool in Trello to manage all your tasks and track your progress, a free time tracker tool in Clockify to calculate your earnings, and a free invoicing tool to generate invoices for your clients – all vital features for any hour-based business, at no charge at all.