The benefits of time tracking in a creative agency: NMCO Studio interview
Creative agencies provide clients with innovative ideas and solutions. But, the thing is, original ideas don't always come naturally, and projects usually have strict deadlines. So, one may wonder whether managing their time effectively can help creatives finish their innovative projects on time.
To explore this subject further, we reached out to NMCO Studio, a full house creative agency based in Las Cruces, New Mexico. It's a young agency that will mark its fifth anniversary this year. Even though their team consists of only eleven people, their services include video production, web development, graphic design, and animation. This marketing agency prides itself on winning two Silver Addy awards for the campaigns they did, in a competition organized for advertising and media agencies, hosted by The American Advertising Federation.
We talked with Tina Ballew, the creative director and co-founder, and Dawn Franco, a studio manager. Since their team uses Clockify to track work hours, we wanted to find out how time tracking helps them organize their work, and what benefits creative agencies can get from tracking their time.
What does working in a creative agency look like?
Let's start by explaining the definition of a creative industry.
Creative or cultural industry is, according to the Cambridge Dictionary, "an industry that is based on work in which original ideas are important, such as work in the arts or the media, in designing computer software, etc." So, originality plays a crucial role in this industry, therefore, in a creative agency as well.
To have a better understanding of how creative agencies streamline their work process, we discussed this subject with Dawn and Tina.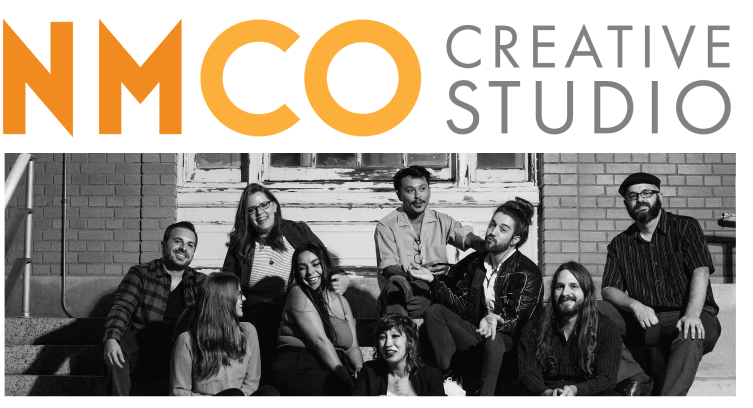 An average day in a creative agency
As we previously mentioned, this creative agency encompasses several departments. According to Dawn, each team works on three or four projects. Besides, every week, they get one or two new projects.
So, I asked Dawn how their average day at the company looks like.
"A standard day for a creative is that they come in, and they immediately start logging their time in Clockify. We have everything company-related under NMCO, and anything client-related under the relevant client's name."
Dawn also adds that the design team creates at least a graphic a day. Speaking of weekly tasks, the video production team goes on a video shoot or a photoshoot once per week. As for monthly assignments, the web development team takes websites live every month.
Organizing projects and clients
Creative agencies usually deal with several clients and work on many projects. Depending on a project, agencies may create only one kind of content, such as social media posts or a new website for a particular client.
When it comes to their marketing agency, Dawn claims that they do a lot of campaign work. That way, clients get a cohesive media package, which is beneficial because integrated marketing strategies can reach a broader audience than single media strategies. Thus, such a product requires collaboration within a team and between diverse teams. Besides, Tina believes that this holistic approach plays a crucial role in the overall company success:
"Having a solid strategy and process in place contributes to a seamless creative production that makes the end result much more powerful and memorable. Working with a team from different departments such as animation, video, web, and graphics can be challenging, but the strategy is insurance that everything is cohesive while not losing anything in the mix."
So, how does launching a new project look like at this agency? Here's how Dawn describes the process:
"Typically, if it's a smaller project, we'll cache most of it on the onboarding process (just Tina and me). But, once it gets to the creatives, if it's a large package, we'll have a couple — we call them — discovery sessions. We'll sit down with the client, we'll have some kind of interview with them to figure out more about their goals, mission, and company. Then, we'll get together on our own, separately, with that information, brainstorm and figure out the aesthetic or the direction, or visuals, and then we go to production."
So, to ensure that projects run smoothly, this development agency communicates with clients during an onboarding process, as well as discovery sessions. Once they gather all essential information about the client and their goals, it's time for brainstorming sessions within diverse teams.
Organizing the workflow in a creative agency
To stay organized and productive, Dawn says that they developed the CPS — creative production standard that they use for internal purposes. This standard contains all vital tasks for each team or specific position in the company.
For instance, Dawn has a Studio Manager CPS, which includes tasks like:
onboarding the client,
quoting,
creating contracts,
digital project management setup and server setup, and
introducing the team to the client.
Moreover, creatives have their own CPS, which usually consists of assignments such as:
step 1: reach out to the client,
step 2: draft,
step 3: send the draft to the client,
step 4: feedback, and
step 5: get a more finalized design.
Once these steps are done, creatives wait for a client to review their work again. If needed, creatives make necessary revisions, then present the final design to the client.
As Dawn points out:
"This is like a map to do your job. So, if you follow this guide, everything should be fine."
Depending on the team, CPS may include some additional elements. For example, this document for the video department covers assignments like photoshoots and permits. As for the development team, their CPS encompasses making a mock-up design.
How can time tracking help creatives improve their work?
According to Tina, time management is undervalued but so important in creative production. Let's have a closer look at time tracking benefits in the creative industry.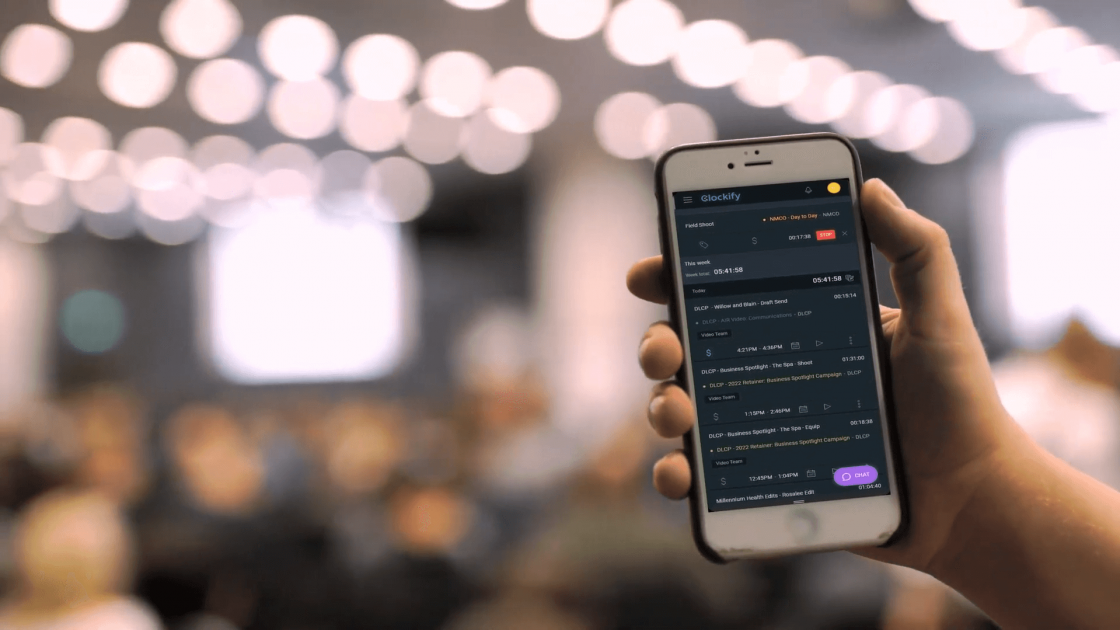 Time tracking secures proper time budget estimates
Without proper time management, creatives may focus their attention on less important tasks. Here's how Tina explains this issue:
"Creatives can spend too much time getting lost in a low-value project or neglecting a high-value project when they aren't managing their time. They like the challenge and enjoy seeing how many projects they can fit in during the day or week."
So, what should creatives change when it comes to their work routine? They should start tracking time.
At this graphic design agency, all employees record their time when working. Tina claims that Clockify helps her estimate time budgets better, so she can give the team a time budget window to complete the task. In addition, Tina adds that they also appreciate the transparency in tracking time, because team members can look at their budgeted hours, and thus, have a sense of autonomy.
Time tracking helps you validate your work
When I asked Tina and Dawn whether they have favorite Clockify features, they both agreed on projects.
Tina points out that in the creative industry, sometimes it's hard to validate the pricing. That's why Clockify reports come in handy:
"When we can present a report for, let's say, an identity system; they (clients) can actually see the time logged, the number of meetings, requested revisions, workshopping, and everything in between with detailed notes and the time spent on it. The client is typically impressed and loves that we keep track of that information. It keeps everyone accountable and there's no guesswork."
Therefore, creating reports of your logged hours ensures transparency, which is a crucial element of building trust between you and your clients.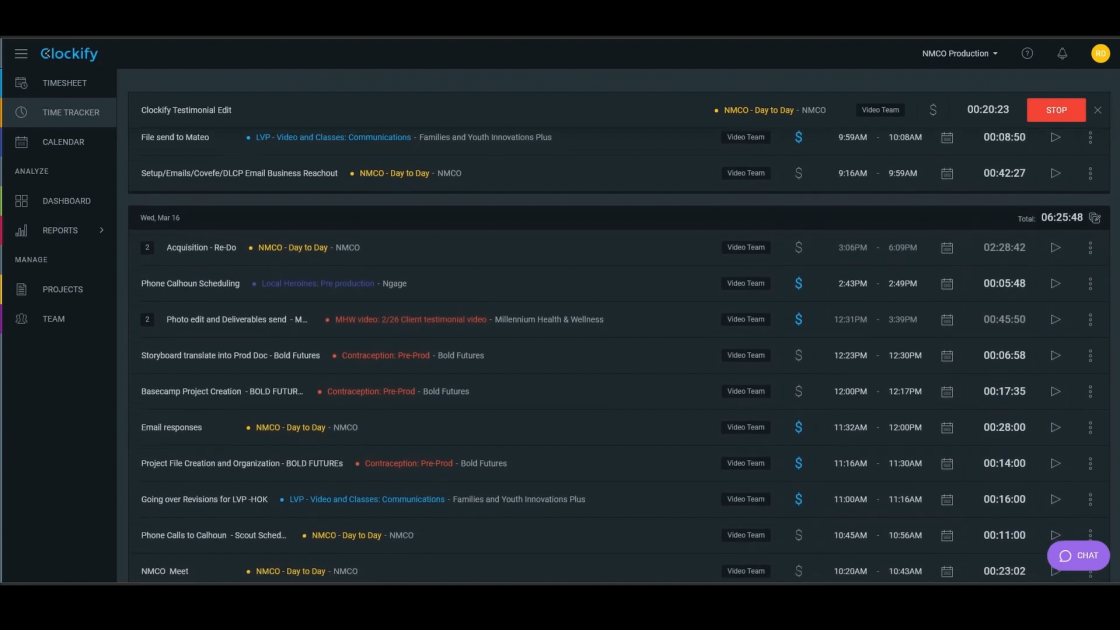 Time tracking helps you adjust your projects
Apart from validation and accountability, another advantage of reports is being able to evaluate your projects. When it comes to this marketing agency, here's how Dawn explains this benefit:
"At the end of every project, we make a Clockify report, and we look at what went over budget on what part of the production, and how we can change that for the future. We have critical thinking at the end of each project on how to accomplish it more seamlessly the next time."
Tina believes that a functional reporting feature is the most significant option of any time tracker:
"Being able to run reports on all the details is perfect for a growing agency."
In addition to projects, other Clockify options that Tina and her teams find useful are:
Hourly rates: At this web development agency, they have different price ranges depending on the size of a client. Therefore, teams are able to customize hourly rates in Clockify for each client.
Tags: Using tags proves useful at this animation agency since they have several teams. Dawn highlights the key benefits of tags: "As someone who projects manages, if I want to focus on just one department at a time, it's useful to utilize those tags."
So, using a time tracker to log their working hours, add tasks and projects details, can help creatives tailor projects accordingly.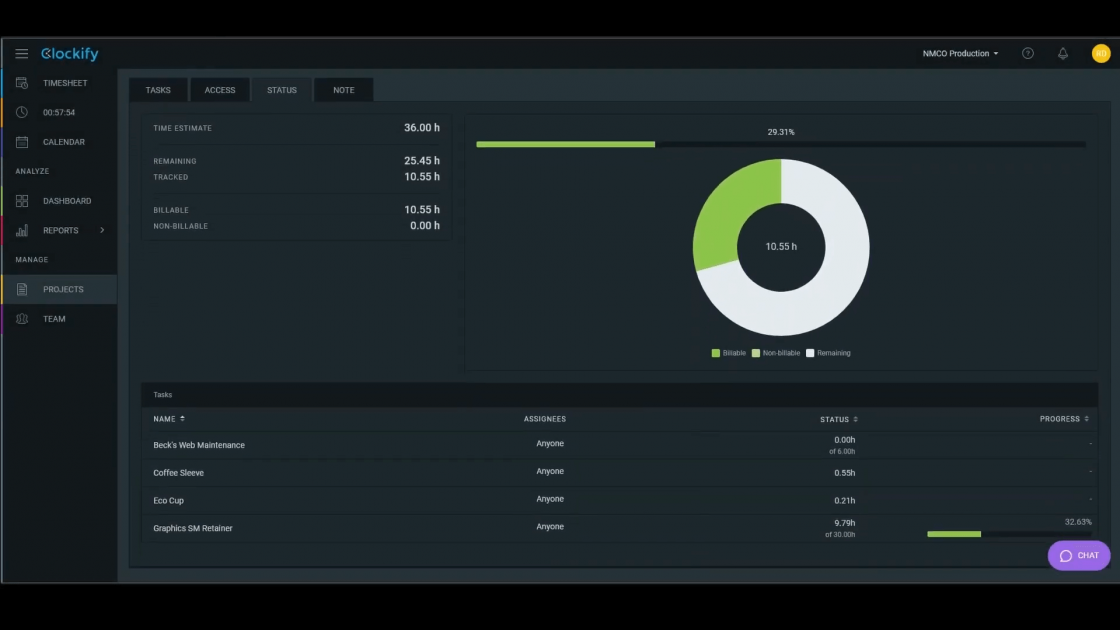 Time tracking establishes better task delegation
A hybrid working model, which means switching between remote and onsite work, has become quite common for many organizations. According to The Accenture Future of Work Study 2021, 63% of high-growth companies have enabled this type of work setting.
The marketing agency we talked with has also adopted hybrid work. Given the fact that working remotely is a part of this setting, Dawn claims that it takes some time to get accustomed to remote work, which is why many people may experience productivity dips.
To get a better understanding of how productive they are throughout the day, creatives should log their working hours. Thus, they'll learn how much time they need for particular tasks.
Furthermore, Dawn points out that tracking time can improve task delegation within a remote team:
"When working remotely, I can watch what creatives are doing all day in Clockify in real-time. She's working on a graphic, or he's working on this video. If there's no time in Clockify, are they even clocked in? Are they working? It's like a safe card."
Knowing who's currently working on what task gives you a clear picture of how busy each team member is. So, if there's an urgent assignment for the day, a team leader will know how to delegate it.
Wrapping up
As we could learn from our interlocutors, time management is usually undervalued in the creative industry, yet it is crucial for this field.
When tracking their time, creatives can ensure they spend their time doing high-value projects. Thus, with a time tracker, employees find it easier to determine their time budgets properly. Moreover, creatives often struggle with validating pricing to their clients. However, Tina and her team found that to overcome this issue, they simply log all meetings, revisions, workshopping, then present detailed reports to their clients as proof of their work. Furthermore, reviewing such in-depth reports helps the team evaluate their work at the end of the project. Finally, using a time tracker allows all team members to see who's currently working on what task, which secures better task delegation. Therefore, with proper time management and time tracking, creatives will not only be able to effectively tackle their tasks and projects but also maintain positive relationships both with their clients and colleagues.
✉️ Do you work in a creative industry? If so, do you find time tracking beneficial for your work? Send your answers, suggestions, and comments to blogfeedback@clockify.me and we may include them in this or future posts.