Work/Life Balance & Quality: Statistics & Facts
Being satisfied with your work implies having better work-life quality. But, the fact that you love your job doesn't mean that you should neglect your love life or relationships with your family and friends. Maintaining a work-life balance is vital as well
In this article, we'll cover the most significant elements of both work-life quality and work-life balance. We'll talk about what work-life quality and balance are, how different types of work settings impact our work-life balance.
Also, we'll discuss how various generations perceive work-life balance and how work-life quality and balance can affect employee turnover.
Finally, we'll review the statistics for work-life balance around the world and what the future of the workforce brings.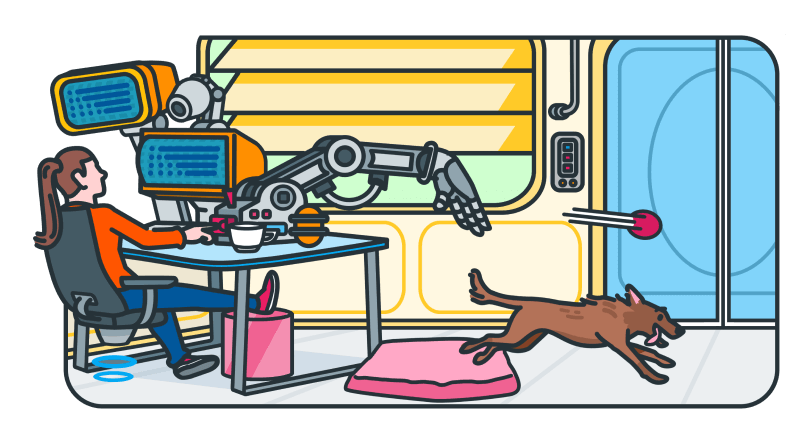 Work-life quality and work-life balance basics
In this section, we'll define work-life quality and work-life balance. Besides, we'll take a look at the major elements of work-life quality and balance.
What is work-life quality?
The concept of work-life quality, otherwise known as quality of work life (QWL), was first coined in 1972, at the International Labor Relations conference.
We gathered the definitions of quality of work life and divided them by decades:
During the 1970s

"QWL in terms of relation between man and his task." Beinum (1974)
"Involves the satisfaction and motivation in the workplace." Hackman and Oldham (1975)
"QWL is a set of beneficial consequences of working life for the individual, the organization and society." Boisvert (1977)

During the 1980s

"The level to which employees are able to satisfy their personal needs not only in terms of material matters but also of self-respect, contentment and an opportunity to use their talents making a contribution for personal growth." Dessler (1981)
"A way of thinking about people, work and organizations. Its distinctive elements are: A concern about the impact of work on people as well as on organizational effectiveness; The idea of participation in organizational problem solving and decision making." Nadler and Lawler (1983)
"Two perspectives; it is as a goal and an organizational process. As a goal, QWL is the commitment of any organization to work improvement: the creation of more involving, satisfying and effective jobs and work environments for people at all the levels of the organization. As a process, QWL calls for an effort to realize this goal through the active involvement of people throughout the organization." Carlson (1983)

During the 1990s

"It means something different to each and every individual, and is likely to vary according to the individual's age, career stage and/or position in the industry." Kieman and Knutson (1990)
"The degree to which individuals are able to satisfy their important personal needs." Bernadian and Russell (1993)
"The way of thinking about others, work, and the organization which is concerned about workers' wellbeing and organizational effectiveness." Cummings and Worley (1997)

During the 2000s

"The favourable working environment that supports and promotes satisfaction by providing employees with rewards, job security and career growth opportunities." Lau (2000)
"A variety of needs through resources, activities and outcomes stemming from participation in the workplace." Sirgy, Efraty, Siegel, and Lee (2001)

During the 2010s

"A combination of strategies, procedures and ambiance related to a workplace that altogether, enhance and sustain the employee satisfaction by aiming at improving work conditions for the employees of the organizations." Nazir et al. (2011)
"The perceived extent to which employees can satisfy their important personal needs through their activities in the workplace and experiences in the organization." Šverko and Galić (2014)
"Attitudes of employees towards their job, especially their work outcomes including job satisfaction, mental health, and safety which directly influence organizational outcomes." Mazloumi et al. (2014)
Now, according to the Quality of Work Life and Organizational Performance research, work-life quality is clearly tied to elements such as:
Job satisfaction,
Motivation,
Productivity,
Health,
Job security, and
Safety and well-being.
The same paper suggests that QWL consists of four major components:
A safe work environment,
Occupational health care,
Appropriate working time, and
An appropriate salary.
But, for some authors, the crucial part of work-life quality is work-life balance (WLB).
What is work-life balance?
During the last two decades, there has been an increase in work, due to factors such as economic uncertainty and organizational restructuring. Along with overworking, that's when an issue of work-life balance has started gaining importance.
Let's take a look at the various definitions of work-life balance:
"Achieving satisfying experiences in all life domains and to do so requires personal resources such as energy, time, and commitment to be well distributed across domains." Kirchmeyer (2000)
"Satisfaction and good functioning at work and at home, with a minimum of role conflict." Clark (2000)
"The extent to which a person can concurrently balance the emotional, behavioral and time demands of both paid work, personal and family responsibilities." Hill, et al. (2001)
"Balance is a combined measure whereby work–family conflict was subtracted from work–family facilitation, and family–work conflict was subtracted from family–work facilitation." Grzywacz & Bass (2003)
"A combination of role overload, work to family interference and family to work interference." Duxbury (2004)
"The degree to which an individual's effectiveness and satisfaction in the roles of work and family domain are well-matched with the individual's life priorities." Greenhaus and Allen (2006)
"Work–life balance is about people having a measure of control over when, where and how they work." Fleetwood (2007)
"A practice that is concerned with providing scope for employees to balance their work with the responsibilities and interests they have outside work." Swami (2007)
"Accomplishment of role-related expectations that are negotiated and shared between an individual and his/her role-related partners in the work and family domains." Grzywacz and Carlson (2007)
"An individual's assessment of how well multiple life roles are balanced." Haar, Russo, Suñe, and Ollier-Malaterre (2014)
Speaking of work-life balance, Gallinsky points out that there are four stakeholders in one's individual life:
Own personalities,
Job,
Family, and
Society.
It's vital to pay equal attention to each stakeholder. For instance, people who are workaholics do not spend enough time with their families. Therefore, these people can't be successful since there's an imbalance in their lives.
The major elements of work-life quality
According to Harvard professor Richard Walton, there are 11 major characteristics that impact work-life quality :
The attitude of an employee - An employee working at a particular position should have adequate skills, knowledge, and expertise for that position. At the same time, a worker needs to be willing to learn.
Fair compensation and job security - Compensations that employees receive need to be in line with their knowledge, skills, expertise, and performance. When compensation is not proportional to these qualities, this may result in employee discontent and decreased productivity of a worker. Besides, when employees are provided with permanent employment, this type of job security enhances workers' quality of work life.
Personal and career growth opportunities - Companies need to ensure that their employees have an opportunity to develop their knowledge and skills, through training and development programs.
The balance between personal and professional life - Organizations have to make sure that employees are not overwhelmed with work so that workers can achieve a balance between professional and personal life. This way, employees will avoid burnout as well.
Nature of job - Some employees may work routine, monotonous jobs. On the other hand, there are those workers whose nature of the job involves creativity and proactivity. So, depending on the nature of the job, the work-life quality of employees can either decline or improve.
Level of stress - If employees experience high levels of stress, their productivity and performance will decrease. This will have negative effects on workers' quality of work life, too.
Risk and reward - Walton claims that risky and challenging jobs should be paid more compared to the jobs that demand less risk and challenge. In addition, the rewards that employees get should be proportional to the risks and challenges of that job.
Participative style of leadership - Employees should feel a part of an organization. That way, workers would feel free to share their ideas with the managers. Therefore, this kind of relationship improves overall work processes.
Career prospects - Employers should reward workers who perform well. This reward ensures the career growth of an employee, such as promotion.
Fun at the workplace - Employees should feel relaxed in the workplace. So, it's up to employers to organize occasional games nights or similar activities that help workers unwind.
Alternative work arrangement techniques - Having flexible work hours and taking advantage of a compressed workweek implies enhanced work-life quality of employees.
So, work-life quality is related to employee performance, increased productivity , and overall job satisfaction.
The major elements of work-life balance
Jeff Davidson is the work-life balance expert. He believes that there are six elements of work-life balance:
Self-management
Taking care of personal needs, such as eating, sleeping, exercising, plays a significant role in your work-life balance. For instance, when you don't sleep well, you're tired and that impacts your work, too. And, more importantly, how you manage your own needs is only up to you.
Time management
Deciding on priorities and how you'll finish all tasks on time can be challenging. At the same time, you need to deal with personal assignments, as well. Davidson suggests setting goals and selecting important and urgent tasks and working on them first. This is the essence of the Eisenhower matrix technique, which can improve your time management skills.
Stress management
Hearing various noises at the workplace and dealing with distractions, either from other colleagues or from outside, can make you stressed. So, to decrease your stress levels, you need to find a way to adapt to this kind of environment. Besides, Davidson points out that you should avoid multitasking because switching between projects and tasks can be stressful, too.
Managing change
No matter where your work and what you do, it's likely that your job requires you to get used to frequent changes. To manage these changes better, you need to ensure that the volume of the change does not overwhelm you. This applies to any modifications in your private life, too.
Managing technology
The technology you use should make your life easier, not more complicated. Remember that you rule technology, not the other way around.
Managing leisure time
Taking time off is a vital element of achieving a work-life balance. Besides, be sure to spend your leisure time doing various activities, in order to avoid monotony.
Now that we covered the basics of work-life quality and work-life balance, in the next section, we'll analyze whether diverse work settings affect work-life balance.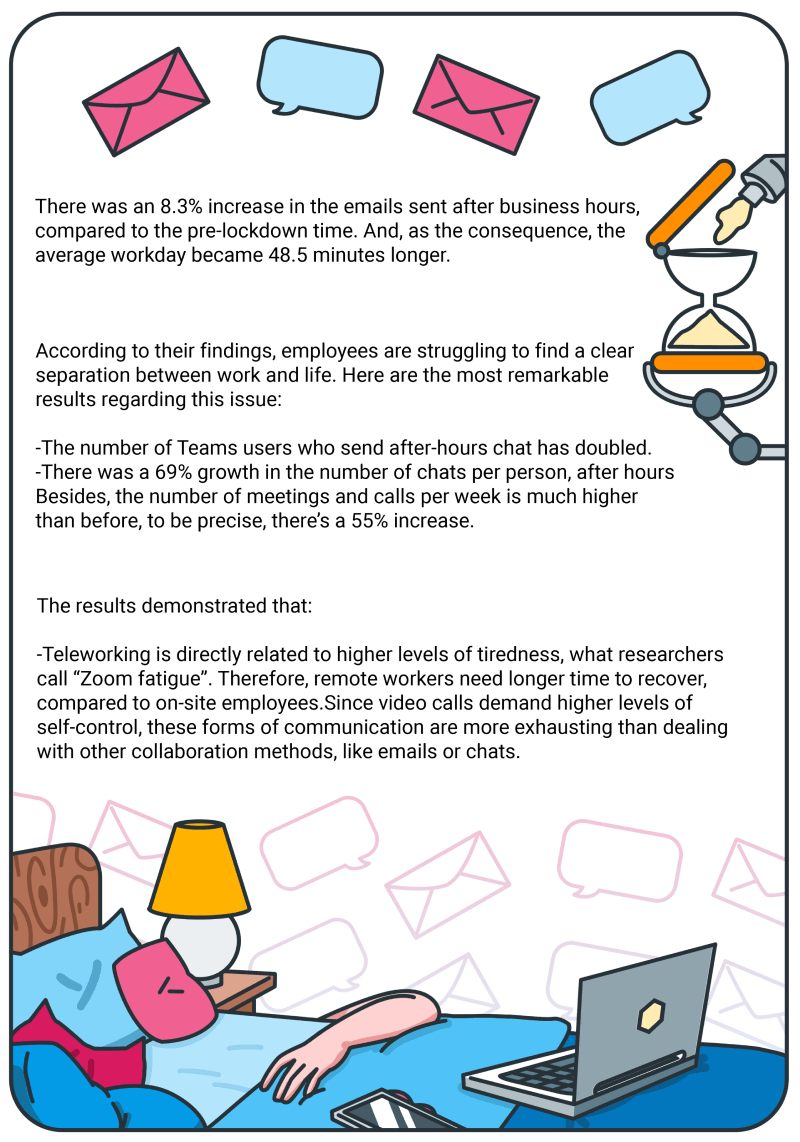 Work-life balance and the type of work settings
Your work-life balance can change depending on your work environment. Hence, we will evaluate how work-life balance looks like in an on-site setting, in case of remote work, or when having a flexible schedule.
First, let's clarify the difference between flexible and remote working.
Flexible working implies that you set your own work hours and you get to choose where you will do your tasks: in the office, at home, or anywhere else. So, when it comes to the flexible work setting, location is not important, as long as you finish your assignments. Therefore, you can split your workdays by spending time both in an office and at home.
On the other hand, working remotely means having an option to choose your work location (home office, library, coworking space). At the same time, work hours can be fixed or flexible, depending on the company's policy.
Remote work
So, does remote work have a positive impact on work-life balance? Some studies prove so.
The Owl Labs company analyzed 1,202 full-time workers in the United States. More than half of these employees (62%) were remote workers. One of the key reasons telecommuting employees chose this work setting is a better work-life balance. In fact, 91% of the participants share this opinion. Another survey also found that remote work increases work-life balance.
While telecommuting means improved work-life balance for some employees, others find it hard to set boundaries between work and leisure time.
Learn more: Remote workers share their biggest challenges | Habits for crafting the perfect remote work day
Remote work and setting boundaries
One of the most common reasons remote workers can't have a proper work-life balance is dealing with after-work emails and chats. Here's why: when working remotely, some employees feel like they have to prove themselves more than when working on-site. Thus, they are more likely to reply to any email they get after work hours.
The National Bureau of Economic Research (NBER) did research on employees working from home and how they use digital communication channels. This vast research included 3,143,270 people from 16 large metropolitan areas in North America, Europe, and The Middle East. These insights were gathered from March 8 to March 25, 2020 (during the Covid-19 lockdown period).
The results showed that there was an 8.3% increase in the emails sent after business hours, compared to the pre-lockdown time. And, as the consequence,
the average workday became 48.5 minutes longer.
Apart from this study, Microsoft recently conducted the Work trend index report . This report gathered data from 6,000 employees, both firstline and remote workers from eight countries (Australia, Brazil, Germany, Japan, India, Singapore, the UK, and the US). The report collected insights from March to August 2020.
According to their findings, employees are struggling to find a clear separation between work and life.
Here are the most remarkable results regarding this issue:
The number of Teams users who send after-hours chat has doubled.
There was a 69% growth in the number of chats per person, after hours.
Besides, the number of meetings and calls per week is much higher than before, to be precise, there's a 55% increase.
Speaking of remote communication, another survey emphasizes this issue. As stated in the research by London South Bank University , remote communication can have a negative effect on employee wellbeing at work. This study included 102 remote workers from the UK, who were surveyed for 10 days. The goal of this survey was to analyze levels of exposure to remote communication.
The results demonstrated that teleworking is directly related to higher levels of tiredness, what researchers call "Zoom fatigue". Therefore, remote workers need longer time to recover, compared to on-site employees.
Since video calls demand higher levels of self-control, these forms of communication are more exhausting than dealing with other collaboration methods, like emails or chats.
So, even if these video conferences take place during work hours, workers may feel overwhelmed if they have too many video calls.
Now that we've seen remote work statistics, let's take a look at the surveys that made comparisons between working on-site and telecommuting.
Working remotely and working on-site
In their recent study , the Airtasker evaluated 1,004 full-time employees from the United States, out of which 505 were telecommuters.
This survey proved that finding a balance between work and life seems to be an issue for many workers. Here are the exact percentages of employees who can't balance these two areas:
Remote employees: 29%,
Office workers: 23%.
Some possible reasons for not having achieved this balance could be:
Experiencing stress and anxiety during the workday,
Feeling overwhelmed and leaving work early because of that, or
Having low motivation to work, which results in skipped work.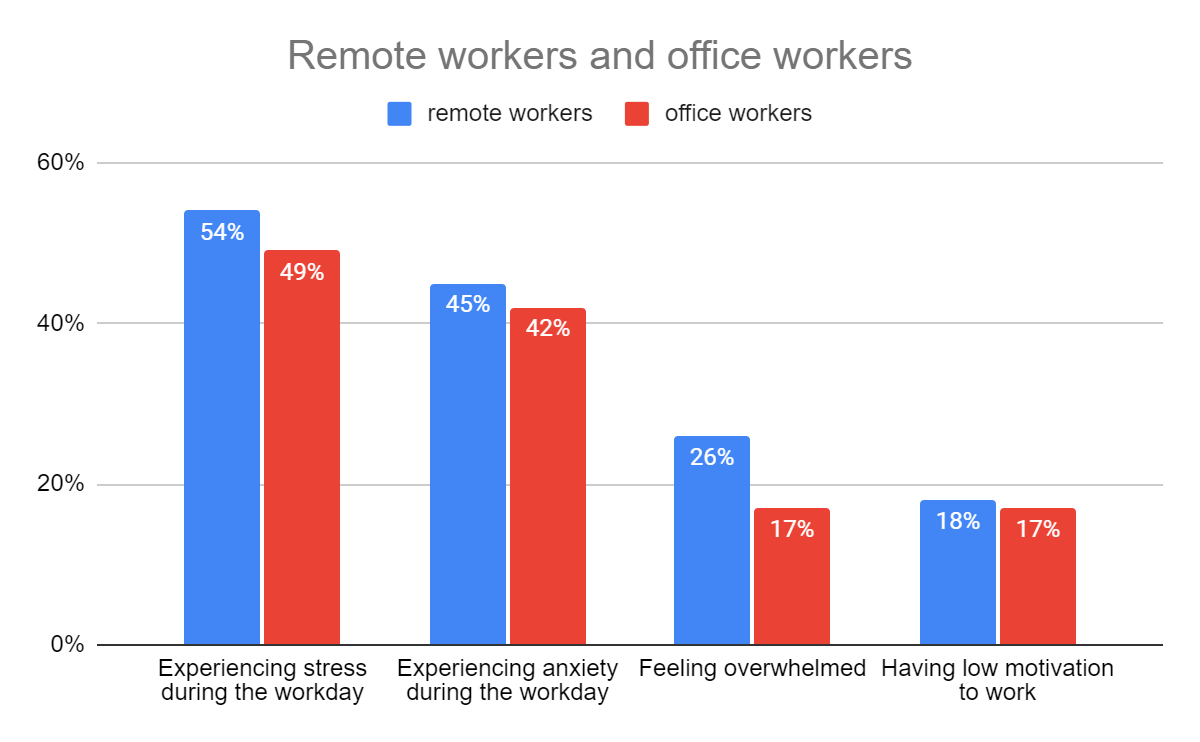 As you can see from the chart above, these obstacles present a greater concern for remote workers.
Flexible and non-flexible working
In their Work-Life-Relationship survey , the FlexJobs company explored, among other categories, the work-life balance of employees with a flexible work setting and those without it. Their findings suggest that the work-life balance is the primary reason workers search for flexible jobs. In fact, 67% of respondents said so.
Now, according to their results, here are the key areas that show differences between employees with flexible work options and those without:
Work-life balance,
Stress levels and work-life balance, and
Relationships with their boss.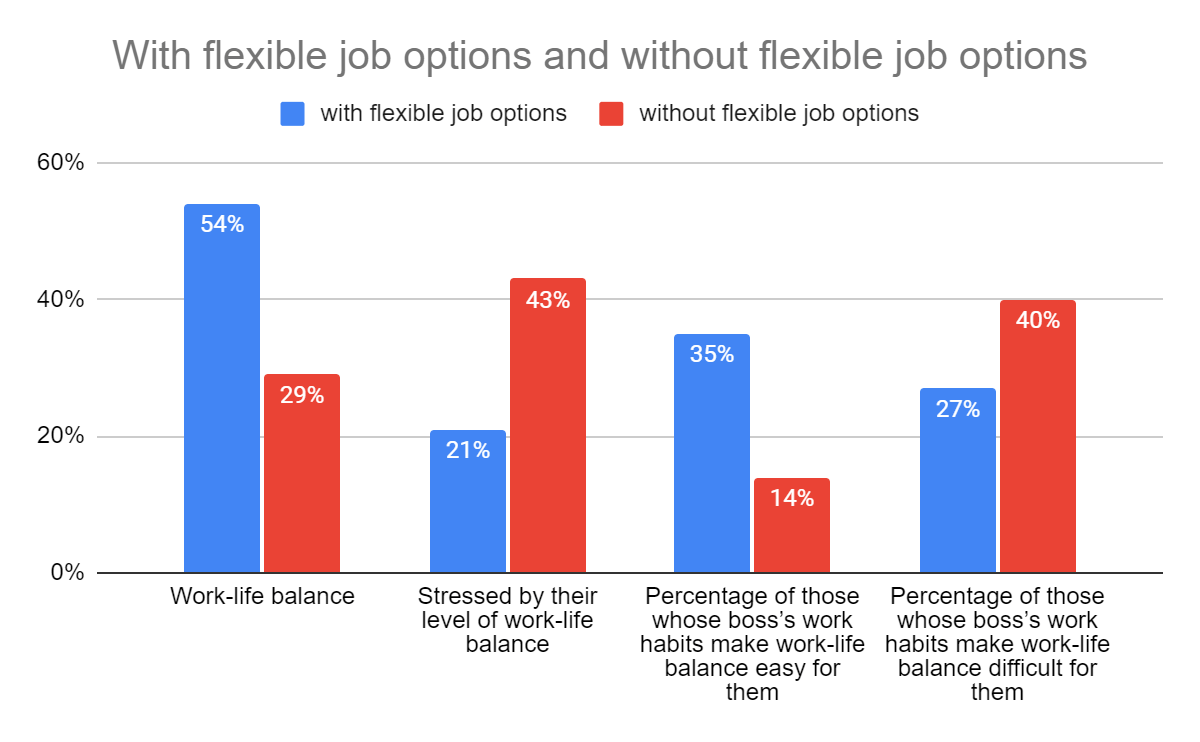 This survey demonstrates that work-life balance increases, while stress levels decrease when having a flexible work schedule. In addition, employee-boss relationships vary depending on the work setting of an employee.
But, apart from work environments, another factor that can affect your approach to work-life balance is your age. Studies show that diverse generations have a different understanding of work-life balance.
Work-life balance and different generations
Since each generation can have their own perception of work-life balance, it's up to employers to identify these differences in opinions. Thus, employers will be able to create an environment that promotes work-life balance for all employees.
We'll examine how three generations define work-life balance : Baby Boomers, Gen X generation, and Millennials.
Baby Boomers and work-life balance
Baby Boomers encompass everyone born between 1945 and 1960. For them, finding a proper job and earning a living has been a challenging task. Therefore, they appreciated every opportunity for employment and wanted stability in the workplace.
For Baby Boomers, work-life balance wasn't a prime concern when it comes to working. Besides, they had a tendency to stay longer with the company, compared to the next generation. Given the fact that they haven't considered work-life balance as a key factor in their life, 80% of Baby Boomers have moderate to high levels of stress .
Gen X and Work-Life Balance
Gen X generation involves people born between 1961 and 1980. Being the children of Baby Boomers, Gen Xers grew up seeing their parents working too much, with very little work-life balance.
Unlike their parents, people from the Gen X generation give high priority to work-life balance. The Gen Xers enjoy taking advantage of their PTO, in order to spend some quality time with their families. Therefore, for this generation, a proper work-life balance is a mandatory requirement when looking for a job.
Millennials and Work-Life Balance
Millennials were born between 1981 and 2000. For them, finding a steady job is among the key life priorities. At the same time, Millennials consider work just one part of their life.
Many worldwide employers believe that Millennials want their workspace to be a place for having fun in between the tasks. Thus, employers add gaming rooms and chilling zones to make a workplace "Millennial-friendly". However, these perks aren't always the most significant element when Millennials choose their jobs.
Instead, the biggest concern this generation has is identifying the most suitable career path that will be in line with their lifestyle. As stated in the 2017 Workplace Benefits Report , 59% of Millennials are worried whether they'll find such a career.
Besides, another study shows that, when it comes to Millennials and their careers, this generation emphasizes an "opportunity to learn and grow" among their priorities during a job search. Plus, this aspect ensures that Millennials will stay with the company longer. Thus, it also means lower employee turnover.
But, do employees actually leave the company due to a lack of work-life balance? And do they quit if they're unsatisfied with their work-life quality? We'll approach this problem in the next section.
Work-life quality and work-life balance and how they affect employee turnover
An employee turnover is the total number of workers who have left a company during one period, usually one year. Turnover can also refer to subcategories within a firm, such as employees who quit their jobs and all come from one department.
An employee turnover can be:
Voluntary: when an employee chooses to leave due to personal reasons.
Involuntary: when an employer chooses to fire an employee because of his/her poor performance or similar reasons.
We'll evaluate the connection between voluntary employee turnover, work-life quality, and work-life balance.
Work-life quality and employee turnover
To find out whether work-life quality impacts employee turnover of Malaysian nurses, an in-depth survey was conducted from February to April 2019. The nursing shortage in Malaysia has been one of the most critical issues for the health industry in this country, since 2016.
The total number of participants was 430, mainly females (93%). The majority of respondents had less than 6 years of experience (85%).
The results of the survey show that for the nurses, work-life quality is a vital element "in promoting their obligation and retention in their organization". Also, the results prove that highly committed nurses are more loyal to the company. Therefore, it is confirmed that employee commitment can lower down employee turnover.
But, this study suggests that employers should know what the most critical nurses' needs are. Thus, employers will be able to help nurses improve their quality of work life. As a consequence, nurses will be more committed to the organization and will be less likely to quit their jobs.
Work-life balance and employee turnover
The goal of the other survey was to analyze whether a work-life balance can influence employee turnover. This study evaluated Millennial generation employees from woodworking companies. The reason the researchers chose Millennials as their participants is because this generation is known for changing jobs often. Plus, one of the major factors that impact the job satisfaction of Millennial workers is work-life balance.
The findings of this study demonstrate that companies that invest in employee work-life balance can decrease employee turnover. So, when employees have a proper work-life balance, they will stay longer with the company.
Now, another area we'll like to discuss in this article is how your location can impact your work-life balance. Some countries are world widely known for working long hours, while others put more emphasis on balancing work and free time. Average working hours per country can vary across the globe.
Work-life balance around the globe
In this section, we'll take a closer look at the importance of work-life balance in: OECD countries, USA, and Africa.
OECD countries
The Organisation for Economic Co-operation and Development (OECD) consists of 37 countries. These are Australia, Austria, Belgium, Canada, Chile, Colombia, Czech Republic, Denmark, Estonia, Finland, France, Germany, Greece, Hungary, Iceland, Ireland, Israel, Italy, Japan, Korea, Latvia, Lithuania, Luxembourg, Mexico, Netherlands, New Zealand, Norway, Poland, Portugal, Slovak Republic, Slovenia, Spain, Sweden, Switzerland, Turkey, United Kingdom, and the United States.
Each of these countries has its own ambassadors at the OECD Council.
As stated in the OECD research How's Life? 2020: Measuring Well-being Work-Life Balance , work-life balance means, among other things, "some sense of the balance between both paid and unpaid work." In this study, paid work implies hours spent at work, while unpaid work implies caring responsibilities, cooking, and cleaning. The survey gathered data from 37 OECD countries and 4 partner countries.
The gender and age gaps in taking time off
The aforementioned research analyzed how much time off full-time employees take. However, it's worth noting that the "time off" term here doesn't entail vacation days.
Instead, in this study, time off covers:
Personal care time - the time we spend sleeping, eating, drinking, and doing other activities related to personal care, and
Leisure time - time we spend with our friends and family, practicing sports, attending various social events, watching TV, listening to music, and similar activities.
How to track time off and vacations of your employees
Across all OECD countries, the average time off is around 15 hours per day. In Japan, employees dedicate only 14 hours to time off during the day. On the other hand, in Italy, workers allocate up to 16.5 hours per day to their personal care and leisure time.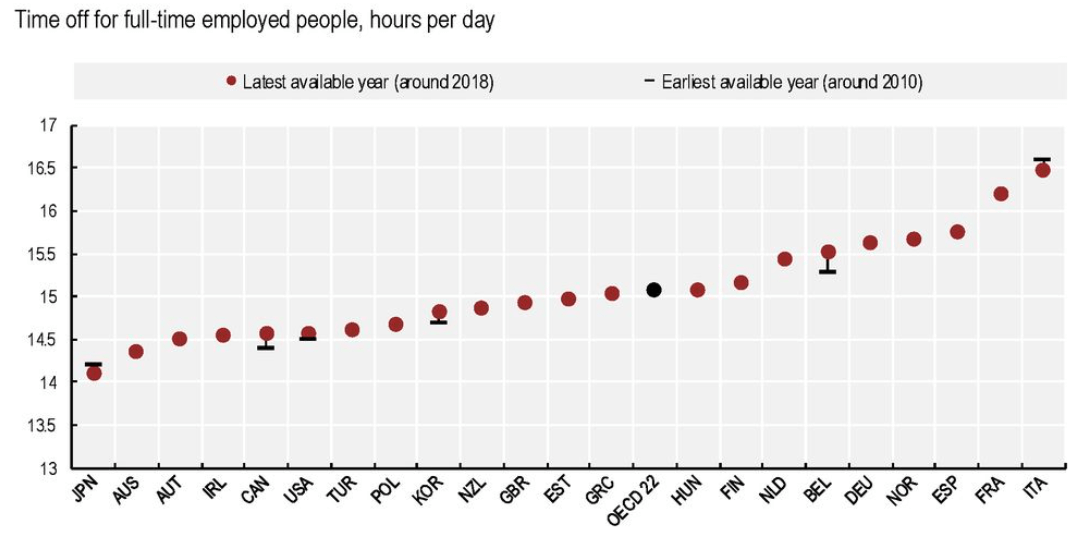 The study also analyzed whether there are differences between men and women when it comes to taking time off. The results show that men spend more time doing personal care and leisure activities than women. Although the average gap here is around 45 minutes, men in Italy dedicate up to 1 hour 30 minutes more than women taking time off.
At the same time, there are two countries where women enjoy taking more time off than men are The Netherlands and Norway.
When comparing diverse generations and how satisfied they are with their time use (on a scale from 0 to 10), here are the key differences:
The average mark for the younger generation, employees from 15 to 29 years old, was 7.
The average mark for the middle-aged generation, employees from 30 to 49 years old, was 6.4.
The average mark for the older generation, 50+ years old employees, was 7.4.
As you can see, the middle-age employees from the OECD seem to be the least satisfied with their time use.
The gender gap in total hours worked
When considering both paid and unpaid work (total hours worked), this research shows that women work longer hours than men. On average, women log 25 minutes more than men, per day. This applies to almost every OECD country.
However, the largest gender gaps are found in:
Italy,
Spain,
Estonia,
Greece,
And Hungary.
In these countries, women work up to one hour more than men, when it comes to total work.
Then again, there are some states where men work more than women:
Norway,
New Zealand, and
The Netherlands.
In these countries, men work up to 24 minutes more than women, on average.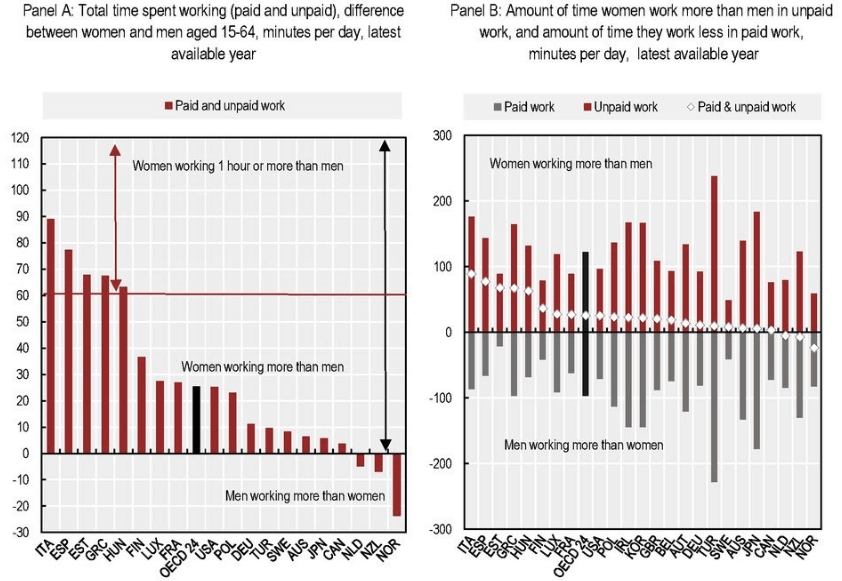 Now, you might be wondering why women work longer hours. Here's why: women have longer hours of unpaid work, such as doing household chores, taking care of their children and elderly family members, grocery shopping, and dealing with services for the household. On average, women spend two hours more than men per day, doing unpaid work.
At the same time, men have longer hours in paid work compared to women. In this case, men log almost one hour and 40 minutes more per day, when it comes to paid work.
USA
The Joblist did a study on work-life balance in the United States . They surveyed 1,061 full-time employees.
According to their findings, 70.9% of participants believe that achieving a work-life balance is possible. This research divided the data into three categories:
By generation,
By gender, and
By parental status.
Work-life balance by generation
In all categories, the participants had to answer the following question: "How realistic is it for employees to seek a work-life balance?"
Here's what different generations of workers had to say on searching for a work-life balance :
Baby Boomers

Realistic: 77.1%
Neither realistic nor unrealistic: 3.8%
Unrealistic: 19.1%

Generation X

Realistic: 70.8%
Neither realistic nor unrealistic: 2.8%
Unrealistic: 26.5%

Millennials

Realistic: 67.5%
Neither realistic nor unrealistic: 5.9%
Unrealistic: 26.6%
Searching for a work-life balance
To sum up, out of these three generations, those who were most likely to presume that keeping a work-life balance is possible were the oldest ones (Baby Boomers). On the contrary, those who had the impression that keeping a work-life balance is unrealistic were the youngest ones (Millennials).
Work-life balance by gender and parental status
Now, apart from the fact that the answers were classified by generation, another category was gender and parental status of the participants. Here's how workers perceive an issue of work-life balance, depending on their gender and whether they have children.
Men - non-parents

Realistic: 74.9%,
Neither realistic nor unrealistic: 4.4%
Unrealistic: 20.7%

Men - parents

Realistic: 70.7%,
Neither realistic nor unrealistic: 3.1%
Unrealistic: 26.2%
As you can see, full-time employed men without children are more likely to believe that seeking a work-life balance is possible. However, this isn't the case with men with children. When it comes to them, there's a greater percentage of those who think that achieving a work-life balance is unrealistic.
Let's see how women feel about this problem.
Women - non-parents

Realistic: 69.4%,
Neither realistic nor unrealistic: 4.7%
Unrealistic: 25.9%

Women - parents

Realistic: 69.0%,
Neither realistic nor unrealistic: 4.7%
Unrealistic: 26.4%
Here, you can see that full-time employed women gave almost the same answers, regardless of the fact if they are mothers. But, if you compare statistics for men and women, you'll notice that, in general, working parents are struggling to find a work-life balance.
In addition, 30.9% of the participants pointed out that they would rather have a lower income if that would mean better work-life balance.
This survey also analyzed the downtime of participants. As stated in the study, downtime refers to relaxing and doing any activities outside of work hours.
Here are the answers:
Non-parents - Both men and women said they spend 20 hours of downtime per week.
Parents - Men reported spending 15 hours, while women 10 hours of downtime per week.
Just like before, working parents can't seem to find that much time to relax during the week, especially working mothers. In fact, their findings show that parents who also work have 25% to 50% less downtime than non-parents.
Singapore
The recruitment agency Michael Page conducted the Singapore Work Happy Survey 2019 . The goal of the study was to analyze how happy employees are. They gathered 1,328 workers from various job levels.
The results prove that 80% of employees are happy with their work-life balance. The main reason workers feel this way is because of the flexible work arrangement. To be precise, 55% of participants believe having a flexible job is a crucial element of their work-life balance. Additionally, employees point out that this type of work setting improves their productivity at work (39%) and allows them to dedicate more time to their families (6%).
This research also revealed that 70% of participants respond to emails and work calls after working hours. Here's why they do that: 84% of respondents claim they have to be available due to their job responsibilities.
So, even though employees in Singapore have to "be on" outside their office hours, it seems like this isn't a major issue for them since 80% of respondents are happy with their work-life balance.
Work-life balance future predictions
Nowadays, the worldwide workforce revolves mainly around on-site and remote work. Many global companies have started switching their work setting partially or entirely to teleworking.
When working remotely or from home, your work life and personal life start to mingle. So, these two areas eventually get more interconnected. That's why you find it hard to separate work from free time. Besides, this can affect your happiness and overall work-life balance. It's simple: when you're happy at work, but you're miserable with your personal life, there's no balance between these fields. Therefore, you need to be content both with your private and work life to achieve this balance.
But, what can we expect from the future workforce, when it comes to work settings and work-life balance? Experts predict that hybrid working is a possible outcome for employees.
In a way, hybrid working is similar to flexible work. The goal is to allow workers to choose where and when they will work. For instance, some hybrid companies have a rule that particular days are for in-office meetings when workers have to be in the office. Other days are for remote work, so physical presence isn't necessary. The goal of this work setting is to provide employees with more freedom and autonomy. As a result, workers can have a better work-life balance because they'll organize their work according to other personal activities, not the other way around.
Conclusion
When you're happy with your work life, your productivity and performance will thrive. Therefore, your overall work-life quality will be enhanced, too. But, keep in mind you still need to find the right balance between your job and free time.
Numerous studies prove that there are many factors that impact your work-life balance, such as diverse work settings. Apart from that, it is confirmed that there are connections between employee turnover and work-life balance and quality. Also, surveys prove that work-life balance varies across the globe.
As for the future, experts claim that employees will surely be able to achieve work-life balance in a hybrid work environment. Since this type of work setting allows more employee autonomy, workers will be able to craft office hours according to their preferences and personal activities.