Colorado Labor Laws Guide
The ultimate guide to Colorado labor laws: minimum wage, overtime, break, hiring, termination, and miscellaneous labor laws.
Colorado Labor Laws FAQ
Colorado minimum wage
$12.56–$15.87
Colorado overtime
Employers are required to pay 1.5 times the minimum wage for any time worked over 40 hours a week and 12 hours a day
($18.84–$23.80 for minimum wage workers)
Colorado breaks
10 min rest periods after 4 hours of work
30 min meal breaks if the shift exceeds 5 consecutive working hours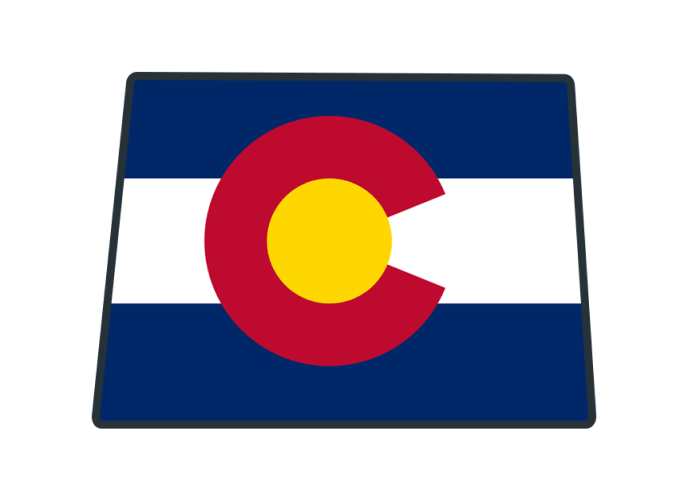 Wages in Colorado
The minimum earnings a worker can make is calculated according to the federal, state, or local minimum wage requirements.
In Colorado, two of these types of requirements are in effect — first, a state minimum wage applied to the entire state, and second, a local minimum wage valid in the City of Denver.
So, in this segment on wages, we will be looking at the regular and tipped minimum wage in Colorado, the regular and tipped minimum wage in the City of Denver, as well as the exceptions and exemptions to minimum wage requirements.
Minimum wage in Colorado
Minimum wage in Colorado is prescribed at the state level, and is covered and guaranteed by the Colorado Overtime and Minimum Pay Standards Order (COMPS).
As of January 1, 2022, the minimum wage in Colorado is $12.56 per hour, for all nonexempt employees covered either by the COMPS or the Fair Labor Standards Act (FLSA).
The minimum wage rates in Colorado are increased each year, with consideration towards the Consumer Price index of Colorado residents.
Tipped minimum wage in Colorado
Employers running establishments where workers regularly receive tips are allowed to pay their employees a lower minimum wage.
In Colorado, the minimum wage for tipped workers is $9.54 per hour.
This minimum wage rate applies to all employees earning at least $30 a month in tips.
However, the law does not prevent the employer from requesting that tips be shared among other employees.
COLORADO MINIMUM WAGE
Regular minimum wage
Tipped minimum wage
$12.56
$9.54
City of Denver minimum wage
We've previously mentioned that the City of Denver has its own, local minimum wage requirement.
For employees not receiving tips, this rate amounts to $15.87 per hour.
This is a citywide minimum wage, and employers in Denver cannot use the state minimum wage as a basis for calculating wages.
City of Denver tipped minimum wage
Tipped workers in the City of Denver area are also entitled to a minimum wage higher than the state minimum wage requirement.
For them, the tipped minimum wage is $12.85 per hour.
CITY OF DENVER MINIMUM WAGE RATES
Regular minimum wage
Tipped minimum wage
$12.56
$9.54
Minimum wage exemptions and exceptions
There are also categories of employees not covered by the COMPS, and as such can be exempt from minimum wage requirements.
These exemptions apply to:
Administrative employees
Executives or supervisors
Professional employees
Outside salespersons
Owners or proprietors
Taxi cab drivers
In-residence workers (such as casual babysitters, property managers, student residence workers, laundry workers who are inmates or residents of charitable institutions, field staff of seasonal camps or outdoor education programs)
Bona fide volunteers and work-study students
Elected officials and their staff
Highly-technical employees in computer-related occupations
High-earning employees
National Western Stock Show employees
Additionally, exceptions to the minimum wage can be made for non-emancipated minors, who can be paid at a rate 15% lower than the statewide minimum wage.
Presently, that rate would amount to $10.67 per hour for non-tipped, and $8.10 for tipped employees.
Within the City of Denver, these rates would be $13.49 per hour of non-tipped work, and $10.92 for tipped employees.
Colorado subminimum wage
On July 1, 2021, the state of Colorado passed an act that would gradually phase out the subminimum wage by July 1, 2025.
This means that employers will be prohibited from paying their employees with disabilities at a rate lower than minimum wage.
Currently, the only employers who still hold the right to paying the subminimum wage are those that hold a certificate issued by the US Department of Labor before this act was passed.
These employers will be required to provide a transition plan to the Colorado Department of Health Care Policy & Financing, with details on how they will manage the phasing out of the subminimum wage.
Colorado wage transparency
In an initiative to improve existing anti-discrimination laws, Colorado has issued the Equal pay for Equal Work Act, requiring the employees to:
Include a range of compensation in job postings.
Properly notify employees of any promotion opportunities.
Keep records of job descriptions and wage rates.
Out-of-state employers hiring remote workers from Colorado are not subject to this Act, and do not have to provide a salary range in their job description.
Colorado wage discussion law
To further protect employee rights, Colorado has approved the Wage Transparency Act, which prevents employers from retaliating against employees who discuss their wages with others.
This act also makes it illegal for employees to include a wage discussion ban into the job contract.
These requirements do not apply to employers exempt from the National Labor Relations Act (NLRA), namely:
Federal and state governments and all their agencies and subdivisions
Corporations owned entirely by the government
Federal Reserve banks
Employers with workers covered by the Railway Labor Act
Labor organizations not acting as employers
Colorado payment laws
Colorado employers and employees can agree upon specific periods wages and salaries are paid out. However, if such an agreement isn't established, the wage laws of Colorado require that compensations be due in no longer than one month or 30 days, whichever of the two is longer.
The payday must also be regularly scheduled in no longer than 10 days after a pay period has ended.
Additionally, the employer is required to provide a pay notice with information detailing the regular payday schedule, and the time and place of payment.
Also required from the employer is an itemized pay statement containing the following information:
Gross wages earned,
All withholdings,
All deductions,
Net wages earned,
Start and end dates of the pay period,
Name of the employee or their social security number, and
Name and address of the employer.
Colorado overtime laws
We've previously discussed the COMPS Order and its requirements for minimum wage. This order also covers Colorado overtime requirements, which can in some cases overlap with the Fair Labor Standards Act provisions. When this happens, the law that applies is the one that is the most beneficial to the employee.
Employees in Colorado need to be paid 1.5 times their regular pay rate for any work hours that exceed:
Forty hours in a workweek
Twelve hours in a workday
Any twelve consecutive hours worked, regardless of workday
The workweek is defined by the employer and is a fixed recurring period of 168 hours, starting at the same calendar day and hour each week.
The regular pay rate includes the following types of compensation:
Set hourly rates
Shift differentials
Minimum wage tip credits
Production bonuses
Non-discretionary bonuses
Commissions
However, excluded from the regular pay rate are:
Any business expenses
Gifts
Discretionary bonuses
Vacation and holiday pay
Employer investment contributions
Sick leave
Jury duty
One additional FLSA rule states that all employees earning under $684 a week need to be paid overtime, no matter if they are classified as a manager or a professional.
Track Colorado overtime with Clockify
Colorado breaks
There are two types of breaks defined by Colorado law: rest periods and meal breaks.
A rest period is a 10 minute break awarded after 4 hours of work, or a "major fraction of thereof".
Ideally, if it is practical, the rest period will be as close to the middle of the 4-hour period as possible.
Here's a convenient table of work hours and required rest periods:
| | |
| --- | --- |
| HOURS WORKED | NUMBER OF REQUIRED REST PERIODS |
| 2 or fewer hours | 0 |
| More than 2, up to 6 hours | 1 |
| More than 6, up to 10 hours | 2 |
| More than 10, up to 14 hours | 3 |
| More than 14, up to 18 hours | 4 |
| More than 18, up to 22 hours | 5 |
| Over 22 hours | 6 |
The meal break is required to be at least 30 minutes long, if the shift exceeds 5 consecutive working hours.
During this period, the employee is to be relieved of all of their duties for this time to be uncompensated.
This means that, if the circumstances make it so that the employee has to consume their meal while performing their duties — they need to be fully compensated for this time.
Additionally, if it is practical to do so, the meal break should be at least 1 hour after the start and 1 hour before the end of the shift.
Colorado lactation laws in the workplace
The federal law states that working mothers who are still lactating must be allowed a reasonable break period to do so.
Other than that, employers have to provide a private, enclosed space for this activity (said space can't be a bathroom).
According to Colorado state law and The Workplace Accommodations for Nursing Mothers Act public and private employers are required to provide unpaid break time or at least permit an employee to use paid break time, meal time, or both, each workday, to express breast milk.
Colorado leave requirements
Now we can take a look at what both required and non-required leaves are in Colorado.
Required leave
Here's a brief rundown of Colorado required leaves.
Sick leave
Under the Colorado Healthy Families and Workplaces Act (HFWA), employers need to provide accrued sick leave for their employees — one hour of leave per 30 hours worked, up to 48 hours per year.
The employee can use this leave in case of:
A mental or physical illness, injury, or condition that interferes with their ability to work.
A need to get a diagnosis, care, or treatments for these types of conditions.
A need for preventive care, including vaccination.
Domestic violence, sexual assault, or harassment.
Caring for family members with any of the listed conditions or needs.
The employer must pay the employee for this time off at a regular rate, and cannot in any way hold these absences against the employee.
Public health emergency leave (COVID-19 related)
Still active as of February 2022, employers must provide their employees with public health emergency leave for a range of COVID-related needs, including:
Falling ill with COVID-like symptoms
Quarantining or isolating due to exposure to COVID
Testing for COVID
COVID vaccination and any side effects of it
Being unable to work due to health conditions that make a person more susceptible to COVID
Family needs related to COVID, including illness, and school and childcare facilities closure
This leave is also to be paid at a regular rate.
Jury duty leave
The employer is required to provide jury duty leave to the employee, and this cannot threaten their job in any way.
The time off should be paid at regular rates, but should not exceed 50 dollars per day, unless there is a different agreement between the employer and employee.
Voting time
The employer needs to provide workers with 2 hours time off to vote, unless:
The employee did not request the leave at least a day in advance.
The employee has at least 3 hours time to vote before and after their shift.
Military leave
Members of the National Guard or the military reserves are entitled to up to 15 days of leave, after which they can return to their job with no consequences.
Emergency response leave
Colorado allows "qualified volunteers" registered with the local authorities to request up to 15 days a year of leave to respond to an emergency.
Domestic violence or sexual assault leave
Victims of domestic violence or sexual assault can request up to three days of leave in a 12-month period to obtain a restraining order, or seek medical and legal counseling and treatments.
This is a requirement for all employers with 50 or more employees.
Non-required leave
Here's a brief rundown of Colorado non-required leaves.
Bereavement leave
Unless there is this requirement in their own policy, a company is not required to provide bereavement leave.
Vacation time
Colorado employees do not need to provide vacation time for the employees.
However, if they offer this benefit, they may implement a "use-it-or-lose-it" policy, requiring the employees to use their vacation time by a set date.
Holiday leave
If there are no previously established company policies, employers do not need to provide holiday leave.
Child labor laws in Colorado
In Colorado, working conditions for minors are regulated by the Colorado Youth Employment Opportunity Act (CYEOA).
This law defines "minors" as persons under the age of 18, other than those who have received a high school diploma or a passing score on the general educational development (GED) test.
Colorado does not have any laws which would allow minors to request emancipation before the age of nineteen.
As for work hours for minors in Colorado, different rules apply for minors under the age of 16, and for those aged 16 and 17.
Minors under the age of 16
For the age group under 16, the following rules apply:
No more than 40 hours of work a week, or more than 8 hours in a 24-hour period.
No more than 3 hours of work on a school day, no more than 8 on a non-school day.
No more than 18 hours total of work during a school week.
Can work 7 a.m. to 7 p.m. during the school year, evening hours extended to 9 p.m. from June 1 to Labor Day.
On school days and during school hours, minors need an employment permit, issued by the superintendent of their school district.
Minors aged 16 and 17
For those aged 16 and 17, these are the requirements:
No more than 40 hours of work a week, or more than 8 hours in a 24-hour period.
No restrictions on times of day for work.
Prohibited occupations for minors in Colorado
Colorado law recognizes that some occupations are too hazardous to employ minors.
Among others, these occupations include:
Manufacturing, storing, or in any other way handling explosives
Operating a high-pressure steam boiler
Operating a high-temperature water boiler
Mining
Logging
Quarrying
Operating power-driven machinery
For a detailed list of all prohibited occupations for minors, you can take a look at this Colorado Youth Employment Law Fact Sheet.
Colorado hiring laws
In addition to the federal anti-discrimination laws when it comes to hiring, Colorado also has its own state-level rules, as well as its Ban the Box law.
First, the federal laws prevent employers from discriminating against employees based on their:
Race and color
Age
Sex, including pregnancy and related issues
Gender, and gender identity
Sexual orientation
Religion
National origin
Genetic information, including family medical history
Military or veteran status
In addition to these, the state of Colorado also makes it unlawful to discriminate against employees due to:
Out-of-work activities, permitted they are lawful
AIDS or HIV status
Arrest or sealed conviction records
Civil Air Patrol membership
Marriage to a colleague
Credit report and other credit information, wage garnishments, and consumer debt
Colorado Ban the Box law
The so-called Ban the Box law, or the Colorado Chance to Compete Act is applicable for all employers with more than 10 employees, and forbids them from:
Asking the candidate about their criminal history during the initial application.
Requesting disclosure of a candidate's criminal history during the initial application.
Stating in a job posting that applicants with a criminal history need not apply.
The employer can request this information at other points of the hiring process.
Candidates who believe their rights have been violated can submit a Colorado Chance to Compete Complaint Form.
Colorado termination laws
Colorado is one of the majority of states that use the doctrine of "employment-at-will".
This doctrine states that neither the employer nor the employee need to provide advance notice or explanation for ending the employment relationship.
Final paycheck in Colorado
If the employee decides to resign, the employer should pay out all their wages and compensation on the next regular payday.
However, if the employer terminates the employment relationship, the wages need to be paid immediately, unless:
The employer's accounting unit is not operational at the moment — the wage should be paid out within 6 hours of its next workday.
The accounting unit is located off-site — the wage should be paid no later than 24 hours from the start of its next business day.
The employer has up to 10 days to audit the value of any properties the employee has not returned or has damaged, and to deduct these costs from the final paycheck.
Colorado COBRA
Under the federal Consolidated Omnibus Budget Reconciliation Act (COBRA), employees may have the right to continued health insurance after situations such as:
Involuntary loss of job
Reduction in work hours
Job transition
Death, divorce, or other major life circumstances
Employers may be eligible to pay the health insurance at State of Colorado COBRA Medical Premiums rates, and for up to 36 months.
Occupational safety in Colorado
As with all US states, worker safety in Colorado is protected by the Occupational Safety and Health Administration (OSHA).
This agency regulates how dangerous substances need to be handled, as well as the standards for training and acting in hazardous work environments.
The local, Colorado OSHA can conduct on-site investigations to ensure compliance with its work safety requirements.
Miscellaneous Colorado labor laws
Here are a few different types of regulations that may apply to Colorado employees, which do not fit into the previously mentioned categories.
These include:
Colorado background check laws
Employer use of social media use law
Whistleblower protection laws
Keep Jobs in Colorado Act
Colorado background check laws
Colorado laws allow employers to conduct criminal background checks at any time during the hiring process, except the initial application. This is defined by the previously mentioned Ban the Box law.
However, Colorado has regulations to prevent employers from using employee consumer credit information, unless this information is "substantially related to the employee's current or potential job".
These were the situations where background checks may be restricted, but Colorado law also predicts cases where a background check is a necessary step to employment.
These occupations require a criminal history record check:
School personnel
Employees in childcare facilities
Camp employees
Foster care employees
Pharmacists
EMTs
All employees (including owners) of assisted living facilities
Home care agency workers
Massage therapists
Gaming equipment contractors
Real estate industry employees
Money transmitters
Lottery and racing commission employees
Bail bondsmen
Attorneys
Security guards
Medical and retail marijuana vendors, manufacturers, and cultivators
Employer social media use laws
In compliance with Colorado law, employers cannot request that employees provide their social media login information, or to change any of the privacy settings on their social media accounts.
Additionally, employers cannot request that job applicants or employees add anyone (including the employer) to their social media account contact list.
Whistleblower protection laws
There are different regulations and procedures for Colorado public and private employee whistleblowers, provided by the Colorado Whistleblower, Anti-Retaliation, Non-Interference, and Notice-Giving Rules (WARNING).
Public employees
If the public employee provides information on illegal activities of their employer, they are protected from employer retaliation.
The employee must file a written complaint within 30 days of a retaliation incident, and wait for its resolution before filing a lawsuit.
Employee protection does not apply to cases when:
The employee knowingly discloses false information, or information about the validity of which they have serious doubts.
The employee discloses information from public records which is closed to public inspection.
The employee discloses other types of confidential information.
Private employees
Private employees are also protected from employer retaliation.
However, they must provide proof that they have first made an effort to supply this information to their direct supervisor or other internal authorities, before contacting outside authorities.
Public employees do not need to file a written complaint, but the same exceptions as to public employees apply when it comes to protection limitations.
Keep Jobs in Colorado Act
To subsidize Colorado workers and improve the state employment rates, Colorado has introduced the Keep Jobs in Colorado Act.
This act imposes the rule that on any public projects funded in some part by the state, counties, school districts, or municipalities of Colorado — 80% of labor must come from Colorado employees.
Exceptions to this rule can be made in cases when there is insufficient Colorado labor, or when it would prevent the project from being completed.
Conclusion/Disclaimer
We hope this Colorado labor laws guide has been helpful. We advise you to make sure you've paid attention to the links we've provided, as most of them will lead you to the official government websites and other relevant information.
Please note that this guide was written in Q1 2022, so any changes in the labor laws that were included later than that may not be included in this Colorado labor laws guide.
We strongly advise you to consult with the appropriate institutions and/or certified representatives before acting on any legal matters.
Clockify is not responsible for any losses or risks incurred, should this guide be used without further guidance from legal or tax advisors.
Need a simple time clock for employees?
Clockify allows you to track time, attendance, and costs with just a few clicks, for FREE.
Your team can track work time via web or mobile app personally, or you can set up a time clock kiosk from which employees can clock in and out.
Later, you can approve timesheets and time off, schedule shifts, run time card reports, and export everything for payroll (PDF, Excel, link, or send to QuickBooks).