Iowa Labor Laws Guide
Ultimate Iowa labor law guide: minimum wage, overtime, break, leave, hiring, termination, and miscellaneous labor laws.
Iowa Labor Laws FAQ
Iowa minimum wage
$7.25
Iowa overtime
1.5 times the regular wage for any time worked over 40 hours/week
($10.87 for minimum wage workers)
Iowa breaks
None for adults, 30-minutes for every 5 hours for employed minors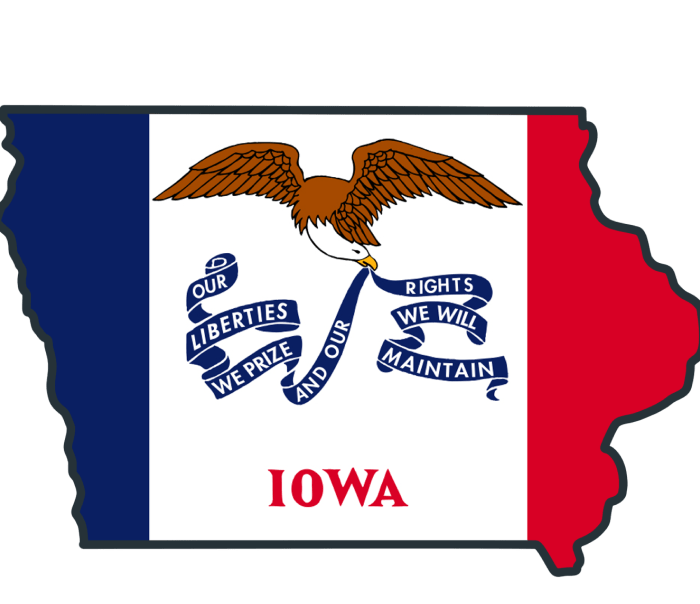 Iowa wage laws
With regards to wages, Iowa has the following laws, regulations, and limitations.
IOWA MINIMUM WAGE
Regular minimum wage
Tipped minimum wage
Subminimum wage
$7.25
$2.90
$6.16
Iowa minimum wage
The minimum wage in Iowa in 2022. is $7.25, the same as the current Federal Minimum Wage.
This hourly rate has stayed the same since 2008.
Johnson County, however, has a higher minimum wage (though not legally binding):
Johnson County — $11.56/hr (effective July 1st, 2022.)
Tipped minimum wage in Iowa
Tipped employees are individuals working in an industry where they regularly and customarily receive tips, amounting up to $30 per month.
In Iowa, the current tipped minimum wage is $2.90, so long as they earn at least the minimum wage ($7.25) every hour, including tips.
Subminimum wage in Iowa (Training/student minimum wage)
Iowa Under 20 Minimum Wage Regulation states that any new employee under 20 years old can be paid $4.25 for the first 90 days of their employment.
The student minimum wage regulation is $6.16, for full-time high-school or college students. Their minimum wage must be no less than 85% of the regular minimum wage for up to 20 hours of work per week.
Exceptions to the minimum wage in Iowa
When it comes to exemptions to minimum wage, Iowa follows the Federal Labor Standards Act (FLSA) regulations. They list the following groups as exempt from minimum wage:
Farm and seasonal workers
Tipped workers
Employed minors
Full time students
Computer professionals
Outside sales employees
Workers with disabilities (if the disability affects the quality and/or quantity of work, this exemption requires a permit)
Federal exemptions to minimum wage
Iowa payment laws
In accordance with the Iowa legislature, employees must be paid their wages at least once a month, preferably semimonthly, at predesignated regular intervals.
The payday should fall on the same day every month, no later than 12 days after the end of the period in which the wages were earned.
Iowa overtime laws
Overtime in Iowa is regulated by the Fair Labor Standards Act.
According to the FLSA, any time over 40 weekly hours worked is considered overtime.
In accordance with this, employers are required to pay their employees 1.5 times their regular wage for any overtime work ($10.87/hr for minimum wage workers).
It's important to note that any hours worked over 8 hours per day does not count as overtime. Only the hours totaling over 40 hours per week.
Overtime exceptions and exemptions in Iowa
Just like overtime wages, the exemptions are regulated by the FLSA as well. The list includes the following:
Executive positions (full-time management of two or more employees)
Administrative workers (business operations, management, administrative training)
Professional workers (work requiring advanced education: artists, certified teachers, IT professionals, etc.)
Outside salespeople
Employees at a recreational or amusement establishment, or organized camp
Employees with a salary basis of no less than $684 a week (not counting educators, outside sales, law and medicine practitioners)
Minimum wage scope and coverage
If you are eligible for overtime, you can easily track Iowa overtime with Clockify.
Iowa break laws
Let's now focus on laws governing break times in Iowa — and the exceptions to these laws.
Meal breaks in Iowa
Iowa has no state regulation concerning breaks for regular employees, so it follows the federal regulation.
According to federal law, an employer is not obligated to provide a meal break.
The only mention of breaks is in relation to employed minors, who are eligible for a 30-minute break for every 5 consecutive hours worked.
However, if an employer wishes to provide a meal break, anything lasting 20 minutes or less should be paid. Anything over 20 minutes counts as an unpaid meal break.
Iowa breastfeeding laws
Another instance of Iowa following federal regulation is lactation in the workplace. For all nursing individuals, according to FLSA, the employer must provide:
Break times for 1 year post-labor, for the employee to express breast milk.
A private place, hidden from view and interruptions of coworkers for the employee to nurse the child or express breast milk (cannot be a bathroom).
Two exceptions to this rule include the employer not having to follow these regulations:
If they have less than 50 employees, as these conditions would cause problems or larger expenses, and
If the break time is within a reasonable time — it doesn't have to be paid.
Iowa leave requirements
With regards to required and non-required leave, Iowa has no specific regulations, which allows employers to set their own terms and benefits.
Meaning, each company/occupation will have their own rules, so we would advise employees to inform themselves during the application process.
Iowa required leave
Let's take a look at all the possibilities concerning required leave in Iowa.
Sick leave and family leave
In regards to sick leave in Iowa, state law says that employers aren't obligated to provide paid leave. Should an employer choose to offer such benefits, they should be in line with the established policies of the company.
However, employers may be obligated to provide paid sick leave in situations where the Family and Medical Leave Act or other federal laws take priority.
In those cases, employees with the following conditions met are covered:
Employed at an eligible company (>50 employees, government agency, elementary or secondary school),
Worked for the employer for at least 12 months and 1,250 hours, and
Works at a location with at least 50 employees within 75 miles.
With these conditions met, employees can take up to 12 work weeks of leave for:
Birth or adoption of a child
Caring for a family member or spouse with a serious health condition
Suffering from a serious health condition that makes the employee unable to perform their job duties
A family member or a spouse is on active military duty
Even though the medical and family leave is not necessarily paid (depends on the employer), the law requires that the employee cannot be terminated, but instead reinstated to their former job position upon return.
Jury duty leave
An employer in Iowa is required to provide jury duty leave, but still not required to pay for an employee's leave for jury duty summons.
At the same time, they are not allowed to penalize or otherwise punish the employee for that time off.
Any fee the employee receives from the state for their jury duty summons cannot be counted as wages.
Voting time leave
An employer is required to provide employees with 3 consecutive hours of paid time off for voting, between the opening and closing of ballots.
To be eligible for the voting leave, employees must submit a written request to the employer prior to the voting day.
Domestic violence or sexual assault leave
Iowa has no explicit law or regulation governing leave for employees who are victims of domestic abuse or sexual assault.
The closest thing to it is an employment discrimination code in Iowa stating that an employer cannot discharge or dock pay from an employee serving as a witness, plaintiff, or defendant in cases of domestic or elder abuse.
Emergency response leave
Employees who are volunteer medical service personnel or firefighters are entitled to emergency response leave for the duration of the emergency.
Upon their return to work, they should be reinstated to their old job positions, without any pay cuts.
Organ and bone donation leave
State employees (except employees covered by a collective bargaining agreement) are eligible for:
Up to 5 workdays for bone marrow donation.
Up to 30 workdays for organ donation, after providing appropriate medical documentation.
Up to 2 consecutive hours in one workday for blood donation, no more than 4 times per year.
Upon their return to work, employees should be reinstated to their old job positions, without any pay cuts.
Military leave
The state of Iowa requires employers to provide 30 days of paid military leave each calendar year for state employees in:
The National Guard,
United States Armed Forces,
Civil Air Patrol, and
The United States Army Nurse Corps.
Iowa non-required leave
Following is all information concerning non-required leave in Iowa.
Bereavement leave
An employer is not required to give employees bereavement leave, nor time off for attending a funeral.
If an employer chooses to offer this benefit, it should comply with an established company policy.
Vacation time
In regards to paid vacation leave in Iowa, state law says that employers aren't obligated to provide paid leave.
Should an employer choose to offer such benefits, they should be in line with the established policies of the company.
Holiday leave
In the case of private employers, there is no legal obligation for providing paid leave, nor paying employees premium pay for working holidays (unless it becomes overtime). The only exception is Veterans Day, for employees who are war veterans.
On the other hand, public office employees and educators in public schools are required to have days off on state-recognized holidays.
Child labor laws in Iowa
Working minors are a regular occurrence in Iowa, but to be able to work, they require a Working Permit, issued by the Iowa Department of Labor.
Labor laws for minors aged 14 and 15
Employees in this age group can work only between 7 a.m. and 7 p.m., except from June 1st through Labor day, when they can work until 9 p.m.
They also aren't allowed to work for more than 4 hours on a school day, or 8 hours when school is not in session.
They can work up to 28 hours on weeks when school is in session, or up to 40 hours when school is not in session.
Lastly, the labor law for minors requires that every employed minor gets a 30-minute break for every 5 consecutive hours worked.
Prohibited occupations for minors aged 14 and 15
For minors aged 14 and 15, prohibited occupations include:
Manufacturing
Mining
Any occupations that require processing, manufacture or mining, unless it is retail, food or gasoline service
Any occupations that require handling power-driven machinery
Public messenger
Transportation services (both goods and people)
Construction
Occupations in or about boiler or engine rooms
Maintenance or repair of any sort
Cooking, baking, operating slicers, grinders, cutters and food choppers
Working in freezers and meat coolers, and any preparation of meat
Loading and unloading goods
Warehouse work (except if in office)
Prohibited occupations for minors under 18
For minors under 18, prohibited occupations in Iowa include:
Occupations in plants or establishments producing, selling or storing explosives or items with explosive components
Motor vehicle driving
Logging
Operation of elevators and handling power-driven hoisting machinery
Mining
Handling power-driven paper, logging, shearing, and metal forming machinery
Manufacturing of bricks and tiles
Demolition, wrecking, and shipbreaking
Handling dry cleaning or dyeing machinery
Occupations with increased exposure to fumes, chemicals, or radioactive materials
Iowa documentation regarding Child Labor
Hiring laws in Iowa
When it comes to the hiring process, the Iowa Civil Rights Act prohibits discrimination based on race, gender, disability, and so on during the hiring process. Other regulations for the hiring process include:
Employers can give preference to applicants who are veterans, the spouse of disabled veterans, or the surviving spouse of a member of the military who died either during active service, or as a result of it.
Employers can require credit card reports, but can be held liable by applicants for breach of privacy in court.
Termination laws in Iowa
Iowa is a state following employment-at-will.
This means that employees working under contract can be terminated for any reason at any moment.
The only caveat is that termination cannot be considered legal if it's due to discrimination or retaliation against an employee.
Final paycheck in Iowa
As stipulated by Iowa state law, employers are required to pay all final wages to employees by the next scheduled payday, regardless of the cause of termination.
Further information concerning hiring and termination processes can be found in the discrimination laws section below.
Discrimination laws in Iowa
The State of Iowa enforces the Equal Employment Opportunity, which ensures that all applicants should have a fair opportunity for employment, based on their ability to perform the tasks well.
And, for employed individuals, this act prevents employers from discharging or otherwise unfairly treating their workers based on certain characteristics.
Based on The Iowa Civil Rights Act, employers are prohibited from discriminating based on:
Age
Race
Creed
Sex
Sexual orientation
Gender Identity
Nationality
Disability
Religion
Pregnancy
The Equal Employment Opportunity Code is legally binding for everyone: private and state employers, state and local governments, educational institutions, apprenticeships, etc.
Occupational safety in Iowa
Iowa largely follows the federal OSHA, but also has its own State Occupational Safety and Health Administration, which is a subdivision of the Iowa Division of Labor Services in the Department of Workforce Management. The administration offers:
Consultations on workplace hazards and safety
Inspections
Voluntary Protection Program (on-site evaluations in agreement with the business, to attain publicly recognized proof of excellence)
Publicly available research and statistics
Safety and health compliance
And when it comes to issuing permits, and safety inspections, as well as control, the Iowa Division of Labor conducts the following:
Amusement ride inspections
Athletic event permits, inspections and taxation (for amateur athletic events — MMA, boxing and kickboxing, wrestling)
Boiler and pressure vessel safety
Elevator and conveyance inspections and permits
Child labor inspection and permits
Contractor registration (in-state, out-of-state, plumbers, mechanics, etc.)
Additionally, the US Department of Labor has an Iowa State Plan web page listing all of the workplaces NOT covered by the Iowa state OSHA.
Miscellaneous Iowa labor laws
In this final section, we will go through some of the additional labor laws that are of public interest.
Iowa right-to-work laws
Arizona is a right-to-work state, which states that if your company decides to unionize, an employer cannot fire you should you refuse to join.
Likewise, an employer cannot use a union membership as leverage for accepting or refusing a job applicant.
Lastly, right-to-work protects employees from being fired if they wish to resign from a union.
Whistleblower protection laws
Whistleblower protection laws keep employees protected in multiple scenarios where they could report their employers for unlawful conduct. Those scenarios include the following:
Common law protections — if an employer retaliated due to:

Reporting unlawful activities to appropriate authorities
Refusing to participate in unlawful activities
Filing a workers comp claim
Filing for unemployment benefits

Statutory protections
Protection against discrimination — if an employer retaliated due to:

Employees opposing discriminatory practices in the workplace
Employees obeying the laws of the statute
Employees filing complaints and reports
Employees testifying or assisting authorities in due processes

OSHA whistleblower protection — if an employer retaliated due to:

Employees filing complaints or reports, instituting a proceeding, and testifying or intending to testify
Refusing to work in a workplace that poses a genuine safety risk

Wage payment collection protection — if an employer retaliated due to:

Employees filing a complaint about wage payment collection
Employees assigning a claim and bringing an action against the employer
Employees taking part in bringing an action against the employer
Iowa has an extensive list of whistleblower protection regulations, and takes great care in ensuring employee safety in the workplace.
Background check laws
There are no formal laws prohibiting employers from requesting background checks on job applicants. However, there are two rules that they must abide by.
An employer is not allowed to ask for records on charges that did not receive a sentence in 18 months from the date of the arrest, without written consent from the applicants.
An employer is not allowed to ask for records on charges without written consent from the applicant, if the applicant successfully completed their probation, followed by a deferred judgment.
Additionally, Iowa allows full background checks on individuals applying for work at healthcare facilities.
So far, only the City of Waterloo is following the Ban the Box legislation. According to this law, an employer is not allowed to ask about, or look into an applicant's criminal history before offering them the job.
Criminal History and Intelligence Data
The Employee monitoring law
According to Iowa State Law, an employer is not allowed to monitor or intercept an employee's electronic communications.
Drug and alcohol testing laws
When conducting alcohol and drug testing on current employees, the State of Iowa gives employers full freedom to do so at their discretion, so long as there is a pre-existing policy detailing who can be tested, when, and why.
More importantly, all employees must be informed of the policy and any subsequent changes.
An employer can require a test in cases of:
Reasonable suspicion of drug or alcohol use,
An employee being a part of a rehabilitation program, and
An accident that caused an injury, or over $1,000 in damage to property.
Drug and alcohol testing is susceptible to inspection and reports, if there is reasonable doubt that the employer was conducting them for discriminatory reasons, such as age, sex, gender, or race.
Lastly, to conduct testing, employers must use either the Iowa Department of Health laboratories or those certified by the Substance Abuse and Mental Health Service Administration.
Sexual harassment training laws
The State of Iowa has no sexual harassment training requirements.
COBRA laws
Iowa follows the Federal Consolidated Omnibus Budget Reconciliation Act (COBRA), but also has its own regulation called the "mini-COBRA".
Since COBRA applies only to companies with 20 or more employees, small businesses are left without a regulation of their own. Mini-COBRA provides this aid to business owners with 19 or fewer employees.
Through it, former employees can continue to use health coverage through their former employer for 9 months after termination. Eligible employees must have been covered by their former workplace insurance for at least 3 continuous months.
Expense reimbursement laws
The Iowa Code states that all expenses authorized by the employer, and incurred by the employee, must be paid.
Either in advance, before the expenses are made, or afterward, but no later than 30 days after the employee submits an expense claim.
Record-keeping laws
When it comes to record-keeping, Iowa follows the guidelines laid out by the FLSA.
Records kept for 1 year
According to the Equal Employment Opportunity Commission, employers are obligated to keep all records relating to employment for at least 1 year from the date of termination.
Employers should also keep copies of every employee's I-9 form for at least one year.
The paperwork should include the following:
Employee's full name,
Their social security number,
Date hired, rehired, or returned to work,
Date employment ended and the reason(s) for separation from work,
Amount of remuneration paid in each calendar quarter,
Amount of remuneration paid each pay period, including the value of any remuneration in a form other than cash,
Amount and date of any special payment, such as a bonus, gift, or prize, and
Place in which services were performed.
Records kept for 2 years
Any documents relating to basic employment and earning, such as wages, timecards/timesheets, billing records, and any bonuses or deductions from pay.
Records kept for 3 years
Any documents concerning payroll records, agreements, bargaining agreements, sales and purchase records.
Records kept for over 4 years
Some records are required to be kept for more than 4 years:
Employment tax records (between 4 and 7 years).
Records of job-related injuries are kept for 5 years.
Records of annual reports for benefit plans are kept for 6 years.
Records of toxic substance exposure are kept for 30 years.
While some of these timeframes may sound strange, the reason behind record-keeping for so long is simple. Employers may need these documents when filing claims or sending records to the IRS.
Conclusion/Disclaimer
We hope this Iowa labor law guide has been helpful. We advise you to make sure you've paid attention to the links we've provided, as most of them will lead you to the official government websites and other relevant information.
Please note that this guide was written in Q1 2022, so any changes in the labor laws that were included later than that may not be included in this Iowa labor laws guide.
We strongly advise you to consult with the appropriate institutions and/or certified representatives before acting on any legal matters.
Clockify is not responsible for any losses or risks incurred, should this guide be used without further guidance from legal or tax advisors.
Need a simple time clock for employees?
Clockify allows you to track time, attendance, and costs with just a few clicks, for FREE.
Your team can track work time via web or mobile app personally, or you can set up a time clock kiosk from which employees can clock in and out.
Later, you can approve timesheets and time off, schedule shifts, run time card reports, and export everything for payroll (PDF, Excel, link, or send to QuickBooks).