Free Harvest time tracker alternative
Clockify is a 100% free Harvest alternative that lets you and your team track time so you can invoice work hours later.
Difference between Harvest and Clockify
What's the same:
✓

Online web app with timesheets and time reporting

✓

Track billable and non-billable hours you spend working on projects and customers

✓

Create tasks and track project progress

✓

Invite team and see how much time they've tracked

✓

Set hourly rates for different jobs and see how much money you've earned
What's different:
✓

Clockify's time tracker is much easier to use and reports are more flexible

✓

Harvest, in addition to time tracking, also lets you create invoices and track expenses
See detailed comparison →
Harvest vs Clockify
Both Harvest and Clockify are time tracking software. Harvest also has invoicing features, which makes it super convenient, but that comes at the cost. Harvest requires more work to set up, offers less flexibility, and is complicated to use.
Clockify, on the other hand, is a pure time tracker. It's super simple to use, adding time is quick, there's no set up at all, and offers managers much better reports.
Learn more about: Tracking work hours | Time reporting | Timesheet
Why switch from Harvest to Clockify
Because Clockify doesn't have invoicing and expense tracking features, it can focus on being the best stand alone time tracker.
Clockify is perfect for teams because employees can track time with just one click and Clockify is completely free no matter how many users you have.
If you need to invoice your work hours, Clockify lets you export all data in Excel so you can have more control over creating your own invoices (you can send the data to your accountant/payroll, or calculate what you want to invoice and create an invoice using a Word template).
Check out best free invoicing apps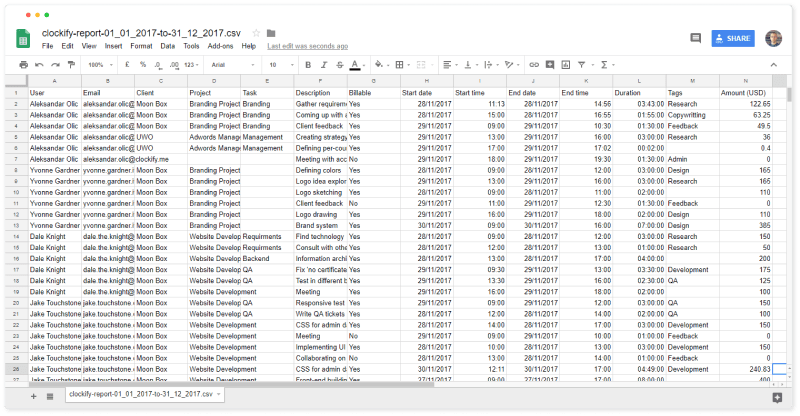 See all Clockify features →
What Clockify does better than Harvest
Better time tracking
Time tracking in Harvest is cumbersome, with a lot of unnecessary steps. In Clockify, you can start a timer in one click and later fill in the details (like description, project, task, and tags).
Easier to use
Adding people in Harvest is a big deal as you need to fill in a lot of details and manually assign people to projects before they can track time. In Clockify, your team can track time right away, and you can add structure later.
More flexible reports
Harvest shows you time breakdown how it thinks it should look like, which is not necessarily how you need. Clockify, on the other hand, is much more flexible and lets you break down the data any way you need.
Price ($0)
The more users you have, the more expensive Harvest is. Clockify is free no matter how many users you have (you only pay if you want to self-host Clockify on your own servers).
What makes Clockify a great Harvest alternative
1. Insanely simple to use
Employees can start a timer with just one click, thus making them more likely to actually track time.
2. Better insight
Because time tracking is so simple, people can be more thorough when tracking time and you'll have a better insight on what's going on.
3. Flexible reports
You can better analyze time and how much money you've earned for each time period thanks to all sorts of grouping options, filters, and visual charts.
4. Export all data
You can export all your time entries in CSV and Excel, and use the data to calculate payroll or create invoices yourself.
5. Completely free
Harvest costs $12 per user each month. Clockify costs $0 and lets you have unlimited users and projects (unless you need self-hosting).
6. Fits in with your pre-existing system
Clockify counts on you already using some project management tool and having an invoicing system, and enhances it with time tracking.
Clockify has everything we need, without costing a fortune
We used to spend $500 each month on a time tracker just so everyone could log their time. That was too much. So, we created Clockify. It has everything teams and companies really need, without costing a fortune

Nenad Milanovic, CEO at COING Inc