Kiosk
Allow your employees to clock in and clock out using a shared device. Later, see their tracked time and attendance in reports.
If you have employees who don't have an email, you can add them as limited members who only clock in via the kiosk.
Creating kiosk #
Go to the Kiosk page from the sidebar
Click Create kiosk
Enter kiosk name (no special characters allowed; e.g. Westside Bar: Staff)
Select members who can clock in via that kiosk
Select Default project to which all time on that kiosk will be tracked (optional)
Check Require PIN if assignees need to enter their personal PIN before they can clock in
Click Create
Kiosk mode is enabled in the Workspace settings, by default.
You can also choose a task in the Default project field. So for example, you can create one kiosk for one type of workers where all the time will be tracked to Project: TaskA, and another where time will be tracked to Project: TaskB.
If you have breaks enabled, you can also choose a default project/task for the break time entries.
Time in Clockify is categorized by Client, Project, and Task by default. You can change the labels into something that better suits your business in the workspace settings (e.g. Department, Location, Job…).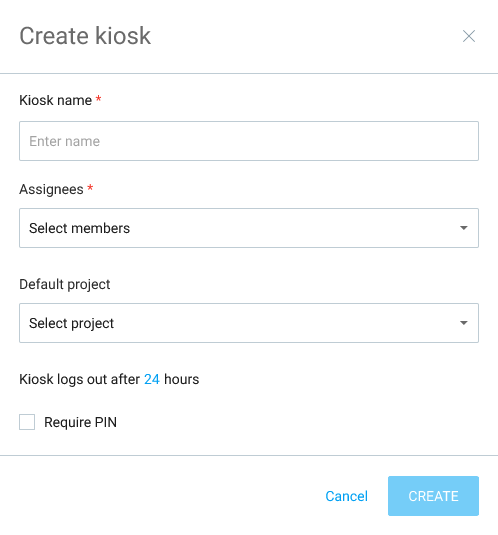 Launching kiosk #
All your kiosks and links to them will appear on the Kiosk page.
Kiosk can be launched via a link on any device in its browser (any tablet, computer, or phone, no special equipment needed).
To launch a kiosk:
Go to the Kiosks page to see all your kiosks
Copy the link to the kiosk you want to launch
Open the link on the device (e.g. tablet)
Log in with your admin credentials (email and password you use to log into Clockify)
To close a kiosk:
Select your admin profile on the kiosk
Enter your PIN (if required)
Choose Close kiosk in the lower left corner.
Closing a kiosk doesn't clock out existing users, so make sure everyone's clocked out or they won't be able to stop their timer (admin will have to do it for them in the web app by visiting their Calendar and stopping the timer from their currently running time block).
Kiosk remains open for 24 hours by default. After that, the session expires and admin needs to relaunch it again. To set a custom duration after which the session expires, upgrade to STANDARD or higher.
To launch the kiosk on more than one device or location, upgrade to any PAID plan.

Clocking in #
Go to the device that has your kiosk set up
Select your profile
Enter you PIN (if required)
Tap Clock in
People who are clocked-in will have a green dot next to them on the kiosk list.
Team Dashboard also shows who's currently clocked-in in the web app.
If you have Breaks feature enabled, you can start a break when you sign into the kiosk.
Clocking out #
Go to the kiosk
Select your profile
Enter you PIN (if required)
Tap Clock out to finish your shift and stop the work timer
Clocking in for others #
Go to kiosk
Select the person's profile
Enter that kiosk's Universal PIN (if required)
Tap clock in or clock out (or start/finish break)
If kiosk PIN is disabled, anyone can clock in for anyone else.
If kiosk PIN is enabled, only people who know Universal PIN (found in the kiosk settings) can clock in for others. Universal PIN doesn't work for admin profiles.
Full screen mode (tablet) #
To access kiosk quickly from tablet and prevent people from accidentally exiting, pin the link to the homescreen.
iOS #
Open kiosk link in Safari
Share
Add to homescreen
Name your shortcut
Go to Settings > Accessibility > General > Guided Access
Enable Accessibility Shortcut
Go to your homescreen and open kiosk shortcut
Start Guided Access by triple-clicking home button
Go to Options in the down left corner and disable all options except Touch and Keyboard
Resume Guided Access
Learn more: Guided Access (iOS) | Adding a shortcut (iOS)
Android #
Go to Settings
Go to Security & location > Advanced > App pinning (If you can't find it, get help from your device manufacturer)
Enable App pinning
Open kiosk link in your browser
Swipe up to the middle of your screen
Tap the browser's icon
Tap Pin
Learn more: Pinning apps (Android)
Managing kiosk #
To edit, activate/deactivate, or delete a kiosk, go to the Kiosk page and click on the three dots next to the kiosk you wish to edit.
When you deactivate a kiosk, its URL stops working and employees aren't able to clock in. Once you activate it, the URL starts working again.
When you delete a kiosk, its URL stops working and the time entries made on that kiosk lose the data related to them (time entries, however, are not deleted).
Only people assigned to the kiosk can use it to clock in and out.
If you're on a STANDARD plan and you've uploaded the company's logo in the Workspace settings, your logo is displayed on your kiosk.
Kiosk reporting #
Users can see how much time they've tracked that week and day when they sign into their profile.
You can see all time entries made via kiosk in:
Team Dashboard – here you can see who's currently clocked in
Summary and Weekly report – summarized time by user, date, and project
Detailed report – here you can see each clock in and clock out, and edit them
Entries created via kiosk contain the info of the kiosk through which it was created, which you can get by exporting Detailed report (CSV, Excel).
To filter time in reports by kiosk, you first need to show the kiosk filter by clicking on the filter dropdown and selecting the kiosk filter. After that, you can see and filter all data by kiosk.