How to organize a workspace in Clockify
Let's say one part of your team already uses Clockify to track their work on billable projects.
But now you wish to implement Clockify in other departments, as well.
You can do that by adding the rest of the team to the existing workspace, or by creating a new workspace for each team division – dividing it in any way you see fit.
Depending on how closely different teams cooperate on the same projects, it might or might not make sense to organize your work in one or multiple workspaces.
In this guide we will explain details in both cases, so you can see what is the best option for your team.
Multiple workspaces: possibilities & limitations
When working on multiple workspaces, you want to keep in mind how closely different teams cooperate on the same project and agree on:
Who will work on what,
Which activities will be billable and which won't.
This way you prevent double billing or billing for activities that should not be charged.
Billing status can also be tracked from the Invoices tab (explained below).
With multiple workspaces, you can:
Ensure that users won't be able to change settings on other workspaces – other projects.
But, depending on the team size and complexity of the project, you might still want to narrow down the team to smaller groups and assign them roles.
With multiple workspaces, you can't:
Have all the tracked time, overall profit, and costs for the whole company in one place.
Keeping track of billable and non-billable hours on projects, and generated profit or costs on multiple workspaces will spread out the data you will, at some point, need in one place.
So, when you wish to analyze the whole profit or costs for the whole company, you will have to export reports from different workspaces and combine them outside of Clockify to get the insights you need.
One workspace: possibilities & limitations
Having everything in one workspace will make it easier to track. Since everything is in one place, you can use filtering to generate custom reports for certain projects, clients, dates, etc.
With one workspace, you can:
See all tracked time, for all projects and clients on the Reports page where you use filtering to display the data you need.
Organize team members in groups (teams), and designate whole projects to individuals or a group of people.
Appoint team members as team managers and project managers so they would be able to look over projects and teams.
Restrict who can track time on certain projects by setting them as private, so only people that are part of the project (assigned as individuals or as a group) can track time on it. This is with the exception of admins and the workspace owner.
With one workspace, you can't:
Apply different workspace settings to different projects.
One of the potential issues with one workspace is if admins or managers unintentionally change something that will reflect on all team members or projects (e.g. team member cost rate, which will reflect on their paycheck).
In most cases, workspace settings can't be overridden. However, there are some exceptions.
Does your team need more than one workspace?
Here is the list of settings that are unique to a workspace, and that will reflect further down the process.
Examine to see if some are of great importance to your workflow. If so, having multiple workspaces might be a better option for your team.
Project's DEFAULT billable status
If you have a lot of projects which are either billable or non-billable, their default billability status can be set in workspace settings. So, if you don't want to change that for each project separately, it might be easier for you to have two different workspaces – one for billable projects and the other for non-billable ones.
Time organization
You can select the right wording to better suit your work. For example, you might don't want to track time on the 'Projects' but on the 'Location'. Such settings will reflect on the whole workspace, so if it makes sense for your business to have distinct tracking objects, having multiple workspaces is a better option for you.
Time duration formats
You can choose how to display recorded time on your workspace, whether you want to show recorded hours, minutes, and seconds, or only hours. This comes in handy if different clients demand more details than other clients.
Data and currency format
You can set up default types of data and currency formats. So, if you have clients from USA and Europe, your data formats displayed in reports might need to be different (e.g. 3,000 for USA clients, 3.000 for German clients, 3 000 for Swedish clients, or 3'000 for Swiss clients).
Company address and logo
When billing your clients, your default company address and logo will be displayed on invoices and reports.
In case your company has multiple legal representative bodies, the billing process might need to be handled from multiple entities, and therefore from multiple workspaces.
Required fields
If you choose that time entries cannot be saved without fields such as project, task, tag, or description, such settings will apply to all time entries within the workspace.
Custom fields
If you create custom fields for time entries or users and want to make them required, that will apply to the whole workspace. So if you want to apply different custom fields to different teams and projects, having more than one workspace is a solution.
Alerts
The rules you set for getting alerts will be unique to that workspace. For example, if you set up that a project manager should get the alert if a project reaches 50% of an estimate, that will apply to all projects.
And if you want to change that percentage for non-billable projects, for example, using multiple workspaces is a better solution for your team.
Approval period
If for some reason, you apply different timesheet approval periods for different team divisions, you might need more than one workspace and adjust approval periods for weekly, semi-monthly, or monthly.
Does your team need only one workspace?
If your work processes are not too complex and the most important thing for you is to:
Assign clear roles to team members
Assign them proper projects
Track profit and generated costs
Then – having one workspace might be just enough for your team.
These are the settings that can be overridden however the workspace settings were initially set:
Project's billability
Project's billability can be different from the default billability status set in the workspace settings if it's later changed in the project settings individually.
Default currency
You can set up a default workspace currency, but override that setting by setting up a different currency for a project/client (available soon).
Billable rates
This way you easily manage earnings for each team member, whatever their role in the team is.
Working days
Default working days can be set in the workspace settings, but can also be overridden for specific team members if their working days are different.
Now let's see how organizing workspaces in Clockify actually works.
How to actually organize a workspace in Clockify?
When you create a Clockify account, one workspace will be automatically created for you.
If that's convenient for your team, you can proceed to create projects, assign tasks and track time on them.
However, if you choose to have more than one workspace, here's how to create an additional one.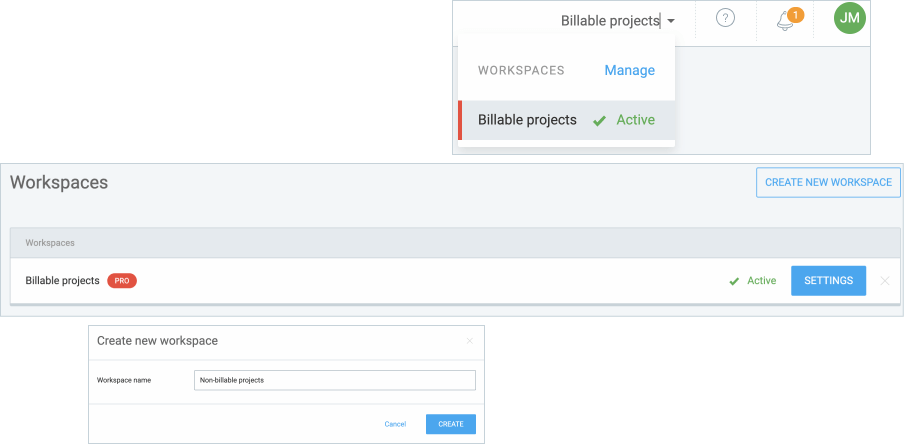 Next, you would want to invite team members to the workspace they belong to.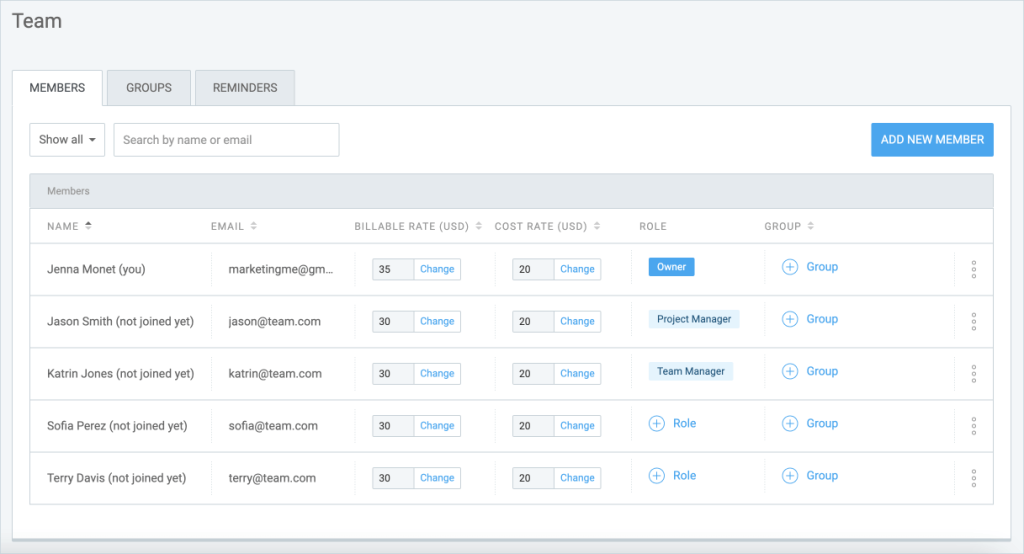 If you have only one workspace, organizing team members in groups will be especially important for scheduling tasks.

You can also give different roles and permissions to team members, according to their responsibilities.
In Clockify, there are 3 levels of permissions:
Admins: can see and edit everything
Managers: can manage projects and approve timesheets
Regular users: mostly track time
After all the people are included in the workspaces, proceed to create a base of your clients.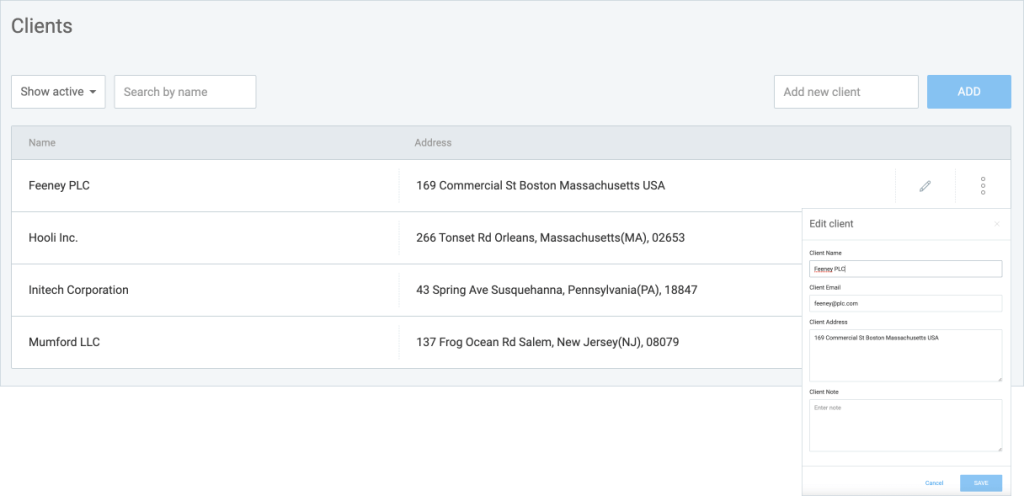 After you got the client base all set up, go and set up the projects your team is working on.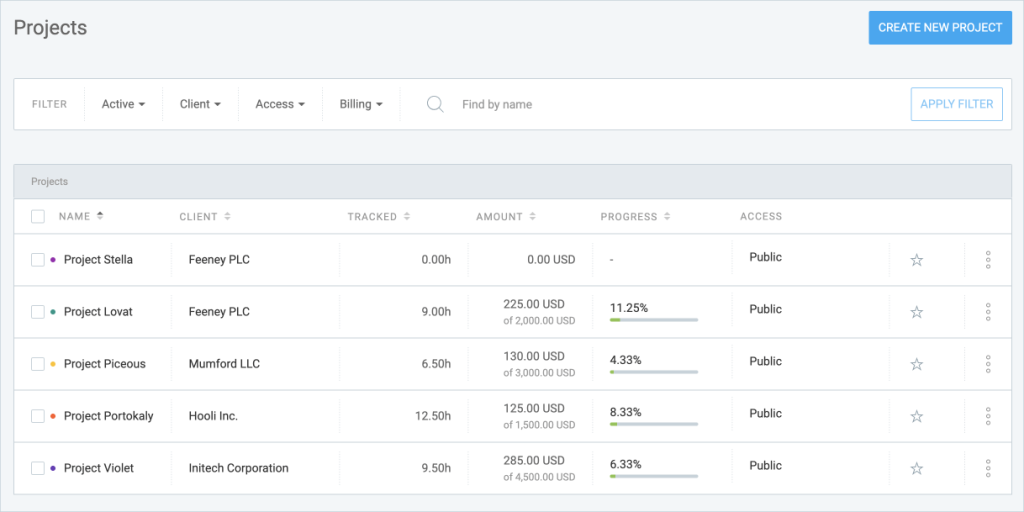 If you want to designate a project for certain team members only, you can do that in Project settings.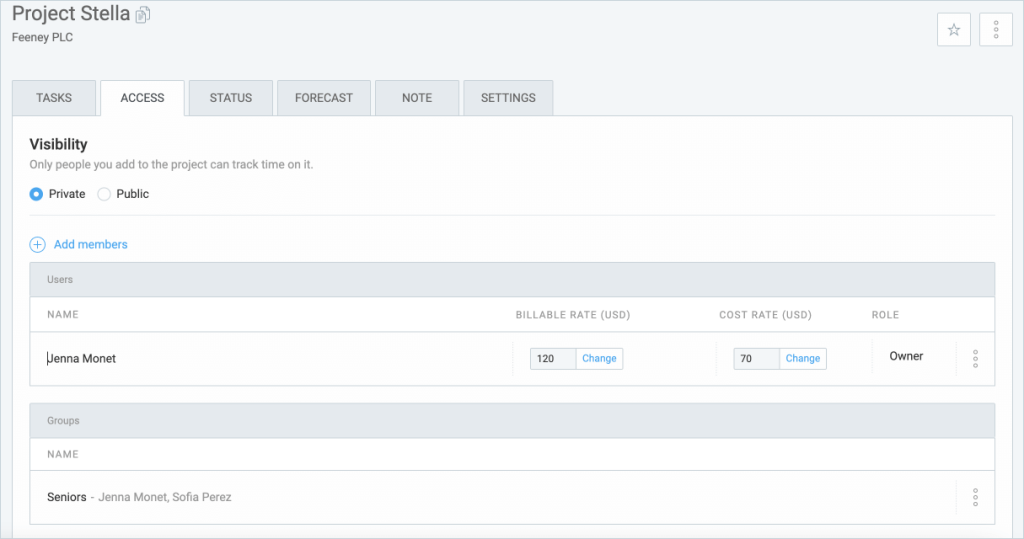 Now you can start assigning team members or groups to projects.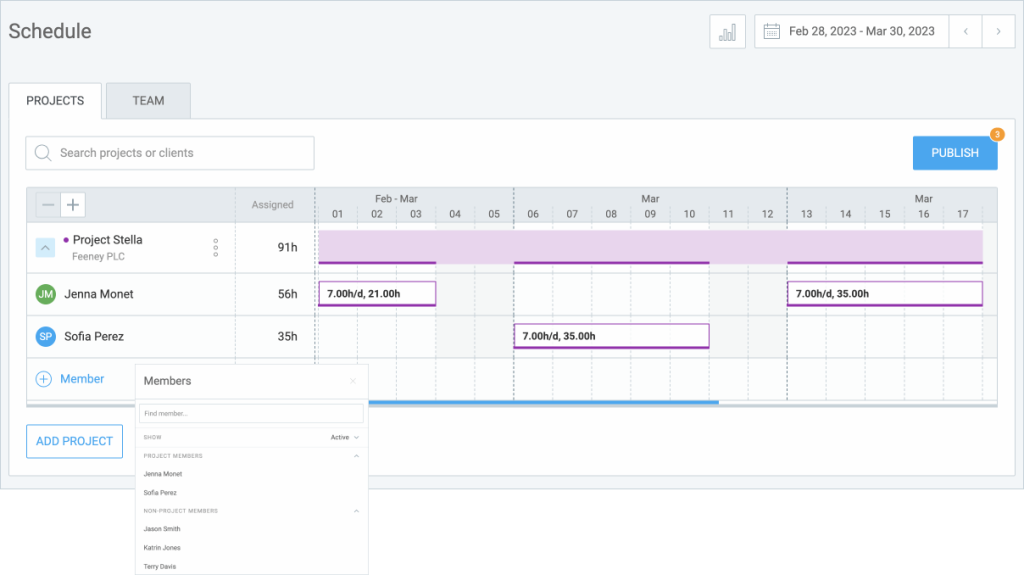 To avoid accidental double-billing, the billing status of the invoices can be tracked on the Invoices tab, where you can see which invoices were sent, paid, or overdue.

However you choose to organize your team, there is team-related or project-related information you want to keep in one place.
Clockify lets you create custom fields in a workspace, for time entries or for users.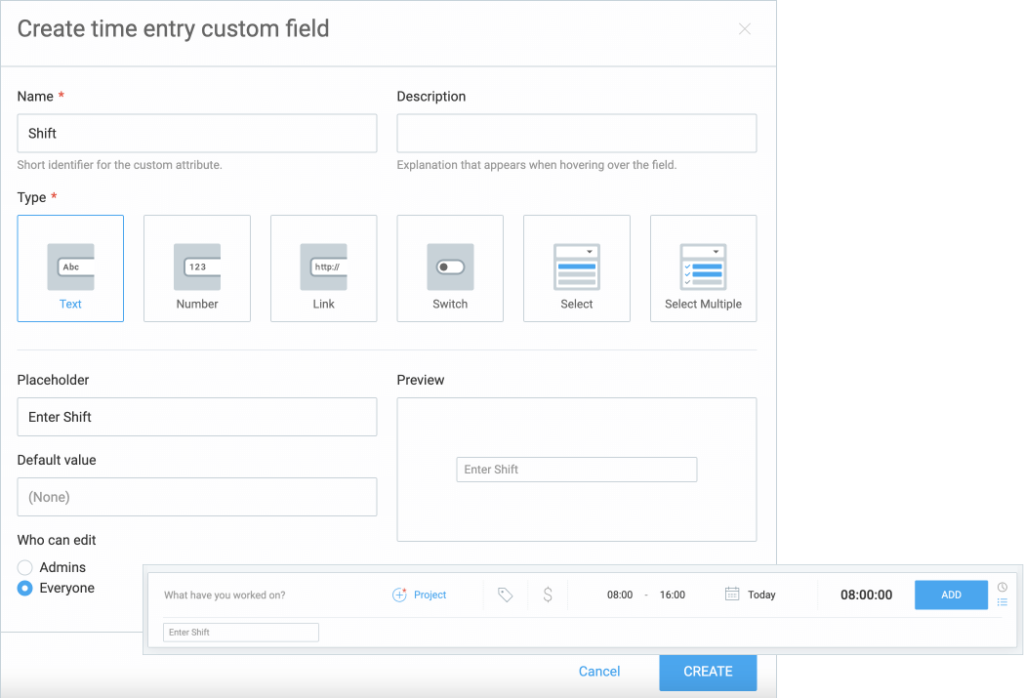 The same goes for user custom fields.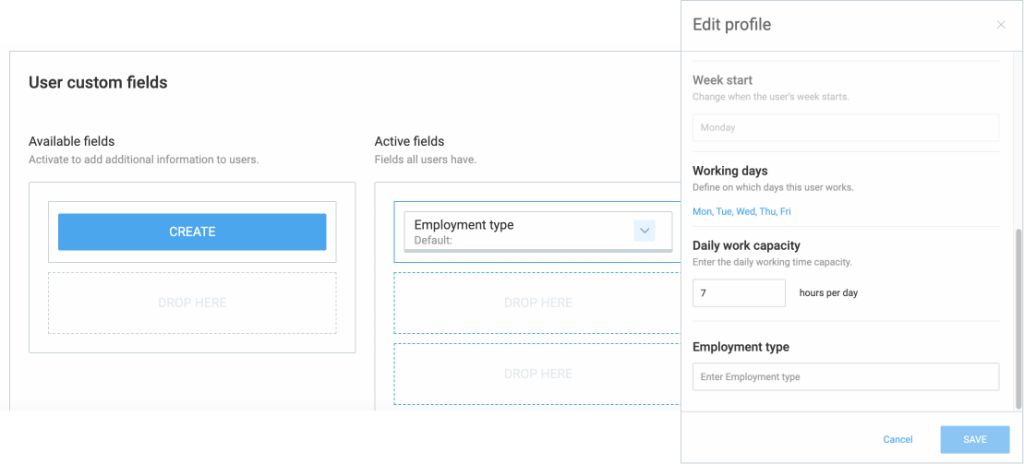 All data within a workspace can be exported on the Reports page. You can filter tracked time for particular projects or clients.
Choose the date range, filter out the information you want to display, and export data as PDF, Excel, or CSV.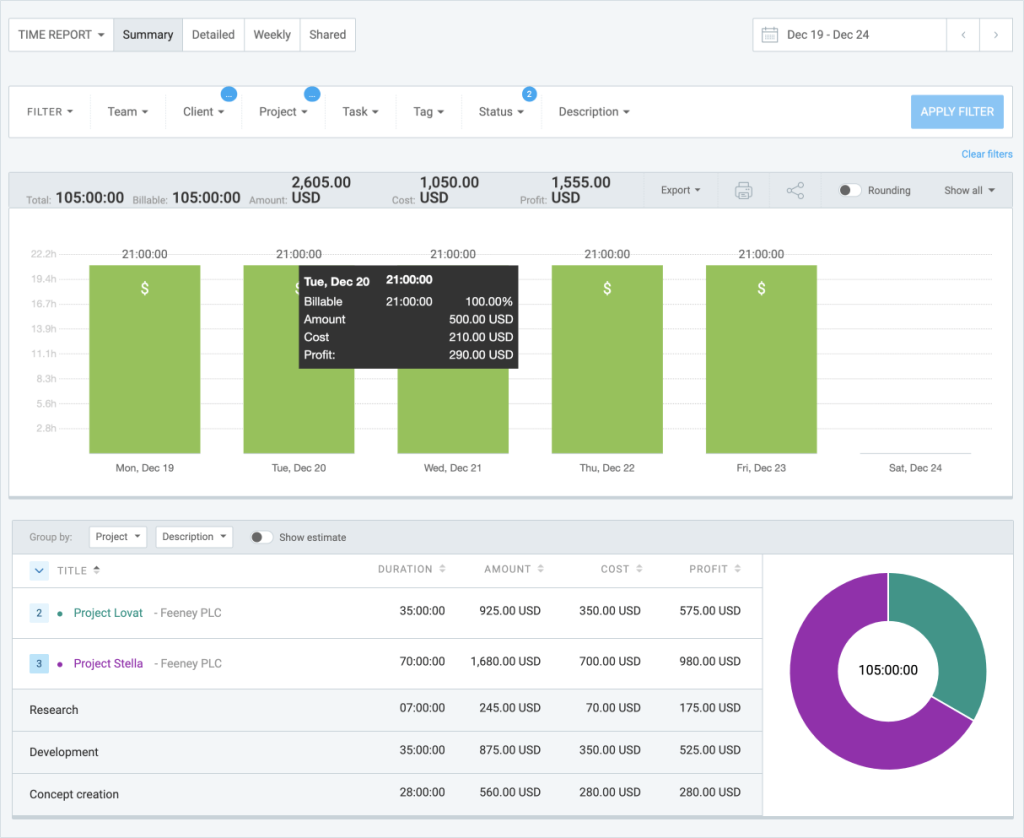 Conclusion: Which option is better?
Operating within one or multiple workspaces has its advantages and disadvantages. Depending on the complexity of your processes, you can achieve the same results with either option.
In the first place, you need to ask yourself what your clients need from you. Can you segment data in the exact way they need if you have only one workspace, or would you need more?
Based on that, you can think about what could be the initial logical segmentation of your teams and processes.
Then, you should ask yourself:
what day-to-day processes look like for each team,
what outputs they need to produce,
how close each team cooperates with other teams, and
if those outputs can be produced from one or multiple workspaces.
Following this chain of thought will give you the answer to the question of what is the optimal solution for successful project completion in your case.
See how to boost your current work processes with Clockify Tutorials.