Free team time management app
The only truly free time management app for teams. Track work hours with one click, see who works on what, and improve productivity. Insanely simple, unlimited users, free forever.
Improve your team time management with Clockify
Track time and productivity
Your team/employees can track time using an online timer, or enter how much they've worked manually. This will help you better know where the time goes and improve productivity.
Learn more about: Work hours tracker | Timesheet app
See who works on what
See how your team manages time, what they've worked on, and what's their current status with one team time management tool.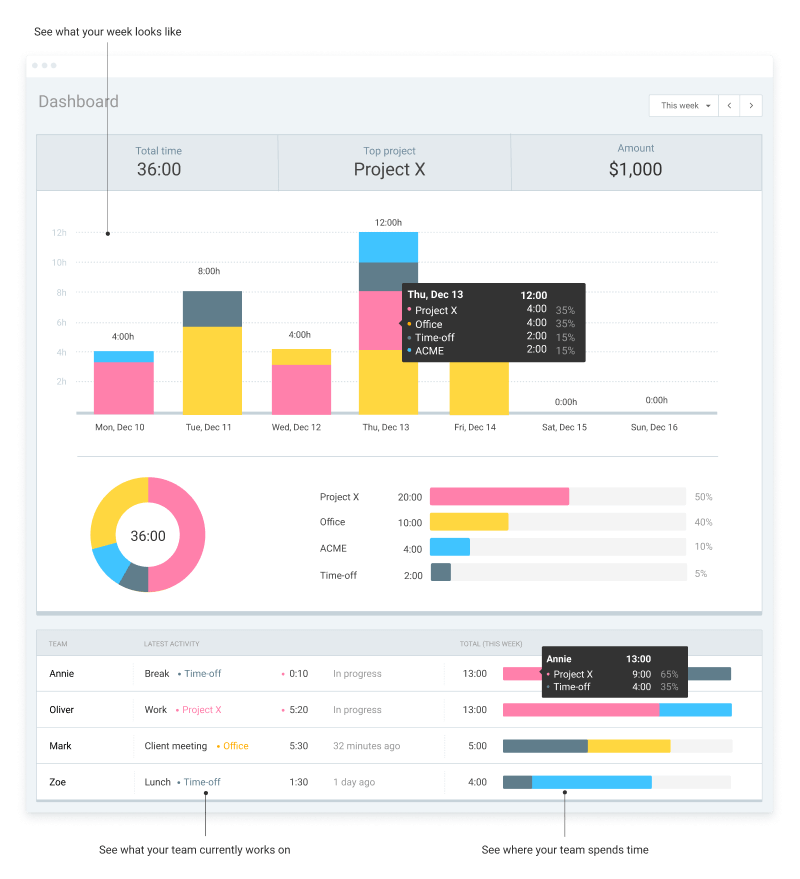 How time management for teams works
Step 2
Invite team
You can have an unlimited number of users for free.
Step 3
Track time with one click
Tracking time is insanely simple and doesn't require any training, so your team and employees won't have any issues or trouble keeping up with the time tracking habit.
Your team can track time using a timer or enter their time manually. They can track time in the browser, or via desktop and mobile app. Desktop apps come with useful features like reminders, idle detection, and more.
Step 4
Track time inside other apps
Install Chrome or Firefox extension and a timer button will appear in your favorite web apps so you can track time more easily (Trello, Asana, Todoist, etc.).


Step 5
See who works on what
Dashboard shows you who works on what in real time. It also shows what was their last activity, and what they've worked on that day or week.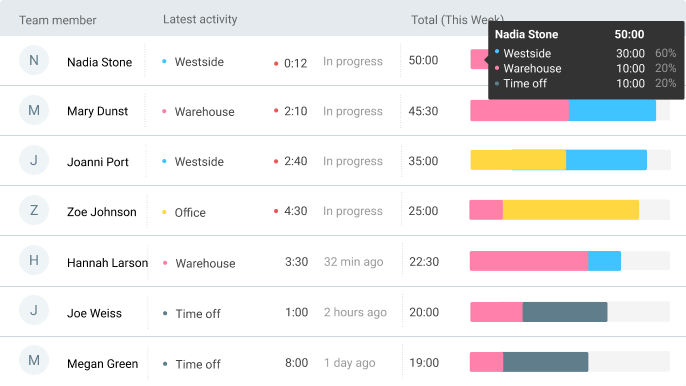 Step 6
Analyze data
In the web version, you can run a report, break down tracked time however you need, and save as PDF or in Excel.
Download PDF samples: Summary • Detailed • Weekly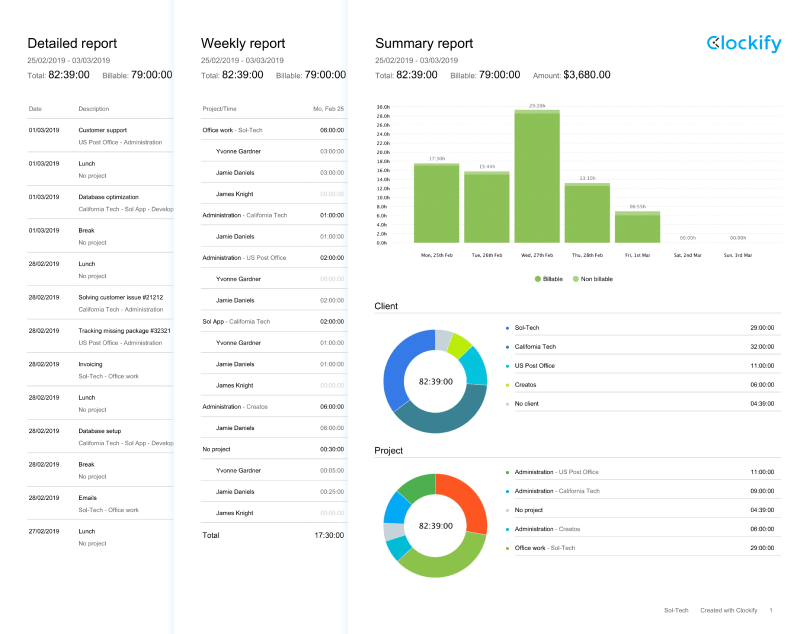 Clockify resolved team time management challenges
Clockify was easy to implement and use, enabling our team to better manage our resources and provide our clients with the reports they needed. And all of this was done at no cost! So far Clockify has met all of our needs. We needed a tool to track time for 15-20 people. Clockify fit. We needed to support consultant hourly costs and client rates. Clockify delivered. We needed staffing forecast reports. Clockify reported. We needed revenue/profit reports. Clockify delivered. Our clients wanted reports quickly. Clockify provided!
— Bob Jones, Project manager at rockITdata