Free time management app
Clockify is the only 100% free time management app that helps you keep track of where you and your team spend your work hours.
Time management features
Clockify is a completely free time management application that works in the browser and that lets you track how much time you spend different activities.
Track time with one click, from anywhere
Tracking and managing your time is insanely simple and takes just one click. You can track time using a web app, or from your desktop or phone - all time is synced.
Available for: Chrome • Firefox • Android • iOS • Mac • Windows • Linux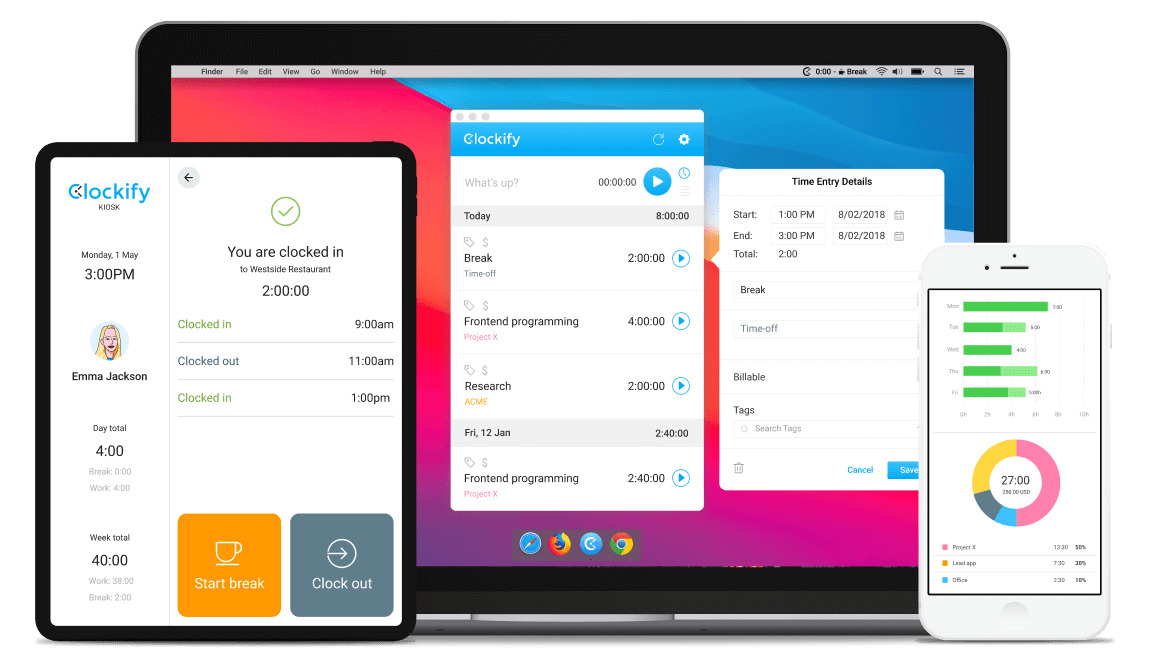 See where the time goes at a glance
See what you've worked on, how much, and where you spend the most time so you can manage your productivity. Clockify can also calculate the value of your time so you can see profit/cost for each activity.Once you know where your time goes, you can start better managing it and stop yourself from procrastinating.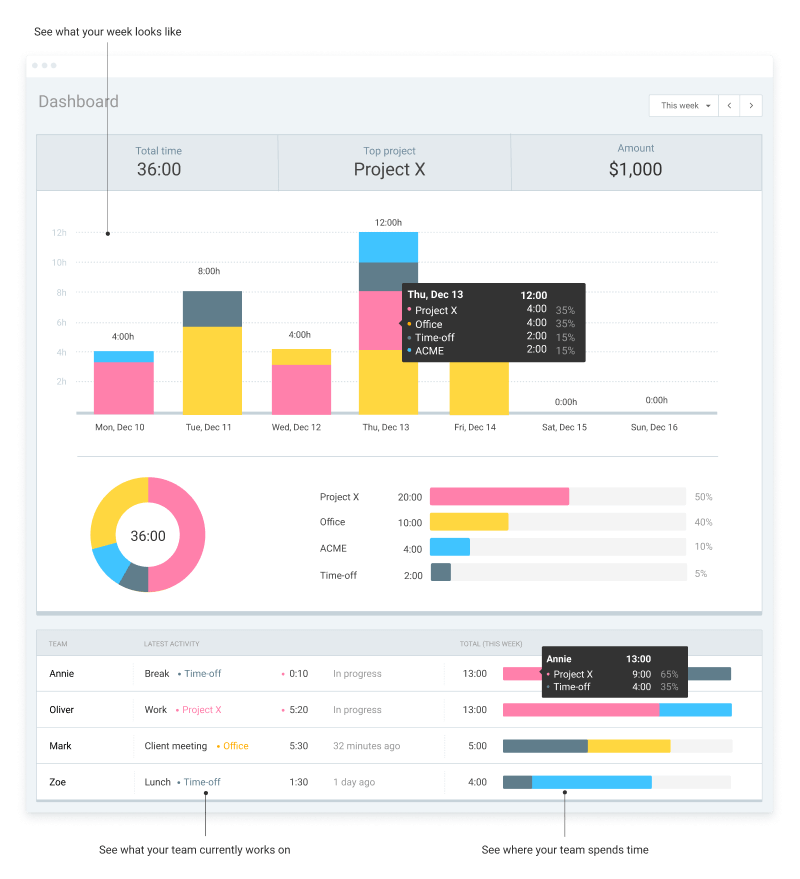 Run reports for in-depth analysis
Reports help you compare what your ideal weeks looks like vs what it actually looks like. You can also export the data and send it to others.
How to track productivity with Clockify
Step 1
Create Clockify account
Step 2
Download time tracker app
Clockify is an online time tracking app that works across devices.

Step 4
Start the timer
When you start working, start the timer with one click (or via a shortcut).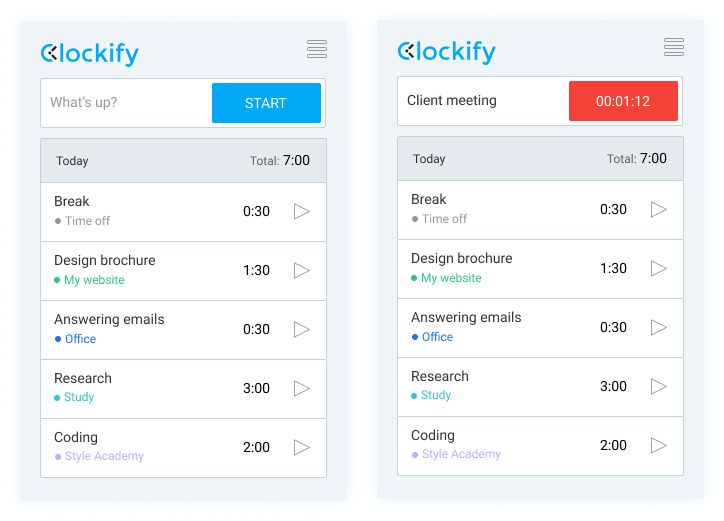 Step 5
Categorize time
You can categorize time by project and tag so you can better analyze where you spend time later.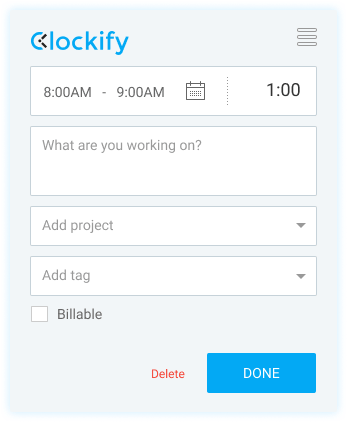 Step 6
Analyze time
Open Dashboard to see your most tracked activities and see where you spend the most time.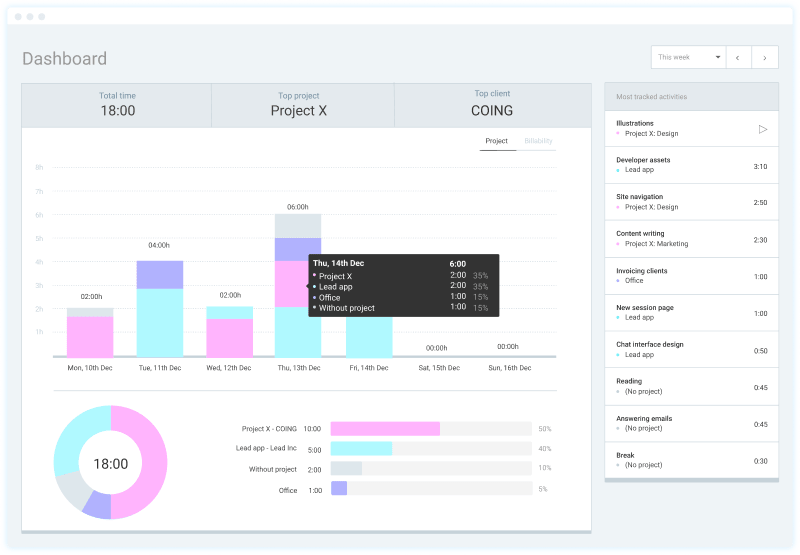 Step 7
Continue timer with one click
Continue timer for an activity by clicking on the entry in the list.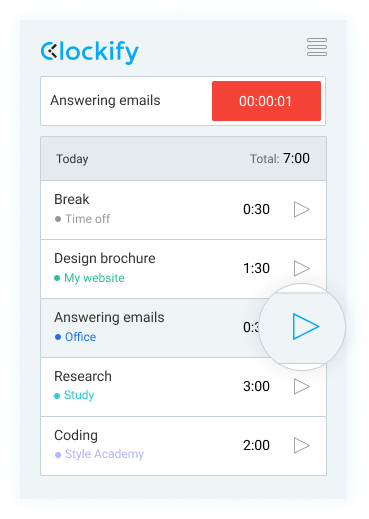 Step 8
Track time inside other apps
Install Chrome or Firefox extension and a timer button will appear in your favorite web apps so you and your team can track time more easily (Trello, Asana, Todoist, Gmail, Google Calendar, Google Docs, etc.).



Step 9
Enable productivity features
Pomodoro timer: Work in time blocks with breaks.
Reminders: Receive a notification when you forget to start the timer
Idle detection: Discard inactive time that you've spent away from the computer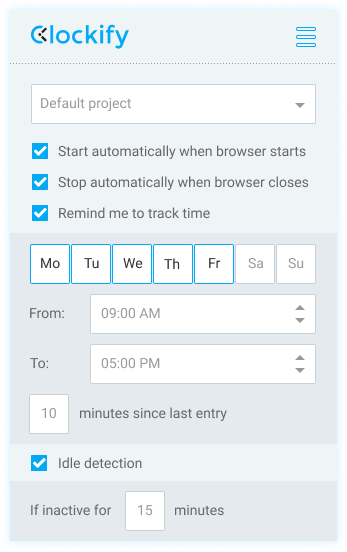 Why manage time with Clockify
Clockify keeps you and your team on track and gives you a more realistic idea of how much time projects eat up.
Clockify holds you accountable to the amount of time that you set aside for work.
Clockify helps you understand how your workweek really plays out and helps you plan your next one.