8 Best project management tools in 2023
The start of every project development process usually implies collecting all the necessary data, devising the general strategy, and introducing deadlines.
Needless to say, the entire process causes confusion for everyone involved, and that's usually when the problems start.
If your team is working on an extensive project that's composed of multiple sub-teams, the chances are you'll encounter:
Missed deadlines,
Unclear task instructions,
Confusion regarding task distribution, and
An abundance of other unpredictable complications.
So, what can you do to ensure your project is completed successfully and on time?
Well, the past decade has seen a tremendous rise in the number of project management software that facilitate team management and task distribution.
There are many choices depending on the type of business you're running, which is why we've compiled a list of 8 best project management tools in general:
Plaky,
Trello,
Jira,
Asana,
ClickUp,
Todoist,
Wrike, and
Bonus app — Clockify.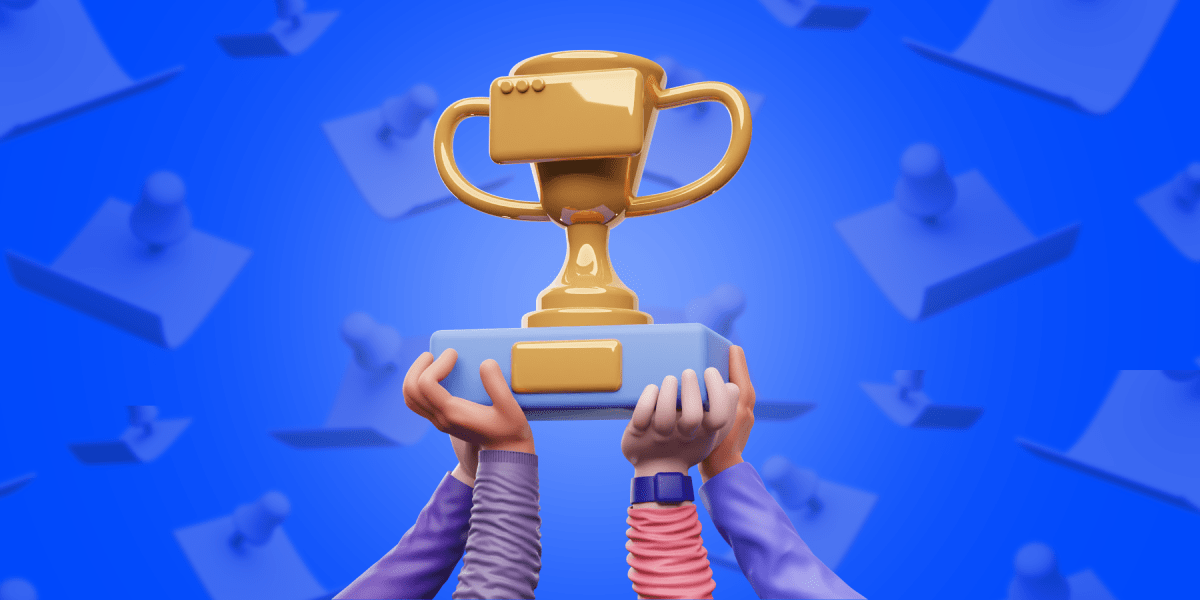 What is project management software?
Project management software are all-encompassing applications and web-based services that offer its users:
Real-time collaboration,
Project planning, and usually,
Resource allocation.
In general, every project has five stages of development:
Initiating,
Planning,
Executing,
Monitoring, and
Closing.
The life cycle of a project depends on many aspects that reach way beyond collaboration and project management, which is why modernized software are being constantly upgraded to match the needs of every department involved in the process.
Furthermore, the rise of remote work and the increasing demand for extra features led to the evolution of the PM software to the point where you can nowadays use them to:
Communicate,
Schedule meetings,
Track time and progress,
Assign, request, and make approvals, and even
Collaborate on live production in coding.
A list of the best project management tools
Up next, we'll introduce you to the specifics of some of the most popular project management software on the market right now and go over their similarities and differences.
Plaky — best overall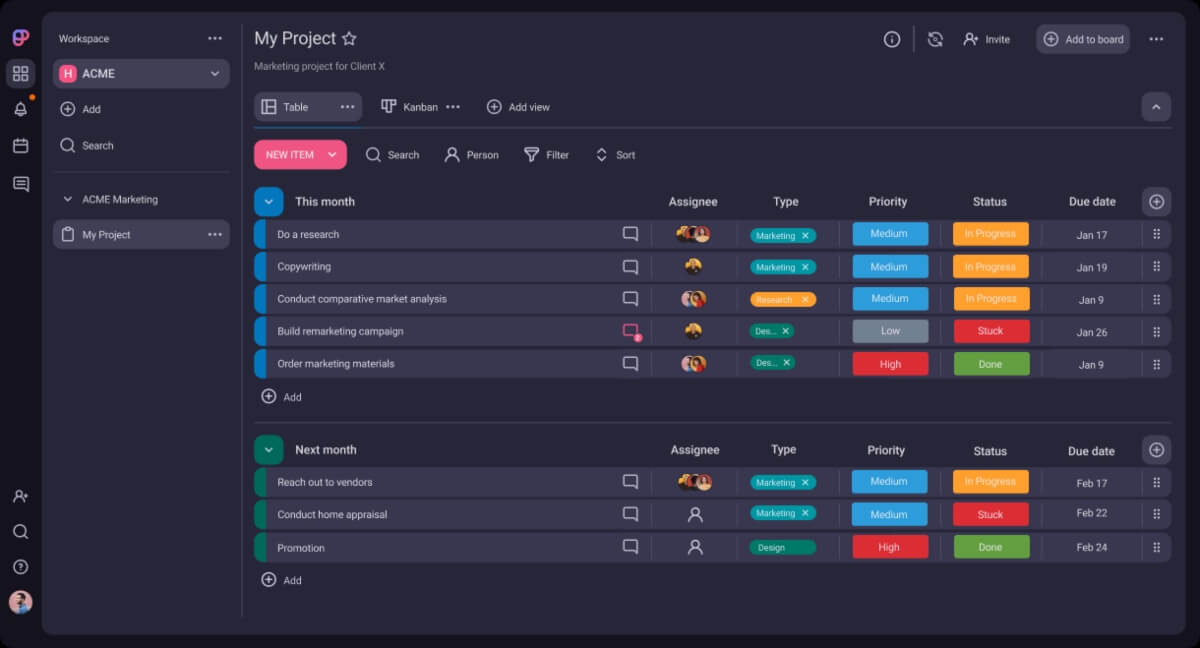 Developed by a product-based software company — Coing, Plaky is a free project management software that allows teams of all sizes to collaborate on different projects and tasks.
What is Plaky about?
Once you log in, you'll immediately notice the eye-catching design that makes it effortless to adapt and figure out all the nooks and crannies in the software.
The best part about this tool? The progress-tracking features keep you in the loop at all times, and there is no confusion regarding:
Deadlines,
Tasks, and
The assignees.
Use either the Table view or the Kanban view and track progress at all times.
Why use Plaky?
Plaky is a new player on the market, which means that it's still free to use, and the priced plans are yet to be determined. Also, you'll be able to add an unlimited number of users who can operate on an unlimited number of boards, too.
Then, account for the fact that it has all the features that long-standing project management software have and that it's free, and you get the top pick on our list.
Type of plan and availability
Plaky pricing and platforms
Free trial
N/A
Free plan
Yes
Cheapest paid plan
N/A
Availability
— Web
— Windows
— Android
— iOS
💡 Clockify Pro Tip
Do you feel like you're bleeding money each month and you don't know where it's leaking? Forget all about progress reports, bundles of papers, and finances and give this blog a read:
Trello — best design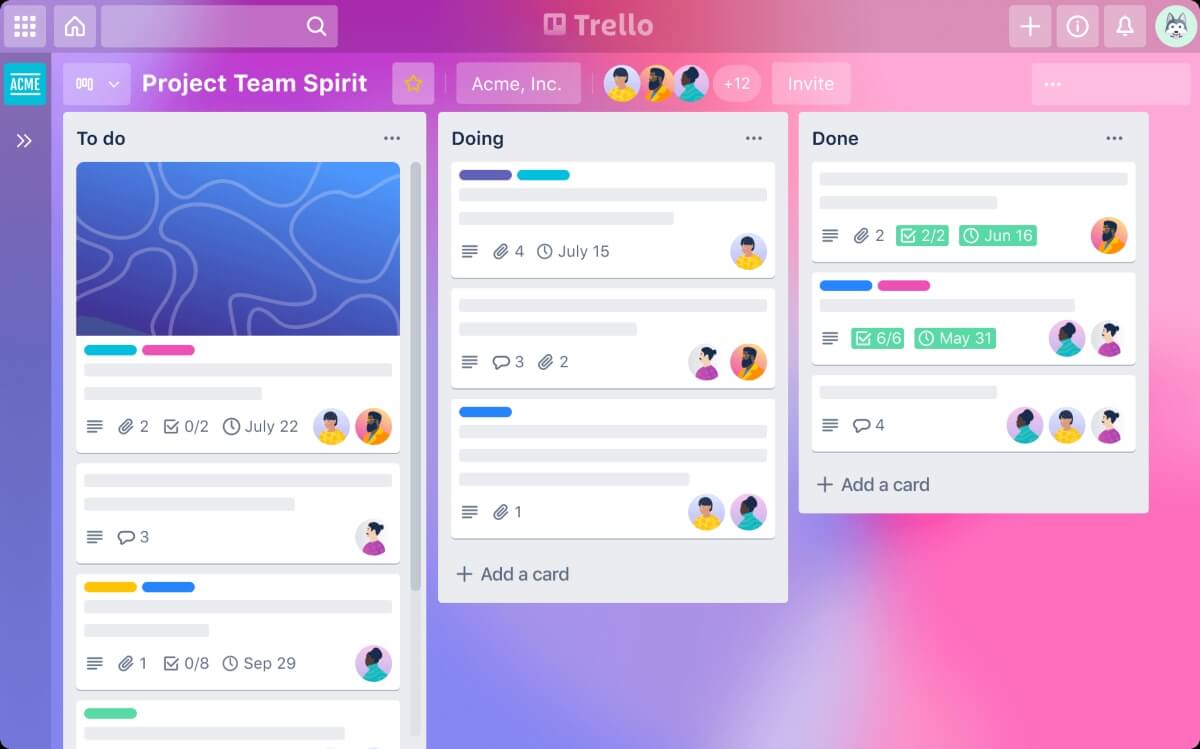 Created and designed by Atlassian, Trello has been a staple in the project management communities for over a decade, and it's still continuing to grow.
What is Trello about?
Known for its attractive design, Trello offers its users a unique experience when it comes to:
Task distribution,
Assigning projects,
Checking status reports, and
Overall organization.
Why use Trello?
Trello has integrations with three popular project management tools that most businesses use:
Jira,
Bitbucket, and
Confluence.
These so-called power-ups will tremendously help you to:
Connect existing Jira issues and cards to Trello,
Attach branches, commits, and requests from Bitbucket, and
Collaborate on ideas and projects that were already created on Confluence.
Also, Trello offers three price plans and a free one that can help you determine whether you want to upgrade or not.
Our advice? The premium plan offers practically everything you'll need and more.
Type of plan and availability
Trello pricing and platforms
Free trial
14-day free trial
Free plan
Yes
Cheapest paid plan
$5 per month (if billed annually)
$6 per month (if billed monthly)
Availability
— Web
— Windows
— macOS
— Linux
— Android
— iOS
💡Clockify Pro Tip
Your productivity levels will be off the charts if you team up your project management tool with a time tracker. For more information, check out the following link:
Jira — best for software developers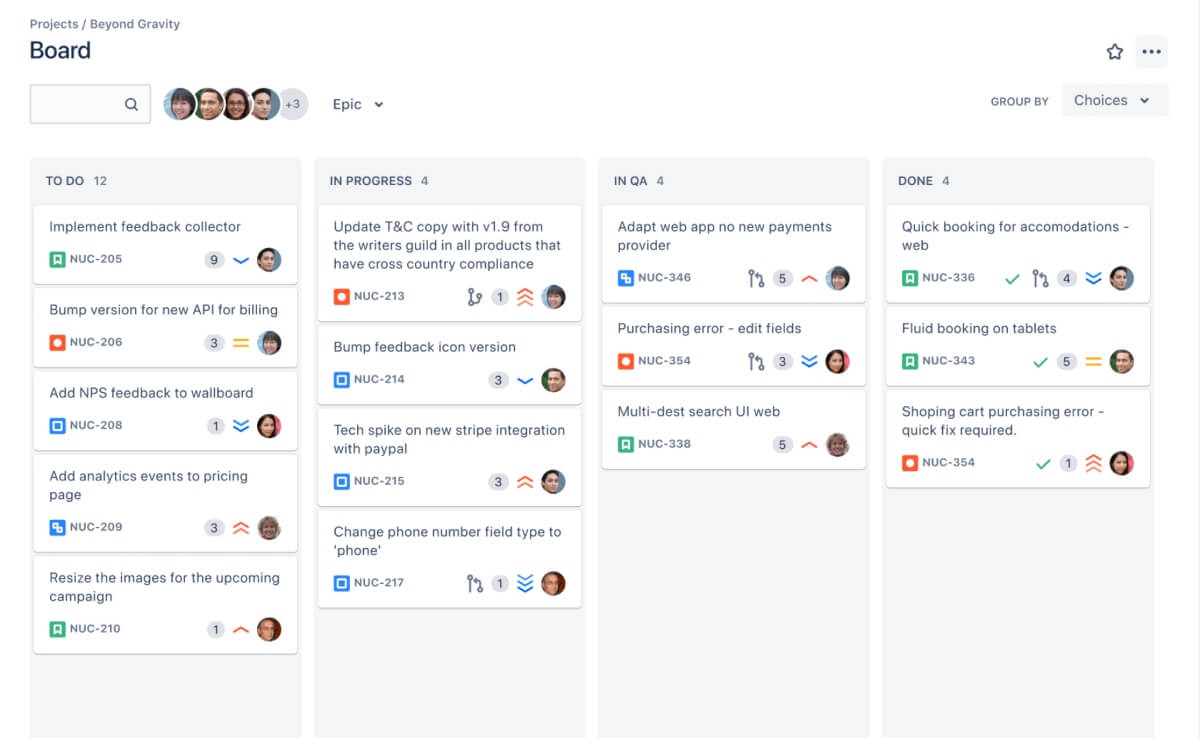 If you're in need of an agile project management tool that offers backlog management and Kanban boards, Jira will be the right fit for you.
What is Jira about?
Jira is another Atlassian project management tool that is mostly used in the IT industry for:
Creating tasks and tracking progress,
Detecting issues,
Bug tracking, and
If you're looking for software that will help you break down and analyze complicated problems, Jira is probably the best one you can get.
Why use Jira?
When it comes to developing codes and making changes to them, Jira excels with a variety of CI/CD external tools that facilitate the entire process.
Continuous integration (CI) and continuous delivery (CD) is a modern system that developers often rely on. CI/CD ensures that instant code changes are stable and delivered almost instantly into production.
Jira lets you deploy live codes and provides plugins that can further connect you to a hosting service for software development — GitHub.
However, the one thing that makes Jira a true beast in the IT world is its centralized system. Developers can work together on a project, sprint plan, and manage issues — all from a centralized web board.
Jira does come with a free plan, but the Standard and the Premium plans are better options if you want to get the full experience and all the features that Jira is well-known for.
Type of plan and availability
Jira pricing and platforms
Free trial
7-day free trial
Free plan
Yes
Cheapest paid plan
$7.75 per month
Availability
— Web
— Windows
— macOS
— Linux
— Android
— iOS
ClickUp — best all-purpose software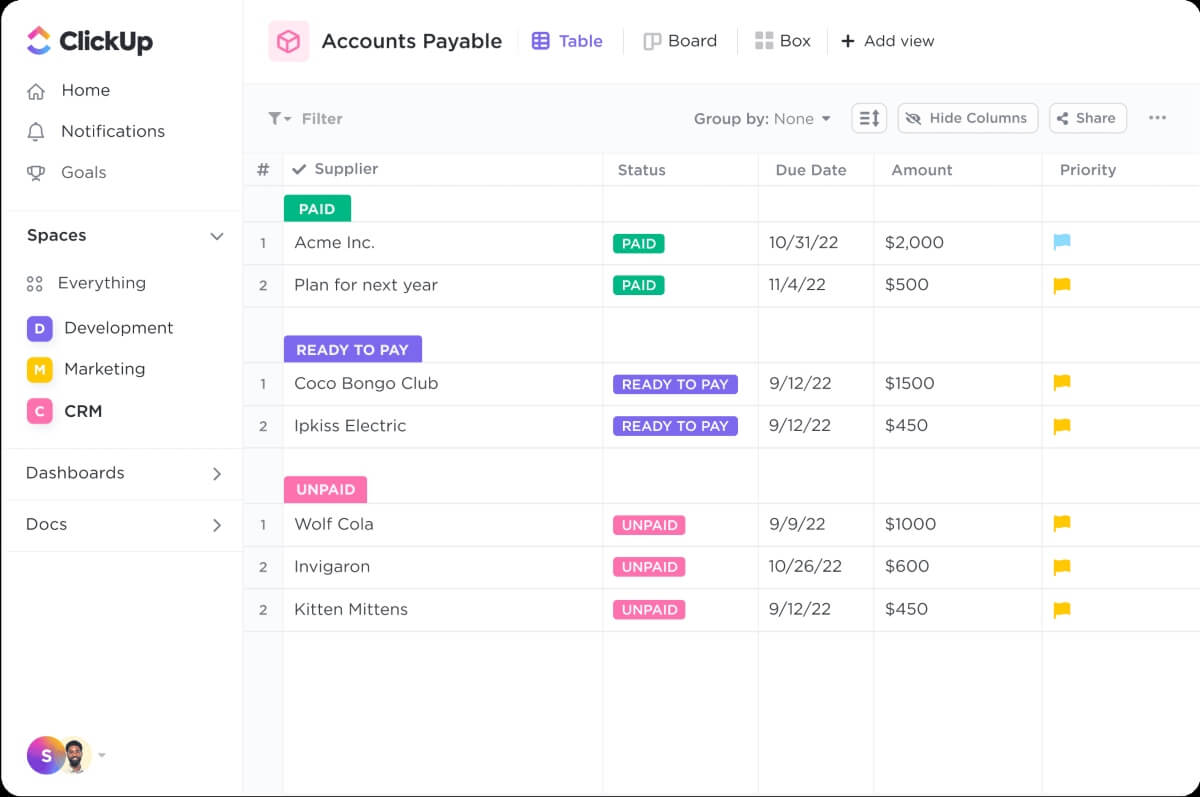 If you're looking for an all-around project management software that'll satisfy your needs from start to finish, ClickUp could be the right choice for you.
What is ClickUp about?
ClickUp users have an abundance of features that help them organize their workload on a daily basis.
This app will help you:
Collaborate with your team and colleagues in real-time,
Chat via an integrated platform,
Create marketing campaigns,
Jot down and share ideas via the Whiteboard,
Track progress and share reports, and
Add visual widgets that show what everyone's up to.
Why use ClickUp?
Aside from having a free plan, ClickUp is perfect for businesses and companies that have a lot of different types of projects on their plate.
You need to share a document with the marketing team? Write it in the integrated Docs platform and send it to them instantly.
A developer needs instructions on the new project? You can grant them access to your sprint plan and include them right away.
Furthermore, it is an all-purpose app that lets each user manually configure their notifications based on the task at hand.
The plans are relatively affordable, and you can try the free one with a limited storage capacity.
Type of plan and availability
ClickUp pricing and platforms
Free trial
Yes, with limited storage capacity
Free plan
Yes
Cheapest paid plan
$5 per month
Availability
— Web
— Windows
— macOS
— Linux
— Android
— iOS
Asana — best user interface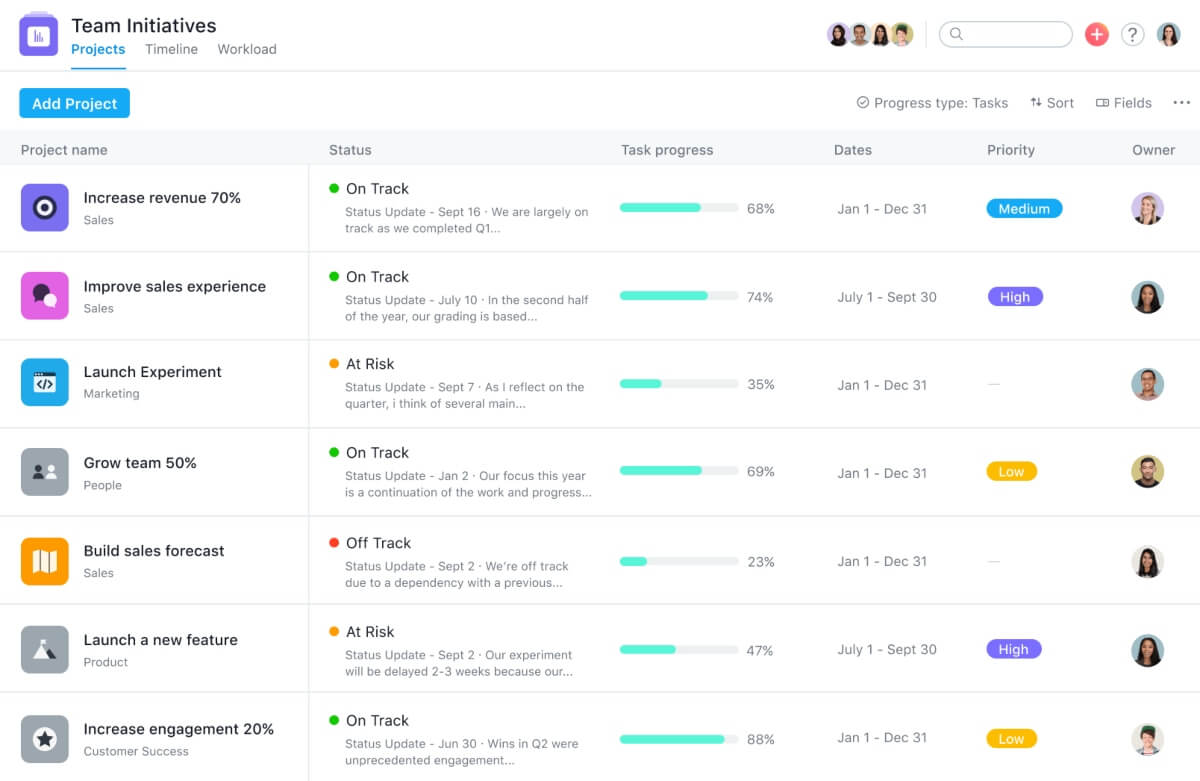 The search for software that combines impeccable design, smooth graphics, and even smoother performance is over. The answer? Asana.
What is Asana about?
Asana is a long-standing project management software that many businesses use for one particular reason — integrations.
With 200+ integrations, Asana helps workers accomplish everything on a daily basis — from collaboration and communication to project coordination features.
Furthermore, Asana is perfect for teams that require cross-team organization — its features let you assign multiple people to a task that can later be redistributed to multiple projects.
Why use Asana?
Aside from its intuitive software and easy-to-use interface, Asana offers its users to choose from 50+ free templates that let them optimize their work in various fields, such as:
Marketing,
HR,
IT,
Design,
Engineering,
Customer success, and
Sales.
Moreover, when you use Asana, you don't need to message or call your supervisors if you're waiting on approval or a response to a request. You can fill out a card and tag them, and they'll mark the card as pending, approved, or denied.
Asana users can choose between 3 plans — free, premium, and business.
Another option is to contact Asana's support team if you're running a corporation and want to upgrade to the all-encompassing Enterprise plan.
Type of plan and availability
Asana pricing and platforms
Free trial
7-day free trial
Free plan
Yes
Cheapest paid plan
$10.99 per month (if billed annually)
$13.49 per month (if billed monthly)
Availability
— Web
— Windows
— macOS
— Android
— iOS
Todoist — best for small businesses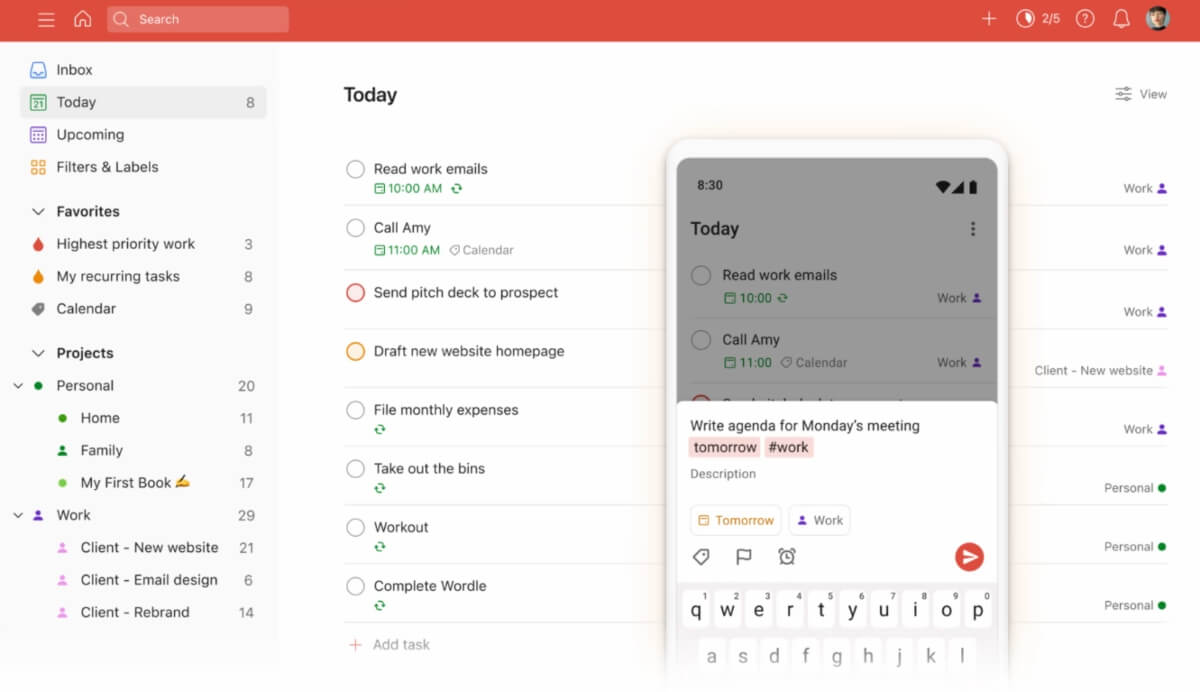 Todoist is a perfect project management software for small businesses. It has a simple and intuitive interface, and as the name suggests, it functions as a to-do list.
What is Todoist about?
If you've ever used apps like Evernote and Google Keep, you'll find your way around Todoist in no time.
Simply create a task, break it down into smaller subtasks if needed, and collaborate with your team members.
Then, connect Todoist with other apps and integrations, such as voice assistants and time tracking software, and focus on your work.
Why use Todoist?
If you operate within a small team and don't have the need to install more complicated apps, such as Jira or Asana, Todoist is the perfect replacement.
Furthermore, Todoist Business plan is incredibly affordable, but you can opt for the free plan and complete your tasks just fine, as well.
Type of plan and availability
Todoist pricing and platforms
Free trial
30-day free trial
Free plan
Yes
Cheapest paid plan
$4 per month (if billed annually)
$5 per month (if billed monthly)
Availability
— Web
— Browser extensions
— Windows
— macOS
— Android
— iOS
Wrike — best for individual customization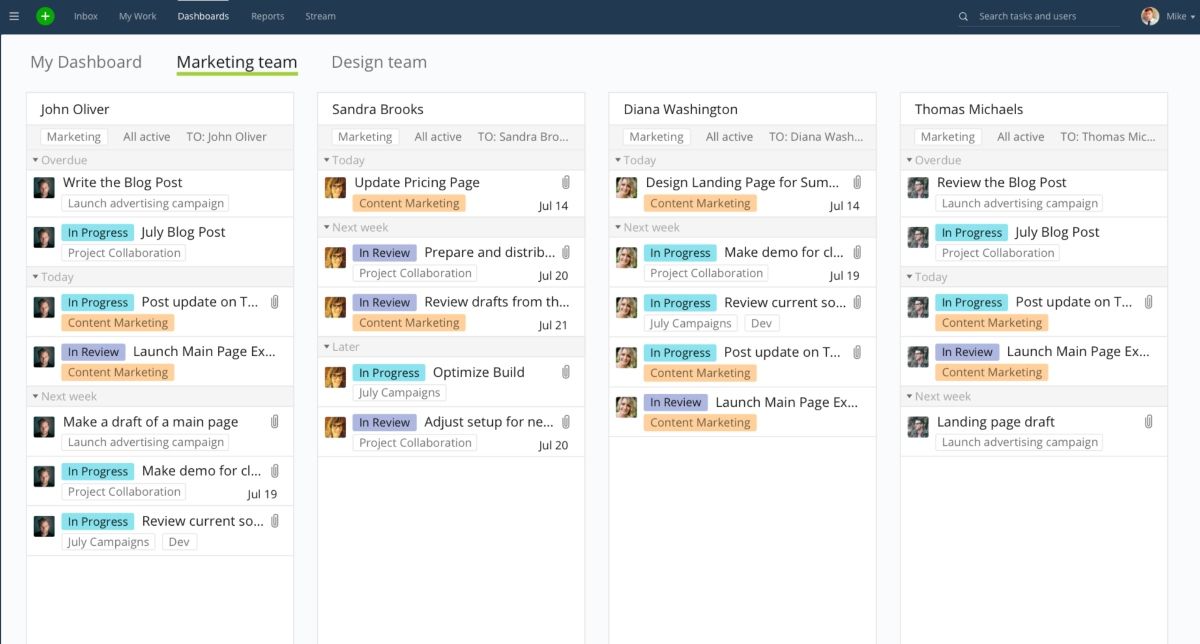 If you're looking for a PM software to track and coordinate projects in a way that you envision, with the power to customize every step of the way, it might be the time to try Wrike.
What is Wrike about?
With a minimalist user interface, Wrike offers an abundance of features distributed across 2 central categories:
Collaboration, and
Project management.
Some of the features that many Wrike users like include:
Dynamic request forms,
Kanban board view,
Resource planning, and
Cross tagging — task distribution across different projects and initiatives.
Why use Wrike?
Even though Wrike offers all the features that every other PM software has, it is still extremely popular due to special customization when it comes to marketing and professional services.
Designers and marketing experts can always access company information within their workload simply by cross-tagging their work.
Also, Wrike has a unique proofing software that lets team members leave comments on creative works and collaborate in real time, which is a huge time-saver.
Type of plan and availability
Wrike pricing and platforms
Free trial
14-day free trial
Free plan
Yes
Cheapest paid plan
$9.80 per month
Availability
— Web
— Windows
— macOS
— Android
— iOS
Bonus app — Clockify (best for tracking time on tasks)
Working on endless tasks and projects at a time can be excruciating. However, good time management will help you achieve the perfect work-life balance, which is what you'll get with Clockify.
What is Clockify about?
Clockify is an easy-to-use tool with a robust set of features. Even though its primary purpose is tracking time for freelancers and big businesses alike, you can easily check your progress on projects and tasks.
With complete transparency on designated projects, you can see what your team is working on at all times and distribute tasks accordingly.
Why use Clockify?
Features that will definitely get you thinking about using Clockify are:
Individual and team-wide time tracking,
Time audits,
Timesheets,
Identifying wasted time, and
Daily/weekly/monthly reports.
Also, Clockify has a handy scheduling feature that lets you:
Manage, repeat, and publish assignments,
Schedule publishing projects, and
Check who's available and who's busy in your team.
Type of plan and availability
Clockify pricing and platforms
Free trial
7-day free trial
Free plan
Yes
Cheapest paid plan
$3.99 per month (if billed annually)
$4.99 per month (if billed monthly)
Availability
— Web
— Browser extensions
— Windows
— macOS
— Android
— iOS
Conclusion: Project management software helps your team grow and work efficiently
There is truly a large number of project management tools available in 2023 and it's impossible to list them all in one blog.
However, these are the ones that are used most frequently by some of the largest names in the world and their success and numbers speak for themselves.
That being said, if you were to opt for one of these tools, they would surely impact your work on a daily basis and transform the way you operate.
✉️ Do you agree with our list? Share your thoughts by contacting us at blogfeedback@clockify.com, and we might include your answers in this or future posts. If you liked this blog post and found it useful, share it with someone you think would also benefit from it.