20 best accounting software tools
Accounting tasks, which involve handling and processing payroll, taxes, and payments, are often demanding – it makes no wonder that the word "taxing" means "difficult or needing a lot of thought or effort".
In truth, if you make certain accounting errors while handling your payroll or taxes, you'll likely run into problems with your government, and jeopardize the future legitimacy of your entire business.
The same is true of bookkeepers and accountants – if you make an error in your calculations and document preparation, you'll hurt your clients, and your reputation as a reliable professional will take a hit.
And this is where accounting tools emerge as possible solutions to your accounting challenges.
Are tools assets or expenses? And what are the best ones?
In accounting, in relation to the tasks you have to perform (preparing, reviewing, and auditing finances), accounting tools serve more as assets than expenses, due to the resources they help you save. With them, you'll automate and speed up your accounting tasks, as well as minimize the risk of errors, and even save money.
Research shows that as much as 60% of small-business owners struggle with their accounting and finance management – and Statista research reports that about 64% of them use a type of accounting technology.
The technology used to handle various finances and accounting processes is often referred to as Accounts Payable automation (I.e. AP automation) – and one infographic shows that AP automation systems can save you at least 16$ per invoice.
So, to help you make the most out of the available AP automation, here are the best accounting tools for businesses, with a special emphasis on the best accounting software for small businesses:
QuickBooks Online – automated accounting software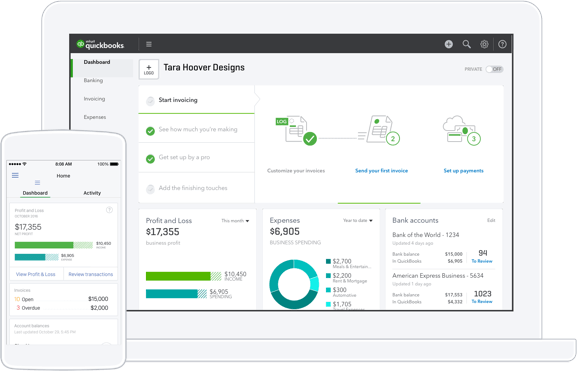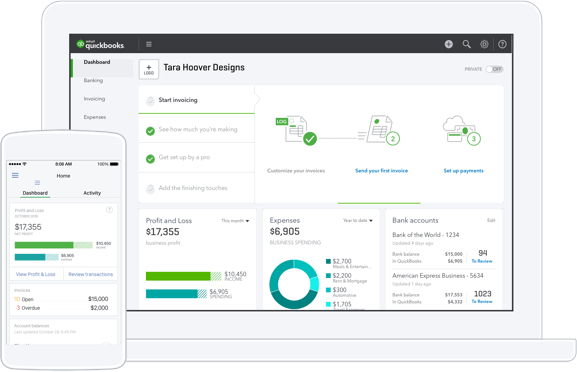 Quickbooks is all-inclusive automated accounting software for small businesses that lets you handle bookkeeping, sales tax, expense tracking, invoicing, and other accounting tasks.
You'll be able to:
automate the process of entering transactions
perform tax calculations
track bills and expenses, as well as set automatic payments
create invoices and have your business clients pay you directly via PayPal, debit card or credit card
As a standout feature, QuickBooks will help you easily define estimates and quotes for your clients – then, once the estimate is accepted, this software will convert the estimate to an invoice and you can then track its progress.
Available for: Web, Windows, Mac, Linux, iOS, Android, Google Chrome
Market: United States, Canadian, UK (with support for South African and Irish VAT), Australia
💡Clockify pro tip
Want to try other great apps with invoicing features? Then check out our list of the best free invoicing tools you can currently find on the market.
Freshbooks – cloud-based accounting software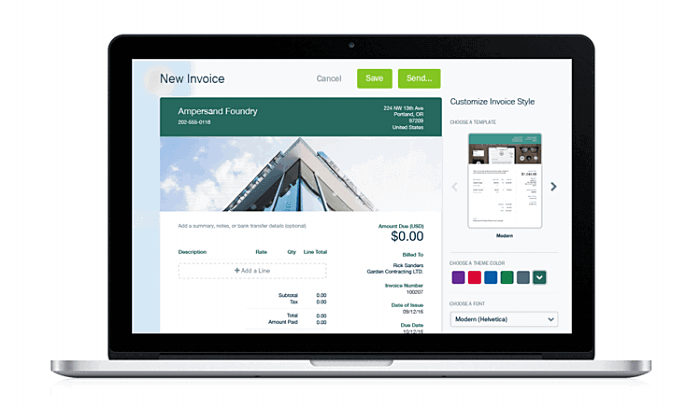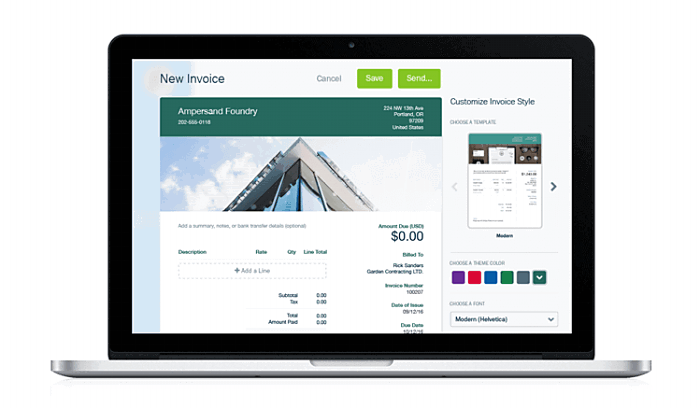 Freshbooks is a cloud-based accounting software, that mainly serves as an invoicing and bookkeeping app that also allows you to handle payroll.
With this tool, you'll get a nice solution to:
create customized invoices online, and later duplicate them
send out personalized thank you notes
attach and send out receipts
process credit card information and receive electronic payments
track your profit and loss
You'll also be able to set due dates for payments and track late fees – clients who don't pay their fees on time will get a polite automatic reminder to do so at their earliest convenience.
Available for: Web, Mac, iOS, Android
Market: Global
Wave Accounting – invoicing and payroll software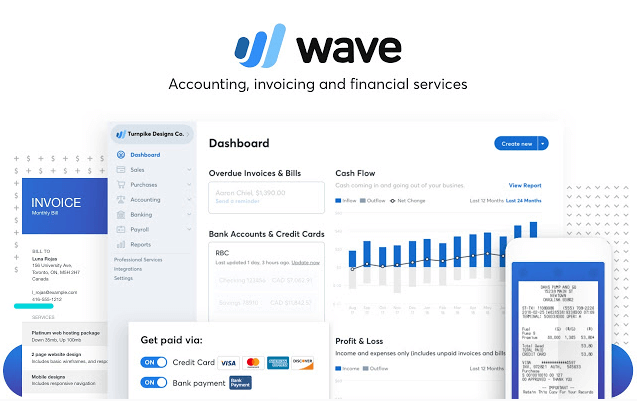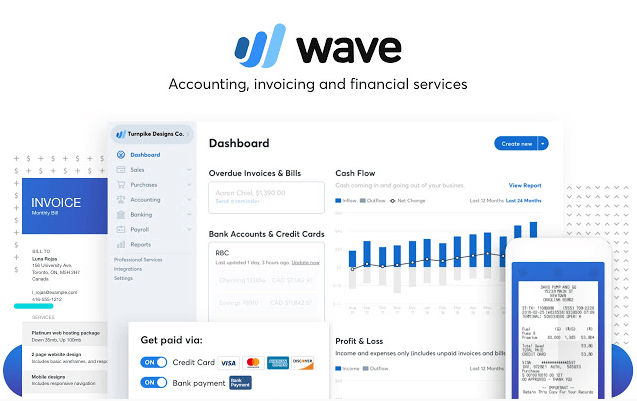 If you're looking for a free alternative to the more expensive accounting tools such as QuickBooks and FreshBooks, you can try Wave Accounting – you'll get a cost-effective invoicing and accounting app that allows card processing and handling payroll.
With Wave Accounting, you'll get a great solution to help you:
handle invoices
track investments, expenses, and transactions
handle basic financial reporting
track your personal finances, cash balance, and invoicing status for clients
scan receipts
Overall, the app is an effective solution for small businesses.
Perhaps as its best feature, Wave Accounting handles all client payments automatically – the system allows you to connect bank accounts with credit cards, as well as accept and process payments from all credit cards.
Available for: Web, Windows, iOS, Android, Google Chrome
Market: Global
💡Clockify pro tip
Looking for more great free alternatives to expensive apps to enhance your workflow and productivity in a cost-effective way? Check out our extensive guide on the subject here.
Sage Accounting – accounting and business management software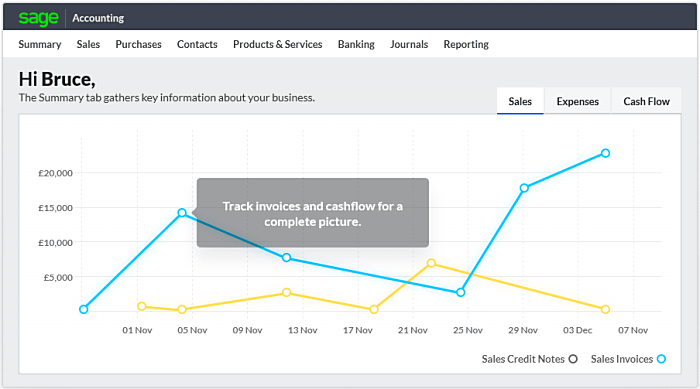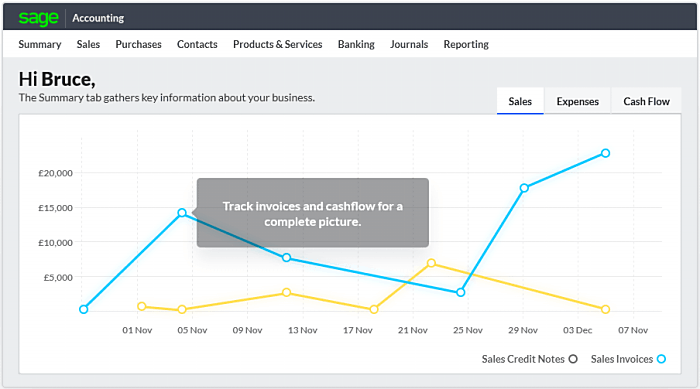 Sage Accounting is a business and accounting software mostly aimed at small businesses – you'll also be able to track payments, expenses, set automatic reminders for payments and other important information, as well as generate reports and track statistics.
You'll get to handle:
invoicing
compliance and accounting management
electronic payments
financial analysis
data imports and exports
If you're looking to streamline the accounting processes of your medium-sized business, you can try Sage 50 Accounting (also known as Sage 50cloud) – this specific Sage accounting system offers a set of payroll and accountancy products with specific features meant to cater to different world regions.
Among these Sage Packages, you'll find Sage 50 Pastel for South Africa, Sage 50 for the UK, a US version (formerly Peachtree Accounting), a Canadian version (formerly known as Bedford Accounting), etc.
Available for: Web, Windows, Mac, Android, iOS
Market: Australia, US, UK, Canada, France, South Africa, Ireland, Spain
ZipBooks – accounting and invoicing software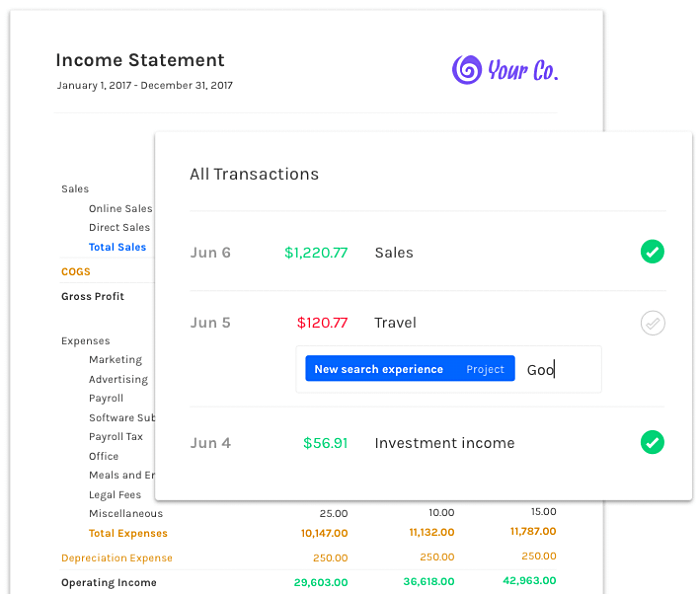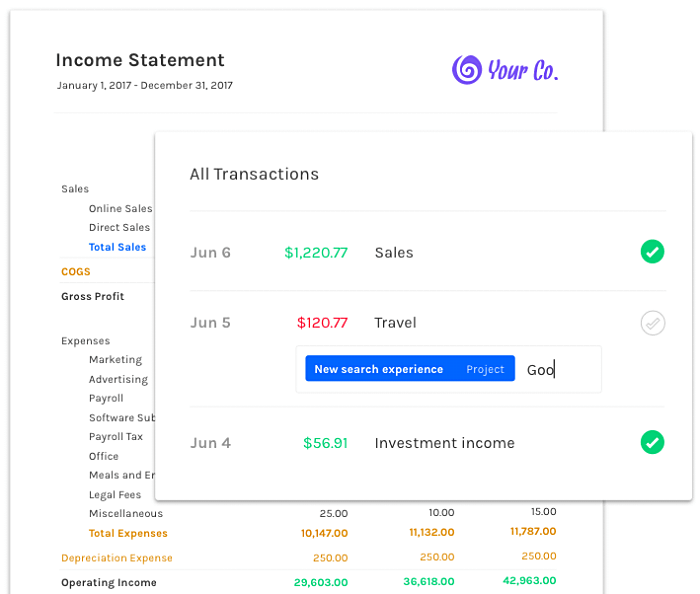 ZipBooks is a free accounting and online invoicing software with a wider scope of features that help you streamline more than just your accounting tasks – you'll also gain insight into your businesses' operations.
With this software, you'll get a chance to:
handle your tax management with ease
manage accounting tasks for each specific project
track your expenses
process your invoicing
manage receipts
secure partial payments
The standout feature of the ZipBooks accounting tool is its Intelligence system – you'll get insights and reports that highlight your profitable customers and show how you fare when compared to the competition.
Available for: Web, Mac, iOS, Google Chrome
Market: United States, Canada
TurboCASH – open-source accounting app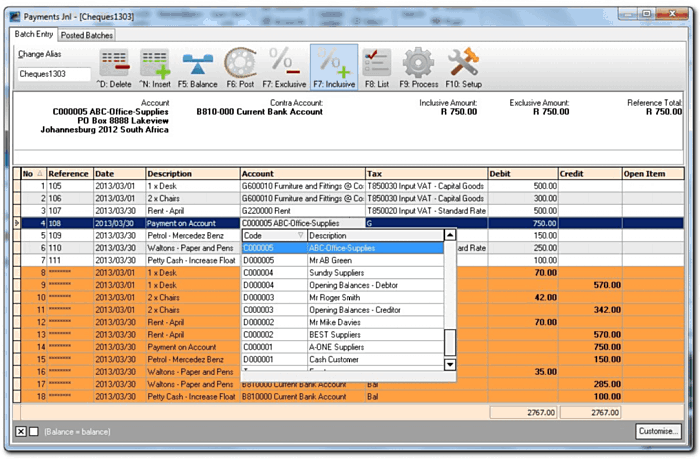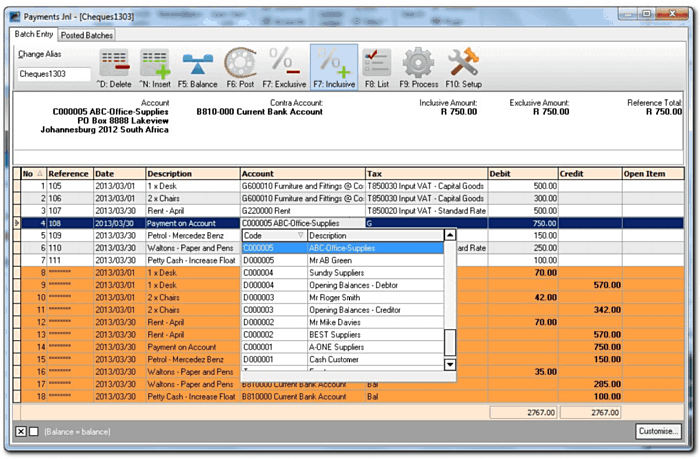 TurboCASH effectively caters to small businesses and accountant needs – it's open-source accounting app that allows you to share data with relevant people in the cloud.
With this accounting tool, you'll be able to manage your accounting tasks on a truly large scale:
connect 10 bank accounts and manage nearly a 1,000 books
open and manage 12000 accounts and 24000 related sub-accounts
manage 40000 creditors and debtors
Apart from that, you'll also be able to create invoices, set estimates and quotes, handle orders, as well as track your credit notes, cash flows, income statements, and tax reports.
As a highlight feature, TurboCASH lets you reverse all your transactions in a batch – you'll get a chance to check and edit transaction entries before updating them in your ledger.
Available for: Web, Windows, Mac
Market: Global
KMyMoney – personal finance manager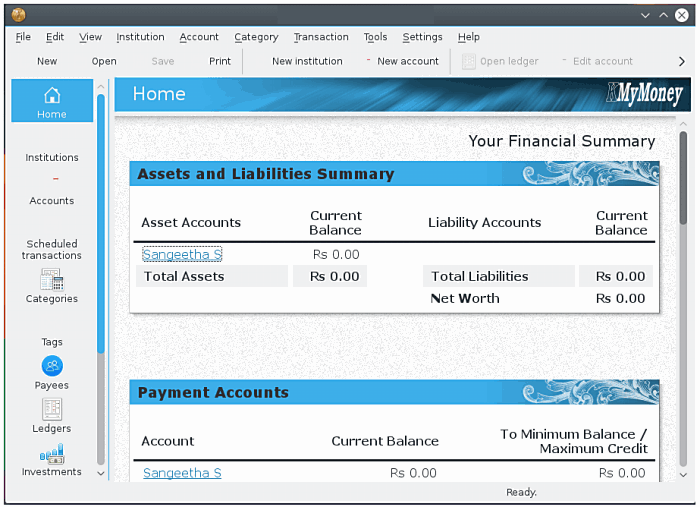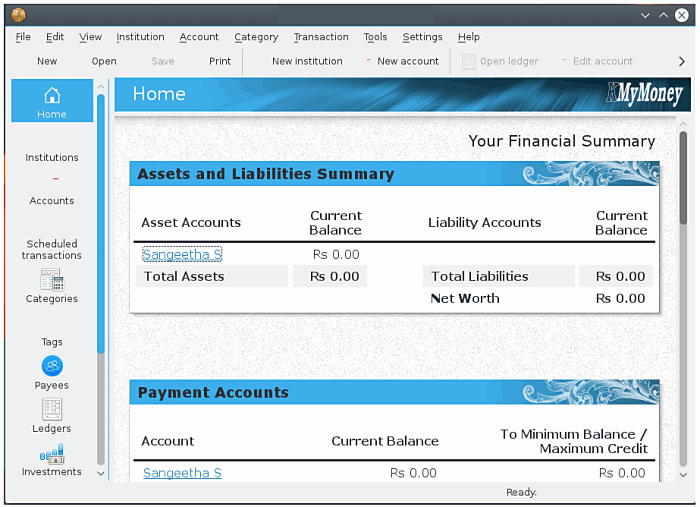 KMyMoney is a free personal finance manager aimed at small businesses, with a large number of easy-to-use financial tools and features.
With this finance manager, you'll be able to:
gain easy access and insight into all your accounts and transactions
track the performance of your ledger
perform a budget revamp when necessary
manage your internal financial structure
create new accounts or transfer existing ones easily
The highlight of this accounting system is its simplicity – you can perform all your personal financial tasks easily, even if you're a non-technical user not accustomed to using apps.
Available for: Mac, Windows, Linux
Market: US, Canada
AccountEdge Pro – desktop accounting software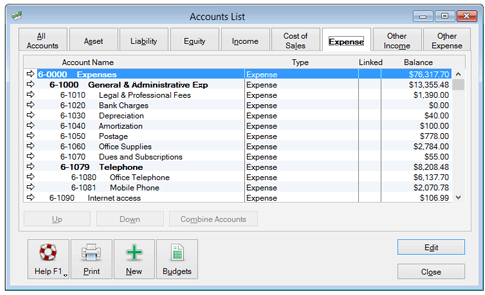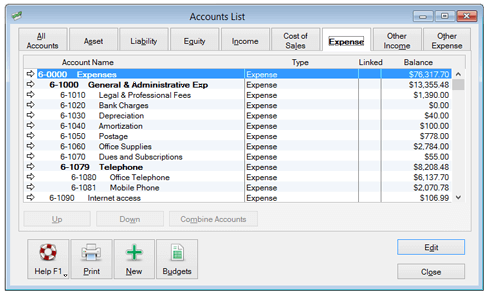 AccountEdge Pro is a free accounting software aimed at Mac and Windows users that lets you manage your bank accounts and keep track of your annual budget.
More specifically, you'll be able to:
handle all your expense, banking, and credit card, asset, equity, and income accounts
set up regular recurring, daily, weekly, or monthly transactions
track reimbursements
automatically calculate, secure, and back up all your financial data
manage different profit centers and departments
One of the standout features of this accounting tool are its advanced search options – you'll easily be able to find accounts by name, number, contact, across your all accountant lists.
Available for: Mac, Windows, iOS
Market: US, Canada (can adapt to UK and EU VAT requirements)
GnuCash – personal and small business accounting software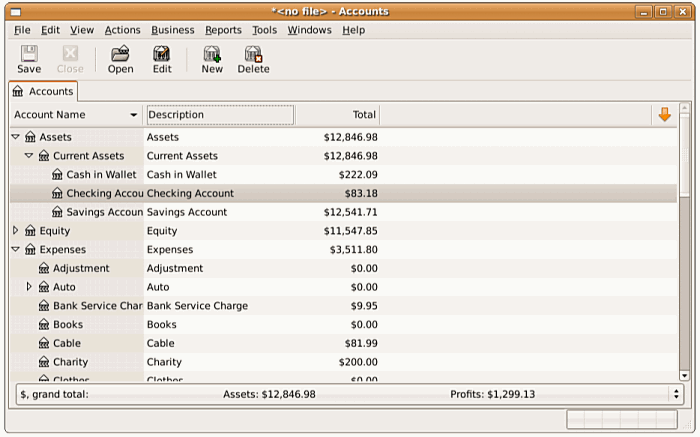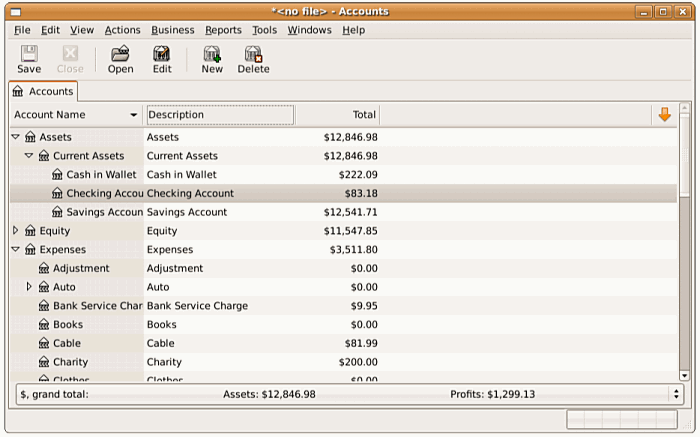 GnuCash is a free accounting tool aimed at individual users and small businesses that offers the usual array of features and tools meant to streamline your accounting tasks.
Apart from other useful functionalities, you'll get the chance to:
generate graphs representing your current financial status
generate 30 different types of reports, including Income, Expenses, and Balance Sheet Reports
ensure all your transactions are "book balanced"
view multiple accounts at the same time in a "Journal" view
easily categorize your cash flow
As a standout functionality, you'll also be able to quickly split all your transactions – this will allow you to correctly record all your fees and taxes when handling documentation.
Available for: Web, Windows, Mac, Linux, Android
Market: Canada, US, UK
NolaPro – customizable free accounting software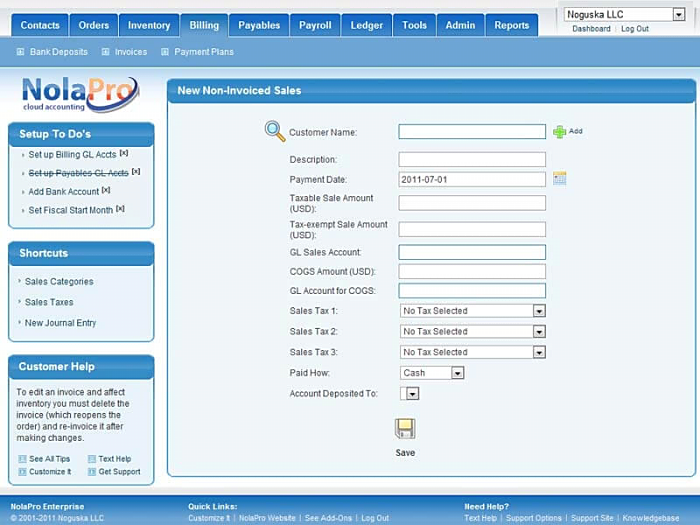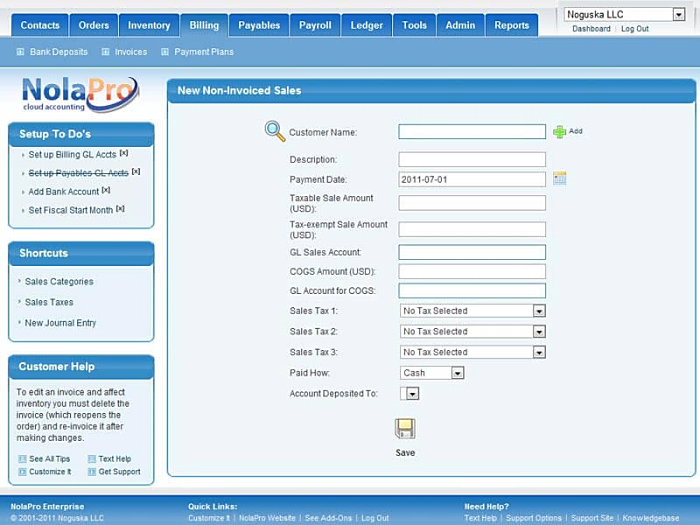 NolaPro is another free software (similar in function to accounting tools such as QuickBooks and Gnucash) that allows you to completely customize and personalize the system to fit your business.
You'll be able to:
check payroll and direct deposits
generate tax payables from your payroll data
generate W-2 and 941 tax forms
automate credit card processing
generate Balance Sheets and Trial Balance
Most importantly, if there's any accounting feature you need but is currently missing from NolaPro, you can ask the team directly to include the said feature to your package or request the software's editable source code.
Available for: Web, Windows, Linux, Mac
Market: Global
Xero – traditional online accounting software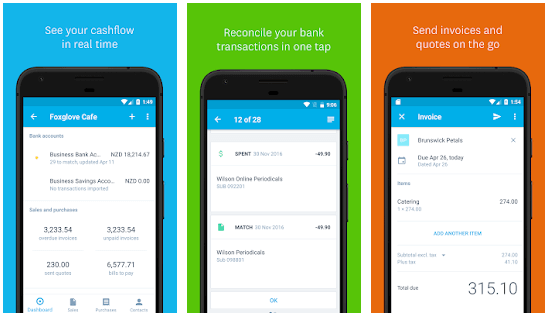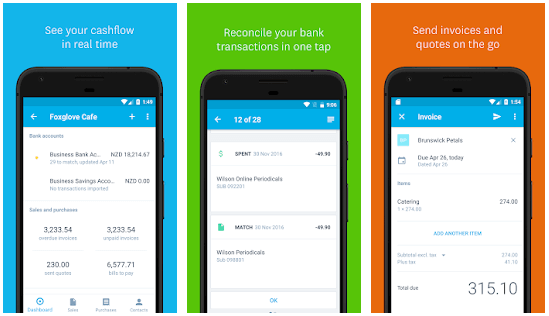 Xero is a free cloud-based online accounting software aimed at small and midsize businesses – it offers an easy way to handle your transactions and run your business.
In gist, you'll be able to:
create, process, and send out recurring invoices
organize and categorize all your credit card transactions
precisely schedule payments to manage your cash flow
calculate payroll and manage subsequent taxes
manage your 1099 independent forms
One notable highlight of this app caters to freelance accountant needs – you'll be able to collaborate with an unlimited number of clients, as well as enjoy strong data encryption and multiple authentications.
Available for: Web, Mac, iOS, Android
Market: Global
FreeAgent – accounting software for small businesses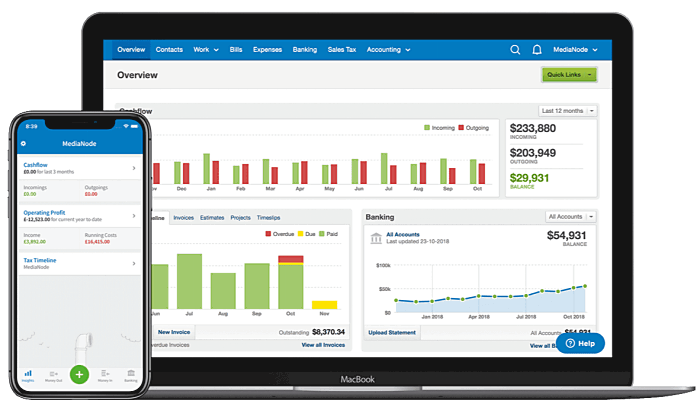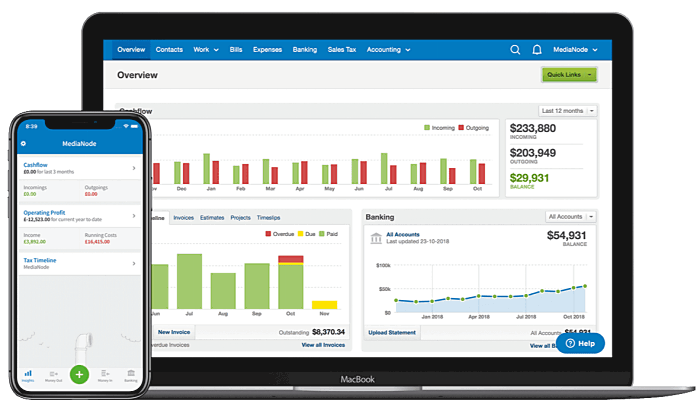 FreeAgent is another cloud-based accounting software meant to ease collaboration between small business and its accountants.
You'll easily be able to:
send out and track estimates and corresponding invoices
store receipts in order to track your expenses
connect to bank accounts and import transactions automatically
manage and prepare your taxes in relation to IRS categories
view tax timelines
The standout feature of this app is its automatization – each time you enter new bank statements, expenses, and invoices, FreeAgent automatically builds corresponding accounts in its system in real-time.
Available for: Web, Mac, iOS, Android
Market: US, UK, Australia, Canada
Gusto Payroll – online payroll software for HR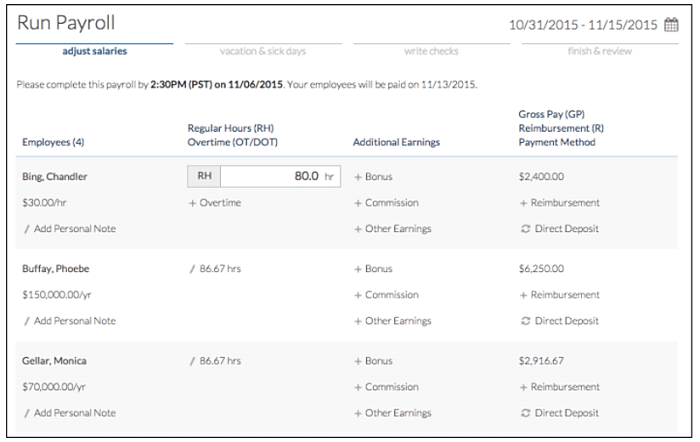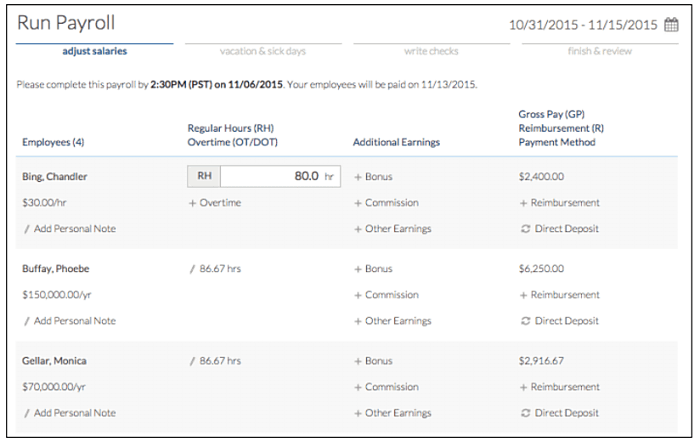 Gusto Payroll is an online payroll software with select features that cater to the needs of HR specialists.
In essence, you'll be able to:
completely automate your payroll within small-to-midsize businesses
fully automate your tax management
manage all payroll deductions
automatically adjust minimum wages
Considering that complying to government requirements is vital in accounting, Gusto Payroll also helps you automatically report all new hires to the government.
Available for: Web
Market: Global
💡Clockify pro tip
Looking for more great payroll and accounting apps? Check out our extensive guide on HR software that caters to the needs of HR professionals.
Tally ERP 9 – Enterprise resource planning system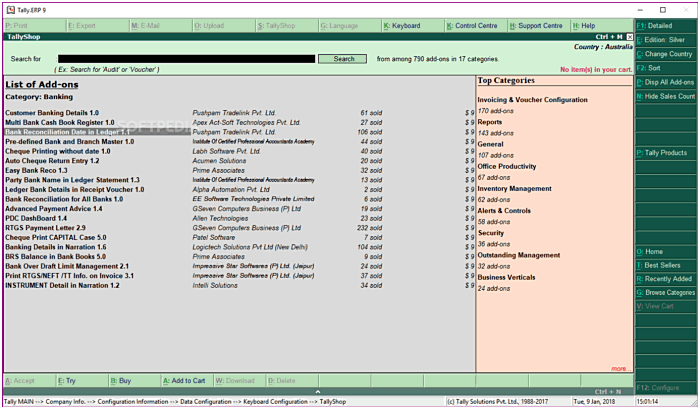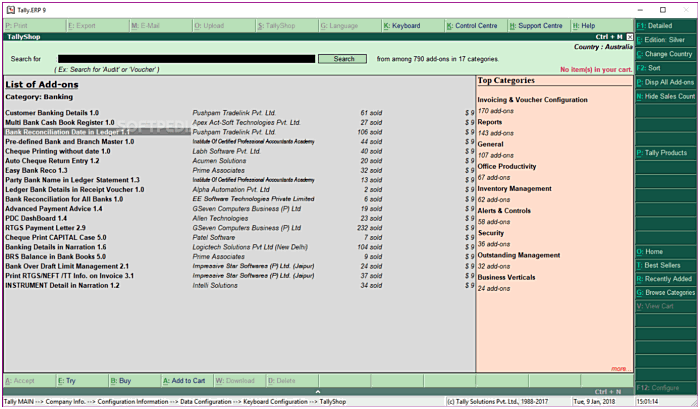 Tally ERP 9 is a flexible business accounting tool with inventory management features – you'll get an easy way to handle accounting and payroll management.
More specifically, you'll be able to:
generate reports that clearly show income and other taxes
handle all GST invoicing and transactions
generate tax computation reports
generate a deposit and cash slips directly from the app
As a highlight, Tally ERP 9 offers effective sales and purchase management – this includes sales orders and purchases, but also credit and debit card notes.
Available for: Web, Windows, Mac,
Market: India
KashFlow – cloud-based bookkeeping and HR software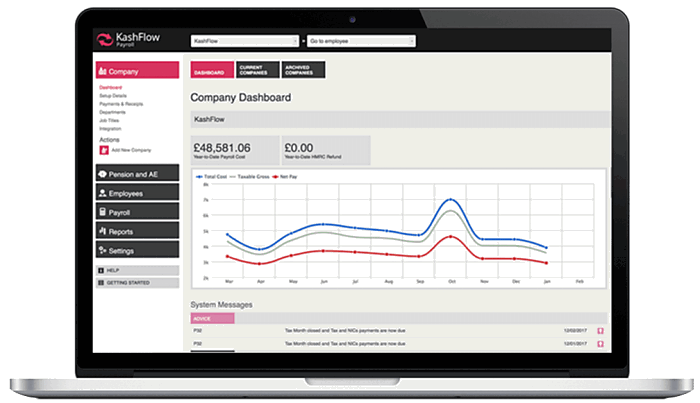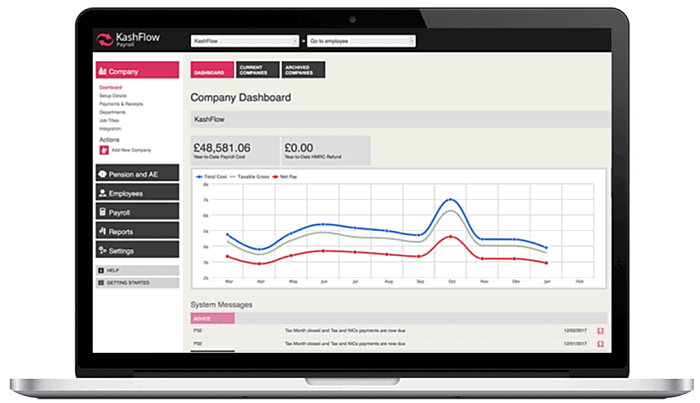 KashFlow is a cloud-based bookkeeping software with select HR features that cater to the needs of small businesses in the UK.
With it, you'll be able to:
gain full insight into your finances
share accounting data with clients directly
convert approved quotes to invoices
link your bank account to the software
The standout feature of this tool is the effective way it lets you handle VAT – you'll have your VAT automatically updated according to the right parameters, and then have this data submitted directly to HMRC.
Available for: Web
Markets: UK
Expensify – expense management system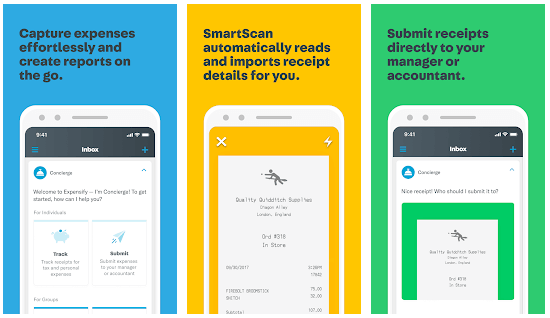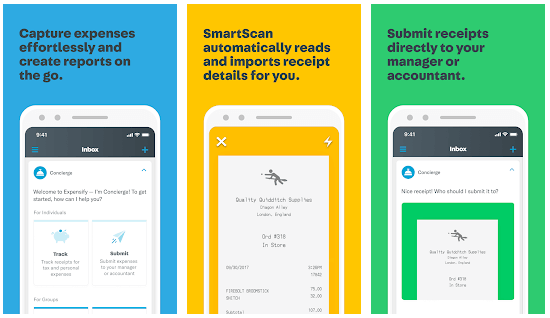 Expensify is an accounting system fit for a business of any size that lets you manage your receipts, and easily submit business expenses for both reimbursement and approval.
In gist, you'll be able to:
review expenses that haven't been submitted yet
scan receipts
automatically detect duplicate receipts in the system
import all your card transactions
automatically confirm each transaction
easily manage all your general ledger codes
set and apply tax rules based on the relevant expense policies
As a bonus, Expensify also syncs with most major accounting apps, so you'll be able to effectively enhance the app's functionalities.
Available for: Web, iOS, Android,
Markets: US, UK, Canada, Europe, Australia
Wagepoint – small-to-mid-size business payroll software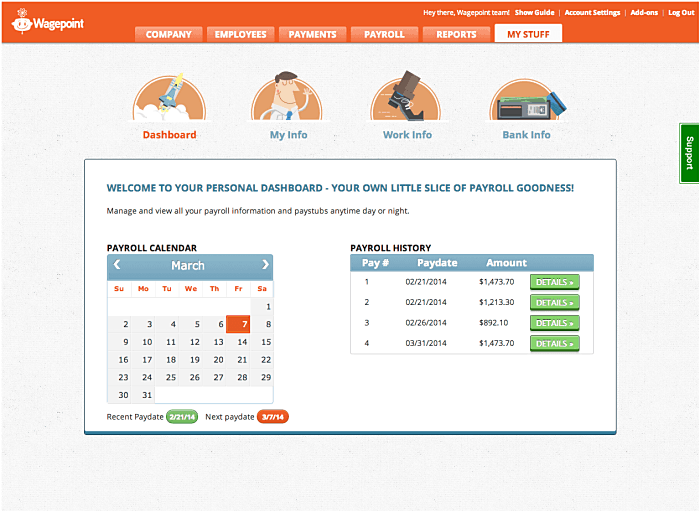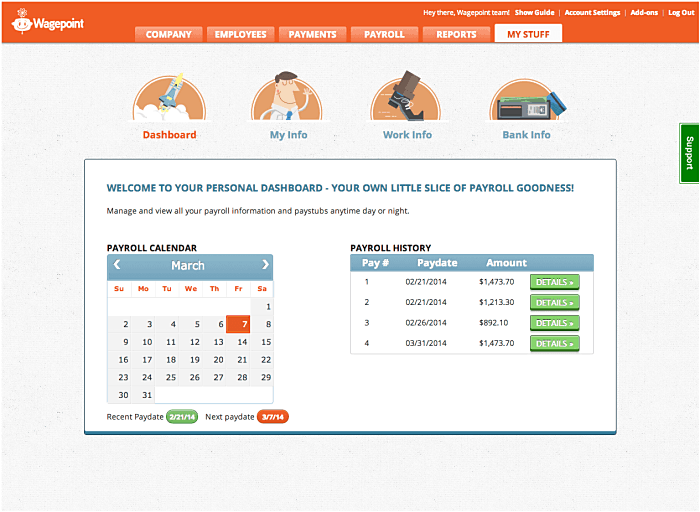 Wagepoint is online payroll software aimed to help your small or midsize business pay employees and contractors, as well as stay compliant to government tax requirements.
With this accounting tool, you'll be able to:
handle your payroll processes on a cloud
make direct deposits
provide worker compensation
calculate company deductions
handle your pay stubs with no paperwork
One of the best functionalities of this accounting tool is the way it helps you handle taxes – you'll get to process yearly W-2 forms (US) and T4 slips (CA), process 1099 forms for your independent contractors, but also make reports on federal, state, and local taxes.
Available for: Web, Windows, Mac
Markets: US, Canada
💡Clockify pro tip
Looking for an insight into the best practices for paying contractors and freelancers, as well as handling 1099 forms? Our guide on how to pay contractors and freelancers has all the answers.
Receipt Bank – paperless accounting platform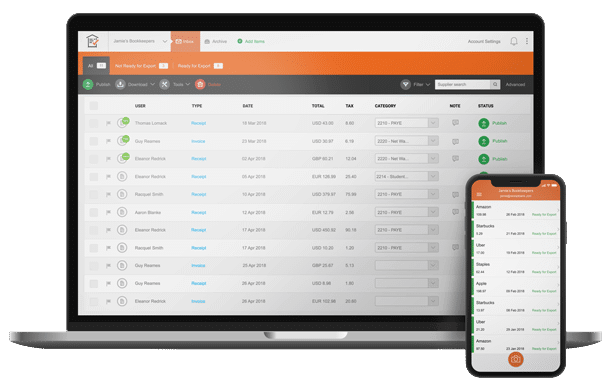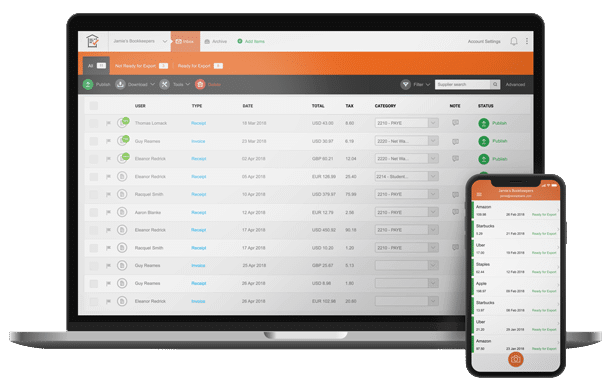 Receipt Bank is an app from the FreeAgent family of apps, but it offers a number of select features that make it worthy of its own slot on this list.
In essence, you'll get to:
set submission reminders
capture, process, and share relevant financial documents
request paperwork directly to your client's mobile device
communicate with clients directly from the app's built-in chat system
The tool promises to save you at least 3 hours weekly on paperwork, and you'll get to streamline your receipt and invoice management – you'll be able to upload them directly, email them in, post them in for processing, but also share, export, search, and sort them in a couple of clicks.
In addition, you'll be able to integrate Receipt Bank with Sage Accounting and combine their functionalities.
Available for: Web, Windows, Mac, iOS, Android
Markets: US, UK, Canada, Australia, Europe
SurePayroll – online payroll system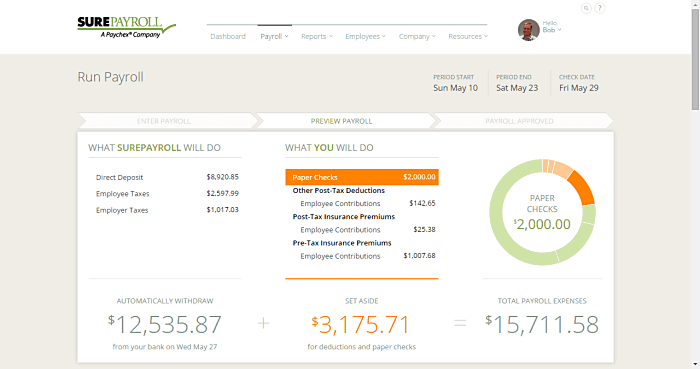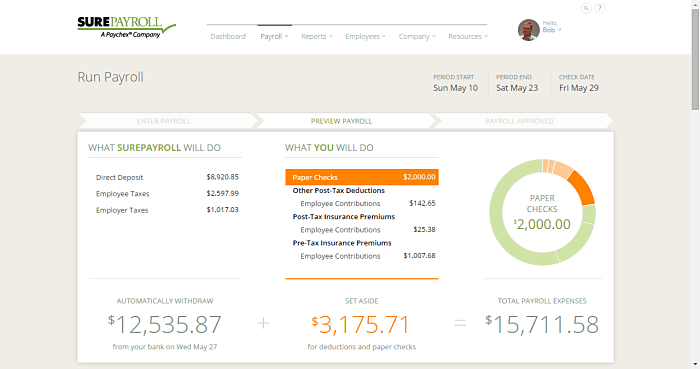 SurePayroll is an online payroll system that caters to the needs of small businesses in the US – you'll be able to fully manage your payroll, from calculations and deductions to payments and taxes.
Some of the more prominent features include:
managing 401(k) employee benefits
automatic filling and paying all relevant local, state, and federal taxes
4 different options for your payroll schedule – monthly, semi-monthly, weekly, and bi-weekly
handling w-2 employees and 1099 independent contractors
Apart from that, you'll also be able to handle additional payroll procedures, such as employee bonuses, corrections on payroll, and reimbursements.
Available for: Web, iOS, Android
Market: US
Clockify – free time tracking software for accountants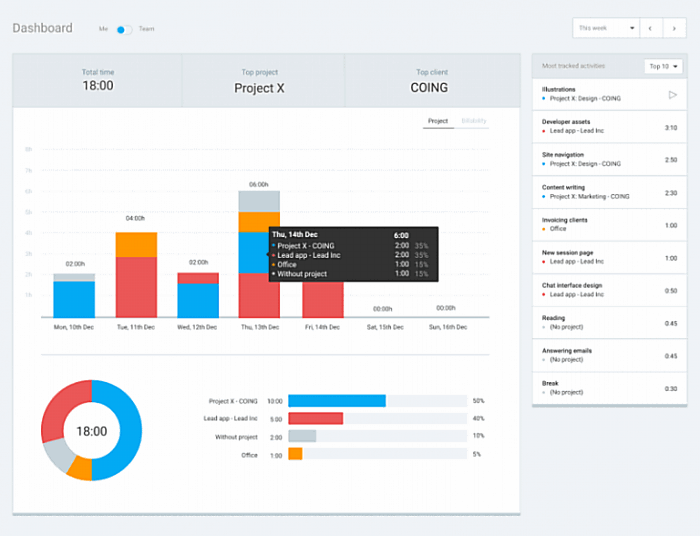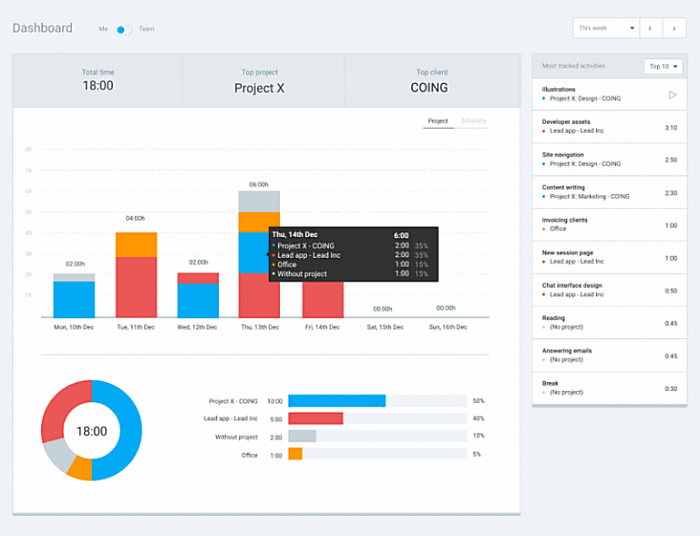 Clockify is a free time tracking and timesheet app that lets you track billable hours for payroll, invoices, and taxes.
You instruct your clients or employees to define their hourly rates, and then they track time as they work on activities through a timer (or add it manually after work).
In the end, all their earnings are automatically calculated based on their billable time, and you can view them in Reports. Alternatively, they can enter time in a timesheet view for the same effect.
Either way, you get the numbers you need in order to prepare invoice documentation, as well as payroll and tax calculations, all while staying compliant to FLSA and DCAA requirements.
Some of the more prominent features include:
tracking time in a timer, adding it manually, or in a timesheet
billable and non-billable time
Summary, Detailed, and Weekly reports
a robust filtering system for precise and accurate reporting
an easy way to add and keep track of projects, tasks, and tags
an easy way to categorize your time entries based on these parameters
4 types of hourly rates, ranging from less specific to more specific
In addition, you'll also be able to lock time entries after a certain time period (in order to ensure consistency in your documentation), as well as quickly edit your billable (and non-billable) time entries in bulks.
Available for: Web, Windows, Mac, Linux, iOS, Android, Google extension, Firefox extension
Market: Global
Fyle – Travel and expense management software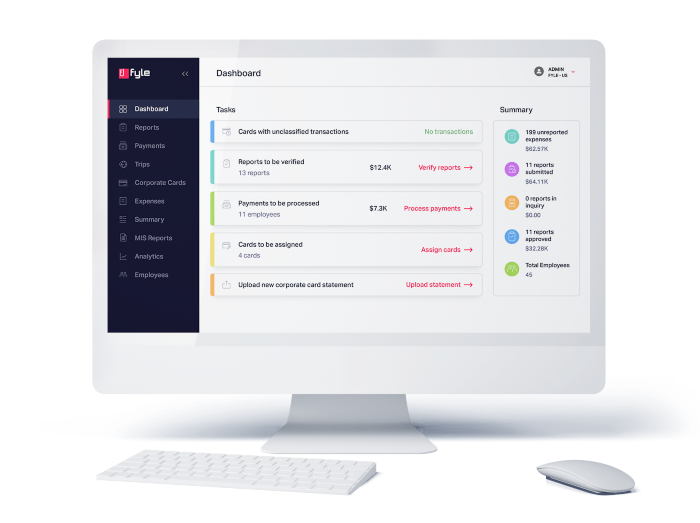 Fyle is an AI-powered travel and expense management software that streamlines and automates pre-accounting from end to end. It gives employees easy-to-use tools to submit, approve, and process business expenses while ensuring your business is in a state of constant compliance.
Here's what you can do with Fyle:
Track and submit business expense receipts from Slack, G-Suite, or Office 365
Scan paper receipts with Instafyle and see a draft expense in a ready to report state
Detect duplicates and risky expenses before they are even submitted
Get detailed audit trails for every expense and stay audit-ready, always
Process reimbursements in a day with Fyle ACH
Bring your existing/preferred credit card vendors and get live feeds straight to your Fyle dashboard
Get in-depth and real-time analytics on spending across the organization
Further, Fyle has bi-directional and self-serve integrations with major accounting software NetSuite, QuickBooks, Sage Intacct, and Xero. The tight-knit integrations enable Finance teams to hit the ground running and automate the entire accounting process with no additional IT support!
Available for: Web, Windows, Mac, Android, iOS
Market: Global
💡Clockify pro tip
Want to learn more about how you can use Clockify in your accounting process and while gathering documentation for taxes? Then check some of our previous blog posts: