15 best free accounting software tools
Accounting tasks, which involve handling and processing payroll, taxes, and payments, are often demanding — it's no wonder that the word "taxing" means "difficult or needing a lot of thought or effort".
In truth, if you make certain accounting errors while handling your payroll or taxes, you'll likely run into problems with your government, and jeopardize the future legitimacy of your entire business.
The same is true of bookkeepers and accountants — if you make an error in your calculations and document preparation, you'll hurt your clients, and your reputation as a reliable professional will take a hit.
And this is where accounting tools emerge as possible solutions to your accounting challenges.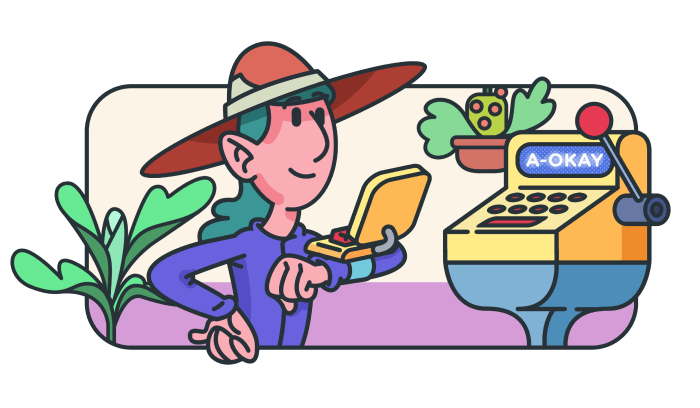 What are accounting tools?
Even if you're not tech-savvy, you can use accounting tools to deal with mundane tasks that would generally take a lot of time to finish. In general, accounting tools are great for:
Tracking expenses,
Producing financial reports,
Reviewing and auditing records,
Performing tax calculations, and
Collaborating with your accounting team.
With them, you'll automate and speed up your accounting tasks, as well as minimize the risk of errors, and even save money.
Furthermore, research shows that businesses that conduct their financial reports on a weekly and monthly basis have a much lower success rate than the companies that implemented an automated accounting software. In addition, Statista research reports that about 64% of businesses use a type of accounting technology.
The technology used to handle various finances and accounting processes is often referred to as Accounts Payable automation (i.e. AP automation) — and one infographic shows that AP automation systems can save you at least 16$ per invoice.
What are the 4 types of accounting?
According to the educational article from Ohio University's Online Master of Accountancy, we can differentiate between four different types of accounting:
Corporate
Public
Government
Forensic
Corporate accounting
Firstly, corporate accounting is the most basic type of accounting process — handling financial data in order to report tax submissions, invoices, and abide by GAAP (Generally Accepted Accounting Principles).
Public accounting
On the other hand, public accountants often work with clients other than large enterprises in order to keep their financial records clean, accurate, and up to date. Most small businesses will often hire a public accountant as they tend to be more dedicated to smaller and isolated cases.
Government accounting
Government accounting deals with matters that are closely related to financial operations within a certain entity — municipalities, districts, or states. Government accountants' work is often confidential, as it's often related to handling private documentation or dealing with state records.
Forensic accounting
Finally, forensic accounting is a special branch of accounting that requires a set of skills ranging from investigative analysis to in-depth understanding of accounting principles. Individuals that choose a career in forensic accounting are often employed by government agencies so they can investigate and reconstruct financial data from fossilized accounting documentation.
Aside from the main classification, we can also note that there are three subcategories of basic accounting principles that you should know about:
Management accounting
Tax accounting
Internal auditing
– These categories respectively relate to gathering accounting information, compliance with tax regulations, and examination of a company's financial statements to track irregularities regarding fraud and waste of company resources.
Now that we understand the types of accounting, let's see what are the best accounting tools you can use.
The best accounting software — top 15 picks in 2022
In relation to all the accounting processes and tasks we mentioned above, many software businesses have developed tools to help speed things up and to lighten the burden on many accounting departments. Therefore, here's a list of some of the best tools that businesses use in 2022.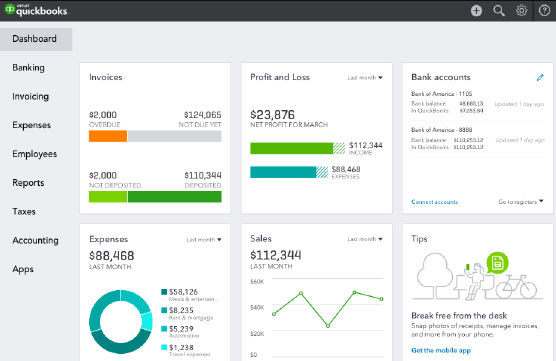 Quickbooks is all-inclusive automated accounting software for small businesses that lets you handle bookkeeping, sales tax, expense tracking, invoicing, and other accounting tasks.
Quickbooks benefits
🔹 Quickbooks lets you:
Automate the process of entering transactions,
Perform tax calculations,
Track bills and expenses, as well as set automatic payments, and
Create invoices and have your business clients pay you directly via PayPal, debit card or credit card.
As a standout feature, QuickBooks will help you easily define estimates and quotes for your clients — then, once the estimate is accepted, this software will convert the estimate to an invoice and you can then track its progress.
🔹 Available for: Web, Windows, Mac, Linux, iOS, Android, Google Chrome
🔹 Market: United States, Canadian, UK (with support for South African and Irish VAT), Australia
💡 Clockify pro tip
Want to try other great apps with invoicing features? Then check out our list of the best free invoicing tools you can currently find on the market.
Zoho Books — all-in-one accounting software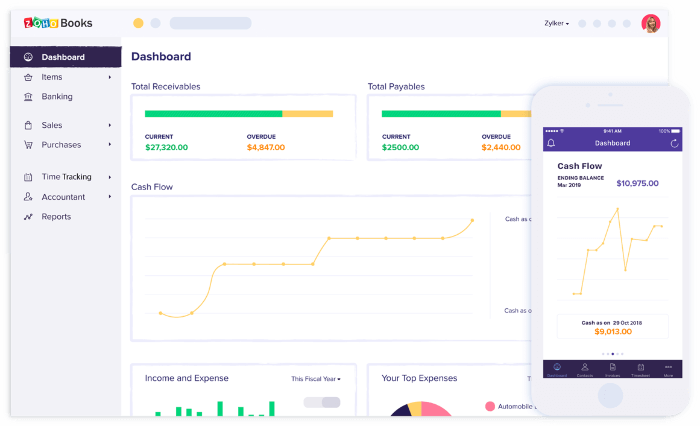 Zoho Books is an excellent solution for businesses that require more than just accounting software. This application allows you to focus on your everyday projects without worrying about processes just as accounting, time-tracking, and overall organization.
Zoho Books benefits
🔹 Zoho Books lets you:
Schedule reports,
Store and attach financial documents to transactions,
Communicate with your colleagues and accountants on a daily basis,
Time-track your progress, and
Create invoices with online payment options.
Moreover, Zoho Books has an integrated customer portal that allows its customers to track their transactions and categorize bank records to their preferences.
🔹 Available for: Web, iOS, and Android
🔹 Market: Global
Clockify — free time tracking software for accountants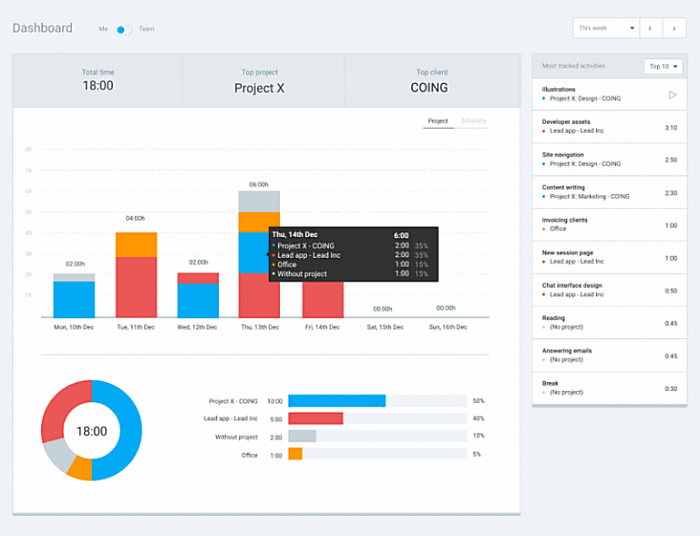 Clockify is a free time tracking and timesheet app that lets you track billable hours for payroll, invoices, and taxes.
You instruct your clients or employees to define their hourly rates, and then they track time as they work on activities through a timer (or add it manually after work).
In the end, all their earnings are automatically calculated based on their billable time, and you can view them in Reports. Alternatively, they can enter time in a timesheet view for the same effect.
Either way, you get the numbers you need in order to prepare invoice documentation, as well as payroll and tax calculations, all while staying compliant to FLSA and DCAA requirements.
Clockify benefits
🔹 Clockify lets you:
Tracking time in a timer, adding it manually, or in a timesheet,
Billable and non-billable time,
A scheduling system and project visualization,
A robust filtering system for precise and accurate reporting,
An easy way to categorize your time entries based on these parameters, and
4 types of hourly rates, ranging from less specific to more specific.
In addition, you'll also be able to lock time entries after a certain time period (in order to ensure consistency in your documentation), as well as quickly edit your billable (and non-billable) time entries in bulk.
🔹 Available for: Web, Windows, Mac, Linux, iOS, Android, Google extension, Firefox extension
🔹 Market: Global
Freshbooks — cloud-based accounting software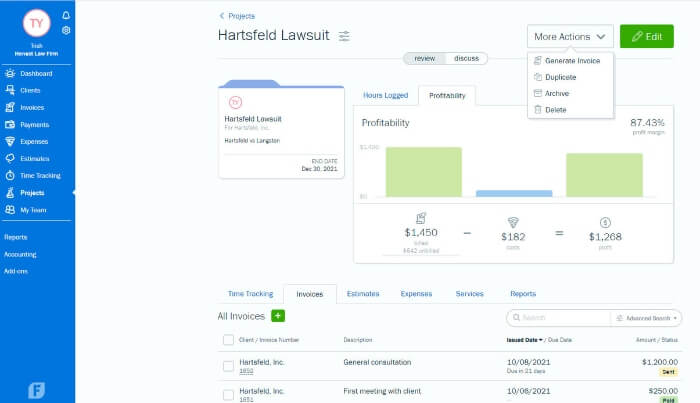 Freshbooks is a cloud-based accounting software that mainly serves as an invoicing and bookkeeping app that also allows you to handle payroll.
Freshbooks benefits
🔹 Freshbooks lets you:
Create customized invoices online, and later duplicate them,
Send out personalized thank you notes,
Attach and send out receipts,
Process credit card information and receive electronic payments, and
Track your profit and loss.
You'll also be able to set due dates for payments and track late fees — clients who don't pay their fees on time will get a polite automatic reminder to do so at their earliest convenience.
🔹 Available for: Web, Mac, iOS, Android
🔹 Market: Global
💡 Clockify pro tip
Looking for a how-to-guide on the best way to calculate payroll? Check out our blog post on the subject of:
Wave Accounting — invoicing and payroll software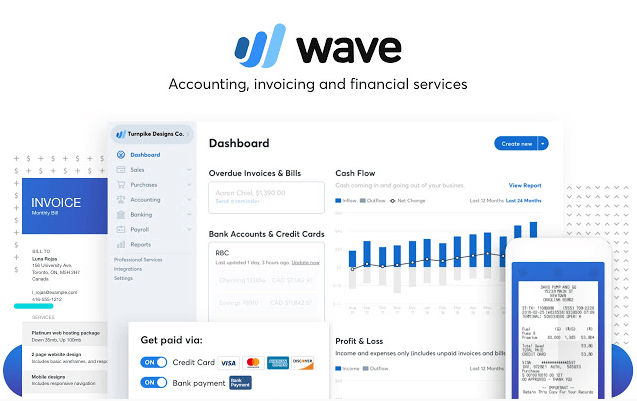 If you're looking for a free alternative to the more expensive accounting tools such as QuickBooks and FreshBooks, you can try Wave Accounting — you'll get a cost-effective invoicing and accounting app that allows card processing and handling payroll.
Wave Accounting benefits
🔹 Wave Accounting lets you:
Handle invoices,
Track investments, expenses, and transactions,
Handle basic financial reporting,
Track your personal finances, cash balance, and invoicing status for clients, and
Scan receipts.
Overall, the app is an effective solution for small businesses.
Perhaps as its best feature, Wave Accounting handles all client payments automatically — the system allows you to connect bank accounts with credit cards, as well as accept and process payments from all credit cards.
🔹 Available for: Web, Windows, iOS, Android, Google Chrome
🔹 Market: Global
💡 Clockify pro tip
Looking for more great free alternatives to expensive apps to enhance your workflow and productivity in a cost-effective way? Check out our extensive guide on the subject:
Kashoo — simple accounting app for small businesses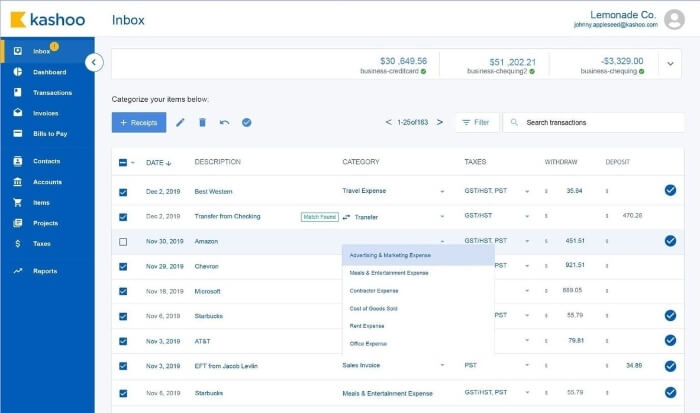 Kashoo has broken out in the industry as one of the leading applications for freelancers and small businesses. With its intuitive interface and easy-to-use features, this accounting software uses built-in safeguards to keep your numbers up to date.
Kashoo benefits
🔹 Kashoo lets you:
Send invoices and track expenses,
Connect multiple users,
Customize CoA (chart of accounts), and
Track sales tax.
Due to its affordable pricing system and great responsive time, Kashoo has seen a great growth in 2022 and it's projected to skyrocket in the following years.
🔹 Available for: Web, iOS
🔹 Market: Global
Sage Accounting — accounting and business management software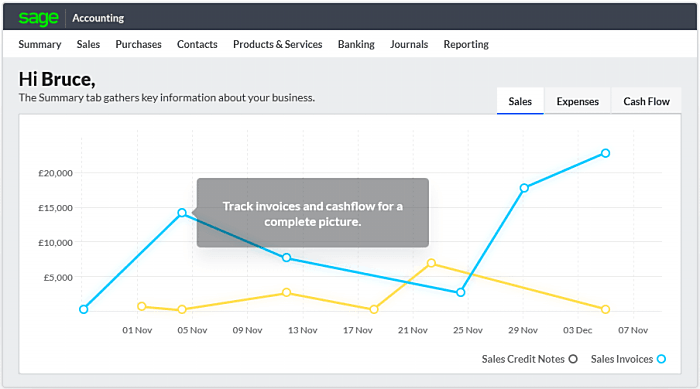 Sage Accounting is a business and accounting software mostly aimed at small businesses — you'll also be able to track payments, expenses, set automatic reminders for payments and other important information, as well as generate reports and track statistics.
Sage Accounting benefits
🔹 Sage Accounting lets you:
Compliance and accounting management,
Electronic payments,
Financial analysis, and
Data imports and exports.
If you're looking to streamline the accounting processes of your medium-sized business, you can try Sage 50 Accounting (also known as Sage 50cloud) — this specific Sage accounting system offers a set of payroll and accountancy products with specific features meant to cater to different world regions.
Among these Sage Packages, you'll find Sage 50 Pastel for South Africa, Sage 50 for the UK, a US version (formerly Peachtree Accounting), a Canadian version (formerly known as Bedford Accounting), etc.
🔹 Available for: Web, Windows, Mac, Android, iOS
🔹 Market: Australia, US, UK, Canada, France, South Africa, Ireland, Spain
Odoo — CRM, project management, and accounting software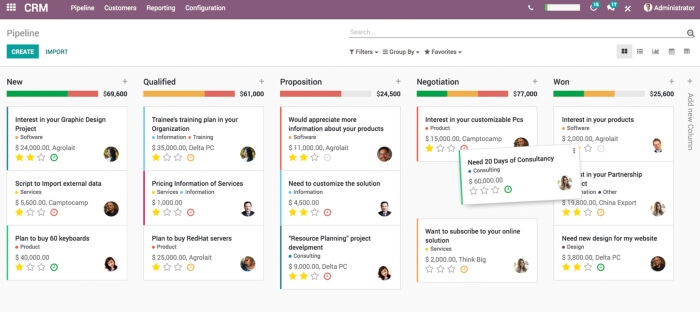 Odoo is one of the favorites when it comes to large businesses that require a multifunctional tool. It's an open-source software that handles tasks related to CRM, project management, accounting, scheduling, and timesheets.
Odoo benefits
🔹 Odoo lets you:
Display worksheets and alert workers during operations,
Manage your invoices and accounting needs,
Regulate your email traffic and organize it, and
Fully integrate with other applications.
🔹 Available for: Linux, Windows, iOS
🔹 Market: Global
ZipBooks — accounting and invoicing software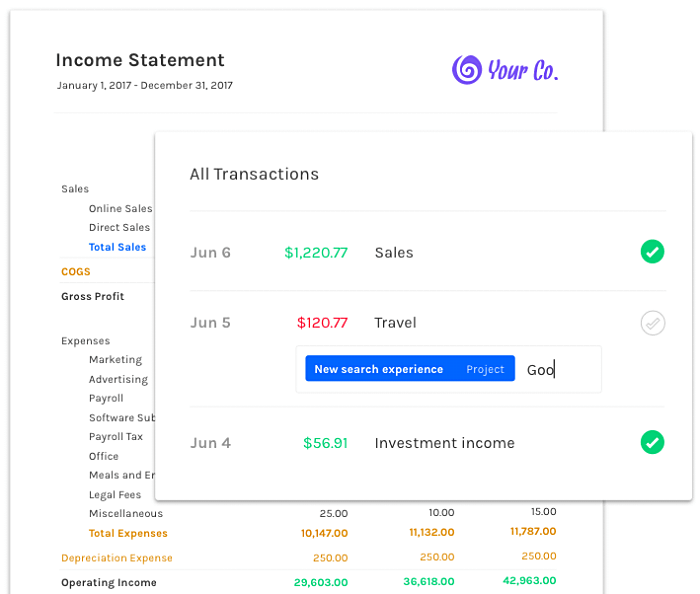 ZipBooks is a free accounting and online invoicing software with a wider scope of features that help you streamline more than just your accounting tasks — you'll also gain insight into your businesses' operations.
ZipBooks benefits
🔹 ZipBooks lets you:
Handle your tax management with ease,
Manage accounting tasks for each specific project,
Track your expenses,
Process your invoicing,
Manage receipts, and
Secure partial payments.
The standout feature of the ZipBooks accounting tool is its Intelligence system — you'll get insights and reports that highlight your profitable customers and show how you fare when compared to the competition.
🔹 Available for: Web, Mac, iOS, Google Chrome
🔹 Market: United States, Canada
Xero — traditional online accounting software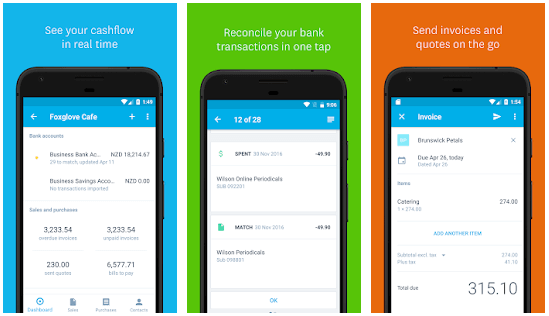 Xero is a free cloud-based online accounting software aimed at small and midsize businesses — it offers an easy way to handle your transactions and run your business.
Xero benefits
🔹 Xero lets you:
Create, process, and send out recurring invoices,
Organize and categorize all your credit card transactions,
Precisely schedule payments to manage your cash flow,
Calculate payroll and manage subsequent taxes, and
Manage your 1099 independent forms.
One notable highlight of this app caters to freelance accountant needs — you'll be able to collaborate with an unlimited number of clients, as well as enjoy strong data encryption and multiple authentications.
🔹 Available for: Web, Mac, iOS, Android
🔹 Market: US, UK, Australia, Canada
Gusto Payroll — online payroll software for HR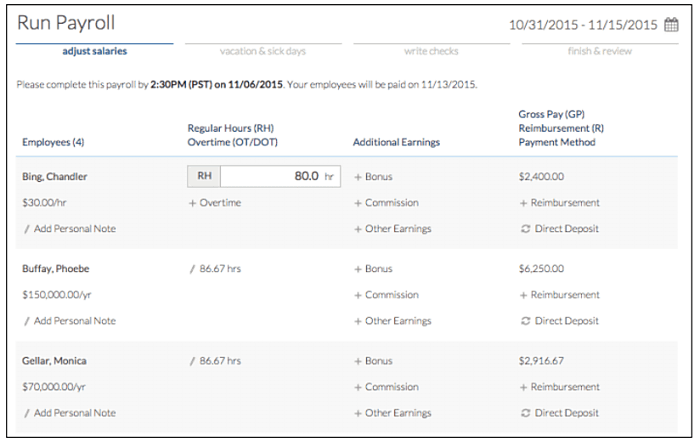 Gusto Payroll is an online payroll software with select features that cater to the needs of HR specialists.
Gusto Payroll benefits
🔹 Gusto Payroll lets you:
Completely automate your payroll within small-to-midsize businesses,
Fully automate your tax management,
Manage all payroll deductions, and
Automatically adjust minimum wages.
Considering that complying with government requirements is vital in accounting, Gusto Payroll also helps you automatically report all new hires to the government.
🔹 Available for: Web
🔹 Market: Global
💡 Clockify pro tip
Looking for more great payroll and accounting apps? Check out our extensive guide on:
Expensify — expense management system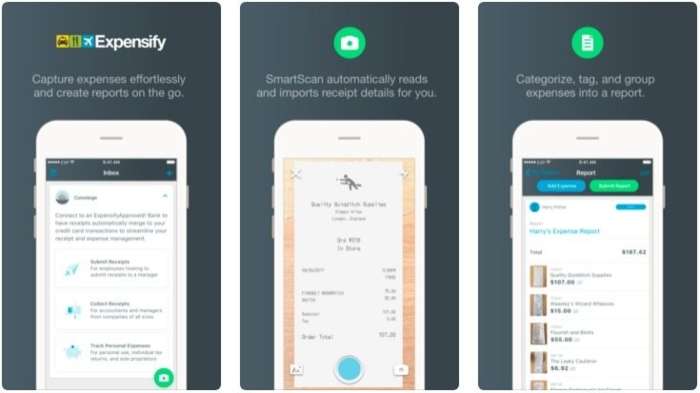 Expensify is an accounting system fit for a business of any size that lets you manage your receipts, and easily submit business expenses for both reimbursement and approval.
Expensify benefits
🔹 Expensify lets you:
Review expenses that haven't been submitted yet,
Scan receipts,
Automatically detect duplicate receipts in the system,
Import all your card transactions,
Automatically confirm each transaction,
Easily manage all your general ledger codes, and
Set and apply tax rules based on the relevant expense policies.
As a bonus, Expensify also syncs with most major accounting apps, so you'll be able to effectively enhance the app's functionalities.
🔹 Available for: Web, iOS, Android,
🔹 Markets: US, UK, Canada, Europe, Australia
Wagepoint — small-to-mid-size business payroll software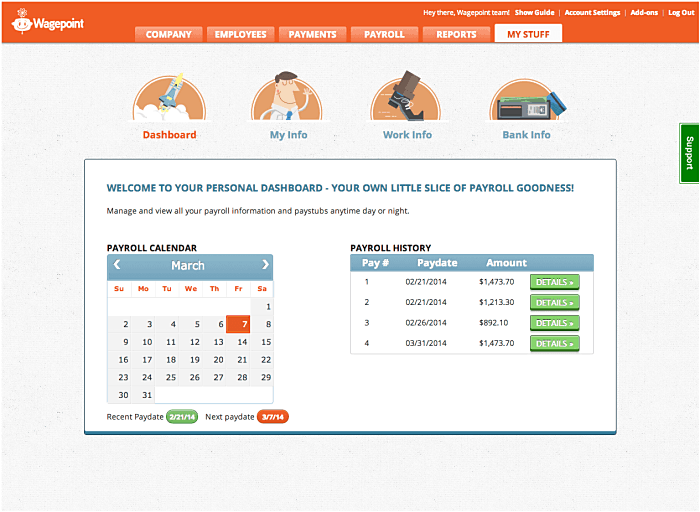 Wagepoint is online payroll software aimed to help your small or midsize business pay employees and contractors, as well as stay compliant with government tax requirements.
Wagepoint benefits
🔹 Wagepoint lets you:
Handle your payroll processes on a cloud,
Make direct deposits,
Provide worker compensation,
Calculate company deductions, and
Handle your pay stubs with no paperwork.
One of the best functionalities of this accounting tool is the way it helps you handle taxes — you'll get to process yearly W-2 forms (US) and T4 slips (CA), process 1099 forms for your independent contractors, but also make reports on federal, state, and local taxes.
🔹 Available for: Web, Windows, Mac
🔹 Markets: US, Canada
💡 Clockify pro tip
Looking for an insight into the best practices for paying contractors and freelancers, as well as handling 1099 forms? Our guide on the subject has all the answers: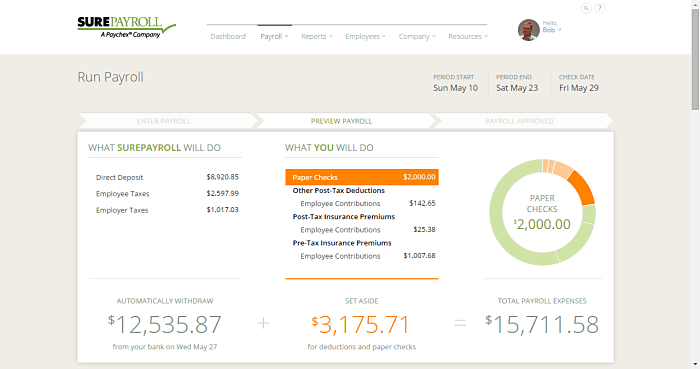 SurePayroll is an online payroll system that caters to the needs of small businesses in the US — you'll be able to fully manage your payroll, from calculations and deductions to payments and taxes.
SurePayroll benefits
🔹 SurePayroll lets you:
Managing 401(k) employee benefits,
Automatic filling and paying all relevant local, state, and federal taxes,
4 different options for your payroll schedule — monthly, semi-monthly, weekly, and bi-weekly, and
Handling w-2 employees and 1099 independent contractors.
Apart from that, you'll also be able to handle additional payroll procedures, such as employee bonuses, corrections on payroll, and reimbursements.
🔹 Available for: Web, iOS, Android
🔹 Market: US
Fyle — Travel and expense management software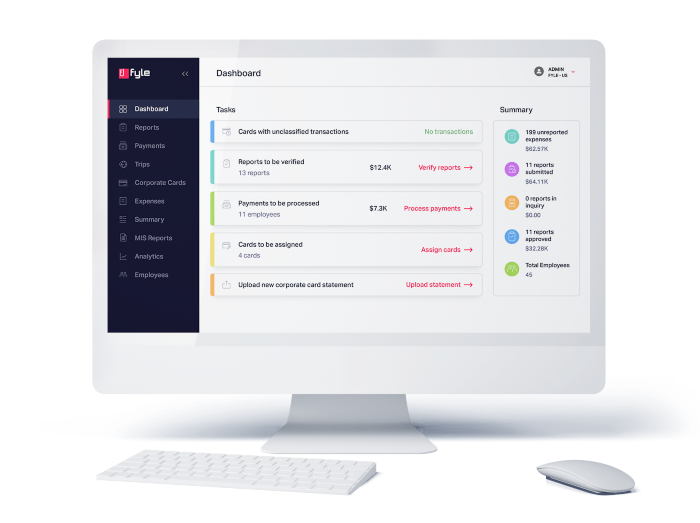 Fyle is an AI-powered travel and expense management software that streamlines and automates pre-accounting from end to end. It gives employees easy-to-use tools to submit, approve, and process business expenses while ensuring your business is in a state of constant compliance.
Fyle benefits
🔹 Fyle lets you:
Track and submit business expense receipts from Slack, G-Suite, or Office 365,
Scan paper receipts with Instafyle and see a draft expense in a ready to report state,
Detect duplicates and risky expenses before they are even submitted,
Get detailed audit trails for every expense and stay audit-ready, always,
Process reimbursements in a day with Fyle ACH,
Bring your existing/preferred credit card vendors and get live feeds straight to your Fyle dashboard, and
Get in-depth and real-time analytics on spending across the organization.
Further, Fyle has bi-directional and self-serve integrations with major accounting software NetSuite, QuickBooks, Sage Intacct, and Xero. The tight-knit integrations enable finance teams to hit the ground running and automate the entire accounting process with no additional IT support!
🔹 Available for: Web, Windows, Mac, Android, iOS
🔹 Market: Global
💡 Clockify pro tip
Want to learn more about how you can use Clockify in your accounting process and while gathering documentation for taxes? Then check some of our previous blog posts:
A few final words
Any small business that strives to become a large enterprise will need quality accounting software to help run things smoothly. Not only will you keep your employees satisfied, but you'll also cut down the hours that it takes your accounting department to process payroll, taxes, and other types of financial tasks.
Therefore, choosing a great all-in-one accounting software or a specialized accounting tool will surely prove to be a great choice in the long run.

✉️ We hope that our top picks for the best accounting software are enough for you to choose your favorite and start improving your business strategies. If you have any questions or past experiences with accounting software, we'd be glad to hear more on blogfeedback@clockify.me.