Team collaboration: why it's important and how to foster it
Team collaboration occurs when team members work together to achieve the same business goals.
Since each member of a collaborative team has a unique set of distinctive skills, they can approach any problem from diverse angles and find more creative solutions.
Thus, their team collaboration helps them work towards their common goals.
In this blog post, we'll go into more detail about collaboration in a team, as well as tackle the following matters:
Key differences between team collaboration and teamwork,
Three types of collaboration skills,
The importance of team collaboration, and
Strategies for building collaborative teams.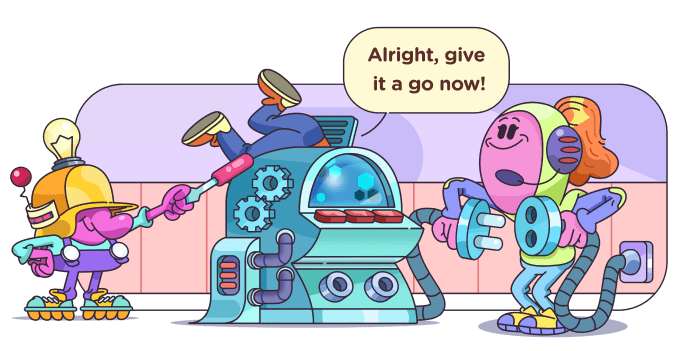 What is the difference between team collaboration and teamwork?
Before we dig deep into team collaboration, I'd like to point out two essential differences between teamwork and team collaboration:
Roles within the team, and
Leadership.
How do these two aspects make a difference?
Collaboration gathers a group of colleagues who join their forces to solve a problem or complete a task. The focus is on a group effort and how to figure out the solution as a collective.
For example, during brainstorming sessions, team members are in the same room (or same video call), discussing an issue and trying to fix an issue as a team.
In contrast, teamwork refers to a group of individuals. Each of them has particular responsibilities. Thus, they put in their individual efforts and reach a common goal.
For example, when a basketball team wins a game, it's because everyone on the team played well. Every basketball player did their part well, so the results are positive.
💡 Clockify Pro Tip
To learn more about teamwork in the workplace, we suggest you take a look at our in-depth blog on this topic:
When it comes to leadership, team collaboration and teamwork differ, too.
In a collaborative team, usually, there are no leaders. Each team member is encouraged and expected to make an effort and contribute to the team's efforts with their unique set of skills.
Yet, this is not the case with teamwork. Teamwork requires someone to coordinate the individuals in that team and help them achieve a common goal.
Now that we've explained the difference between team collaboration and teamwork, let's see what types of skills are essential for better team collaboration.
What are the three types of collaboration skills?
Every collaborative team member is an expert in their own field. Thanks to this, a collaborative team can analyze any issue from different perspectives and find more than one suitable solution.
Regardless of their differences, having the same values and objectives in mind is the glue that keeps a collaborative team together.
However, collaboration doesn't happen overnight. It takes time and effort to get to know your teammates and establish a proper working relationship.
More importantly, there are some collaboration skills that everyone should master so that the entire team works quickly and effectively. These skills are:
Communication skills,
Emotional intelligence, and
Respect for diversity.
To help you understand how these correlate to better team collaboration, we'll explain everything a bit further.
1. Communication skills
Proper communication plays a key role in any relationship.
In the work setting, you can communicate with your colleagues in person or by using written forms. Either way, you should be sure to choose your words carefully.
Here are some tips:
Always think about what you're going to say to your coworkers and how you're going to say it. If you disagree with someone, try to express your opinions respectfully.
If you're writing to a colleague, you won't be able to see their face. So, before sending your message, read it again and put yourself in your colleague's shoes.
Before saying or writing anything, make sure to tweak the message to make it clearer and simpler.
Consider your tone of voice and body language, if applicable. These can have a great impact on how your message is interpreted.
Learn to be an active listener. If you don't understand what your coworkers are saying, feel free to ask for explanations.
2. Emotional intelligence
Emotional intelligence is a skill that helps you sense your emotions and manage them, but also quickly identify how others are feeling at the moment.
Let's say that your colleague is moody the entire day. This can be a sign that they are either extremely tired or they need some help at work.
If you show genuine interest in what goes on in your coworkers' lives and get to know them better, you'll find it easier to read these signs and offer support.
If you want to improve your emotional intelligence, here are a few basic tips for you:
Show more empathy and compassion towards your teammates.
Practice objectivity and transparency in communication.
Don't get offended easily.
Avoid taking criticism personally.
Pay close attention to the verbal and non-verbal cues of your teammates.
Show resilience.
3. Respect for diversity
If you're working in a multicultural team, cultivating diversity should be high on your list of workplace priorities.
To be able to work closely with your cross-cultural colleagues, you should show respect for any type of diversity and avoid discrimination of any kind.
Collaboration thrives in the work setting that encompasses:
Communicating openly,
Being sensitive to ethnic and religious backgrounds,
Establishing consensus,
Promoting group discussions, and
Cultivating an environment where every team member can share their opinions.
—
By nurturing these three types of skills, you and your colleagues will feel more comfortable working with each other.
But, why is it so important that team members work together and be good at it?
Let's find out!
Why is team collaboration important?
Team collaboration comes with many benefits for teams and individual team members. The importance of good team collaboration lies in its ability to:
Encourage better problem solving,
Give broader perspective,
Support knowledge sharing,
Promote healthy company culture, and
Improve employee engagement and happiness.
Let's explore each reason in detail.
🤝 Good team collaboration encourages better problem-solving
Every collaborative team is made of experts in various fields. They work side by side to accomplish the company's goals.
But, each of them also brings a unique perspective to the table. So, whenever a company has to make a crucial decision, experts can:
Express their professional standpoint on a subject matter,
Use their own expertise and experience to help, and
Suggest a solution to the problem accordingly.
When the time comes to reach a decision, there will have to be one collective mind – one common decision.
Here's an example.
The XYZ company wants to create an official website. So, the company management decides to gather their team of experts to come up with the best solution. The team includes:
A project manager: Their job is to set the budget for this task, assign tasks and deadlines, and ensure that everyone follows these rules.
A web developer: Their job is to create a website layout, perform website updates, and take care of all technical issues.
A web designer: Their job is to set design guidelines, present the website structure, and come up with the most creative design solutions.
A content manager: Their job is to create written content for website pages, and make sure the content is SEO friendly and easy to read.
A QA engineer: Their job is to analyze if all requirements (business, technical, and others) are met, and review the quality control of the entire website.
By feeling free to share their ideas and give suggestions to their teammates, the XYZ team will be able to come up with more creative solutions and achieve its common goal — to create a quality website.
🤝 Good team collaboration gives a broader perspective
Having team members who come from diverse backgrounds translates to approaching a problem from one angle and seeing a bigger picture.
Let's use the example from our previous tip.
For instance, the marketing manager comes up with an interesting idea for the "Our staff" section on the website. They want to add a short bio and a photo for each employee in the company.
But, if this isn't possible because of the website layout, the web developer and web designer will point out this issue.
By exchanging experiences and ideas, the team will be able to paint a brighter picture and find a suitable solution for the "Our staff" section.
🤝 Good team collaboration supports knowledge sharing
During your team gatherings, you'll be sharing ideas, viewpoints, and experiences. Thus, team collaboration opens a new world of knowledge both for you and your coworkers.
Let's go back to the "Our staff section" example.
By exchanging their knowledge and expertise, the members of the team learned a few new things as well:
The marketing manager discovered that they have to think about the website layout and other technical issues when writing content for their website.
At the same time, the web designer and the web developer learned what website content should look like.
In addition to learning, team collaboration gives everyone the opportunity to acquire new or develop the skills they already have.
🤝 Good team collaboration improves employee engagement and happiness
In a collaborative team, keeping spirits and engagement high is important for:
Feeling equal, valued, and heard,
Creating a positive collaborative atmosphere,
Coming up with better and more creative solutions,
Reaching decisions quicker, and
Contributing to team efforts.
Whether you're working as a project manager, QA engineer, or web developer, your opinions will be as important as your colleague's standpoints.
And, when you feel free to express yourself in a team, you'll be happier in the workplace, too. If you're happy at work, you're more likely to stay with the company longer.
10 Tips for building team collaboration
Building team collaboration isn't a one-man's job.
It's actually a joint effort that takes time. To help you build a positive collaboration, we've prepared the following 10 tips:
Establish common objectives,
Set expectations,
Set standards,
Focus on individual strengths,
Foster fresh ideas,
Create a trustworthy and trustful environment,
Use collaboration tools,
Arrange only necessary meetings,
Honor collaboration, and
Organize casual gatherings after work.
Let's explore each tip in more detail.
Tip #1: Establish common objectives 🎯
It's essential that everyone on the team is on the same page when it comes to company goals, but also team goals. You'll need to have a mutual understanding of the team's vision in order to act in accordance with that vision.
So, how to do that?
Here are a few ideas:
Know what your goals are.
Communicate transparently and often.
Share ideas, experiences, and views whenever possible.
Use team meetings to reevaluate and review your common objectives.
Tone down all the bias.
Tip #2: Set clear expectations📝
In line with the previous tip, setting expectations for the entire team is vital, too.
Team members need to know what their obligations are so that they can focus on accomplishing these tasks the best they can.
To do this easily, consider the following:
Tip #3: Set standards ✔️
Setting standards is crucial for the success of the entire team.
Once everyone in the team knows what they're expected to do, you become responsible for completing these assignments.
These standards can include:
Choosing the right collaboration tools.
Delegating workload equally and fairly.
Promoting mutual respect and understanding.
Setting reasonable deadlines.
Showcasing flexibility and empathy.
Practicing emotional intelligence to detect early signs of burnout and take steps to prevent it.
For example, one of the best ways to keep all the pieces together in your team and improve team time management is to establish the rule of tracking your work hours with Clockify.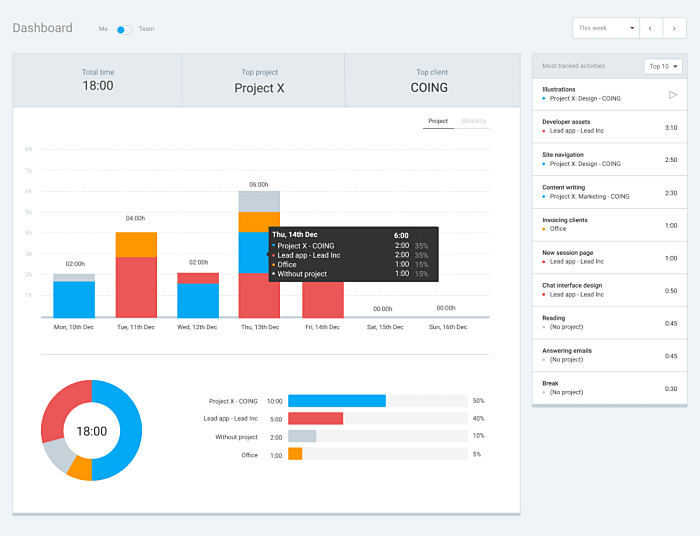 By doing this, you can:
Encourage the entire team to be more responsible and accountable with their daily tasks.
Always know what each team member is working on.
Have a better understanding of how your team spends their work hours.
Learn more about their time management techniques.
Find out what should be changed, tweaked, or improved to pave the way for better team collaboration.
Integrate Clockify with 80+ productivity and project management tools and make things much easier for your team.
Clockify also tends to every team's security and privacy — this is particularly handy if your team deals with sensitive information on a daily basis. 
💡 Clockify Pro Tip
If you're eager to find out more about tracking time with your team in Clockify and what other features you can get access to, check out the links below:
Tip #4: Focus on individual strengths 💪
We mentioned earlier that getting to know your teammates is beneficial for many reasons.
Firstly, you'll discover the individual strengths of each team member.
For example:
One teammate may be great with people,
Another teammate may excel at making templates of any kind, and
The third teammate may be the most tech-savvy of all.
This brings us to the other part of the equation.
By knowing what each team member's forte is, you can easily capitalize on them and make remarkable progress as a team.
How?
Well, for example, the next time you need someone who's great at handling initial calls with new clients, turn to a team member of your sales team who's great at establishing effective third-party communication.
Tip #5: Foster fresh ideas 💡
Team collaboration should ensure a free exchange of ideas.
In remote and hybrid teams, this usually happens during meetings — they should be a safe place for bringing fresh ideas to the table.
By creating a supportive and judgment-free environment for sharing new ideas, you'll show your team that everyone can contribute to the team's progress.
What's important, though, is to support creative conflict among team members, especially in situations that spark disagreements. This way, your team will be more likely to come up with better solutions during the debate.
Tip #6: Create a trustworthy and trustful environment 🤝
Trust is a two-way street.
Team members need to feel they can be honest and trust each other but also be self-reliant, too. Once you create such an environment, you'll improve your relationships and manage your workload easily.
Let's look at another example.
If you're waiting for a colleague to complete their part of the task and they do it on time, you'll do your part of work on time, too. Thus, you'll collaborate with ease.
But, if you happen to experience any issues while working on a shared task, let your colleagues know. That way, your teammates can help you figure it out together.
By investing time and effort into building trust in your team, you will:
Prevent major delays,
Improve your team's time management, and
Show your trustworthiness.
💡 Clockify Pro Tip
Connected teams take a long time to build and are hard to maintain. If you need advice on fostering good team connectivity, we might have tips for you:
Tip #7: Use the right collaboration tools 📱
Let's face it, with so many practical and intuitive apps out there, teams don't have to struggle with collaboration anymore. Working in hybrid, distributed, and remote teams is easier than ever, thanks to the diverse app offer.
In addition to using Clockify to manage your team's time, you might want to consider some other collaboration tools, too:
Instant messaging apps.
Video conferencing apps.
Reliable email providers.
Apps that facilitate document creation and sharing.
Project management tools that help you stay on top of all team projects and assignments.
Virtual whiteboard platforms that facilitate brainstorming sessions, diagramming, and creative collaboration.
💡 Clockify Pro Tip
To help you find what you need, check out our list of 31 best online collaboration tools for teams:
Tip #8: Arrange only necessary meetings 👔
When it comes to team meetings, you should think twice before you schedule one.
If there's a major project update and you need to discuss it with the team, holding a meeting is an ideal choice. In this case, remember to create a meeting agenda and send it to your colleagues, so they can prepare before the meeting starts.
On the other hand, if you need to pass on other important information, and you need to do it quickly, you can use a free team messaging app, such as Pumble.
If you want to pass on less important and less time-pressing information, go with an email.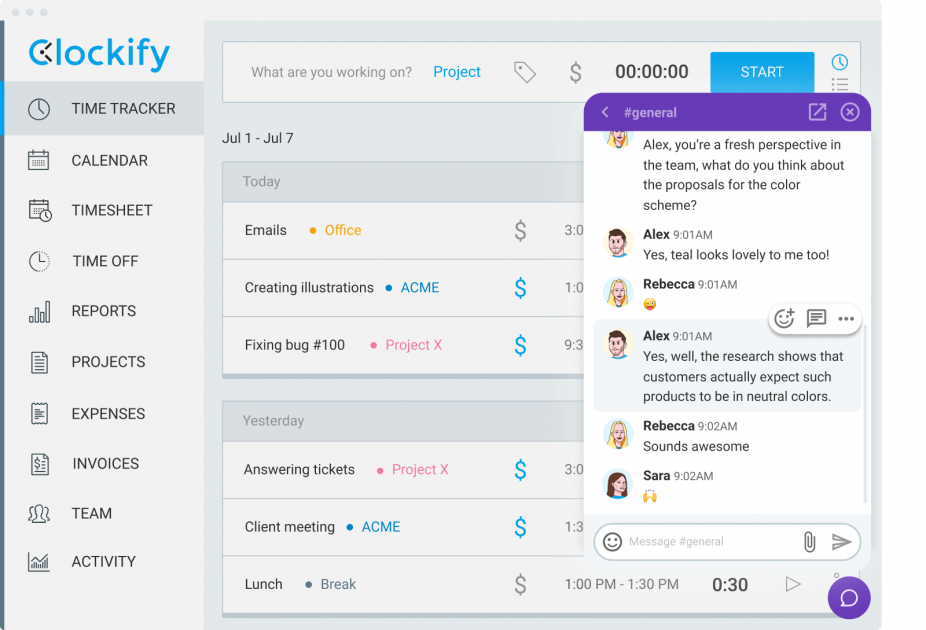 The best thing with Pumble is that it integrates with Clockify, so you can chat with your team directly in the time tracking app.
By holding only essential meetings, reducing the use of email, and making sure to communicate regularly via a team chat app, you and your team will be more motivated to collaborate on vital tasks.
Tip #9: Honor collaboration 🙌
Just like positive feedback boosts employee morale and motivation, so does honoring a good team collaboration.
Whenever you notice good examples of collaboration within the team, be sure to praise them.
You can:
Send an email to all team members to praise them after successfully finishing a project.
Mention individual or group achievements in your team meetings.
Encourage each team member to share their accomplishments, too.
Tip #10: Organize casual gatherings after office hours 🥳
Spending some time with your colleagues after office hours can help you bond.
Regardless of the type of team you're part of, you can always engage in some interesting team-building and team-bonding activities.
Some options to consider:
Going for a drink after work if you're working in the same city.
Organizing a virtual "Happy hour" if you're working from different cities or countries.
Creating a book club for those who enjoy reading and discussing your favorite books.
Playing some online virtual games.
Going to an art exhibit or poetry night.
To include the entire team, you can vote on the most suitable activity.
Another important thing — don't force these events or organize them too often. Opt for once or twice a month to ensure a good work-life balance, too.
—
If you take moment to look back, you'll notice that these ten tips have three things in common:
Transparent and honest communication,
Caring about what other colleagues think and how they feel, and
Showing respect for any type of diversity.
Conclusion: Team collaboration isn't a one-man job
Thanks to good team collaboration, you and your teammates can:
Approach any topic from diverse perspectives,
Engage in creative problem-solving,
Share your knowledge and skills,
Learn from each other, and
Support each other's progress.
But, keep in mind that team collaboration is not a one-man job.
It takes an entire team and everyone's efforts to build collaboration. Hopefully, you'll put the tips we've listed here to good use and experience all the benefits of working in a collaborative team.
Good luck!
✉️ How well do you collaborate with your peers at work? Are there any handy tips that you rely on to improve collaboration? Is there something we've forgotten to mention but you think would help other teams work better together? Let us know at blogfeedback@clockify.me and your advice may be included in this or future blog posts.