If you're in school or college, you'll be looking for the best ways to help you focus better, write exquisite essays, go through your prescribed reading list faster, as well as study with a better quality overall.
Luckily, If you're a Google Chrome user, you can use Google Chrome extensions to make your student life easier – and, hopefully, your midterm grades better.
So, what are the best Google chrome extensions for college students?
What are the best chrome extensions for elementary students?
What are the best chrome extensions for graduate students?
To save you the time you all should be studying – instead of endlessly browsing the web for the best study tools – we've compiled a list of the 27 best Google chrome extensions for students you should include in your study kit:
FOR BETTER STUDYING…
Memorize
– learn/memorize extension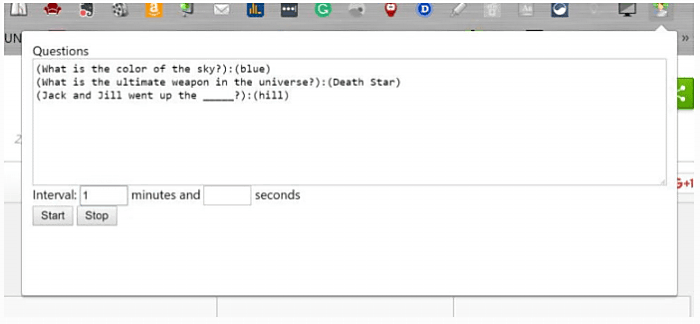 🔹 What's it about? 
Memorize helps you learn new facts by asking a number of preset questions, in random order.
All you need to do is:
Add a list of questions
Set the interval between questions
Click start, and answer questions as they come
If you answer a question on the first or second try, it gets eliminated from your list
If it takes you more time to answer a question, it gets back in the line
You go on until you've answered all questions correctly
🔹 Why it's great?
You can procrastinate and study, all at the same time. In a way.
Just imagine yourself browsing the web, and having random history questions popping up in your browser.
And then sticking around until you answer them correctly and memorize these new facts.
🔹 Highlight feature? 
No limits to what kind of questions you can add, and you can combine various types of topics – you can even learn geometry while brushing up on your Star Wars knowledge (…though that won't exactly help you pass your exams).
Flashcards
– digital flashcards creator for Google dictionary and Google Translate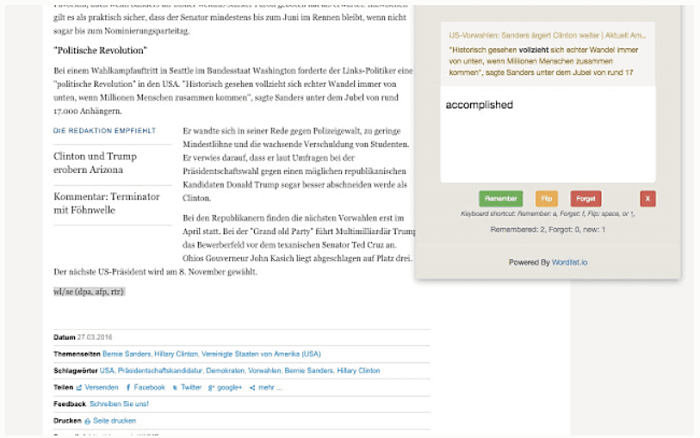 🔹 What's it about? 
This Flashcards extension helps you save and memorize the phrases and new words you encounter in the Google Dictionary or Google Translator.
Once you save a phrase or word, it gets added to your wordlist – all the items from your wordlist are then transformed into cards.
The cards then randomly pop up in your browser, to jolt your memory of their meaning and definition.
🔹 Why it's great?
It's great for brushing up key phrases for your French exam or simply expanding your everyday vocabulary.
Or even for prepping for your CAT exams.
🔹 Highlight feature?
The phrases and words are added to the world list alongside their contextual meaning and examples sentences – making it even easier to memorize.
Kami
– PDF and document annotation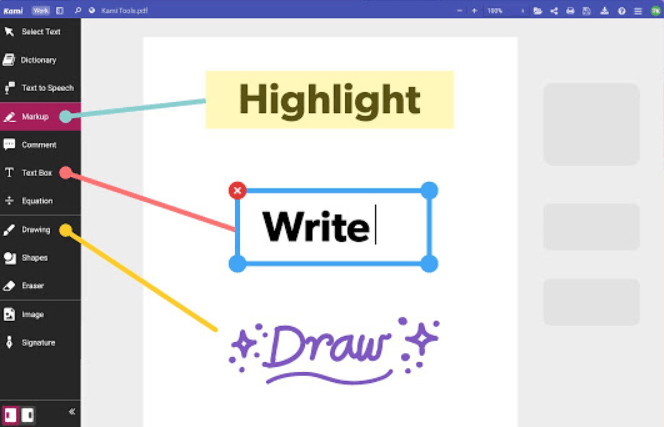 🔹 What's it about? 
Kami is a full-featured markup tool – you'll be able to edit and enhance any document, either on your own or together with your online study group.
The extension also works flawlessly with both Google Drive and Google Classroom.
🔹 Why it's great?
You'll be able to draw, type, and add comments and annotations – anything you believe would help you scourge a text for important information and memorize the gist of it.
🔹 Highlight feature?
Scanned PDFs are often uneditable, which is a shame, because they often make a great study resource you'd love to annotate – and, with Kami, you can.
FOR HIGHER PRODUCTIVITY…
Clockify
– time tracker and time management tool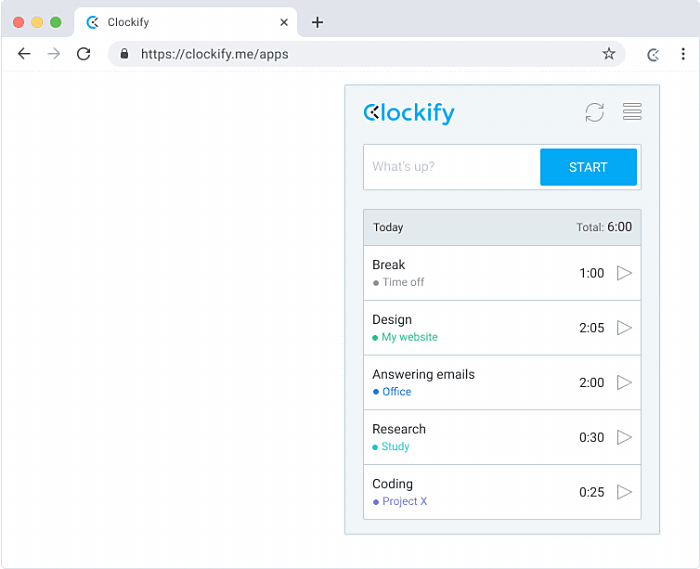 🔹 What's it about? 
Clockify time tracker has a Chrome extension that lets you record the exact time you spend on various school activities.
You can then log into your Clockify web account and analyze the time you've spent on various study activities during the course of a day, week, month or any other custom period.
🔹 Why it's great?
It's great for helping you track the exact time you spend on individual subjects or lessons while studying or doing homework.
And this data may help you plan your days during study week with more accuracy.
🔹 Highlight feature?
You can study using the Pomodoro timer, and be reminded to take breaks from studying and resume new study sessions at regular intervals.
For example, you can set "50 minutes" for your study sessions and "5 minutes" for your breaks after study sessions – and then be reminded to commit to both with a sound alarm.
Imagus
– view videos and images on mouse hover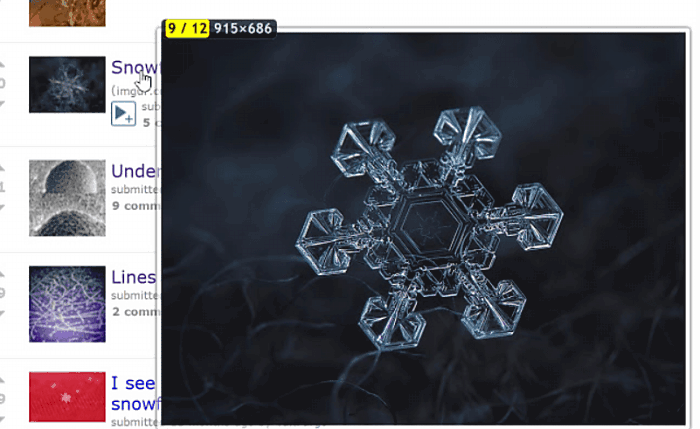 🔹 What's it about? 
The Imagus extension lets you view images and videos you find in searches on mouse hover – without needing to open each individual image or video in separate tabs to see whether they're what you're looking for.
🔹 Why it's great? 
Looking for an image or video you can use in your seminar paper about William Blake? You'll no longer need to click every individual image to find his best portrait.
🔹 Highlight feature?
 Lots of customizable features – including the option to add the images you've previously "hovered over" to your browser history and numerous shortcuts to make finding the right image quicker and easier.
Momentum
– progress tracker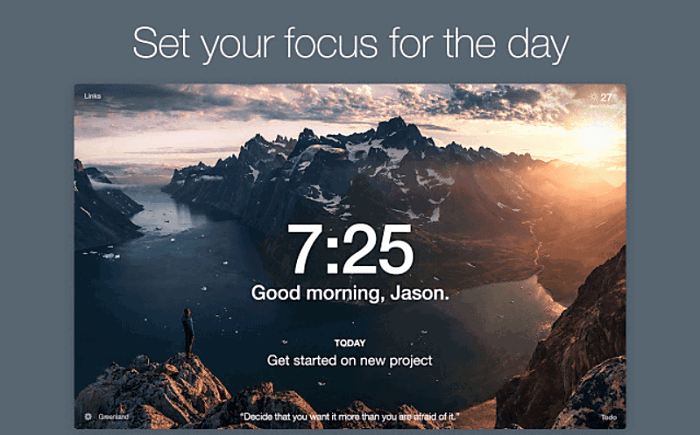 🔹 What's it about? 
The Momentum extension replaces the standard new tabs in your browser with a personal dashboard equipped with a to-do list, weather forecast,  inspirational quotes and photos, as well as much more.
🔹 Why it's great?
You'll be able to eliminate distractions and deal with procrastination – through a number of useful widgets that help you stay on track with your study goals.
🔹 Highlight feature?
If you have several important tasks you have to finish for that day, you can set a reminder for each – and then have one of them appear each time you open a new tab.
FOR QUICKER RESEARCH…
Cite this for Me: Web Citer
– citation generator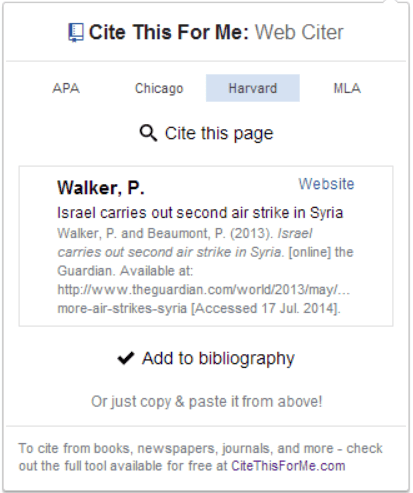 🔹 What's it about? 
 The Cite this for Me: Web Citer extension helps you automatically create website citations in several popular referencing styles – including APA, MLA, Chicago, and Harvard.
Once you settle on the page you want to cite, simply click the extension button to generate a citation in the right style.
Then, copy and paste the citation to the bibliography in your paper.
🔹 Why it's great?
You'll save a lot of time when adding references to your seminar or master paper in the prescribed style – plus, you'll have a less chance that you'll mix different referencing styles or make other mistakes when citing.
🔹 Highlight feature?
The extension helps you generate references for papers you find online – but, you can build onto that and generate citations for books or journals by visiting the official page of the app.
Split Tabs
– tabs manager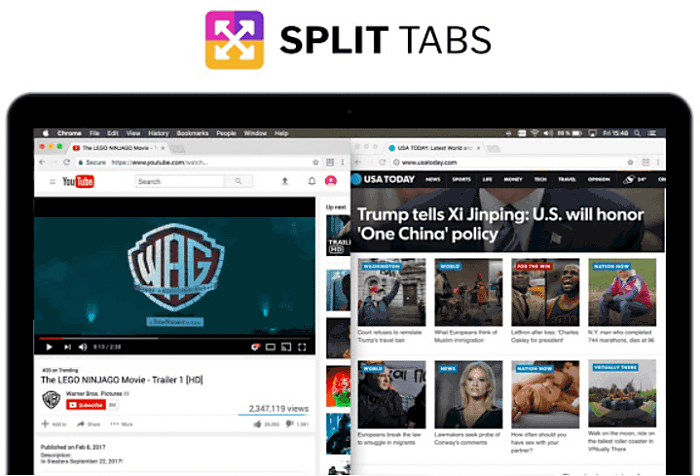 🔹 What's it about?  
Split Tabs lets you view your browser tabs as several separate windows – simply, open several tabs in your browser and then use the extension to quickly arrange them in the format and order you want.
You have several layouts to choose from:
2X2 tabs – for 2 tabs positioned at the top of your screen and 2 tabs positioned at the bottom of your screen.
2X1 tabs  – for 2 tabs positioned one on top of the other
1X2 tabs – for 2 tabs positioned side-by-side
1X1 tabs – for 1 full-size tab positioned across your screen
🔹 Why it's great?
Don't have enough money to buy a second monitor, but have the urge to open several browser tabs when writing a paper?
You can use Split Tabs to open two side-by-side tabs: one for writing the paper in your online editor and the other for quoting the papers you'll use as references.
🔹 Highlight feature?
You can use preset keyboard shortcuts to arrange the opened tabs in the desired way quickly – as well as undo your last resize action and add your own custom shortcuts.
Session Buddy
– session and bookmark manager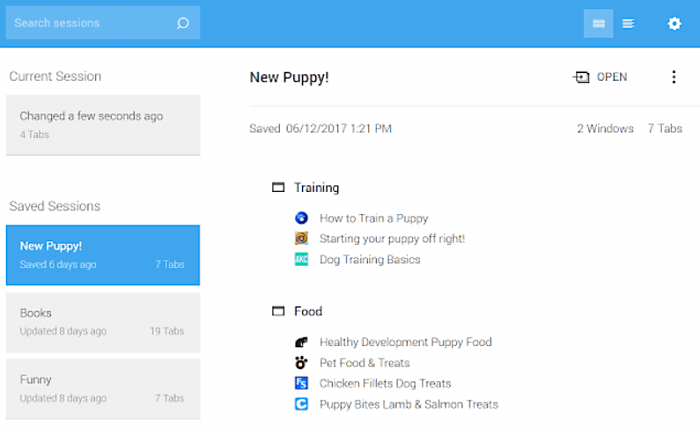 🔹 What's it about?  
Session Buddy helps you bookmark your tabs and keep track of your sessions – all in order to:
avoid clutter
save memory
recover tabs, even if your system temporarily crashes
organize the tabs you saved by topic
🔹 Why it's great?
You'll be able to save important web pages to access them later – but also avoid the situation when you have 43 tabs opened in one window.
🔹 Highlight feature?
The standout feature involves the option to export saved tabs in several different formats, suitable for emails and documents.
Wolfram Alpha
– computable knowledge engine
🔹 What's it about? 
Wolfram Alpha serves as a specialized search engine – you'll be able to search through facts and figures provided by millions of professors and students who know the answers to your questions.
As soon as you install the extension, it changes your standard Chrome's Omnibox into a specialized query field – all you have to do is type "=" and add a space before asking your question.
Alternatively, you can enter this specialized search base by clicking on the extension button.
🔹 Why it's great?
The data you'll have access to is fool-proof data provided by students and professors who are knowledgeable with said topics.
🔹 Highlight feature?
Can't remember who the 21st US president is? Or what the double square root of 234 is?
When you find an ambiguous fact or a difficult equation while going over your homework material, you can simply select and right-click on it – to have Wolfram Alpha answer it for you.
FOR BETTER COLLABORATION ON GROUP PROJECTS…
Document Editor
– shared word editor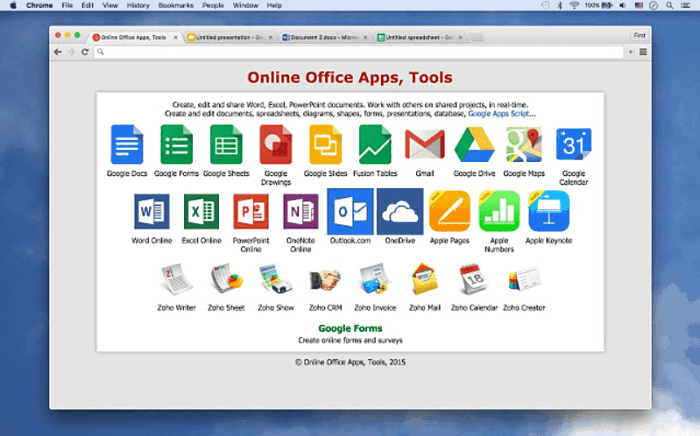 🔹 What's it about? 
The Document Editor extension lets you easily create, edit, and share data in Docs and Sheets, but also Word, PowerPoint, and Excel documents.
🔹 Why it's great?
You'll no longer have to endure the mess of copying and pasting your team's separate contributions to one single document.
Instead, you'll be able to work with your partner or team on school projects, all in real-time – this includes team seminars you'll have to deliver in Word and class presentations you'll need to deliver in PowerPoint.
🔹 Highlight feature?
The intuitive interface makes it a great choice, even when you're partnered with someone who has no experience with using Google Chrome extensions.
Bitly
– link creator
🔹 What's it about?
Bitly lets you shorten, measure, as well as optimize links, before sharing them with peers from your browser in a couple of clicks.
🔹 Why it's great?
You'll be able to quickly save links of important online references you find when researching for a project and then share them with your project partner or team via email, Twitter or Facebook.
🔹 Highlight feature?
To make it easier to recognize and find links when you need them, you can shorten, brand, and tag them separately.
Lightshot
– screenshot tool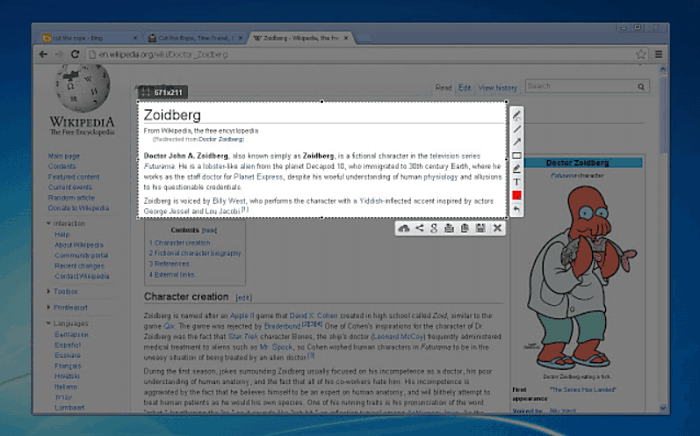 🔹 What's it about? 
Lightshot is a simple screenshot creator – you just select an area you want to capture and save it as an image.
Or, you can save entire pages and then copy and share the links to the images you capture.
🔹 Why it's great?
Great for the times when you need to create images quickly and then share them with fellow students you're working together on a project with.
Especially great when you want to ask a friend about a passage in a web page that doesn't allow you to select and copy the text – instead, you just take a screenshot of the passage.
🔹 Highlight feature?
You can measure and scale the exact image format you want to create and save – perfect if you need to create images for a seminar paper when the rules for the paper prescribe the size of the images.
FOR BETTER FOCUS…
Focusbook
– Facebook light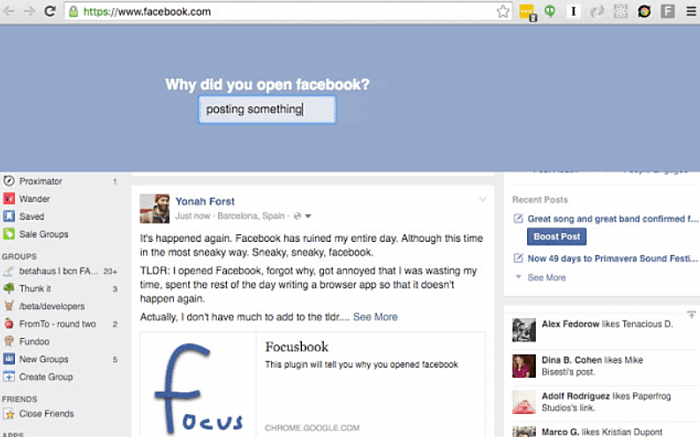 🔹 What's it about? 
Focusbook helps you minimize the time you waste on Facebook during midterm exams – by asking you to define why you logged in to Facebook for this session in the first place.
🔹 Why it's great?
You want to visit the Facebook group where you and your colleagues share study resources, but don't want to get sidetracked by the newest Facebook posts?
You can simply add "download study resources and leave" as your Focusbook goal, and this message will keep popping up until you finish what you came for and log out.
It may be annoying, but it's efficient.
🔹 Highlight feature?
The time you can spend on Facebook is limited in an interesting manner – a blue overlay starts descending on your news feed after you complete your goal.
Meaning that you only get a couple of seconds before you need to log afterward.
Block & Focus
– website blocker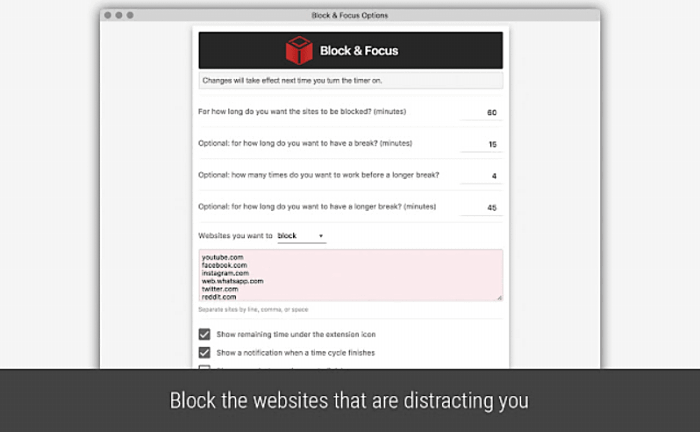 🔹 What's it about? 
Block & Focus is your typical website blocker – create a list of websites you don't want to go to during study time and define how long you'll want to avoid said websites.
Each time you try to go to a blocked website, you'll get a blank page with a motivational quote –  to inspire you to focus on your work instead.
🔹 Why it's great?
You'll no longer have to rely on your own free will to avoid Facebook, Instagram, Reddit, or Buzzfeed – this extension will make sure you don't succumb to temptation and waste time when you should be studying.
🔹 Highlight feature?
You can use this extension to implement a reward system that will help you get through the long study sessions:
Namely, you can define a short break time, during which the blocked websites will be temporarily unlocked and you'll be able to visit them before they're blocked again.
So, if you want to spend 5 minutes on Instagram to reward yourself for finishing a difficult equation – you can.
FOR MORE EFFICIENT READING…
Auto Highlight
– text highlighter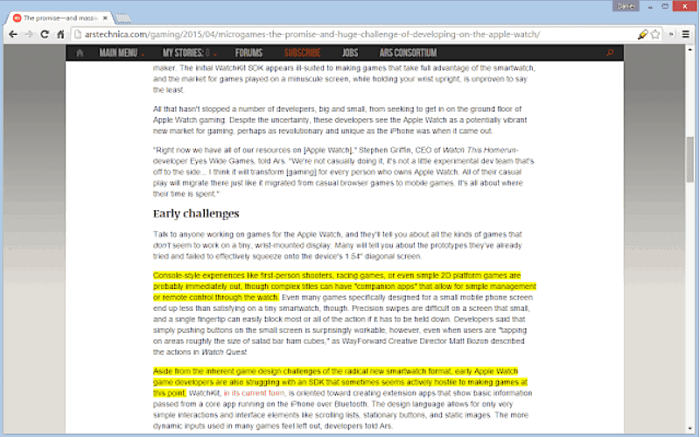 🔹 What's it about? 
Auto Highlight does exactly what it says on the tin – this extension automatically highlights important phrases and passages in online articles
🔹 Why it's great?
You'll no longer need to read and reread pages and pages of useless online data before you find the gist of an article – Auto Highlight will do it for you, saving precious study hours in the process.
🔹 Highlight feature?
The yellow tint in the extension button "used" to highlight important sentences is disposable – so you can't highlight too much of the text, thus destroying the purpose of "only highlighting the important".
Alpha Text
– article adjuster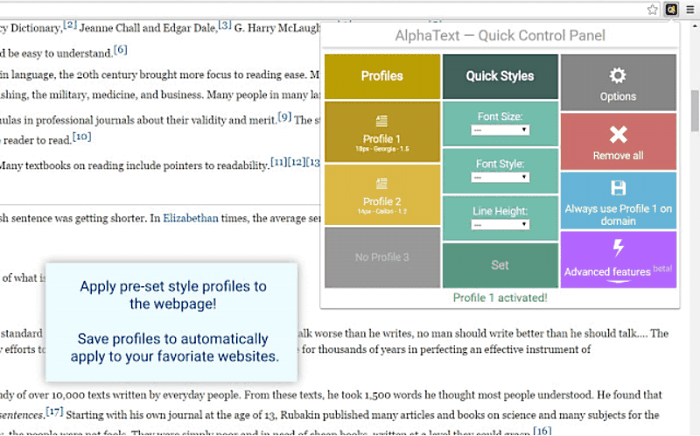 🔹 What's it about? 
Alpha Text is all about making a text readable – you'll be able to change and customize the look of online articles to make the text layout more appealing, better formatted, and less cluttered – and thus easier to read.
You'll get a number of adjustable text features to tweak – including the font size and style, the text color, as well as preset style profiles you can define yourself, and later use after one click.
🔹 Why it's great?
This extension is great for when you find a research paper you're thinking of using – but don't want to spend 45 minutes reading blocks of text to find the data you want to reference.
🔹 Highlight feature?
Alpha Text helps you improve your reading experience by adjusting the colors of your web pages, as well as by removing ads and other distracting media.
Spreed
– speed reading extension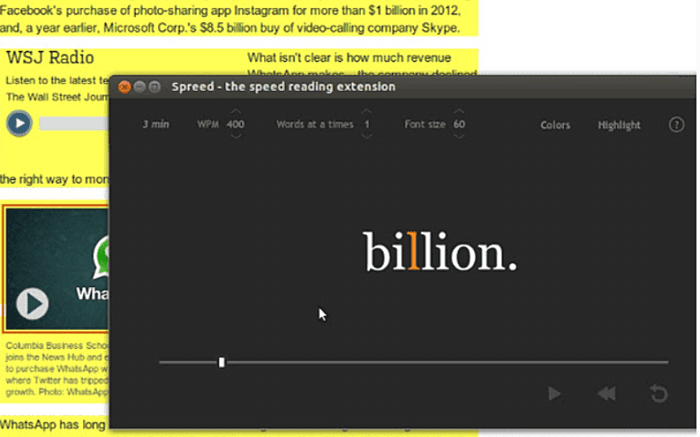 🔹 What's it about? 
Spreed is a study extension meant to help you double down on the time it takes you to read a text – it's based on the popular visual technique for speed reading called Rapid Serial Visual Presentation.
This visual technique is meant to help you silence your "inner vocalization" and focus better on the text in front of you.
In gist, the text you select will flash before your eyes in a video-like window – word by word or phrase by phrase.
🔹 Why it's great?
The average fiction novel in your reading classes has 250 words per page, and the average human reading speed is about 200 words per minute – but, the visual technique of this extension will help you increase your average reading speed to 400 words per minute and finish novels faster.
🔹 Highlight feature?
The extension saves your reading statistics, so you can see:
how much time you've spent reading
how much time you saved using Spreed
what your average reading speed is
how many total words you've read.
The statistics page is also great if you have a freelance job besides school or college  – because you can add your hourly rate and see how much money you save per hour, only by reading faster.
Visor
– screen dimmer and reading aid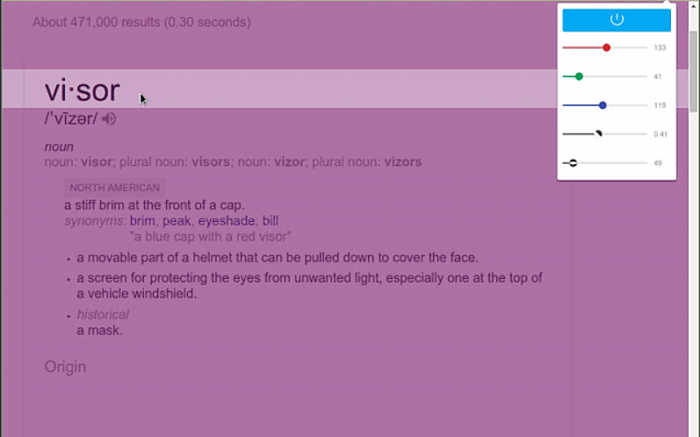 🔹 What's it about? 
Visor is a screen dimmer and reading aid meant to help you reduce eye-strain as well as increase your concentration while reading.
Plus, as the name suggests, the extension also triggers a movable highlighted part you can slide across articles to focus special attention only to parts of the text  – similar to the narrow focus you get when looking through a helmet visor.
🔹 Why it's great?
This extension decreases the chance that you'll skip lines and miss the point of a text you're reading – because it encourages you to focus on the text gradually, in bite-size chunks.
🔹 Highlight feature?
You can adjust the size of the "visor" to increase or decrease the amount of text you'll focus your attention on in one go.
Mercury Reader
– distracting content remover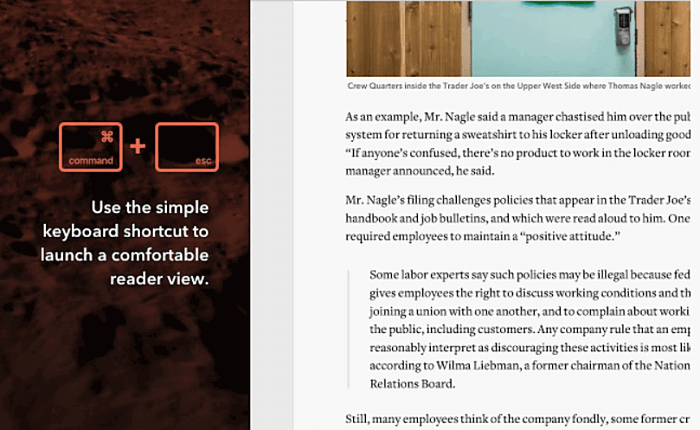 🔹 What's it about? 
Mercury Reader helps you focus on your online reading assignments by removing all annoying add and pop-ups stopping you from entering full concentration mode.
You'll be able to adjust the size and typeface of the text you're reading, change the overall theme of the said page, as well as optimize the page for printing.
🔹 Why it's great?
This extension will decrease the chances that you'll click on an online game just because the ad for it appeared – and waste hours playing games instead of studying, because of a badly-placed ad.
Well, badly placed for you and your concentration, not for the people who placed it.
🔹 Highlight feature?
You can send any text you want to read with Mercury Reader to your Kindle.
Google Dictionary
– online dictionary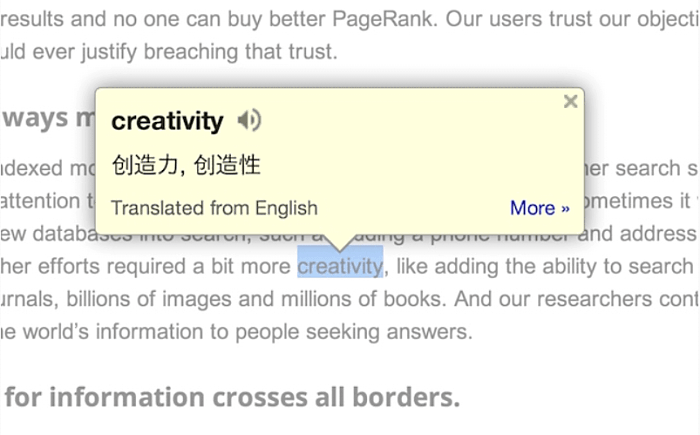 🔹 What's it about? 
Google Dictionary is basically what you get when you type in "supercalifragilisticexpialidocious" or any other complicated word and "meaning" into your Google search – and the Google extension lets you learn the meaning of words directly in the text where you encounter them.
Simply, double click on a word to open a small pop-up bubble – to view the complete definition of a word, use the toolbar dictionary.
🔹 Why it's great?
You'll be able to expand your vocabulary, both in your mother tongue and several foreign languages – when you hover over a foreign word you'll get the translation for it in your mother tongue.
🔹 Highlight feature?
You can build a history of the words you looked up with Google Dictionary – and then practice them until you learn the meaning.
FOR BETTER WRITING…
Power Thesaurus
– online thesaurus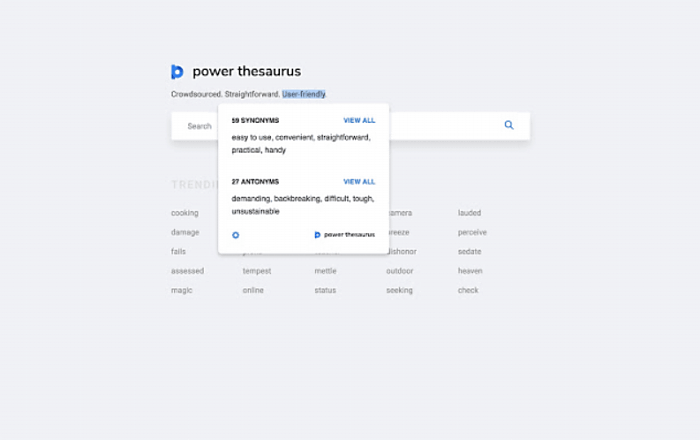 🔹 What's it about? 
Google Dictionary helps you better understand what you're reading – and Power Thesaurus helps you improve your writing, with the right synonyms and antonyms.
Simply, define the word you want to find antonyms and synonyms for – and pick the phrase that best suits what you're looking to accomplish with the text you're writing.
🔹 Why it's great?
You already know that you should be using more imposing terms in your essays than the lackluster choices such as "good" and "bad" – this extension tells you what these more imposing terms are.
🔹 Highlight feature?
If you want to find a synonym for a word in a text you're reading – you can do that as well.
Grammarly
– grammar checker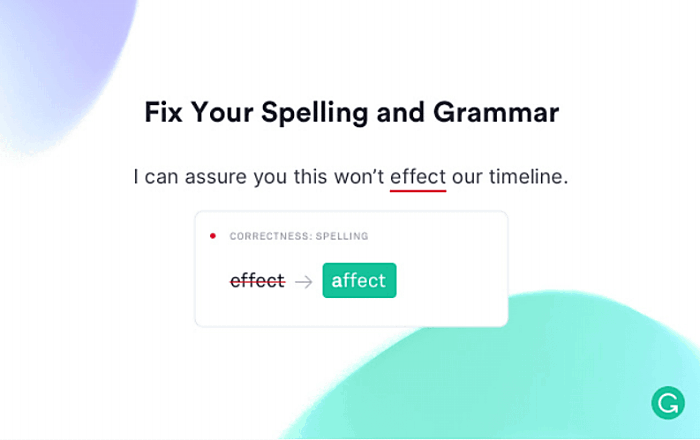 🔹 What's it about? 
The foundation of any great essay is impeccable grammar – And Grammarly is the ultimate grammar toolkit.
🔹 Why it's great?
You'll make sure the essays you turn over to your professors are at the very least grammatically correct – this writing assistant will also provide you with a writing feedback meant to enhance your writing style.
🔹 Highlight feature?
Although Grammarly for Google Docs is still in its Beta phase, you can still make use of its crucial features – so, not only will your teams' writing efforts synchronize in real-time, your mistakes and errors will be fixed as well.
Selection Reader
– text-to-speech converter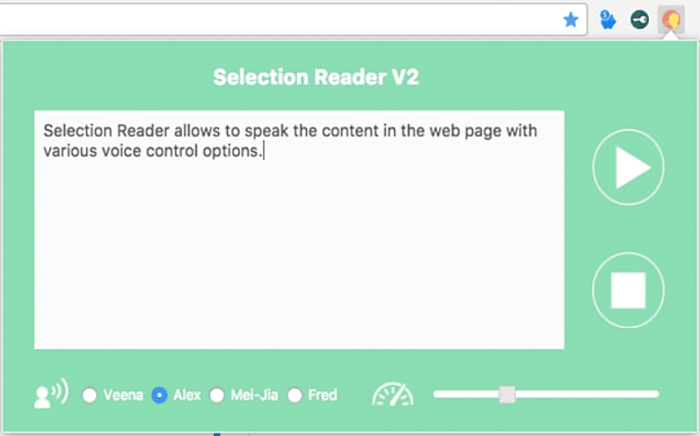 🔹 What's it about? 
Selection Reader is a text-to-speech converter that allows you to select any text, and then have it read aloud to you.
🔹 Why it's great?
This extension is perfect if you're an auditory learning type – i.e. someone who retains information best when listening to someone else read or speak about said information aloud.
🔹 Highlight feature?
Most similar text-to-speech converters are limited in the number of words the AI voice can read in one go – but Selection Reader lets you select any length of a text.
FOR BETTER NOTE-TAKING…
Save to Google Drive
– web content saver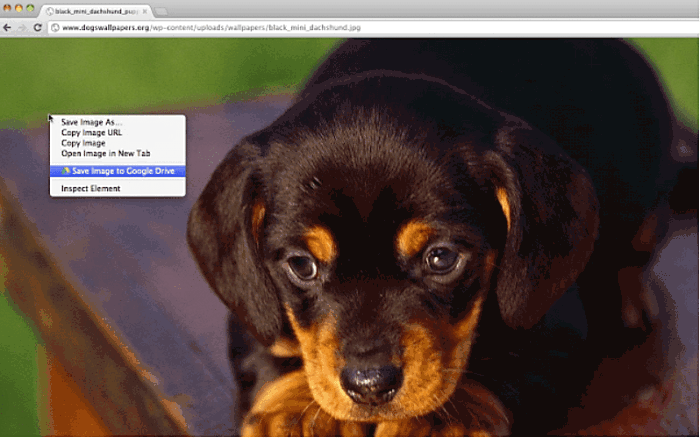 🔹 What's it about? 
Save to Google Drive is a simple extension that lets you save content you find on the web to your Google drive.
Specifically, you can save images, documents, as well as HTML5 video and audio files.
🔹 Why it's great?
Whenever you find an interesting piece of web content you believe will prove useful for your next study session or research paper, you'll be able to save and access it quickly, in just a couple of clicks.
🔹 Highlight feature?
The extension lets you automatically convert Microsoft Office files and save them in the Google Docs format.
Voice ln Voice Typing
– voice typer tool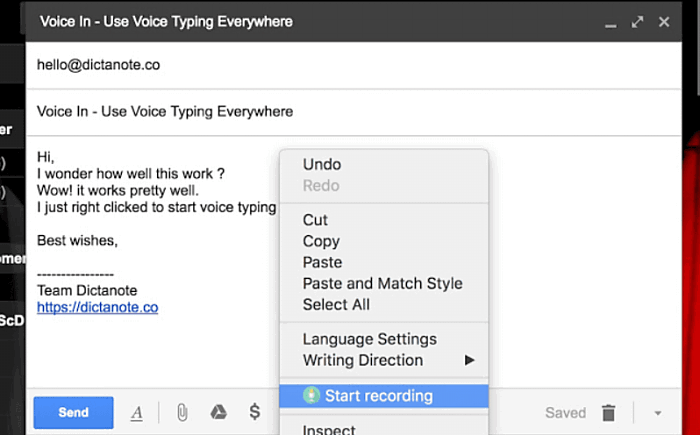 🔹 What's it about?
VoiceIn records your voice and converts it to written words across several websites where you can find text boxes (such as Gmail) – and all that through Chrome's built-in speech recognition engine.
Simply, right-click within a text box and click "Start recording"
Dictate what you want to be written down
Then, right-click again, and select "Stop recording"
🔹 Why it's great?
You can easily write an email to your professor by recording your voice.
Alternatively, you can use this extension to take study notes – after all, all you need is a text box and your own voice for it.
🔹 Highlight feature?
There are several dictation languages you can choose from – so, you can also use VoiceIn to practice your foreign language studies.
FireShot
– automatic screenshot creator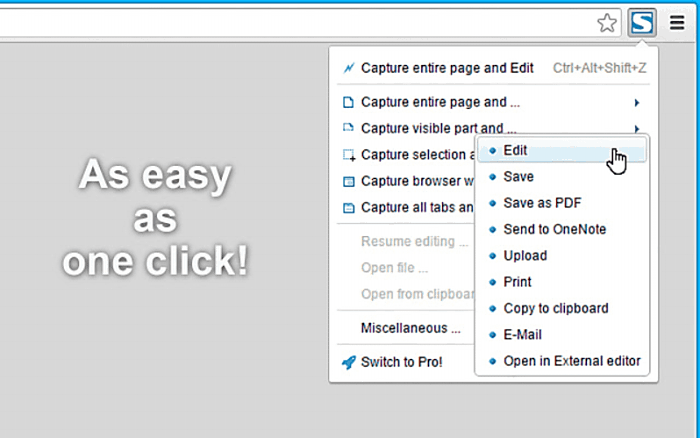 🔹 What's it about? 
FireShot is similar to Lightshot, only slightly enhanced, for students who want to screenshot and save entire webpages, and then later annotate them.
You can save said webpages as PDF, JPEG or PNG files – then, you can either copy them to the clipboard or go straight to printing them.
🔹 Why it's great?
You can easily save web pages containing science articles and then highlight the most important data you find in them – without having to convert the screenshot to a different, editable format.
🔹 Highlight feature?
You can send your screenshots directly to Gmail, and easily share materials with your peers.