Daily Routines and Habits of Highly Productive People
Did you know that Mozart spent more than 12 hours a day on music? Or that Jack Dorsey divides his companies per departments, and works on each only at a specific day of the week? Today's successful entrepreneurs have their healthy habits, and famous people of the past had their fair share of odd routines - but one thing they all have in common is that they planned out their activities. Here are their daily routines and habits.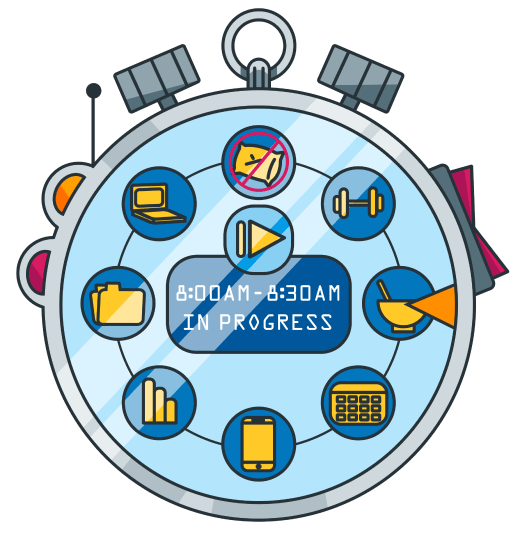 Daily routines and habits of successful contemporary people
Successful people's habits and their routines are responsible for making them successful in the first place, and here is a breakdown for some of them.
Barack Obama
Daily habits
During his tenure as president, Obama would wake up early, around 7 a.m.
He'd exercise and then have breakfast with his family
He'd head to the Oval Office at 9 a.m. and focus on his work
After having dinner with his family, he'd continue working until around 11:30 p.m.
He'd read for 30 minutes before going to bed at around midnight
Key benefit to Barack Obama's routine
Obama seldom left for the office without engaging in exercises, and always had breakfast.
Jack Dorsey, the CEO of Twitter and Square
Daily habits
Gets up at 5 a.m.
Eats two hard boiled eggs with soy sauce for breakfast, works out and meditates.
Makes coffee, and heads for the office to focus on work
Goes to bed at 11 p.m.
Used to dedicate 8 hours to each of his two companies everyday (which amounted to 16 hours per workday), but now he mostly focuses on Square
He parses his work according to days, so he has more of a weekly routine, than a daily one:

Mondays - managing his company
Tuesdays - product-related activities
Wednesdays - working on marketing
Thursdays - working with developers and partners
Fridays - recruiting new people and working on company culture
Saturdays - free of work, Dorsey goes on hikes to relax and unwind
Sundays - time spent on strategies for next week and reflecting on the previous week
Key benefit to Jack Dorsey's routine
Even with often interruptions, when you have one area to work on for the entire day, you'll maintain focus, because you'll only have one job to focus on in the first place - that's exactly what Dorsey does.

Elon Musk, the CEO of Tesla and SpaceX

Daily habits

After 6 hours of sleep, Musk wakes up at about 7 a.m.
He doesn't eat breakfast, but he always takes a shower
Avoids phone calls and minimizes time spent on managing his inbox
While working, he parses his time in 5 minute blocks - he aims at finishing each of his tasks in 5 minutes or less
Eats his meals later in the day - he usually blocks 5 minutes for each meal
Goes to the gym at least once per week
Goes to bed at around 1 a.m.

Key benefits to Elon Musk's routine

Taking a shower during the day is great for productivity, according to research
Parsing work into smaller chunks, for easier management and better control
Minimizing phone call and inbox management time

Evan Williams, the founder of Twitter, Blogger, and Medium

Daily habits

He takes into account the notion that our energy levels drop at some point during the day, so we can no longer maintain necessary focus on important matters
First thing in the morning, when his ability to focus is at its peak, Williams engages in work
He goes to the gym in the middle of they day, usually mid-mornings or later in the afternoon
He goes back to work after the gym

Key benefit to Evan Williams' routine

Angela Merkel, Chancellor of Germany

Daily habits

She gets up at 5 a.m., to eat breakfast with her husband half an hour later
She cycles to the office
In the afternoons, she engages in exercises
She sometimes reads books from libraries as leisure time, goes to museums, works in her garden
Her sleep time varies, but she has said that she can get by with only 4 hours a sleep at night

Key benefits to Angela Merkel's routine

She finds time for physical activities and always eats breakfast.

Oprah Winfrey

Daily habits

She wakes up at 6:20 a.m. and drinks tea, or a cappuccino at 6:45 a.m.
At 7 a.m. she works out, and meditates at about 8 a.m.
She eats breakfast at 8:30 a.m. - it's usually boiled eggs and toast
Focuses on her work from 9 a.m. to noon, and again from 2 p.m. to 6 p.m.
She has lunch at 1 p.m. and dinner at 6 p.m.
She does some reading at 8 p.m. and is asleep by 10:15 p.m.

Key benefits to Oprah Winfrey's routine

Exercising, working out, meditation and having breakfast in the morning

Leo Babauta, creator of Zen Habits

Daily habits

Places great emphasis on his morning routine
Wakes up early, at 4:30 a.m. and then drinks water
Decides on the three most important things he has to do for the given day; these are his priorities
He makes lunch for him and his children
Does some reading, eats breakfast
Meditates (on Fridays) engages in various exercise (on other days)
Takes a shower and then wakes up his family at 6:30 a.m.

Key benefit to Leo Babauta's routine

Babauta makes sure he's hydrated, has had his breakfast and exercised, which are all beneficial activities, and he manages to perform them before 6:30 in the morning.
Deciding on his priorities for the day, for better time management

What highly productive people have in common

Highly productive follow routines, make and adhere to strict schedules, get up early, eat breakfast, and exercise.

Adhere to strict schedules, hold on to their habits, and follow routines

Their daily routines don't differ much between days, and they don't let distractions get in the way of their success - they focus on following their routines.

Get up early

All successful entrepreneurs like to get up early in the morning, usually before 7 a.m. - this way, they don't have to head straight to work, but have time to shower, have breakfast, meditate, work out and otherwise prepare for their daily workload.

Exercise

Most of them exercise in the morning, before heading out, but Evan Williams shows that you can plan your workouts according to your productivity peak hours - if you're most productive in the morning, work on mornings, and move workouts for later in the day.

Eat Breakfast

Apart from Musk who skips breakfast in favor of other activities, all the other mentioned successful people have breakfast as a must on their daily schedules. This helps them gain a initial boost of energy to help tackle their daily workload.

Parse their day according to activities

Making and following a schedule means you've already allocated specific time to each activity, and some entrepreneurs take this to the next level - Musk is famed for his 5- minute blocks of time that help him parse his daily activities into manageable chunks.

The daily routines of famous people through history

Although successful people of today follow similar routines (waking up early, eating breakfast and exercising), famous people of the past show us that disregarding this formula doesn't mean you can't be successful and productive with your work. It's important to find a routine that works for you.

These interesting daily routines and habits of famous people through history include unusual sleeping patterns, eating habits, and exercising regimes - and yet, they still managed to become successful writers, poets, physicians, scientists, politicians, painters and composers.

John Milton

Had a sleeping schedule from 9 p.m. to a little before 4 a.m. - after waking up, he'd spend the next hour meditating
His work took place only between 7 a.m. and 12 p.m.
Had one of the more unusual exercising routines - he'd walk up and down his garden from 1 p.m. to 4 p.m.

Voltaire

Slept only from midnight to 4 a.m. everyday.
Had one of the longer creative work hours, ranging from the moment he wakes up, until noon - he'd spend this time dictating his thoughts to a secretary. This is a habit he shared with Winston Churchill, who also did a lot of his work from bed, dictating to his secretary.
He'd then get dressed, and work until 2 p.m.
He'd also work from 4 p.m. to 8 p.m., and from 9:30 p.m. until midnight

Franz Kafka

Preferred working at night - he'd write from 11 p.m. until 5:30 a.m.
Had issues falling asleep - he only managed to sleep between 5:30 a.m. and 8 a.m.
Working at the Workers' Accident Insurance Institute from 8 a.m. until 2 p.m. - of the listed people, he had one of the more prominent day jobs.
After a short lunch, he'd catch up on his sleep from 3:30 p.m. to 7 p.m.

Benjamin Franklin

Always aimed at self-improvement - he once maintained a 13-week challenge to improve his virtues
He'd wake up at 5 a.m. and make the resolution on what he'll do today
He'd work from 8 a.m. until noon, and again from 2 p.m. to 6 p.m.
He'd spend the time from 6 p.m. to 10 p.m. socializing and listening to music
Before going to sleep at 10 p.m., he'd ask himself about what good he managed to do today
He'd also take a cold air bath everyday.

Pablo Picasso

A real night owl - he'd paint until 2:30 a.m.
He'd sleep from 2:30 a.m. until 11 a.m.
From 11a.m. until 3 p.m., he'd have breakfast and spend some time socializing with his friends
He'd then paint from 3 p.m. until 10:30 p.m.

Wolfgang Amadeus Mozart

Slept only from 1 a.m. to some time past 5 a.m., because he was too focused on music for the rest of the day - he'd dedicate 12 and a half hours to music-related activities
He'd compose from 6:30 a.m. to 8:30 a.m., and from 11 p.m. to 1 a.m.
From 4:30 p.m. until 8:30 p.m. he'd compose or hold a concert
From 8:30 a.m. to 1 p.m. he'd give music lessons to his students

Ludwig Van Beethoven

Slept from 9 p.m. to 6 a.m.
Had coffee from 6 a.m. until 6:30 a.m. - always 60 beans of coffee per cup
Composing from 6:30 a.m. until 2:30 p.m. - he'd often take breaks to take a walk, a practice that helped his composing
The time from 4 p.m. until 9 p.m. he'd spend on various meals

Maya Angelou

Slept from 10 p.m. until 5:30 a.m.
Worked on her writing from 7 a.m. until 3 p.m. - she'd always rent out a hotel room for this purpose
From 7:30 p.m. until 8 p.m., she'd read what she had written that day to her husband

Sigmund Freud

From 1 a.m. until 7 a.m. he'd sleep
As soon as he would wake, it'd be time for breakfast and trimming his famous beard, activities he'd focus on until 8 a.m.
He'd treat his patients from 8 a.m. until noon; he'd treat and consult them again, from 3 p.m. until 9 p.m.
From 2 p.m. until 3 p.m., he'd go for a fast walk

Victor Hugo

He'd sleep from 10 p.m. until 6 a.m.
He'd write from 6:30 a.m. until 11 a.m., and he'd also write from 6 p.m. to 8 p.m.
After work, it'd be time for his hour-long ice bath he'd take on the roof
From 1 p.m. until 3 p.m., he'd engage in difficult exercises
He'd then visit the barber (3 p.m. - 4 p.m.), and his mistress (4 p.m. - 6 p.m.)
From 8 p.m until bedtime, he'd have dinner, enjoy some card games, or go out

Despite their widely different routines, the one thing all creative people from the past had in common was that they had routines in the first place. Most of them also did some form of exercise, socialized with friends and family, and worked on their skills and talents everyday.

Their sometimes unusual sleep, eating and exercise habits helped them stay on track with their work, in their own unique ways - they prove that everyone can be successful, no matter the schedule, just as long as they have one that works for them and stick to it.

For more interesting daily routines and habits of people from the past, check out the Daily Rituals: How Artists Work book by Mason Currey.

A day in the life of an American

When it comes to daily habits and routines in the life of an American, this is how the day of a typical American flowed in 2014 according to the American Time Use Survey:

After 5 a.m. - some get up and prepare for work, but the majority is still asleep
7 a.m. - 9 a.m. - wake up time for most; time to to start the morning routines which may includes breakfast, and a commute to work. The average time Americans wake up is 7:08 a.m. and it takes them about 25 minutes to get to work. Before a commute to work, about 47% of Americans eat breakfast.
After 10 a.m. - the busiest time for work and housework - the peak time for productivity happens around 11 a.m.
12 a.m. - 1 p.m. - most have lunch at this time, and most have lunch at their desks.
After 1 p.m. - more work time, before a coffee break that usually happens somewhere between 3 p.m. and 4 p.m.
Around 5 p.m. - most people finish work, and head home. About 21% of Americans go out for a drink with their colleagues after work.Although it is recommended, about 80% of Americans don't engage in recommended physical activity.
After 5 p.m. - time to make dinner, or plan an evening out
6 p.m. - most have dinner at this time
7:30 p.m. - 9 p.m. - time for socialization with family and friends, and time to spend on hobbies or relaxing
After 10 p.m. - people focus on their personal care, and get ready for bed
12 a.m. - most people are already asleep, and according to one research Americans usually go to bed around 11:40 p.m.
After 3 a.m - only 4% will remain up.

For a great animated representation of a typical day in terms of daily routines and habits, based on the American Time Use Survey, check out Nathan Yau's visual timeuse simulation.

Productivity showdown: an average Joe vs a famous person

When compared to successful people of the past and present, you'll see that American daily habits and routines don't stack up well in some areas:

Half of them skip breakfast
Only about 20% engages in regular exercises

However, most do:

Get up early
Go to bed at a reasonable time
Socialize with friends and family
Make some time for their hobbies and relaxation
Hold to a certain routine

Streamlining your daily routines, and nurturing the right habits will help you be more productive, stay on track with your daily workload and still have time for leisure activities - it's only important to take some time to plan this out.