If you've browsed a few job ads recently, you may have noticed a jump in positions that allow working remotely. It is no coincidence – remote work has been on the rise in recent years, thanks to some of its many benefits. In fact, research shows that 99% of all remote workers intend to work this way for the rest of their careers.
However, as popular (or, in recent times, even necessary) as remote work is, it also brings about certain challenges. Working in remote environments can sometimes be difficult because of obstacles in communication, collaboration, storage, and many other processes. Here are 35 suggestions on which tools to use to facilitate remote work and make it easier for your team to work together and stay productive, no matter where they are.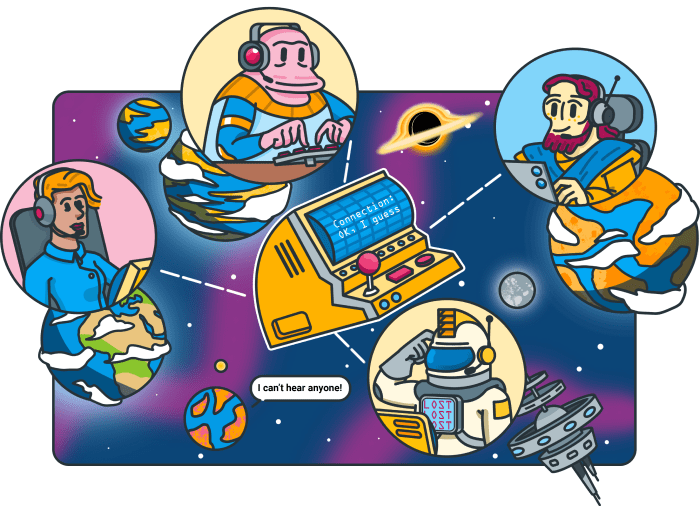 ⏲️ Time tracking tools
The habit of time tracking is not a recent invention – it's been around since the days of punch cards in factories. In remote teams, time tracking can be useful for a variety of reasons other than tracking how productive someone is. It's actually a great way to track how much time a certain task takes away and encourages you to eliminate the tasks that waste your time.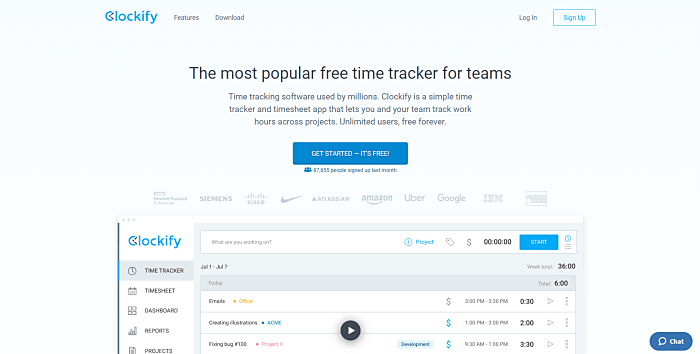 Image: Clockify
Clockify
Clockify is the only time tracking app which is free for unlimited time tracking, users, projects, and reports. You can create timesheets, turn them into visual and weekly reports, invoice clients, set hourly wages, add additional data to time entries via custom fields, monitor your team's activities via screenshots, assign manager roles with different levels of access and control, set targets and reminders to help the team remember to track time, and much more. To get a full overview of your time at work, Clockify can be used on the web, as a desktop Windows/Mac/Linux app, a mobile iOS/Android app, or via browser extensions for Chrome and Firefox. Apart from the free forever plan, there are three additional paid plans that offer additional perks, and start at a flat fee of $9.99 per month for unlimited users.
🔹Highlight feature: A Calendar view that allows you to view all your time entries as time blocks in a Calendar to help you better understand when you have gaps in a day, and what kind of work patterns you pursue on a daily basis.
Hivedesk
Hivedesk is built for remote teams specifically and it lets you track your team's individual time and create automatic timesheets. If you feel like adding an additional level of trust, you can have Hivedesk take screenshots of your employees' screens at random time intervals as well. There is no free plan (but there is a free trial), and the paid plans start at a flat fee of $15 per month for 3 users and 1 admin.
🔹Highlight feature: Manager roles that allow you to give certain users increased levels of access and control, in order to distinguish them from regular users.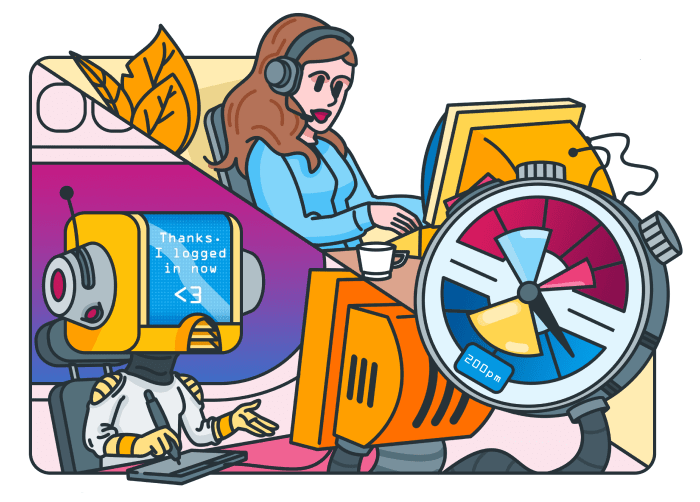 Toggl Track
Toggl Track, formerly known as Toggl, is a remote-first company and their product is catered to remote and traditional workers. You can track time automatically and manually, define billable rates, sync your logged time across devices, and enjoy various reporting and permission options. There are a lot of integrations with other popular apps, and there's a free plan for up to 5 users where you can use the basic time tracking features. The paid plans start at $10 per user per month and offer the same basic time tracking features and other additional options for more users.
🔹Highlight feature: Email reminders meant to help team members who haven't tracked their target number of hours, be reminded to do so manually.
Harvest
Harvest is an elegantly designed time tracking app that makes the process of tracking time while working super easy. You can create timesheets, billable invoices, as well as well-designed visual reports based on your timesheets. There is a free plan for 1 user and 2 active projects, and one paid plan that offers these features for an unlimited number of users, at a price of $12 per user, per month.
🔹Highlight feature: Visual and weekly reports that allow you to view, analyze, and export various levels of your own and your team's time results.
📞 Communication tools
The biggest hurdle in remote work is definitely communication. Since you can't conveniently walk over to the other person in your office, you're forced to resort to other means of staying in touch with your team. Using a phone is fairly inconvenient, while emailing is slow and clunky – so, the best solution comes in the shape of team chat apps. Not only are these chat apps helpful for communication, but they can also facilitate better company culture in remote teams.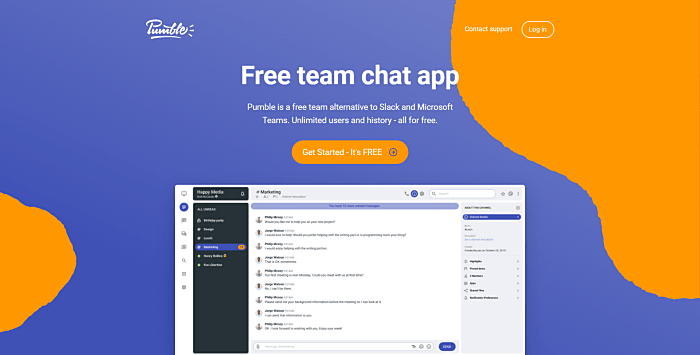 Image: Pumble
Chanty
Chanty is a fast team chat app built to improve your team's communication and increase your productivity. Besides the standard chat, it comes packed with features such as audio and video calls, screen sharing, project management functionalities, and lots of useful integrations.
If you already use Microsoft products, chances are, you also use Microsoft Teams as a way to communicate with your coworkers. It has all the standard chat features, but what really makes it special is the native integration with Microsoft Office. Chanty offers a free forever plan for up to 10 users (+ 1 guest user and + 1 multi conversation guest), while its paid plans start at $3 per user, per month.
🔹Highlight feature: You'll be able to easily share content such as YouTube videos, Coub loops, GIFs, and Social Media posts.
Slack
Slack is by far the most popular team chat app out there with an ever-growing user base. Perhaps one of the reasons for its success is the vast amount of integrations and a range of bots that allow you to customize your workspace to your needs. In any case, Slack offers direct messaging and messaging for multiple people at once, via channels — you'll be able to send attachments, partake in threads, and otherwise streamline your remote communication with individual teammates and groups. Slack offers no free plan, and the paid plans start at $8 per user, per month.
🔹Highlight feature: One feature certain professionals, such as developers and designers will be able to appreciate is the option to create and share code snippets as easily as regular messages.
Pumble
Pumble is a completely free alternative to Chanty and Slack, and it offers the same features, for an unlimited number of users. You'll be able to chat with individual teammates via direct messages, or create private or public channels related to specific topics, projects, or teams, and then message select teammates in groups. You'll also be able to share files, create and follow chat threads in real-time, manage code snippets, as well as directly address specific people in groups, via mentions.
🔹Highlight feature: You'll be able to enjoy unlimited access to your entire chat history, for free.
📺 Video conferencing tools
While chat is good enough for most of your communication needs, sometimes you really need video to get your point across. Video meetings are the next best thing when you can't sit down with your team in the same room, and there are a couple of great apps you can turn to that are meant to facilitate such meetups.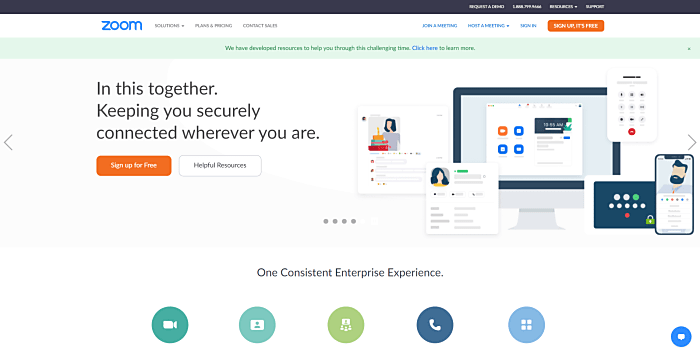 Image: Zoom
Skype
Skype is one of the best-known video communication tools out there and most of us have used it at some point to get in touch with friends or family. It can also be used for work communication — but, this is not where it excels. The good thing, however, is that you can get great use out of Skype through their free plan. So yes, for the most part, Skype is free — but, in order to call a cell phone or landline in the US, you'll need to buy Skype Credit or a Skype subscription that starts at $2.99 per month.
🔹Highlight feature: Skype offers real-time translation for your voice calls, video calls, and chat messages.
Google Meet
Google Meet (previously Google Hangouts, before Google Hangouts switched its video conferencing features to Google Meet) is another tool that many teams use because of pure convenience. If you already have a Gmail account, it's just a click away. It offers chat and video calls (landline calls for those without a Gmail account are still a part of the Google Hangouts bundle of features). The video call feature is superb, while the chat is definitely lacking in comparison to Skype and the next tool on the list. But, anyone with a Google account can create a video meeting through Google Meet, invite up to 100 participants and converse with them for up to 1 hour, for free — for more features and options, you can move to the Google Workspace Essentials plan, for $8 per user, per month.
🔹Highlight feature: At any point during the conversation, you'll be able to share your screen and present data from your entire screen, your Chrome tab, or your Window, to your team.
Zoom
Zoom is the video conferencing powerhouse used by some of the most reputable remote companies out there. There are plenty of reasons – the quality of the image and sound is superb and you can do almost anything on the free plan. In fact, Zoom is so good that even companies such as Slack use their product. Zoom is free for up to 100 participants and 40 minutes per meeting (1:1 meetings are still free with unlimited time), while the paid plans start at $149.90 per year, per licence, for unlimited group meetings of up to 100 participants.
🔹Highlight feature: Zoom's search features make it fast and easy to find whatever you need within your conversations, including contacts, messages, chat channels, and files.
Krisp
Krisp is less of a direct video conferencing app, and more of an aid that ensures better quality of communication between remote teammates. Essentially, it's a noise-canceling app meant to help mute background noises on your Windows or Mac computers. The background noise this app can remove from your remote conversations includes barking dogs, street and traffic noise, crying babies, keyboard clicks, but also the buzzing sound coming from your computer. Krisp offers a free plan that includes 120 minutes for muting microphone noise and 120 minutes for muting speaker noise, and the paid plans start at $8 per month (when billed on a monthly basis) for unlimited muting options.
🔹Highlight feature: You'll be able to mute background noise on over 800 communication apps, including popular solutions such as Zoom, Google Meet, Skype, Discord, and Loom.
☁️ Cloud storage and file-sharing tools
Working remotely requires not only different means of communication but also file management and sharing. Since your team members can be scattered all around the world, it's necessary to have a reliable method of storing and sharing your files so they can be accessed at all times.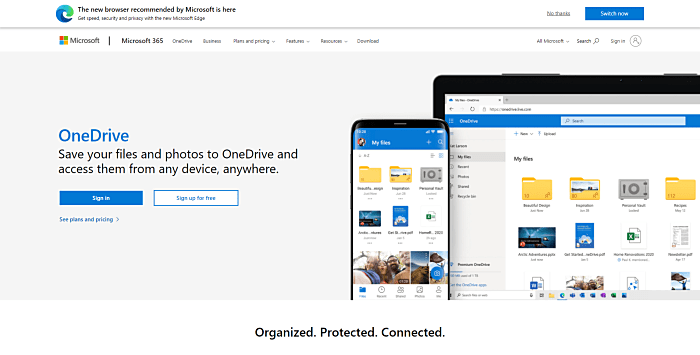 Image: OneDrive
Dropbox
Dropbox has been around since 2007 and it's set the bar very high for cloud storage services. The premium account for one user will set you back around $8 per month for 1TB of data, which is plenty enough for anyone who doesn't have to deal with chunky files. If that's not enough, you can upgrade to the Advanced plan for $20 per month and get unlimited storage – which sounds like a great deal.
🔹Highlight feature: You'll be able to automatically sync your files and folders (such as the ones you keep on your Desktop) to the cloud and easily access them from anywhere. Your dropbox account will also automatically update all the changes that occur within the files and folders you've sent to the cloud.
OneDrive
OneDrive is the least popular storage option when it comes to the number of users, but that may change in the future. The reason is simple – their free plan offers 5GB of storage, while you can get 50GB for as low as $2 per month. If you purchase Office 365 Personal or Home, it will get you 1,000 or 5,000GB of storage along with the Office tools, which makes it a great deal, especially at $7 and $10 per month.
🔹Highlight feature: The option to open a PDF on OneDrive for Android and add highlights and notes to it, in order to emphasize your feedback, or provide comments to important documents you're storing.
Box
Box is an established cloud storage solution and it's perhaps best suited for business users and remote teams. It has three professional plans, each starting with 100GB of storage. You can get unlimited storage for as low as $11.50 per month, with just one caveat – you need to have a minimum of three users.
🔹Highlight feature: No matter whether you are creating a new document or editing existing ones, all the changes you make on the documents you've added to Box will automatically save, even when you're working offline.
🗃️ File collaboration tools
Once you have all the files tucked away safely in the cloud, it's time to get to work. While these don't cover all of the work done in remote teams, all remote teams have to handle documents and require these tools.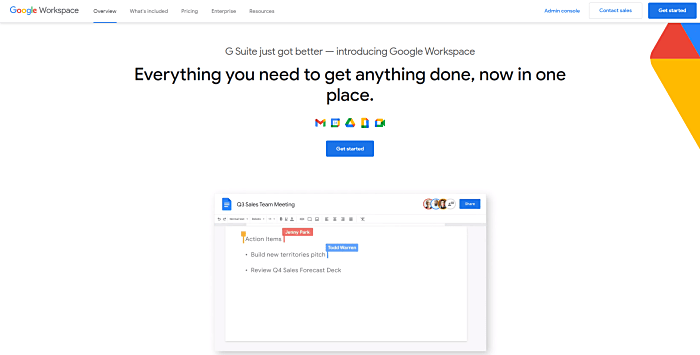 Image: Google Workspace
Google Workspace
Google Workspace, formerly known as Google Suite, is the most widespread set of tools for file collaboration out there. Since it already comes with a Gmail account (which you can get for free), you can give it a spin. The business accounts start at $6 per user, per month, which is a small fee for tools such as Docs, Sheets, Slides and many others rolled into one package (which you'll then be able to use with 300 teammates and store in 30 GB storage spaces per user).
🔹Highlight feature: The previously mentioned Docs, Sheets, and Slides are a great space for content collaboration — for example, once you create a Google Docs and share it with your team, you'll all be able to edit that document together, in real-time, while all your changes get synced automatically, across devices.
Office 365
Office 365, which is a part of Microsoft 365, is the cloud version of the well-known Microsoft Office package that comes with Windows. For those who are used to working on a desktop, this is the easiest transition there is since the learning curve is non-existent. As mentioned before, buying a monthly package (starts at $5 per user per month, which is an annual commitment) also gives you additional space on OneDrive, which makes it a smart investment.
🔹Highlight feature: Version control allows you to see all changes made on a document, who made them, and when — you'll also be able to easily revert to previous versions of documents, if you find this necessary.
Confluence
Confluence is the go-to solution for teams of programmers that write a lot of code. You can use it to document your code, write functional and technical specifications, and create mockups that you can discuss with the rest of your team. The price depends on your team size, but you can get accounts for as low as $5 per month, per user.
🔹Highlight feature: Great collaboration options such as handling real-time editing and in-line and page comments, adding multimedia content (such as GIFs and images), as well as receiving notifications that will alert you and your teammates when you are tagged or assigned with a specific task.
🎛️ Project management tools
Working in the cloud needs to be supported with a strong project management system. At all times, you need to be aware of who does what and what's the status of ongoing projects, regardless of the project management techniques and practices you've decided to implement in your work. Several project management tools emerge as efficient solutions to handling such tasks remotely.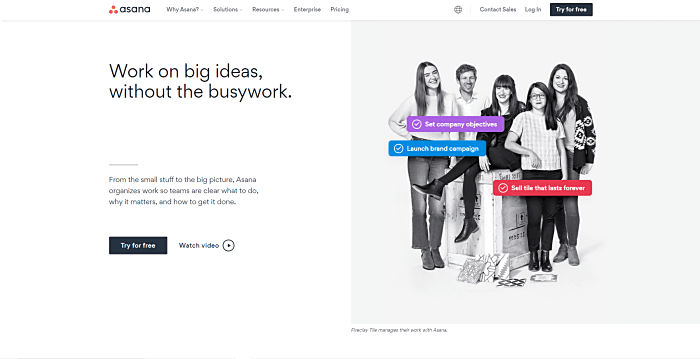 Image: Asana
Workzone
Workzone is for those larger remote teams that need advanced project and document management features and collaboration in the cloud. You can create and manage tasks and to-do lists, tracking your time as you go through them. It comes packed with some advanced features, such as automated task requests and approvals. The pricing starts at $24 per user, per month.
🔹Highlight feature: Gantt charts that will help you better organize work on tasks within your team.
Asana
Asana is built on the Kanban board principle and it's one of the best-looking PM apps there is. Its sleek appearance, combined with great user experience and a multitude of features make it the app of choice for many remote teams around the globe. The app is free for teams of up to 15 people, and the pricing starts at $13.49 per user, per month, in case you also want to track timelines and milestones, as well as add custom fields to your tasks.
🔹Highlight feature: Apart from managing your tasks and tracking the progress you're making with them in Kanban boards, you'll also get a chance to perform these actions in classical list views, and checkmark tasks as you complete them.
Basecamp
Basecamp themselves are one of the best known remote companies out there so it's only fit for them to create a project management tool to make remote work more convenient. While Basecamp can be too simple for more demanding teams that need in-depth management features such as task dependencies and detailed reporting, its simplicity presents a valuable perk for teams looking for an easy-to-use approach to managing their projects. There is only one plan that covers all the features, and you'll be able to enjoy it at a flat fee of $99 per month.
🔹Highlight feature: Schedules that will allow you to keep track of and carry out date-related to-dos and events tied to projects, and ensure people are notified of these items in a timely manner.
Instagantt
Instagantt is an online Gantt chart software meant to help you schedule tasks, follow timelines, track your progress in Kanban boards, and otherwise bring your project management game to another level. You'll be able to plan your projects in a way that is typical for Gantt charts, which includes adding tasks and subtasks, expanding them across timelines, defining milestones, and tracking the progress you're making with your work. The paid plans offer a team subscription at a price of $5 per user, per month, where you'll be able to manage unlimited projects, project groups, and portfolios.
🔹Highlight feature: The Workload Management View is great to help you identify critical periods of time when the members of your team may be overloaded, so you'll know in advance when you need to work on individual teammates' schedules.
🎨 Development and design tools
If you run any kind of remote agency that centers around development and design, getting by with standard tools won't cut it. However, these apps were built with the cloud in mind and they allow you to easily design and develop with a remote or distributed team.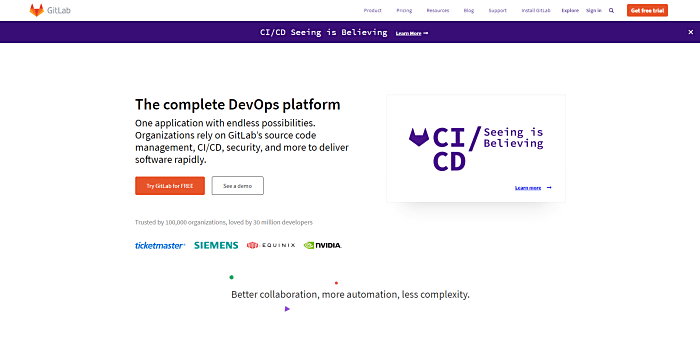 Image: GitLab
GitLab
GitLab is the tool to use from the first to the last step in software development. Collaborate with your remote team in the cloud to plan your projects, manage your code, and monitor your projects. Paid plans start as low as $4 per user per month (with standard support), but you will be able to tackle all the stages of the DevOps lifecycle, for free, within the free plan meant to help you get started within your own production environment.
🔹Highlight feature: Productivity analytics with graphs and reports that will help you understand how productive you are as a team, in order to single out the best workflow patterns and practices you should continue pursuing in the future.
InVision
InVision is a product made by a team of remote workers and it's by far the most popular design collaboration tool out there. For a good reason, too – it lets you manage your entire design workflow, from prototypes to the finished product. This tool is free for individuals and teams of up to 3 people working on up to 3 documents, and the paid plans start at $7.95 per user per month, for up to 15 people and unlimited documents.
🔹Highlight feature: The option to easily share links (instead of sharing PDFs or JPGs) and then get fast feedback, suggestions for improvements, and new ideas for future development.
Bamboo
Bamboo is the second app on this list made by Atlassian, which is no coincidence. It allows teams to collaborate on complete projects, from the initial code all the way to deployment. If you use Jira and Confluence, it will play nicely together and create a well-rounded collaboration toolset. The pricing starts at $10 for up to 10 jobs and an unlimited number of local agents.
🔹Highlight feature: The option to have your builds triggered automatically, based on changes the system detects in your repositories or any other combination of parameters.
Figma
Figma is a collaborative interface design tool meant to help you create designs, mockups, prototypes, and then gather feedback for your ideas in one place. You'll be able to create, reuse, and combine a variety of shapes, as well as define flexible styles and later access libraries of your previous work. The starter plan is free, for up to 2 editors and 3 projects (with options for unlimited viewers and cloud storage), while pricing starts at $12 per editor, per month for unlimited projects.
🔹Highlight feature: The option to include developers into the process and allow them to inspect design files and grabs snippets of code automatically, generated for iOS, Android, and CSS — before exporting the created assets.
🕰️ Best Time Converter Tools
If your team is not only remote but scattered across different team zones, you may need to pay closer attention to when team members are available to collaborate. For example, if you work from Tokyo, and your teammates work from Lisbon, you'll need to be mindful when scheduling meetings, to avoid scheduling daily meetups when it's 12 pm for you, but 3 am for the resort of your team – to help avoid this, you'll need a trusty time convertor tool.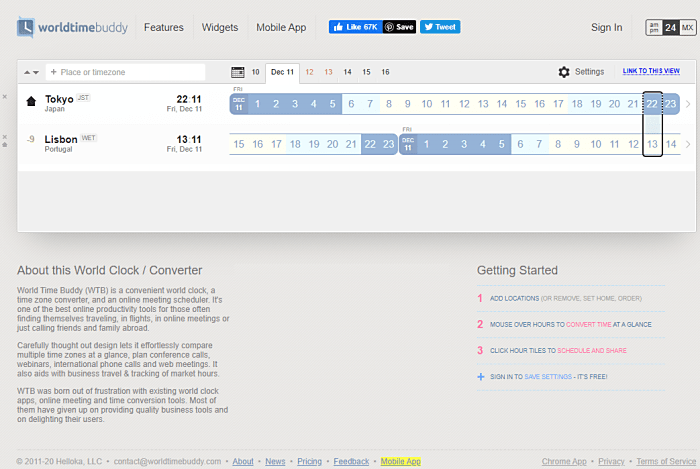 Image: World Time Buddy
World Time Buddy
World Time Buddy is a clock and converter tool that enables you to compare the time zones in which your remote teammates operate, and then schedule meetings or organize real-time collaborative work accordingly. The free version allows you to add and compare time zones in 4 locations, while the paid plans that offer more options start at $2.99 per month.
🔹Highlight feature: Integrations with device calendars (including Google Calendar) that will help your team further improve team scheduling, despite the different time zones.
TimeAndDate
TimeAndDate is another clock and converter tool that helps make calculating time differences for present, past, and future dates much easier. You'll be able to compare times for multiple different locations in a parallel view, in just a couple of clicks, and then download or export the results, for easier scheduling. The main features are free, and for a subscription, you'll also be able to add your company logo to printable PDF calendars (for a price of $49.99 per year).
🔹Highlight feature: You'll be able to see how certain suggested times for meetings, calls, and other organized events work at a glance — the website automatically displays whether these times are "Good", "Not so good", or "Not good", in relation to everyone's time zones, holidays, and office hours.
🖥️ Remote Desktop Software
When working from an office, it's easy to call up tech support to help out the teammates that are less versed in tech set up new programs crucial for work on their desktop or mobile devices. But, this may seem like a bigger hurdle when everyone is working remotely — luckily, you can turn to remote desktop software that allows remote access and help to all your teammates, no matter where they are.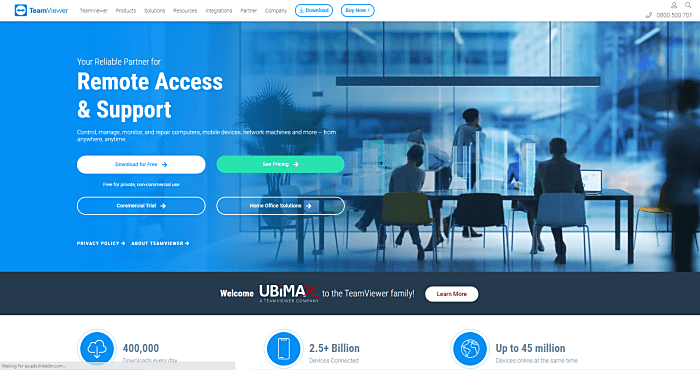 Image: TeamViewer
TeamViewer
TeamViewer is a sleek software solution for remote access that will help your team manage, monitor, and repair devices easily, from afar. In case you choose the Teamviewer Business plan, you'll even eliminate the need for a VPN — this system will handle encrypting and obscuring all data. The pricing starts at $34.12 per month, which is a plan that allows one licensed user to initiate a device connection for one session at a time.
🔹Highlight feature: The option to record screen sharing sessions that will then be saved and synced to the cloud can come in handy for any future references you may need.
Chrome Remote Desktop
Chrome Remote Desktop is a suitable free alternative to TeamViewer that offers its users the chance to remotely control another device through basic remote access and support features. So, if you're looking for the very basic remote access features anyone will be able to use in an instant, Chrome Remote Desktop is the choice for you.
🔹Highlight feature: Its minimalist feel and easy setup and use make it suitable for any member of your remote team, regardless of their technical prowess.
📝Organization apps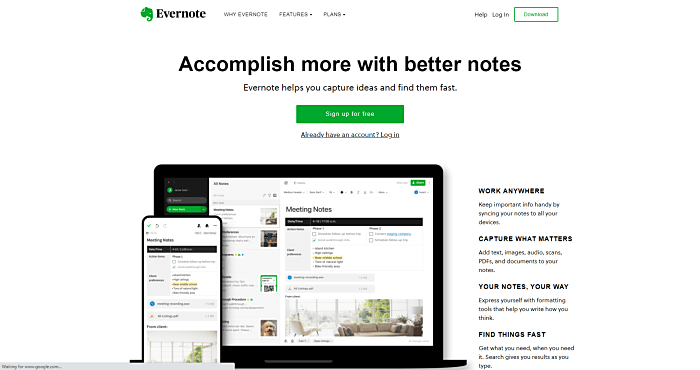 Image: Evernote
Managing priority tasks, taking notes, and otherwise storing and organizing your ideas shouldn't be a problem, even when you're physically away from your team. To help your team organize work in a simple and easy-to-track way, the following to-do list apps and note-taking tools are a great choice.
Todoist
Todoist is a specialized to-do app that helps you and your team better plan and schedule your priorities. Whatever you are working on, you'll be able to divide your workload into tasks, and then delegate them amongst your teammates within shared projects. The notifications features will then allow you to easily track when teammates post comments or complete tasks, so that everyone is kept up to date about the progress. There is a free plan for up to 80 projects and up to 5 people per project, which is enough to provide the basic task management features, even for large companies that operate in several smaller teams. The pricing starts at $4 per month, for a larger number of projects, number of people per projects, and additional task management functionalities.
🔹Highlight feature: The Todoist Karma feature awards points for completed tasks, so you can track your productivity, based on the points you and your team earn on a daily basis.
Evernote
Evernote is a note-taking app that allows you and your team to write down notes, track and manage to-do lists, as well as securely store important documents, such as web pages, images, and PDF files. There is a free plan that offers 60MB of new uploads per month, as well as the basic clipping features — the paid plans start at $8.50 per month, and offer an increase when it comes to the monthly upload limit, but also some additional perks.
🔹Highlight feature: When looking for keywords within images, PDFs, and Office docs you've saved to Evernote, you'll be able to find what you're looking for, as the system allows you to easily search for the right phrases and words inside these types of documents.
🗺️ Whiteboard and mind mapping tools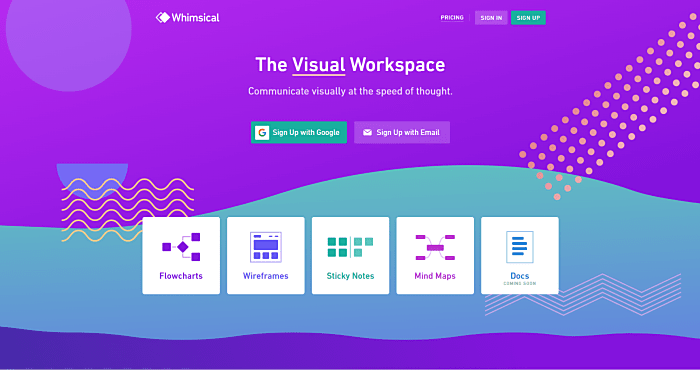 Image: Whimsical
Your daily meetings don't have to be restricted to plain words just because your team is working remotely. Whiteboard and mind mapping tools are a great way to bring your daily brainstorming sessions from real-world conference rooms to virtual (and visual) collaborative spaces.
Whimsical
Whimsical is a visual workspace that allows you and your team to create flowcharts, wireframes, sticky notes, and mind maps in order to better illustrate your ideas in types of workflows that don't allow regular face-to-face standup meetings. You'll just need to agree on your starting point, and then build on top of that original idea together, through real-time collaboration. This app comes with a free plan which allows you to create and manage 4 boards, and the paid plan ($12 per user, per month, when billed monthly) offers the app's functionalities on an unlimited number of boards.
🔹Highlight feature: The sticky notes section of the app allows you to attach rich texts, images, and comments to your notes (i.e. cards), so this app basically allows you to include some popular time management techniques into your workflows, such as Kanban and the Prioritization Matrix.
Miro
Miro is a whiteboard platform that allows team collaboration in a visual environment. You will be able to carry out meetings and workshops, but also brainstorming and design processes, through maps and diagrams you can create and combine in an infinite canvas. If your creativity temporarily dries out, you can always tap into the app's library of pre-built templates & frameworks. You and an unlimited number of your team members can gain access to 3 editable boards, premade templates, and core integrations, while paid plans (starting $10 per user, per month, when billed monthly) offer unlimited boards, but also Kanban Frameworks and high-resolution exports.
🔹Highlight feature: You'll be able to send or receive reviews, feedback, and approvals through Miro's multiple communication options.
⚖️Work-life balance tools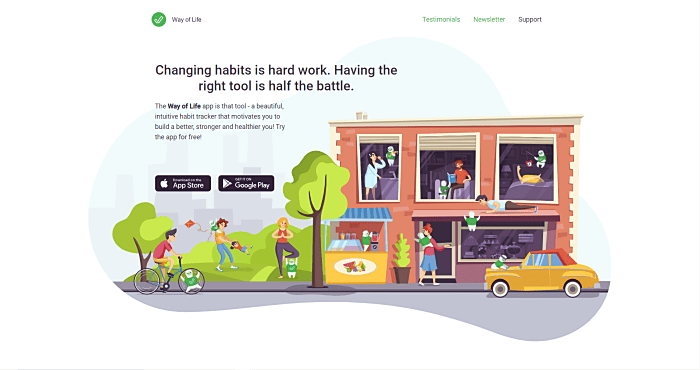 Image: Way of Life
A recent GetApp survey about the practices of working from home shows that 82% of people working remotely feel the pressure to work more hours — this pressure may come from their companies, managers, colleagues, and, in some cases, even themselves. But, being a productive team while working remotely should not be just about work — each individual team member should make the effort to strike a balance between work and life while working remotely, in order to find the motivation to work productively in the first place. In order to achieve that, you can turn to work-life balance tools.
Way of Life
Way of Life is an effective work-life balance app meant to help you pursue your good habits, and drop your bad habits. You'll get a chance to achieve this by planning your daily and weekly goals, and then tracking whether you are meeting them or not:
Are you finding the time to exercise?
Are you sleeping well?
Are you taking regular breaks while working?
Your progress with your habits is displayed visually, in the form of bar charts, trend lines, and scoreboards where you'll be able to spot positive and negative trends in your progress. You can try the app for free and add and track an unlimited number of habits, while a fee of $3.99, unlocks an unlimited number of items.
🔹Highlight feature: A diary function that enables you to write down and analyze what triggered a bad habit (either work or life-related), in order to start working on how best to drop it in the future.
Cozi Family Organizer
Cozi Family Organizer is an app designed to help you spend more quality time with your loved ones. You'll be able to manage your family's schedules in such a way that their appointments and activities never clash with your own — you'll eliminate the possibility of missing your daughter's Christmas recital due to badly planned execution of your work priorities. You can enjoy a free version of the app, with a shared calendar and lists. Alternatively, the paid plan (Cozy Gold) is $29.99 per year, and will let you implement a mobile calendar month view, as well as enjoy practical calendar search options.
🔹Highlight feature: Multiple reminders to help keep you on track with your own, but your family's schedules as well.
Wrapping up
While there are some hurdles with remote work, a lack of tools is definitely not one of them. These tools will help you maintain successful remote team communication, keep your priorities in order and in sync with your team's priorities, and collaborate just as efficiently (if not even better) as if you all were in an office setting.