How to identify wasted time and inefficiency
Inefficiency and wasted time at work lead to a number of chronic problems in your business – but there are ways your team can identify and overcome them.
In this article we will first define inefficiency at work and identify a variety of ways we may waste time while working. Once we diagnose the issues, we will look at their effects on our productivity and provide advice on how to best structure our workday and make the most of our time.
Our journey towards eliminating time-wasting and maximising our work hours starts here.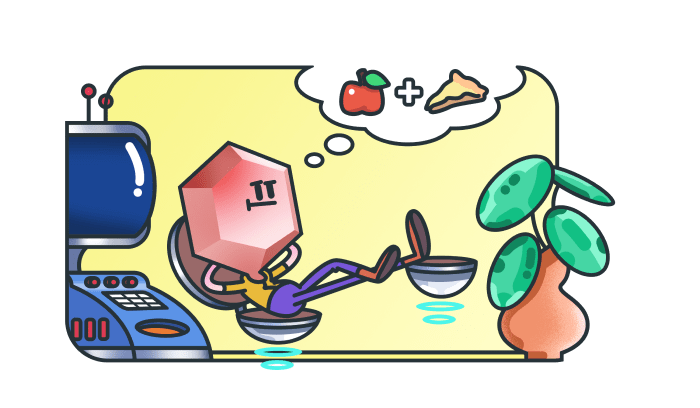 What is inefficiency at work?
Inefficiency happens when:
Your team and manager don't really know who's working on what.
Your team isn't working on the highest priority projects.
Your team doesn't have the resources they need.
Your team doesn't have the information they need.
Your team is not reporting on project progress.
Your team fails to delegate tasks properly.
It becomes unclear whether your team will finish work on time.
As a result of all that, the following problems occur:
You waste money – because you waste a lot of time on the wrong tasks and projects, which results in constant do-overs, revisions, and deadlines being pushed back.
You don't perform high-quality work – because you don't have the information and resources you need.
Team members don't have time for priority tasks – because everyone is doing tasks at random, instead of delegating them to the people with the right skills, resources, and information.
You miss deadlines – because you don't know whether you need to ask the client for a deadline extension or not.
Your morale dwindles – because you often miss deadlines due to a general lack of organization at work.
As the end consequence of inefficiency at work, your team fails to deliver quality end products and satisfy clients, resulting in your company or startup never reaching the success it could.
What is wasted time at work?
If you waste time at work it might mean that you're not doing high-level, priority tasks that you were assigned to do – instead, you may:
Work on less important or urgent tasks,
Attend meetings in which you're not needed, or
Answer every trivial email sent your way,
As a worse alternative, you may not work at all – having personal calls, getting off work due to personal errands, or aimlessly surfing the web are all actions that fall under this category.
While wasting time at work, you may fall victim to either internal or external time wasters – the difference is that we can control (and are often the instigator of) internal time wasters, whereas external time wasters are usually beyond our control:
⏲️ Common internal time-wasters at work include:
checking email
surfing the web and Social Media
chatting with colleagues
⏲️ Common external time-wasters at work include:
attending all meetings
getting assigned with tasks of lesser priority
taking on requests from other people
making useless phone calls
working in a noisy environment
As a result of these time wasters, you'll often find it difficult to regain focus on priority tasks, even if you try – according to Gloria Mark, a digital distraction scholar at the University of California, it takes as much as 23 minutes to fully re-focus on a task after a distraction.
What's worse, according to official time management statistics, the time needed to regain focus totals at 2 hours per day – which is a hefty price to pay, even for seemingly harmless, short distractions.
How much time do we waste? And why do we waste time?
According to various confessions on the Reddit forum, people roughly waste from 1.5 to 4 hours every day – meaning that the 40-hour workweek may sometimes boil down to only 20 hours of productive and efficient work time.
Salary.com was looking for more detail on the actual time wasted at work, and made a poll covering 750 employees, which gave the following results:
The poll shows that an equal amount of people (31%) admitted wasting from 30 minutes to 1 hour per day – and that only 2% admitted to wasting more than half of their workday.
The poll also inquired in why people waste time: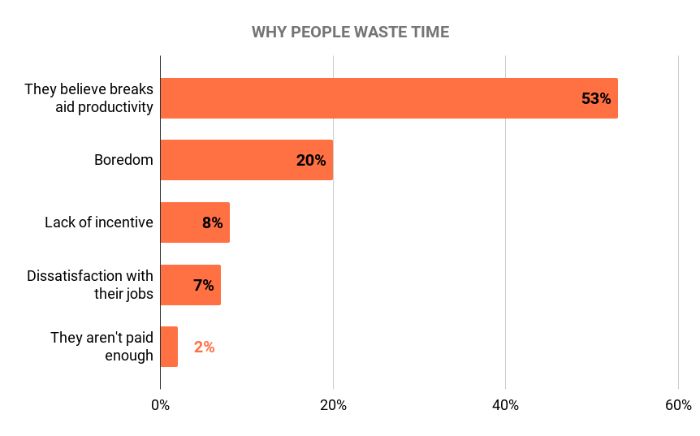 The notion that all breaks aid productivity leads more than half of the polled people (53%) to waste time – and general boredom comes at a distant second with a share of 20%.
Additionally, the poll shows that time wasting doesn't have to be a result of any negative attitudes towards the employer expressed through inaction. In fact, it is more commonly rooted in the individual experiencing states such as boredom, procrastination or languishing.
Of course, when talking about wasted time at work and looking for its roots and causes, we should not forget about the most common distractions, i.e. internal and external time-wasters at work mentioned earlier – here's how many people they influence, according to Statista research: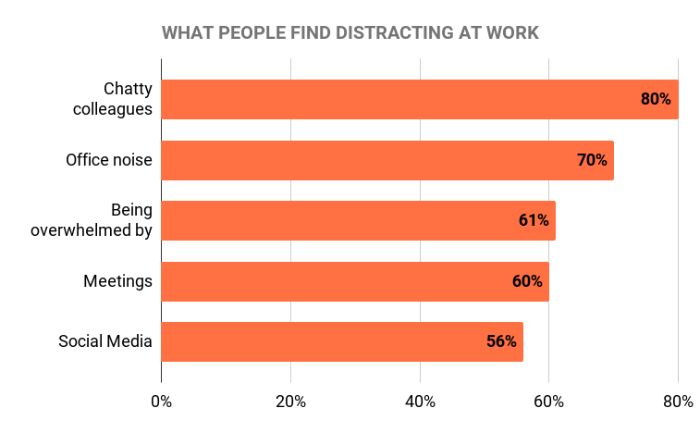 This research shows that as much as 80% of people find chatty colleagues the most distracting element of a workplace – with office noise being a close second with 70%.
Overwhelming changes at work distract a share of 61% and meetings distract a share of 60% – making the often emphasized notion that frequent meetings damage our productivity and focus on priorities a valid one.
Even the least prominent distractor still stands at a hefty 56% – more than half of the researched employees find Social Media a huge potential for wasting time.
So, if we are not careful, we may fall into a bottomless pit of distractions, where one distraction leads to other distractions – resulting in much more time wasted than properly used.
How do inefficiency and wasted time correlate?
That's a simple enough question.
Inefficiency leads to wasted time, and wasted time leads to inefficiency – as long as one exists, the other will likely soon follow.
This has a lot to do with the demoralizing effect of inefficiency:
When you have limited information and resources to perform the job, as well as feel unsure of what you have to accomplish in the first place, it's easy to procrastinate and succumb to time wasters.
Once wasted time has already taken its toll on your work, you'll likely try to work harder to compensate for the time you've lost – if you make this a habit, you'll also be at risk of burnout.
💡 Clockify pro tip
Procrastination affects one out of every five working professionals. Learn more about the causes of procrastination and different ways to counter it with our guide:
In summary, inefficiency and wasted time may seem harmless at first but are actually a gateway to a number of huge problems in the long run.
How to identify inefficiency and wasted time?
Bear in mind that general time management statistics are one thing and that the reality in your company, startup, or team are another – here's how you can identify your own inefficiency-inducing time-wasters, and deal with them by:
Tracking what you do at work
Analyzing and reassessing what you can do better
Using your time tracking data to make future improvements
Our user Jason had this to say about Clockify in his review on Capterra:
Our experience has been overall very positive. Clockify has helped us to identify wasted time and inefficiency which has actually helped our technology department reorganize some processing, save money and time, and ultimately get significantly ahead of our product launch schedule.
1. Track what you do at work
You can best do that by tracking the time you spend on all your activities at work via a timer – including time spent on priorities, minor tasks, meetings, phone calls, inbox management, and the like. To properly assess how you spend your time at work, you should also track the time used for breaks.
Tracking time requires just a few simple steps:
Simply, start the timer once you enter an activity
Add a short description and other data (project, task, tag) that further clarify the activity
Stop the timer once you move to something else.
Then, repeat.
By doing so, you'll eventually build a list of time entries you can later analyze.
Let's look at an example of a day where all the activities at work were tracked, with special emphasis on the time wasted (marked here with red):
TIME TRACKING RESULTS FOR A DAY – CURRENT SITUATION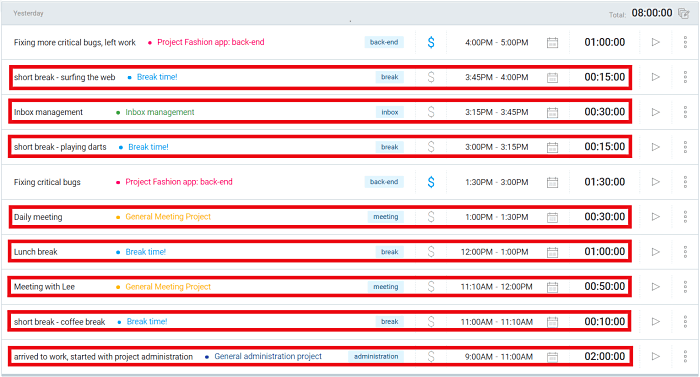 The results: Yes, tracking time on everything you do at work can be eye-opening.
As evident by the abundance of the color red, this day was not spent all that productively.
In fact, a lot of time was spent on meetings and breaks, while only one priority task was tackled – and not for long.
Total time wasted: 5.5 hours
Biggest time waster: Meetings, with 1 hour and 25 minutes
Total time spent on priority tasks: 2.5 hours
Now, let's look at what exactly went wrong during this day, and how you can make improvements:
2. Analyze and reassess what you can do better
In regards to the example tracked day, it has to be emphasized that breaks themselves aren't the problem – after all, they help you rest and recharge your batteries, so you shouldn't eliminate them.
The same goes for your lunch break – you can't properly focus when you're hungry, so you better refrain from trying.
However, you should aim to maximize the effect of your breaks, by organizing and scheduling them better:
The problem with this day was that breaks were seemingly taken at random and took too long – having short breaks that span 10-15 minutes and taking 1 hour for lunch will always take away from your productivity because you won't have enough time to fully immerse yourself into your work.

In addition, taking a break after a low-level task such as inbox management or a meeting is also counterproductive, and sometimes even unnecessary.
Another problem is the order of tackled tasks:
If you're generally the most focused and productive in the morning, then it's a shame to waste this special time on a low-level task such as administrative work.
Moreover, leaving a high-level task such as fixing critical bugs on your app for closing hours is another poor judgment in time management – you'll likely be too tired to fully concentrate and deliver with quality.

As an alternative to this day, here's an example of how you could better organize and schedule your time at work:
TIME TRACKING RESULTS FOR A DAY – FIXED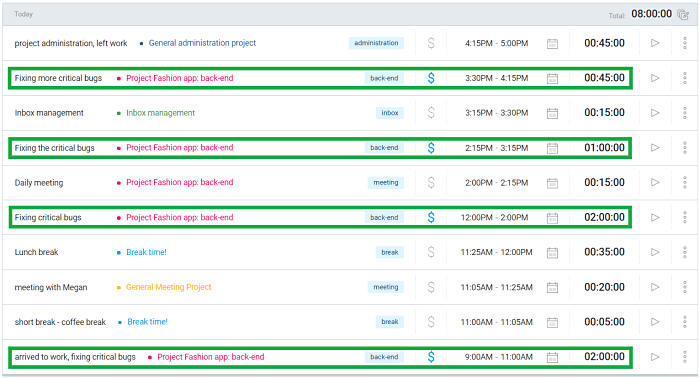 The results: This looks like a much more promising day.
The breaks were shortened and better implemented, and much more time was spent on the priority task in total. The time spent on meetings was also shortened, as well as the time spent on inbox management.
Moreover, the priority task was worked on first thing in the morning, when we are likely to be the most alert, while the administrative task was left for the less productive time of the day.
Total time wasted: 2 hours, but you should view at least some of your wasted time as a necessity – you'll still need efficient short breaks and a lunch break sometime during the day
Biggest time waster: Still meetings, but less so, with 35 minutes in total
Total time spent on priority tasks: 5 hours and 45 minutes, with even more potential for improvements
By tracking time for all your activities, you'll gain a clear and precise overview of your time at work. You'll also get a clear, mathematical rendition of what you can do better in the future – you'll see where you can cut time, and where you can allocate more time, as well as where you should reshuffle the order of the tasks tackled.
After tracking time every day for a while, you'll be able to identify your own, but also your team's biggest personal time-wasters with precision, and work on making long-term improvements to your work routine.
💡 Clockify pro tip
Organizing your workday and breaking it down into efficient blocks of activity is a delicate art. Learn how to create and fine-tune an effective work schedule with our guide:
3. Use available data to make long term improvements
Once you have all your available time tracking data sorted out and analyzed, you'll get the exact time you could be allocating to more important activities and working towards better work efficiency.
Let's look at the two example days compared, once again: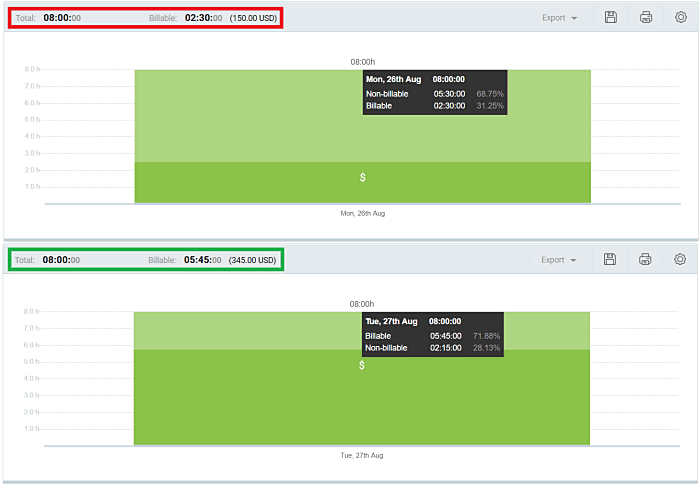 Despite the fact that you've spent the same amount of time at work (8 hours), the productivity levels varied widely when we compared the two days:
| DAY 1 | DAY 2 |
| --- | --- |
| 2 h 30 mins total billable time | 5 h 45 mins total billable time |
| $125 total earnings ($60/h) | $345 total earnings ($60/h) |
By wasting as much as 5.5 hours on the first day, you've earned $220 less than on the second day – and that's just one member of your team, meaning that the actual amount of wasted money may build up to thousands of dollars per day, even for smaller teams.
For example, a 5-person team may lose as much as $5,000 per week by mismanaging time and generally being unaware of how time at work is spent.
But, by tracking time with Clockify, you'll be able to maximize your earning potential – once you identify where you waste time, you'll be able to calculate how much time you can start allocating to more profitable activities in the future.
You'll also be able to see how to organize your schedule in order to make the most of your time at work, as well as make your team more efficient and your workflow smoother.
💡 Clockify pro tip:
Clockify enables you a real-time insight into your earnings and the financial effects of your work hours by applying hourly rates to your time entries. Learn how to set and track your hourly, daily, and overall earnings with our guide:
Tracking your time is the fastest way to identify room for improvement. Learn why a prominent time management educator swears by time tracking:
SPECIFIC EXAMPLES OF IMPROVEMENT
If your problem stems from your team and manager not really knowing who's working on what… The Team Dashboard menu compiles the data on who is currently working on what task, and for how long.

If you're worried that your team isn't working on high-priority projects… The favorite project system lets you mark important projects with stars in order to highlight them as priorities and make them easier to find and pick when working.

If your team is not reporting on project progress on a regular basis… You can easily check the amount of work performed in the previous week, day, or hour, by glancing at the Reports section of the app.

If your team fails to delegate tasks properly… Delegation can become easy, once you start adding tasks to a project and then assigning them to members of your team.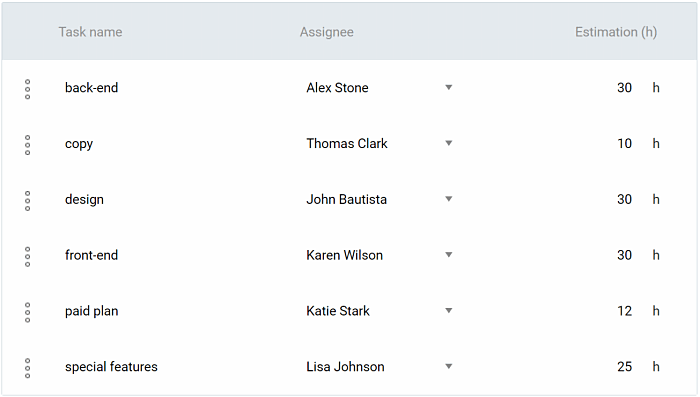 If you're unsure whether your team will finish work on time… To clarify whether you'll need to ask for a deadline extension, you can view the project status to see how your team is doing, compared to the time you estimated for project completion.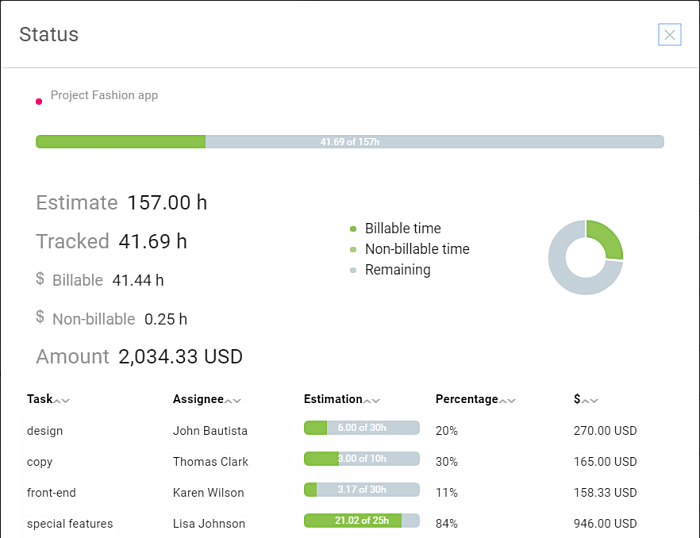 In conclusion
Recognizing how we waste time helps us minimize inefficiency and enjoy all the benefits of an improved workflow and increased morale – we'll objectively be more productive, and feel more motivated, self-confident, happier, as well as more capable of delivering work of higher quality.
In the end, streamlining our break time, minimizing meetings and inbox management, as well as reshuffling our schedule to increase the time we spend on priorities doesn't just help us do less and earn more in less time – it also helps us be more satisfied at work.
✉️ Time wasting and inefficiency are work pitfalls which most of us fall into at some point. If you have your own unique ways of overcoming these pitfalls, we'd love to hear about it. Share your experiences at blogfeedback@clockify.me — they might just find their way into a future blog post!