What is forecasting in project management?
If you have ever been in charge of a project, you probably already know how stressful managing a project from start to finish can be. Apart from ensuring that each project stage has enough funding and resources, you also need to avoid budget overruns and delays — and this can keep you at the edge of uncertainty until the project completion.
However, it doesn't have to be this way.
If you want to avoid going out of your way to see a project come through, all you need to do is make a project management forecast.
But, what is a project management forecast, and how exactly does it work? Read on because we're about to uncover everything you need to know about forecasting in project management — from its basic elements to carefully chosen tips to help you successfully implement project forecasting, regardless of your project's length.
In this blog post, you will:
Learn more about the basics of project forecasting,
Find out about the elements of forecasting in project management, and
Discover 7 tips to help you carry out your project forecasting successfully.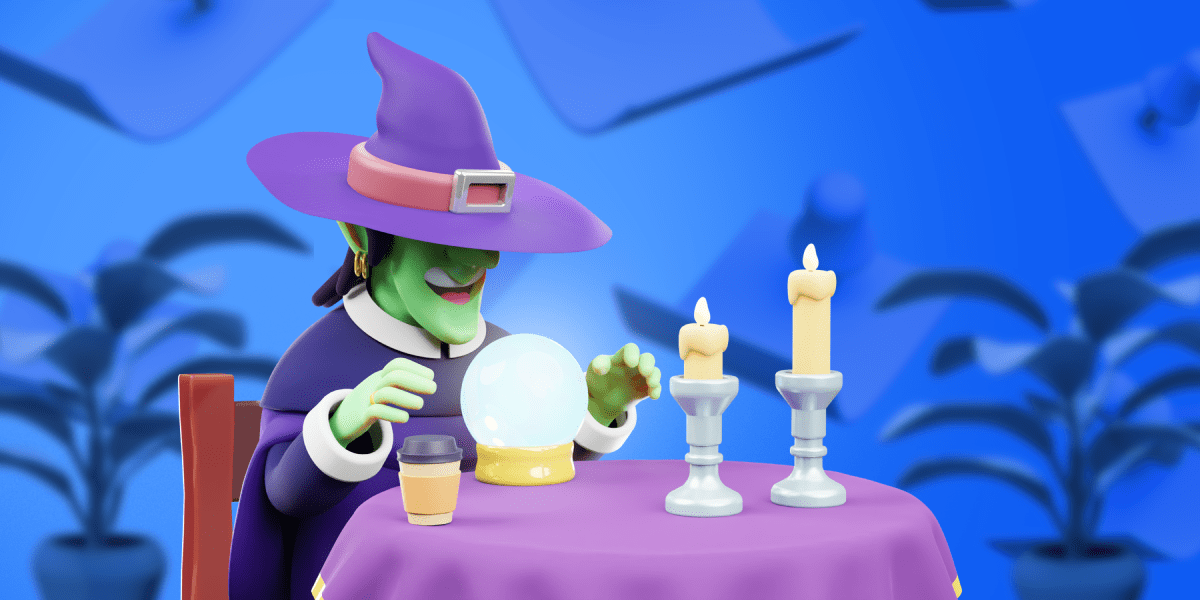 What is project forecasting?
Forecasting in project management is the process of making predictions about the possible future results of an ongoing project. These estimations, however, are not based on a coin flip, but they should be grounded in careful observation and analysis of current data from a project in progress.
In fact, project forecasting should begin when 20% of the project is already completed, so that you'll have enough information to make predictions based on collected data. Also, as the project progresses, you'll sometimes need to update your forecast, especially if you frequently need to respond to unexpected events.
Simply put, if you want to forecast your project outcomes, you'll need to use all the information and knowledge you have after you've completed about one third of your project, and make predictions about your project's end point.
What are the most important elements of project forecasting?
Before you start making a project forecast, you'll need to take three crucial elements into consideration if you want to ensure your project runs as smoothly as possible. Think about your project's:
Duration,
Cost, and
Quality.
Element #1: Project duration
Before you even consider carrying out a project, start by asking yourself a question:
How long will the project take?
If you want to make an accurate project forecast, you must first determine how much time you will need for the entire project. Then, try dividing your project into smaller tasks, phases, or steps, so that you can estimate how long each of your tasks will take.
Project managers frequently use project scheduling software to help them automate the project planning process and improve forecasting accuracy. This type of tool can further assist you in tracking the time of each task and helping you collect important data — all of which is stored in one place and can help you make future forecasts.
Element #2: Project cost
After you've determined the approximate duration of your project, continue by making an estimation about your project's costs.
Even though creating the most accurate expense prediction is not always the simplest task, keeping track of your expenses can significantly simplify this process and help you obtain the most accurate numbers to include in your calculations.
Since you'll probably want your estimated budget to be as close as possible to the final cost of your project, make sure to include both your employees' wages as well as the tools they use throughout the duration of the project.
Element #3: Project Quality
At the moment you decide to put a project in motion, you probably want to end up with the top quality results. However, high quality performance goes hand in hand with a larger budget.
So, if your budget is limited, you might want to assess your priorities and decide whether you're ready to sacrifice quality to be able to wrap up your project without your costs going through the roof.
Since you might not be able to pay the most qualified employees or purchase the highest quality materials on a tight budget, think about how the limited resources would impact your final outcome and include your findings in your project forecast.
Also, keep in mind that if you decide to go for a higher quality project, this choice might also impact your project's duration, since you'll need more time to find and select the most qualified people for the job or obtain first-rate materials.
💡 Clockify Pro Tip
Tracking expenses is an important task when it comes to managing a project. Read our blog post to find out more about this topic:
A forecasting example in project management
Assume you run a marketing company, and a client requests that you create a social media strategy for them. After all of the information is collected and 20% of your project is finished, you can start making project forecasts.
For accurate project forecasting, you'll need to consider:
The time each step, task, and the entire project will take (including extra time if needed or whether the client asks for an urgent delivery),
The work that will be done during the project (including developing a strategy, deciding on the design, writing content, scheduling posts on profiles, and so on), and
The employees who will be involved in this project from start to finish and their salaries (this includes checking whether you'll need to hire additional employees, or if your current employees are skilled enough, whether you have a backup plan in case of an emergency, and so on).
Why is forecasting in project management important?
Forecasting in project management helps you with:
Estimating possible results,
Reducing risks of executing a project, and
Increasing the chances of project success.
However, it is not always easy to predict the final outcome of a project, especially in the beginning when you do not have all the information. Therefore, it's critical to identify all possible outcomes and determine which results you want to achieve. Forecasting in project management can assist you in anticipating all possible outcomes and determining which one is most advantageous to your company.
Moreover, project forecasting can help you prepare for all the changes that may occur during the project execution as well as calculate and reduce risks. By lowering the risks, you gain more control over your project and increase your chances of success.
Since managing projects revolves around using your skills and knowledge to make wise decisions to ensure project success, project forecasting comes as a handy tool to help you make informed decisions based on the most accurate possible predictions. Therefore, by making accurate forecasts, you increase the chances of your project's success.
Also, project approvals frequently rely on forecasted results — if the outcome is unfavorable, the project might even be rejected.
7 Tips for successful forecasting in project management
Forecasting in project management is a complex process since it requires you to consider multiple factors, such as:
Time,
Cost,
Quality,
Resources,
Staff, and so on.
However, to help you avoid feeling overwhelmed with too many tasks on your plate, we've put together a few pointers to help you ensure your project management forecasting runs like clockwork.
Tip #1: Create multiple forecasts
No matter how accurate a forecast is, there will always be the risk of unpredictable events altering your project's end result. Therefore, instead of relying on one project forecast and hoping for the best, it's much better to try and make a couple of detailed predictions. You will be much closer to predicting the actual outcome if you include various opinions and possibilities and create multiple forecasts. As the saying goes, "Don't put all your eggs in one basket."
Tip #2: Be organized
Great organizational skills are one of the most important qualities a project manager should possess. Keeping track of all the steps and being familiar with the roles of each team member is crucial for effective project management, and that's where tracking project progress every step of the way can come in handy. By relying on a tool that can help you see how much time your team spends on each task, you'll be able to obtain timesheets that can be used for making forecasts during the project execution.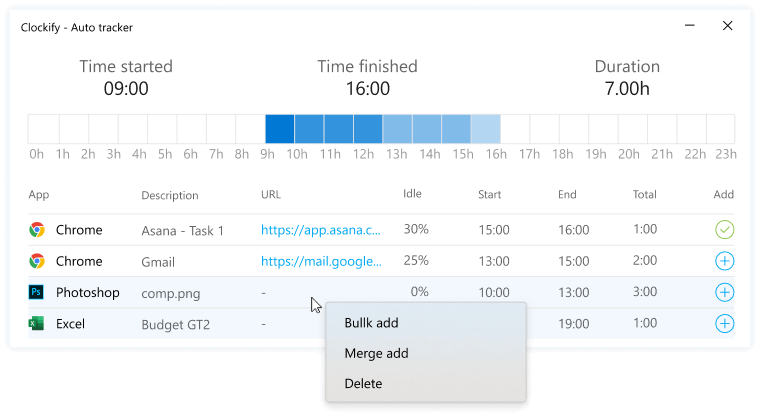 Tip #3: Use forecasting tools
You can learn a lot by observing project data and drawing conclusions from it. However, to produce the best possible forecasts, try implementing project management software such as Plaky into your business, which will bring a lot of benefits to your project.
With Plaky you can:
Have the most accurate statistical data about time spent on each task,
Get all the important information you need for precise project forecasting at your fingertips,
Have a clear overview of all the project activities such as project progress and deadlines,
Assign tasks to employees so everyone knows what to do,
Organize projects into stages or tasks,
Leave comments and feedback,
Get notified when someone gives you a task, when there is an update, or someone mentions you,
Have a visual representation of your project's timeline, and
Be able to quickly and automatically make changes to your projects, so you don't have to lose time doing that manually, etc.
As soon as you start using Plaky you will notice how easier and faster you can organize your team members and tasks. You will have a clear overview of the whole project and all of its tasks so you can make better predictions about the project outcome.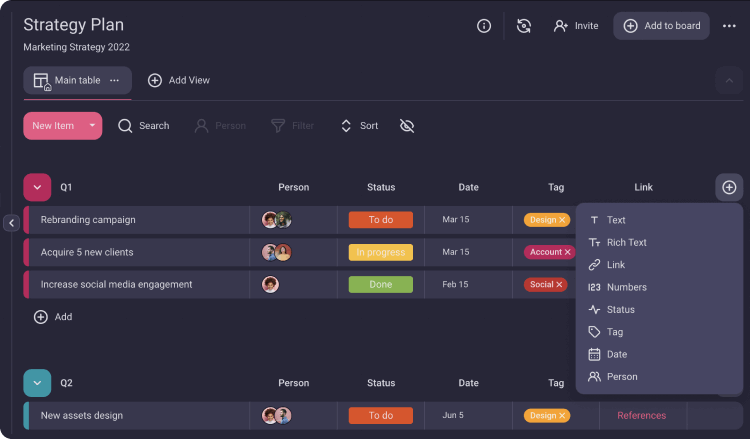 Tip #4: Schedule extra time for tasks (just in case)
Unpredictable events and project delays may occur despite your best efforts and the most up-to-date forecasting and management tools. You never know when an employee might call in sick or whether they'll take longer than expected to complete a task. That's why it's always a safe option to schedule additional time for each task.
Also, try monitoring your project progress every step of the way. If you notice that some activities or tasks take longer than expected during the execution of a project, you can edit them and add the necessary time.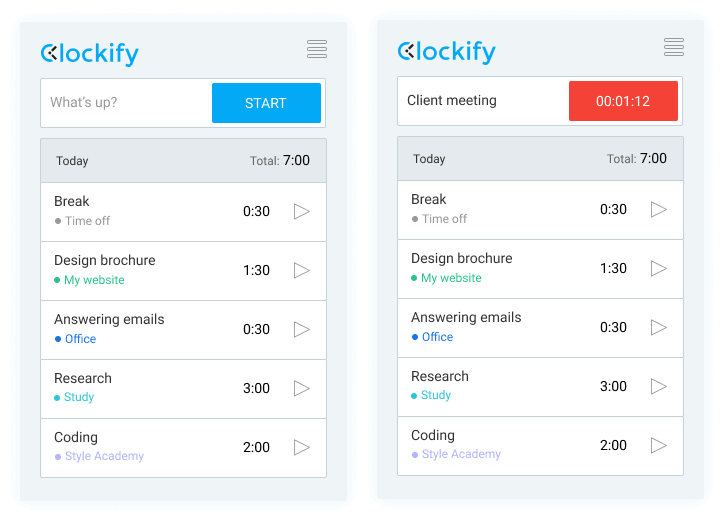 To make better project forecasts during the execution of your current project you can go with a task tracking app that helps you keep a log of time overruns so that you'll know exactly which task requires more time. As a result, you can use this as a reference in the future to better structure your upcoming projects, and ensure that you have fewer overruns and delays.
Tip #5: Clearly present your project forecasts
Sometimes, not even all your data, qualified employees, or flawless forecasts might be enough for the project to be successful. Once your forecast has been developed and documented, you should clearly present it to your team members so that everyone is aware of their responsibilities.
To make sure that all project phases and tasks are presented in a clear way, you can use employee scheduling software that lets your team get a clear overview of all of their tasks and activities and know exactly what they are supposed to do to achieve a desired project outcome.
Tip #6: Track your project's performance
Keep in mind that project forecasting is merely a prediction that can change due to external or internal factors, so you'll need to keep track of your project at all stages of its execution.
For example, when tracking your performance, you might notice that you are tight with budget. Knowing about a budget deficit can help you make necessary changes and resolve the problem on time. For example, you can redirect fundings from other branches, or inform your client about changes in the price. Consequently, your predictions will change and you will have a more accurate forecast.
Also, tracking project performance ensures that you will notice unexpected changes, potentially figure out how to solve them, and properly communicate them to your clients on time.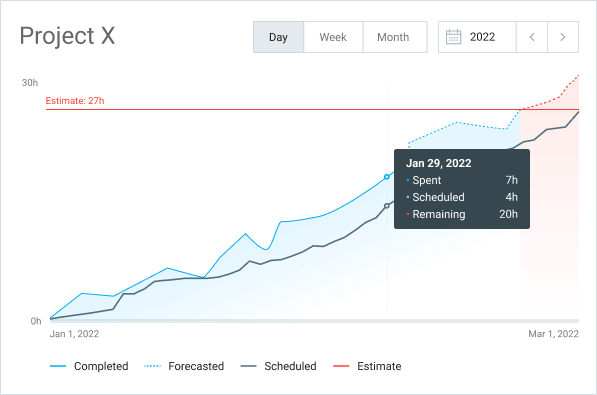 💡 Clockify Pro Tip
To ensure project's success, besides tracking performance during the execution of the project, you will also have to track resource allocation. You can read all about it in our blog post:
Tip #7: Review each project and check whether the forecasts were correct
After completing a project, you should review the results to see how well they match your forecasts, since a project's success can be measured by how closely it matches the original estimates.
For example, if any changes were made in terms of time or cost, you can incorporate them into future forecasts for similar projects. Understanding what was missing in previous forecasts can help you improve future project forecasting.
Conclusion: Increase your chances for project success with project forecasting
As you have probably already figured out, effective project forecasting is what differentiates a well-executed project from a project gone wrong.
In this article, we have explained what forecasting in project management requires. We've also included some forecasting tips that you'll find useful if you decide to start making project forecasts.
Still, keep in mind that project forecasting is a complex process and takes a lot of preparation and thinking through.
You should try to schedule extra time for tasks, track your project's performance, and use a forecasting tool for more accurate data. 
A good project outcome cannot be guaranteed by a project forecast because it is dependent on many factors, but it will get you one step closer to success.
✉️ Forecasting in project management is a useful process that allows you to stay in control of your project. Do you have any valuable tips on how to improve project forecasting? Write to us at blogfeedback@clockify.me for a chance to be featured in one of our future articles. Also, if you liked this article, share it with someone else you know who will find it interesting.