How Clockify gives Flobotics a competitive edge in the RPA industry
Picture this: you sip your morning coffee as cool as a cucumber while all your mundane tasks get ticked off your to-do list.
Something doesn't sit well, right?
If that's the case, perhaps it's because you haven't heard of Flobotics yet — the team in charge of helping people speed up or entirely eliminate their repetitive tasks.
But how do they do that exactly, and why has Clockify become an indispensable asset to Flobotics' day-to-day operations?
Stay tuned and read on because we sat down with Krzysztof Szwed, Tech Lead at Flobotics, to discuss all things automation, and find out more about how Clockify fits in on their road to making repetitive tasks a thing of the past.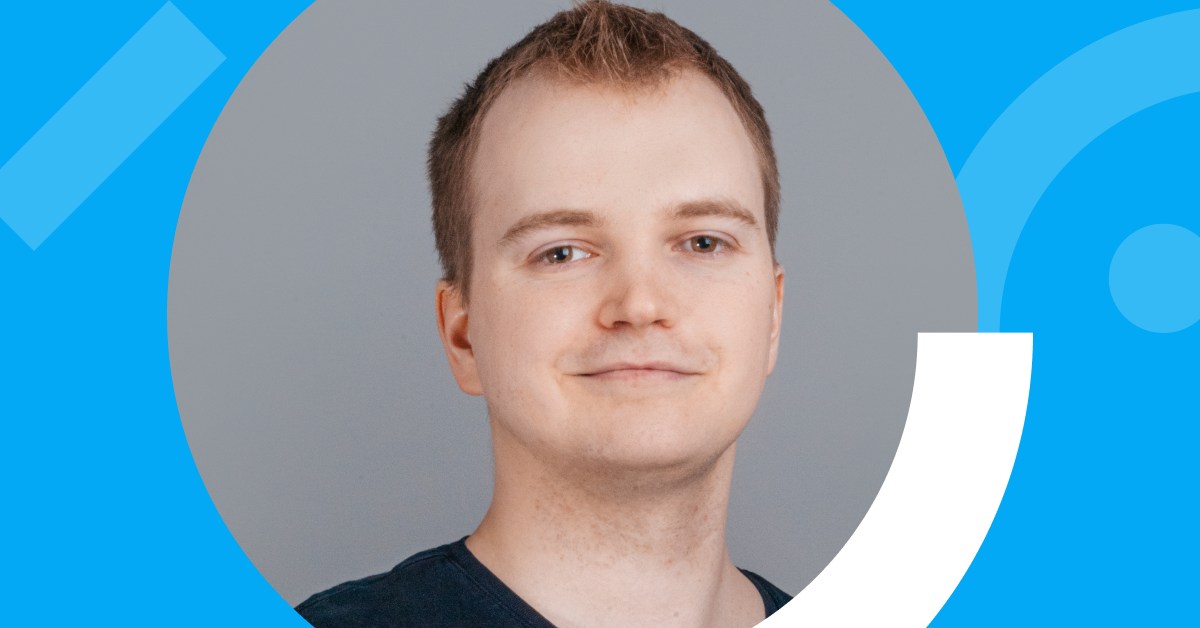 Flobotics: Behind-the scenes
As soon as we heard the words automation and repetitive used in the same sentence — we were all ears.
Naturally, we wanted to take a peek behind the Flobotics' scenes, and see first-hand how they automate the processes of customers from diverse industries.
Providing services to medical, finance, logistics, real estate, IT consulting, and manufacturing businesses, Flobotics manages to add value to and make people's workflow much easier across industries day after day.
Let's see how exactly they do it.
Flobotics' core mission
Flobotics boast the ability to help teams reach their highest potential by lifting the weight of time-eating tasks off their shoulders.
Here's how Krzysztof Szwed sums up Flobotics' essence: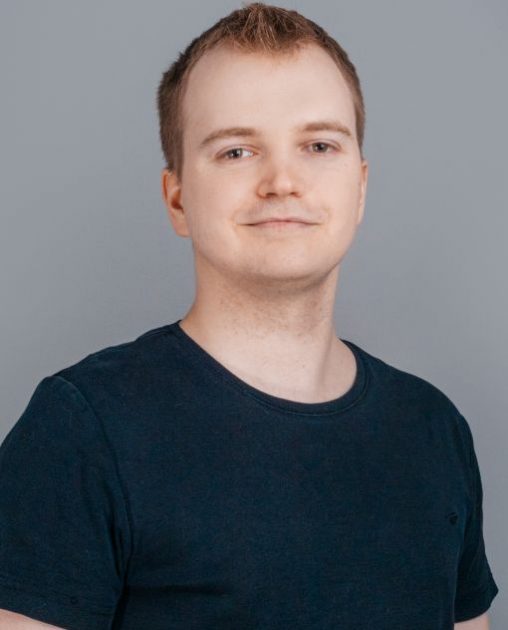 "Flobotics is a young and hungry RPA (Robotic Process Automation) agency with a core mission of automating and speeding up mundane processes, reducing operational costs, and unleashing the productivity of our customers' employees."
But what does the process of enhancing the workflow of teams across industries actually look like? Krzysztof says the magic is in the careful analysis and a bit of alignment: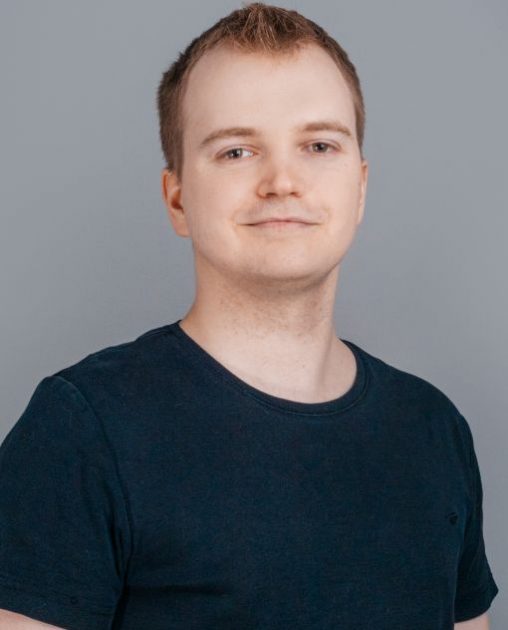 "The entire process usually starts with a short process consultation. We determine which of the customer's workflows have the highest automation potential and show the company our numbers — the cost of our services and the estimation of potential savings they could gain thanks to them."
Almost immediately after the intricate analysis, the automation process begins: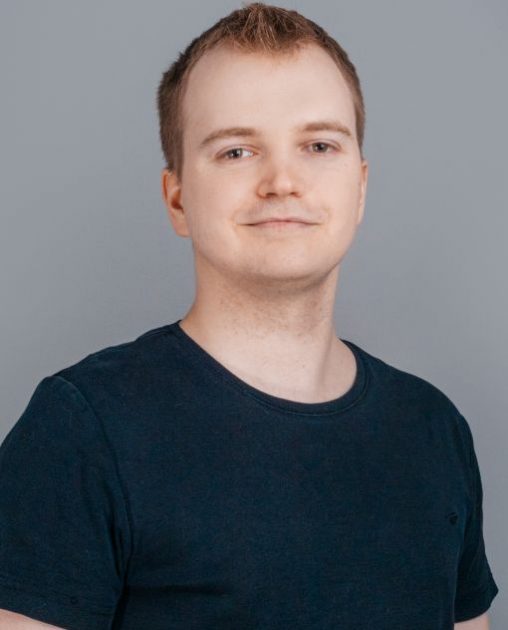 "If the profit and loss balance is positive — we usually get the customer's permission to start the automation process. Our developers work closely with users to understand the process first-hand, and then magic (RPA) happens."
Ultimately, Flobotics' formula is what helps their clients get things done by giving them enough room to focus on what truly matters in their line of business.
The flow behind providing Robotic Process Automation (RPA) services
Being no strangers to automation, Flobotics gave special attention to speeding up their own day-to-day workflow first.
In fact, as a remote-first company currently employing more than 30 people from different corners of the world, they are particularly aware of the importance of not losing speed over distance: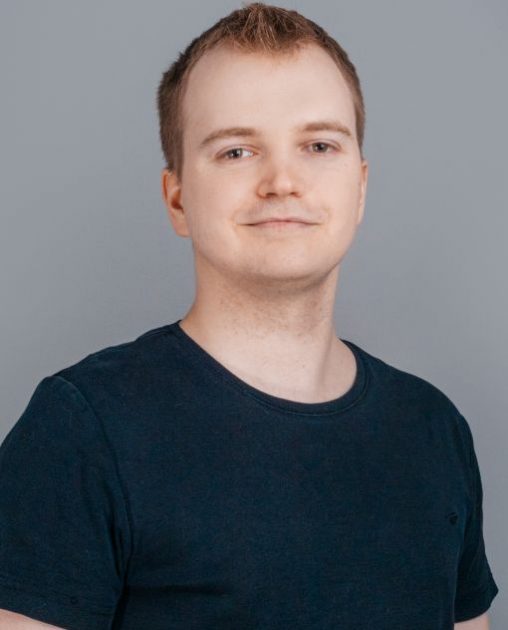 "We use different systems for our project management, customer management, or time management activities — and of course, we're adding a bit of our automation knowledge to every single one of them. For example, we have built a very complex marketing automation that we use in-house to automate our outreach activities and do what we do best — free up our employees from the mundane, repetitive work."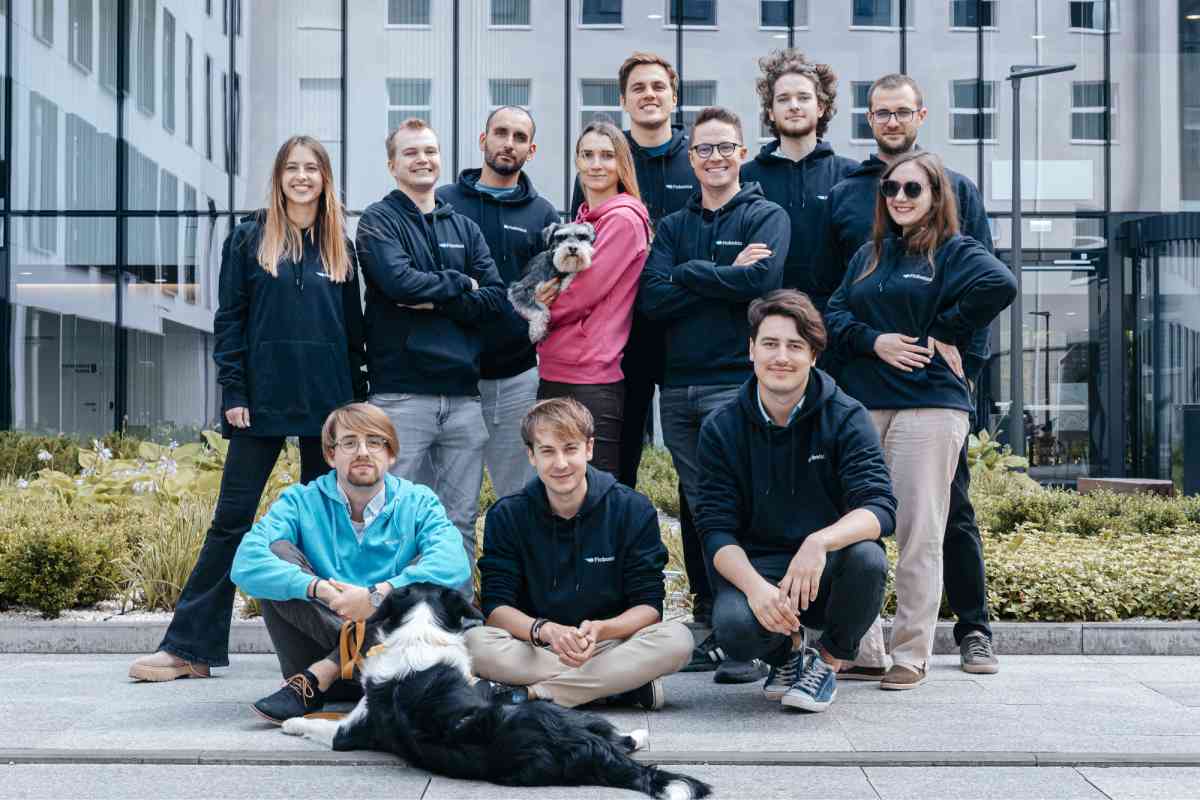 On top of all that, the company gives extra care to their employees' well-being — they manage to sidestep overworking by adding a sprinkle of automation to their day-to-day operations: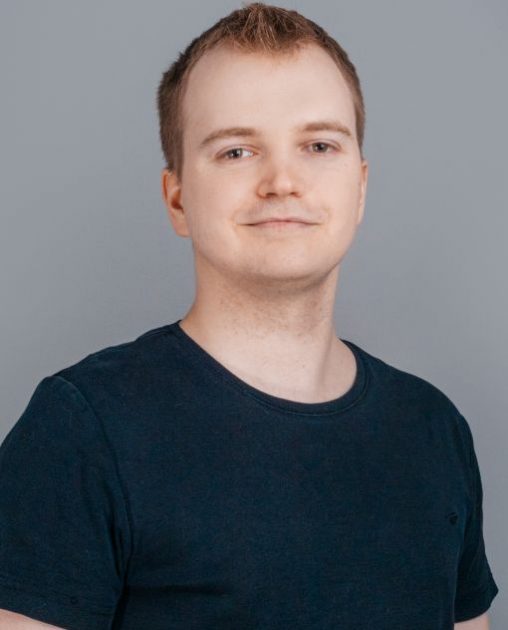 "We're the walking advertisement of our own services. We put an end to giving our employees robot-like activities leading to easy burnout, and instead, we dedicate them to professionals — bots themselves."
💡Clockify Pro Tip
Signs of overwork can pass unnoticed if you're not aware of what you should be looking for. Find out exactly what overworking looks like and discover how to avoid its detrimental consequences:
Flobotics — the last-minute assignment experts
To be able to spearhead towards a future peeled away from redundant tasks, Flobotics claim that they have specialized in last-minute assignments.
Obviously, since we're all about time management here at Clockify, we wanted to know where they sat on accomplishing their milestones on short notice. Turns out — hand-picked experts at Flobotics take the praise: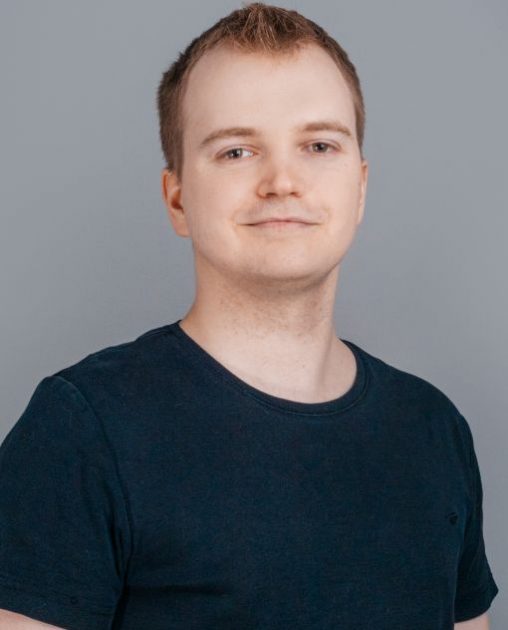 "Planning the entire automation process is very time-fragile — we always present development time to our customers depending on the project. It takes mostly the expertise of our superb tech professionals who know how much time is required to build a particular automation — as everything also comes with experience."
Yet, nothing would be quickly done if it wasn't for eliminating the low-hanging fruit at the foundation of each task: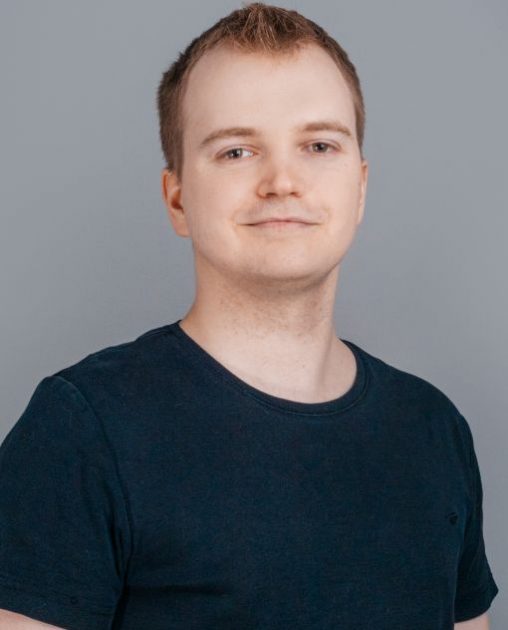 "We take the processes that take employees' precious time out of their hands and create an automated virtual coworker that can conduct the task faster and error-free."
Then, after they've ruled out the need to tackle time-consuming tasks, they make sure to remain open for change: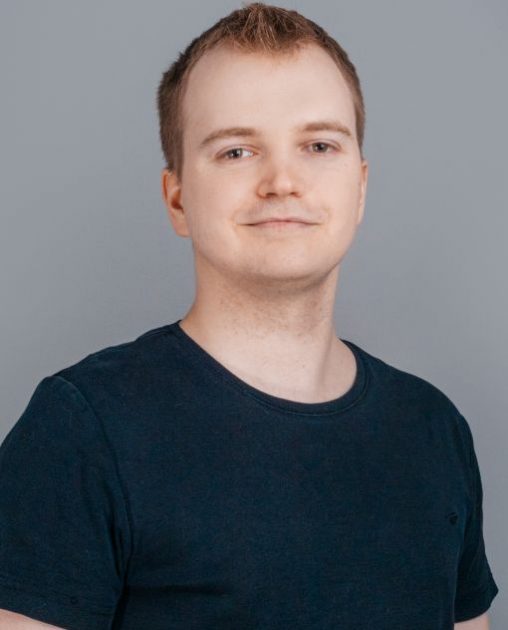 "We have always put our customer's priorities first and adjusted our services to reflect their actual needs — sometimes on a very tight schedule. Working with many industries open to constant change and fast operational pace (such as finance or healthcare), we've learned that the only sure thing about the initial plan is its need to be change-flexible."
Finally, all the puzzle pieces come together, and voilá — Flobotics team manages to set their clients up for success at warp speed.
How Clockify became Flobotics' close companion on their way to success
Not so long ago, Flobotics revealed that they would not have become the company they are today without Clockify's functionalities.
For a business that places such a high value on efficiency and rooting out time-eaters, we were more than flattered that they chose Clockify as their loyal companion.
For that cause, we wanted to hear all about Flobotics' experience with Clockify — from the reasons they went for our time tracker, to all the particularities of their workflow with Clockify.
Flobotics and Clockify — Friend at first sight
Describing Clockify as the key ingredient they cannot imagine their workday without, Flobotics' team speaks highly of the impact our tool has on their company's overall performance.
But what is the backstory behind this bond?
Turns out, it was friendship at first sight — and it was all due to Clockify's smooth and user-friendly interface that made it stick out: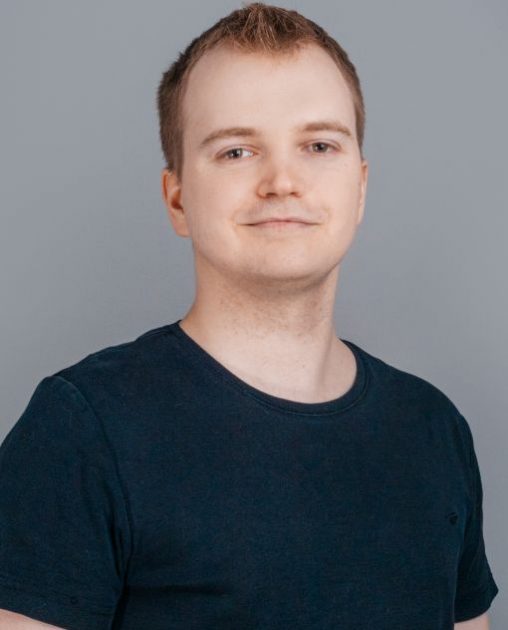 "It's hard to imagine Flobotics without Clockify, as it became our friend on day one. Compared to other tools we've discovered on the market, UI and UX truly stand out and create a unique experience for all of us. It just smoothly integrated into our company and became its inseparable component."
Being well-versed in making the most out of their time, the people behind Flobotics recognized the need for a time-tracking system right from the start. That's when they welcomed Clockify with open arms: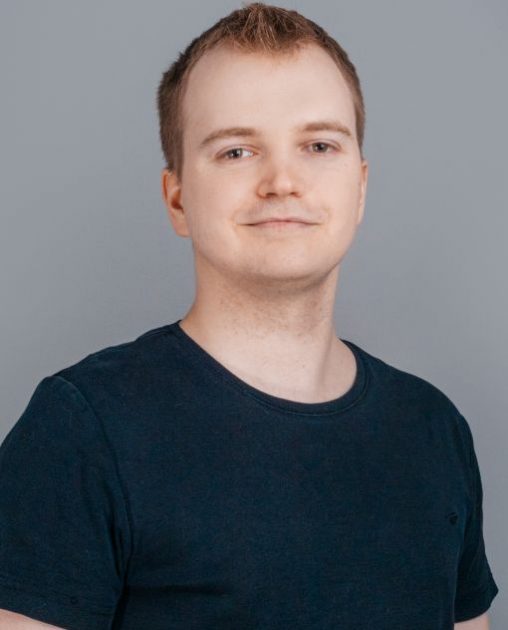 "Clockify became an obvious choice so far ago. The tool was on board when our first time-tracking needs emerged and has been irreplaceable ever since."
💡Clockify Pro Tip
Time tracking goes well with making the most out of your time. But what if we told you you could go a couple of steps further in maximizing your efficiency? Read more about it here:
How Clockify aligned with different customer needs
As with all the apps — there's no such thing as one right way of using them.
However, when the app seamlessly integrates into different workflows and works smoothly across teams, your only task is to focus on what you do best. (And excel at it, if we might add).
As a cross-functional team being particularly focused on delivering the best results to their clients, Flobotics finds Clockify to be their best ally to rely on, regardless of their customers' needs. Namely, Clockify reports ensure transparency and trust between Flobotics and their clients: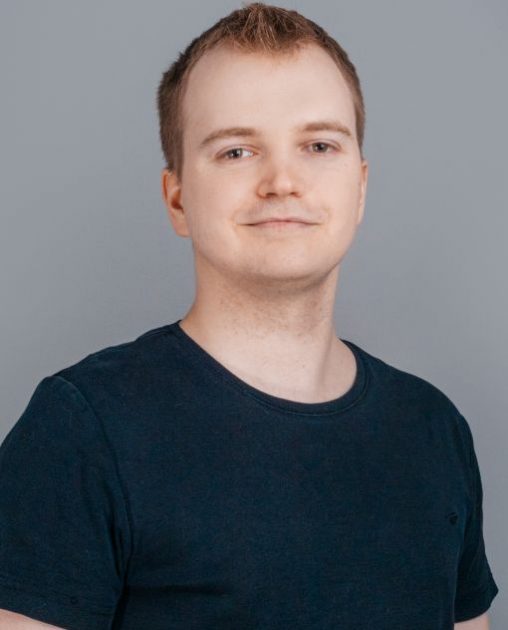 "Sometimes, our customers need a specific type of reporting to track the project's progress, while other times, a very standard, simple time-tracking is entirely sufficient.
Clockify appears to be surprisingly flexible here — while switching between different options and settings usually comes with at least a bit of a struggle to the user, with Clockify, the entire process is smooth and pleasant."
With the ability to give all their attention to tasks, instead of course-correcting their workflow according to the tools they use, Flobotics can focus on what they do best — unleashing their clients' productivity.
Clockify features that help Flobotics stand out from the crowd
On their way to freeing up their customers' busy schedules, Flobotics found a couple of Clockify functionalities the most valuable for their mission.
Let's hear first-hand why the following 3 Clockify features deserve Flobotics' praise.
Clockify feature #1: Reports
Providing services to clients from various industries, Flobotics needed to make sure they always kept a transparent overview of their teams' time spent within reach.
Yet, although they went for Clockify early on, they didn't expect the tool solving their reporting troubles, too: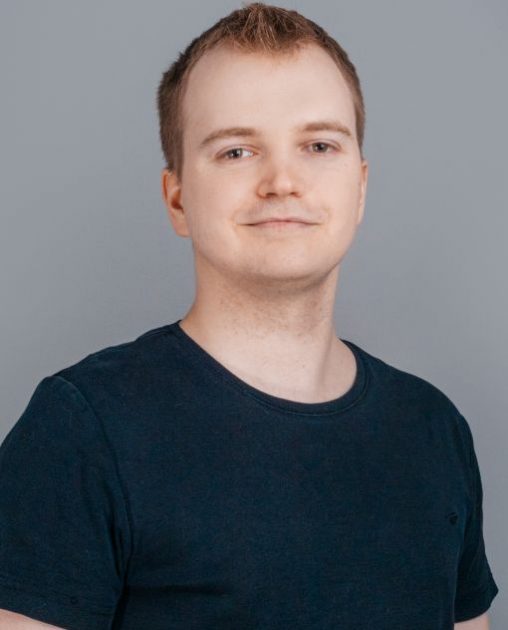 "An unexpected benefit that we got with the tool is the built-in reporting module, which allowed us to gain a competitive edge during our interactions with customers — instead of explaining the time-tracking model (usually we charge our customers per development time), we can simply show them the system's outcome."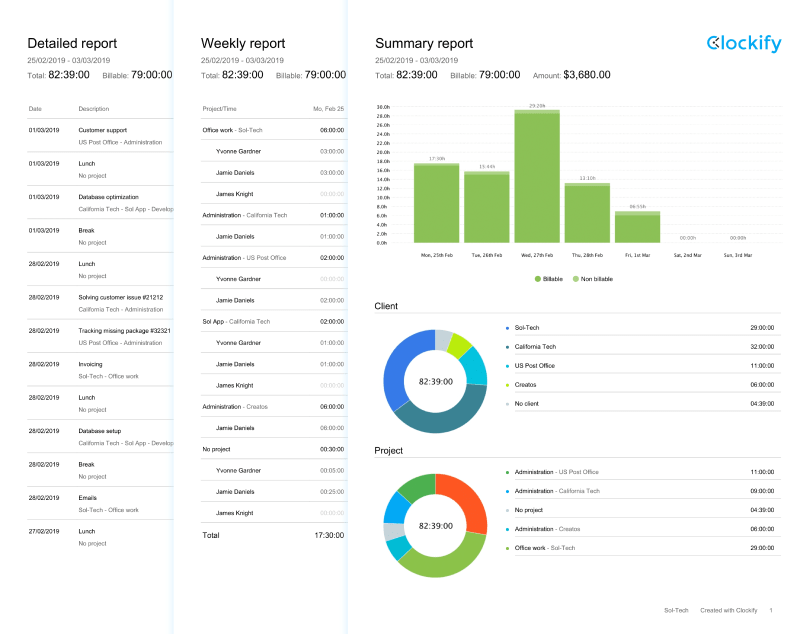 Not only has Clockify helped Flobotics stay on top of all their projects by giving them an added insight into where their time goes, but it also gave them the option to showcase their numbers to clients and outstand the competition. Two birds with one stone.
Clockify feature #2: Integrations
Using multiple tools to stay on top of their game, Flobotics needed a tool flexible enough to integrate with the software they were already using.
Luckily, Clockify met their expectations, and its ability to blend with their workflow turned out to be a shortcut to success: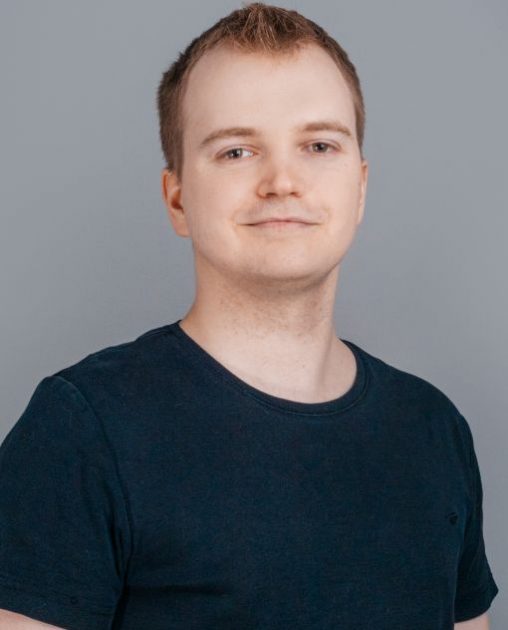 "Being a tech-oriented company, our operations strongly depend on data and the right tools that reflect our business requirements — therefore, the fact that Clockify could smoothly integrate with our other systems became crucial to our success."
Coming with 80+ time tracking integrations, Clockify enabled Flobotics team to tick multiple tasks off their to-do lists and see exactly where they stand at each moment: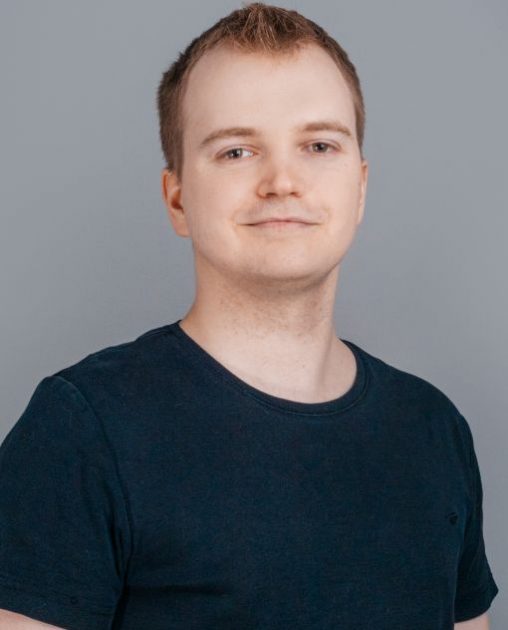 "Thanks to integrations, we've been able to compare planned vs. tracked time, forecast future demands, and translate it into our short-term strategies."
💡Clockify Pro Tip
If you're looking for a tool that'll automatically predict your project completion time based on your team's tracked hours, check out Clockify's Forecasting feature designed just for that purpose:
Clockify feature #3: Time tracker
Initially, Flobotics needed an app that could aggregate all their time spent on tasks. Clockify's time tracking feature (along with reporting options) quickly filled that void: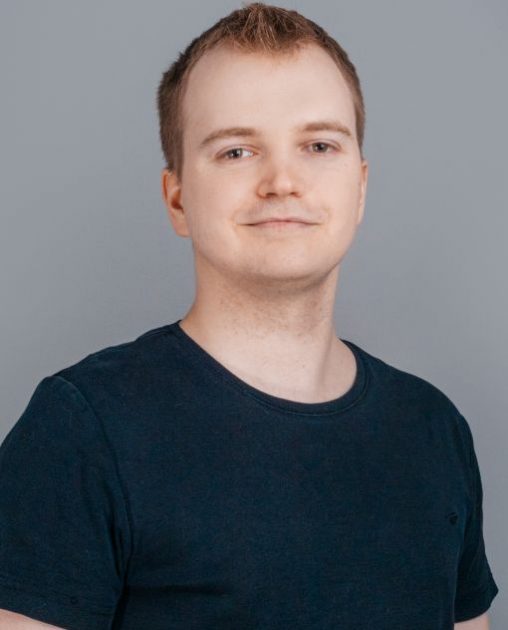 "Two things that we expected from Clockify were time tracking and reporting — and what indeed came as a surprise was the great quality of both functions. Thanks to being superb when compared to the market, they impacted our daily operations and business on a level we could not have predicted ahead."
However, along with their expectations being matched came an unforeseen perk — according to Krzysztof, Clockify's interface was unexpectedly pleasant to the eye: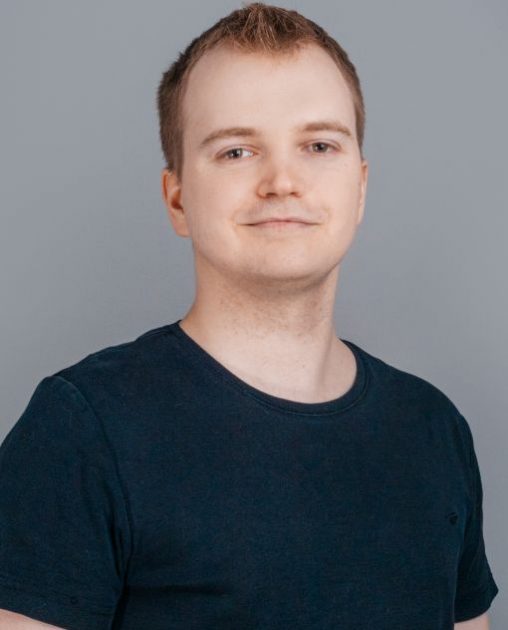 "When speaking of time-tracking, the first thing that usually comes to mind is a boring, gray window with simplified functionalities that measure employees' time. At Flobotics, we like to do things differently — and Clockify appeared to be different and more than we hoped for."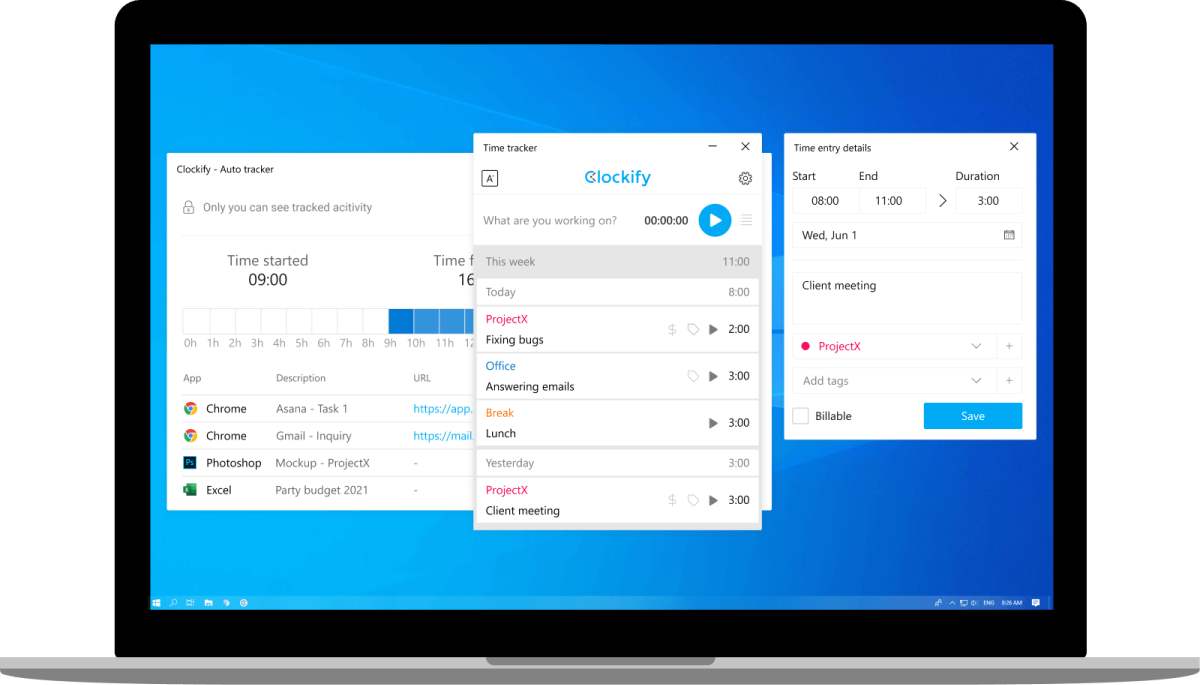 💡Clockify Pro Tip
Hand in hand with time tracking come methods for measuring productivity. If you're in search of the best way to keep tabs on your team's efficiency, take a look at the blog post we prepared to help you get started:
Who would Flobotics recommend Clockify to and why?
Even though getting a detailed rundown of their workday adds a bit of context to everyone's time management habits, Flobotics finds Clockify's features particularly useful to small to medium businesses dreaming big: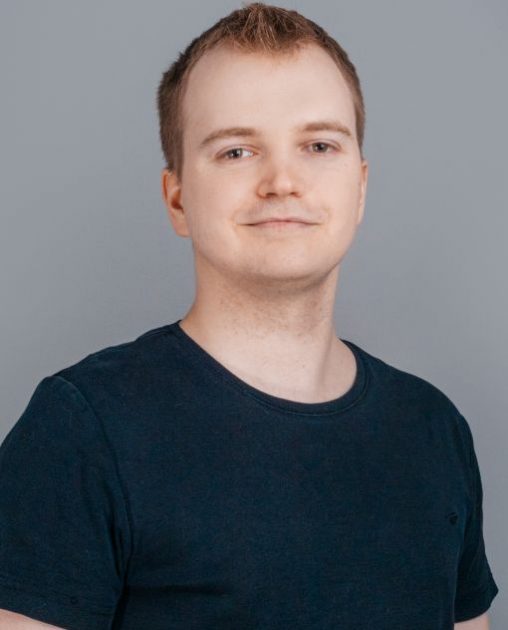 "Speaking from our experience — the tool is a perfect match for small and medium enterprises. Amongst its many benefits, we could point out that it:
Scales well,
Provides multiple reporting options,
Has a fair amount of integrations, and
Offers access management functionality."
On top of all that, being a robust work hours tracking system, Clockify supports businesses with little to no extra time to spare in making the most of their hours and improving their performance: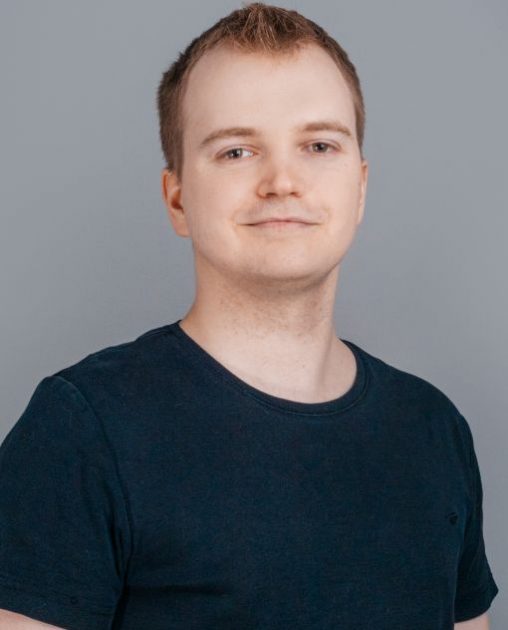 "With this powerful functionality set — most of the small to medium-sector entrepreneurs will be able to achieve their goals and skyrocket their effectiveness."
Final overview: Clockify supports getting as much joy from work as possible
To top off the story of how Clockify became a vital part of Flobotics' operations, Krzysztof stressed the tool's ability to live up to its promises: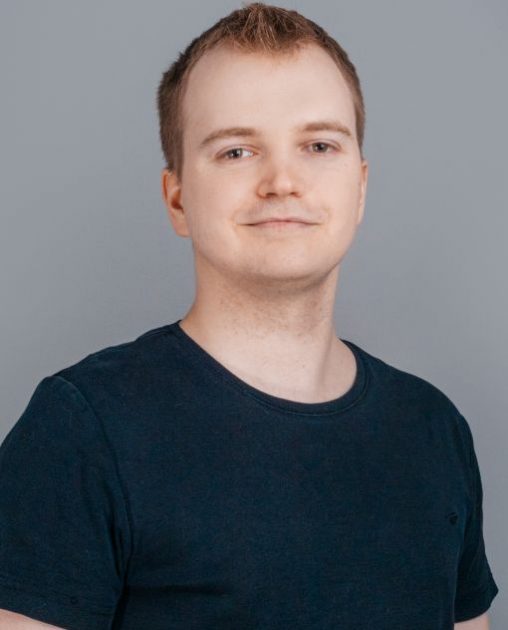 "Our pure satisfaction from using the tool comes mainly from its simplicity and the fact that everything that should be expected from it is done very well."
Also, apart from being true to itself, Clockify did its part in perfectly aligning with Flobotics' values: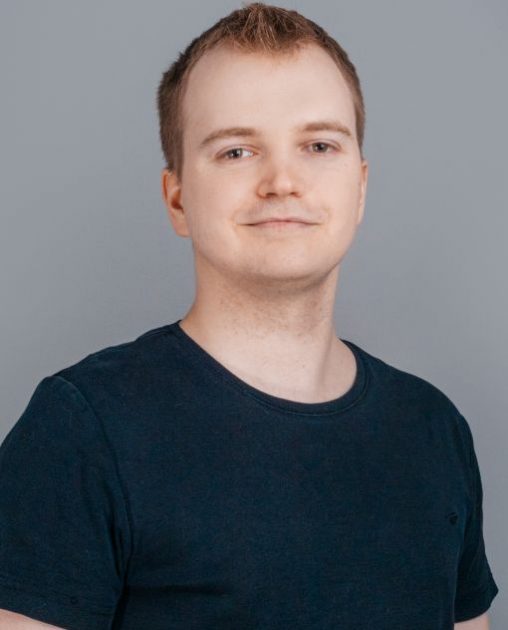 "It is eye-pleasing, super convenient to use, and has an actual impact on our business. We use it while working with our customers; we use it while forecasting future activities and organizing our daily work. With its amazing, unique UX, it also speaks to our values of doing things the fun way, taking as much joy from work as possible, and valuing people over anything else."
In the end, that's what set the seal on Flobotics' decision to incorporate Clockify into their workflow and ultimately "rock their world," as they had once excitedly shared.
Flobotics' expert opinion on automation and the future of workforce
Despite the evident benefits automation brings to the table, as we were bringing our conversation to the end, we had to address the elephant in the room — a.k.a. the fears of bots taking over the workforce.
Should we trust the shivers down our spines, or are we in for a transformation of the workforce that'll empower us to be even more productive?
Krzysztof claims the transformation is happening as we speak, but it's not bringing to life our darkest fears. In fact, it's quite the opposite — RPA technology should give us a breath of fresh air: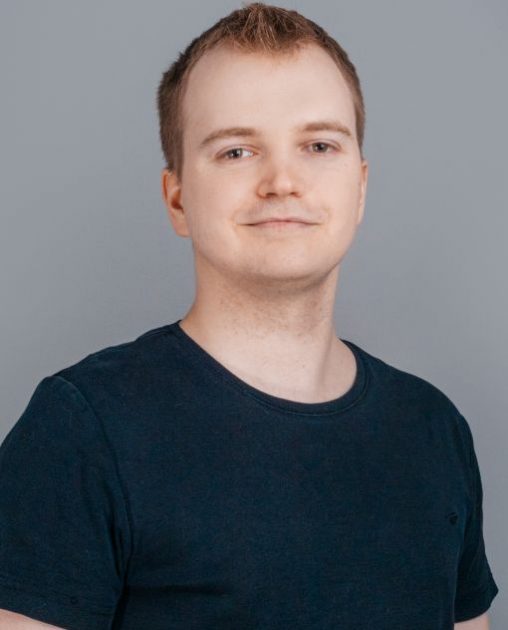 "The current industry's landscape is changing rapidly and significantly because of the current development of AI models and increased interest in automation. It connects to many things that are relevant to our everyday lives — we appreciate life as it is, learn to experience the world, and are currently rethinking how our professional lives should affect our personal ones — all being a part of the same matrix. And in this metaphor, Flobotics thrives on being Morpheus handling you the red pill!"
As automation gets more and more common (and we begin accepting Morpheus' red pill wholeheartedly), it is expected to become a vessel for enhancing lives — not the other way around: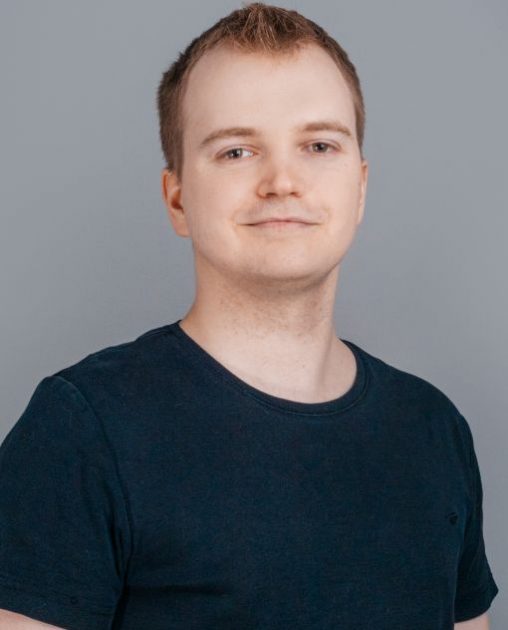 "RPA and AI-based technologies are often seen as a threat to many industries and workplaces, but it is not a vision we share at Flobotics. We do believe that automation will become closer to us and integrate into our daily routines — while it will never be able to replace the person, it surely can make our lives easier."
Then, after we accept automation into our daily life, the scenario where we all take back control of our time comes to life: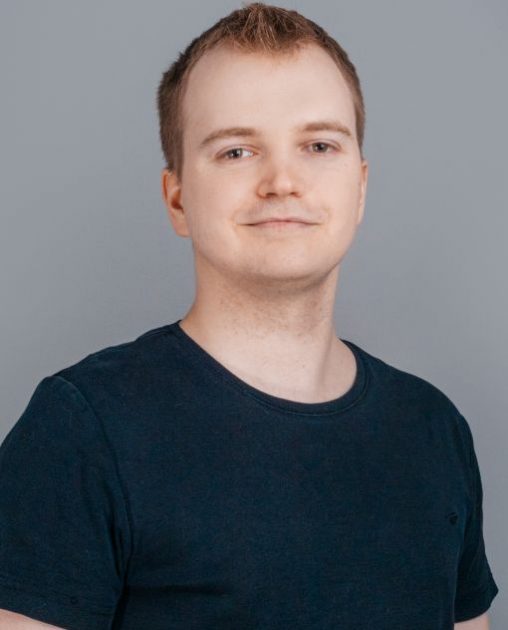 "Imagine sitting in front of your laptop and supervising employees while they're taking over your most time-consuming tasks while you can enjoy your morning cup of coffee — this is exactly the future as we see it."
Wrapping up: The sky's the limit when you hold fast the right tools
Whether it's about surrounding yourself with RPA bots or logging your hours in your favorite time tracker — the statement about reaching the sky holds true in both cases.
As the Flobotics team has clearly shown, there's nothing you can't do if you add a bit of automation to your workflow. If you wrap that up with a simple-to-master time tracker ticking off in the background while you blaze your trail — you're already halfway to the top.
✉️ Have you already tried automating your repetitive tasks? What about time tracking? Are there additional nuances that help your business stand out from the crowd? Let us know at blogfeedback@clockify.me, and we might include your experience in this one or one of our future articles. Also, if you liked this blog post, share it with someone you think would be interested in reading it.