Do you want to become more productive, but not sure how and where to start? Do you lack motivation? Does all the work overwhelm you?
That's okay, it happens to the best of us.
In this article, we prepared 50 productivity resources – apps, websites, blogs, Youtube channels, and podcasts – to help you boost your productivity, get motivation, and become the best version of yourself.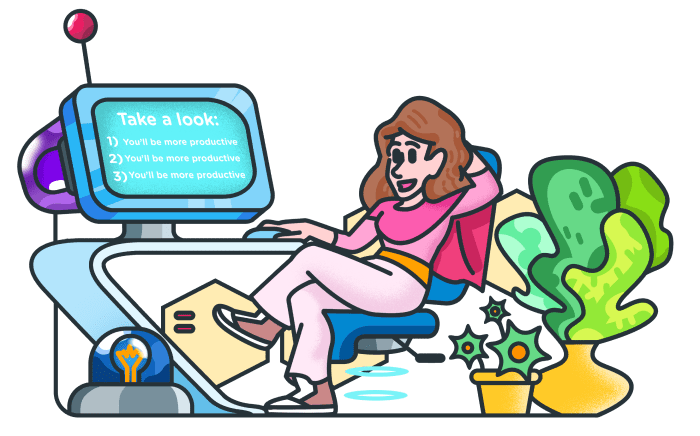 Apps to boost your productivity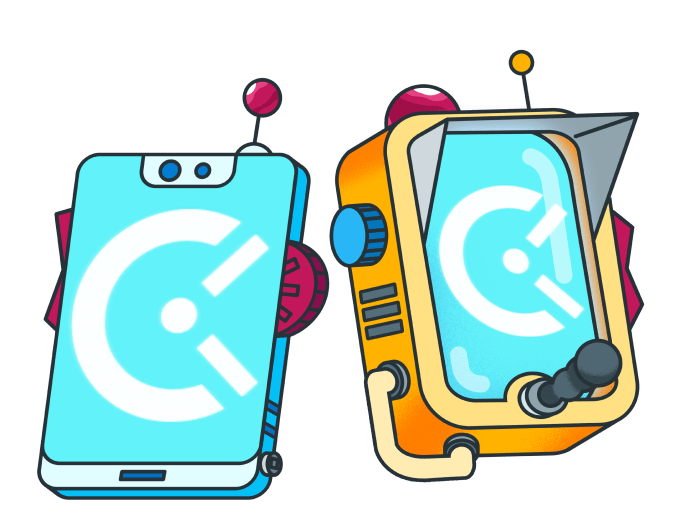 Why do everything by yourself, when apps on your smartphone and computer can make your life so much easier? These are some of our favorite apps.
Clockify is a free time tracking app that will help you with time management. You can track hours to boost your productivity and minimize procrastination, make a better schedule, calculate your billable hours and payroll, estimate time better, and much more.
Pumble is a free team communication platform that allows you to message your coworkers, search chat history, and have dedicated rooms for collaborations and grouping up. Another feature that's coming soon is free video and voice calls.
Forest is an app that helps you stay focused by planting a virtual tree. – your tree grows while you stay focused. If you leave the app before time's up, you'll kill your tree.
The app partners with real tree-planting organizations and users can use virtual coins they get in the app to plant real trees around the globe.
It costs $1.99.
Freedom is another app that helps you stay focused. It blocks distractions by shutting off network and internet access for a specified amount of time. This app's advantage is that it can block distractions on all of your devices simultaneously.
A monthly plan is $6.99, or, if you buy a yearly subscription, it will cost you $2.42 a month.
If you like to-do lists, this app is for you. Have peace of mind by keeping all of your to-do lists in one place. You can divide your tasks into different categories, color-code them, and set their priority level.
A free version is pretty good, but if you want to upgrade to premium, it costs from $3 per month.
Remember the Milk is a task management app that allows you to manage tasks from a computer or smartphone, both online and offline. You can add tasks, associate them with sub-tasks, and add the due dates.
The system distinguishes between personal and professional tasks, but you can also make smart lists based on special criteria.
If you want to upgrade to the pro version and get additional features, it's $39.99 a year; otherwise, it's free.
Timepage is a smart calendar app made by a company that's world-famous for its luxury notebooks, planners, and journals – Moleskine. It has a modern and beautiful design, but it also allows rich customization of the interface.
It supports multiple calendars.
It costs $4.99 for iPhones and $6.99 for iPads.
If Timepage is too fancy for you, there's always a good, old Google Calendar. It's great for keeping track of important events and meetings, as well as time blocking and setting reminders.
IFTTT is a service that allows you to connect all your devices, apps, and services, and define automations that create linked actions within these apps, devices, and services. It's named after a programming conditional statement "If this, then that."
An example would be that if you add a new task to your to-do app, it will automatically be added to your Reminders app; or, automatically putting your phone on Do Not Disturb mode when your Calendar app recognizes you're on a meeting.
While IFTTT Standard is free, IFTTT Pro costs from $1.99 per month.
Habitica is an app that makes building good habits a game. Create your custom avatar and then go on a quest of building new habits, crushing your daily goals, and breezing through your to-do lists. As you accomplish your tasks, you earn points that level up your character.
You can also create custom rewards, join community quests, and add task reminders.
It's free to play, but there's an option to purchase a $5/month subscription to support them.
If you need a place to keep track of everything cool you find on the web, Pocket is an app for you. It lets you save articles, videos, and stories from any publication, page, or app and curate your own space filled with everything you can't wait to learn.
It's free, with an option to buy a premium version for $5 per month.
Noisli is a background noise and color generator for working and relaxing. It has high-quality ambient sounds to help you focus while working and boost your productivity.
The Standard version is free, while the Pro version is from $10/month.
Websites for better productivity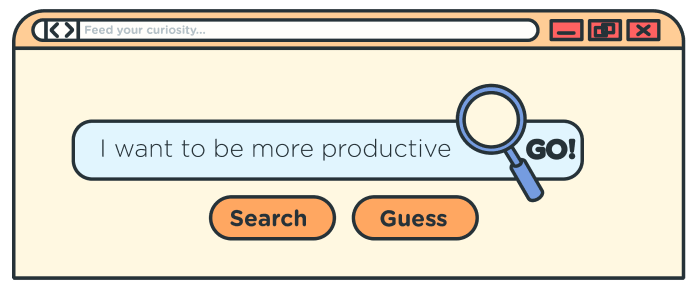 Here are some of the websites that will help you be more efficient, in a variety of ways.
If you write a lot, a tool like Grammarly is a must. It's your online writing assistant that checks your punctuation, grammar, and spelling errors in real-time (for free).
If you upgrade to the premium version, it unlocks additional features: clarity-focused sentence rewrites, tone adjustments, inclusive language, word choice, formality level, fluency, and additional advanced suggestions.
Hemingway editor is another writing tool that will help you make your writing bold and clear. It highlights lengthy, complex sentences and common errors, as well as the passive voice.
Whether you are a student or a working professional, there are skills that you should probably work on. Or maybe you have a topic you want to learn more about, but not sure where to start?
On Udemy, you can find online courses on a wide variety of topics: from business and IT to design and photography.
Just like Udemy, Coursera is a good place to find online courses. On Coursera, you can find courses from world-class universities and companies, as well as get certificates and degrees.
It also provides free learning resources for universities and college students.
If you like reading, but lack time to sit down and read a physical book, Audible may be a good choice for you. It's an audiobook and podcast service that allows you to purchase and stream audiobooks and other forms of spoken word content.
If you find activities like commuting, walking, exercising, or cleaning boring, listening to audiobooks is a great way to make that time more interesting.
Trello is a free web-based Kanban-style tool that will help you with managing tasks and projects. It's great for teams. You can organize them into boards and see who's working on what, what's being worked on, what's done, and what's yet to be done.
Productivity is not only working 24/7, it's also taking a break and letting your mind rest. During particularly stressful days, go to this website and do nothing for 2 minutes except breathing and listening to the waves.
As we mentioned above, rest is an important aspect of being productive, especially a good night's rest. Use this site to calculate what's the best time to go to sleep to wake up feeling refreshed and ready to get things done.
Blogs about productivity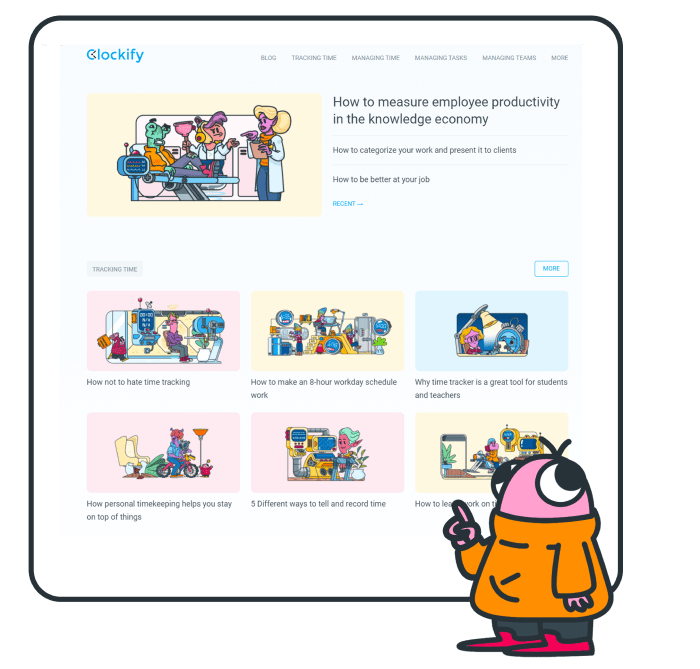 If you want to read about productivity, time management, self-development, and business, these are the blogs we recommend.
Okay, yes, we do recommend our blog.
We write about tracking and managing time, as well as managing teams and projects. You can also find practical advice, from tips on how to stay focused with all the distractions around you to creating a good work environment and promoting teamwork. Not to mention that all of our articles are accompanied by really cool illustrations.
If you read the book Atomic Habits, the name James Clear may sound familiar to you.
This author and a former athlete writes about creativity, decision making, focus, habits, his life lessons, motivation, productivity, and self-improvement. Not only does he provide value, but he's also a good storyteller, so his articles are pretty enjoyable to read.
Cal Newport is another familiar name – you may know him as the author of Deep Work: Rules For Focused Success In a Distracted World. On his Study Hacks Blog, he writes about topics such as working remotely, the neuroscience of busyness, the productivity funnel, and social media.
Adobe's 99U is a resource and event series to help creatives build careers, supercharge their work, and make their ideas happen. You can find not only interesting articles accompanied by beautiful visuals, but also interviews and guides on topics such as productivity, marketing yourself, staying motivated and inspired, remote work, and many more.
Benjamin is an organizational psychologist and the author of Willpower Doesn't Work and Personality Isn't Permanent. On his blog, he helps people with their careers, as well as finding their passion and purpose. You can find articles on creating your future, success, confidence, waking up early, and many other topics.
As the name suggests, this blog has the goal of helping you make money and become rich. It lets you explore the topics of mastering your money, finding your dream job, starting a business, boosting your productivity, and living your rich life.
Influencive is a digital publication for entrepreneurs, startups, and businesses. Learn more about business, marketing, and self-development, and read interviews with entrepreneurs about their journey.
SUCCESS magazine has been around longer than the Internet exists, since 1897. Since then, they've been offering advice on best business practices, inspiration from successful people in business and entertainment, and motivation to become the best version of yourself. Their mission is to bring you thought leaders and success experts and reveal their key ideas and strategies to help you excel in every area of your personal and professional life.
If you need career advice, check out The Muse. They are a job-searching platform, but they also offer practical advice on finding a job, exploring different career paths, and succeeding in the job you already have.
Productivity Youtube channels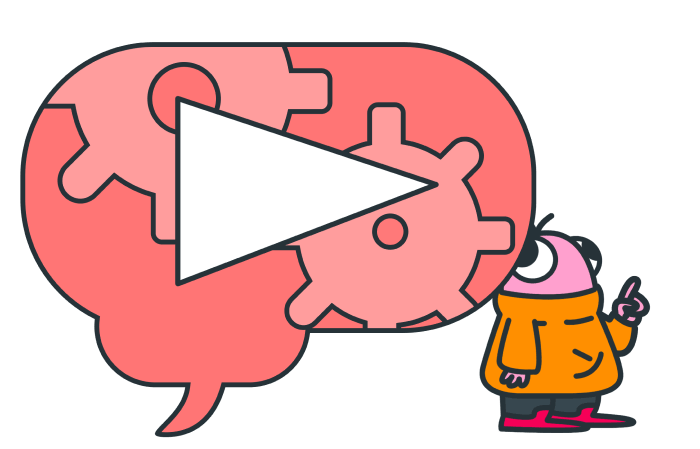 Here are some useful and informative, yet entertaining Youtube channels that produce quality content about productivity and related topics.
Keep productive channel's description is "your ultimate guide to productivity software." Their goal is to help you with finding productivity tools that suit you best. You can find tutorials, news, and guides, as well as interviews with professionals on productivity and how they use their tools.
Rowena's content is focused on personal development and being productive by changing your mindset and developing positive habits. Her videos will teach you something in a way that feels like talking to a friend; they are also very aesthetically pleasing and calming.
Thomas makes content about productivity that can help you whether you are in school, university, or work. He covers a variety of topics related to productivity, from effective studying and dealing with procrastination, to ways to improve your writing and how to resist people manipulating you.
Amy is a Youtuber that is known for her videos about time management, calendar blocking, and morning routines that involve waking up super early in the morning. On her channel, you can learn what morning pages are and why they are important, how to actually wake up early, and how to calendar-block, among many other things.
Aileen, a girl behind the Lavendaire Youtube channel, makes videos on personal growth and productivity, intending to help her viewers create their dream life. Other than productivity content, she creates videos about journaling, self-love, psychology, as well as lifestyle content.
Matt is a productivity Youtuber, filmmaker, and a minimalist. He also does (and films) 30-day experiments, such as quitting social media, taking cold showers, or meditating for 1 hour for 30 days.
What I like about his content is that not only the videos themselves are interesting to watch, but, since he's a filmmaker, they're also aesthetically pleasing and well-produced.
Gillian's channel covers the topics of starting your business, entrepreneurship, making money, and motivation. Her goal is to teach aspiring entrepreneurs how to start and grow profitable businesses that allow them to work from home.
Michelle makes videos about creating an intentional life, simplifying, and getting things done. She's particularly interested in talking about self-compassionate productivity and behavior change through experimentation. She makes a lot of content about habits, to-do lists, organizing your life, and self-care.
Nathaniel makes videos about living intentionally, language learning, self-exploring, and searching for mental clarity in a busy, overflowing with information 21st century. As he travels the world, he also makes vlogs and an occasional short film.
One Percent Better posts animated book summaries, mostly on topics about productivity, self-improvement, and psychology. If you're interested in any of those (if you're reading this, you probably are), this channel can be a great way to find new books to add to your "To read" list or, if you don't have time to read the whole book, at least introduce yourself to new ideas and concepts.
If you're a student looking for productivity tips, check out Ali Abdaal's channel. He graduated in medicine from the University of Cambridge and he posted a lot of videos on how to study for exams. Recently, he has been posting content about productivity, lifestyle, and tech.
Podcasts that will motivate you to be productive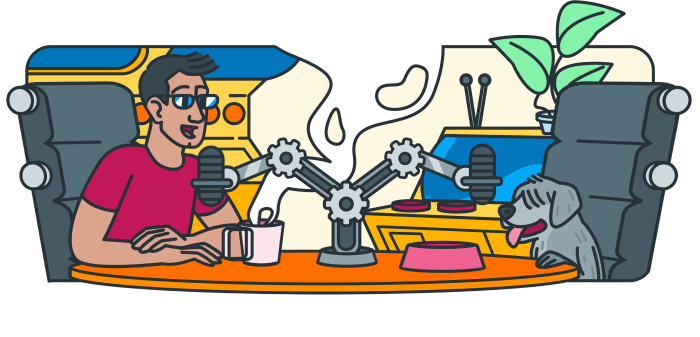 If you like listening to podcasts, here are some you have to give a listen to.
Impact theory is an interview-style podcast that lets us go inside the mindsets of the world's highest achievers, hosted by Tom Bilyeu. Other than things you can implement, it gives you a lot of food for thought, motivation, and inspiration.
Every episode ends with a question "What impact do you want to have on the world?"
Getting Things Done is a podcast by David Allan, the author of the book of the same name. If you like the book, you'll like the podcast too. It offers advice on organization, productivity, creativity, and time management.
The podcasts include personal and professional stories, as well as practical tips about GTD systems.
If you see yourself as more creative than organized, you may enjoy this podcast. Its mission is to help creative people do brilliant work, have better ideas, collaborate seamlessly, and thrive under pressure.
Every episode, he deconstructs world-class performers from many different areas (investing, sports, business, art, etc.) to extract the tactics, tools, and routines you can use. This includes books, morning routines, exercise habits, time-management tricks, and much more.
He also shares his own life experiments (Newsweek even called him "the world's best human guinea pig.")
Harvard Business Review's podcast is a weekly podcast that features leading thinkers in business and management.
Hosts Merlin Mann and Dan Benjamin discuss productivity, communication, work, barriers, constraints, tools, among many other topics. You can also enjoy their humor and a deeper look into the topics they talk about.
Erik Fisher talks with productivity experts about their practical productivity strategies in their personal and professional lives. They explore all aspects of productivity and the true end goal of it – living a meaningful life. You can hear not only about their successes but also lessons they learned from failure.
The host, Guy Raz, dives into the stories behind some of the world's best-known companies. It tells stories about the journeys of innovators, entrepreneurs, and idealists and the movements they created.
Before breakfast is Laura Vanderkam's podcast. Every day, there's a new bite-sized episode in which Laura shares a time management strategy or answers a listener's question. Her mission is to give listeners practical tools to feel less busy and get more done.
✉️ What are your favorite productivity apps, blog, websites, tools, Youtube channels, and/or podcasts? Let us know at blogfeedback@clockify.me and we might include them in our next article.