32 Best Work From Home Apps
More and more companies across the globe are now switching partially or completely to telecommuting.
After all, working from home has proven to help increase employee productivity:
Namely, as much as 71% of telecommuters claim they don't struggle with establishing a work/life balance while working remotely.
Moreover, as much as 69% claim they don't need to take days off to maintain their mental health while working remotely.
Last but not least, remote workers are actually proven to work about 1.4 days per month more and procrastinate 10 minutes per day less than people working from a traditional office.
As evident, the productivity numbers are all in favor of telecommuting — and, companies and individuals who may have their doubts can make the work-from-home workflows completely fool-proof by relying on the right apps.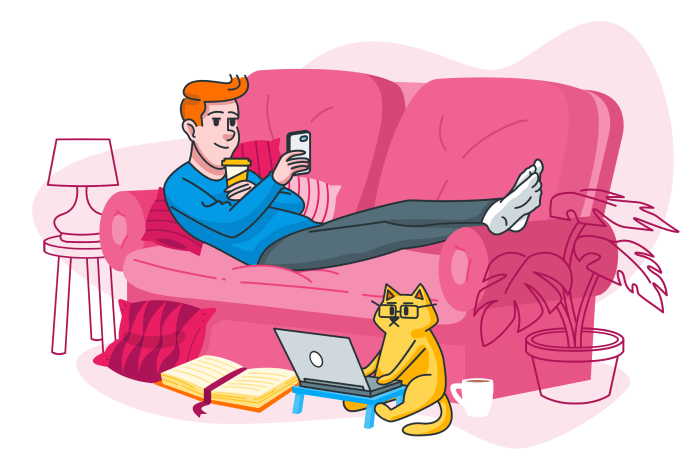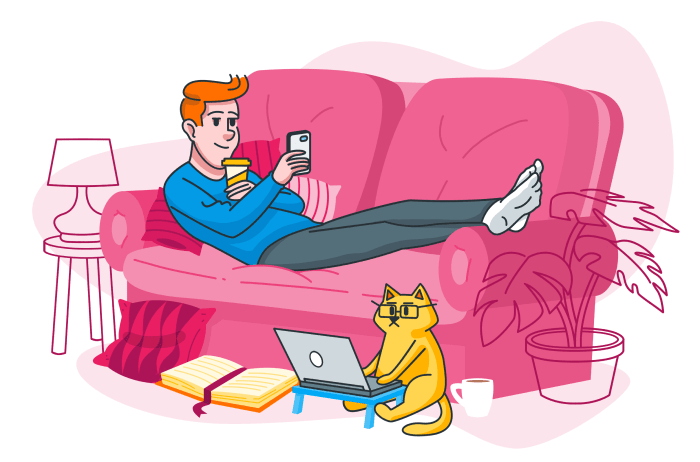 So, without further ado, here are the 32 best apps to work from home, both for:
Companies (and teams) who want to establish and maintain an efficient workflow for their remote teams.
Anyone working from home who wants to be productive, efficient, and secure while telecommuting.
5 Best Work From Home Apps
BEST WORK-FROM-HOME APPS FOR COMPANIES AND TEAMS
Clockify
— for tracking work time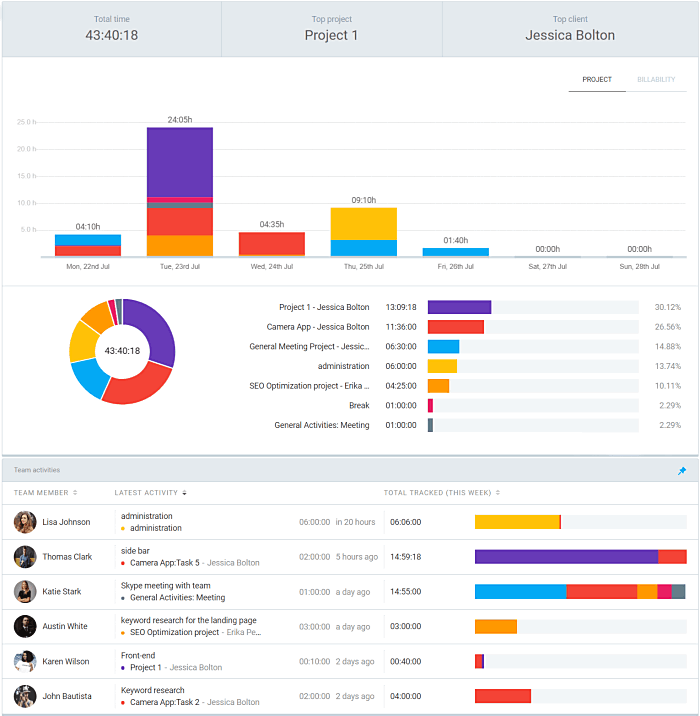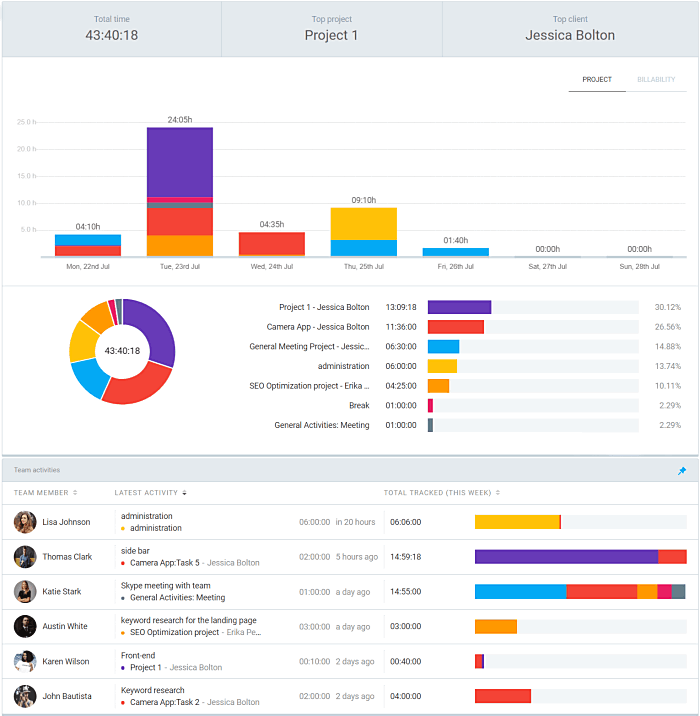 What is Clockify?
Clockify is a time tracking app that lets your team track their work hours, either by:
Tracking time while working, by starting and stopping a timer.
Adding time manually, after you're done working.
Adding time in a timesheet view.
You can even view what your teammates are currently working on, by glancing at the "Dashboard" section of the app.
Once the team is done working, you can all generate reports and identify who worked when, on what, and for how long.
The team can set their hourly rates, and track billable time (and have their earnings calculated automatically), but also track non-billable time (such as short breaks and lunch breaks), in order to build a complete report of how exactly they've spent their work hours.
Why use Clockify?
When working from home, the employers will want proof that the employees performed their work as expected. And, the employees will want a straightforward way to demonstrate to their employers the amount of hard work they've invested in their work assignments while telecommuting. With Clockify, you can simply and easily do just that.
Clockify's best feature
You can streamline your time tracking activities by adding up to 50 custom fields to your time entries.
The types of custom fields you can add include texts, numbers, links, "yes/no" switches, as well as input fields with single or multiple options.
The exact custom fields you'll want to add will likely vary according to the type of business you're working in and the team's expected workflow. Some of the ideas include expenses, overtime, invoice status, project IDs, links to tickets, receipts, work equipment, to name a few.
Clockify is available for: Web, Windows, Linux, macOS, iOS, Android, Firefox, Chrome
Asana
— for project management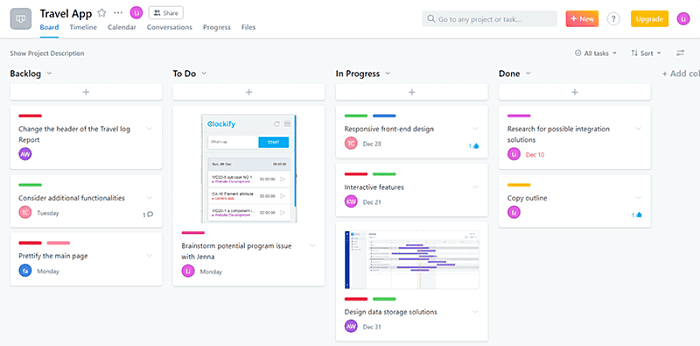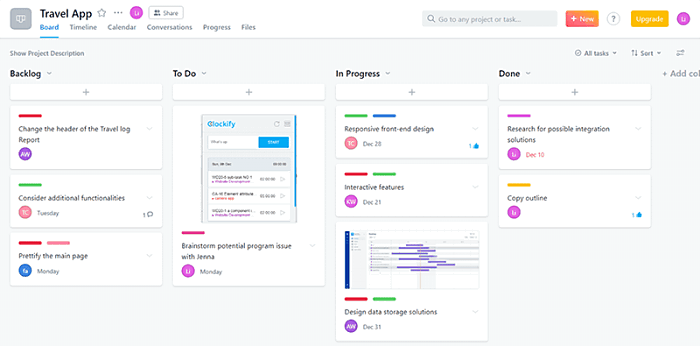 What is Asana?
Asana is a project management software that allows your team to manage their assigned tasks in List-based boards and then track the progress they are making with the said tasks in Kanban-based boards.
The List-based boards are structured as a simple to-do list, while the Kanban-based boards consist of cards (tasks) the team can move across columns to signify their progress status.
Why use Asana?
You can handle your project and task management with Asana:
In the Kanban-based boards, you can add as many columns as you need, and name them in a way that best helps you track your progress with tasks (workflow example: Create three columns named "To do", "Doing", and "Done". Move cards/tasks across columns as their progress status changes).
Both the List-based and the Kanban-based boards let you add attachments to tasks, assign them to specific team members, and mark them with deadlines. You can also start discussions with team members and add comments to tasks within the software.
Asana's best feature
Once you've added your tasks and defined your deadlines, you can track these dates in Asana's calendar section.
Asana is available for: Web, iOS, Android, Chrome, Firefox
Slack
— for team communication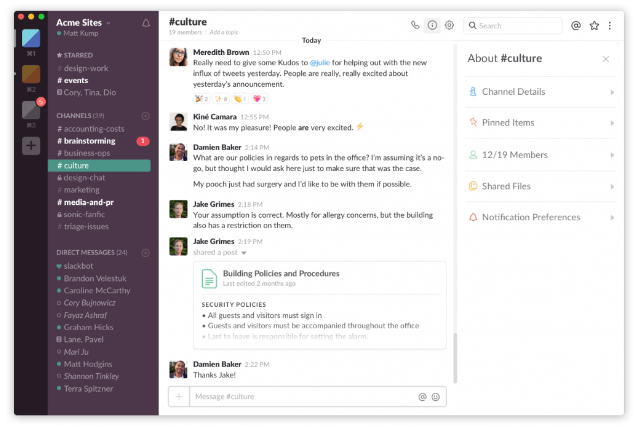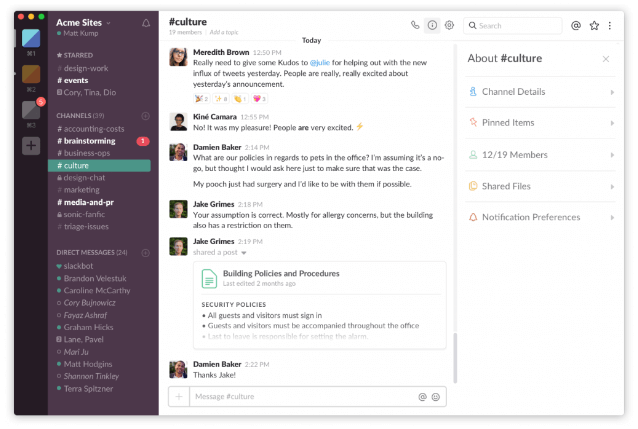 What is Slack?
Slack is a classic communication app that lets you handle all your team communication in direct messages (either sent to individuals or groups), and specialized public and private channels.
Why use Slack?
Streamlining team communication gains even more importance when the team is working remotely, and Slack can help you minimize response time.
Apart from sending instant messages, you'll also be able to set a work status (to help your teammates understand whether you are currently on a lunch break, or running an errand, etc.), share attachments, as well as conduct video calls with individuals and groups.
Slack's best feature
Within your "conversation" with Slack's bot (conveniently called Slackbot), you can set reminders for tasks, by simply typing "/remind me to", writing a description of the task you want to be reminded of, and setting the time when you want Slackbot to send a reminder notification about the task (e.g. /remind me to "video call Serena about the designs" tomorrow at 9 am).
Slack is available for: Web, Windows, Windows Phone, macOS, Linux Android, iOS, Chrome, Firefox
Zoom
— for face-to-face online chats, consultations, and meetings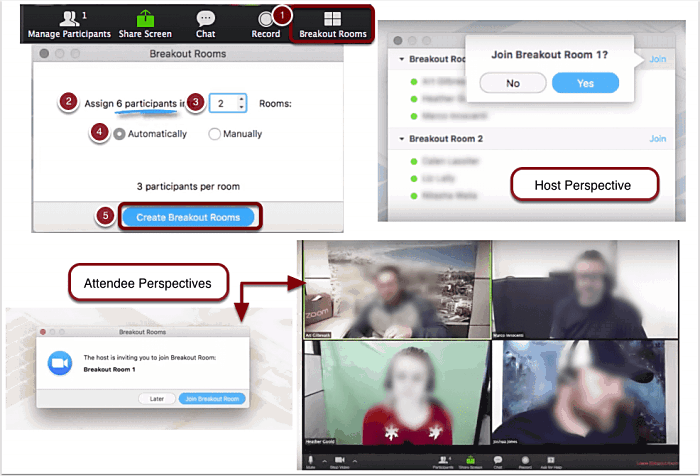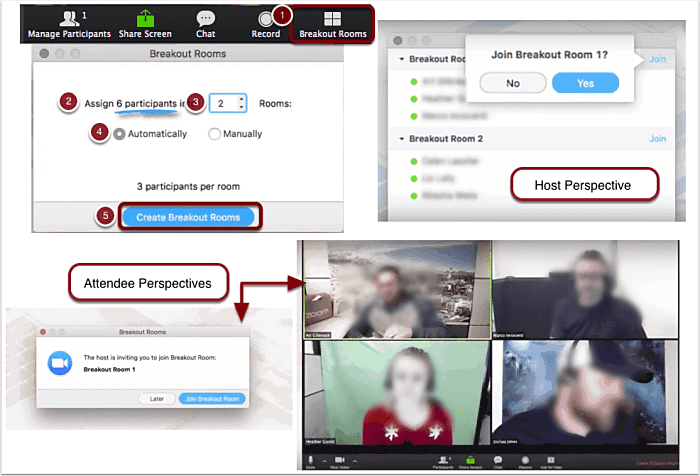 What is Zoom?
Zoom is an online video and audio conferencing app that lets you hold online meetings, training, and webinars, either 1-on-1, or in groups.
Why use Zoom?
Sometime, participating in a text discussion just won't be enough to replace face-to-face daily meetings, so you'll want to turn to a specialized online video and audio meeting software like Zoom.
With this app, you'll be able to make quick calls to consult with colleagues and build team groups for online meetings. You'll also be able to set presence status, as well as send audio, text, and image files to support your opinions as you speak, directly within the app.
Zoom's best feature
You'll be able to conduct interactive video webinars for up to 100 active participants, and up to 50,000 view-only attendees. In line with that, Zoom is not only a great tool for remote teams, but also a great resource for teachers conducting online classes to larger groups.
Zoom is available for: Web, Windows, Linux, macOS, iOS, Android, Chrome, Firefox
Nozbe
— for getting things done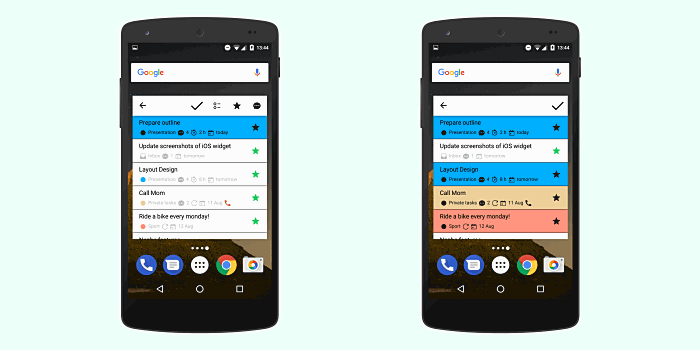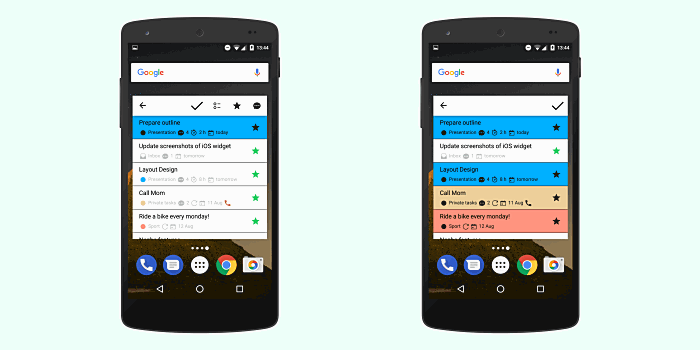 What is Nozbe?
Nozbe is a task, time, and project management software meant to help your team streamline your joint schedules — it's the perfect addition to your work-from-home kits, as it helps you stay organized. Simply, write down the tasks in a to-do list as you get assigned with them, associate them with their projects, and prioritize them.
Why use Nozbe?
There are plenty of to-do list apps out there, but Nozbe offers a simple, intuitive interface where you can fully focus on executing your tasks quickly and efficiently. You'll be able to:
Set and work on repeating tasks
Work according to project templates
Schedule your tasks in a calendar
Nozbe's best feature
You'll be able to view your team's to-dos in the calendar section of the app.
Nozbe is available for: Web, Windows, Linux, macOS, Android, iOS
Snagit
— for screen capturing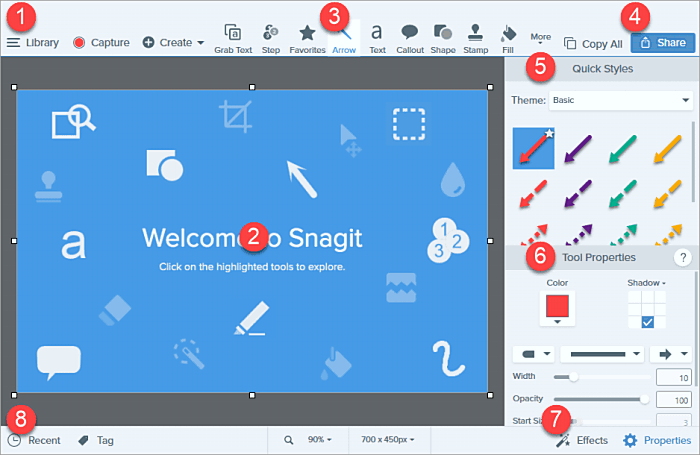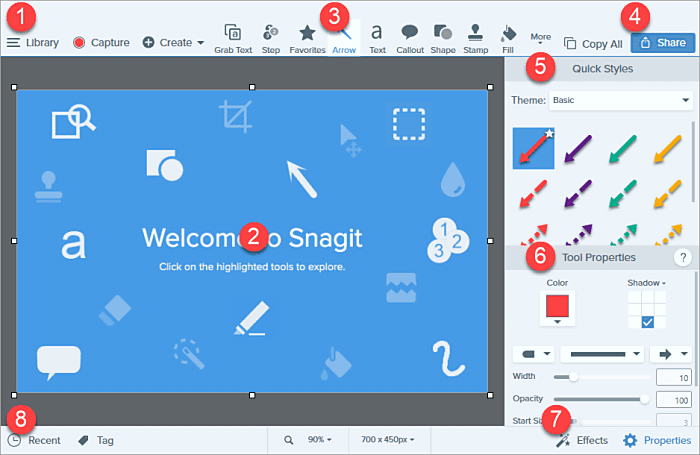 What is Snagit?
Snagit is a screenshot tool meant to help you capture video display and audio output, and then share them to facilitate communication between team members, but also improve training and teaching activities.
Simply, capture the process you want, and add visual instructions that explain or comment on the said process.
Why use Snagit?
Say you want to consult with your colleague about a certain element of your design project.
You can simply use Snagit to screenshot the design and annotate the said element, before sharing it with the colleague — as a simpler and easier alternative to diving into a lengthy text discussion that goes back and forth for half an hour before everyone is one the same page.
As an alternative, this tool will also let you record your screen and share a quick video, to get your point across even faster.
Apart from being great for business teams, this is another tool that may prove useful for online classrooms, as teachers will be able to create visual tutorials and learning materials through form templates.
Snagit's best feature
You'll be able to create videos and GIFs from images — by creating a series of screenshots and talking and drawing over them.
Snagit is available for: Windows, macOS, Linux, iOS, Android
Doodle
— for coordinating meetings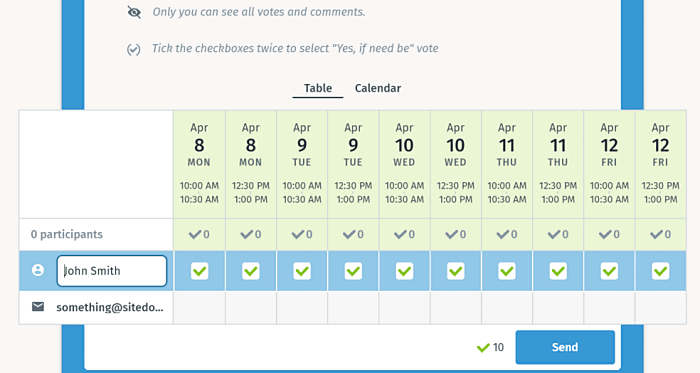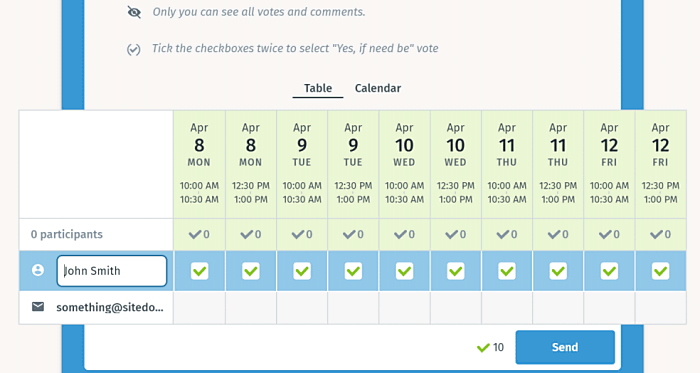 What is Doodle?
Doodle is an online calendar app meant to help you keep track of your deadlines, as well as organize your tasks, meetings, and other activities.
Why use Doodle?
Once again, you'll be able to minimize emails by arranging (online) meetings much easier and faster. If your team is scattered across the globe, you'll be able to check everyone's availability based on their respective time zones. You'll also be able to identify the ideal time slots for meetings by carrying out (anonymous, if need be) Doodle polls that survey the necessary meeting's attendees for the most suitable times to hold the online meetings.
Doodle's best feature
To make sure the team responds to meeting requests in a timely manner, you'll be able to set deadlines and define auto-reminders that urge potential participants to send their RSVPs faster.
Doodle is available for: Web, iOS, Android
Google Drive
— for file storage and synchronization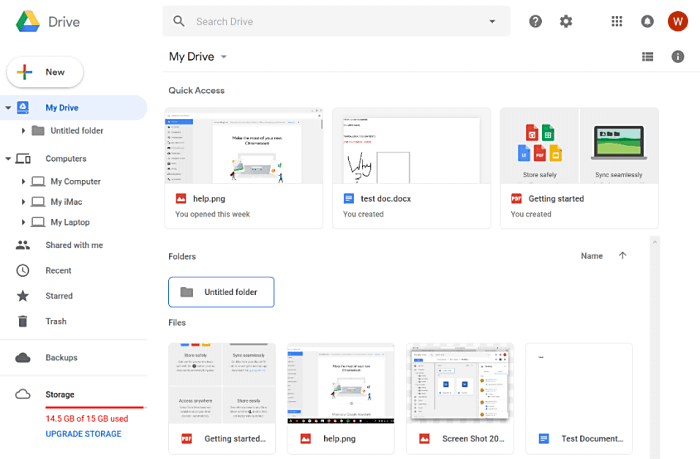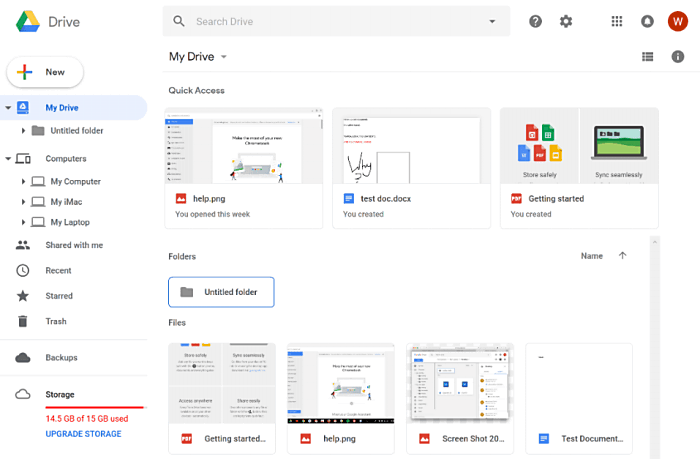 What is Google Drive?
Google Drive is a multi-functional tool that lets you store and share your files, as well as collaborate together in shared online word editors, spreadsheets, and presentation slides.
Why use Google Drive?
Collaborative work from afar may seem challenging, but you can easily work it out with Google Drive.
You'll be able to create project proposals, write and edit blog posts, or create business documentation in Google Docs.
You'll be able to compile and manipulate statistical data for your business in Google Sheets (where you'll also be able to create accompanying charts and graphs).
And, you'll be able to work on (and later present) presentations for clients and teammates in Google Slides.
You can easily create all the listed types of documents in Google Drive and then work on them together, in real-time. All your changes and edits will sync together and get saved automatically.
In addition to all that, you'll also be able to drag & drop video, audio, and text files (with an up-to-10gb limit per file) and then share access to them with teammates.
Google Drive's best feature
When using Google Drive for Android, you'll be able to snap photos of documents you want to save (such as receipts or statements) directly from the application, and then have them stored in the drive as PDFs.
Google Drive is best for: Web, Android, iOS
15Five
— for measuring employee engagement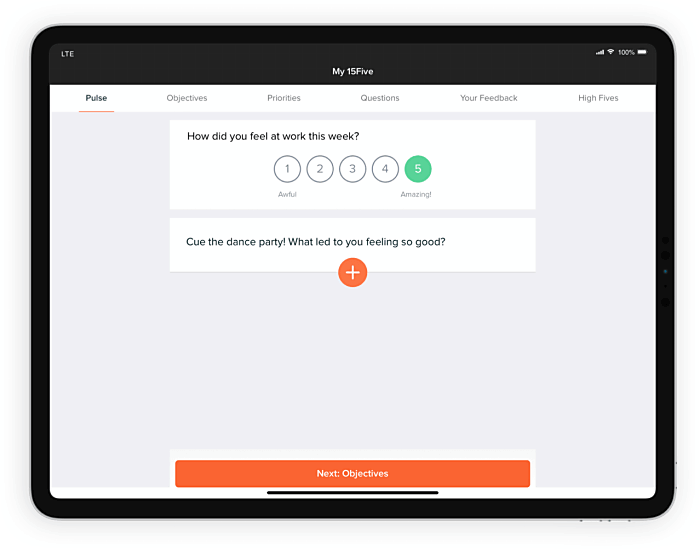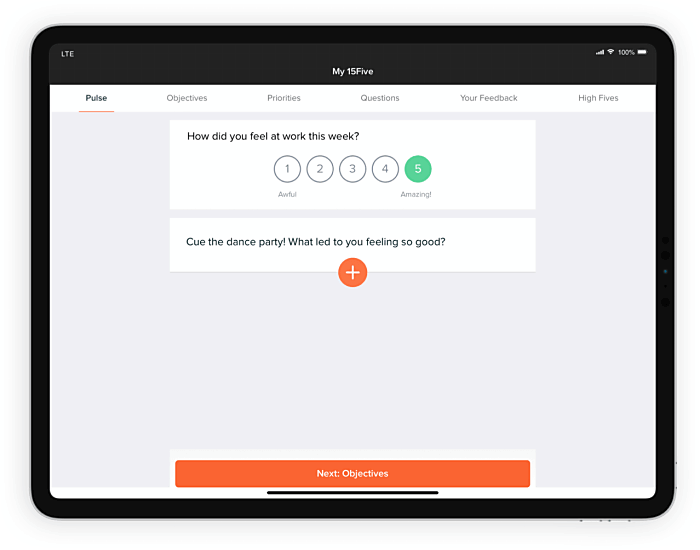 What is 15Five?
15Five is a performance management software that helps employers and managers collect regular employee feedback in order to build and maintain a high performing work culture — even from afar.
Each week, the employees receive a 15-minute survey where they answer a string of insightful questions such as the ones concerning their personal productivity and morale within the team. Then, the employers and managers read and comment on their responses, as well as analyze metrics to find ways to trigger continual improvements in future work and performance.
Why use 15Five?
With this tool, employers will get a chance to understand how satisfied their employees are with their work. In turn, the employees will get a chance to have their concerns and opinion heard in a straightforward manner.
15Five promises a powerful question bank, so both the employers and the employees will get a chance to address diverse sets of potential work issues and concerns.
15Five's best feature
The app also helps you make sure your team is well aware of the company Objectives and Key Results (OKRs). You'll be able to establish a goal-setting-and-tracking process for each company department, where team members responsible for the said OKRs will be able to work on their respective Objectives and Key Results — and then grade and report their success.
15Five is available for: Web, iOS, Android
Basecamp
— for team and client collaboration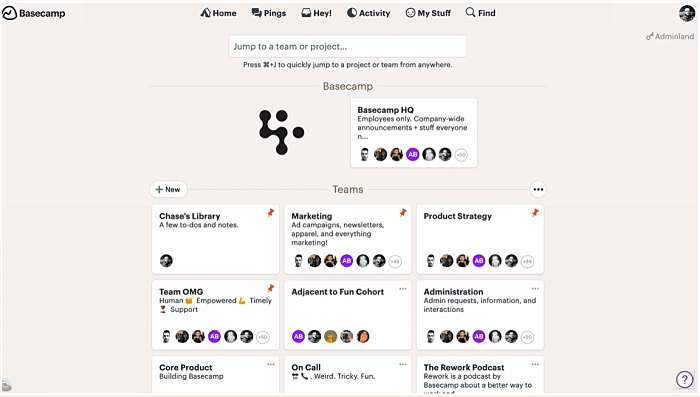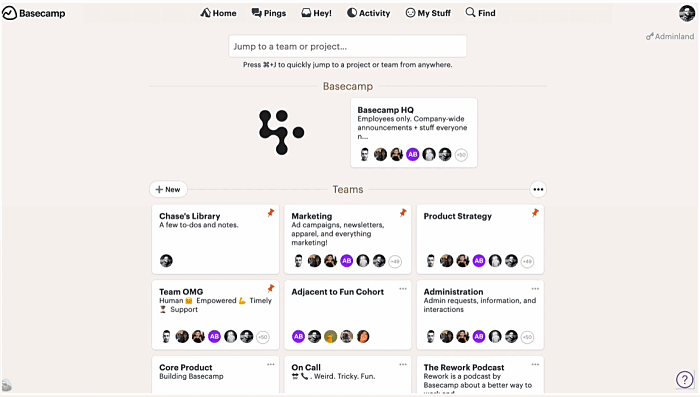 What is Basecamp?
Basecamp is a project management tool meant to help you manage your teams, projects, and tasks, as well as collaborate directly with clients while doing so.
Why use Basecamp?
While Asana is great for team collaboration and tracking project progress, Basecamp is great for when you want to include your clients directly in the project and consult with them while working.
You'll be able to share to-dos with clients, message them, and forward client emails directly to Basecamp — while also keeping everything you want exclusive for the team, private from the clients.
In addition to that, you'll also be able to create to-do lists, communicate in message boards, track deadlines in calendar schedules, store files and documents, participate in real-time group chats, and everything you need to do to streamline project collaboration within a team.
Basecamp's best feature
You'll be able to ask your team check-in questions on a regular basis (such as "What did you work on today?") and have all replies roll up in one easily-searchable thread.
Basecamp is available for: Web, Windows, macOS, iOS, Android, Chrome, Firefox
BEST WORK-FROM-HOME APPS FOR INDIVIDUALS
Forest
— for focused work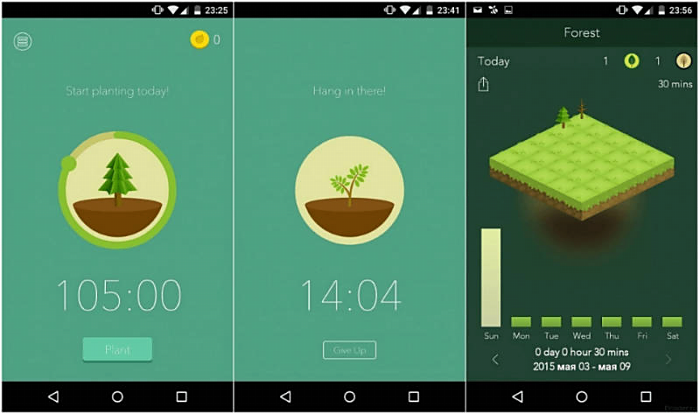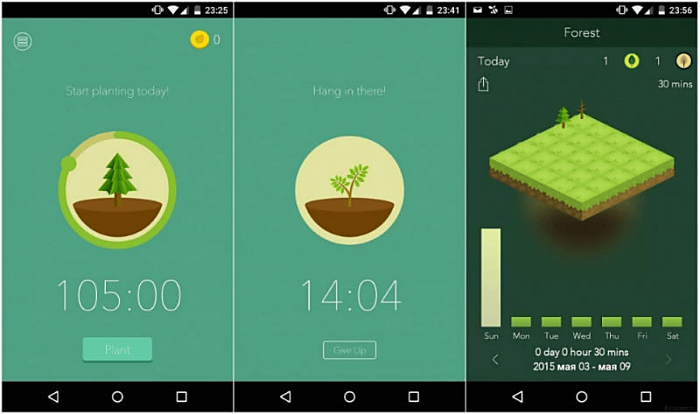 What is Forest?
Forest is an app that helps you avoid your phone and stay focused on your work in an innovative way — by associating your self-control with the fate of a virtual tree you need to take care of.
Whenever you want to focus on work, just plant a seed in the Forest app:
As long as you don't dabble with your phone, the seed grows.
If you leave the app, the tree withers and dies.
Eventually, if you stay your ground, your seed will develop into a tree, and you'll grow a lush forest that signifies how productive you are.
Why use Forest?
This application really sets out to motivate you to stop browsing your Social Media feeds, and start working with full concentration, as it allows you to:
compete with colleagues on who can keep their phones down the longest
plant tree with colleagues, to signify shared work
unlock as much as 30 new tree species (+ white noise sounds)
push forward to unlock achievements and rewards
Forest's best feature
You can even sponsor the planting of a real tree somewhere in the world, with the help of the Trees for the Future organization — so, you can both stay productive and help the environment.
Forest is available for: iOS, Android, Windows Phone, Chrome, Firefox
World Time Buddy
— for easily syncing collaborative work across time zones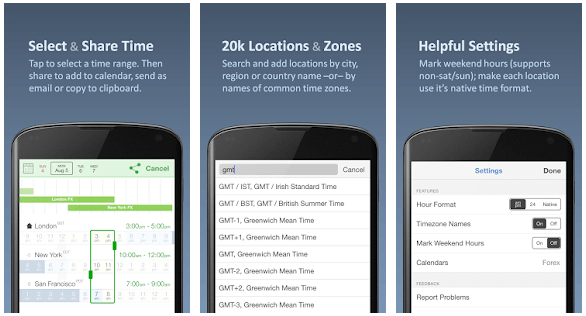 What is World Time Buddy?
World Time Buddy is a simple and quick tool that lets you compare different time zones at a glance. Just select the cities whose time zones you need to view and move the grid across the times to make comparisons.
Why use World Time Buddy?
This tool is perfect for when your remote team members are located in a different time zone, and you need to take note of that when deciding on the perfect times to organize meetings and collaborative work.
World Time Buddy's best feature
Considering that changing the clocks due to Day Savings Time is a matter people may easily overlook when planning their workdays, this tool reminds you of such scheduled clock changes a day earlier.
World Time Buddy is available for: Web, iOS, Android
Seven
— for home workouts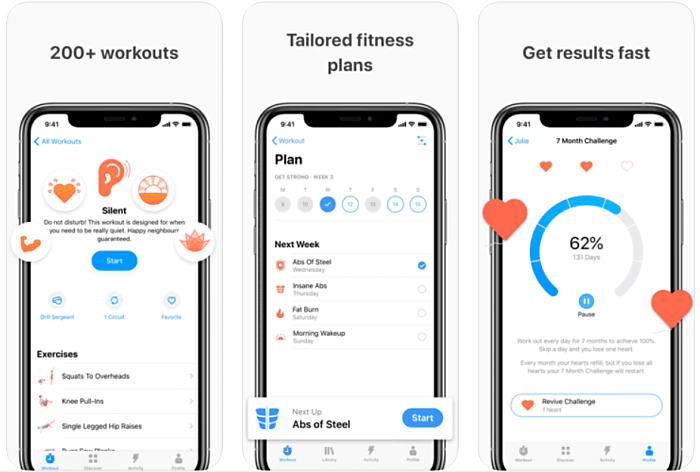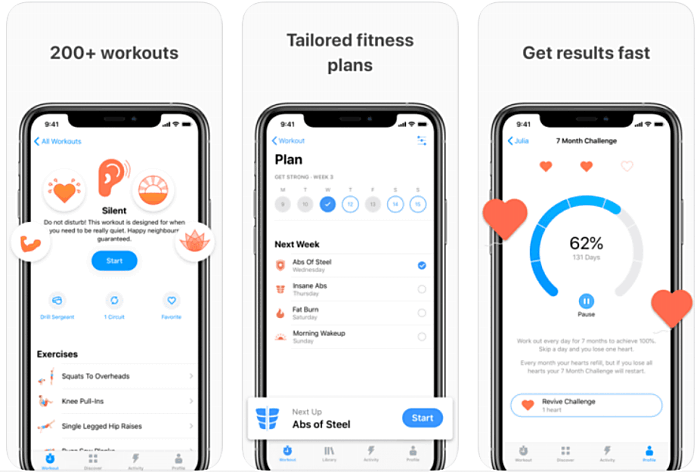 What is Seven?
Now, Seven won't strictly help you be more productive when working from home. But, it will help you stay healthy enough to work productively from home — by offering 7-minute workout challenges.
Why use Seven?
Even when working from home, you'll need to take breaks — and what better way to take a break than to spend it on a healthy workout? For this purpose, Seven can help you choose among 200 tailor-made workouts and exercises to help you vary your training.
Seven's best feature
You'll also get to choose among several fun personal trainers — including Drill Sergeant and Cheerleader — to help keep you motivated throughout your workouts.
Seven is available for: iOS, Android
StayFocusd
— for staying away from time-wasting websites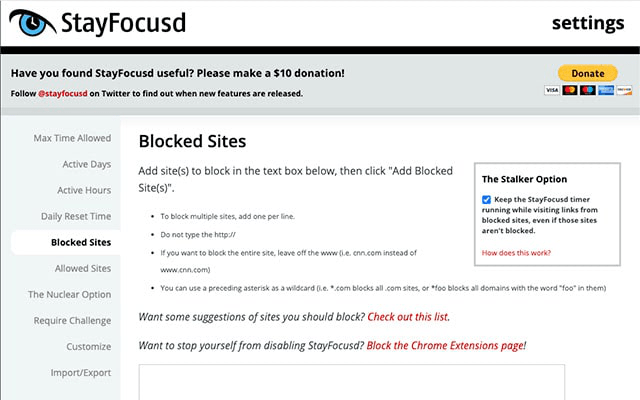 What is StayFocusd?
StayFocusd is a website blocker that limits the time you spend on time-wasting websites to the number of minutes or hours you set yourself.
Just add the URLs of websites you'll want to avoid during work hours on a special list and define the exact time (say 10 minutes) you'll allow yourself to spend on them per day — once the predefined time us up, you will no longer be able to enter the said websites.
Why use StayFocusd?
Procrastination is a common urge, especially when you've just started working from home for the first time — you'll no longer be able to rely on your colleague's presence to keep you accountable with your work, and away from Social Media feeds.
But, StayFocusd can serve as your new accountability partner, and a strict one to boot — once your 10 minutes on Facebook are up, you won't be able to cheat your way into another 10 minutes, because the option to delete blacklisted websites from the list of forbidden websites will also be locked until midnight, i.e. a new calendar day.
StayFocusd's best feature
The Nuclear option in this extension is a real treat when a task needs your undivided attention (and you theoretically still have 20 minutes to spend on your forbidden websites). Once you turn this option on, you'll nuke access to all blacklisted websites for a time period you set yourself — and, you'll only be able to access the work-related websites you've added to a special "Allowed" list.
StayFocusd is available for: Chrome
Spark
— for managing emails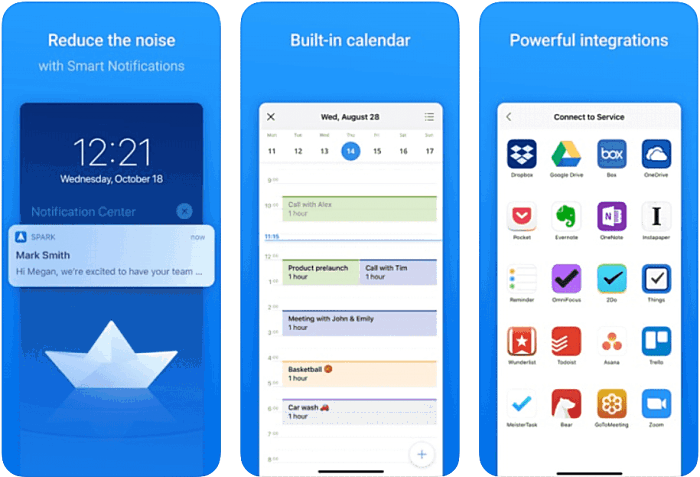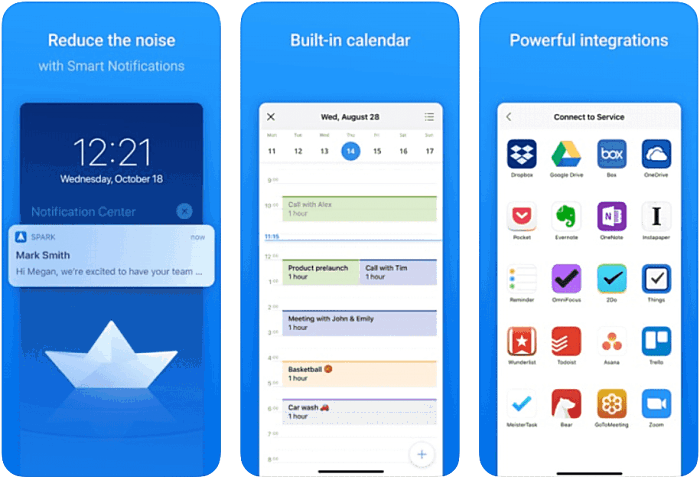 What is Spark?
Spark is a personal email client that lets you prioritize emails and places your priority conversations on top, so you can reply to them first.
Why use Spark?
Working from home may often mean you'll practically be bombarded with emails — and, once again, not all of these emails will be worth your attention.
Spark only notifies you of the emails sent to you by the people you know, so you'll easily speed up all email correspondence with your colleagues.
In line with that, you'll also be able to snooze your emails during the time periods when you want to focus on other work.
Spark's best feature
Spark is great for collaborative emailing, as you'll be able to discuss emails with your teammates as they arrive, as well as write emails together in a real-time editor.
Spark is available for: macOS, iOS, Android
Todoist
— for tracking your to-dos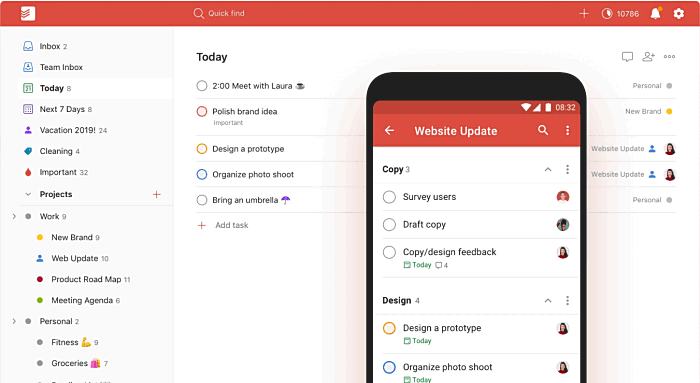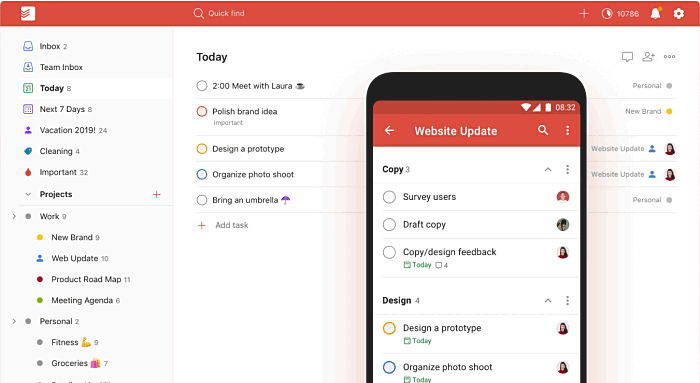 What is Todoist?
Todoist is a task management application that lets you define all your tasks in a simple list, add due dates for each task, track your progress with them, and checkmark them when complete.
Why use Todoist?
Todoist can do for the individual, what Nozbe can do for a team. You can add tasks by typing a description for each. But, you can also convert the emails you receive from your colleagues or boss to tasks and comments, as soon as you receive them. The browser extension even lets you convert the interesting articles and websites you find while browsing the web to tasks.
Todoist's best features
You can define automatic, recurring deadlines for each type of task that will automatically activate based on the time it took you to finish earlier tasks of the same type.
Todoist is available for: Web, iOS, Android, macOS, Windows, Chrome, Firefox, Safari, Microsoft Edge, Outlook, Gmail, Apple Watch, Wear OS
Skitch
— for brainstorming sessions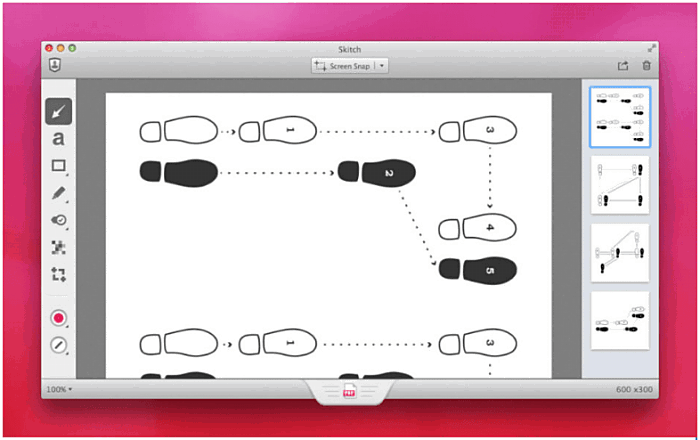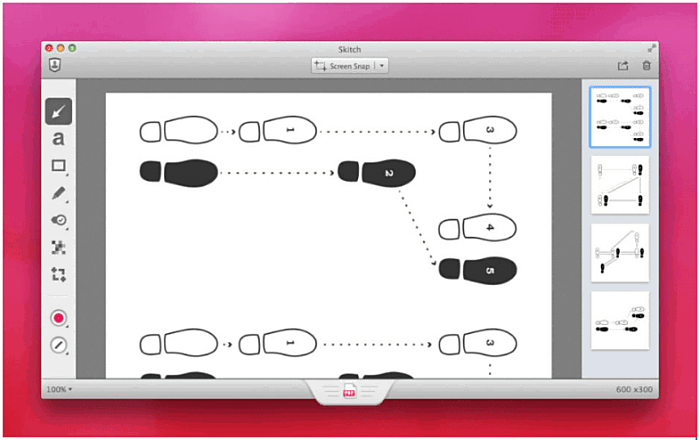 What is Skitch?
Skitch, developed by the team behind Evernote, is an annotation app that helps you bring your ideas to life through shapes, sketches, and markups. It also helps you add comments to projects, and hold visual discussions with your team.
Why use Skitch?
When working in an office, you can usually bring your entire team in one place and explain your ideas on a whiteboard. But, when you're all working from home, getting your ideas across in the way you want can be a bigger challenge — which is exactly why you should try Skitch.
You can share your project plans, blueprints, designs with the team and everyone can then annotate the changes that needed to be made or elements they especially want to be kept.
Skitch can be an especially useful tool for teachers conducting online classes — for example, if you're a geography teacher, you can share an image of the earth's layers and then have the students label them with your help. Your own imagination on the type of image you'll use and the type of task you'll assign is the limit.
Skitch's best feature
Skitch even allows you to take the pictures you want to annotate yourself, without leaving the application.
Skitch is available for: Windows, macOS, iOS, Android
Focus@Will
— for boosting productivity through music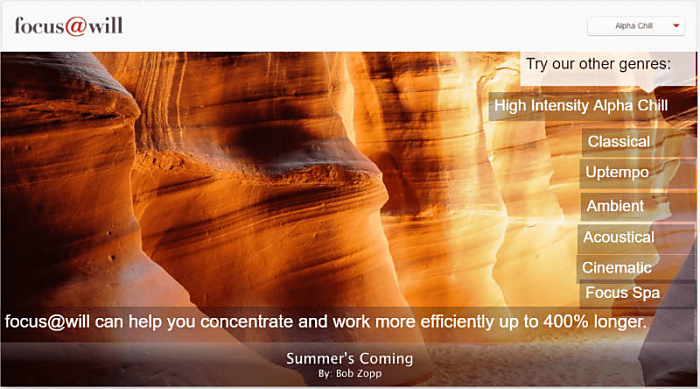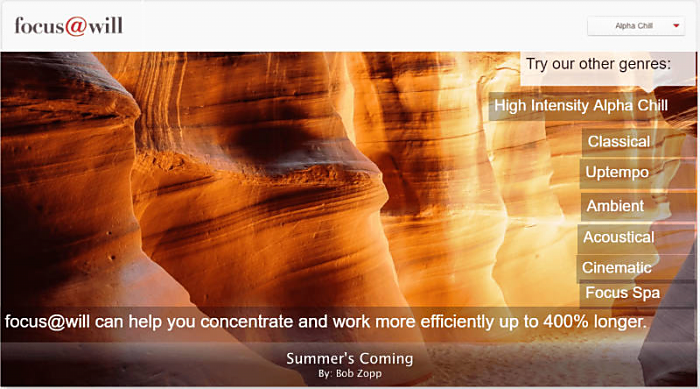 What is Focus@Will?
Focus@Will is a neuroscience-based service that offers playlists of instrumental music meant to help increase your productivity levels up to 4 times, by blocking distracting sounds to help you focus on your work better.
Why use Focus@Will?
Each musical track has been tested by scientists and experts in order to measure the effects of the instrumental pieces on the brain and heart-rate.
The website promises to help you ease into a focused state within 20 minutes and then stay in the said focused state for 200 minutes.
You'll get a great selection of instrumental sounds that mix styles and sounds, with highlights such as Electro Bach, Baroque piano, Cinematic instrumentals, and Focus Spa.
Focus@Will's best feature
You'll be able to take a survey that asks questions meant to help identify what music channel you should pick to maximize focus for your particular personality type.
Focus@Will is available for: Web, Windows, macOS, iOS, Android, Sonos devices
MyNoise
— for isolating yourself from background noise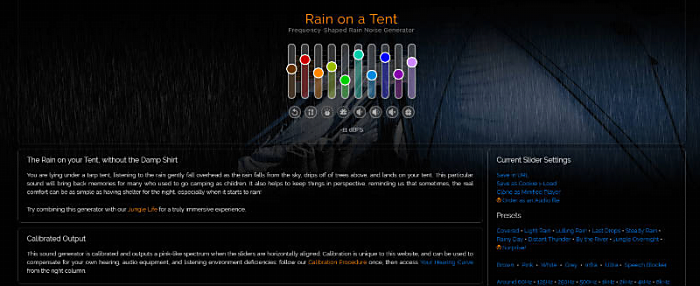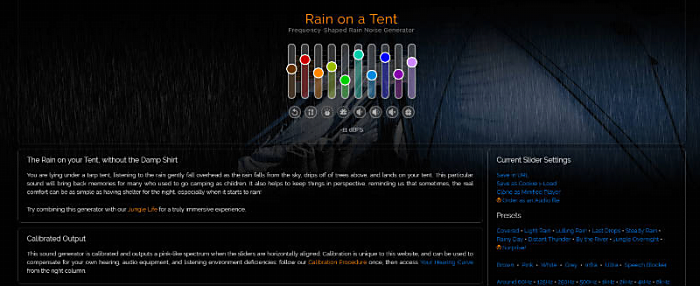 What is MyNoise?
MyNoise is an all-inclusive noise generator that offers a wide variety of sounds to help you focus on work, or relax during your breaks.
Why use MyNoise?
Background noise can help you be more productive, and it can also help you relax during breaks. And, most noise generators you find online offer only one type of noise, be it colored noise or the sounds of nature. But, MyNoise is much more ambitious.
When it comes to the more mainstream noises, the app's selection includes the sounds of rain falling on a tent, a waterfall crashing into the water below, and a crackling fire.
Now, the more unusual side of the application's selection includes the sounds of a fish tank, an RPG dungeon, or an interstellar void you'd find in a Black Hole.
So, whatever soothing ambient noise you want to listen to to help you relax or focus, chances are you will be able to find it in this tool.
MyNoise's best feature
The app encourages you to mix types of sounds the way you want, and even offers a suggestion of the types of sounds that go well together — such as "Rain on a Tent" and "Juggle Life".
MyNoise is available for: Web, iOS, Android
1Password
— for securing your passwords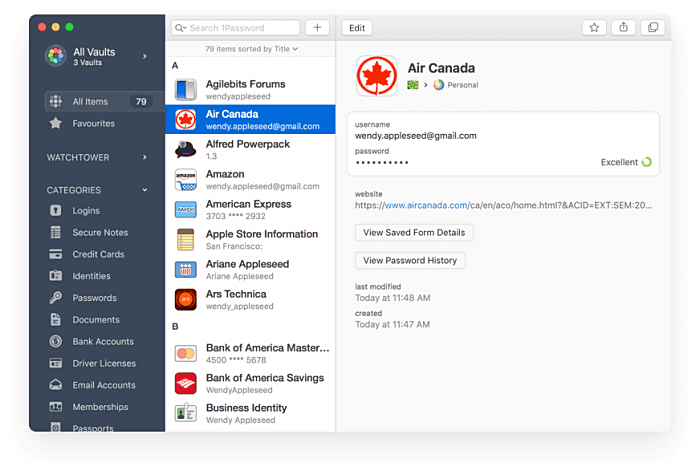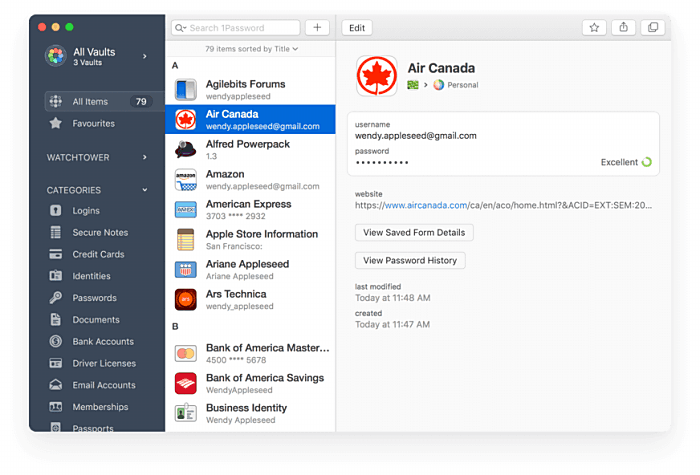 What is 1Password?
1Password is a password manager that serves as an efficient secure vault for all your passwords. You sign up for the app, define a Master Password, add all your other passwords in your personal vault, and you're done.
Why use 1Password?
You'll be able to add a different password for each website or app, without worrying you'll forget one or ten of them the next time you need them.
1Password's best feature
To make sure you are extra secure while working from home, you can use the tool's password generator, to create random, secure passwords that guarantee your devices stay safe.
1Password is available for: Web, Windows, macOS, iOS, Android, Chrome, Firefox, Safar
Private Internet Access (PIA)
— for secure browsing


What is Private Internet Access?
Private Internet Access (PIA) is an open-source virtual private network (VPN) service for personal use.
Why use Private Internet Access?
VPNs are usually used for public Wi-Fi, but you should consider using it for your home network if you:
often visit websites which are not encrypted
ask your neighbor to "borrow" her or his Wi-Fi access, in case of an emergency
when you want to get around location-specific restrictions (e.g. for websites blocked in your country)
want to access a remote device and need extra security
Private Internet Access' best feature
You'll be able to use Private Internet Access on 10 devices simultaneously, as well as block trackers, ads, and malware.
Private Internet Access is available for: Windows, macOS, Linux, iOS, Android
FixMe.IT
— for remote desktop control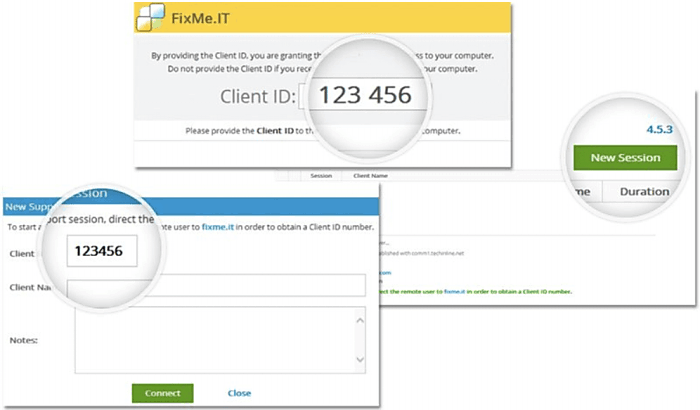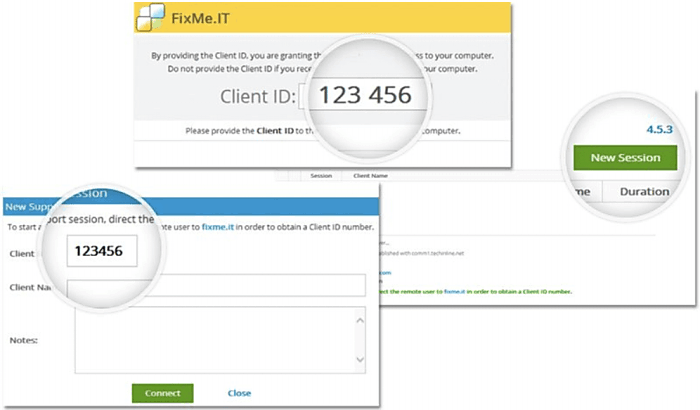 What is FixMe.IT?
Technically, FixMe.IT is an IT support tool that helps support teams fix app issues users have from afar. But, you can also efficiently make use of this tool's remote desktop control options while working from home.
Why use FixMe.IT?
This tool is great if you left some important documents in your office computer and want a secure, remote way to obtain them from your home laptop — because this software allows you to access even unattended remote computers.
It's also a great solution if your colleagues ask you to access their own devices from afar, for whatever reason. You'll even be able to share your own screen when collaborating with a colleague, as well as easily switch between various remote desktops you've accessed.
FixMe.IT's best feature
You won't just be able to obtain files from remote devices, you'll also be able to send them out to remote devices, as well as conduct live chats while doing so.
FixMe.IT is available for: Web, iOS, Android
Focusmate
— for staying accountable with your work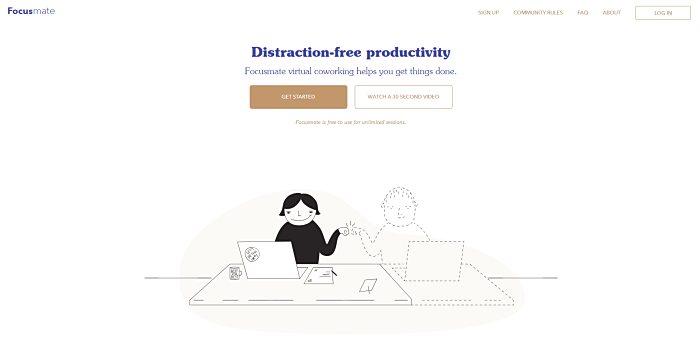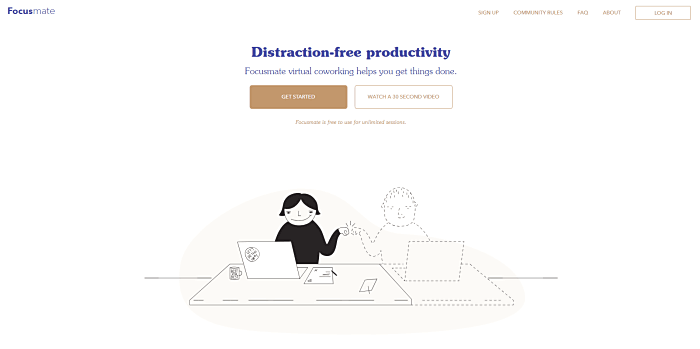 What is Focusmate?
Focusmate is a virtual coworking space useful to make sure you are accountable with your work, by assigning you with an online accountability partner. Once you start using the app, all you have to do is:
Select the time slots when you want to work and be productive in a simple calendar view.
Start the 50-minute live work session by greeting your accountability partner and explaining your goal for that session.
Hear out your partner's goal for the session, and start working.
Work quietly on your goal until the end of the session.
Why use Focusmate?
Working home alone can be a test for your attention span — you may be tempted to take prolonged breaks from work, or procrastinate endlessly on Social Media.
But, working with an online accountability partner who is probably struggling with the same temptations as you can inspire you to be 200-300% more productive with your work, according to the Focusmate research.
You can even make an arrangement with one of your office colleagues to sign up for the app together and be each other's accountability partners.
Focusmate's best feature
Despite the point of this app being working quietly in tandem on your own task, the microphone stays on throughout your session — so, you can chat with your accountability partner on occasion, just like in a regular office.
Focusmate is available for: Web
Coffitivity
— for a crowded cafe atmosphere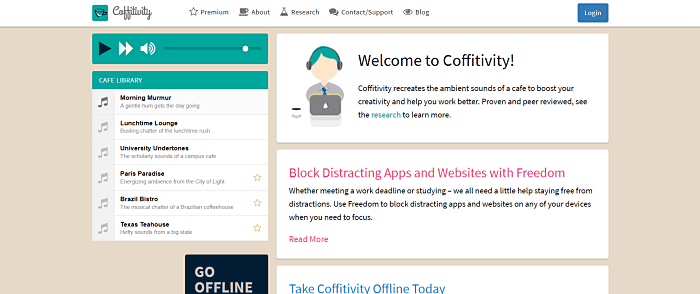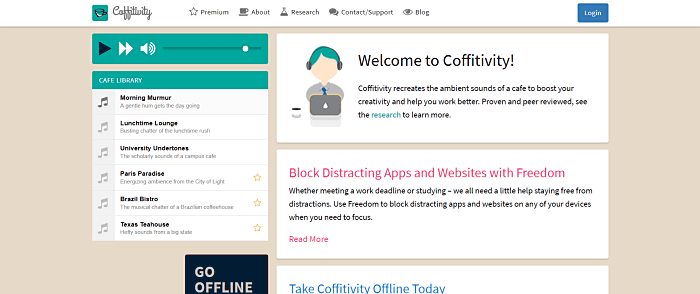 What is Coffitivity?
Coffitivity is a noise generator that recreates the ambient sounds of a crowded cafe shop, to help spark your creativity while working.
Why use Coffitivity?
Whether you are a freelancer used to working in cafes, or an office employee now sent to work from home, you'll likely miss the ambiance and gentle murmur of a crowded room — which is what you'll get with Coffitivity. You don't even need to use your headphones (for a more realistic ambiental experience) — just start the app, and start working.
Coffitivity's best feature
With this app, you won't just get the ambiance of any generic cafe — you'll get to choose among several different types of cafes and times of day, that offer different ambiental experiences to listen and immerse yourself into. Highlights include the busting chatter of a lunchtime lounge, the university undertones of a campus cafe, and the musical chatter of a Brazillian bistro.
Coffitivity is available for: Web, iOS
Aloe Bud
— for making sure you take care of yourself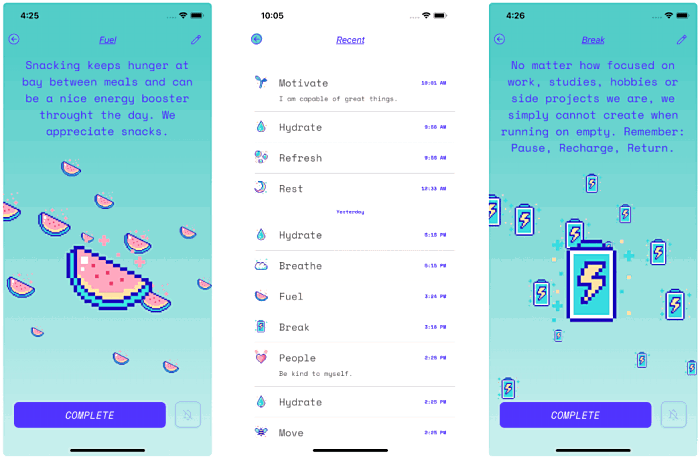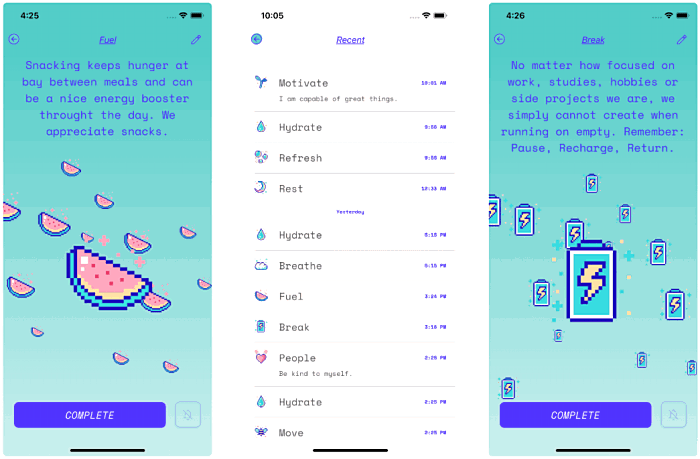 What is Aloe Bud?
Aloe Bud can serve as your self-care companion that ensures you eat on time, stay hydrated, and stay mentally and emotionally healthy throughout your work routine — by sending you regular notifications to remind you of various self-care tasks.
Why use Aloe Bud?
When you immerse yourself into work, you often forget to take a break — which isn't good for your health or the quality of your work. So, with Aloe Bud, all you have to do is create a schedule when you want to be notified to grab a snack, drink a glass of water or tea, take a lunch break, take a 5-minute meditation break, or indulge in any activity you think you need to recharge your batteries.
Aloe Bud's best feature
The app offers a micro-journal with reflection prompts where you can write bite-sized entries that show how successful you are in keeping to your self-care schedule on a daily basis.
Aloe Bud is available for: iOS
Plant Nanny
— for making sure you stay hydrated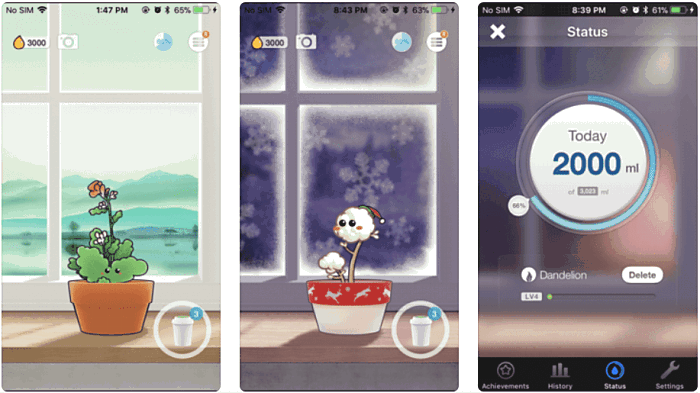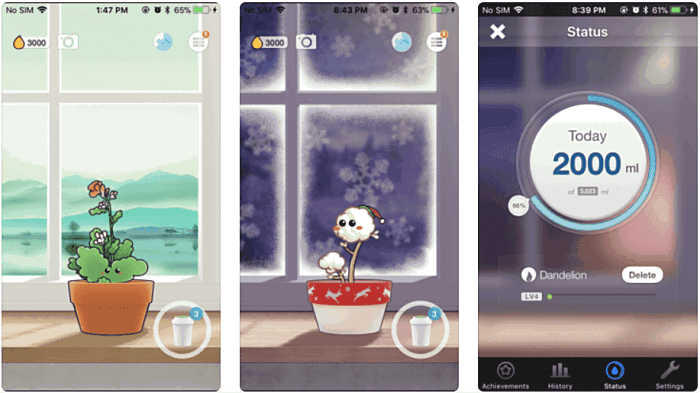 What is Plant Nanny?
Plant Nanny is somewhat of a combination of Forest and Aloe Bud — you need to nurture a cartoon seedling into a fully-grown flower (dandelion), by remembering to stay hydrated yourself.
Each time you drink a glass of water, you specify that in the app — if you drink enough water during the day yourself, your flower will also prosper, and you'll be rewarded with additional seeds from your thriving dandelion.
Why use Plant Nanny?
If you stay hydrated you'll be able to perform well at work — and Plant Nanny provides notifications to remind you to drink water at regular intervals.
Plant Nanny's best feature
You can use seeds you get from your fully-grown dandelion to buy other, more exotic flowers, for free — for variety's sake, and to encourage you to keep "watering" the flower by staying hydrated yourself.
Plant Nanny is available for: iOS, Android, Windows Phone, Windows, macOS
EōN
— for an enjoyable music experience during work time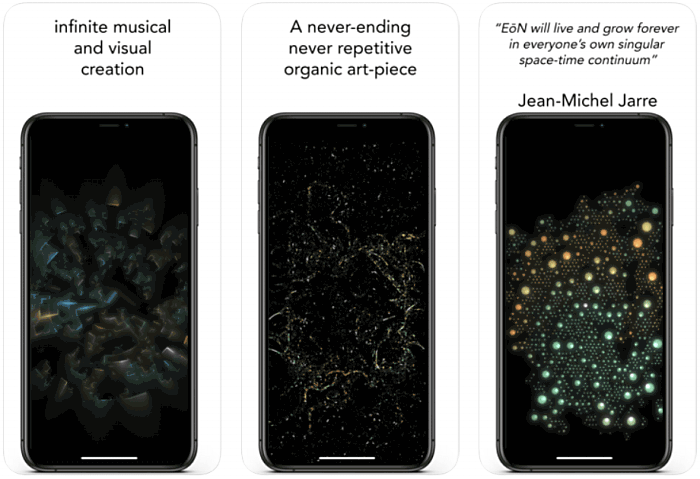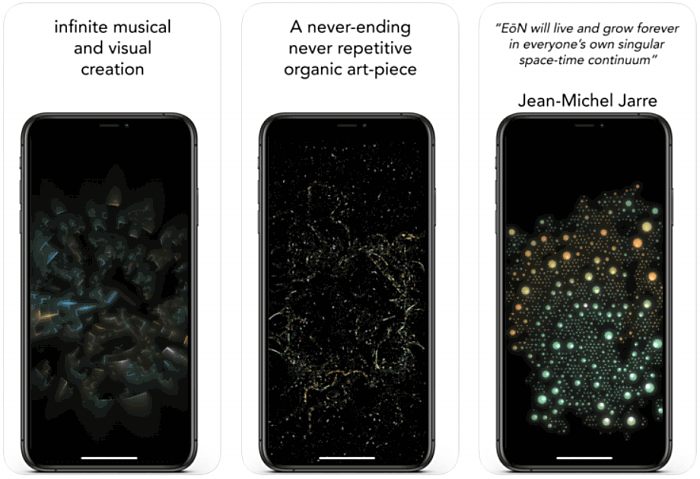 What is EōN?
EōN is an electronic sound and visual experience created by Jean-Michel Jarre that offers an infinite musical experience where no sound ever repeats. Each time you launch the app, the music unfolds differently, with individual sounds that last from 10 seconds to 3 minutes.
Why use EōN?
We already talked about using noise generators (MyNoise and Coffitivity) when you want to block background noise and immerse yourself into your work. But, listening to the right kind of music can have the same effect — EōN offers an endless mix of tones, sound textures, and tempos you can easily listen to during your work time without experiencing music fatigue.
EōN's best feature
Once you download it, EōN works completely offline.
EōN is available for: Web(sample), macOS, iOS
Krisp
— for muting background noise during calls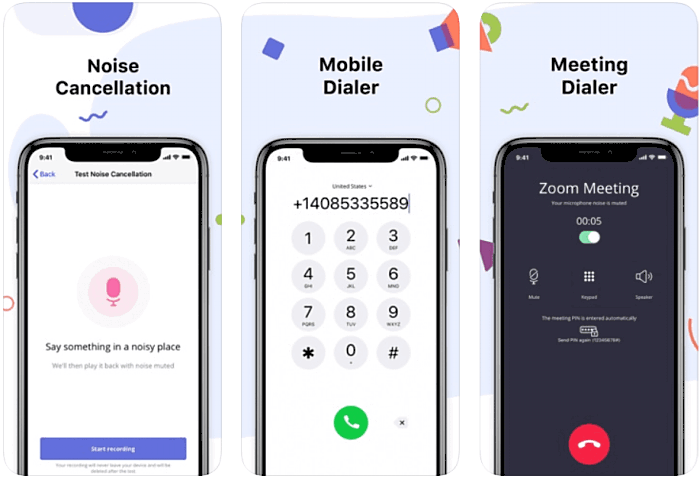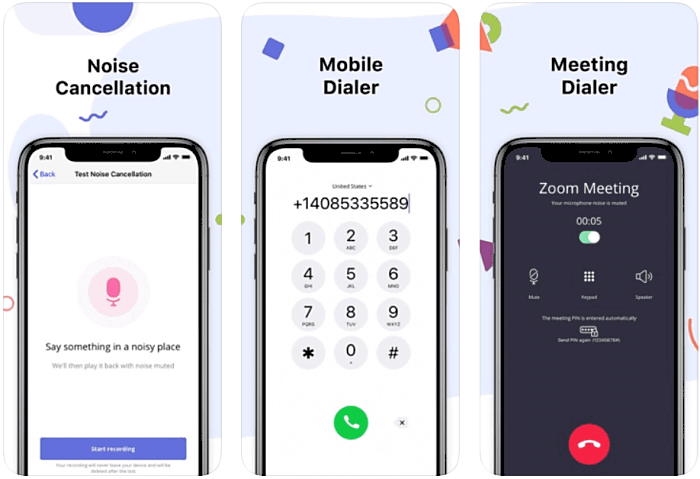 What is Krisp?
Krisp is an app for removing background noises for both incoming and outgoing voice calls.
Why use Krisp?
When working from home, you're bound to be interrupted by your children, pets, or similar, often, noisy (albeit adorable) distractions. Moreover, you may live near a noisy street, or arguing neighbors. In any case, Krisp will help you mute any type of background noise so that you're able to hear (and be heard by) your caller loud and clear. Perfect for any type of remote teams, but also call centers, streamers, podcasters, and online teachers.
Krisp's best feature
You'll be able to integrate Krisp with over 600 apps and use it with any type of headphones, speakers, and microphones you want.
Krisp is available for: Windows, macOS, iOS, Chrome
Pocket Yoga and Pocket Yoga Teacher
— for yoga breaks during work time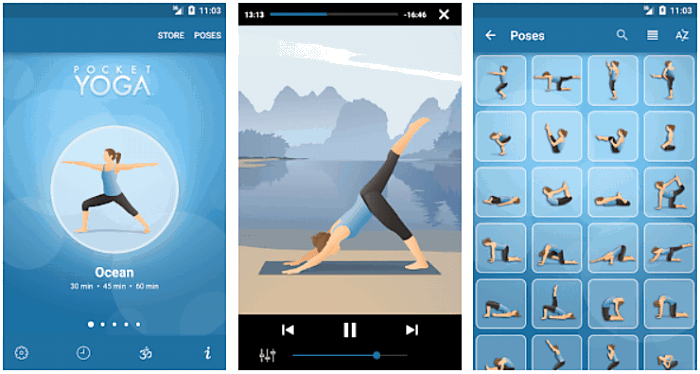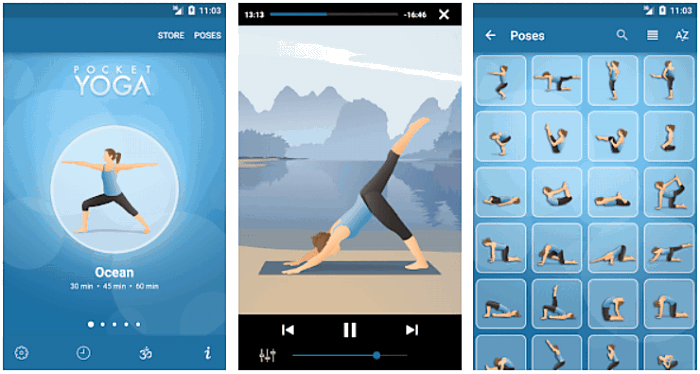 What is Pocket Yoga and Pocket Yoga Teacher?
Pocket Yoga and Pocket Yoga Teacher, as their name suggests, are companion yoga apps you can carry around in your pocket. They recreate the experience of practicing in an actual yoga studio: soothing music will play as a soothing voice guides you through your yoga poses, and explains how you are supposed to breathe.
Why use Pocket Yoga and Pocket Yoga Teacher?
Practicing short yoga poses is an excellent way to relieve stress and relax during work breaks — and these two apps make sure you dive into a ready-made yoga routine in a matter of minutes.
Pocket Yoga and Pocket Yoga Teacher's best features
Pocket Yoga lets you choose your practice, duration, and difficulty level, as well as choose the "environment" you want to practice in — as you progress, you'll get to unlock new, interesting "environments".
Pocket Yoga Teacher lets you create your own routine by choosing the poses you'll want to practice, in the order you want to practice them.
Pocket Yoga and Pocket Yoga Teacher are available for: macOS, iOS (both apps), and Android (just Pocket Yoga)
Zen: coloring book for adults
— for relaxing (and colorful) break time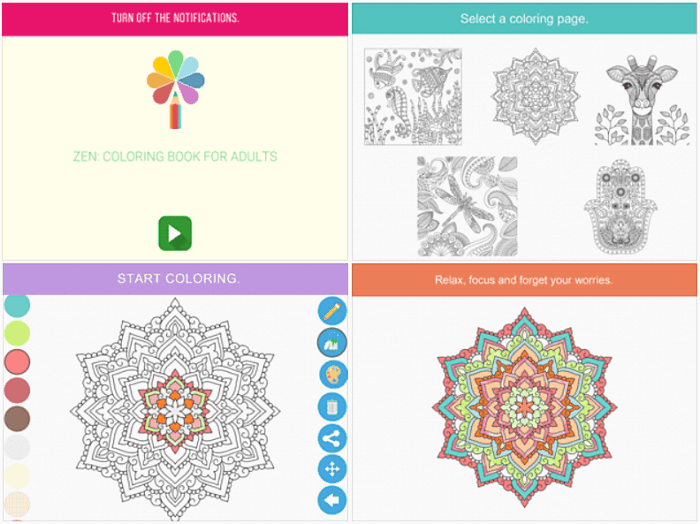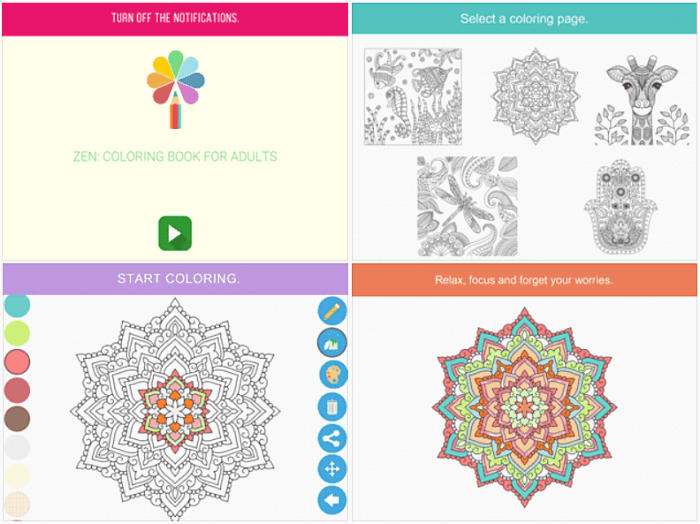 What is a Zen: coloring book for adults?
Zen: coloring book for adults is a digital coloring book that lets you create colorful pieces of art while listening to relaxing music. To color the designs, you can use blends, gradients, textures, custom colors, as well as different coloring methods, including brushes and pencils. Once you're done, you can save or print your art, or share it on Social Media.
Why use Zen: coloring book for adults?
This is another app that doesn't directly help forward your work, but it's also another excellent choice of activity when you want to take a relaxing break from work.
Zen: coloring book for adults' best feature
Apart from regular coloring, you can also use the Apple pencil for shading your designs.
Zen: coloring book for adults is available for: macOS, iOS, Windows
iA Writer
— for a distraction-free experience when writing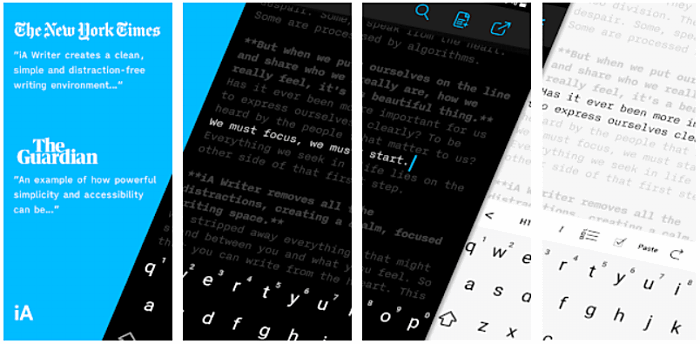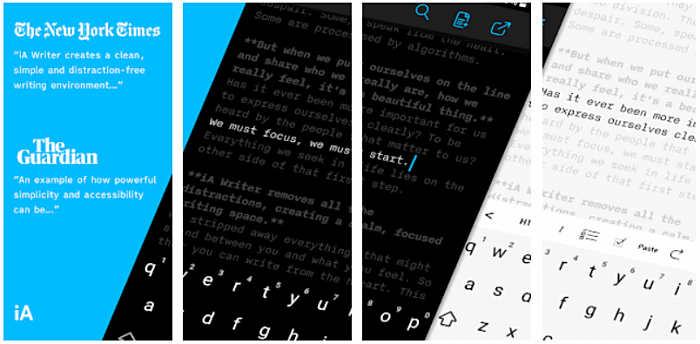 What is iA Writer?
iA Writer is a word editor that offers a simple and distraction-free writing environment for the times when you want to focus solely on your writing.
Why use iA Writer?
If you're a content writer, copywriter, fiction writer, or any type of writer at all, you'll find great benefits here, because this app will help you focus on your work and avoid the usual distractions, such as ads, news, etc.
iA Writer's best features
If you're using iA Writer for Windows, you'll get to enjoy features such as automatic table alignment, chapter folding, and a document outlining.
iA Writer is available for: Windows, macOS, Android, iOS
Simplish
— a to-do list productivity tool based on positive psychology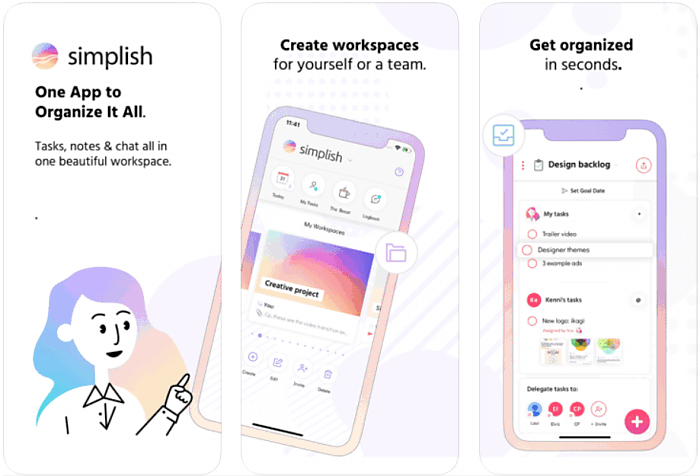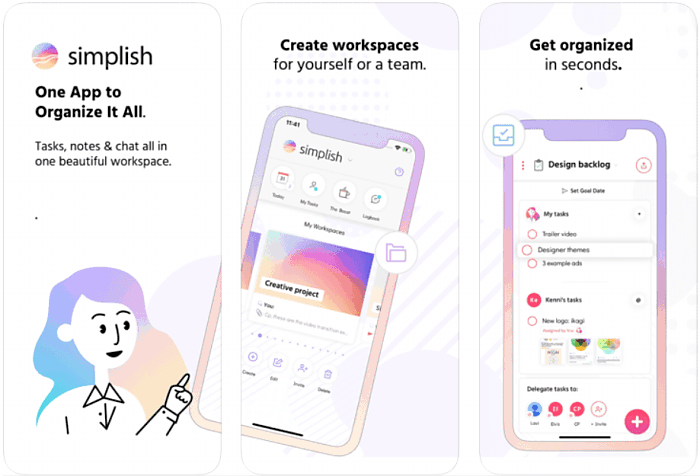 What is Simplish?
Simplish is a to-do list app meant to help you organize your tasks, capture notes and observations, schedule events and tasks in a built-in calendar, as well as collaborate with coworkers on shared tasks.
The color palette of the app is selected to help boost your mood, and you'll also have positive daily affirmations to help keep you in high spirits during work time.
Why use Simplish?
Organizing your tasks and activities in multiple, separate workspaces can help you contextualize your daily tasks and strike an appropriate work/life balance while working from home.
And, this app allows you to organize both the tasks and activities you have to perform alone and the ones you have to perform with your team, and all that in whatever number of workspaces you need in order to carry out your workflows.
You'll also be able to share to-dos with team members, as well as chat with them while you work on joint tasks, directly from the app.
Simplish's best feature
The Daily Planner feature offers a shortlist of your tasks for the day, in order to help you focus on your priorities on a daily basis.
Simplish is available for: iOS, Android