Profile settings
Each user can set their preferences in the Profile settings. Profile settings are applied on a per-user basis.
If you change something, it won't affect other users, only you.
Rearrange items in your sidebar by drag and drop and move those you rarely use to the Show more section.
You can access Profile settings by clicking on your profile in the upper right corner.
In Profile settings, you can:
Upload and remove your profile picture
Change name and email
Change language
Change password – you can create a password using small and big letters, upper and lower cases, numbers, the only limitation is that it needs to be a minimum of 6 or a maximum of 50 characters
Enable or disable grouping of similar time entries
Make project list compact
Enable 2FA
Activate or deactivate the task filter
Control which emails you get from Clockify (newsletter, personal weekly report, and long-running timers)
Change time settings (time zone, date format, time format, week start, and day start)
Get your API key and create webhooks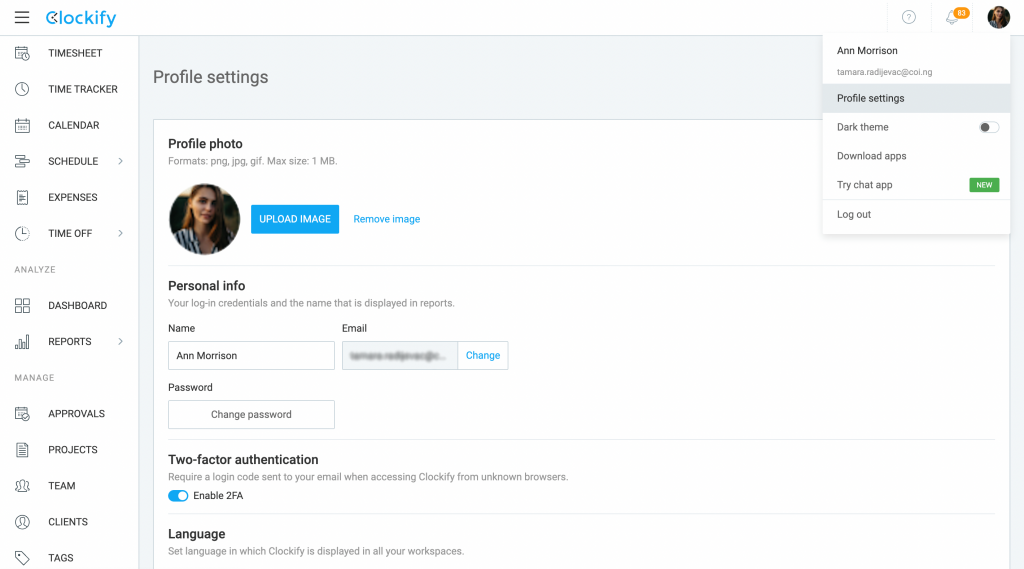 Email preferences #
You can control which emails you wish to receive from Clockify by clicking Manage email preferences in your Profile settings:
Newsletter – Receive a monthly email about new features in Clockify
Onboarding – Receive an email series about key features and activities when joining Clockify
Weekly report – Receive a weekly email about your time tracking activities
Long-running timer – Receive an email when a time entry is running more than 8 hours
Scheduled reports – Receive shared reports you've scheduled to email
Approval – Receive an email when a timesheet is submitted, rejected, withdrawn, or approved
Time off – Receive an email when balance is updated, or a time off request is submitted, approved, or rejected
Alerts – Receive an email when a project or task reaches a certain percentage of its estimated time or budget
Reminders – Receive an email when you or your teammates miss or go over time tracking targets
Schedule – Receive an email about your scheduled assignments
Clockify may still send you messages regarding your account, required service announcements, legal notifications, and privacy matters.
In order to receive these email notifications, you need to have a verified email and also check which type of notifications you'd like to receive in Email preferences.
You can also unsubscribe from any type of email you receive by clicking Unsubscribe at the bottom of the email.
2FA #
To improve your account's security, you can enable two-factor authentication in the Profile Settings.
Once 2FA is enabled, each time you log in to Clockify, you'll need to prove your identity by checking your email for a one-time login code (or a login link).
If some workspace requires 2FA, you'll be asked to enable 2FA for your personal account and won't be able to turn it off (as long as you're part of that workspace).
Changing language #
In addition to English, you can also use Clockify in your native language (French, German, Russian, Spanish, Portuguese, Korean, Japanese). Change the interface language in your Profile settings.
If you invite a new user to your workspace, they'll inherit your language setting during signup. They can change if they want to.
Desktop and mobile apps take language based on the operating system (profile settings are only applied to the web version).
Apply here and contribute to translating Clockify.