Free Job Tracking Software
Simple online job tracking software for tracking hours spent on tasks. Track what you and your team are working, check project progress, and calculate billable hours.
4.7 (4,492 reviews)
A simple job management software
Finding ways to automate and digitalize business processes has proven to be fruitful for many companies in the world.
In this case, using a job tracking software will reduce a significant amount of time that you would normally spend organizing timesheets, making reports, and tracking progress. Clockify manages to do all this with minimal input from you.
What is a job tracking system?
A job tracking system measures the exact time that you've spent on specific online tasks, including activity across web pages and apps. Start the timer for a job you're working on with one click. You can track time from your browser, or via extension, desktop, and mobile app.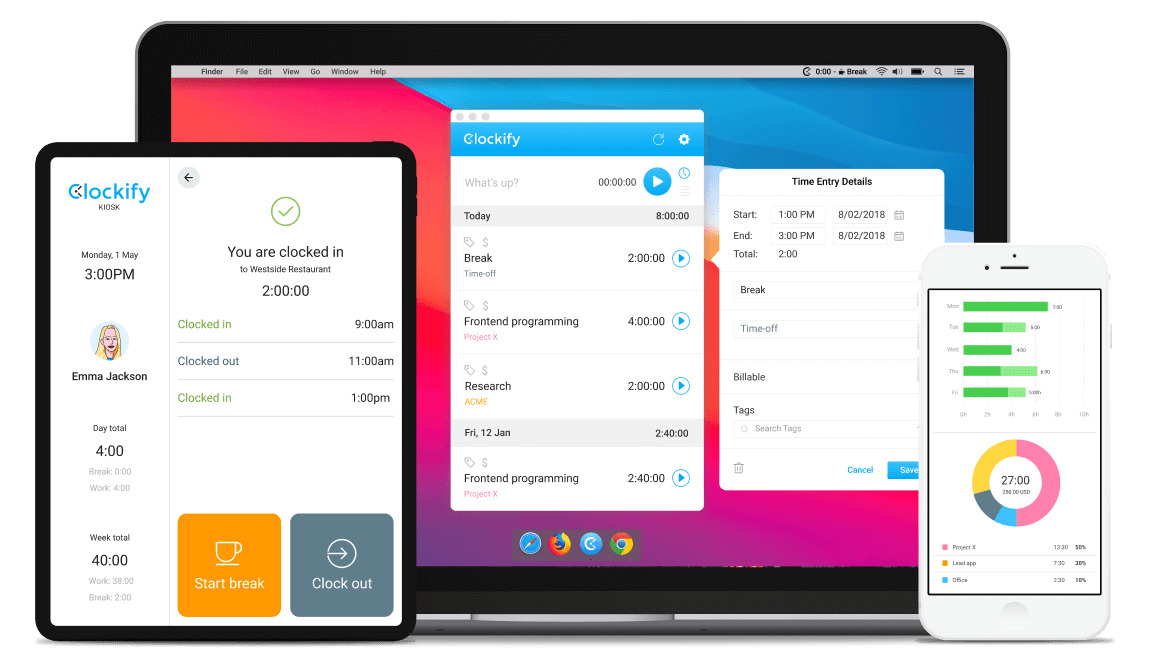 How do you track all projects?
Clockify's dashboard gives you a complete review of the hours that you've spent working on your projects. You can also see:
What your colleagues are working on at the moment
Which hours are billable/non-billable
A drop-down list of your top 10 most tracked activities in a week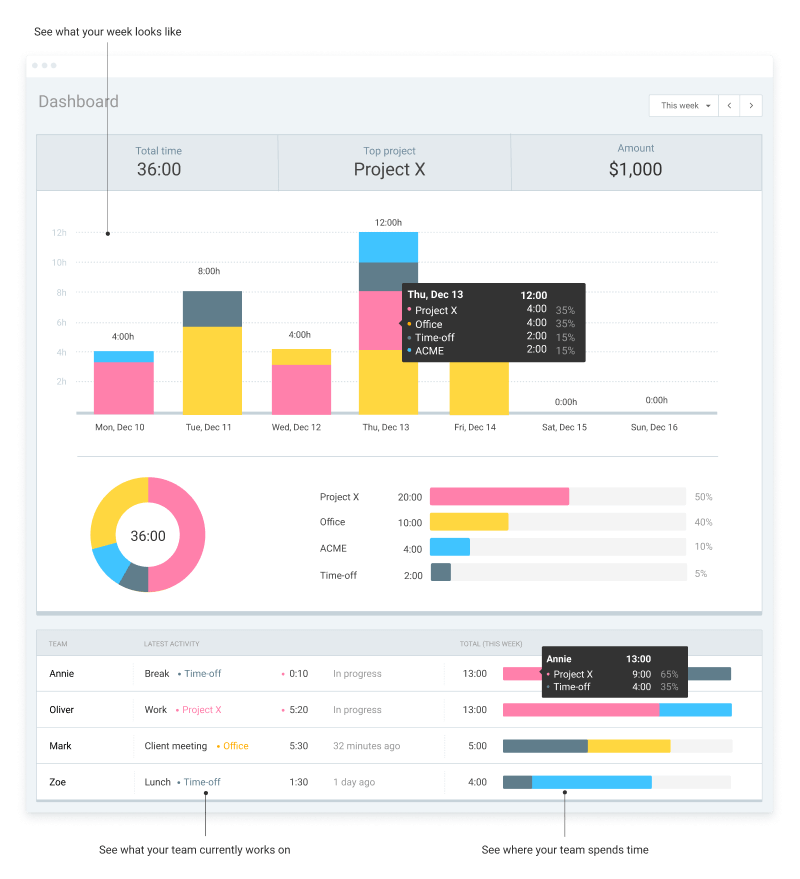 What is the best way to track tasks?
Create projects and tasks, and assign people to them. Estimate how long each task should take and check the progress.
Use forecasting to visualize progress and predict performance. Based on the results, you'll know what areas your team will have to improve upon.
How job tracking works
With Clockify, tracking your work hours is not a complicated process — it consists of several steps that are easy to understand and master. Here's the gist.
Step 1
Create an account
Creating a Clockify account is a straightforward process that takes seconds. If you wish to sign up, you can do it in seconds with your Google credentials.
Step 2
Set up jobs
Clockify makes time and job tracking a lot easier by creating tasks and to-dos on projects, and categorizing projects by client. When you start working on a specific task, all you have to do is choose a project, write an optional description of what you're doing, and start the timer.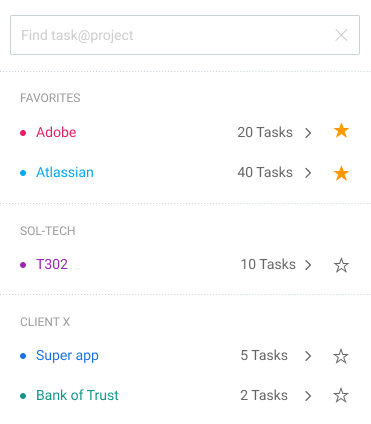 Step 3
Invite your team
It doesn't matter if you're using the free or upgraded version — you'll always be able to invite an unlimited number of people to your Clockify workspace. In the "Manage team" section, select "Add new user" and type down their email — it's that easy.
Step 4
Install the job tracking apps
You can track what you're working on online in the browser, or via desktop and mobile app (iOS, Android, Mac, Windows, Linux).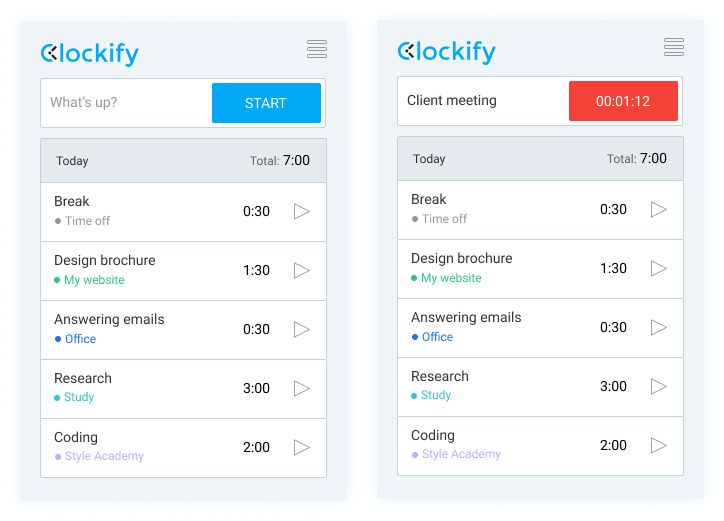 Step 5
Continue tracking with one click
Continue the timer for an activity by clicking on the entry in the list.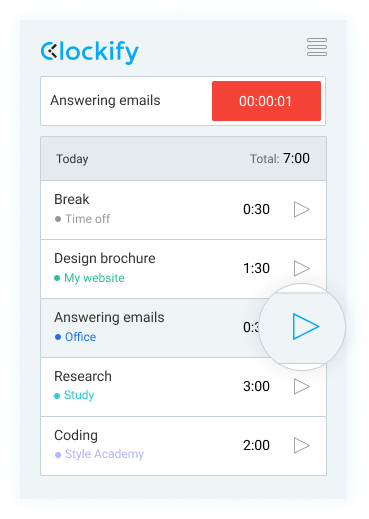 Step 6
Analyze activity
Open the Dashboard to see your most tracked activities and on which tasks you spend the most time.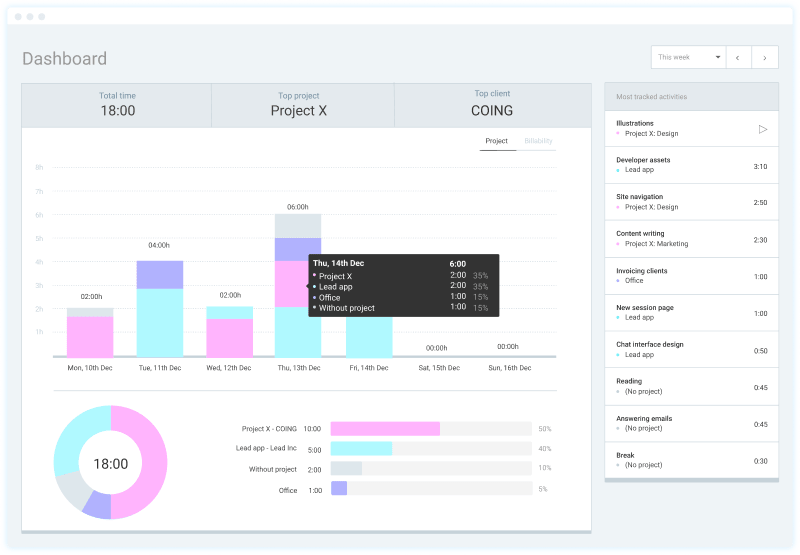 Step 7
Compare estimated vs real time
Set estimates for projects and tasks, and then see how much time you have really spent on activities.
Know what you've worked on
Clockify is a modern job tracking app that works across devices. By tracking work in Clockify, you'll have real data that shows you exactly what you've worked on and how much.
Clockify job tracking features can help you:
Identify time sinks and improve your productivity
Know how much your time is worth and improve project profitability
Bill clients quickly and accurately
Run your business better and be more organized