How to use Clockify for effective resource planning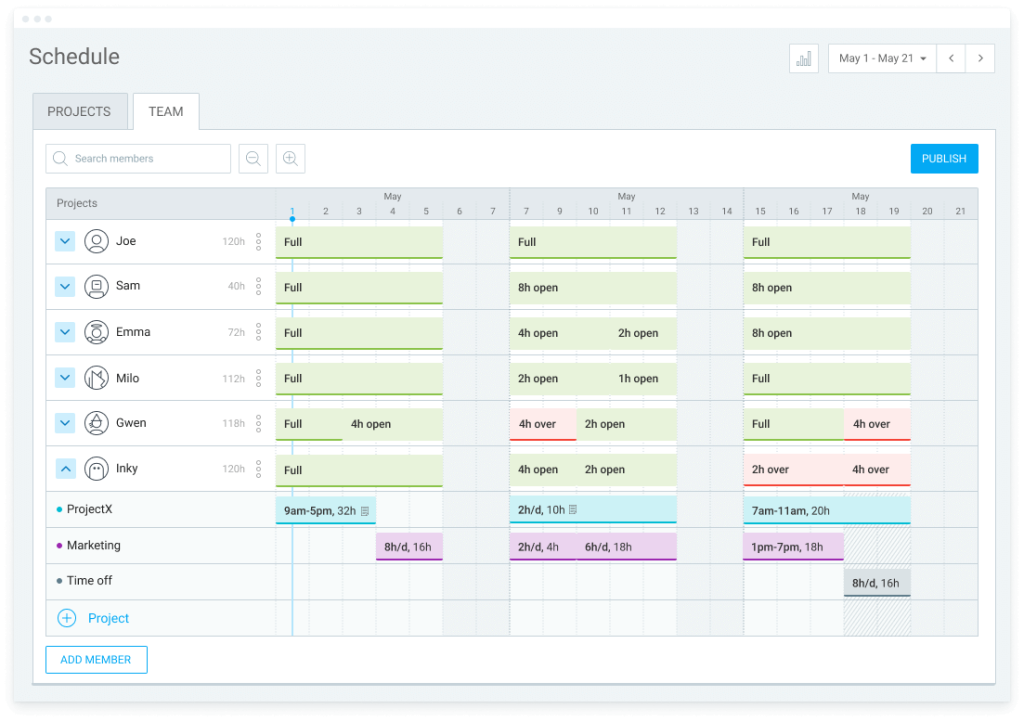 Poor resource planning creates bottlenecks in your workflows. Bottlenecks can be anything that unnecessarily prolongs or delays your processes.
When we say "resources", we mean time, money, and people – the most important assets of any business.
Ineffective time, money, and people management hinder your productivity, competitive performance, and profitability.
Whether you manage a one-person business, a small or a large team, you need to know where yours/your team's time and money go and minimize bottlenecks.
For example, if one of the team members gets sick and you need to find a replacement quickly.
If you don't have the information on each team member's daily attendance or time off data, and their work capacity at a glance, you will need much more time to find a replacement, and maybe eventually don't even get the job done.
On the contrary, effective resource planning sets a strong foundation for stable processes and continuous growth.
So in the same scenario of an employee getting sick – if you know who is free to cover them, and for how long – finding a replacement will be done within seconds.
What are the benefits of effective resource planning?
Effective resource planning ensures that your efforts are used to their fullest potential.
Here are some of the most obvious benefits of effective resource planning.
Cost optimization
Effective resource planning helps in controlling costs by identifying the overall budget you have at your disposal and carefully distributing it across the whole project duration and tasks.
Improved decision-making
Effective resource planning enables organizations to make informed decisions by providing accurate information on the availability and allocation of resources. This helps you in task prioritization and better people management.
Increased efficiency and productivity
By identifying and reducing bottlenecks, you will be able to clearly communicate and implement changes – and streamline your processes. When everyone knows their task, and knows it quickly, it will result in faster completion of tasks and projects.
Improved customer satisfaction
Effective resource planning ensures that the right resources are available at the right time, leading to the timely delivery of results. This improves customer satisfaction and builds a competitive advantage.
How to use Clockify for effective resource planning?
Clockify enables you to effectively distribute resources across projects and tasks.
Here is the list of Clockify features that will help you improve your resource planning.
Team
Starting from your team's working days and hours – you can set different working days and daily working capacities for each team member.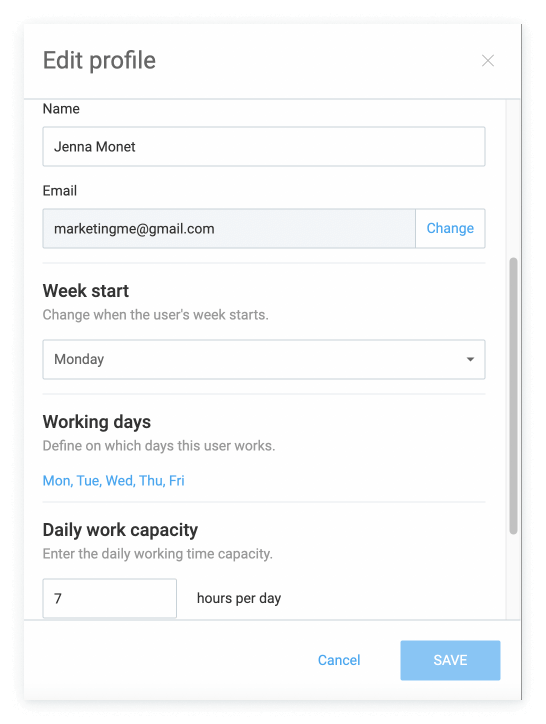 To have more complete information on each team member, you can add custom user fields for information such as employment type (full-time or part-time), or employee ID.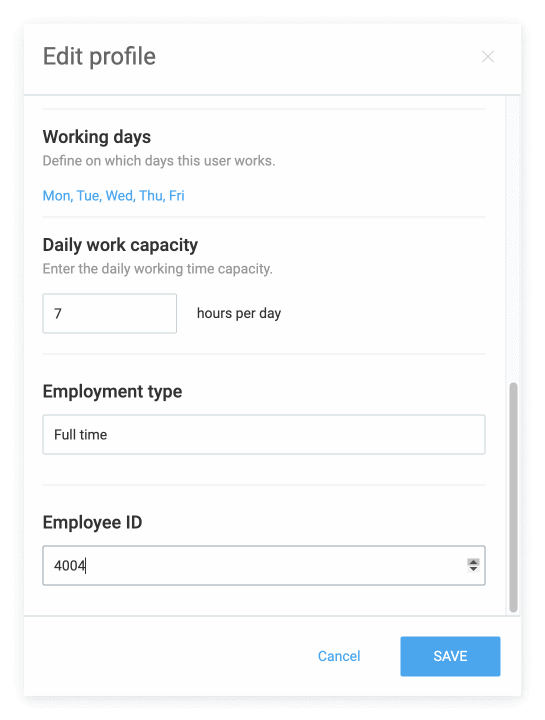 Team members can be organized in groups, which makes managing people on projects easier.
Instead of adding people to a project one by one, you can create a group and assign it to a project in one click.

Time off
Clockify gives you an opportunity to manage employee absences by creating custom time off policies.
Create a new policy, select the members to whom it applies, and specify whether it will be expressed in days or hours.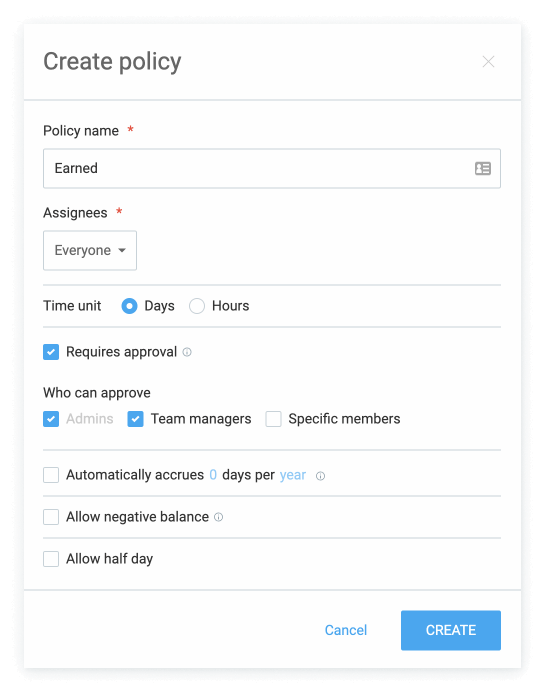 Then, as employees start requesting their time off, you can approve requests and track request history.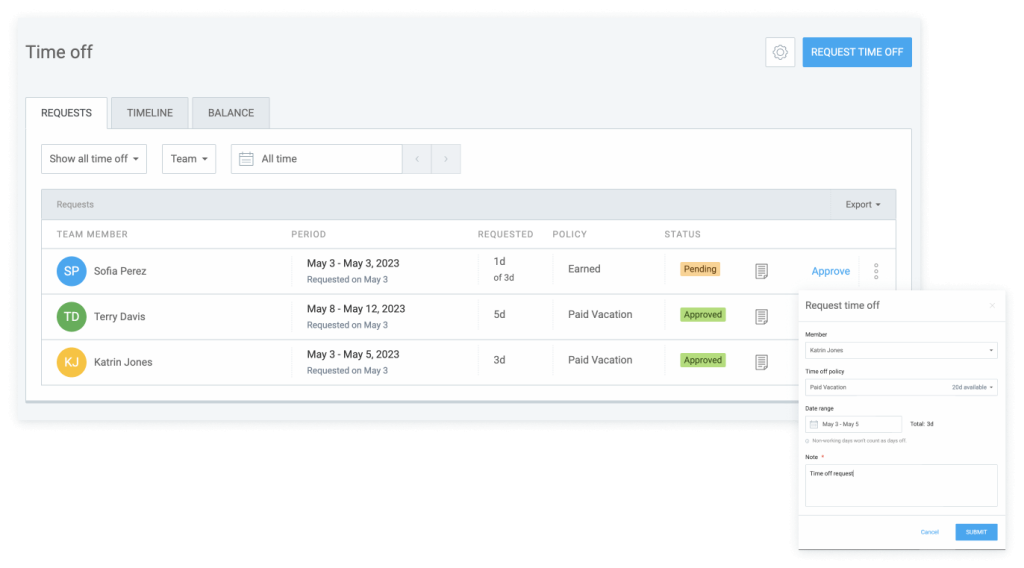 Once approved, you can track employee absence for the current and future months from the Timeline tab.

As employees request and use their time off, their balance will automatically change and they can always see their remaining days off right from the Balance tab.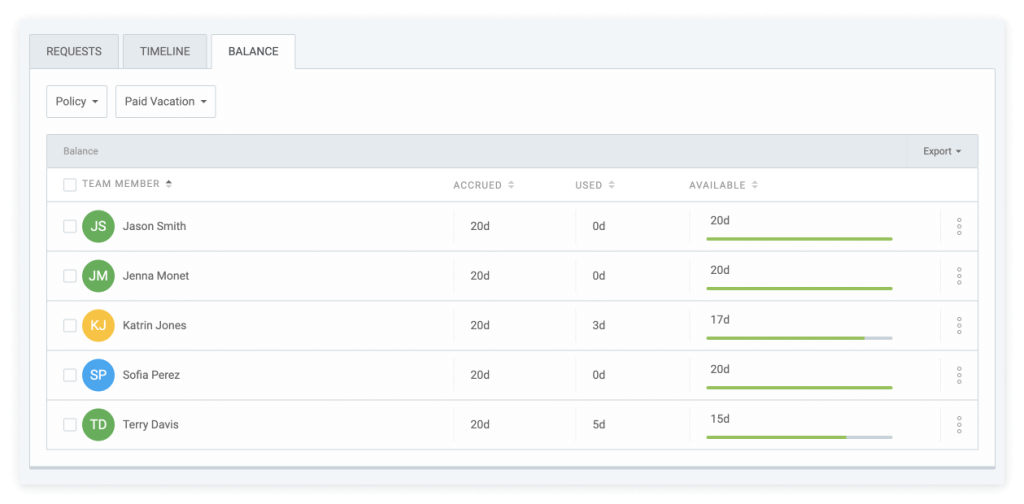 Clockify also allows you to add additional days to employee time off, regardless of their balance state.
For example, if your company practices the "bank of hours" system, and you want to grant days off to employees for their overtime hours, you can do that by tracking their overtime hours and then adding those hours as accrued days.
For example, you can create a special Time off policy called "Earned" and grant employees time off based on their accrued overtime hours.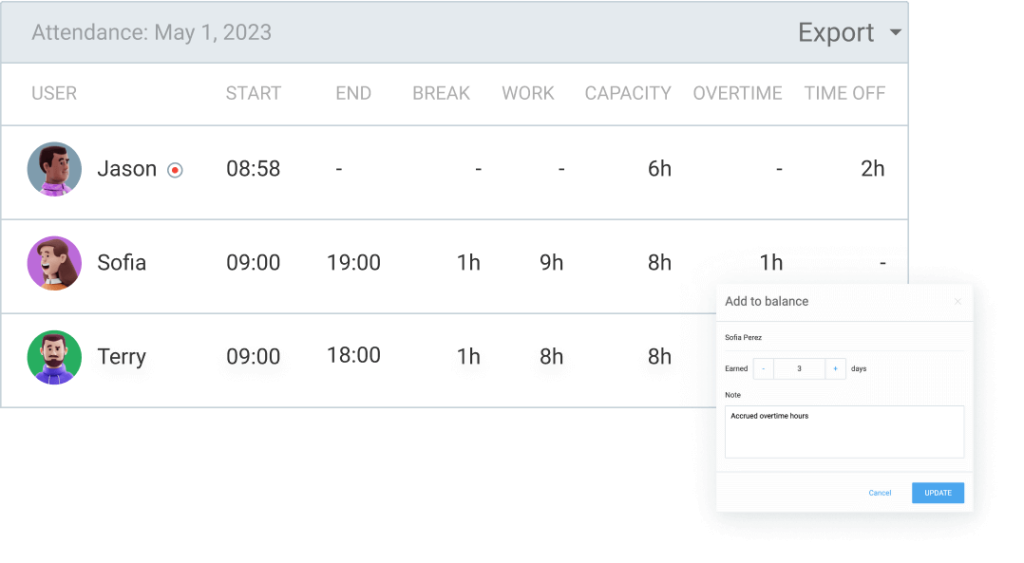 Scheduling
Clockify lets you plan your team's time by making schedules in two possible ways:
by allocating people to projects
by allocating projects to people
If, for starters, you know that you need 40h a week to be spent working on a project, then you can start planning from a project view.
After adding the project, you can proceed to allocate different team members and their hours to it.
Assigned tasks can be marked as billable or non-billable, and be recurring for a certain number of weeks – which is especially suitable for shift-based workplaces.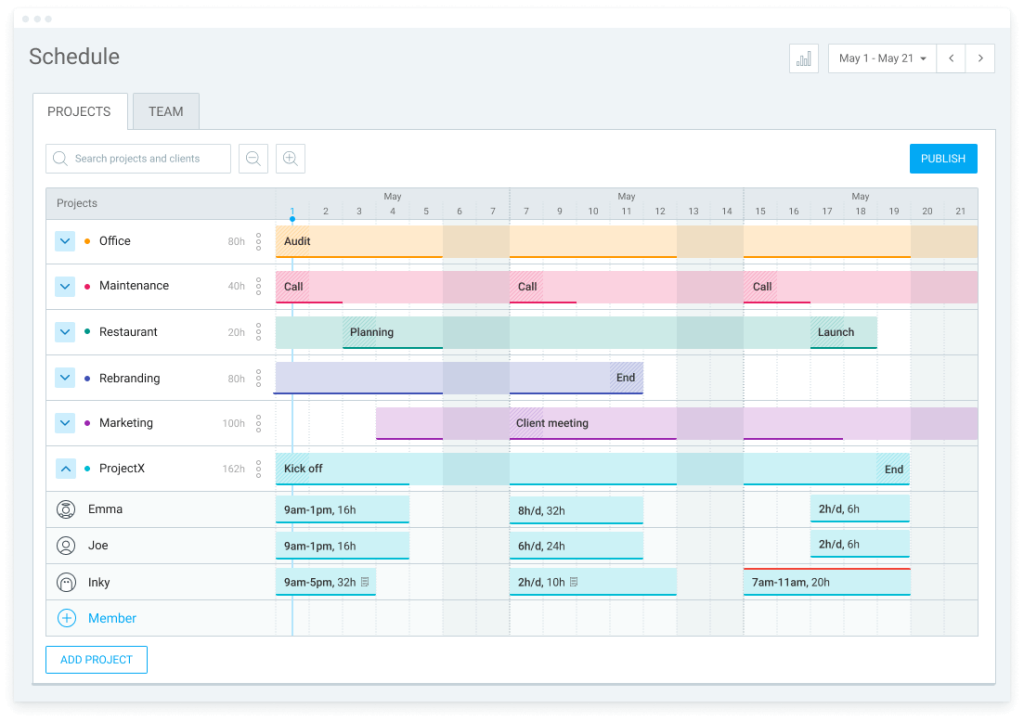 Project view lets you visualize project timelines and add milestones for important dates.
However, if you prefer planning from the team's perspective, and you want to see the capacity of each team member before assigning them to more or less complex projects, then you should start from the Team view.
Add a team member, and then allocate projects accordingly, depending on the team's daily working capacity and project needs.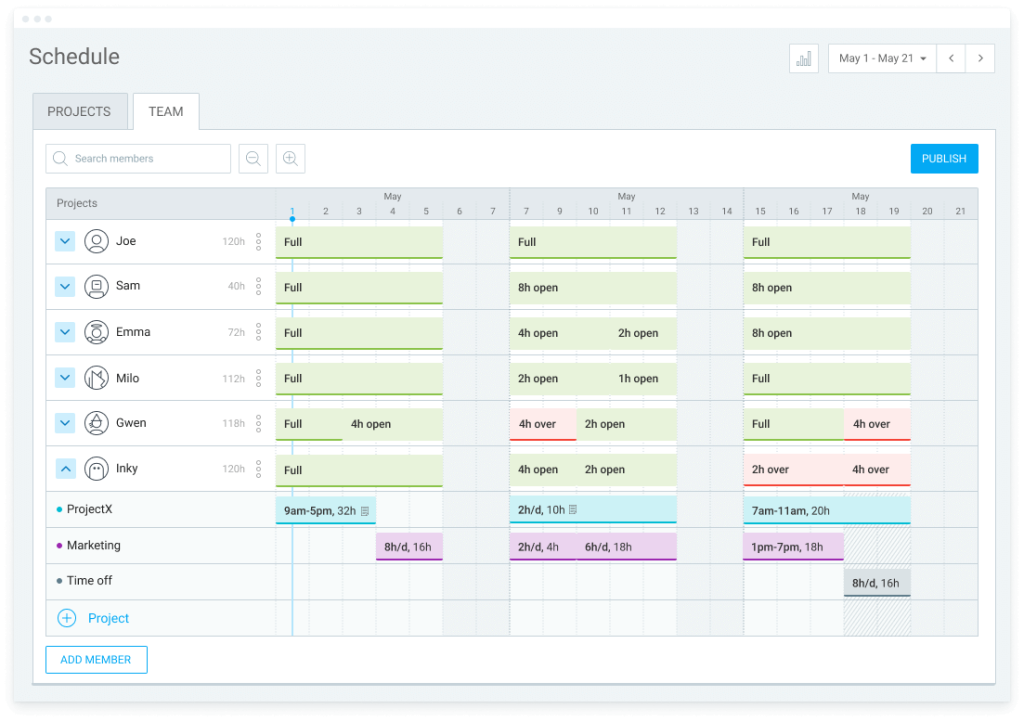 To see the team's daily capacity when making a schedule, you first need to set their daily working capacity.
Then you will be able to see the team's capacity as "full", "x hours open", or "x hours over", so you know exactly how many hours you can assign them.
After you make and publish schedules, your team can start tracking time on projects or tasks assigned to them right from their Calendar view.
Schedules will also reflect approved time off, so you know who's available and when.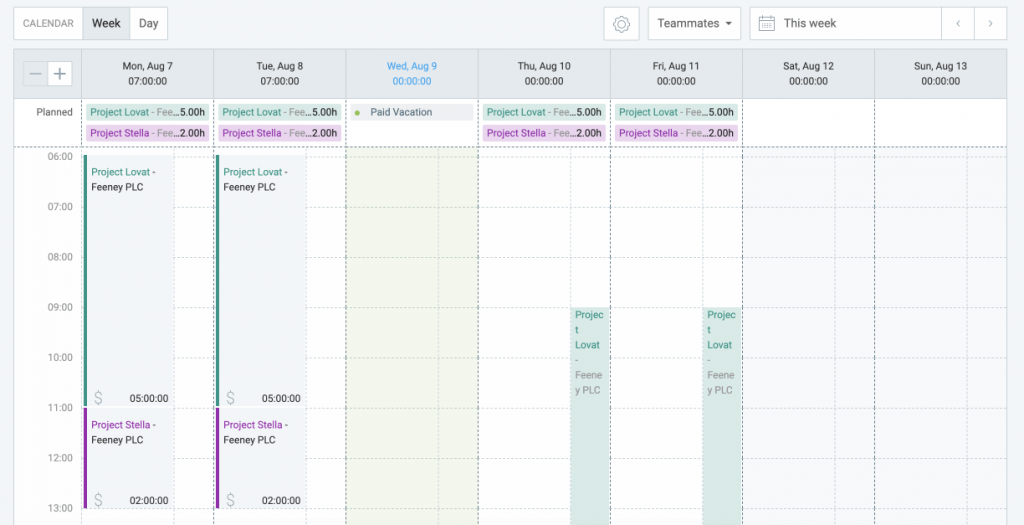 These are the most popular methods of time tracking in Clockify.
Time tracking
Time tracking in Clockify is done through the:
Time tracker
Timesheet
Auto tracker
Kiosk
Time tracker
With the tracker mode, you can specify the details of a task you are working on.
The timer records the beginning and end of your activity, adding to your entries log after you enter a description of your work, the project, and the client.
If you forget to start the timer right away, the manual tracker mode allows you to manually enter the start and end times of past, present, or future tasks.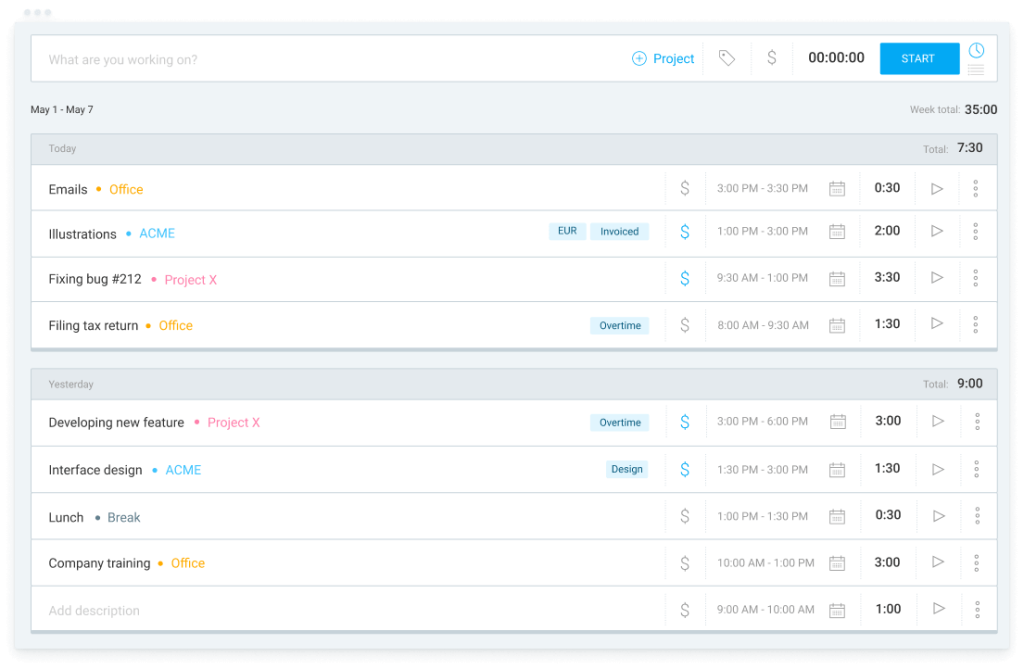 Timesheet
The timesheet summarizes the work done on each project. Your team can use timesheets to record daily or weekly work activities and submit those timesheets for manager review.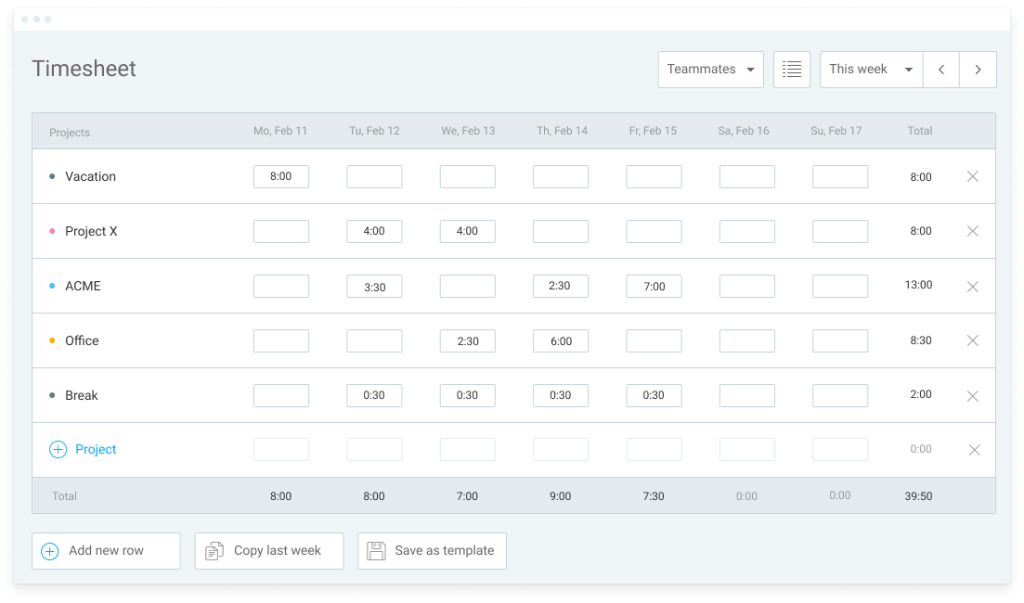 Auto tracker
The Auto tracker helps you track how much time you spend on programs and web browsers while working on a desktop computer.
Only you can see these records, and you can then choose which entries you want to transfer to Clockify web.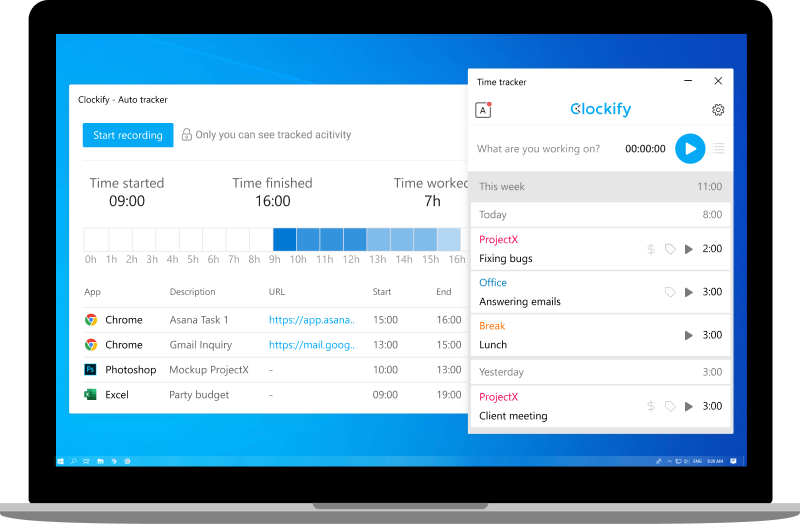 Kiosk
The Kiosk can be opened on any internet-connected device. Once it's launched, team members can log in and start their work or break time.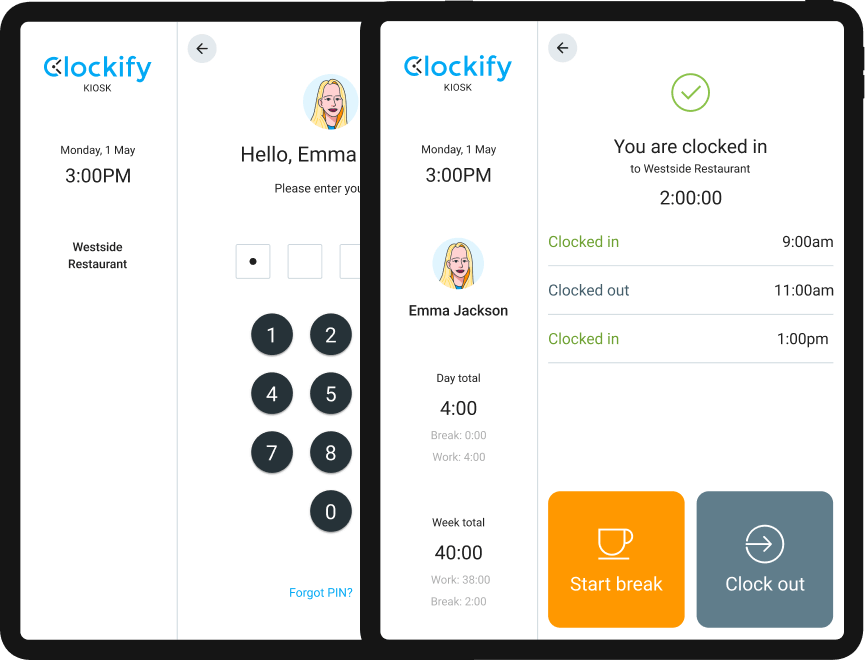 Dashboard
The dashboard gives you a quick overview of how and where your resources are being spent.
In the Dashboard tab, you can see:
Total time – the amount of tracked hours on all projects
Top project – project on which the most time is spent
Top client – the client on which the most time is spent
Top activities – most tracked activities on projects and their duration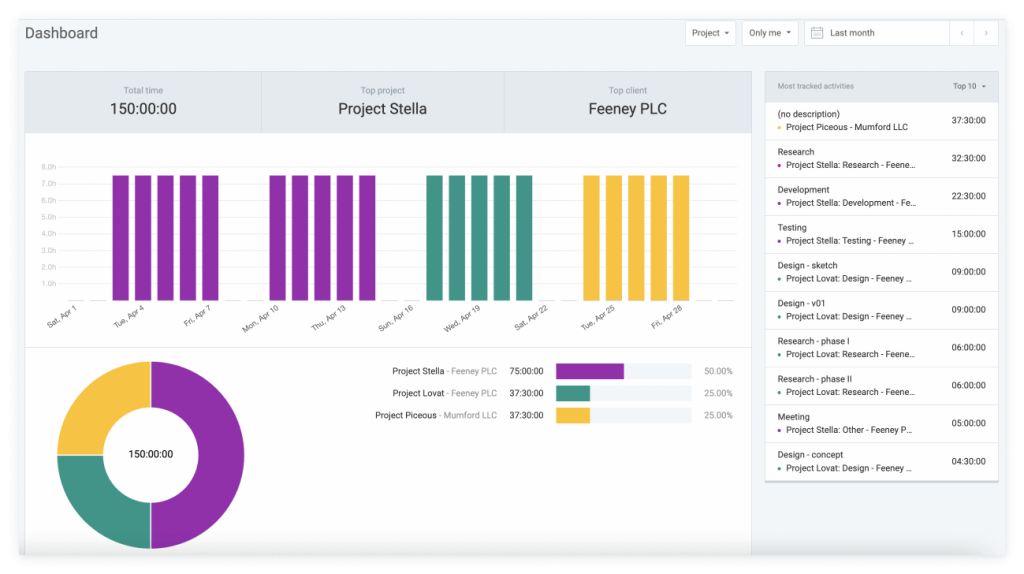 You can also see which team members are currently working, on what, and for how long.

Location
If your team is working on various locations, and you need to ensure equal coverage on terrain, you can track employee location with Clockify's GPS tracking.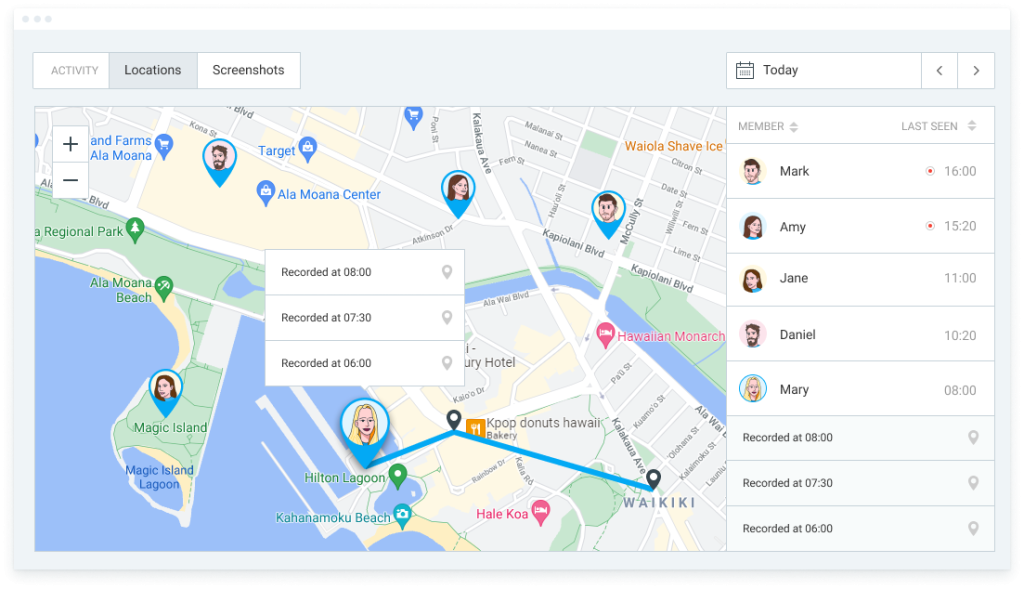 Clockify GPS tracking gives you information on where your employees are, for how long their timer is running, and where they were moving during the day.
Replaying employee daily routes on a map gives you insight into how to better distribute employees on the field.
Estimates
Working on a project, whether internally or with a client, requires at least a rough, if not exact, estimate of the time and money a project will take.
When you create a project in Clockify, you can set its time and budget estimates, based on which you will be able to track progress.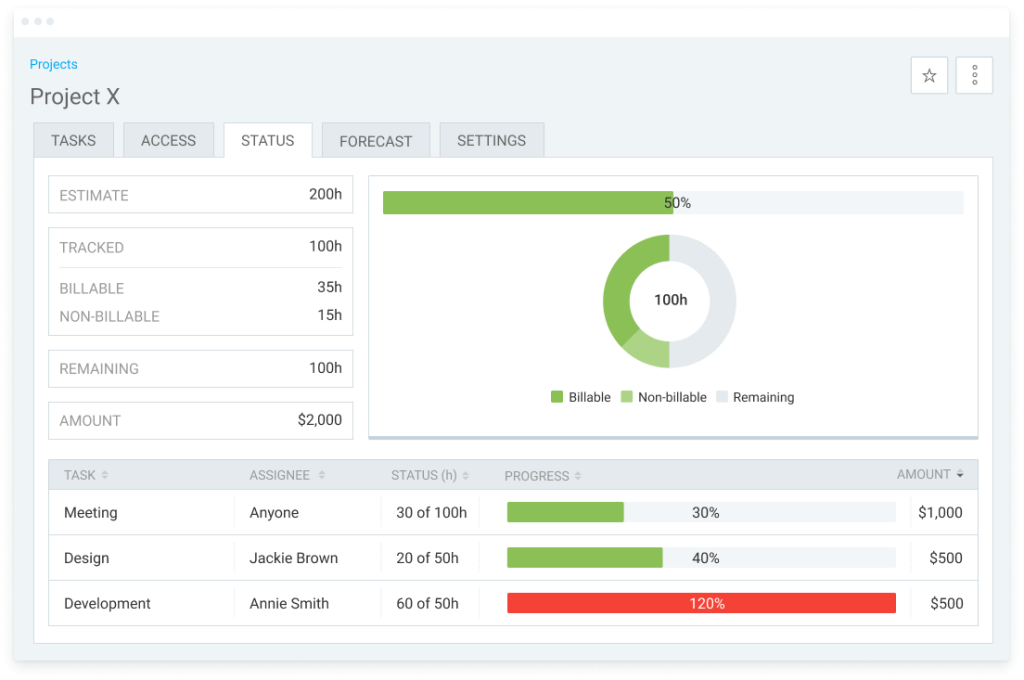 Forecasting
If you have estimates ready, and you already made schedules for your projects and people, the forecasting feature will bring you one step closer to perfect resource planning.
Forecasting in Clockify will show you the progress you made so far on a project, and if you will go over the estimate and by how much.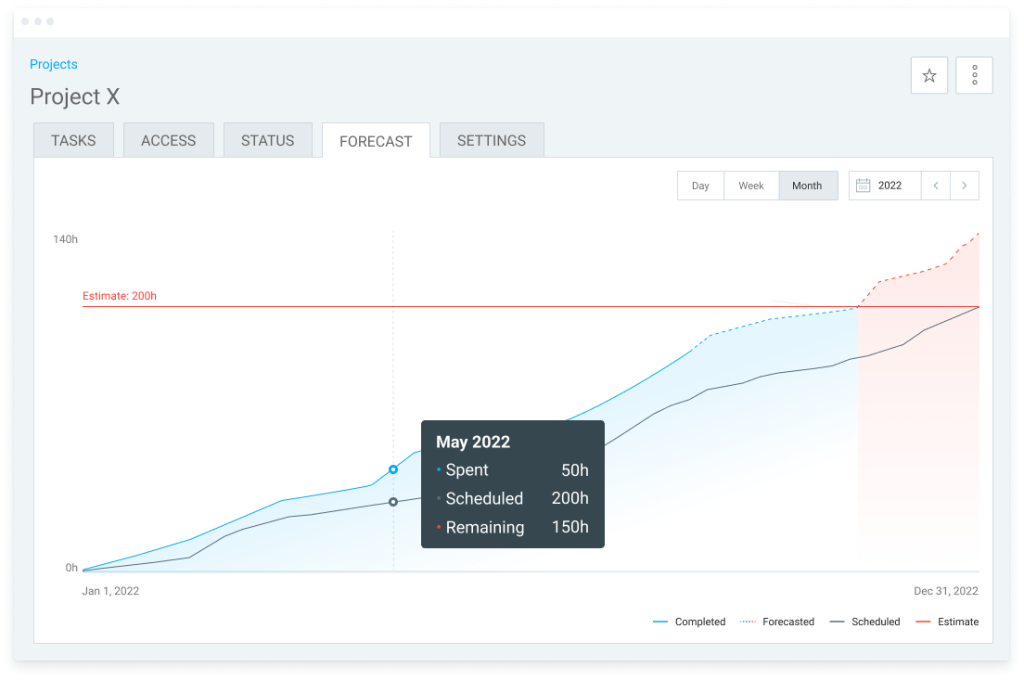 The forecasting feature will warn you if it predicts you will go over the estimates, so you can re-schedule your team or make new estimates.
Expenses
You need to take note of all the things that cut down your budget resources.
Clockify allows you to record one-time or occasional expenses, coming from different sources.
You can start by creating a specific expense category, its unit measure, and its value.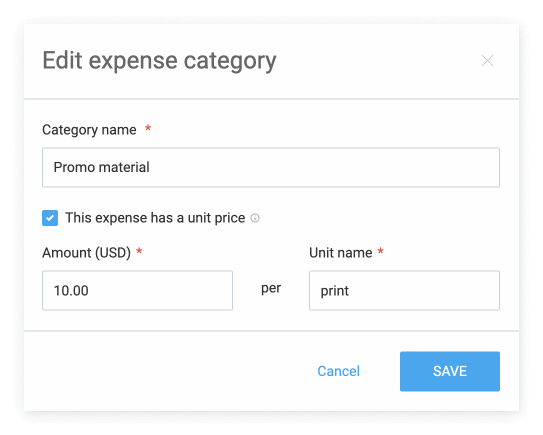 When noting down a new expense, tie it to a project, and Clockify will extract that amount from the project's budget.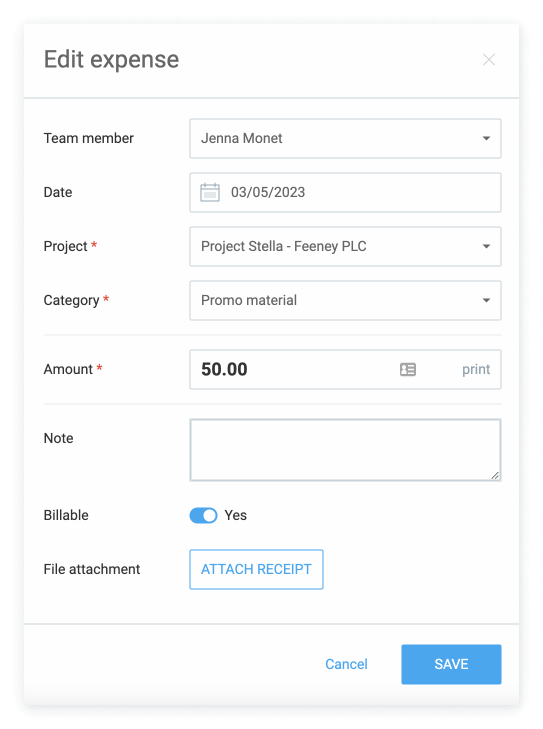 Reports
Reports summarize the total efforts your team put into a project and give you a quick overview of the latest data on resource utilization.
Here are the most useful reports in Clockify if you want to improve your resource planning.
Summary report
The summary report shows you the time you spent on a project, your total costs, and your profit.
You can filter it to display only information for a specific client, project, team members, etc.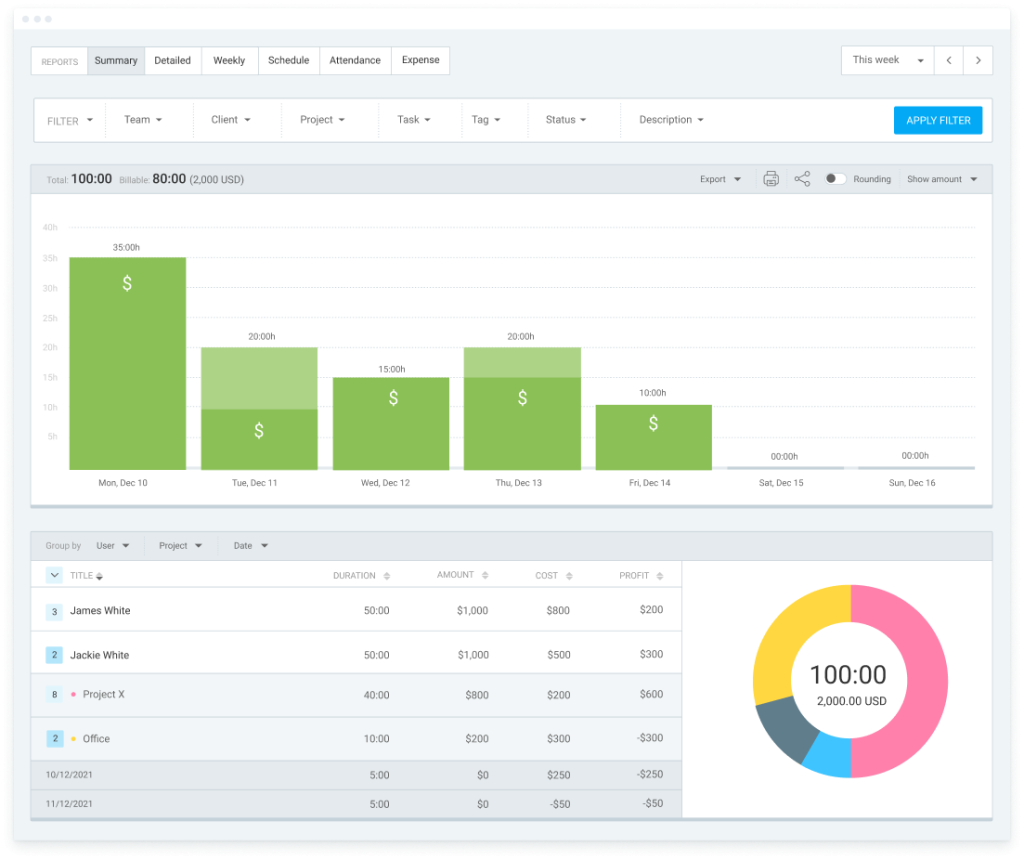 Scheduled vs tracked report
This report compares your employees' scheduled and tracked time for a given time period, with the calculated difference between the two, so you see how well your schedules are optimized.
Here you can filter out the information for a particular client, a project, a user, or a time period, to get a specific insight on progress.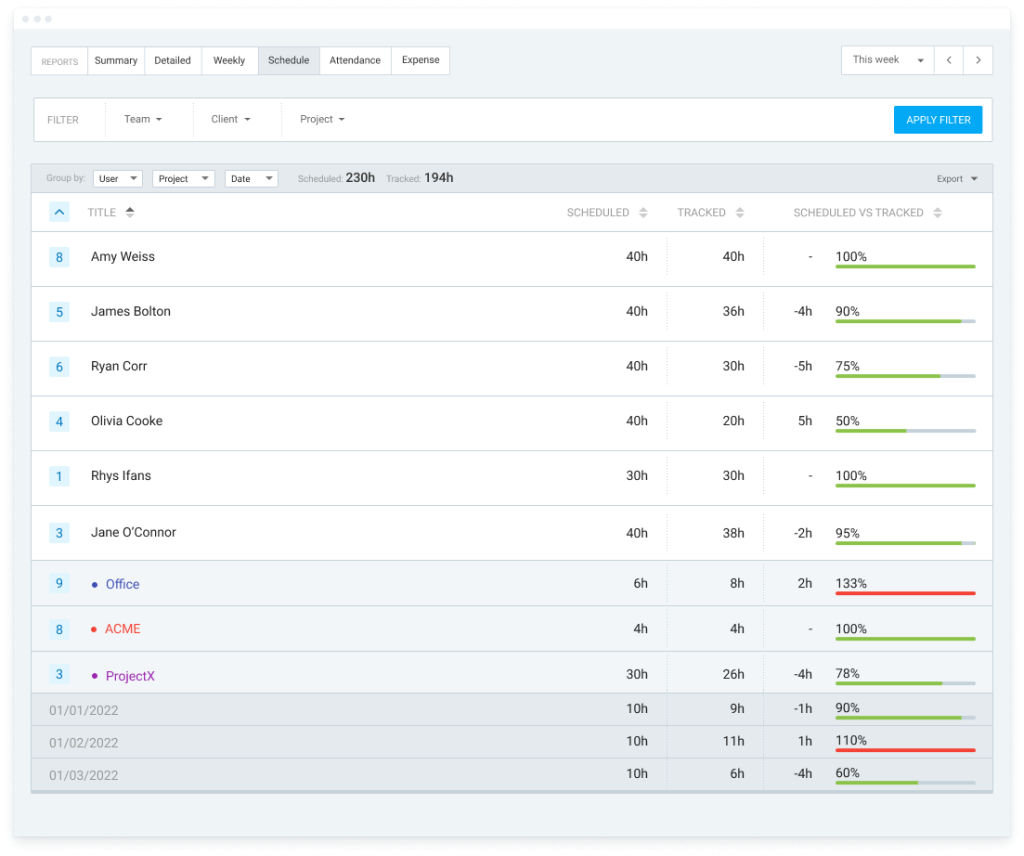 It shows you how well your team utilizes the time they have at their disposal, and if the tracked hours are the same as scheduled.
Attendance report
Attendance report shows you the total time your employees spent clocked in, their break time, overtime, and time off.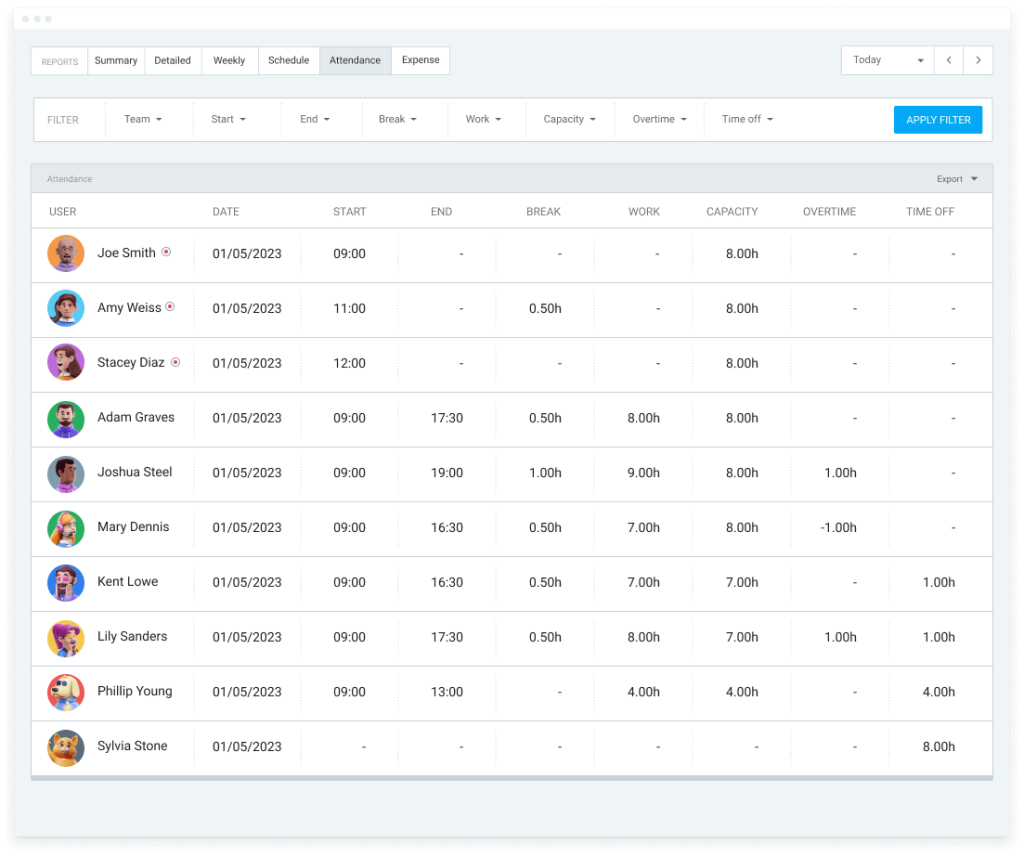 Based on this report, you can calculate the additional hours or days employees accumulated for their time off.
Effective resource planning: where to start?
The first step towards efficient resource planning is to identify where your organization struggles the most.
Is it mostly process-oriented, so you need a better understanding of how to organize your work?
Is it communication-oriented, so you need to establish a clearer communication system for your team?
Or, do you lack clear insights into the work that has been done so you know based on what to improve upon?
Make sure to discuss potential improvements with your team, as they will most probably give you the best suggestions based on their own experience.
Once you know the major pain point of effective resource utilization in your team, you can then explore all the possible solutions and scale your business up through the roof.