Montana Labor Laws Guide
Ultimate Montana labor laws guide: minimum wage, overtime, breaks, leave, hiring, termination, and miscellaneous labor laws.
Montana Labor Laws FAQ
Montana minimum wage
$9.20 per hour
Montana overtime laws
1.5 times the rate of regular pay after working 40 hours in a workweek
($13.80 per hour for minimum wage workers)
Montana break laws
Meal and rest breaks not required by law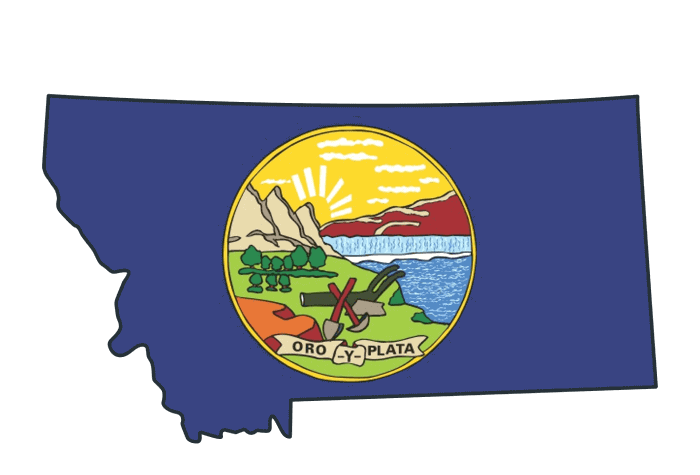 Montana wage laws
Montana wage laws cover a wide spectrum of employment practices, divided into the following subcategories:
Minimum wage in Montana
Tipped minimum wage in Montana
Subminimum wage in Montana
Exceptions to the minimum wage in Montana
Montana payment laws
MINIMUM WAGE IN MONTANA
Regular minimum wage
Tipped minimum wage
Subminimum wage (Training wage)
$9.20
$9.20 (tip credit not allowed)
Not Allowed
Montana minimum wage
Effective January 1, 2022, Montana's minimum wage amounts to $9.20.
According to the Employment Relations Division of the Montana Department of Labor & Industry, the minimum wage is reviewed by September 30th each year and adjusted according to the Consumer Price Index.
Furthermore, the newly established Montana minimum wage must be greater than the federal minimum wage, as well as the previous Montana minimum wage.
Tipped minimum wage in Montana
Tip credits are banned under Montana law, meaning that employers cannot include tips into wage calculations.
This also means that the minimum wage for tipped employees is the same as the regular minimum wage — $9.20.
Subminimum wage in Montana (Training wage)
Some US states allow employers to pay their employees a reduced, so-called subminimum wage.
In particular, the subminimum wage can in some cases be paid to young adults during the first 90 days of employment (training wage) or to people with physical or mental disabilities.
However, as a general rule — Montana does not allow any type of subminimum wage. The mentioned categories of workers are still entitled to the regular minimum wage.
Exceptions to the minimum wage in Montana
One specific category of employers who can pay their employees a reduced minimum wage is that of businesses not covered by the Fair Labor Standards Act (FLSA), for example:
Businesses with a single employee
Railroad workers
Truck drivers
Independent contractors
Some types of agricultural workers
Casual babysitters
One additional requirement for being an exception to Montana minimum wage is that said business does not make more than $110,000 in sales, without producing or moving goods across state lines.
Employers who fit this definition can pay their employees a minimum wage rate of $4.00 per hour.
Montana payment laws
Employers in Montana are required to provide a written notice to the employee or to put postings in conspicuous places with information about regularly scheduled paydays.
All wages must be paid to the employee no longer than 10 business days after the wages are due and payable.
Montana overtime laws
Montana uses the federal FLSA provisions to regulate overtime requirements, as well as exceptions.
Generally speaking, FLSA considers all work exceeding 40 hours in a workweek to be considered overtime.
All overtime hours worked need to be paid at the rate of 1.5 times the regular pay.
Overtime exceptions and exemptions in Montana
Occupations which are exempt from FLSA overtime requirements include:
Administrative employees
Professional employees
Executive employees
Computer employees
Outside salespersons
Additionally, in order to be exempt from overtime requirements, these employees must be paid on a salary basis, at a rate of no less than $684 per week.
Track Montana overtime with Clockify
Montana break laws
There are no federal or state regulations requiring Montana employers to provide breaks during work hours.
However, if the employer has a policy allowing breaks, the following rules apply:
Rest breaks — breaks lasting up to 20 minutes are to be considered working time and should be paid at the regular rate.
Meal periods — in order to be unpaid, meal breaks must be at least 30 minutes long, and the employee must be relieved of all duties for their duration.
Exceptions to break laws in Montana
There are no particular exceptions to Montana break laws.
Montana breastfeeding laws
There are federal laws aimed at enabling a supportive workplace environment for breastfeeding employees, by establishing special provisions for nursing mothers.
FLSA requires that employers provide adequate facilities (other than a toilet stall), as well as reasonable break time for employees to express their breast milk for at least a year after childbirth.
Additionally, Montana has its own state law which prohibits public employers from discriminating in any way against employees who express milk in the workplace.
Montana leave requirements
Here, we can review the types of leave required, as well as those not required under Montana law.
Montana required leave
We can begin with the types of leave required by Montana law:
Family and medical leave
Jury duty leave
Military leave
Leave for crime victims
Family and medical leave
Defined under the federal Family and Medical Leave Act, some Montana employees may be eligible for up to 12 weeks of unpaid leave following significant life events.
Some of the qualifying events making an employee eligible for the family medical leave include:
Giving birth and caring for a newborn
Adopting or taking in a foster child
Having a health condition that incapacitates the employee for work
Caring for a family member with a serious health condition
In addition, the employee must have worked for the same employer for at least 12 months before taking the leave, as well as having worked at least 1,250 hours in those 12 months.
If you want to make sure you are eligible for family and medical leave, visit this US Department of Labor FAQ. We also recommend contacting local authorities.
Jury duty leave
Montana employers are required to provide unpaid time off to employees who choose to attend jury duty. However, the employer may request that the employer provide their jury summons.
Additionally, the employer may ask for the employee to be excused from jury duty if they are necessary for the operation of a state or government agency.
Another state law subsection prohibits the employer from requesting that the employees remit any court allowances to them.
Military leave
Under the Uniformed Services Employment and Reemployment Rights Act (USERRA), all public and private employers are required to provide unpaid military leave to their employees.
Furthermore, upon returning from active duty, the employees are entitled to all the benefits and terms of employment they held prior to the leave.
Additionally, following the provisions of the Montana Military Service Employment Rights Act (MMSERA), public employees are entitled to paid military leave, accrued at the rate of 120 hours in a calendar year.
Leave for crime victims
Montana Code also requires that employers provide leave of absence for employees who have been victims of crime.
This leave requirement is extended to family members of crime victims, who can ask for time off to attend court proceedings.
Montana non-required leave
We can now go on to types of leave not required by Montana law:
Sick leave
Bereavement leave
Vacation and holiday leave
Emergency response leave
Sick leave
Private employers in Montana do not have to allow sick leave.
Public employees are entitled to paid sick leave, accrued at the rate of 12 days per calendar year, once they have been employed for more than 90 days.
More information about sick leave for public employees can be found in this excerpt from Montana Code.
Bereavement leave
Private employers in Montana do not need to provide bereavement leave to their employees.
Public employees can use their sick leave to attend the funeral of a member of their immediate family.
Vacation and holiday leave
Private Montana employers are not required to provide vacation or holiday leave, unless otherwise specified in their contractual agreement with the employee.
Full-time State employees earn unpaid annual vacation leave credit from the first day of their employment. Employees are qualified for paid vacation leave after 6 months of employment.
Additional information around annual vacation leave for public employees can be found in another Montana Code excerpt.
Emergency response leave
Employees of public companies in Montana are not entitled to emergency response leave.
Public employees in the executive branch may be eligible for up to 15 days in a calendar year of paid leave to participate in American Red Cross disaster relief services.
Some categories of public employees not covered by this policy include:
Montana State Fund employees
University employees
Elected officials
Personally appointed staff.
You can refer to this Montana Operations Manual for detailed information about the emergency response leave.
Child labor laws in Montana
Montana's Child Labor Standards Act is concerned with outlining work conditions for minors that woud not be detrimental to their education or wellbeing.
Child labor laws are mostly concerned with defining legal working hours, as well as prohibited occupations for minors.
Furthermore, the legal hours are different according to two age groups:
Minors under 16, and
Minors aged 16 and 17.
Labor laws for minors under the age of 16
Minors under the age of 16 can work the following hours:
From 7 a.m. to 7 p.m. while school is in session (extended to 9 p.m. while school is out)
No more than 3 hours on a school day and no more than 18 hours on a school week
No more than 8 hours in a day and no more than 40 while school is out of session
Labor laws for minors aged 16 and 17
There are no particular work hours restrictions for minors aged 16 and 17.
Prohibited occupations for minors
In addition to work hour restrictions, minors are also protected from working in hazardous occupations, such as
Manufacturing or storing explosives
Operating motor vehicles
Operating power-driven machinery
Logging and saw milling
Slaughtering animals and processing meat
Additional information about Montana child labor laws can be found on this reference guide by the Montana Department of Labor & Industry.
Hiring laws in Montana
According to the Montana Human Rights Act, employers in the hiring process are prohibited from discriminating against applicants on the basis of:
Race or color
Creed
Religion
National origin
Sex
Age
Marital status
Mental disability
No employer can refuse to hire, refuse a promotion or other benefits, discipline, or discharge an employee on the basis of the listed characteristics.
Termination laws in Montana
Most US states follow the doctrine of "at-will" employment, which is to say that either the employee or the employer can end the employment relationship at any time, without providing a reason.
This is not the case in Montana, whose Wrongful Discharge From Employment Act offers added protection to employees, once they've completed their probationary period.
Said probationary period can last up to 18 months (the default is 12 months), during which the employee can be fired without good cause.
After the probationary period ends, the employer must provide evidence of good cause to terminate an employee.
Final paycheck in Montana
Once an employee voluntarily leaves employment, Montana employers need to pay them all due wages by the next regularly scheduled payday or within 15 days after the termination — whichever comes first.
On the other hand, if the employee is terminated, the employer must pay out their final paycheck at the moment of separation.
COBRA laws
Upon termination, or while going through some other major life event — an employee may be eligible for continued health insurance.
The federal Consolidated Omnibus Budget Reconciliation Act (COBRA) allows the continuation of health insurance for up to 36 months, priced most often at 102% of the original cost.
Some of the types of events that could qualify an employee or their dependents for continued health insurance include the following:
Termination
A significant reduction of work hours
Divorce
A serious health issue that makes the employee unable to work
Caring for a family member with serious health issues
The federal COBRA applies to businesses with 20 or more employees. Montana is one of the few US states that does not have the so-called mini-COBRA laws, which would offer protection for small business employees (i.e. those working in companies with fewer than 20 employees).
Occupational safety in Montana
Montana does not have an Occupational Safety and Health Administration (OSHA) - approved state plan for occupational safety, so it's subject to the provisions in the federal OSH Act.
This state agency conducts workplace safety inspections, to make sure all of its standards are being complied with.
More information, including the contact information of the Montana Safety Bureau, can be found on this Employment Relations Division webpage.
Miscellaneous Montana labor laws
In the end, we will take a look at some of the miscellaneous Montana labor laws, which do not fit into the previously mentioned categories. These include the following:
Whistleblower protection laws
Background check laws
Employer use of social media regulations
Drug and alcohol testing laws
Record-keeping laws
Whistleblower protection laws
Whistleblowers revealing the misuse of government funds or fraudulent claims for payment are protected under the Montana False Claims Act.
If the employee reports the abuse within 6 years of it happening (in some cases extended to 10 years), and if they have been subject to retaliation, they may be eligible for:
Reinstatement to their previous position, with the same seniority status
Twice the amount of back pay, with interest
Compensation for any damages made by the retaliatory actions
Additionally, if the state intervenes in the matter — the whistleblower may receive between 15% and 25% of the recovered amount.
If the whistleblower decides to pursue the matter themselves, they may receive between 25% and 30% of the award.
Background check laws
When conducting a background check, Montana employers need to make sure to stay within the regulations of the federal Fair Credit Reporting Act (FCRA).
As members of the general public, employers can only access limited information on prior arrests and prosecutions on felony charges.
Before attempting to acquire any pre-employment information, the employer must get a written agreement from the applicant.
Employer use of social media regulations
Montana laws place prohibitions on employers regarding personal social media accounts of employees and job applicants. These prohibitions include the following:
Requesting access to an employee's personal social media password
Asking the applicant or employee to disclose any other information that would grant the employer access to personal social media accounts
Retaliating in any way against an employee who refuses to provide access to their personal social media accounts
The exception to these requirements are social media accounts opened by the employer, for strictly business-related purposes.
Drug and alcohol testing laws
Employers looking to conduct drug and alcohol testing of their employees need to follow a qualified testing program.
This program requires the existence of a written policy, with some of the following information included:
Description of legal sanctions under federal, state, or local law
Employer's education program
Employer's standards of conduct regarding the use of controlled substances
The list of controlled substances the employer intends to test for
The testing is conducted at the employer's expense.
For a thorough description of requirements for qualified testing programs, visit this Montana Code webpage.
Record-keeping laws
Montana Code requires that employers follow certain employee record-keeping practices.
These practices require keeping certain records for up to 5 years, including the following information:
The beginning and end date of each pay period
Total employee wages for each pay period
Employee's full name and social security number
Dates of promotion, discharge, or employee death
Any special payments, etc.
A detailed list of required employee information to be kept can be found in this excerpt from Montana Code.
Conclusion/Disclaimer
We hope this Montana labor law guide has been helpful. We advise you to make sure you've paid attention to the links we've provided, as most of them will lead you to the official government websites and other relevant information.
Please note that this guide was written in Q2 2022, so any changes in the labor laws that were included later than that may not be included in this Montana labor laws guide.
We strongly advise you to consult with the appropriate institutions and/or certified representatives before acting on any legal matters.
Clockify is not responsible for any losses or risks incurred, should this guide be used without further guidance from legal or tax advisors.
Need a simple time clock for employees?
Clockify allows you to track time, attendance, and costs with just a few clicks, for FREE.
Your team can track work time via web or mobile app personally, or you can set up a time clock kiosk from which employees can clock in and out.
Later, you can approve timesheets and time off, schedule shifts, run time card reports, and export everything for payroll (PDF, Excel, link, or send to QuickBooks).