FLSA Working Time Regulation
All US businesses are required to track time for all non-exempt employees and keep those records for 2 years in order to be FLSA compliant and avoid unexpected and expensive wage and hour lawsuits. Here are the most important things you need to know about DOL's FLSA timekeeping compliance.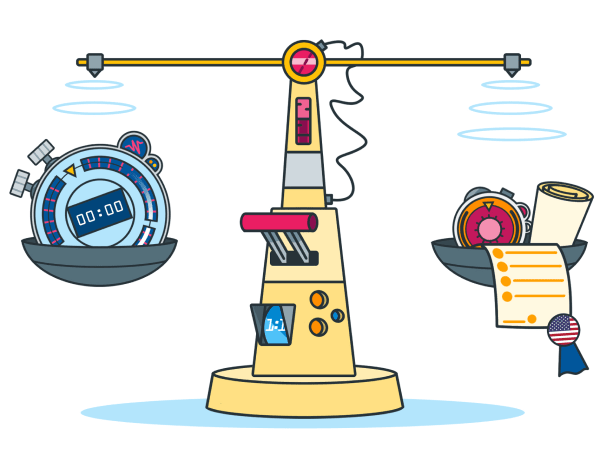 What is a DOL/FLSA compliance?
The FLSA (Fair Labor Standards Act), on the other hand, are rules set by US Department of Labor (DOL) and they apply to all US businesses. They set minimum wage, overtime pay, recordkeeping, and youth employment standards.
FLSA states that employers may use any timekeeping method they choose: a time clock, have a timekeeper keep track of employee's work hours, or tell their workers to write their own times on the records. Any timekeeping plan is acceptable as long as it is complete and accurate.
The FLSA (Fair Labor Standards Act) is in charge of:
Setting minimum wage
Setting overtime pay
Supervising and assessing recordkeeping
Laying out standards for the employment of youth
Who should follow FLSA rules and regulations
In terms of employees, the FLSA rules and regulations apply to everyone who is:
Full-time or part time employed within a private sector
Working in state governments
In terms of companies and enterprises, the FLSA rules and regulations apply to all who:
Have a yearly gross of $500,000, or more
Have caring for the sick, the elderly or the mentally challenged as their primary area of operation
Run elementary and secondary schools, or institutes that provide higher education
Run schools aimed exclusively at gifted children
Setting minimum wage
According to the current FLSA regulation, the minimum wage per hour is:
$7,25 for workers who are 20 years or older
$4,25 for employees who are younger than 20 (during their first 90 days in the new position)
The minimum wage per hour mustn't be lower than these figures, even for salaried employees.
Setting overtime pay
If the employee is compensation nonexempt
The compensation nonexempt employees receive for overtime work mustn't be less than 1.5 times of their regular rates within a 40-hours work week.
For example: if an employee who works for $9 per hour, works for 46 hours within a work week, the amount the employer is obliged to pay is:
1,5 times 9, which is $13.5 per additional hour worked
$13.5 times 6 additional hours, which is $81 worth of overtime
The regular pay for 40 hours per week (when the hourly rates is $9) is $360
$360 of regular pay, and $81 worth of overtime, equal $441 in total for the week
If the employee is paid per commissioned job
If the employee is paid per commissioned job, then the employer divides the amount earned for a week with the number of hours worked, including overtime, to find the hourly rate. In this case, overtime equals one half of the regular rate.
For example: if the employee is paid $352 per commissioned job, and has worked 44 hours within a week, the breakdown goes as follows:
$352 divided by 44 hours equals an $8 hourly rate
With an $8 hourly rate, the employee is entitled to $4 for 1 hour of overtime ($8 divided by half), which amounts to $16 for 4 additional hours, in this case
That amounts to $368 in total ($352+$16)
Calculating the regular rate for salaried employees
To calculate the regular rate for salaried employees (those that receive the same compensation no matter the hours worked), you have to divide the salary by the actual hours the employee has worked within a week.
For example: if the employee's actual hours worked differ from week to week, but he or she receives a flat compensation of $450, the breakdown for a 45 hour-week goes as follows:
$450 divided by 45 hours worked, equals a $10 hourly rate
The employee receives half of the $10 as compensation for 1 hour of overtime - for 5 hours of overtime, that's $25 ($10/2=$5; $5 X 5 hours=$25)
In total, that's $475 for the week ($650+$25)
The hourly rate and the final figure for salaried employees, will vary depending on the total hours worked - the higher the total hours, the lower the hourly rate will be, which will influence the overtime pay.
Exempt and nonexempt employees
When it comes to applying these rules, there is a difference between exempt and nonexempt employees. Strictly speaking, whether someone is exempt or nonexempt may depend on:
The offer made to the employee
Whether the employee's work schedule is subject to a lot of changes or not
The office rules on the matter
Professions that are exempt from overtime payments and minimum wage
Executives
Administration workers
Teachers
Certain computer employees
For more detailed information on the professions exempt from overtime payments and minimum wages, check out this guide.
Employees who are exempt from overtime payments
Sales-workers (those dealing with cars, truck, boats and other transportation vehicles)
Agricultural employees
Taxi drivers
People working in movie theaters
Certain media workers: presenters, news editors
Recordkeeping rules for exempt employees
By definition, exempt employees are not paid by the hour, but have fixed salaries. This includes jobs where it's required to:
Be discreet and make independent judgments on various matters
Supervise at least two employees
Employ, dismiss or give promotion to employees
Possess specialized expertise and education
According to the FLSA requirements, for exempt employees, it's important to keep records on:
The work week duties - the work week refers to 24 hours within a day, for 7 days a week.
The time of the day when the work day begins
Although salaried employees have fixed salaries that are not determined by the hours they've worked, a certain daily routine is expected - the FLSA requires information on when the work begins (e.g. 9AM).
The day of the week when the work week begins
For the same reasons as the above point, it's important to select the day when the work week begins. Some companies work on Saturdays, but not on Mondays, so they start their work week on Tuesdays - it's important to document this and make it official.
Wages these employees receive for certain periods
The employee's personal information (full name, full address, gender, date of birth for people younger than 19, social security number...)
Date when the employee receives payment, and information on what time period the payment covers
For exempt employees, It's also beneficial to keep track of the time spent working, in order to:
Add additional accountability for employees - Salaried employees usually gain higher compensation for their work, than employees paid by the hour, so it's important to track whether they have been productive with their work.
Have accurate information on who worked overtime, and how long that overtime was, in order to:

Gain insight in whether you should hire additional employees, to decrease the number of overtime hours for certain salaried employees
Gain insight in whether you should include an app to automate some of the processes causing overtime for certain salaried employees
Calculate overtime pay, in accordance with the FLSA requirements

Have insight in the number of hours it takes to finish a certain type of project. Also, gain knowledge on the type of work, or client, taking the most out of your employee's working hours
Recordkeeping rules for nonexempt employees
According to the FLSA, all employees that earn less than $11.38 per worked hour (which builds up to $23,600 per year) are not exempt (not salaried), so they must be classifies as hourly. The same rules apply to certain types of jobs: in tech jobs, if the employee is making less that $27.63 per worked hour (which builds up to $57,470 per year), he or she must also be classified as hourly.
This type of employees requires more information to collect, so apart from the information needed for exempt employees:
Personal information
Day of the week, and time of the day when the work week starts
The date when the payment was made to the employee, and the time period it covers
You also have to provide:
Hourly rates
Hourly rate for a week with overtime, with an explanation on the time period used to calculate the wages (is the compensation hourly, daily, weekly, or per individual job/project)
Wages for each period when payments are made
The exact amount for all payments to the employee that are separate from the regular compensation, and the explanation for it
Exact number or hours worked per day and week
Earnings per day or week, without overtime pay
Earnings for overtime, per week
Deductions and additions to the employee's regular wages, with dates and explanations on why they were made
According to FLSA requirements, companies are required to keep records for the following information, for 2 years at minimum:
The key employment and earnings information
Records on billing, order, as well as shipment
Records listing and explaining additions and deductions to the arranged wages
Straightforward tables showing everyone's wage rates
Straightforward schedule showing work time
Apart from this information, it's also vital to keep the following records, for 3 years at minimum:
Records on payroll
Various agreements with employees
Records on all sales
Records on all purchases
FLSA timekeeping requirements
In order to be compliant with the FLSA timekeeping requirements, it's important to keep track of employee's hours worked.
When it comes to the timekeeping itself, there are no actual limitations for the timekeeping method used. The only requirement is that you must provide data that is precise, correct and thorough. Each company can choose the method most suited for its workers:
Using a time clock. This method includes a slip of paper employees place in the time clock; the time clock then punches the employee's time on paper.
A timekeeper checking all the working hours of employees. A timekeeper is in charge of checking and authorizing employee's timesheets.
Each employee recording his or her time individually by using a timekeeping software. The employees log in the start and end times for each activity, and indicate when they arrived to and left work. This data must be precise, so if they have arrived at 7:56AM and left for home at 5:02PM, they should record time as such.
Companies must keep precise and correct records on the hours worked for nonexempt employees. These records must be kept daily and include:
The employee's arrival time to work
Employee's unpaid break time (start and end times), including lunch
The time in the day employee's stop working for the day
The total number of hours worked for each day
The FLSA allows time rounding, usually to quarter of an hour:
If the time entry clocked between 1 and 7 minutes, the time is rounded down and excluded from the report on time worked completely
If the time entry clocked between 8 and 14 minutes, the time is rounded up and included in the report on time worked as 15 minutes
Employees can also round time to smaller numbers, such as the nearest 6 minutes or 10 minutes
It's important that the employees average out this time rounding: avoid always rounding only up, or down. Rather combine the two practices, for more accurate time results.
The FLSA doesn't strictly require time tracking for exempt employees.
General FLSA timekeeping requirements
Men and women should receive equal pay, when they possess the same set of skills and level of experience
Nursing mothers should have break time for feeding their babies during the first 1 year of the baby's life
Children younger than 13 aren't allowed to work
Children between 14 and 15 are allowed to work on specified hours, but not in potentially dangerous positions
Children between 16 and 17 are allowed to work on any hours, but not in potentially dangerous positions
If you disregard the FLSA requirements
To be compliant with FLSA, you must always pay at least minimum wages, compensate for all overtime hours, and classify employees properly to exempt or nonexempt.
Otherwise, you risk a wages and hours lawsuit.
Not required and covered by the FLSA
Employers are obliged to make sure their employees are aware of the FLSA rules; the rules must be posted in the workplace for everyone to see.
The matters not required or covered by FLSA are the times spent
On holidays, vacations
On sick leave
In some states, time spent on meals
The FLSA also doesn't require
Raises in pay
Higher wages for work during less desirable hours (on weekends)
A reason or notification for dismissing an employee
Employers to pay dismissed employees immediately after firing them
Also not prescribed by the FLSA
A limit for the hours per day, or days within a week, when the employee should work; this includes overtime
For further reading, The United State's Department of labor provides additional information on FLSA requirements here.
FLSA compliant timekeeping software
Clockify is a free time tracking software completely compliant with the FLSA requirements.
See how Clockify can be used to respect the FLSA requirements.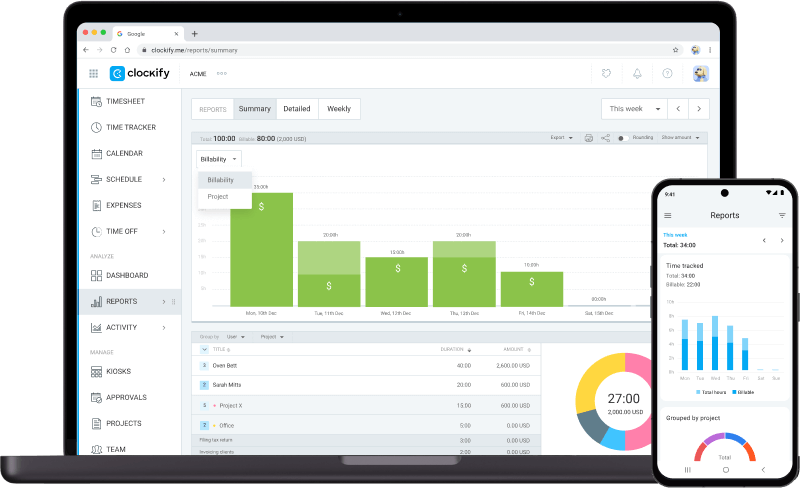 Timekeeping features in Clockify
Web-based time tracking - In Clockify, employees can track time with the work hours tracker, or enter it manually in the Timesheet view. In both cases, the start and end times of the day are recorded accurately for the FLSA, and you can track the exact number of hours the employee worked, including overtime.
Overtime alerts - FLSA requirements place great emphasis on recording overtime - Clockify lets you set automatic alerts, so that employees receive emails notifying them about entries longer than 8 hours, entries that indicate they may have worked overtime.
Weekly report for overtime - You can also go to the Weekly report, and filter by time and user, to see who worked overtime, and for how long.
Week start indicator - Indicating when the work week starts in reports is important for FLSA.
Task assigner for workweek duties - In Clockify, you can keep track of work week duties by making sure each employee is assigned with the correct task - the employee will be able to track his or her personal time on this task, and you'll have documentation on what the employee has worked on for the past week (what his or her work week duties were).
Rounding time entries - FLSA allows rounding of time entries, and you can turn on this option in Clockify, so that all your entries are rounded up, or down, to 15, 10, 6 minutes in Reports.
Reports - Clockify enables you to generate comprehensive reports in just a few clicks, and keep these records within the system for as long as needed, to comply with the FLSA recordkeeping requirements.
Hourly rates - In Clockify, you can easily set precise hourly rates for employees in the Team page, and make sure all earnings are correctly calculated for each employee. Once the hourly rates are set, you can use the Summary report to see each employee's earnings within a week, calculated automatically, by multiplying hours tracked with the hourly rates. All the earnings per individual week are stored within the Clockify system and can be accessed at any time.
Learn more about: Work hours tracking | Time reporting | Calculating payroll