How to choose the best time clock app?
The core of some apps is a simple time clock tool - helping your employees simply mark the start and the end of their shift. Others are focused on time management in a broader sense, while some of the apps have additional features enabling in-depth employee and project management.
Before selecting an app to meet your expectations, consider the following:
The scope of your needs; What kind of data you want to have at your disposal after using a software;
What are the basic features your time clock app needs to have?
Do you need a time clock for yourself or the whole team/company? What is the size of your team?
What is your planned budget for a time clock app?
How did we choose which time clock apps to review?
A good time-clock app should be simple at its essence, providing you to start and end your working days without too many complications.
But, a great time-clock app should provide you with all time-related information to help you optimize your processes and time management skills - as an individual, or as part of a large team.
Some of the factors we took into consideration are:
Time-clock feature
Other time-related features
Consumer's reviews
Multiplatform availability
How will we decide on the best time clock app?
The criteria for choosing the best time clock app will differ from user to user. That's why we encourage you to explore time clock apps even further, if you need any more details than the ones provided here.
Thus, the best time clock software should be flexible enough to accommodate the needs of the largest number of users. In line with that, the best time clock should:
Provide value for everyone - have a larger range of features to cover the variety of needs. The more features a time clock app has, the more it can be used in a variety of professional settings.
Be simple and intuitive - a good time clock app should not be so complicated that it loses its purpose in saving time and making the day more manageable for its users.
Be affordable, and ideally provide its core feature for free - a time clock app should offer various pricing plans for segmented users.
Have a pool of happy users - a time clock app should have positive reviews, be perceived as useful, and provide a great deal of value for its users.
Overview of the best time clock apps for 2022
Based on the outlined criteria, we have pointed out the 8 best time clock apps that stand out on the market.
An in-depth analysis presented below will provide a more detailed review of the main functionalities and benefits each time clock app offers to potential users. Based on the details, we will conclude which app can be rated as the best time clock app for 2022.
#1 Clockify - simple & free time clock app
If you want to track and manage your time, without having to worry about limitations on users, projects, and reports - Clockify is the right choice for you. Besides, it's free.
Clockify provides a free time tracking system for unlimited users, projects and clients. You can also make use of a free team chat app if you enable it in the settings.
What is also great about Clockify is its support team that it's reachable 24/7 - which is something users greatly appreciate, as we will see in further analysis.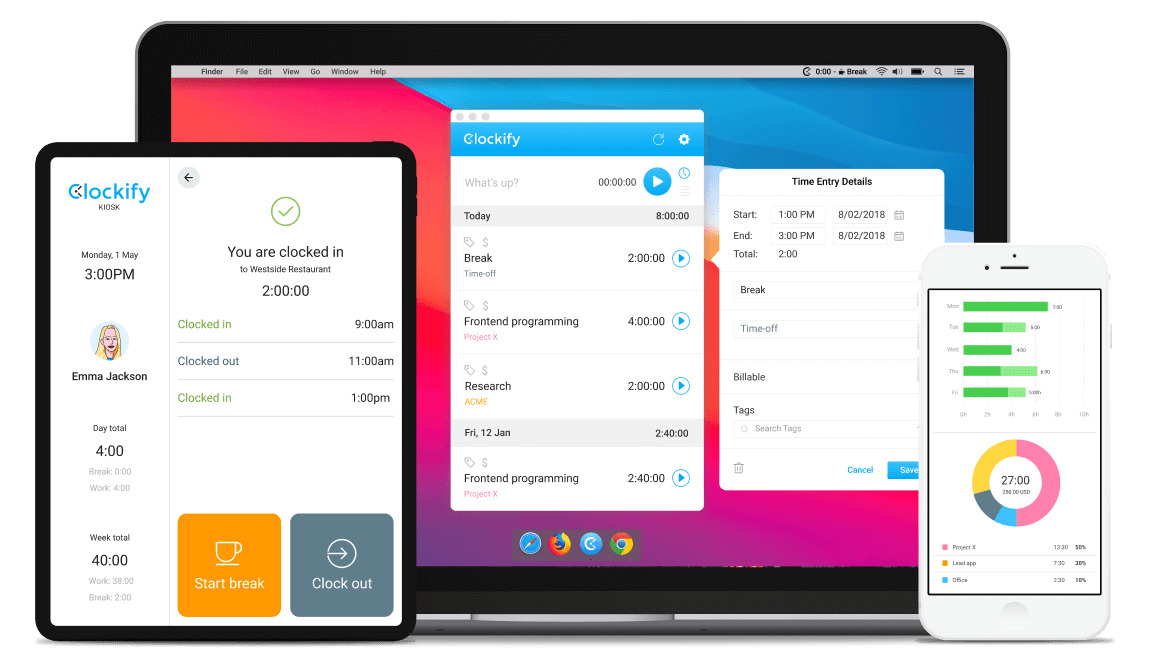 Who can use Clockify?
Although Clockify is perfect for teams of all sizes, you don't need to be a part of a large team to log your time with this app.
Freelancers may find Clockify useful in adapting to their work-from-anywhere lifestyles. They can mark their hours as billable or non-billable, and switch from one device to another, as time tracking in Clockify is synced on a browser, desktop, or mobile.
If you are managing a team, you can use Clockify to schedule tasks and use GPS tracking to see when your employees are on the field.
Clockify gives you the option to set an automatic timer and a simple clock-in clock-out system, or manual entry for time tracking in a timesheet mode. All entered data is later accessible in the dashboard - a visual representation of your team's productivity.
What additional features does Clockify have?
In addition to the common features each app provides, such as a real-time tracking system, reminders and visual reports, Clockify provides additional features that make it a great choice for all business scenarios.
With Clockify, you can:
Enter and edit hours manually
Break down your tasks with a Pomodoro timer
Mark billable hours
Submit and approve timesheets
Filter your data using tags
Create project milestones
Track and approve time off and holidays
Set and track your projects' budget
Analyze expenses
Create and customize invoices
Track GPS location
Record what you worked on with screenshots
These built-in features only scratch the surface of all the features that Clockify provides. The app also offers 80+ integrations available through the Clockify Chrome, Edge and Firefox extensions.
How easy is it to use Clockify?
Ease of use:★★★★★ 4.7 (4101 reviews)
Based on its users' reviews, Clockify is a time tracking software that is quite easy to use. Clockify's customers value the app's intuitive interface, a broad spectrum of features that lets them customize the app for specific needs, and confirm that the app helps them increase productivity.
How much does Clockify cost?
The basic Clockify features are completely free. Clockify's free plan can be used for an unlimited amount of time, with unlimited users, to track unlimited projects, create and customize reports, and so much more.
In case you have greater needs than what Clockify's free plan provides, there are upgrade options available. Clockify's paid plans start from $ 4.99 per user/month if billed monthly, and provide a wide range of additional features, such as GPS tracking, administration, productivity & expenses tracking, additional integrations, etc.
Annual billing provides customers with discounts on all pricing plans. If billed annually, the prices move from 3.99 per user/month.
How did the users rate Clockify?
Overall rating:★★★★★ 4.7 (4101 reviews)
What users emphasize the most as the greatest benefits are the simplicity of use and the fact that the most needed features are actually free. Clockify allows users to fulfill their basic needs, without spending too much money to do so.
#2 Homebase - best for HR activities
Homebase is the best option for managing HR processes. Besides time tracking, its free plan includes collecting employee feedback at the end of the shifts, managing employee information, payroll and scheduling.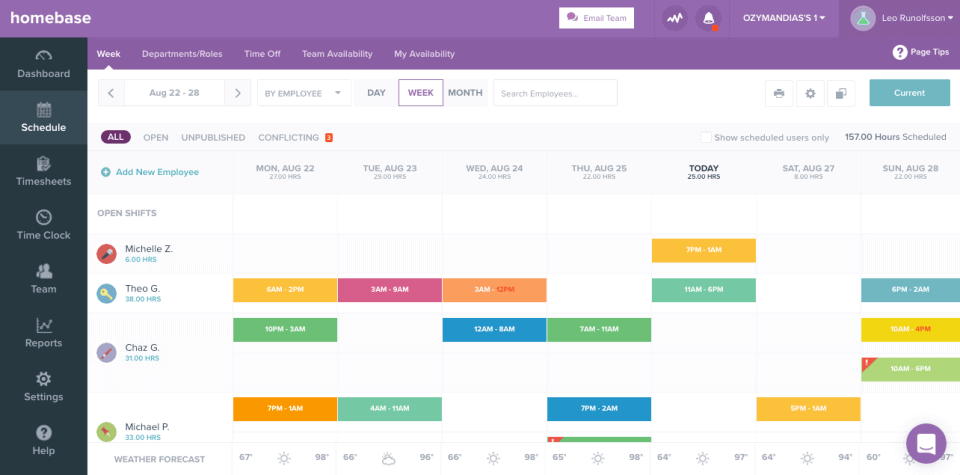 Who can use Homebase?
Homebase can be used by a variety of users, but it is mostly focused on small businesses in the food & beverage industry, retail, beauty & wellness, medical & veterinary, home & repair, services, hospitality & leisure, education & caregiving.
Homebase is optimized for mobile, web, or desktop use.
What additional features does Homebase have?
In Homebase, you can verify clock-ins with geofences, GPS tracking, and photos, as well as get alerts when employees are late. When entering a time entry, employees can add a note for a specific time entry in case they want to emphasize something important.
A great asset to Homebase is their Cash Out service, which allows employees to access some of their pay early in case of emergency expenses. Employees just have to choose the amount they need, by when - there are no interest charges.
The conditions to use the Cash Out service are: owning a bank account, a minimum of two direct deposit paychecks in the last 30 days, and a Homebase account. The amount taken has to be given back before the next use of Cash Out.
How easy is it to use Homebase?
Ease of use:★★★★★ 4.6 (833 reviews)
Homebase users on Capterra view it as fairly easy-to-use software. Customers mostly mention a simple scheduling process and payroll feature as the greatest strength of the product.
How much does Homebase cost?
Besides a free plan with limited features, Homebase paid plans range from $24.95 per month/location to $99.95 per month/location. A location can be any place that your business operates from (a storefront, office, warehouse,...).
Homebase provides discounts on annual payments, so the pricing plans can be more affordable if paid in advance. However, it is still considered one of the pricier software compared to the others on this list.
How did the users rate Homebase?
Overall rating:★★★★★ 4.6 (833 reviews)
The majority of users are appreciating Homebase's scheduling and HR features. What pops up as an often issue is occasional slower loading of the app, delayed syncing, or occasional bugs (e.g., doesn't register a clock-in immediately).
#3 WhenIWork - shift scheduling software
WhenIWork is a scheduling software for shift-based workplaces. Besides scheduling, it has time & attendance features, team messaging to discuss shift swaps, as well as payroll configurations.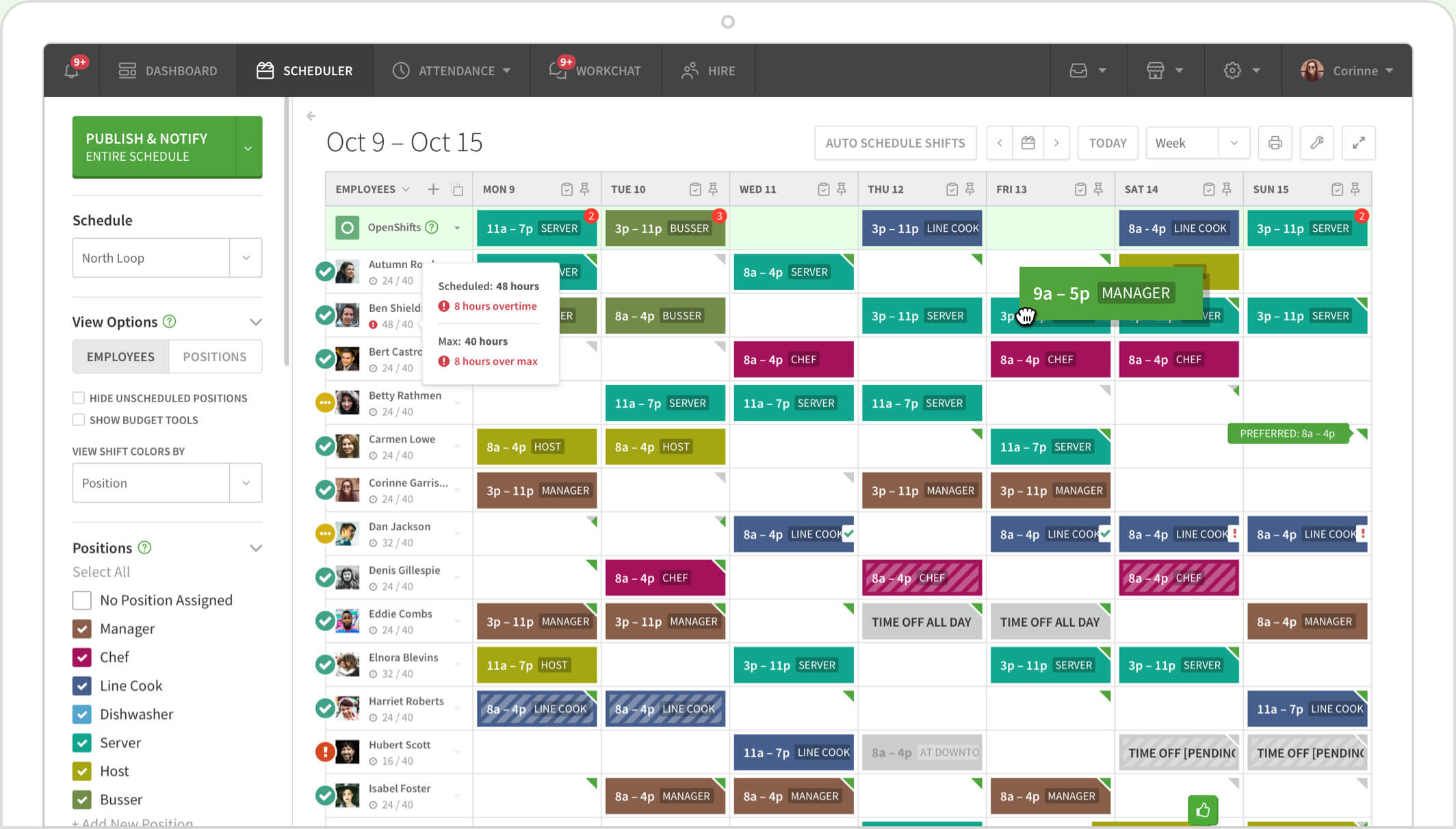 Who can use WhenIWork?
WhenIWork is mostly used by managers who are in charge of managing people and allocating work tasks. It can be useful for a wide range of industries, especially:
Restaurants / Cafes / Bars / Coffee Shops
Retail
Professional Services
Entertainment / Seasonal
Healthcare / Medical
Technology / Software
Colleges / Universities / Schools
Catering / Events
Hotels / Resorts
Emergency / Law Enforcement / Security
Caregivers / Assisted Living
Call Centers / Customer Support
Volunteers / Non-Profit
Franchises
Construction
Salon / Spa
What additional features does WhenIWork have?
An additional benefit that WhenIWork customers can enjoy is Clair On-Demand Pay. It's a fee-free wage advance benefit, that allows employees to access a portion of their wages as they're earned, instead of having to wait until payday.
Such service can be of use for employees, and give them the freedom to cover some of the unexpected costs until the next payday.
How easy is it to use WhenIWork?
Ease of use:★★★★★ 4.4 (924 reviews)
Users rate scheduling features highly, and the ability to easily set shifts for all employees that are automatically notified about their working hours. However, compared to other products analyzed here, WhenIWork has the lowest ease of use, as rated by the users.
How much does WhenIWork cost?
WhenIWork does not offer a free plan. The Standard plan costs $2.5 per user and it includes standard scheduling for unlimited users. The Advanced plan costs $6 per user and it includes advanced scheduling for unlimited users.
The Advanced plan is recommended for workplaces that need a versatile scheduling system with more features and automation (role permissions, custom shift reports, labor sharing, etc.).
Both plans offer the option to include Time & Attendance features. If included, the price of the Standard plan rise to $4 per user, and of the Advanced plan to $8 per user.
How did the users rate WhenIWork?
Overall rating:★★★★★ 4.5 (924 reviews)
Users appreciate intuitive scheduling, and the ability of employees to swap shifts within the app, without the management involvement.
What comes to light as one of the flaws are occasional glitches of the product (e.g. unsynced changes for the administrators or unsaved changes).
#4 Connecteam - wholesome team & task management software
Connecteam is management software, with employee engagement and task management features. It comes with a wide range of features, so it can meet a variety of needs.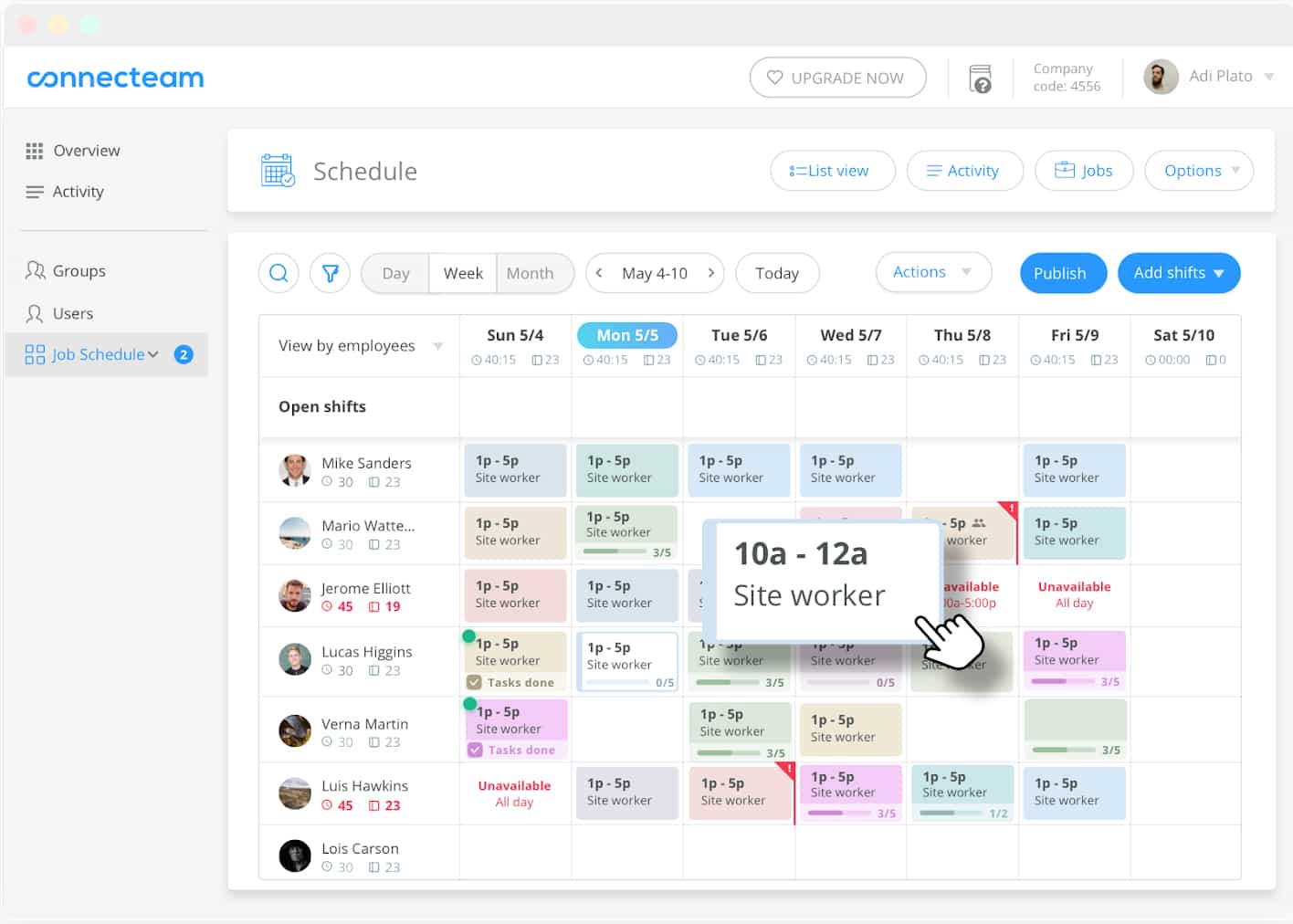 Who can use Connecteam?
Connecteam can be used in almost any sector or industry - retail, security, cleaning, hospitality, construction, field services, logistics, staffing, and many other industries.
Although diverse in industries in which it can be used in, Connecteam's plans are designed to cover the first 50 users, which can be costly if you have a smaller team, but can be very affordable if you fit within the parameters.
Due to its pricing strategy, Connecteam is not the optimal solution for single-person businesses or freelancers.
What additional features does Connecteam have?
What's interesting about Connecteam's time clock system is the ability to add multiple time clocks to a single account. This is usually used by companies with multiple branches, that want each branch to have different users, admins and settings.
An interesting feature found in Connecteam is the ability to add a Course module for your employees. This can be used for internal training, or for one-time training that each new employee has to go through.
Depending on the needs, Connecteam offers a variety of options to integrate Courses & Quizzes for your team.
As a way to motivate employees, there is a possibility to recognize individual efforts and announce 'Employee of the month" badges for exceptional performance, or similar recognition ways that strengthen company culture and employee motivation.
How easy is it to use Connecteam?
Ease of use:★★★★★ 4.7 (148 reviews)
Connecteam's customers rate the app as really easy to use, with a simple layout and numerous useful features.
How much does Connecteam cost?
Connecteam has a free plan with clock in & out system, task management and scheduling.
Plan prices range from $ 35/month to $ 119/month, with the possibility of a customized Enterprise plan available upon request.
All prices of the paid plans are expressed for the first 30 users, after which a separate fee is calculated for each individual user.
Discounts are provided on all pricing plans for customers who pay annually.
How did the users rate Connecteam?
Overall rating:★★★★★ 4.7 (148 reviews)
Although sometimes users have reported unsynced changes between different devices (e.g. desktop or kiosk), the syncing is still valued as a useful feature for companies operating in different locations.
In the majority of customer reviews, Connecteam's customer support team seems to be very highly praised. Customers perceive it to be quick to respond and skilled in resolving any problem that arises.
#5 Deputy - best for customizing a package to your needs
Scheduling, time tracking & attendance software for individuals or larger teams.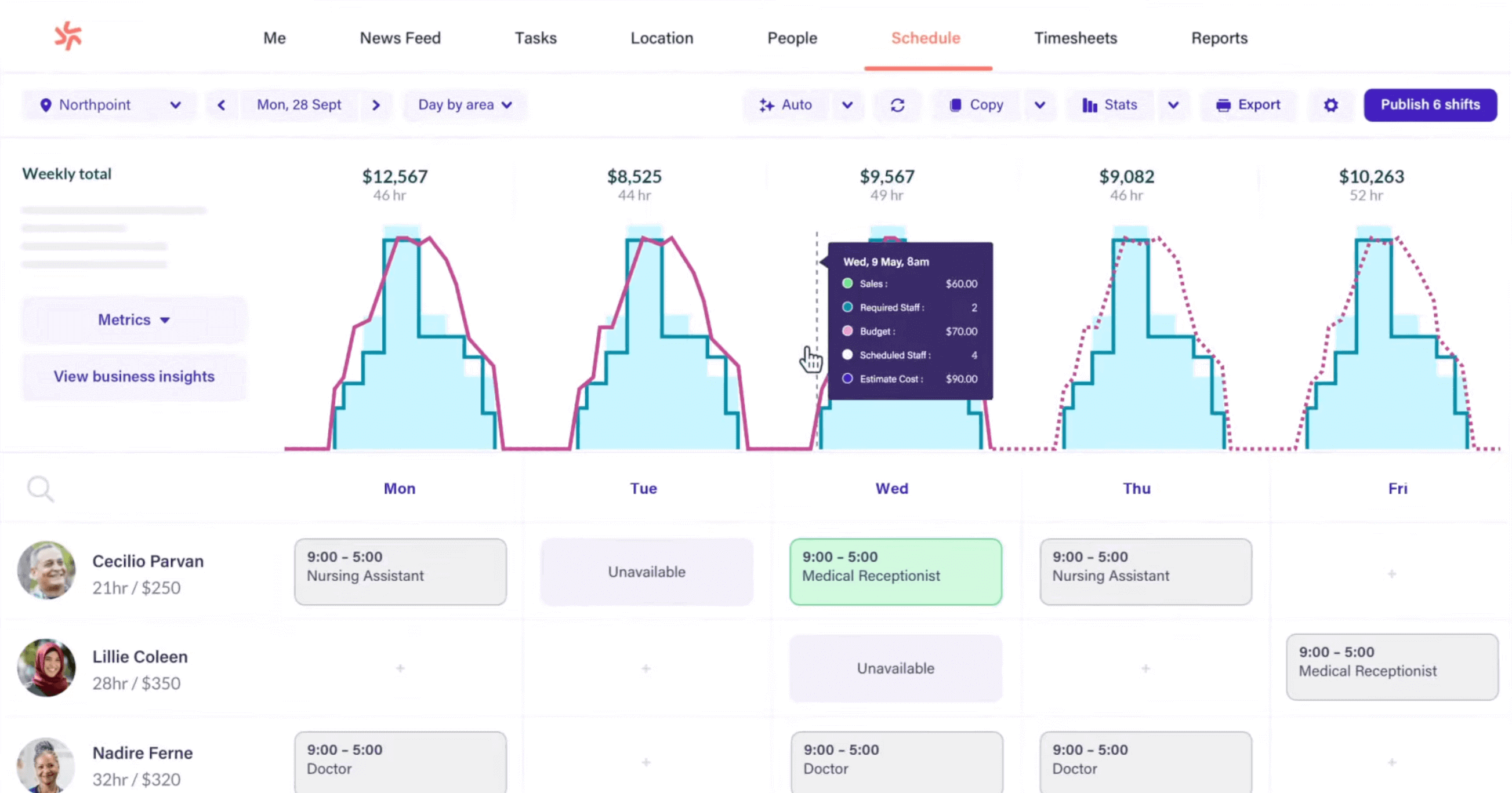 Who can use Deputy?
Deputy has almost no limitation when it comes to industries to which it can be applied - agriculture, call centers, charity, cleaning services, construction & engineering, education, entertainment, healthcare, retail, security, supermarkets, and so on.
No matter the size of your team, Deputy pricing plans are affordable but mostly divided into different feature categories.
What additional features does Deputy have?
What differs Deputy from the rest of the time clock apps is its ability to provide customers with a customized feature plan.
This plan is recommended for companies that have more than 250 employees, and its price depends on configurations made to the software.
Besides all features included in the previous plans, this plan can provide you with a way to manage certification and qualification requirements for your team, and send you expiry notifications.
The custom plan allows you to customize functionalities, such as customizing your planning with third-party data such as weather forecasting.
With Deputy, you can track attendance with location capture or biometric face recognition (except in the Scheduling plan).
Deputy also provides a project progress tracking option, offering its users to keep an eye on project development and make adjustments if necessary.
How easy is it to use Deputy?
Ease of use:★★★★★ 4.6 (577 reviews)
What users find the most valuable about Deputy is the simplicity of the clocking in and out system and the affordable price. The software is rated as good for hourly-based employees, allowing them to swap shifts if needed.
When it comes to its shortcomings, some users reported that they had waited longer than expected to get customer support, or get appropriate assistance, especially when it comes to ADP integration.
How much does Deputy cost?
Deputy does not offer a free plan. Depending on the needs you have, pricing packages are divided into 4 categories: Scheduling, Time & Attendance, Premium and Enterprise.
The Scheduling and Time & Attendance are both $3.5 per user/month, and contain features narrowly related to scheduling or time & attendance tracking. The Premium package includes all features contained in the previous two packages, and it is $4.9 per user/month.
For any other needs you might have, there is an option for a customized Enterprise package for companies with more than 250 employees.
How did the users rate Deputy?
Overall rating:★★★★★ 4.7 (577 reviews)
Generally, users are satisfied with Deputy's offer for the given price. Many users praise its simplicity, usefulness, and affordability.
#6 Sling - affordable shift scheduling
Sling provides shift management, time clock, labor management, budgeting and more. It is recommended mostly for small businesses.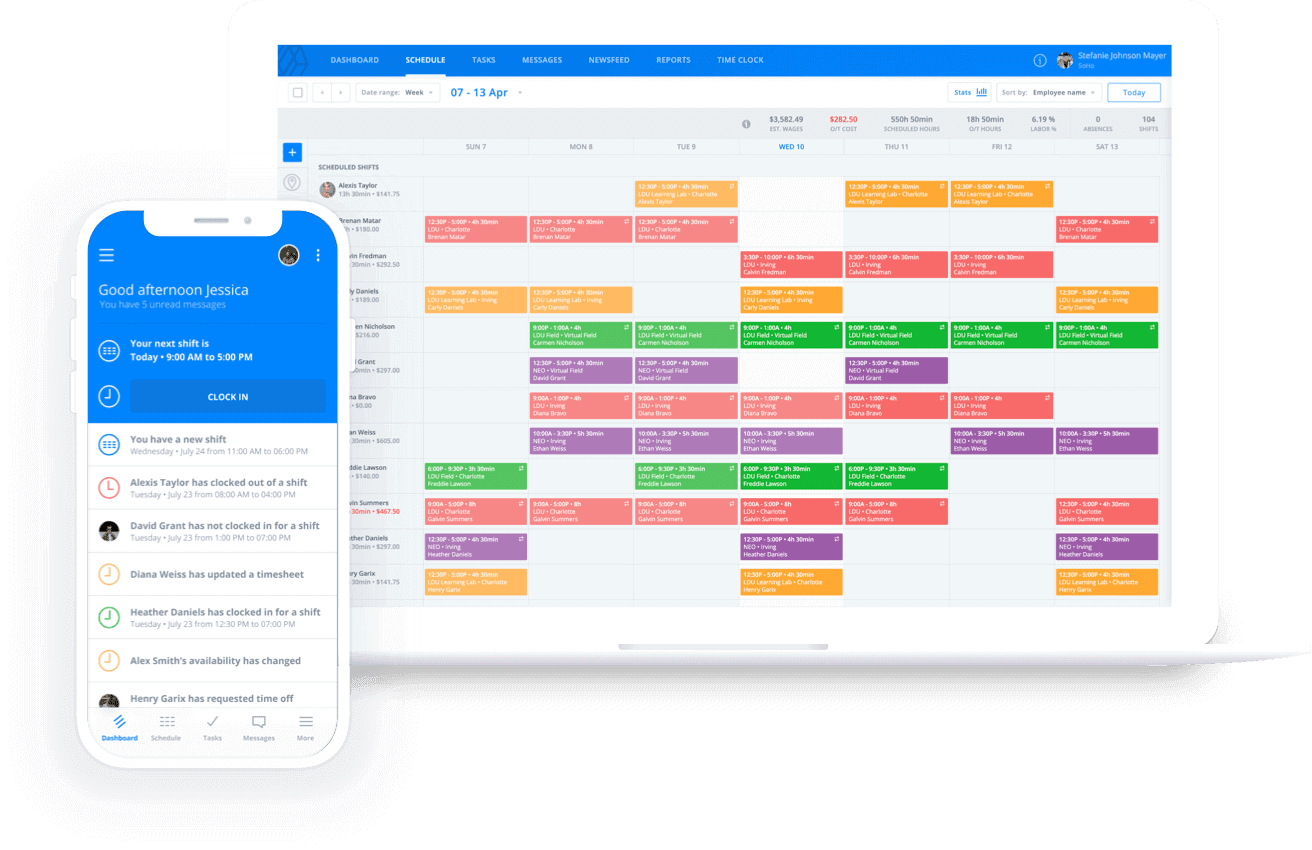 Who can use Sling?
Like all other software on this list, Sling is also applicable to most industries:
Healthcare
Restaurants
Retail
Education
Hotels
Transportation
Call centers
Caregiving
Entertainment
Emergency
Nonprofits
Remote work companies
It is recommended mostly to small businesses, due to its pricing, but it can be used by multi-location enterprises, too.
What additional features does Sling have?
Sling offers a Newsfeed feature as a way to create a collaborative and communication-oriented company culture.
The Newsfeed feature allows users to share information whenever an important company announcement or a staff update, especially when not all team members were present to hear the information in person.
When publishing a post, users can share photos, links, documents and videos.You can see which employees have viewed the post, like or comment on it to engage with others.
Different categories can be created via 'Pages' on the Newsfeed and customized for news-sharing in a way a company prefers.
You can also choose which members are available to access a specific News page. It can be obligatory for employees to follow a specific page, or they can unsubscribe from it.
How easy is it to use Sling?
Ease of use:★★★★★ 4.6 (108 reviews)
Users rate Sling as an easy-to-use software, mentioning they have no issue figuring out how to create shifts and schedules.
How much does Sling cost?
Sling is definitely one of the most budget-friendly software on the market. It offers a free plan that is the most suitable for scheduling, while the other two pricing plans are $2 per user/month and $4 per user/month.
The time clock feature is not available in the free plan, so if you need such feature you will have to upgrade to one of the paid plans.
However, all plans include scheduling, news sharing, announcements, and time-off.
How did the users rate Sling?
Overall rating:★★★★★ 4.6 (108 reviews)
Sling's customers are satisfied with the option to create schedules and only then publish them for employees to see and discuss potential shift swaps in group messaging.
Although the ability to create recurring schedules is appreciated, it has been noted that this feature could be upgraded in a way that a schedule does not expire after a year, to avoid repetitive work.
Also, reviews on Capterra mention that customer support takes a bit longer to reply via chat, as there is no phone support.
#7 ClockShark - best for on-field workers
With ClockShark you can see what's happening in the field, track time and collect data both from the office and on-field workers, manage jobs from start to finish, and get paid.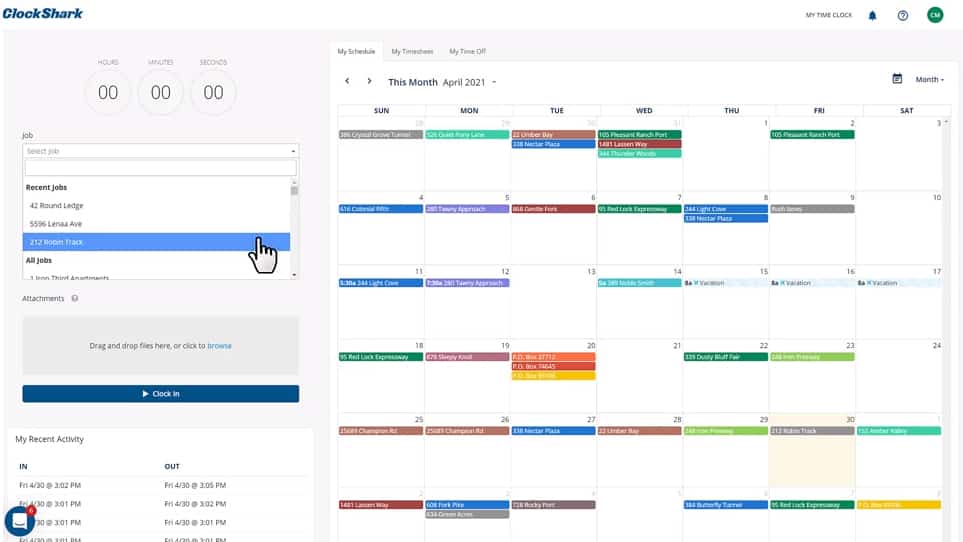 Who can use ClockShark?
ClockShark is recommended mainly for construction or on-field businesses. The Basic plan that includes time and location features, is suitable for small teams of up to 5 people.
For smaller companies or larger corporations, the other two plans offer a greater range of features including reports, invoices, time-off management, and more.
What additional features does ClockShark have?
Besides basic GPS tracking that allows you to see where exactly work started and where it stopped, you can also use the GPS feature to review & verify employee locations while they were clocked in.
Employees can attach and discuss photos from the field, or share documents to start a discussion on something that needs to be urgently resolved.
Multiple types of overtime rules can be applied to different sets of employees. But, with a virtual GPS fence feature, you can create a virtual fence around a job site to remind employees to clock in and clock out when they enter or leave a job site fence.
This helps managers to avoid reminding employees to clock in and out on time, without having to deal with additional notes about forgotten inputs.
Invoices can be created and shared directly with clients. Payments can be realized more quickly with the Chase payment integration.
How easy is it to use ClockShark?
Ease of use:★★★★★ 4.7 (1651 reviews)
Users evaluate ClockShark as highly intuitive and easy to operate, for both management and employees.
How much does ClockShark cost?
ClockShark has two paid plans without any free plan options. The Standard plan is $10/month with an additional fee for each user of $8 per user/month. The Pro plan is $20/month, and the user fee is $10 per user/month.
If you decide to use a free trial of 14 days before buying a plan, the base fees will be higher - $20 for the Standard and $40 for the Pro plan.
How did the users rate ClockShark?
Overall rating:★★★★★ 4.7 (1651 reviews)
What shows up about ClockShark on Capterra reviews is their customer support team, which has been praised for being quick, helpful, pleasant and considerate while interacting with customers.
No major issues were reported by users, except that it is missing the API integration.
#8 QuickBooks Time - for on-field and project-based companies
QuickBooks Time is a former TSheets app, which is now a part of the QuickBooks portfolio of products. It provides GPS tracking and project progress tracking, so it can be used in situations where a project is carried out on-site.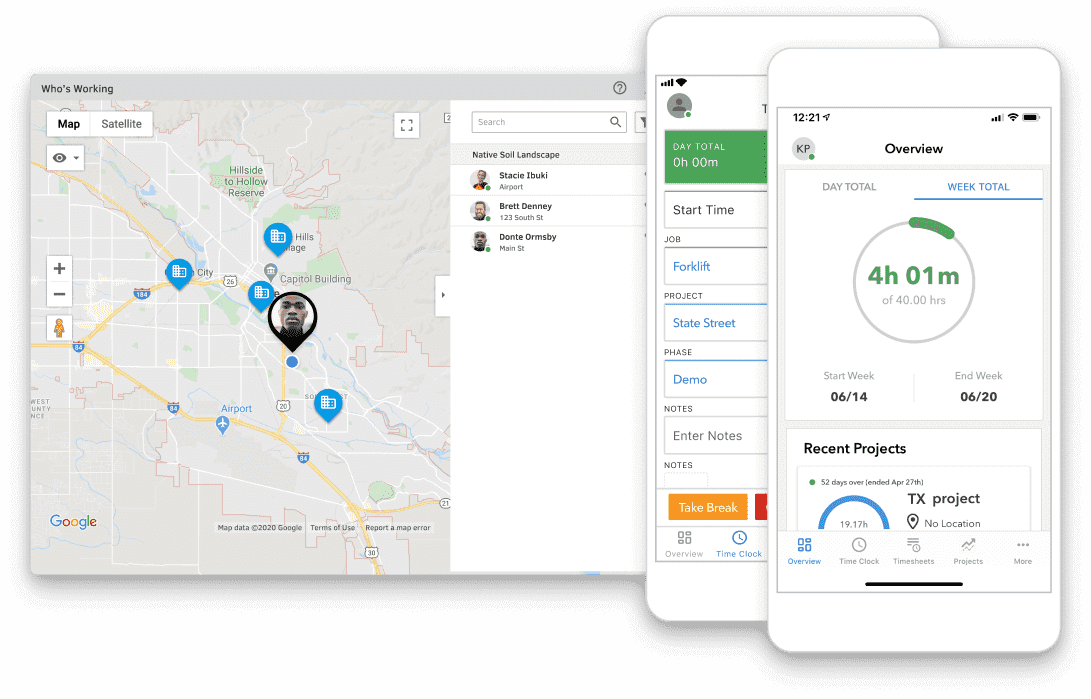 Who can use QuickBooks Time?
Although it can be used by everyone, QuickBooks Time might be more suitable for small and medium-sized businesses instead of sole-business owners or freelancers, as its pricing plans include a base fee with one admin person included.
When it comes to industries in which it can be used, as long as you have time tracking needs, QuickBooks Time can work for you. So far, it has been applied within construction companies, landscaping businesses, small businesses, large businesses, and more.
What additional features does QuickBooks Time have?
Besides Clockify and Deputy, QuickBooks Time offers a project progress tracking option which is useful for project-based teams.
Aside from ClockShark, QuickBooks Time also provides a geofencing feature in its Elite pricing plan, which is convenient for location-specific jobs and tasks.
How easy is it to use QuickBooks Time?
Ease of use:★★★★★ 4.6 (5552 reviews)
According to the reviews on Capterra, users have no issues in setting up and using QuickBooks Time and are able to easily switch between clients, tasks, and categories.
How much does QuickBooks Time cost?
There are only two pricing plans offered by QuickBooks Time - Premium and Elite. Both pricing plans include one free admin included with the monthly base fee, scheduling and expert support.
Further differences lie in the scenario in which you choose to test out the app. In case you want to start with a free trial of 30 days, the Premium plan has a base fee of $ 20/month + $8 per user per month, and includes time tracking features, payroll and invoicing.
With a free trial of 30 days, the Elite plan will have a base fee of $ 40/month + $10 per user per month, and it's upgraded with project progress tracking, geofencing, project estimates vs. actual reporting, and so on.
In case you buy it without trying it out, the base fee will cost 50% less while the price per user/month remains the same. Also, QuickBooks Time offers discounts for paying three months in advance.
How did the users rate QuickBooks Time?
Overall rating:★★★★★ 4.7 (5552 reviews)
Some users have complained that the software is crashing or is slower since the company changed ownership.
But, overall, customers are satisfied with its functionalities. The ability to see how much time is spent on specific clients or tasks is viewed positively.
Also, the QB Time has been praised by its users for the data it provides for HR and payroll management.
Best Time Clock Apps Comparison
clockify.me
joinhomebase.com
wheniwork.com
connecteam.com
deputy.com
getsling.com
clockshark.com
quickbooks.intuit.com
Overview
Price (per month)
Free: unlimited users, projects, tracking, reports
Basic: $0.99/kiosk user
Standard: $1.49/kiosk user
Pro: $1.99/kiosk user
Enterprise: $2.99/kiosk user
Basic: free (1 location, unlimited users)
Essentials: $24.95/location
Plus: $59.95/location
All in one: $99.95/location
No free plan
Standard: $2.5/user or $4/user
Advanced: $6/user or $8/user

Free
Basic: $35 (first 30 users), + $0.6 for each new user
Advanced: $59 (first 30 users), +$1.8 for each new user
Expert: $119 (first 30 users), +$3.6 for each new user
Enterprise: Customized
No free plan
Scheduling: $3.5/user (no time clock)
Time & Attendance: $3.5/user
Premium: $4.9/user ($4.2/user if billed annually)
Enterprise: Custom price
Free (unlimited employees, locations)
Premium: $2/user
Business: $4/user
No free plan
Standard: $8 base fee + $7/user
Pro: $15 base fee + $9/user
No free plan
Premium: Without free trial: $10/month + $8 per user/month
With free trial: $20/month + $8 per user/month
Elite: Without free trial: $20/month + $10 per user/month
With free trial: $40/month + $10 per user/month
Reviews (Capterra)
4.7


(4,101 reviews)

4.6


(833 reviews)

4.5


(924 reviews)

4.7


(148 reviews)

4.7


(577 reviews)

4.6


(108 reviews)

4.7


(1,651 reviews)

4.7


(5,552 reviews)

Free plan limitation
Access to extra features
(learn more)
No team chat & budgeting
No free plan
50 users, no time-off management & payroll periods
No free plan
No timesheets & overtime alerts
No free plan
No free plan
Ease of use
Very easy
Very easy
Not so easy
Very easy
Very easy
Very easy
Very easy
Very easy
Best for
Freelancers, consultants, remote workers, small and medium business, digital agencies, NGOs, universities, and enterprises.
All hourly teams, including restaurants, retail, healthcare, beauty, home and repair, and professional services businesses.
Small businesses to large enterprises, management teams in every industry.
Hospitality, retail, construction, manufacturing, healthcare, services, security, HVAC, and others.
Hospitality, retail, event, healthcare, construction, teaching, childcare, security, service and others.
Companies of all industries and sizes, from small single-location businesses to multi-location enterprise organizations.
Construction, field service, and franchise companies.
Individuals, teams of all sizes, large companies/corporations.
Time management
Time clock
✓
✓
✓
✓
✓
✓
✓
✓
Timesheet
✓
✓
✓
✓
✓
✓
✓
✓
Approve timesheets
✓
✓
✓
✓
✓
✓
✓
✓
GPS tracking
✓
✓
✓
✓
✓
✓
✓
✓
Enable/disable timesheet edits
✓
✓
✓
✓
✓
For admins & managers and their assigned locations only
✓
✓
Overtime reminders
✓ (Paid)
✓
✓
✓
✓
✓
✓
✓
Pomodoro timer
✓
Early clock in prevention
✓
✓
✓
✓
Scheduling
Shift scheduling
✓
✓
✓
✓
✓
✓
✓
✓
Calendar syncing
Google Calendar, Microsoft Outlook
Google, Outlook, iCal
With all Calendars that support iCalendar method
Google Calendar
Google Calendar, Apple, Microsoft Outlook
With all Calendars that support iCalendar method
Google Calendar, Microsoft Outlook
Google, Outlook, Apple, iOS devices
Create tasks
✓
✓
✓
✓
✓
✓
✓
Project management
Set estimates/Track project progress
✓
✓
✓
Reports
✓
✓
✓
✓
Business
✓
Budget tracking
✓
✓
✓
✓
✓
✓
Team management
User profiles
✓
✓
✓
✓
✓
✓
✓
✓
Create teams
✓
✓
✓
✓
Organized by "Location" only
✓
Organized only by Departments & Locations
✓
Time off management
✓
✓
✓
✓
✓
✓
✓
✓
Manager role
✓
✓
✓
✓
✓
✓
✓
✓
Team chat
✓
✓
✓
✓
✓
✓
✓
Hourly rates/Wages
✓
✓
✓
✓
✓
✓
✓
✓
Platforms
Web
✓
✓
✓
✓
✓
✓
✓
✓
Android app
✓
✓
✓
✓
✓
✓
✓
✓
iOS app
✓
✓
✓
✓
✓
✓
✓
✓
Mac desktop app
✓
Windows desktop app
✓
✓
✓
✓
✓
✓
✓
✓
Linux desktop app
✓
✓
Google extension
✓
Other
Support

24/7, Phone, Live chat, Email, Help Center, FAQs

Not 24/7, Phone, Email, Chat, Help Center

Not 24/7, In-app Tickets, Live Chat, FAQs

24/7, Help Center, Web Inquiries, Email

24/7, Phone, LIve Chat, Help Center, FAQs

Not 24/7, In-app chat, Help Center, FAQs

Not 24/7, Phone, In-app Chat, Email, FAQs

24/7, Phone, Chat, FAQs, User guides, QuickBooks Time Community

Video tutorials
YouTube channel
YouTube channel
Training Center, YouTube channel
YouTube channel
Live Webinars, Webinars library (on website), YouTube channel
YouTube channel
YouTube channel
Webinars, YouTube channel
API
✓
In "All in one" plan
In "Advanced" and "Complete" plan
✓
✓
✓
✓
Integrations
80+
✓
✓
✓
✓
✓
✓
✓