26 best apps for freelancers
What apps should freelancers download and use?
To help you make your way through an endless string of freelance apps available, we've compiled a list of the most recommended tools for freelancers.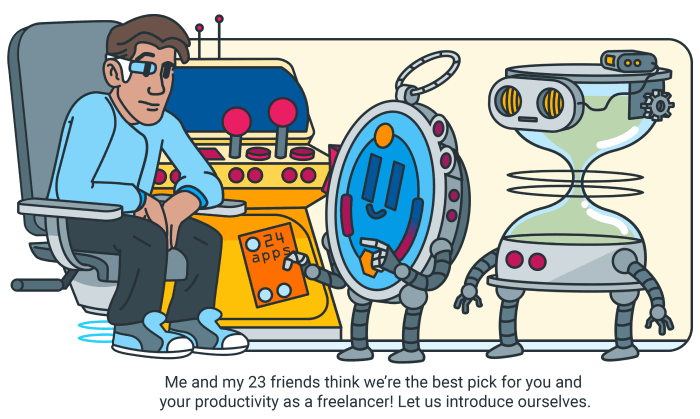 General apps for freelancers
No matter your profession, your freelance career will always need a boost from the following essential freelance tools:
Clockify – time tracker and billable hours calculator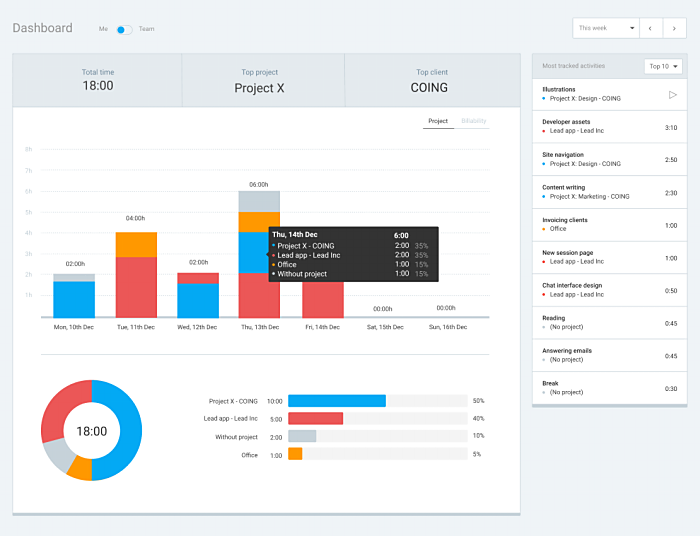 Clockify is a time tracking and timesheet app that'll help freelancers manage billable time and track how productive they are with their work.
You'll get all the assets you need to streamline your time-use and professional documentation:
manual time entry
tracking time as you work on activities
adding time in a timesheet
4 types of hourly rates
the option to define whether your time is billable or not
Weekly and visual Reports showing how you've spent your time on a project, client, or task during a time period
the option to save project reports and send them to clients
an automatic calculation of the amount you're due (based on your hourly rate and billable time tracked) to put on your client invoice
As a highlight, you'll also get a productivity dashboard with a breakdown of the time you've tracked in total.
You'll also be able to:
export stunning Reports in PDF
integrate with 50+ popular apps
track time across various devices
track idle time
compare billable vs non-billable time to see whether the time you've spent on a project paid off
💡 Clockify Pro Tip
If you want to record the start and end times of your work day, check out this free time card calculator you can print or export as CSV file:
TeuxDeux – Getting Things Done app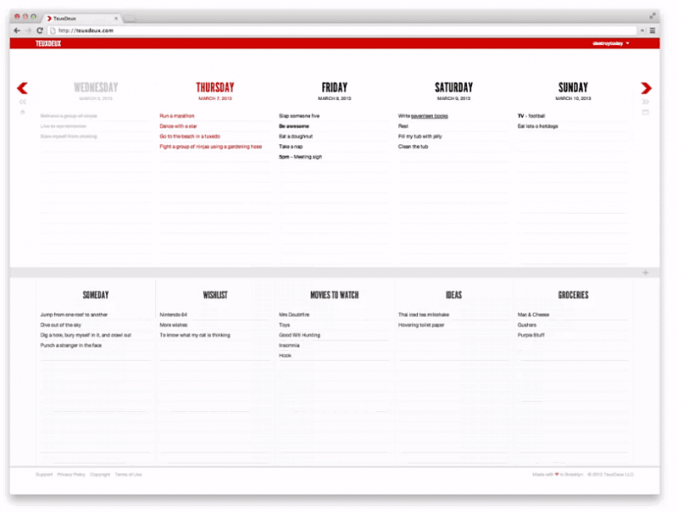 TeuxDeux is a to-do app for people working remotely – there's a browser version for when you're working from home, and an iPhone app for when you're on-the-go.
This app offers a Getting Things Done approach to freelancers, so you can:
add tasks
set your schedule for today in a simple manner
mark tasks as done as you complete them
have all the work you haven't finished today automatically transferred to tomorrow
You can also set recurring to-dos, drag & drop them across days, and even form a bucket list of tasks you want to tackle sometime in the future.
To Do – to-do app and task manager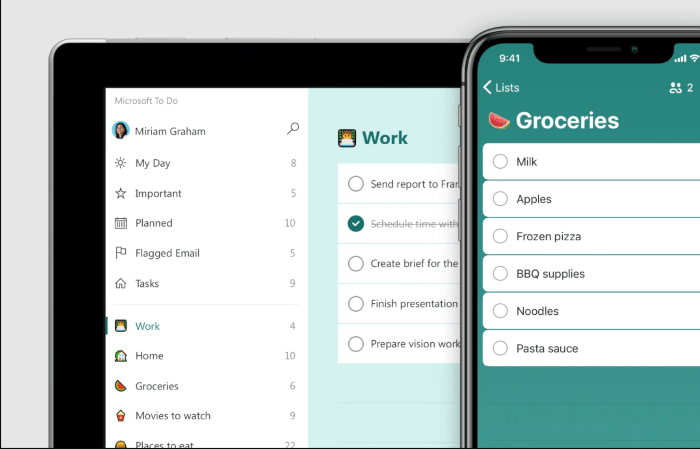 If you liked using Wunderlist before it was discontinued, you'll like the To Do app too. It's another Getting Things Done app, but this one will help you balance out work and life – when you work freelance, lines can get a little blurred.
As a Wunderlist's natural successor, To Do has a lot of features Wunderlist had. It lets you:
make to-do lists and share them with your family, friends, and coworkers
assign tasks to collaborators
add attachments to tasks
prioritize tasks
add notes if you want to include extra information
You can also add tags to your tasks to keep them organized, for example, #work or #personal. It facilitates finding tasks in each category, all you need to do is click on the hashtag or type it in the search bar.
Cushion – planning app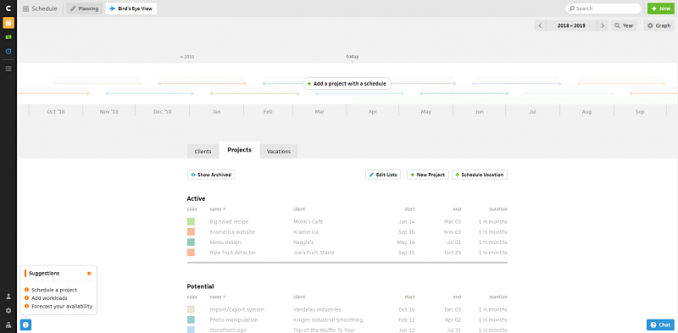 Cushion is a planning app built by freelancers, so you can expect it caters to freelancing needs. You'll be able to schedule and plan your work, control your budget, as well as manage your projects, emails, and expenses, all in one place.
Specifically, you can:
plan your work in a Calendar
view all your tasks (deadlines included) in a Gantt-like chart
send and track invoices
estimate the final price for clients
keep an eye on your financial goals
generate graphs showing your client work, projects, and lists
This app also helps you maintain a work-life balance – there's a separate section where you can plan, keep track of, and schedule vacations.
Bidsketch – proposal app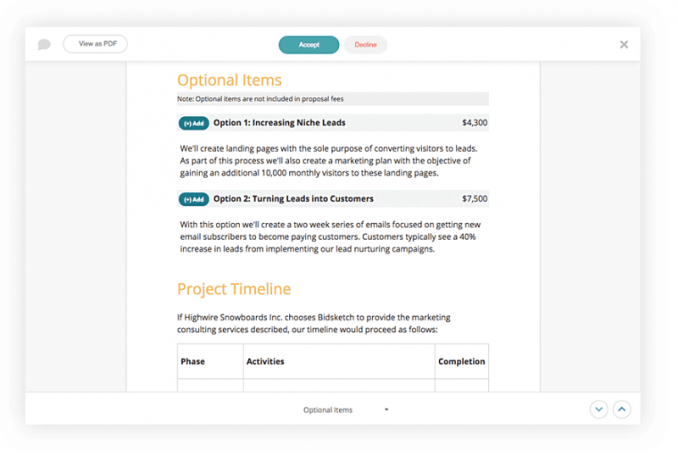 Every freelancer needs to know how to craft a winning proposal – and Bidsketch helps you streamline your pitches to clients.
This app promises to cut the time you need to create and send out proposals in half, with:
reusable content features (with the option to have new client information inserted automatically)
data showing whether clients have opened your proposals, when, and for how long they viewed
You can also increase your proposal approval rate – the electronic signature feature may prompt potential clients to accept your pitches easier and faster.
Brand24 – brand monitoring tool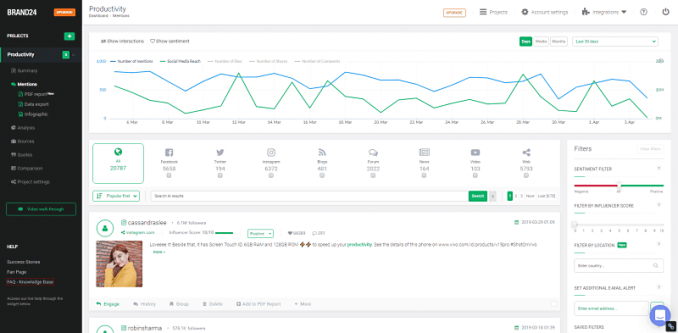 Brand24 helps you track the position of your freelance brand across the web – you'll learn what people think about your brand and be prompted to react in real-time.
Specifically, you'll be notified each time someone mentions your brand (either in a positive or negative way). And, if you get negative mentions on the web, you can immediately tune in into the said discussion and turn matters around.
Within this app, you can analyze:
the number of mentions, likes, shares, and comments your brand is getting on a daily, weekly, or monthly basis
your Social reach across Facebook, Twitter, Instagram, and various forums
Later on, you can generate reports based on these results, export data, and create infographics.
You'll even get a list highlighting your most popular mentions and most popular authors, complete with the extent of their online reach and influencer status.
Mint – budget planner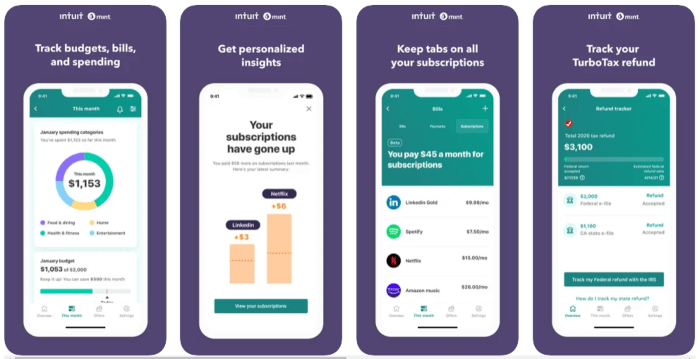 Mint is a free planner and budget tracker that helps you manage your finances – you can track your bills and financial goals, manage your budget, as well as receive alerts and financial advice.
With this app, you can sync your bank accounts, credit cards, and your PayPal account. And, you'll also:
be reminded when you go over budget on projects
get a straightforward system to track transactions
receive weekly summaries of your financial state
In case your mobile phone gets lost or stolen, you won't have to worry about your confidential financial data being compromised. Instead, you can easily disconnect your Mint account and your phone from your browser account at any time.
Postbox – email manager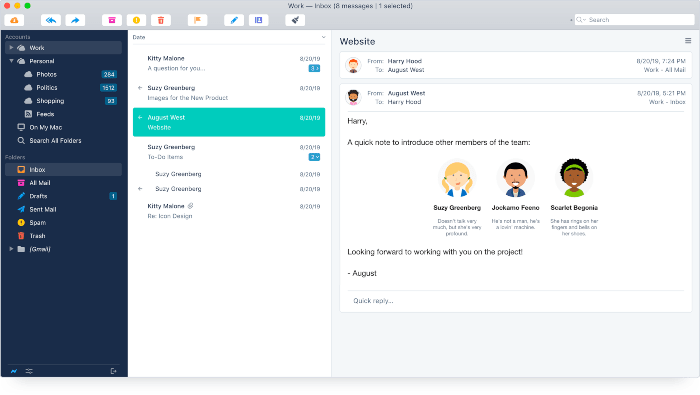 Emailing is a huge part of every freelancer's life, and Postbox is designed to help you manage your inbox workload. You'll have a place to store, organize, and group all your email accounts in one view.
Among other features, you'll get:
a simple search engine to quickly find what you're looking for (across accounts)
a "focus pane" that helps highlight only important emails
numerous shortcuts to help you navigate through your correspondences
You'll also gain access to 70 response templates, for when you quickly need to send out various types of emails, such as job applications, introductory greetings, and outreach emails.
Apploye – time tracking and invoicing app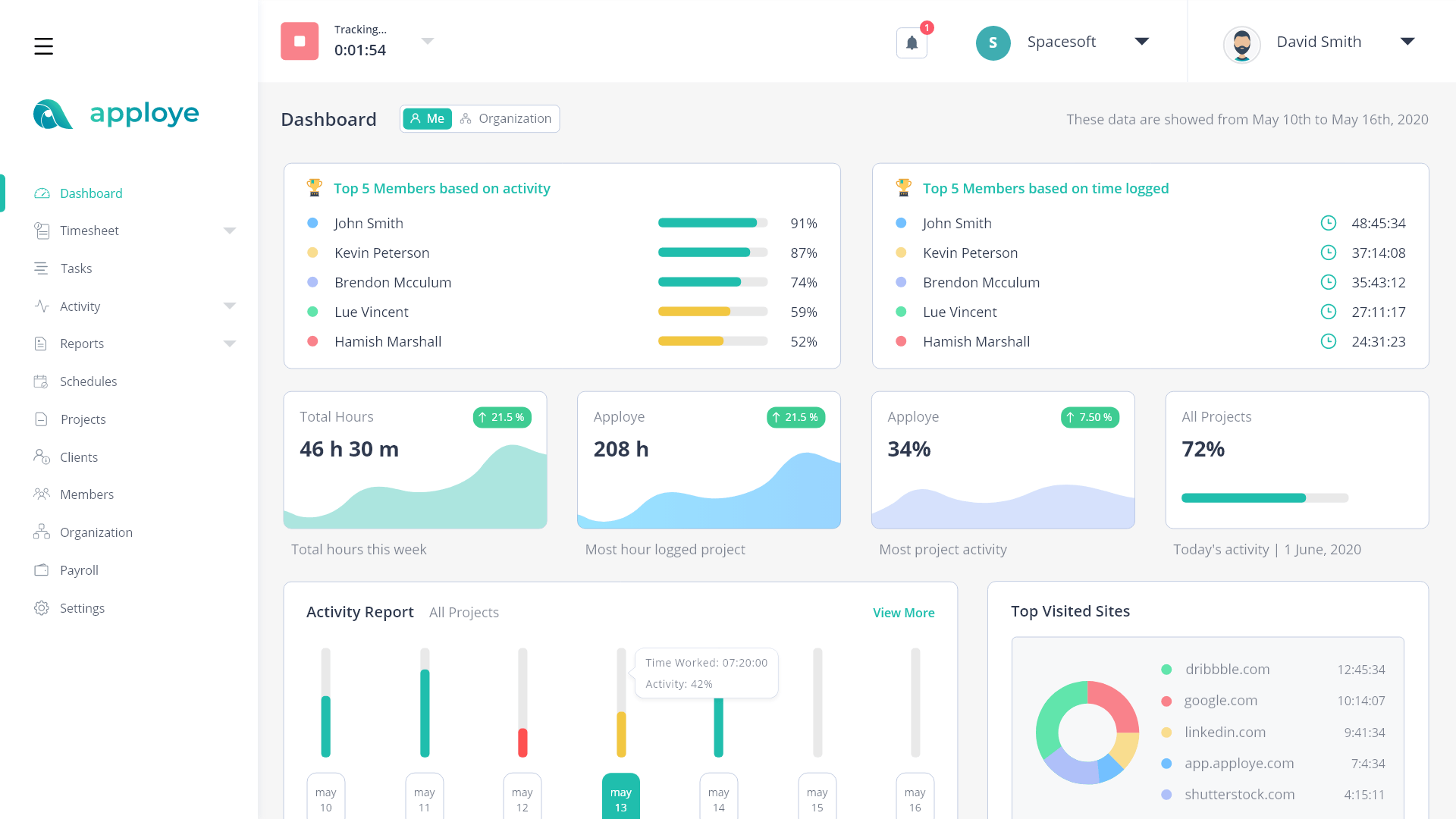 Another one on our list is Apploye Time Tracker, a simple time tracking software with invoicing capacity convenient for a diverse group of users, including freelancers and independent contractors. From simple time tracking against various tasks under projects, Apploye provides you with a wide array of features like client & invoice, task management, Reporting & Dashboard, etc.
A few notable features of Apploye are as follows:
Automatic and manual time tracking,
Task management, Tracking time against tasks,
Project billing, project budget, budget alerts,
Create invoices for clients,
Pomodoro timer, and others.
Moreover, the user interface of Apploye is super friendly, and the pricing plans are very affordable. Try out Apploye to stay productive at your work and make the best use of time.
Freelancer apps for programmers
Freelance developers are always in need of a reliable code editor, open-source framework, and an app to help them plan and make sense of their ideas – and here are the best such apps:
UltraEdit – code editor

UltraEdit is a traditional code editor where you can write, highlight, fold, and otherwise manage your code – but there are some distinctive features that set it apart from other code editors.
You'll get a chance to:
find and replace lines and lists of lines in files
highlight syntax for most coding languages
pick an editor theme
manage files from remote servers
view an informative status bar showing last modification time for the file, the file size, and current line number
You can even add extremely long lines of code to this text editor – even up to 20,000 characters before wrap.
💡 Clockify Pro Tip
Looking for more similar apps for freelance programmers? Then check out this list of tools:
Mindly – planet-based mind mapping app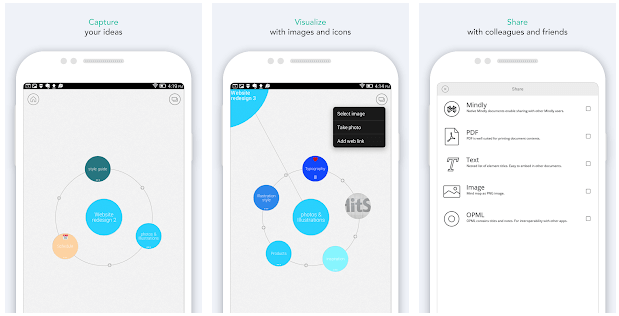 Mindly is a mind mapping app that helps you capture and organize your ideas in one place.
Visually, the interface mimics a planetarium system, where you define the main concept (the sun), and then add related ideas (planets) around it. Each related idea can have its own string of related ideas (moons), and the "planetarium" grows accordingly.
Once your ideas pile up, you can structure your work by displaying only one branch at a time.
You can further categorize and define your development concept by:
adding images (with their original URLs included)
attaching text boxes with notes
This app's bonus points go to its sharing options – you can add collaborators, as well as discuss and visualize your software development ideas together with your team.
Oh My Zsh – an open-source framework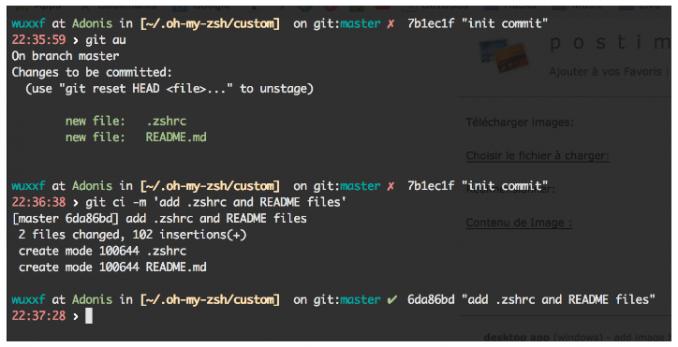 Oh my Zsh is an open-source framework (there are currently over 1000 contributors) that helps you streamline work on your command-line.
You'll get to enjoy:
themes that offer various additional information to your editor
plugins for various packaging systems and programming languages
auto-completion for paths
various fonts
spelling correction
kill tab completion
easy setup for environment variables
shared command history where you can search through all your active shells
You'll also get a number of features meant to speed up your work:
automatic tab completion to help you quickly find the tab you want
typing <UP> and part of a command to find a previously used command
a list with all your favorite git command aliases
a red/green arrow meant to indicate whether your command was successful or not
💡 Clockify Pro Tip
Looking for great places to find your next development gig? Check out this list of websites that cater to freelance developers looking for work:
Freelancer apps for designers
If you're a freelance designer, you'll need an efficient collaborative design tool, a straightforward project management tool, and a nice mind mapping tool to map out your ideas – and here are your best picks:
Figma – collaborative design tool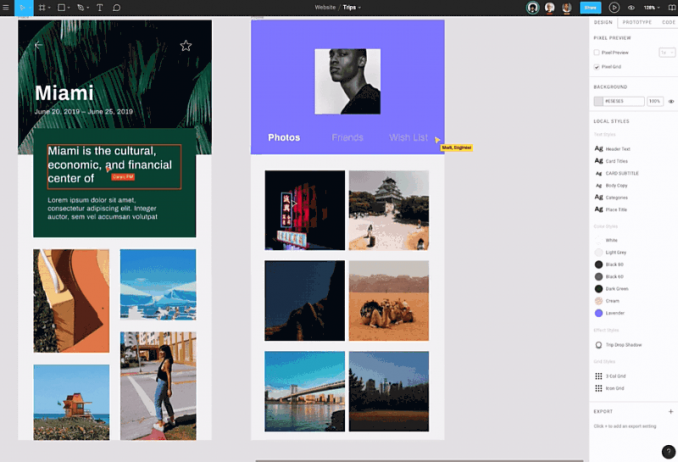 Figma is an all-inclusive design and prototyping tool. You can draw and scale your designs in a grid, combine and set multiple layers, as well as build, frame, and interact with your prototypes.
In essence, you'll be able to:
build and share reusable elements and components
override images when you need to
easily add and style text
enjoy effective collaboration with your team (define and share custom colors, grids, text, effects across your entire team and all your projects)
This tool also secures an effective link between the design team and the development team. Developers can inspect, copy and export all work performed by designers as CSS lines they can immediately add to their codes.
InVision – project management and prototyping tool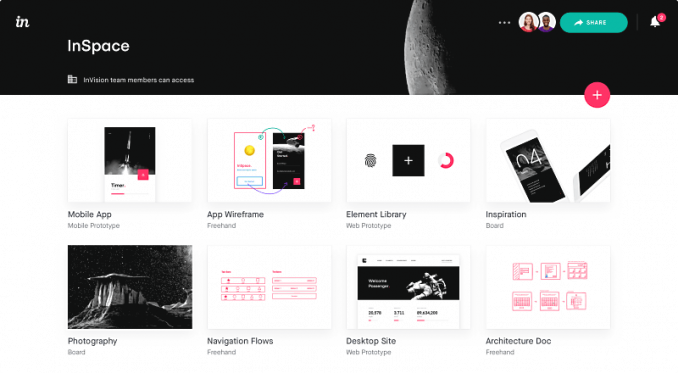 InVision is a free project management and prototyping tool aimed at designers – you can draw and manage prototypes, compile ideas and project-related notes on a digital whiteboard, and communicate all project changes and updates to your team directly from the app.
You'll also be able to:
present your designs to clients and get feedback
create and share mockups, and then organize and categorize them
define mockup status (whether it's in progress, awaiting approval, finished, etc.)
comment directly on prototypes
This app also offers a way for you to test out your designs directly in the app – there's a Sketch plugin that allows you to devise prototypes for each of your designs without ever leaving the app.
Coggle – branch-based mind mapping app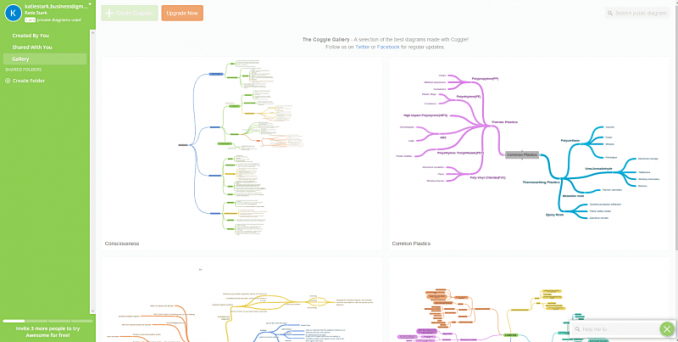 Coggle offers a mind mapping system you and your design team can collaborate on in real-time, as well as share your design ideas and concepts in visually appealing, interconnected branch structures.
To visualize your ideas, you can:
create diagrams
upload accompanying images and floating text
manage loops and branches
You can move each branch around the main concept, but also copy, delete, transplant, or comment on the said branch from a context menu.
To make your ideas pop, you can add custom color schemes, but also backtrack your way and search for old design concepts in the document's history.
You'll also be able to export your mind mapping trees as PNG and PDF files and hold discussions with your collaborators in the app's chat system.
💡 Clockify Pro Tip
Looking for great places to find your next designer job opportunity? Check out this list of websites that cater to freelance designers looking for work:
Freelancer apps for writers
In order to craft excellent content, you'll need to optimize your texts for SEO, as well as make sure your work is void of grammar, spelling, and style mistakes. You'll also need to work in a user-friendly text editor.
So, here are the freelance tools for writers to help you check off this list:
Grammarly – grammar and spell check app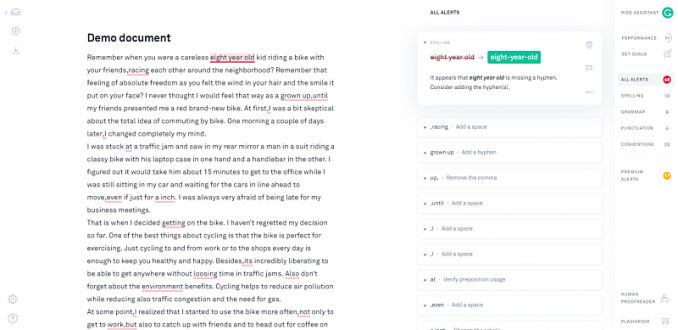 All writers need to make sure their guest posts, eBooks, white papers, and short stories are free of mistakes and style errors, as well as edited perfectly – and Grammarly is the perfect app to help get your closer to ideal content.
You'll get to:
correct your mistakes (typos, repetitive words, comma usage, punctuation, and grammar)
enhance your writing style and vocabulary
create a personal dictionary
track your improvements through performance stats
You can even set Grammarly to capture and notify you of genre-specific writing mistakes, and you also get genre-specific style checks.
Google Docs – online text editor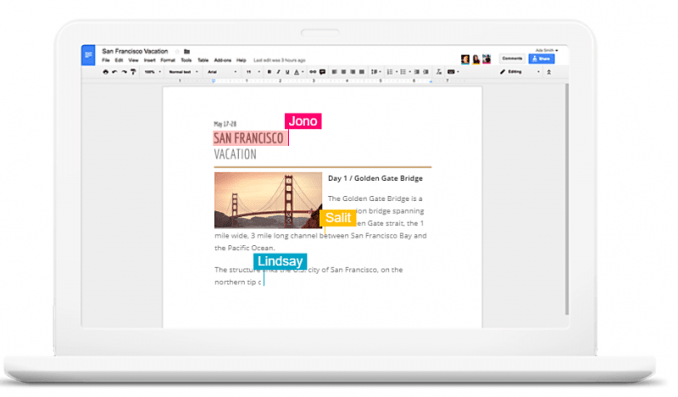 Google Docs takes the cake as one of the most efficient text editors. You type your text, have every word your write saved and synced across devices in real time. And, then you share the document with collaborators. Or, save it as .docx, .odt, .rtf, .epub, .pdf, or other popular formats.
The interface is non-obtrusive, to help you focus on your writing – you get the basic writing, formatting, and editing features, as well as the option to add links, images, and tables. And, everything gets automatically stored and saved.
The sharing options are this tools' best feature – once you're done polishing the text, you can:
share the document's link
send it in your email pitches
have editors comment on them directly in the document, or make their own edits
Hemingway editor – style checker app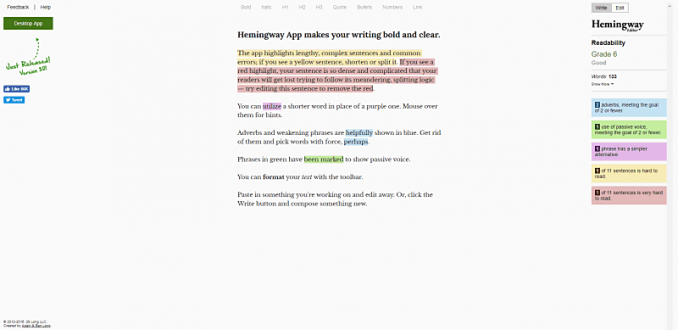 The Hemingway editor is here to make sure your text is void of stylistic errors, and thus more likely to be accepted for publication.
You copy your text to the editor and all problematic areas are highlighted in an instant – this includes:
uses of the passive voice
phrases that have simpler alternatives
sentences that are too long and hard to read
adverbs you'd be best to remove to help improve the text's flow
This tool also shows the readability level of your text, the number of letters, characters, sentences, paragraphs, and words, but also the approximate reading time.
Ahrefs – a collection of SEO tools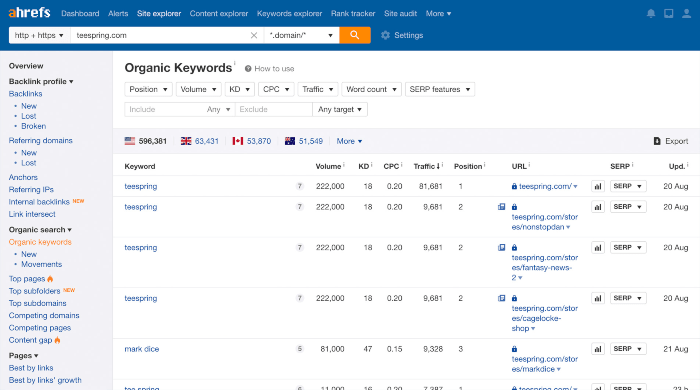 Each freelance writer needs to optimize his/her content for SEO – and Ahrefs is the ultimate SEO tool for this.
You'll get to use an array of features to plan out fully optimized content for your blog – some of the more prominent features include:
a keyword research tool with a large number of keywords per word (the keyword "productive" returns 35,000+ related keywords, which is much more than what you get with competitor tools)
traffic estimates for the top 10 pages on any subject in the Keyword explorer
keyword difficulty scores that show how difficult it will be to rank for a certain keyword given the competition (you'll also get easier-to-rank-for alternative keywords)
The keyword database is updated on a monthly basis, and you can list all your favorite and most frequently used keywords in one place – and that's just the tip of Ahrefs' iceberg.
💡 Clockify Pro Tip
Looking for great places to find your next writing job? Check out this list of websites that cater to freelance writers looking for work:
Freelancer apps for virtual assistants
For virtual assistants, it's usually all about planning and scheduling – here some great virtual assistant apps to help you with that:
Doodle – scheduling app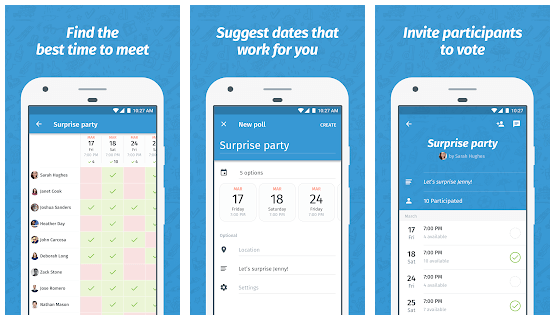 Doodle is a scheduling app that helps you manage all your errands as a virtual assistant from one app – and streamline task organization for your clients.
You'll be able to:
manage your tasks from a to-do list
schedule phone calls, conference calls, Skype sessions in a calendar view showing days and hours, in one click
manage your client's appointments through the MeetMe page that shows your client's availability in terms of scheduled events
send automatic reminders for events
You'll also be able to arrange meetings in agreement with your client or other participants in the conversation (if you're handling a Doodle account in the place of your client) by creating a tool that helps all collaborators indicate whether a certain time slot works for them or not.
Buffer – social media manager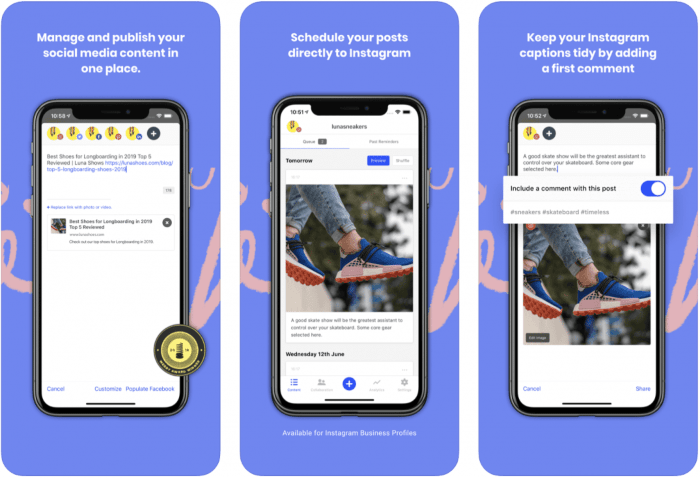 Buffer is perfect if you have to handle social media management for your client – you'll spend less time on Twitter, Facebook, Instagram, LinkedIn, but you'll be more effective.
You'll get the means to:
schedule and automatically share posts to various social media accounts (anything from Facebook updates to retweets)
optimize your posting schedule
analyze post engagement, as well as handle additional activity analytics
create your own visuals to accompany posts, or add images and videos
This app's biggest strength lies in its approach to scheduling – you can plan content months ahead in Buffer's calendar, get tips on the ideal time to post content, and enjoy custom scheduling.
Time Buddy – world clock and time converter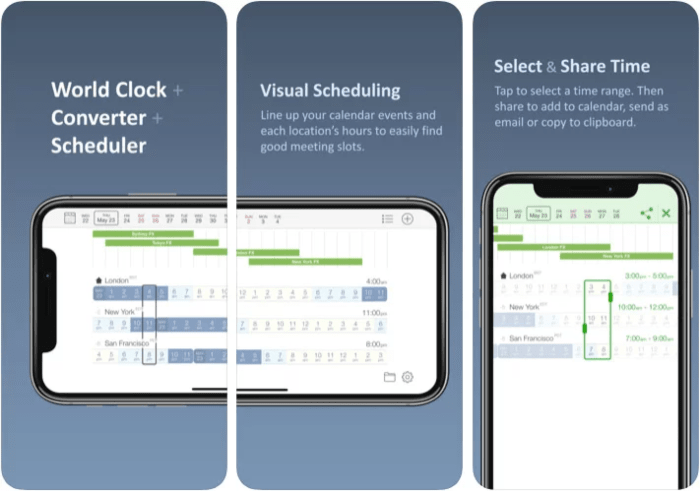 Most virtual assistants live in different time zones from their clients, but have to work in the clients' time zones – And Time Buddy is your best friend when it comes to knowing the exact time for multiple locations around the globe.
This browser app offers a simple work clock and time converter, where you can enter your location and your clients' locations, to make comparisons. Once you enter this data, you'll see:
the time difference between multiple cities
the exact time in multiple cities in a parallel view
what day it is in a certain city (for example, it may be Monday in Sydney, but it's still Sunday in Los Angeles)
Once you have this data, you'll be able to easily schedule conference calls, meetings, or briefings between your client in Beijing and her business partner in Moscow, even when you live in Toronto.
Scribe — process documentation automation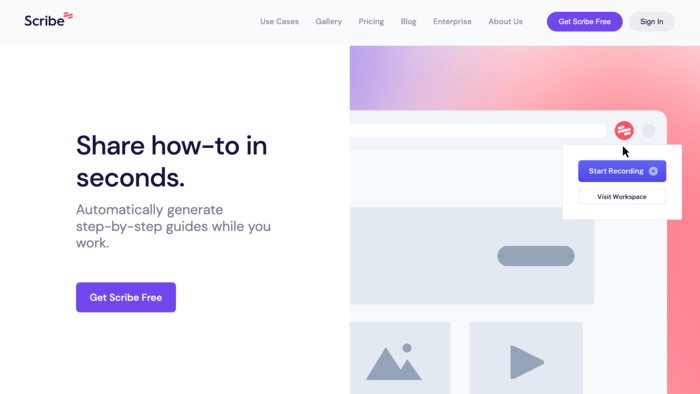 You're likely working with unfamiliar tools or helping your client learn some of your processes. This can be hard to do when you're in different rooms, let alone time zones.
Scribe instantly turns any process into a step-by-step guide, complete with text and screenshots. Simply download the browser extension or desktop app, then click record.
Scribe will:
Follow along with your clicks and keystrokes
Automatically create your process document
Enable you to customize your text, steps, and images
Share via a link, email, or easily embed in any CMS
Depending on the plan (basic plan is FREE) you can also auto redact sensitive information or access enterprise-level security and controls. But either way, you can choose whether your Scribe can be publicly accessed or available only to you and your client. Make it easy to work with anyone, anywhere.
💡 Clockify Pro Tip
Looking for great places to offer your virtual assistant skills? Check out this list of websites that cater to freelance virtual assistants looking for work:
Freelancer apps for photographers
Photographs need to be captured in optimal conditions, taken by a quality app, and further edited to perfection. So, here are the best tools for freelance photographers to make these essentials into reality:
Camera+ 2 – all-in-one photo app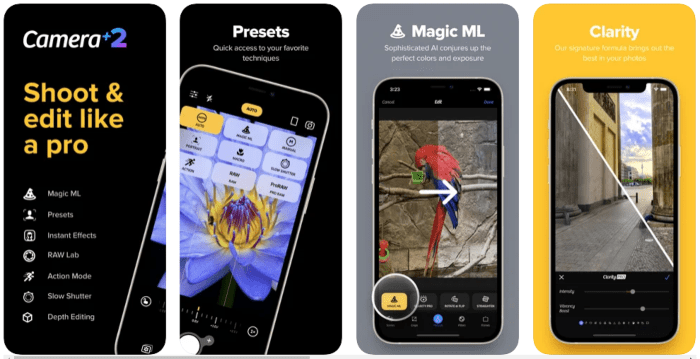 Camera+ 2 is an updated and improved version of the widely acclaimed Camera+ all-inclusive photo app – you'll get various effective editing and photo capturing features.
Some of the more prominent features include:
the focus mode that highlights all subjects who are currently in focus
the action mode that keeps objects in focus and sharp by tracking them
manual shooting that allows for precise control of your photos
various texture and gradient filters meant to enhance your work
the focus peaking feature that ensures photos are only taken when the desired objects are focused and sharp
You'll also get various shooting modes for various occasions and conditions – the highlight includes the Smile mode, which captures photos only when every subject is smiling.
The Photographer's Ephemeris – map-centric sun and moon light calculator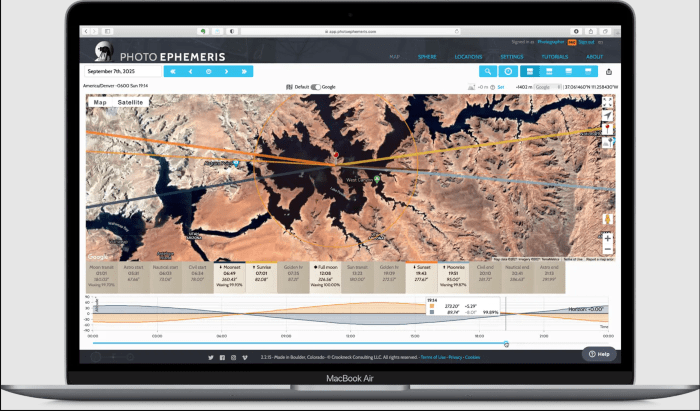 Finding the ideal lighting conditions for the photographs you want is often demanding. And that's where the Photographer's Ephemeris kicks in.
This app helps you plan ideal outdoor photos by telling you how the light falls on a specific location in real time. You'll gain a better understanding of when light falls on land, under what angle, and when it's ideal to schedule a photo session.
Some other features include:
list of saved locations for places where you often shoot at, with details on latitude, longitude, timezone, elevation, actions, and other notes
details on sunrise, moonrise, sunset, crescent, and moonset times for any location
The standout feature is the 3D package – TPE 3D visually simulates a location where you want to shoot in 3D, complete with lighting, shadows, and terrain, during day or night.
Photoleap – photo editor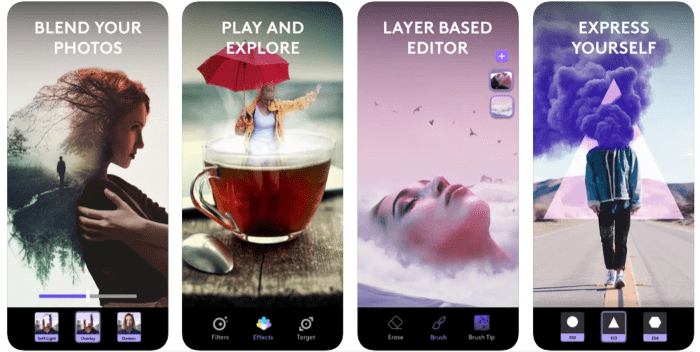 Photoleap is a robust photo editing app that's still quite easy to use – the app's emphasis is on helping you blend images to get creative, unique photos.
You'll be able to:
make double exposures
add graphic elements to photographs
combine different layers
cut and paste photos together
add text to enhance your images
set filters, styles, backdrops, effects
Elevate your work through added drawings and doodles
You'll also get a number of advanced editing features, such as custom preset, light leaks, tone curves, and customizable filters, to really make your business flyers, contemporary art, or your next poster commission pop.
💡 Clockify Pro Tip
Looking for great places to find your next photography project? Check out this list of websites that cater to freelance photographers looking for work:
What are your favorite apps? Which ones help you the most while working freelance? Let us know at blogfeedback@clockify.me!