29 Best apps for freelancers in 2023
Have you already found the perfect app which makes your workday as a freelancer a breeze?
Since you ended up here, it's safe to assume that you're still looking for the right freelancing tool.
To help you make your way through an endless string of freelance apps available, we've compiled a list of the most recommended tools for freelancers, including:
General apps for freelancers,
Freelancer apps for programmers,
Freelancer apps for designers,
Freelancer apps for writers,
Freelancer apps for virtual assistants, and
Freelancer apps for photographers.
Let's take a look at each of them.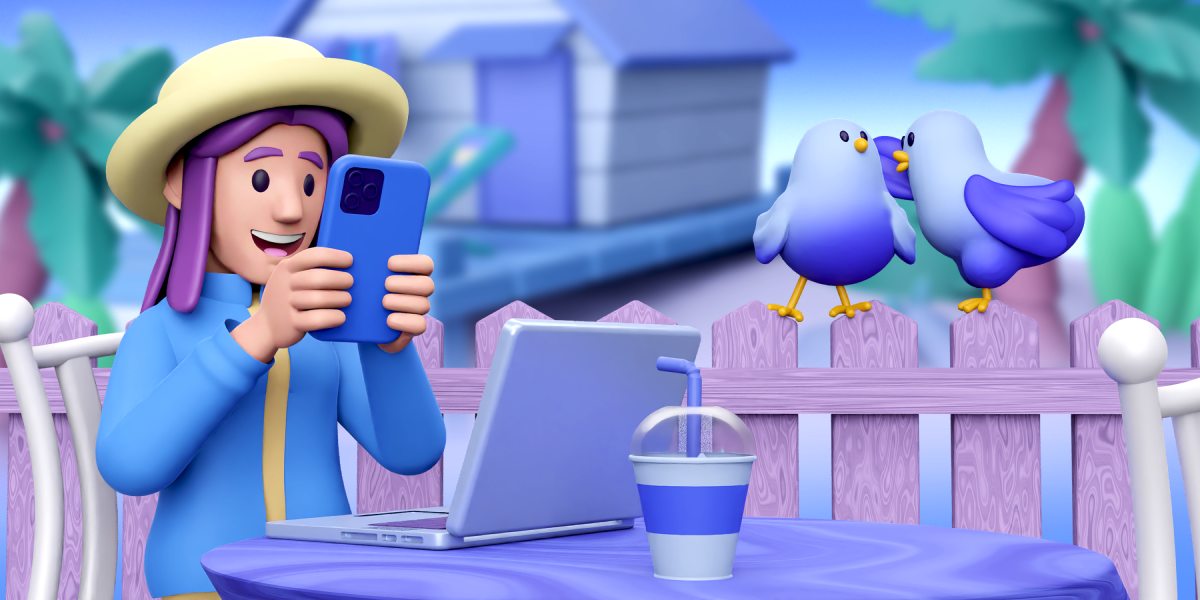 General apps for freelancers
According to McKinsey's latest survey, more than 36% of US workers (58 million Americans) are registered freelancers.
If you have already joined millions of freelancers, no matter your profession, your freelance career will always need a boost from the following essential freelance tools.
For that purpose, let's go over some of the most popular general apps we've singled out for you.
Clockify — time tracker and billable hours calculator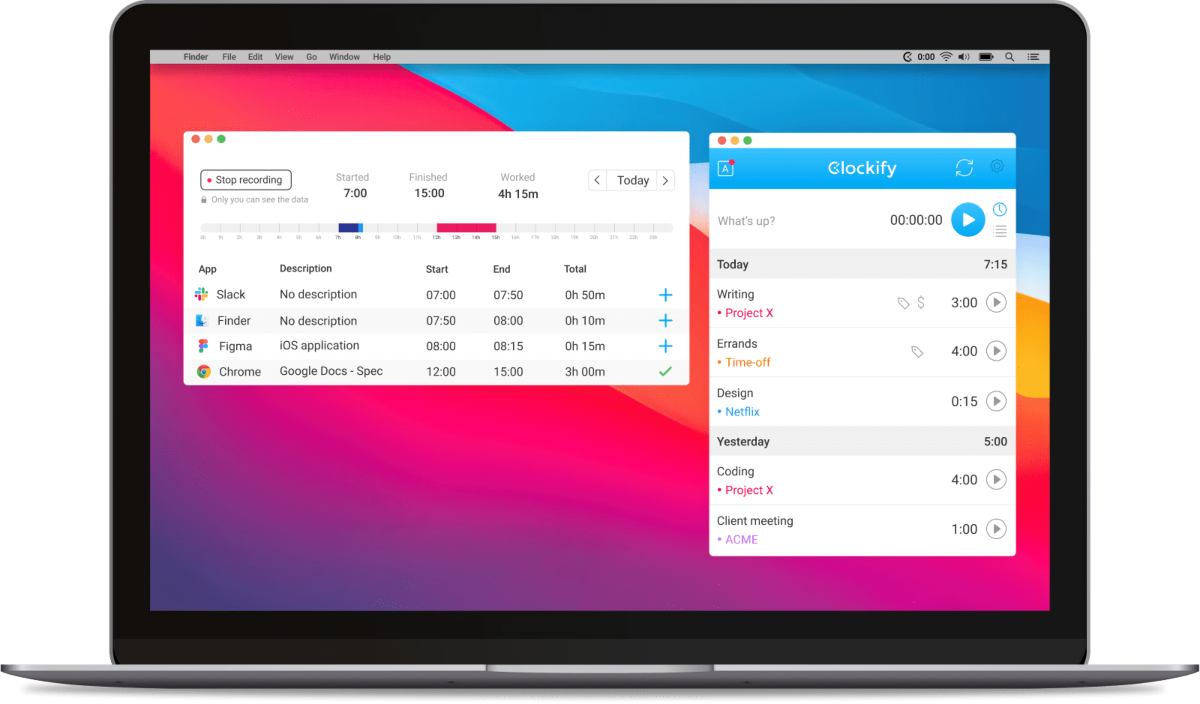 Clockify is a time tracking and timesheet app that helps freelancers, among other things, manage billable time and track how productive they are while working.
To help you streamline both your time use and your professional documentation, Clockify comes with:
Manual and automatic time entries for tracking the time you invested in different projects,
The option to filter data using tags for juggling multiple freelance projects,
Timesheets for a quick overview of your workweek,
Billable hours that help you make accurate income estimates if you're charging by the hour,
Visual reports showing how you've spent your time on a project, client, or task during a time period, and
A productivity dashboard with a breakdown of the time you've tracked in total.
Clockify also lets you:
Export reports in PDF and dispatch them to clients,
Make the most out of 80+ integrations,
Track time across various devices and platforms (desktop app, web app, mobile app, browser extensions),
Create projects, add clients, and define project milestones, and
Compare billable vs non-billable time to see whether the time you've spent on a project paid off.
Clockify's highlight feature
Clockify comes with the option to create, manage, customize, and dispatch invoices to your clients directly from the app.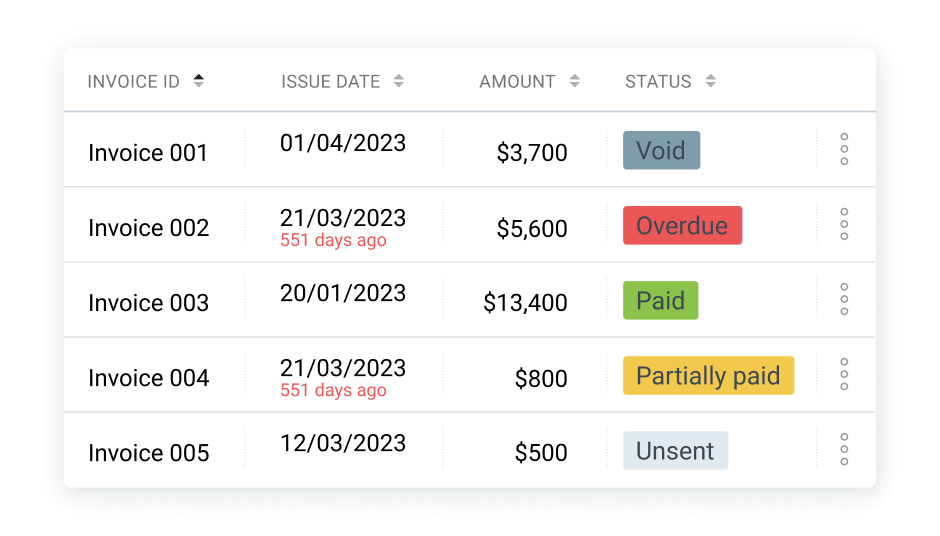 You can also quickly check your invoice status to make sure you've sent it on time.
| Clockify's biggest pro | Clockify's biggest con |
| --- | --- |
| Simple-to-use interface | There's no Opera browser extension |
💡 Clockify Pro Tip
If you want to record the start and end times of your work day, check out this free time card calculator you can print or export as CSV file:
Plaky — task management app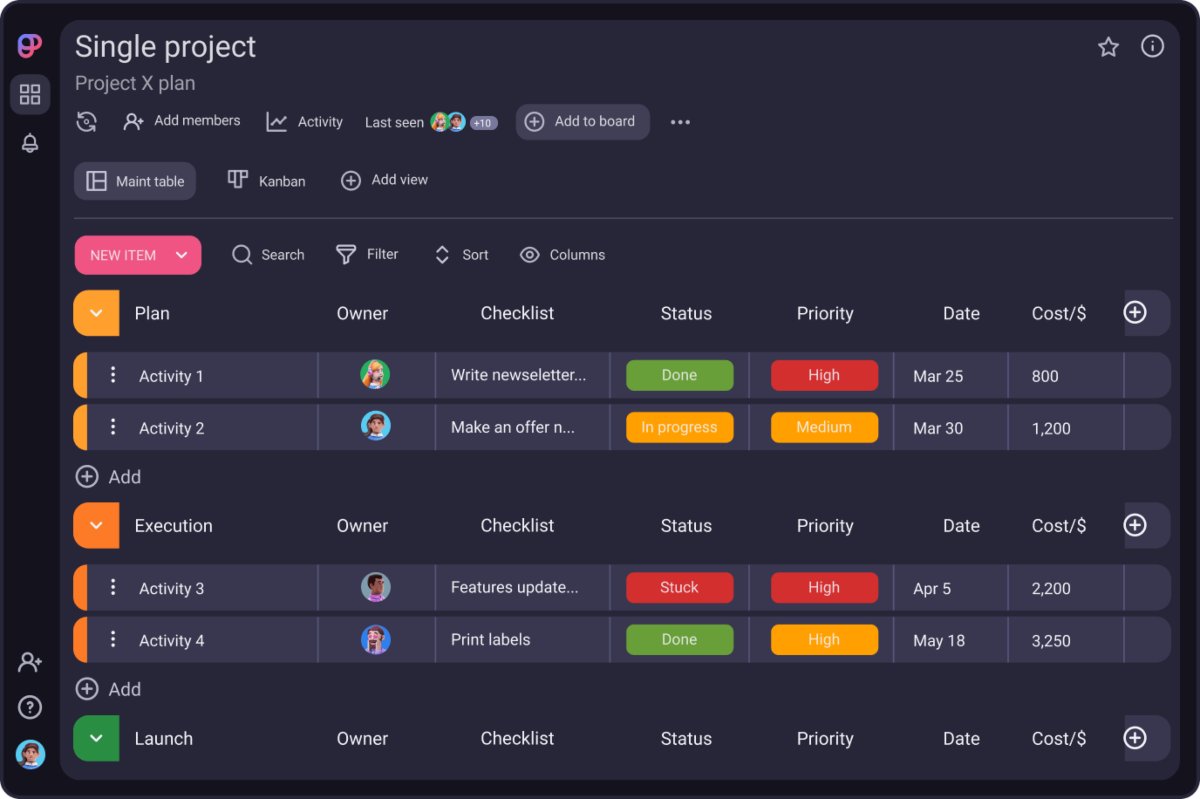 Plaky is a free-to-use task management app that lets you stay on top of your client's projects, organize your tasks by priority, manage your to-dos, and more.
Plaky allows you to:
Set due dates for each task so you keep up with all your projects,
Group tasks by project, deadline, or client,
Use separate boards for different clients,
Leave comments and attach task-related files to your task cards for your clients' revision, and
Export your board and share progress with clients.
You can also move your task cards across different groups or boards and even change your board view to Table or Kanban for easier task progress tracking.
Plaky's highlight feature
Plaky's Summary row feature comes with a progress bar that helps you and your clients visualize and track your projects' performance in percentage and stay on top of deadlines.
| Plaky's biggest pro | Plaky's biggest con |
| --- | --- |
| Free to use regardless of the number of projects | Limited number of integrations |
Todoist — to-do list app and task manager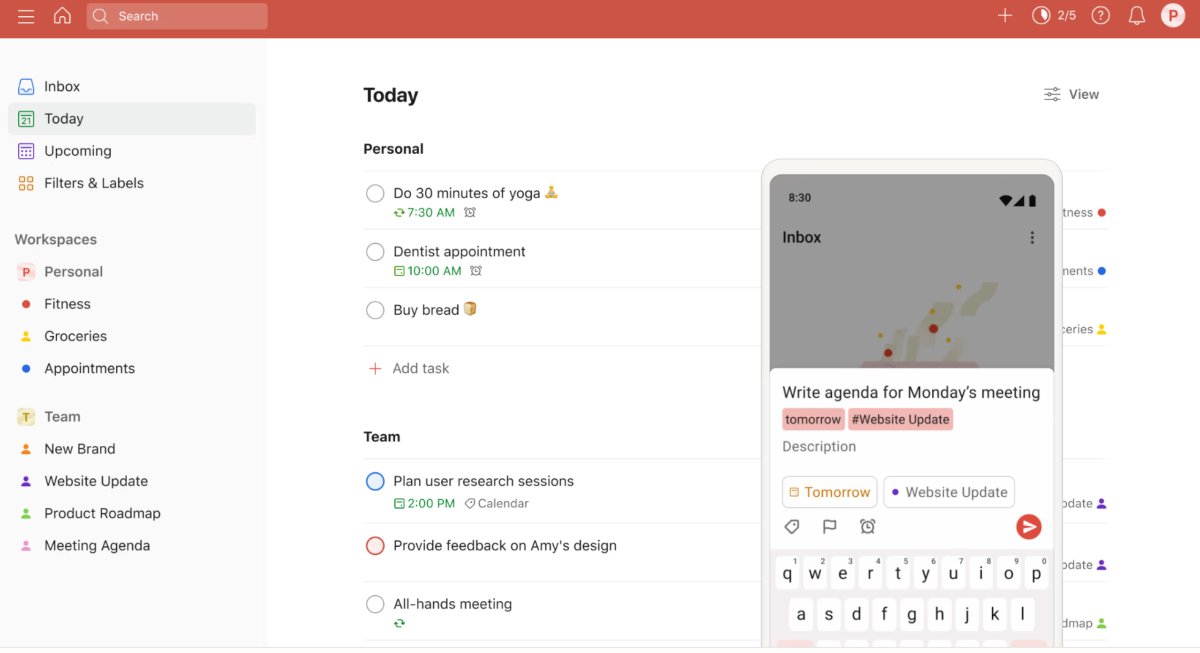 Todoist is an easy-to-use task management app that'll help you get things done but also balance work and life — since lines can get a little blurred when you work freelance.
Using Todoist, you'll be able to:
Make to-do lists and easily share them with clients,
Prioritize tasks by assigning them different priority levels depending on your projects' urgency,
Make a note of new freelance job ads you find online directly from the browser, and
Get a full gamified experience by gaining points after you complete a to-do.
What's more, Todoist seamlessly integrates with Clockify. So, if you need to report your hours to clients or just want to know exactly how much time each of your to-dos takes from start to finish, this feature could help you achieve complete transparency when working freelance.
Todoist's highlight feature
Todoist's Location reminder feature helps you remember to complete important tasks by sending you a notification as soon as you arrive at/depart from your selected location.
In the screenshot below you'll see how I used Todoist's Location reminder feature to nudge myself into taking a break as soon as I arrived home.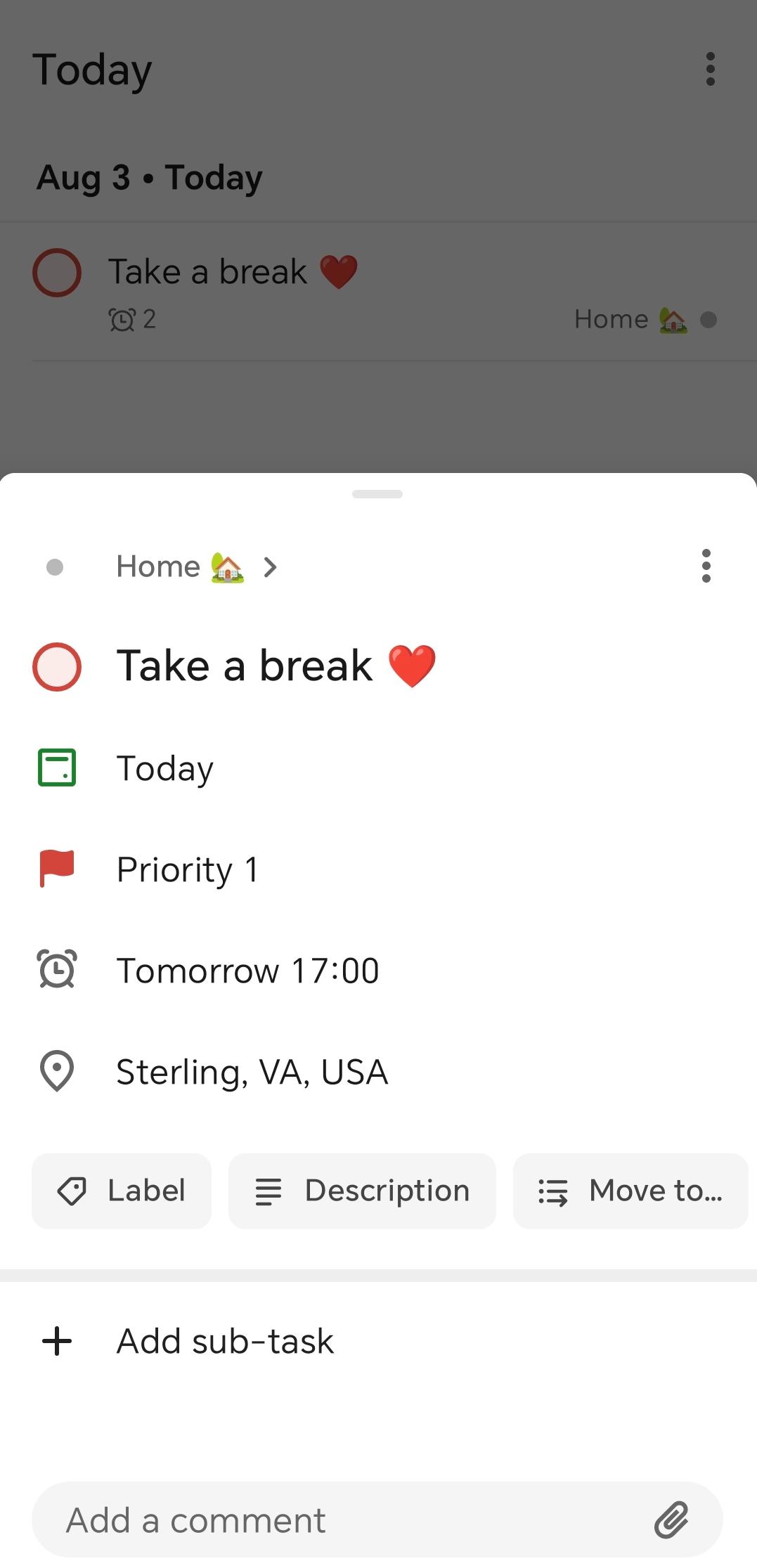 Given that the app instantly reminded me to slow down by sending a notification — it worked perfectly.
This option also comes in handy to freelance photographers who work on-site from time to time.
| Todoist's biggest pro | Todoist's biggest con |
| --- | --- |
| Clean interface | Could take a while setting everything up |
💡 Clockify Pro Tip
Distributing your time wisely while working as a freelancer requires a whole new level of effort. Take a look at some practical ways to improve your time management skills:
Cushion — planning app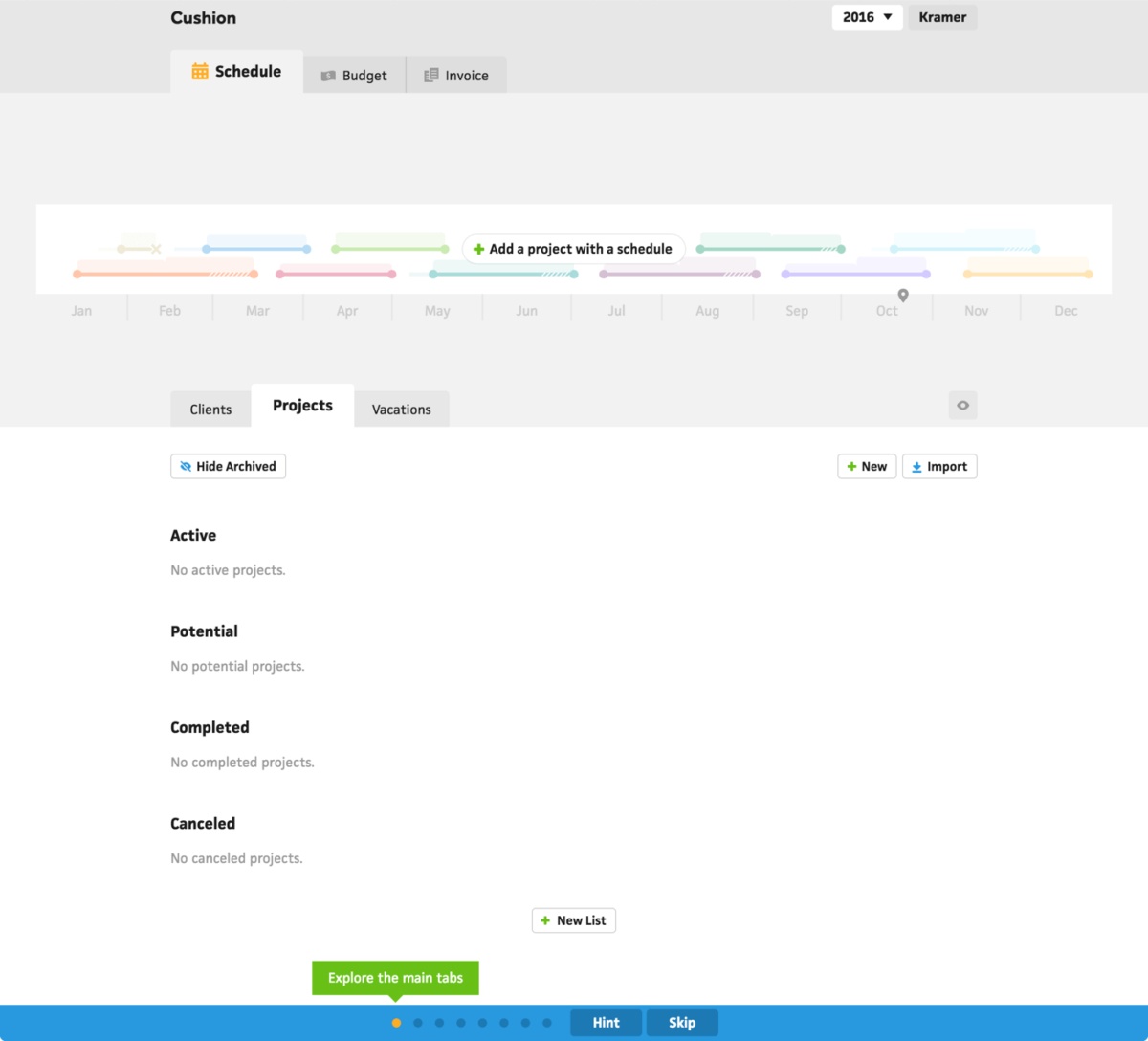 Cushion is a planning app built by freelancers, so you can expect it caters to freelancing needs. You'll be able to schedule your work, control your budget, as well as manage projects, emails, and expenses — all in one place.
Specifically, you can:
Plan and schedule your freelance tasks for a seamless organization,
View and track all your deadlines for delivering timely results,
Forecast your income regardless of the number of freelance projects you're working on each month,
Estimate the final price for clients and clearly communicate your price beforehand, and
Send and track invoices directly from the app.
This app also comes with a nifty option to translate your invoices before dispatching them, which is especially useful if you work with international clients.
💡 Clockify Pro Tip
The secret behind a perfect invoice does not only lie in dispatching it on time — you also need to make sure that you've justified your invoice to the client. Learn exactly how to do that here:
Cushion's highlight feature
Cushion also gives you a visual breakdown of your client's past payment-related habits, which helps you avoid working with clients who were frequently late with making payments in the past.
| Cushion's biggest pro | Cushion's biggest con |
| --- | --- |
| Integrations with different accounting software | The mobile version could be more optimized |
💡 Clockify Pro Tip
If your clients are frequently late with making payments, you might benefit from having a strategy for such incidents. Take a look at the following blog post that could help you professionally deal with delayed payments: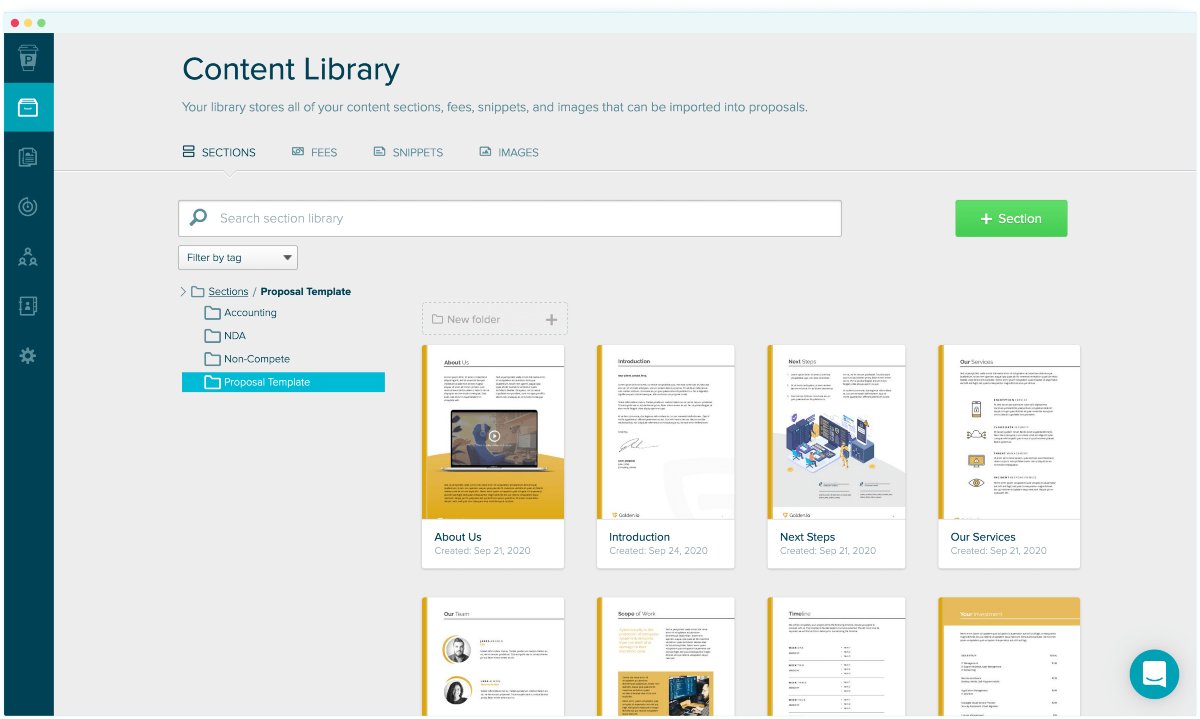 Every freelancer needs to know how to craft a winning proposal – and Proposify helps you streamline your pitches to clients.
Proposify promises to help you reduce the number of mistakes when crafting proposals, by giving you:
The option to create and lock your own proposal template or choose from an array of ready-made ones,
An overview of your clients' interaction with your proposals, and
The possibility to categorize your proposals and contracts by clients or due dates.
You can also increase your proposal approval rate – the electronic signature feature may prompt potential clients to accept your pitches easier and faster.
Proposify's highlight feature
Proposify gives your clients the option to sign proposals directly from the browser. Moreover, this app lets your clients leave comments throughout the proposal, which helps you see exactly where additional changes should be made.
| Proposify's biggest pro | Proposify's biggest con |
| --- | --- |
| Easy to navigate | Apart from a 14-day trial, no free plan |
Brand24 — brand monitoring tool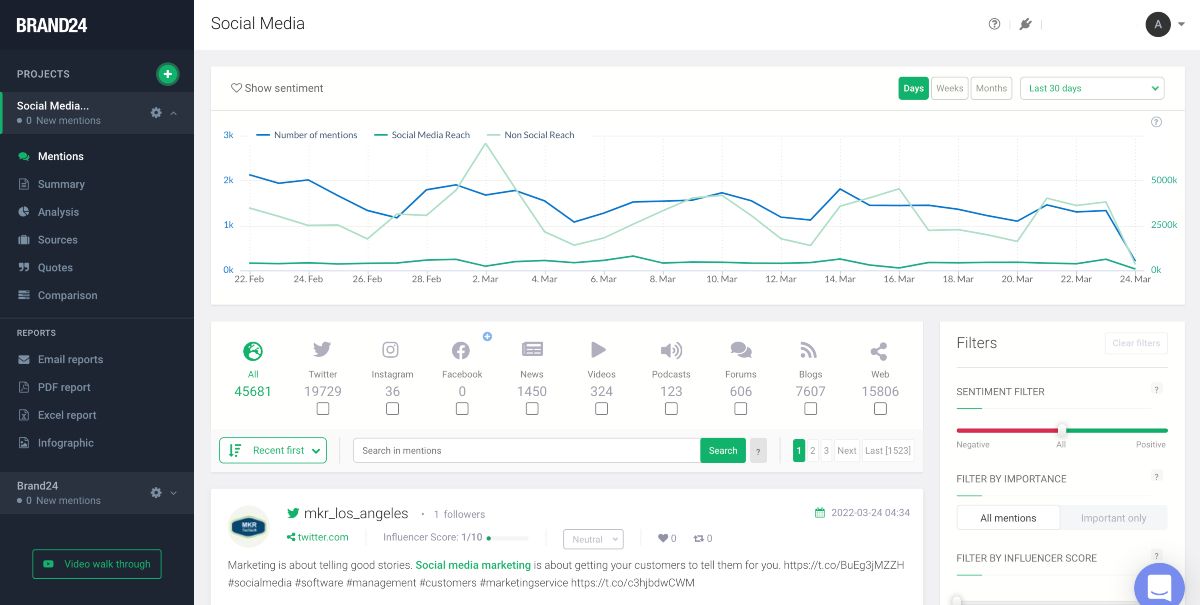 Brand24 helps you track the position of your freelance brand across the web — you'll learn what people think about your brand and be prompted to react in real time.
Specifically, you'll be notified each time someone mentions your brand.
Within Brand24, you can analyze:
The number of mentions, likes, shares, and comments your brand is getting on a daily, weekly, or monthly basis, so you'll know exactly what needs improvement,
Your social reach across Facebook, Twitter, Instagram, TikTok, LinkedIn, and many other platforms, and
Hashtag reach, target keywords, and the context your brand most frequently appears in, so you'll know how to tweak your brand voice.
Later on, you can generate reports based on these results, create infographics, export data and share this information with your clients.
You'll even get a list highlighting your most popular mentions and most popular authors, complete with the extent of their online reach and influencer status.
Brand24's highlight feature
Brand24 sentiment analysis feature allows you to immediately spot both negative and positive mentions of your brand everywhere on the web.
| Brand24's biggest pro | Brand24's biggest con |
| --- | --- |
| Real-time brand information updates | Could be a bit pricey for freelancing beginners |
Mint — budget planner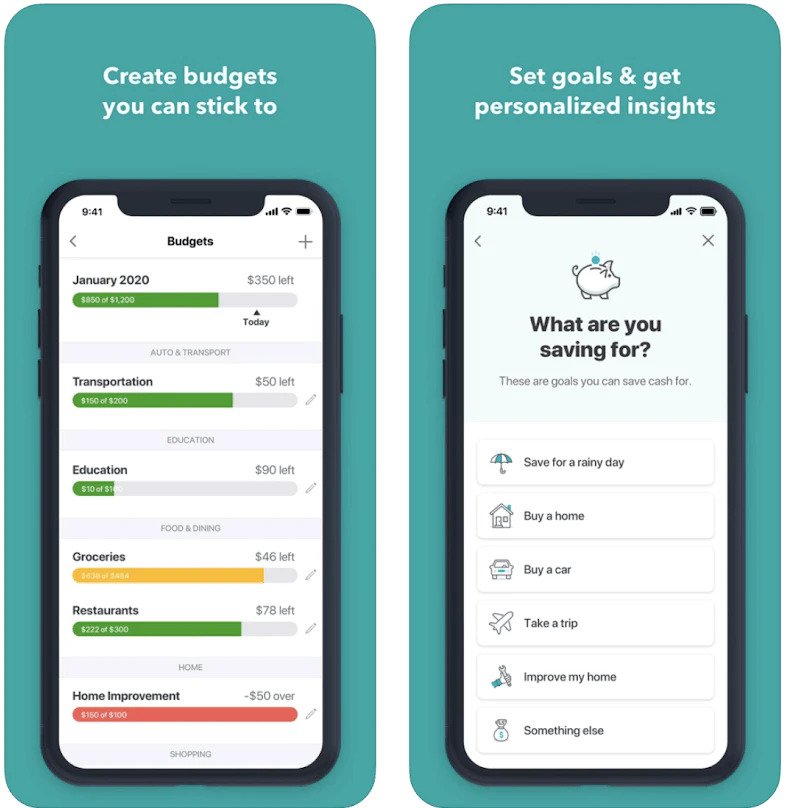 Mint is a free planner and budget tracker that helps you manage your finances — you can track your bills and financial goals, manage your budget, as well as receive alerts and financial advice.
With Mint, you can sync your bank accounts, credit cards, and your PayPal account. And you'll also:
Be reminded when you go over budget on projects, which is particularly important for fixed-price freelance projects,
Get a straightforward system to track transactions, which comes in handy when you work with multiple clients, and
Receive weekly summaries of your financial state.
In case your mobile phone gets lost or stolen, you won't have to worry about your confidential financial data being compromised. Instead, you can easily disconnect your Mint account and your phone from your browser account at any time.
Mints's highlight feature
Mint's cash flow projection feature helps you predict and forecast your future income, which is a practical option if you're working on long-term projects with regular clients.
| Mint's biggest pro | Mint's biggest con |
| --- | --- |
| Automated budget updates | Tracking annual expenses is slightly more complex than monthly tracking |
💡 Clockify Pro Tip
If despite all the effort, money frequently slips through your fingers, maybe it's time to re-evaluate your finance management habits. Take a look at how you can keep your finances under control by staying on top of your expenses:
Postbox — email manager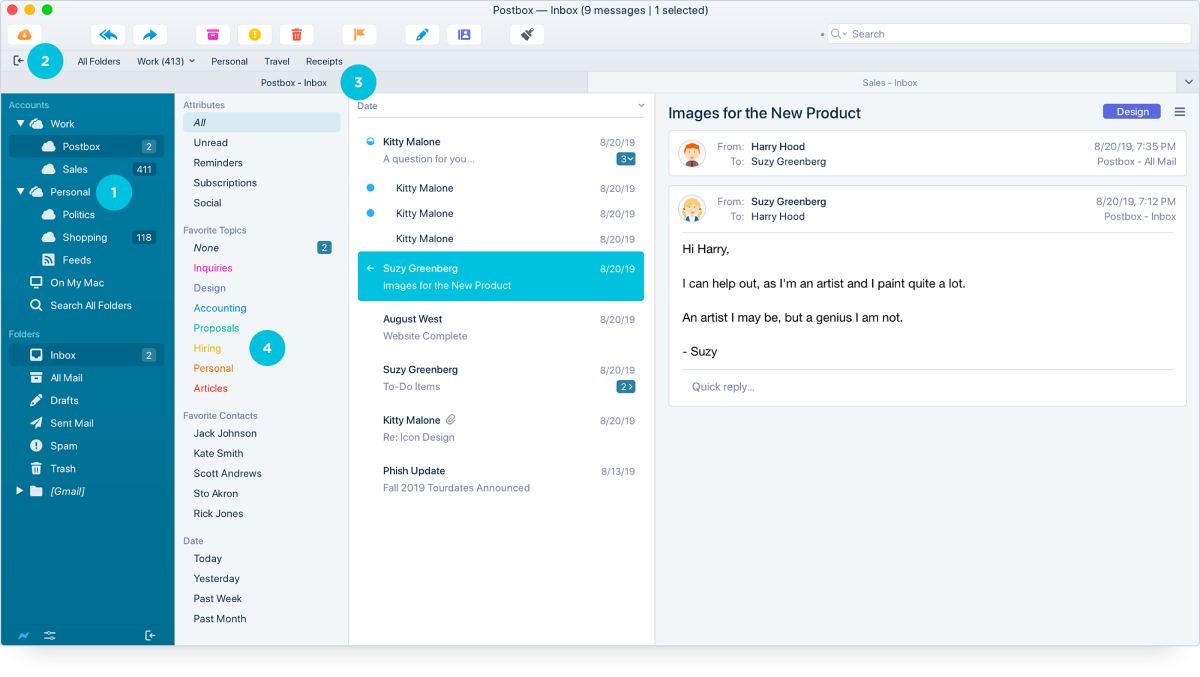 Emailing is a huge part of every freelancer's life, and Postbox is designed to help you manage your inbox workload. You'll have a place to store, organize, and group all your email accounts in one view.
Among other features, you'll get:
A simple search engine to quickly find exactly what you're looking for (across accounts),
A "focus pane" that helps highlight only important emails, which can be beneficial for freelancers working on multiple projects,
Numerous shortcuts to help you navigate through your different clients' correspondences, and
The option to organize your emails based on a topic or client.
You'll also gain access to 70 response templates useful when you quickly need to send out various types of emails, such as freelance job applications, introductory greetings, and outreach emails.
Postbox's highlight feature
Postbox also comes with the option to create and add pre-canned snippet responses to your emails, which is especially convenient for emails requiring immediate action.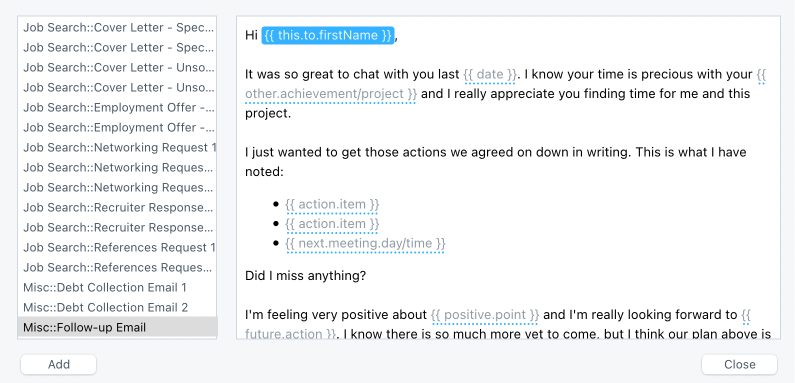 What I liked the most about this feature was the option to quickly move from one fill-in blank to another by pressing the Tab key on my keyboard.
| Postbox's biggest pro | Postbox's biggest con |
| --- | --- |
| User-friendly | No mobile app |
Freelancer apps for programmers
Freelance developers are always in need of a reliable code editor, open-source framework, and an app to help them plan and make sense of their ideas — and here are the best such apps.
UltraEdit — text editor + coding software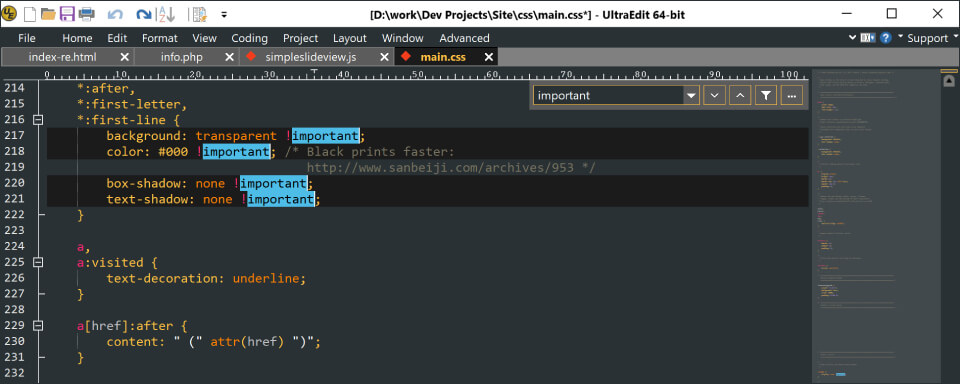 UltraEdit is a text editor which lets you manage, write, highlight, and fold your code. The tool also comes with syntax highlighting for almost all coding languages.
In addition, UltraEdit gives you the chance to:
Find and replace lines and lists of lines in files quickly,
Pick an editor theme for eye comfort during long working hours,
Manage files from remote servers, which comes especially handy for remote freelance work,
View an informative status bar showing the last modification time for the file, the file size and the current line number, and
Work with large files (up to 4GB).
You can even add extremely long lines of code to this text editor — up to 20,000 characters before wrap.
UltraEdit's highlight feature
You can use UltraEdit even for multi-language projects, since it allows editing HTML, PHP, JavaScript, Perl, C/C++, and Python.
| UltraEdit's biggest pro | UltraEdit's biggest con |
| --- | --- |
| Multiplatform availability | No free version available |
💡 Clockify Pro Tip
Looking for more similar apps for freelance programmers? Then check out this list of tools:
Miro — mind mapping app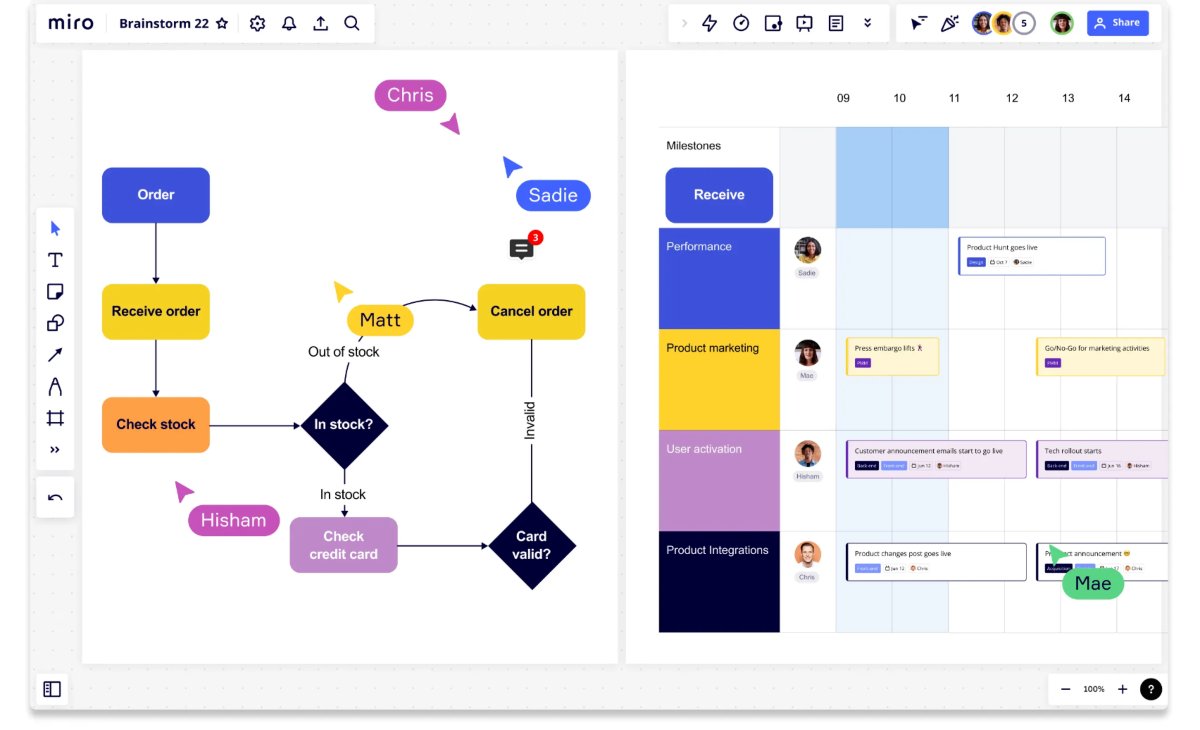 Miro is a mind mapping and collaboration tool that helps you capture and organize your development ideas in one place and dispatch them to clients in a few keystrokes.
With Miro, you can:
Define your main development concept and expand it by adding related ideas around it,
Rearrange the information by dragging and dropping concepts as you work through your initial idea,
Add sticky notes and emojis, and
Attach documents and images for a quick reference to your clients' initial requests.
Miro also comes with more than 300 templates covering multiple use cases, so you can immediately start generating ideas once you sign up.
Miro's highlight feature
The app's bonus points go to its collaboration feature, which allows you to share your mind maps with clients for an easy visualization of your software development ideas.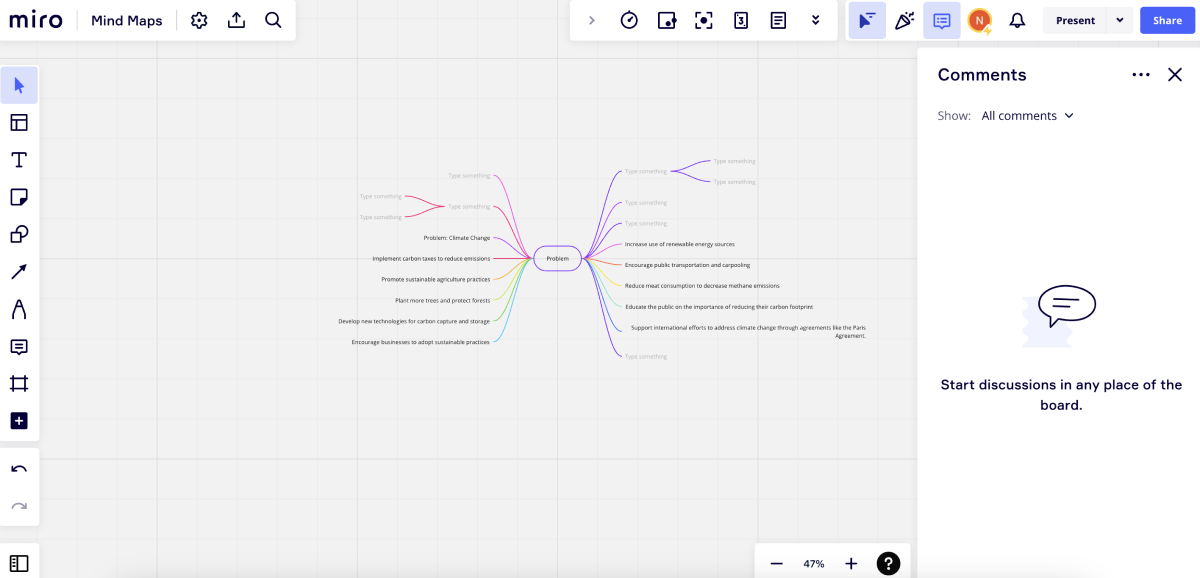 | Miro's biggest pro | Miro's biggest con |
| --- | --- |
| 130+ integrations | Steep learning curve |
Oh My Zsh — an open-source framework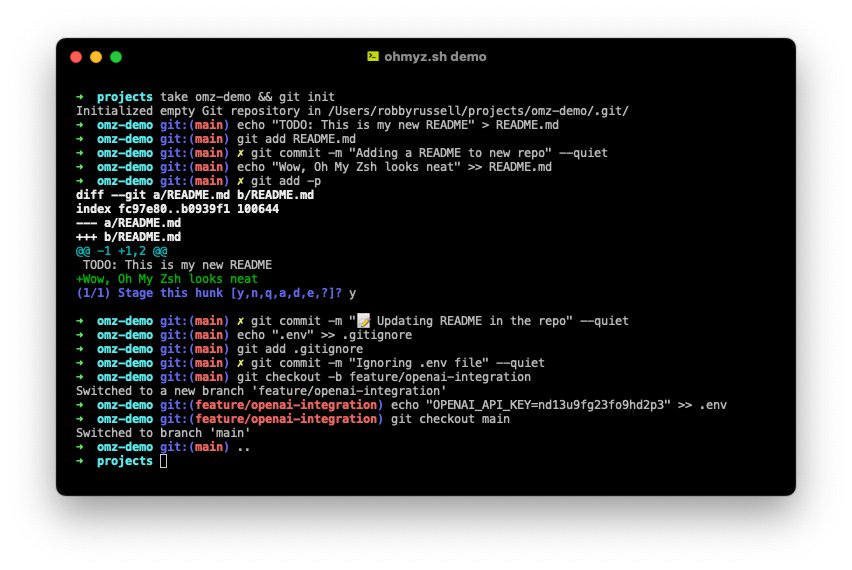 Oh my Zsh is an open-source framework (there are currently over 2,000 contributors) that helps you streamline work on your command-line.
Oh my Zsh allows you to enjoy:
Various fonts and themes that offer additional information to your editor,
Plugins for different packaging systems and programming languages useful when working with multi-languages or separate freelance projects, and
Auto-completion for paths, automated spelling correction and kill tab completion, which eliminate wasting time on manual tasks.
Oh my Zsh also helps you speed up your work by listing all your favorite git command aliases and giving you indications of your command's success.
Oh My Zsh's highlight feature
Apart from its many options, Oh My Zsh lets you take a quick look at your most used commands and even get a stat report on their usage frequency, which can be especially useful if you work on similar freelance projects.
| Oh My Zsh's biggest pro | Oh My Zsh's biggest con |
| --- | --- |
| 300+ plugins | Manual updates |
💡 Clockify Pro Tip
Looking for great places to find your next development gig? Check out this list of websites that cater to freelance developers looking for work:
Freelancer apps for designers
If you're a freelance designer, you'll need an efficient collaborative design tool, a straightforward prototyping tool, and a nice mind mapping tool to map out your ideas — and here are your best picks.
Figma — collaborative design tool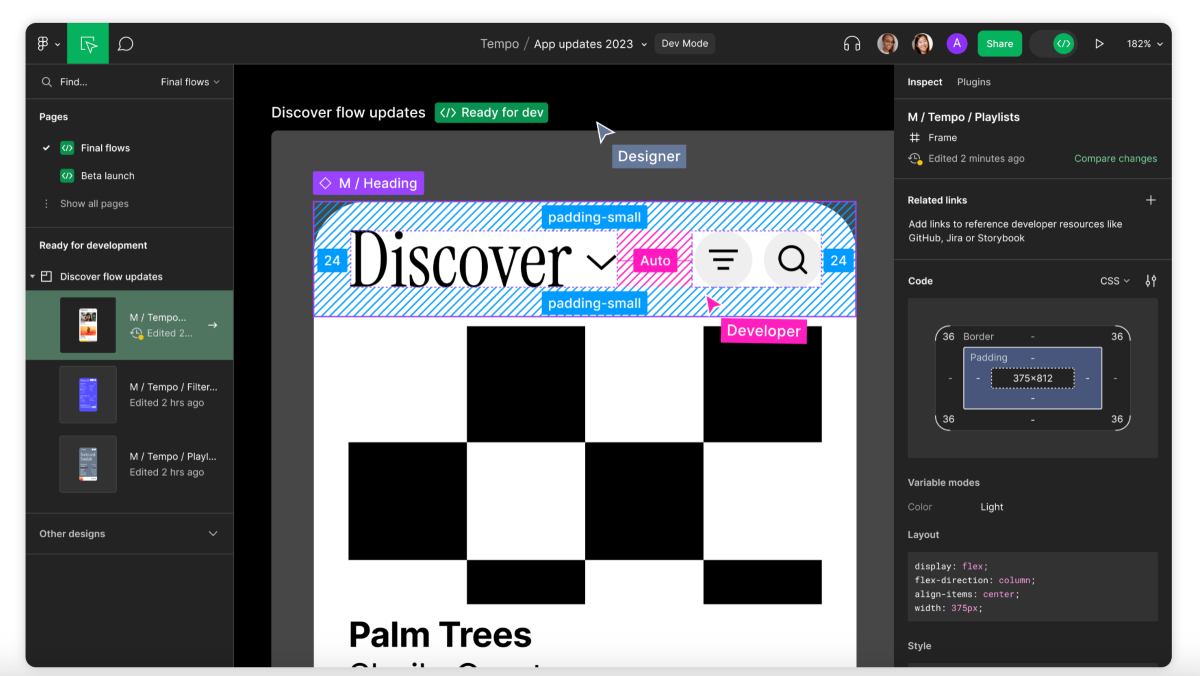 Figma is an all-inclusive design and prototyping tool. You can draw and scale your designs in a grid, combine and set multiple layers, as well as build, frame, and interact with your prototypes.
In essence, in Figma, you'll be able to:
Build and share reusable elements and components for your clients' future access,
Dedicate a separate workspace to each client,
Allow clients to leave feedback by making branches, commenting, and editing without changing the original design, and
Enjoy effective collaboration with your clients (define and share custom colors, grids, text, and effects across your entire team and all your projects).
Figma also secures an effective link between the design team and the development team by bringing forward the Dev mode feature, which can prove practical if you're working on a collaborative freelance project. Developers can inspect, copy and export all work performed by designers as CSS lines they can immediately add to their codes.
Figma's highlight feature
Figma's audio feature helps you chat and collaborate with clients by letting you start or join audio conversations directly from a file.
| Figma's biggest pro | Figma's biggest con |
| --- | --- |
| Simple to master | Doesn't support offline mode |
InVision — prototyping and collaboration tool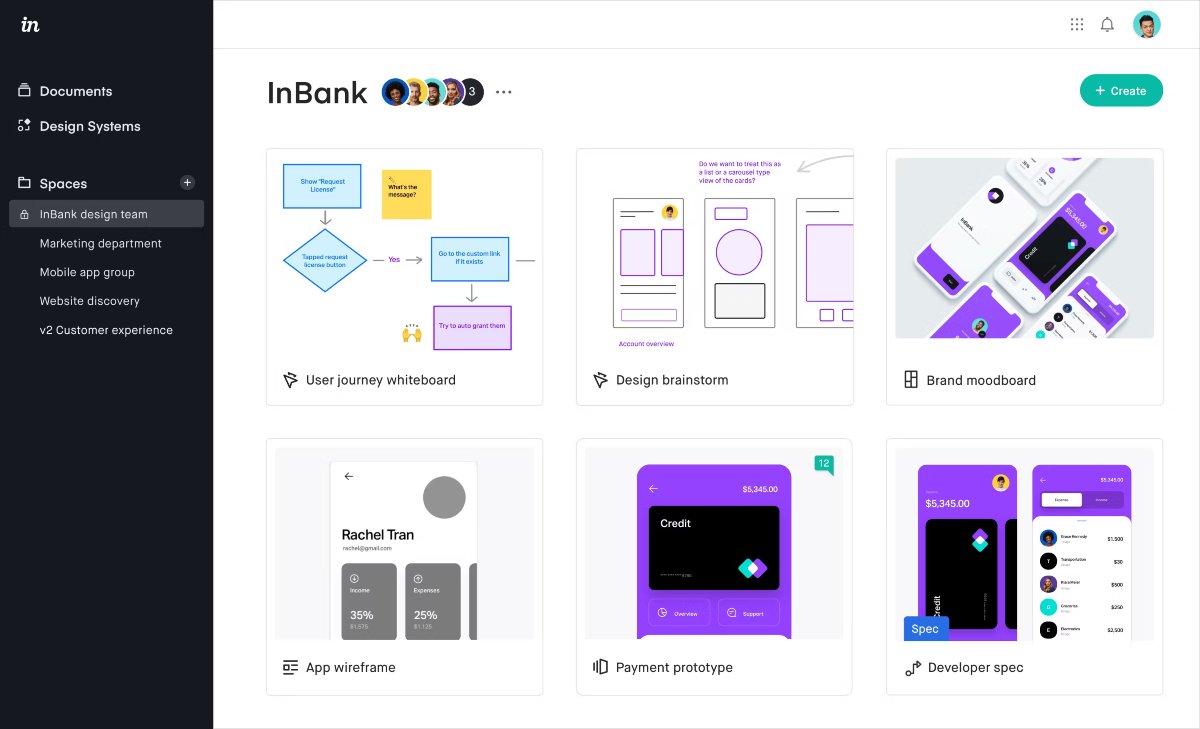 InVision is a free prototyping and collaboration tool aimed at designers. The app lets you draw and manage prototypes, compile ideas and project-related notes on a digital whiteboard, and communicate all project changes and updates to your clients directly from the app.
With InVision, you'll also be able to:
Present your designs to clients and get feedback,
Create and share mockups, and then organize and categorize them,
Define your mockup status (depending on your clients' feedback),
Comment and allow clients to share their feedback directly on prototypes, and
Export your prototypes, whiteboards, and tasks and send them to clients.
InVision also offers a way for you to test out your designs directly in the app — there's a Sketch plugin that allows you to devise prototypes for each of your designs without ever leaving the app.
Invision's highlight feature
Invision's Freehand allows you to collaborate with clients, leave comments, and sketch visual solutions directly in the app.
| Invision's biggest pro | Invision's biggest con |
| --- | --- |
| Integrates with major design tools | Limited free plan |
Coggle — branch-based mind mapping app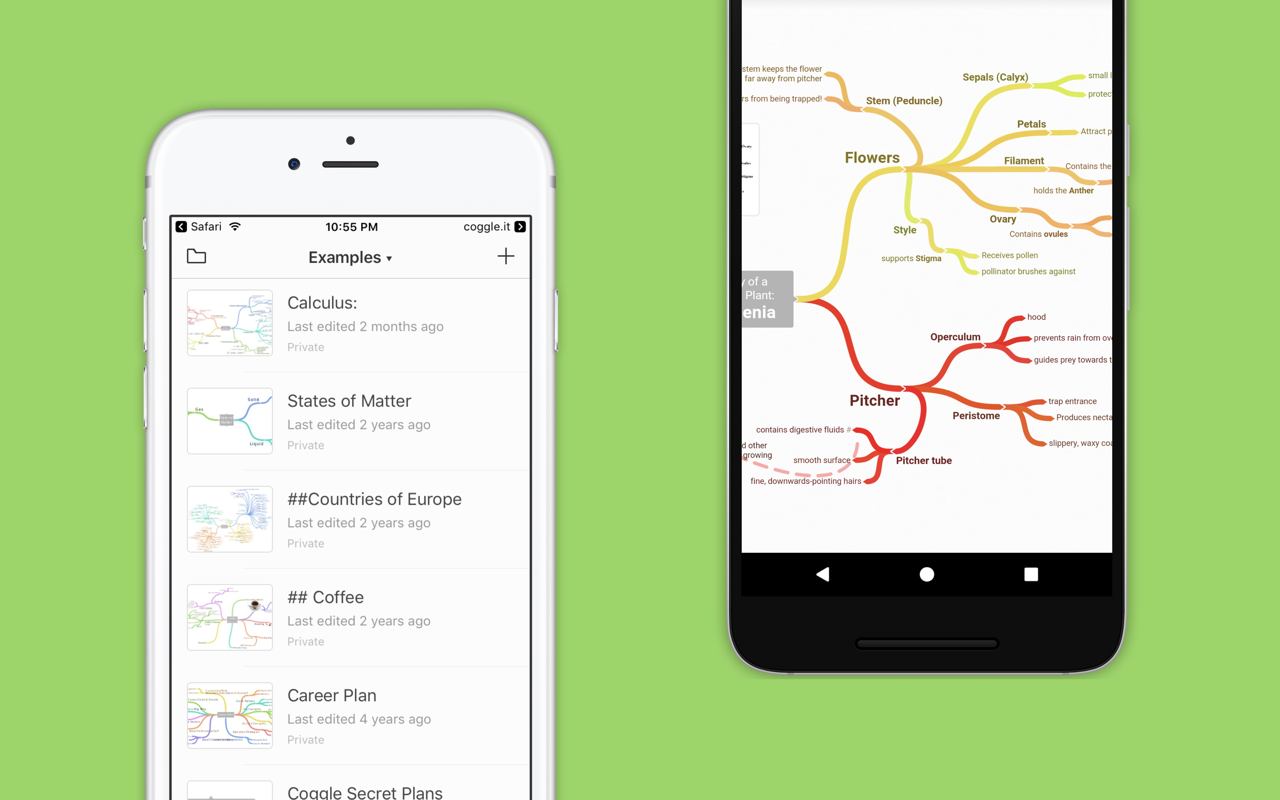 Coggle offers a mind mapping system you and your clients can collaborate on in real-time, as well as share your design ideas and concepts in visually appealing, interconnected branch structures.
To help your clients visualize your ideas as vividly as possible, Coggle lets you:
Create diagrams,
Upload accompanying images and floating text,
Manage loops and branches,
Format your items with Markdown formatting,
Move each branch around the main concept, and
Copy, delete, transplant, or comment on the said branch from a context menu.
To make your ideas pop, you can add custom color schemes but also backtrack your way and search for old design concepts in the document's history.
Coggle's highlight feature
With Coggle, you'll be able to export your mind mapping trees as PDF and image files and hold discussions with your clients in the app's chat system.
| Coggle's biggest pro | Coggle's biggest con |
| --- | --- |
| Simple to use | Limited number of templates |
💡 Clockify Pro Tip
Looking for great places to find your next designer job opportunity? Check out this list of websites that cater to freelance designers looking for work:
Freelancer apps for writers
In order to craft excellent content, you'll need to optimize your texts for SEO, as well as make sure your work is void of grammar, spelling, and style mistakes. You'll also need to work in a user-friendly text editor.
So, here are the freelance tools for writers to help you check off this list.
Grammarly — grammar and spell check app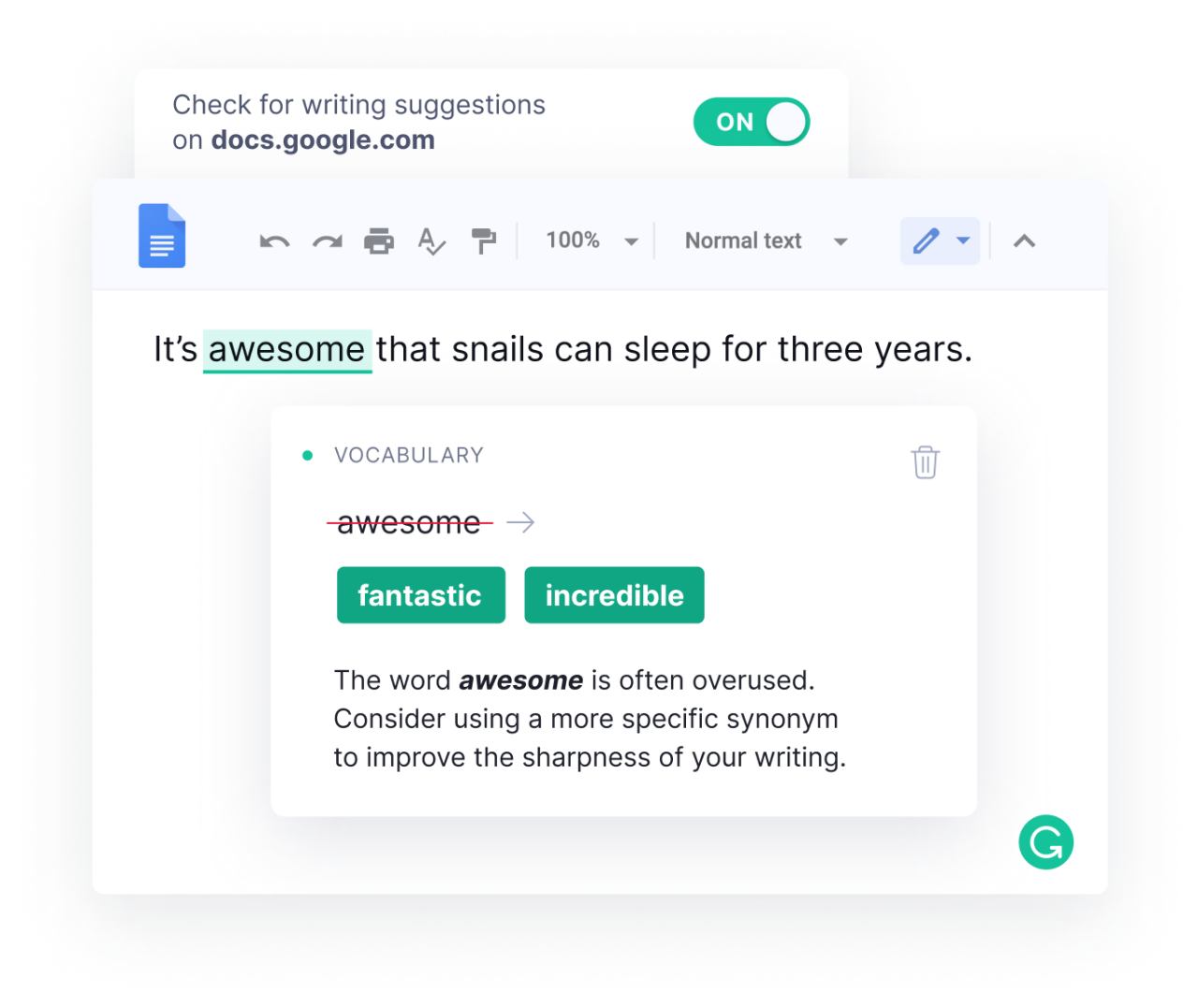 All writers need to make sure their guest posts, eBooks, white papers, and short stories are free of mistakes and style errors, as well as edited perfectly — and Grammarly is the perfect app to help get you closer to ideal content.
To help you ensure your content is on-point before sending off the final draft to clients, Grammarly is there to:
Correct your mistakes (typos, repetitive words, comma usage, punctuation, and grammar),
Enhance your writing style and vocabulary,
Generate your personal dictionary where you can add unique words, such as client's' brand name,
Track your improvements through performance stats,
Adjust your tone and style depending on the type of content you're creating for different projects, and
Give you rewriting suggestions for hard-to-read sentences.
You can even set Grammarly to capture and notify you of genre-specific writing mistakes, and you also get genre-specific style checks.
Grammarly's highlight feature
Grammarly's plagiarism detection feature checks your content against 16 billion web pages to help you ensure your writing is authentic before you share it with clients.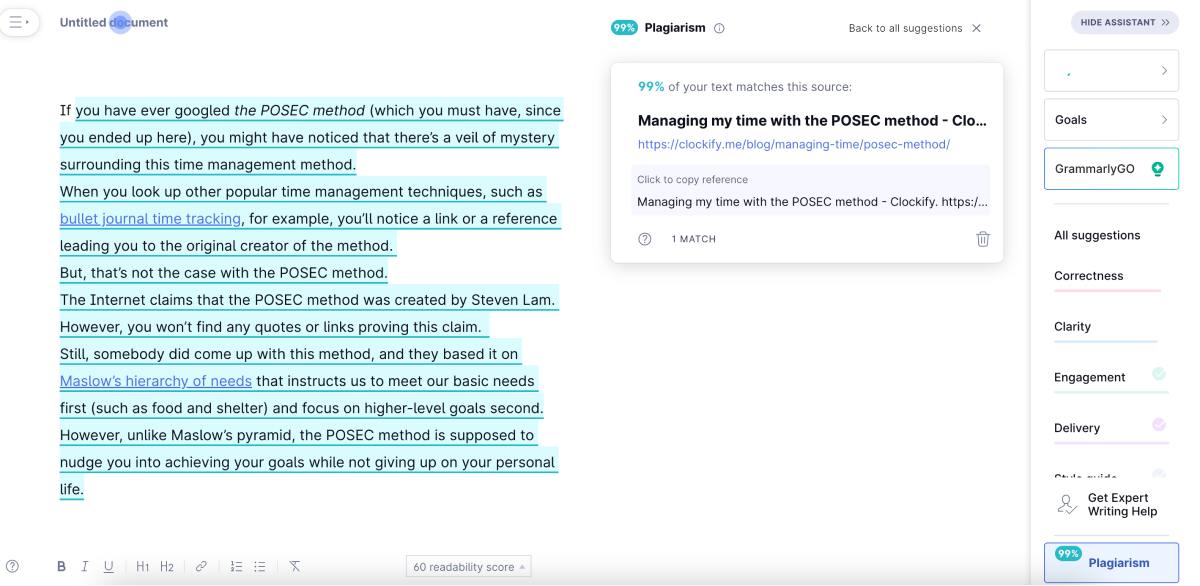 However, it's worth mentioning that Grammarly's plagiarism checker feature comes only with a paid plan.
| Grammarly's biggest pro | Grammarly's biggest con |
| --- | --- |
| Spell checker works on more than 500 000 tools and websites | Limited features on free plan |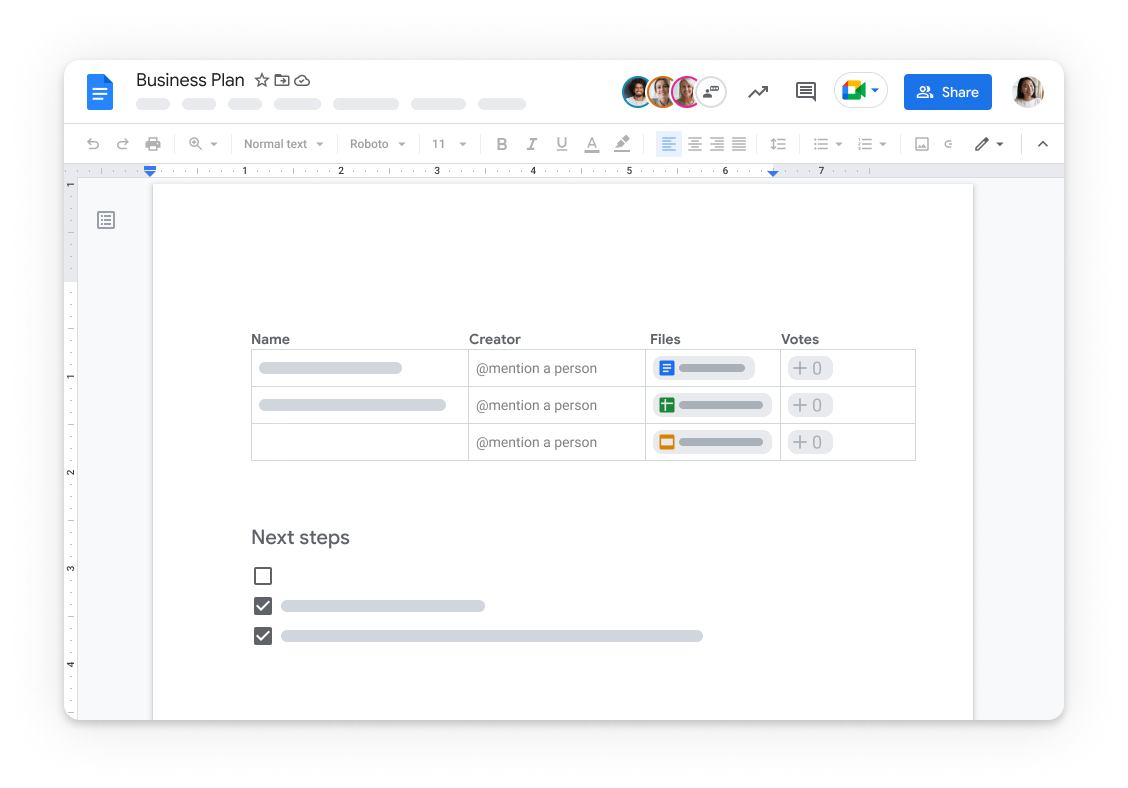 Google Docs takes the cake as one of the most efficient text editors. You type your text, have every word your write saved and synced across devices in real time. And, then you share the document with collaborators.
With Google Docs, you get:
The basic writing, formatting, and editing features,
A non-obtrusive interface to help you stay focused on your writing task,
The option to add links, images, and tables, and
The possibility of storing and saving all your work automatically, so you won't have to worry about data loss.
You can also save your text as .docx, .odt, .rtf, .epub, .pdf, and other popular formats, or make your document available offline so that both you and your clients can edit and access them at any time.
Google Docs' highlight feature
The sharing options are this tool's best feature — once you're done polishing the text, you can share the link to your document or have clients comment directly in your text.
| Google Docs' biggest pro | Google Docs' biggest con |
| --- | --- |
| Distraction-free interface | Mobile version not as intuitive |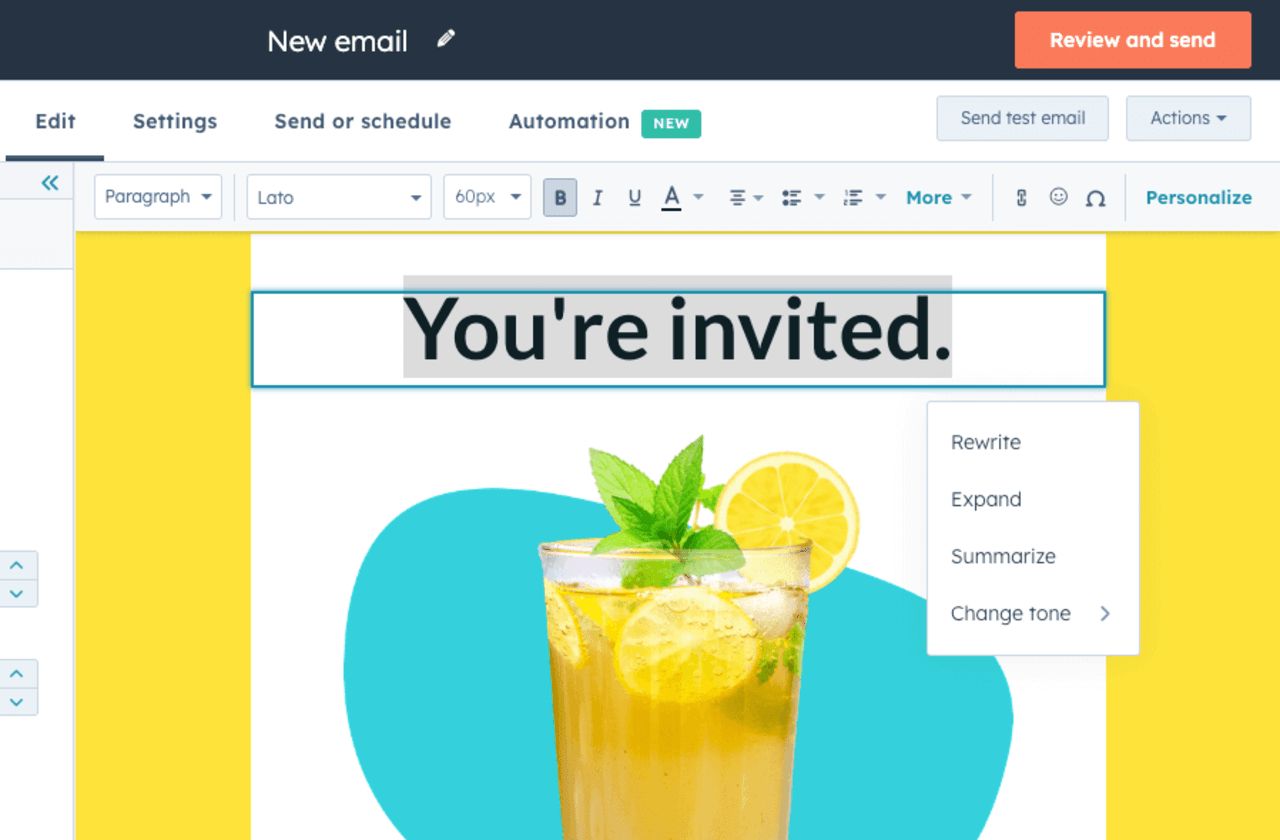 Powered by advanced algorithms and machine learning capabilities, HubSpot's AI Content Writer can help you generate unique and engaging content that resonates with your clients' target audience.
While it's not meant to replace writers in total, it can be used as a great resource to create drafts, outlines, and storyboards. You can also add additional content to the prompt, including:
Your clients' brand voice,
Their specific customer persona, and
The type of content, depending on the brand or project you're currently working on.
HubSpot AI Content Writer also lets you speed up your writing process by giving you grammar and spelling suggestions.
HubSpot AI Content Writer's highlight feature
The tool also comes with the option to generate email sequences and subject lines which speeds up the process of communicating with clients.
| HubSpot AI Content Writer's biggest pro | HubSpot AI Content Writer's biggest con |
| --- | --- |
| Cross-platform availability | Advanced options available only on paid plans |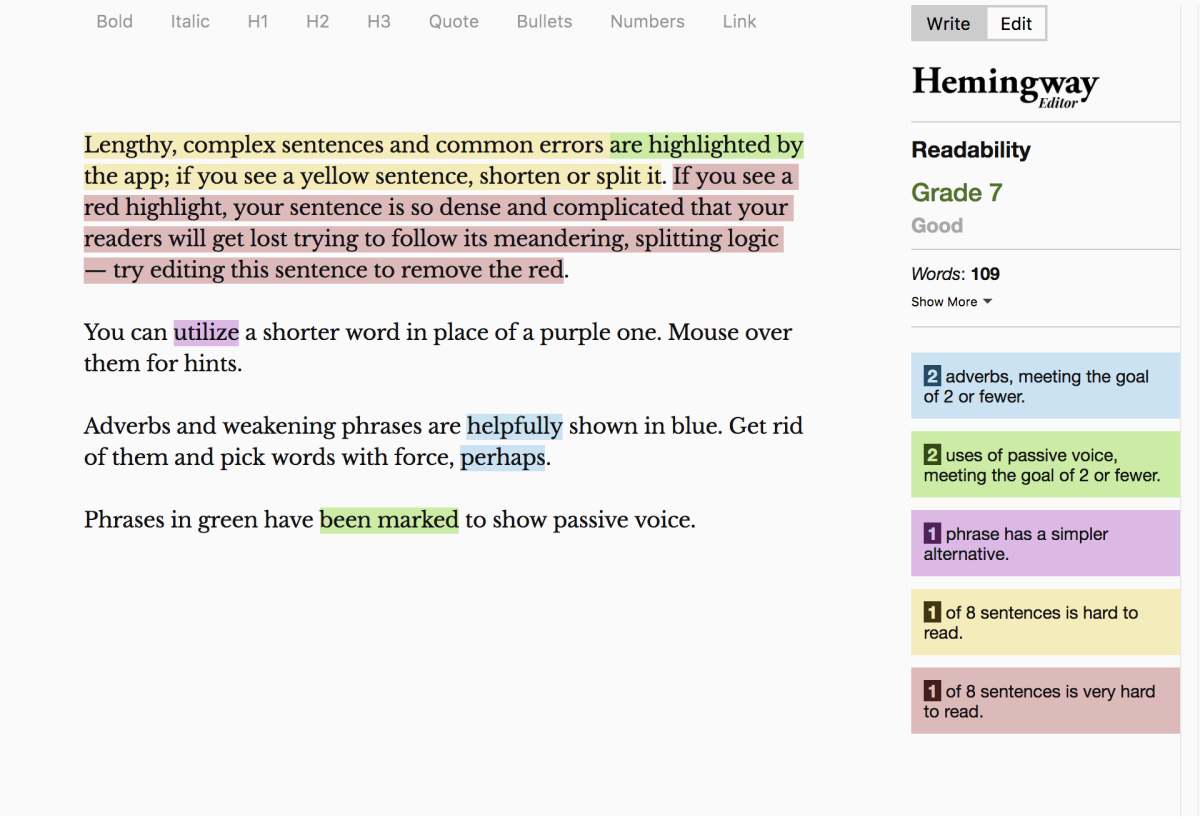 Hemingway editor (also known as Hemingway App) is here to make sure your text is void of stylistic errors and thus more likely to be accepted for publication faster.
Immediately after you finish your first draft, you copy your text to the editor and all problematic areas are highlighted in an instant — this includes:
Uses of the passive voice,
Phrases that have simpler alternatives,
Sentences that are too long and hard to read, and
Adverbs you'd be best to remove to help improve the text's flow.
Hemingway also shows the readability level of your text, the number of letters, characters, sentences, paragraphs, and words, but also the approximate reading time.
Hemingway editor's highlight feature
Your content can be directly exported from Hemingway editor to a website, which can be a time-saver if you're working with multiple clients on a tight deadline.
| Hemingway editor's biggest pro | Hemingway editor's biggest con |
| --- | --- |
| A variety of features within the free version | Doesn't offer suggestions for improving content |
Ahrefs — a collection of SEO tools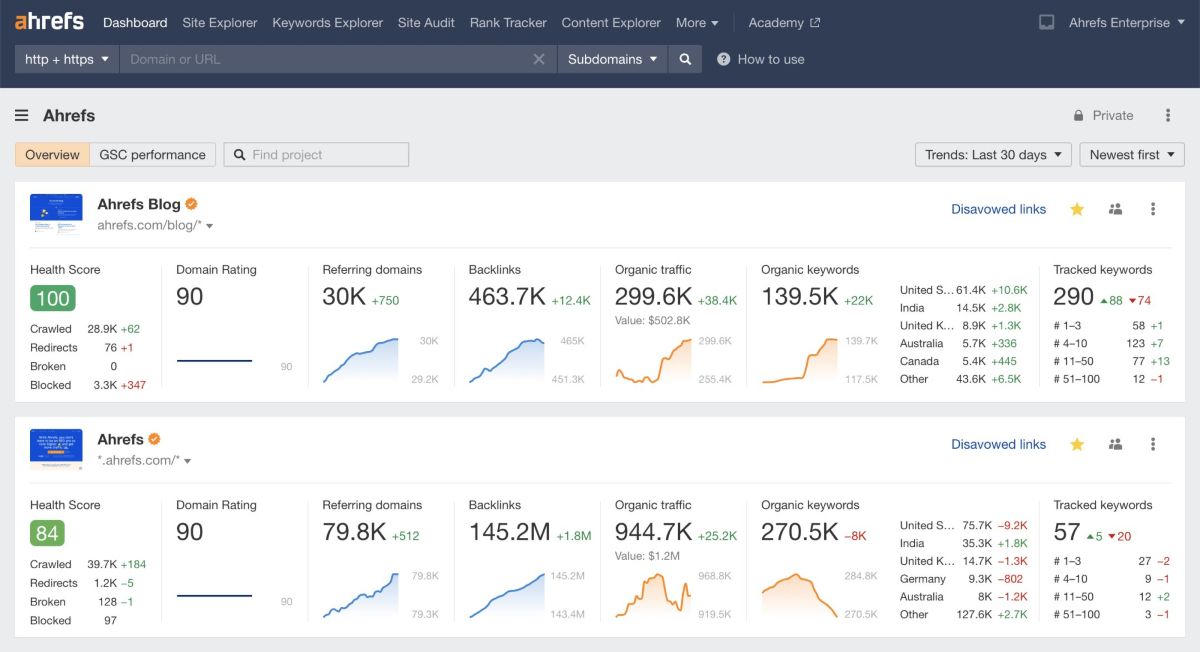 Each freelance writer needs to optimize their content for SEO — and Ahrefs is the ultimate SEO tool for this.
You'll get to use an array of features to plan out fully optimized content for your blog. Also, if you're in charge of your client's website, Ahrefs is there to help you drive more traffic by providing you with:
A keyword research tool with a large number of keywords per word,
Click-through-rates and search volume for the top 10 pages on any subject in the Keyword explorer,
Keyword difficulty scores that show how difficult it would be to rank for a certain keyword given the competition (you'll also get easier-to-rank-for alternative keywords), and
The option to find content ideas based on your niche, competitors, and backlinks potential.
The keyword database is updated on a monthly basis, and you can list all your favorite and most frequently used keywords in one place.
Ahrefs' highlight feature
With Ahrefs' Site Audit option, you can scan and analyze your website's performance and get suggestions on how to improve or fix the issues it potentially comes upon.
| Ahrefs' biggest pro | Ahrefs' biggest con |
| --- | --- |
| Wide range of functionalities | Costly for freelancing beginners |
💡 Clockify Pro Tip
Looking for great places to find your next writing job? Check out this list of websites that cater to freelance writers looking for work:
Freelancer apps for virtual assistants
Even though 65% of virtual assistants are full-time employees, that leaves a whopping number of them jumping into the freelancing pool.
Since a virtual assistant's job mostly revolves around planning and scheduling, if you're thinking of becoming one of them, you'll need a handful of tools to help you out with that.
Take a look at some of the most handy virtual assistant apps that'll transform your workday.
Calendly — scheduling app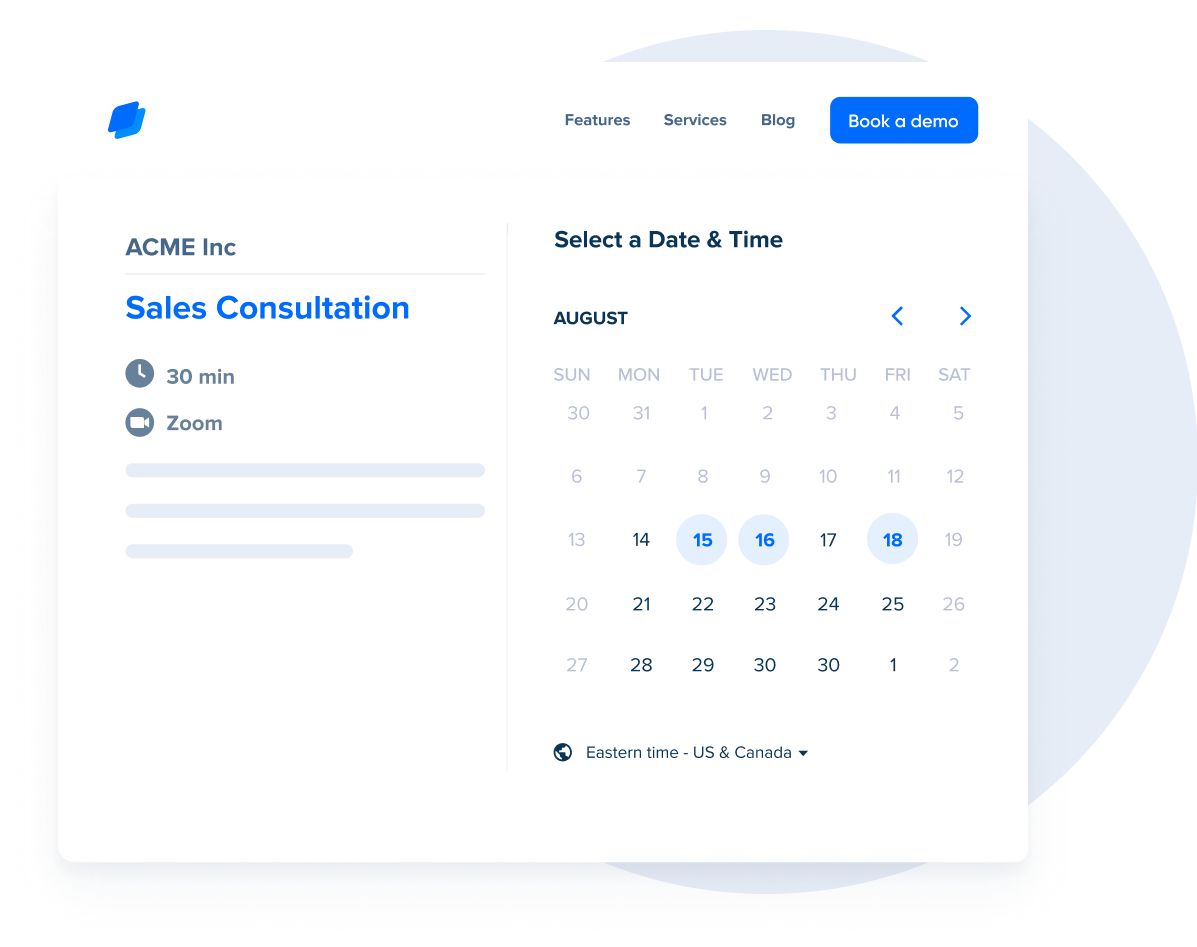 Calendly is a scheduling app that helps you manage all your errands and handle your client's appointments.
Calendly lets you:
Connect the app with your or your client's existing Gmail, Outlook, iCloud, or Exchange calendar,
Set your own or your client's' schedule and share your availability in a few clicks,
Insert your scheduling link into your email signature or embed it to your website for faster scheduling, and
Send automatic reminders for events.
Moreover, Calendly lets you limit the number of appointments you or your client have per day so nobody ends up overworked.
Calendly's highlight feature
Calendly's Meeting Poll option helps you and your clients arrange meetings suitable for all attendees by letting everyone vote for their most convenient time frame before scheduling the appointment.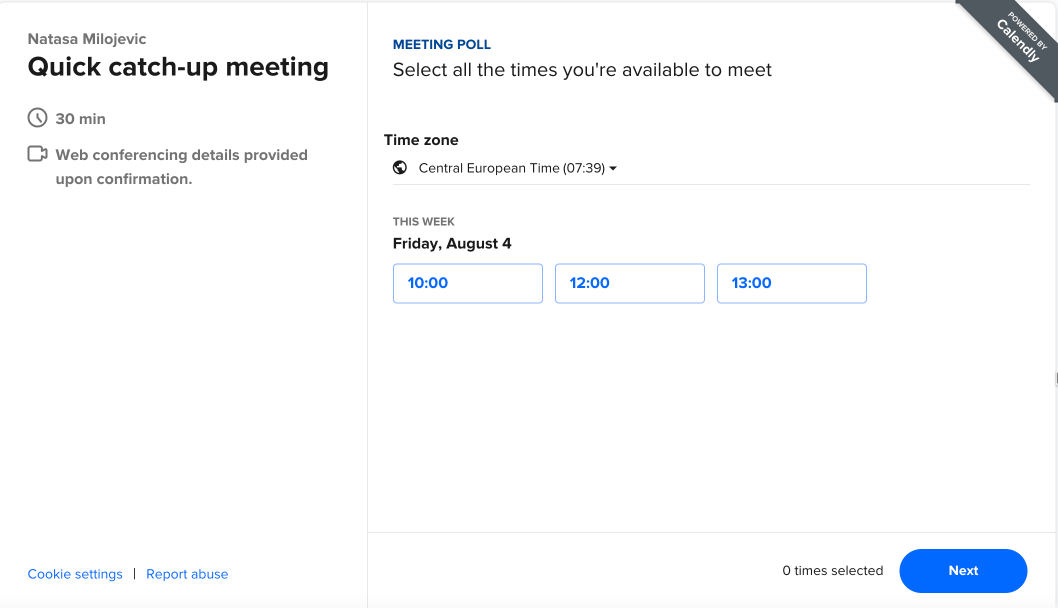 | Calendly's biggest pro | Calendly's biggest con |
| --- | --- |
| Seamless synchronization with multiple calendars | Limited options on the free plan |
Buffer — social media manager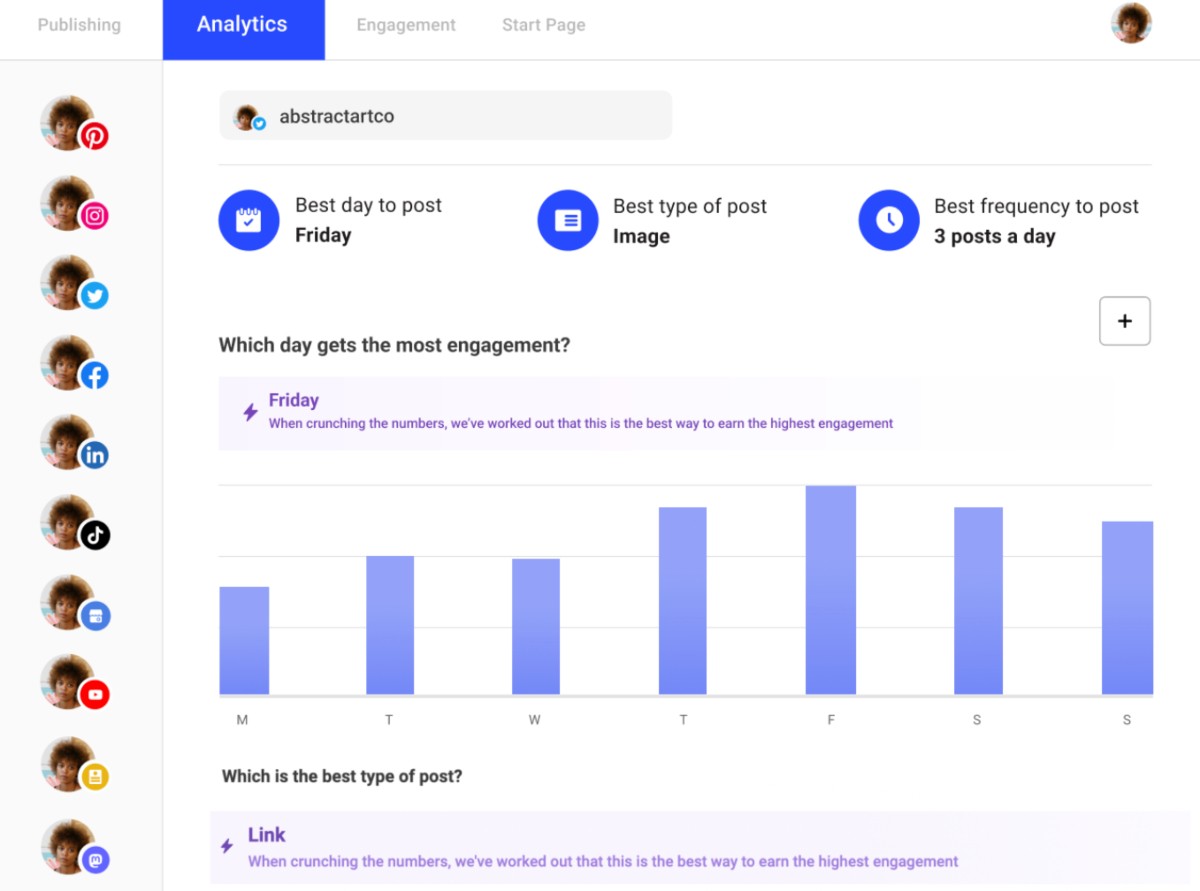 Buffer is perfect if you have to handle social media management for your client. You'll spend less time on Twitter, Facebook, Instagram, LinkedIn, TikTok, Shopify, Google Business Profile, and Pinterest, but you'll be more efficient.
By using Buffer, you'll get the means to:
Schedule and automatically share posts to various social media accounts (anything from Facebook updates to retweets and TikTok videos),
Set exact posting time slots and optimize your posting schedule, which is especially useful during the busy season,
Quickly generate post ideas with the help of an AI assistant and save time for more burning issues,
Analyze post engagement, handle additional activity analytics, share your progress with clients, and
Create your own visuals to accompany posts, or add images and videos that ensure brand alignment.
On top of everything, Buffer lets you and your clients collaborate on social media posts by adding them as team members and giving them admin access.
Buffer's highlight feature
This app's biggest strength lies in its approach to scheduling — you can plan content months ahead in Buffer's calendar, get tips on the ideal time to post content, and enjoy custom scheduling.
| Buffer's biggest pro | Buffer's biggest con |
| --- | --- |
| In-app image design | Not suitable for extensive social media analytics |
Time Buddy — world clock and time converter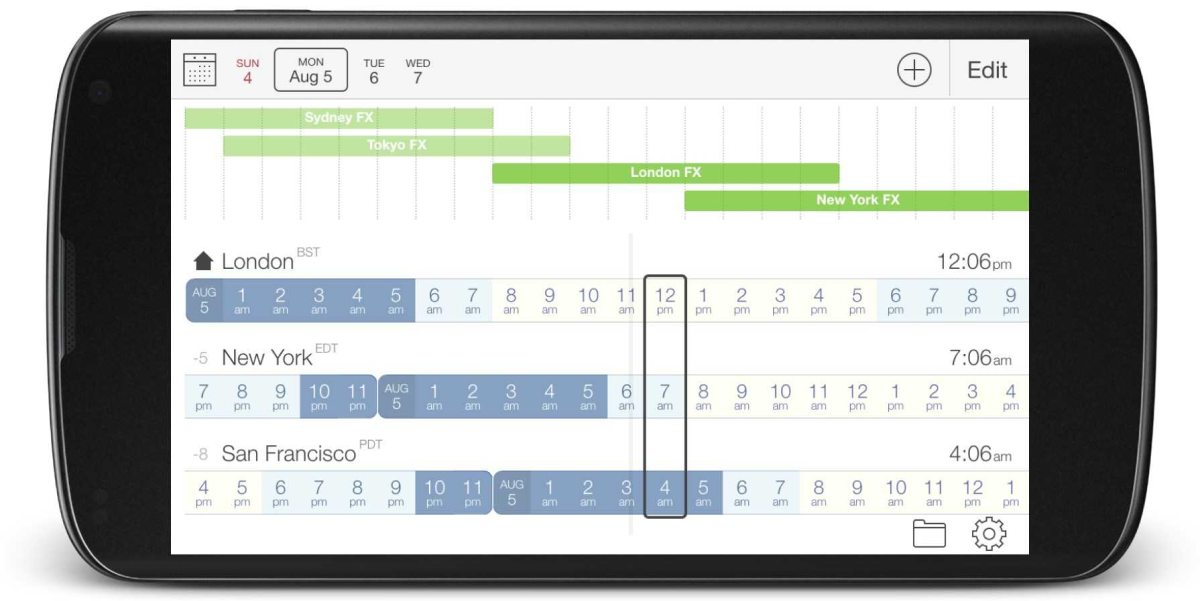 Most virtual assistants live in different time zones from their clients but have to work in the clients' time zones. Time Buddy is your best friend when it comes to knowing the exact time for multiple locations around the globe.
This browser app offers a simple work clock and time converter, where you can enter your location and your clients' locations to make comparisons. Once you enter this data, you'll see:
The time difference between multiple cities,
The exact time in multiple cities in a parallel view, especially useful if you're working with multiple international clients, and
What day it is in a certain city (for example, it may be Monday in Sydney, but it's still Sunday in Los Angeles).
Once you have this data, you'll be able to easily schedule conference calls, meetings, or briefings between your client in Beijing and their business partner in Moscow, even when you live in Toronto.
Time Buddy's highlight feature
The app notifies you a week before Daylight saving time begins, which helps you avoid making scheduling mistakes when managing clients' appointments due to different time zones.
| Time Buddy's biggest pro | Time Buddy's biggest con |
| --- | --- |
| Elegant design | Limited number of time zones on free plan |
Scribe — process documentation automation tool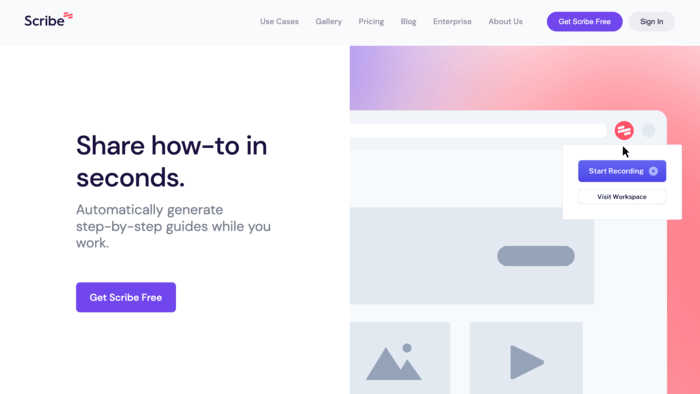 You're likely working with unfamiliar tools or helping your client learn some of your processes. This can be hard to do when you're in different rooms, let alone time zones.
Scribe instantly turns any process into a step-by-step guide, complete with text and screenshots. Simply download the browser extension or desktop app, then click record.
Scribe will:
Follow along with your clicks and keystrokes for easier capture,
Automatically create your process document,
Enable you to customize your text, steps, and images according to your clients' requirements, and
Share your recordings via a link, email, or easily embed in any CMS to keep your clients in the loop.
You can also choose whether your Scribe can be publicly accessed or available only to you and your client.
Scribe's highlight feature
Depending on the plan, you can also auto-redact sensitive information when handling clients' confidential data.
| Scribe's biggest pro | Scribe's biggest con |
| --- | --- |
| Simple to master | Requires time to set up |
💡 Clockify Pro Tip
If you're just dipping your toes in the virtual assistants' waters, you'll probably benefit from getting to know all the ins and outs of a VA career. Find out everything you need to know here:
Freelancer apps for photographers
Photographs need to be captured in optimal conditions, taken by a quality app, and further edited to perfection. So, here are the best tools for freelance photographers to make these essentials into reality.
Camera+ — all-in-one photo app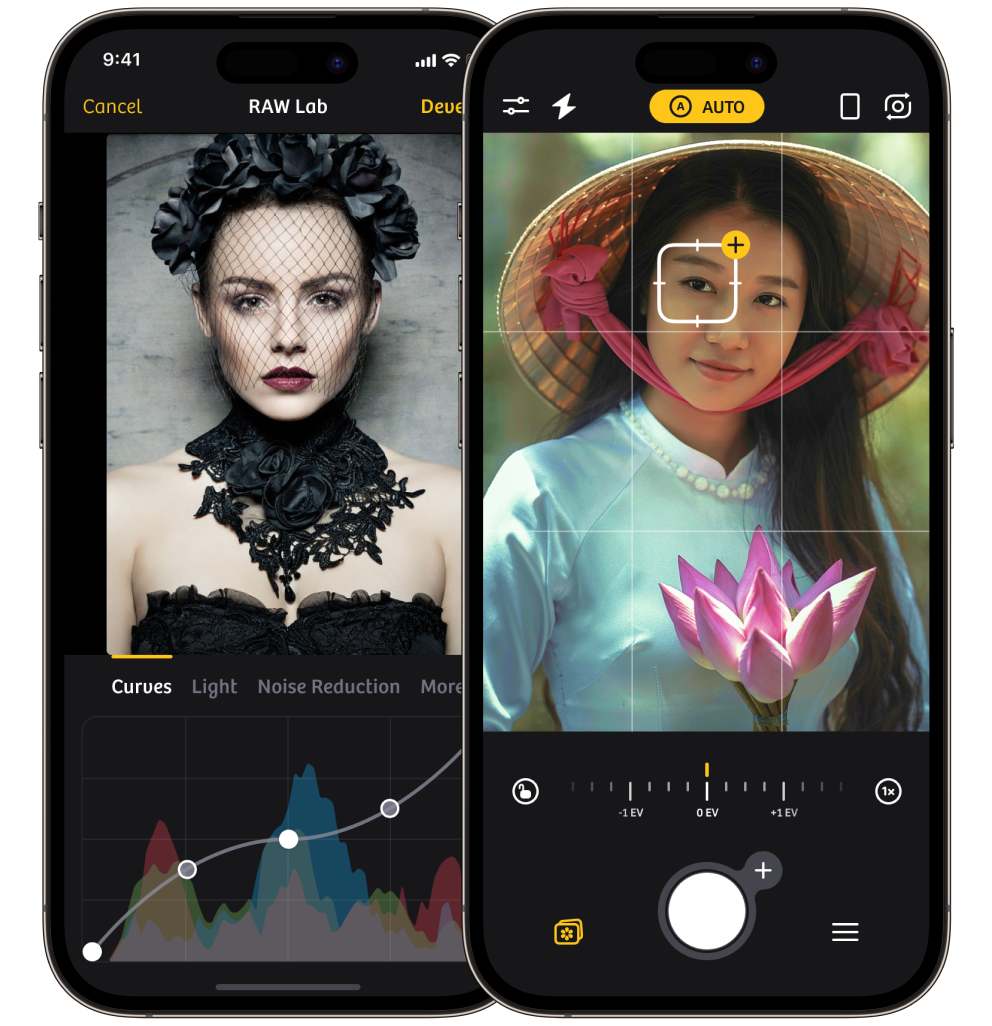 Camera+ is an all-inclusive photo app — you'll get various effective editing and photo-capturing features that'll help you make the most of your freelancing gig.
Some of the more prominent Camera+ features that ensure your shots always meet your clients' expectations include:
The action mode that keeps objects in focus and sharp by tracking them, especially useful when shooting outside,
Manual shooting that allows for precise control of your photos,
Magic ML editing and shooting feature that'll let you edit your photos to perfection or enhance them while you capture them, and
The focus peaking feature that ensures photos are only taken when the desired objects are focused and sharp.
You'll also get various shooting modes for various occasions and conditions — the highlight includes the Smile mode, which captures photos only when every subject is smiling.
Camera+ highlight feature
Monuments mode allows you to capture the best outdoor shot despite the crowd surrounding your objects by removing unwanted objects from your photo.
| Camera+ biggest pro | Camera+ biggest con |
| --- | --- |
| Easy to master | Available only for iOS |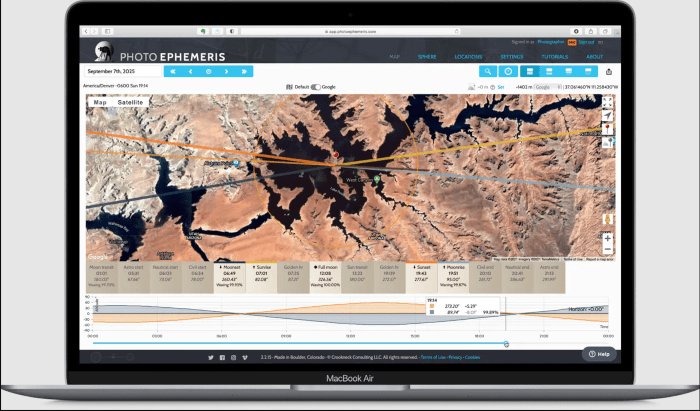 When you arrange an outdoor shoot, finding the ideal lighting conditions for your photographs is often a top priority. That's where the Photographer's Ephemeris kicks in.
Photographer's Ephemeris helps you plan ideal outdoor photos by telling you how the light falls on a specific location in real-time. You'll gain a better understanding of when light falls on land, under what angle, and when it's ideal to schedule a photo session.
Some other features include:
List of saved locations for places where you often shoot, with details on latitude, longitude, timezone, elevation, and actions, especially useful when working with long-term clients and the same shooting location, and
Details on sunrise, moonrise, sunset, crescent, and moonset times for any location, so you'll know exactly what time to schedule your shooting.
The Photographer's Ephemeris' highlight feature
The standout feature is the 3D package — TPE 3D visually simulates a location where you want to shoot in 3D, complete with lighting, shadows, and terrain, during day or night.
| The Photographer's Ephemeris' biggest pro | The Photographer's Ephemeris' biggest con |
| --- | --- |
| Free web version | No weather forecast option |
VSCO – photo editor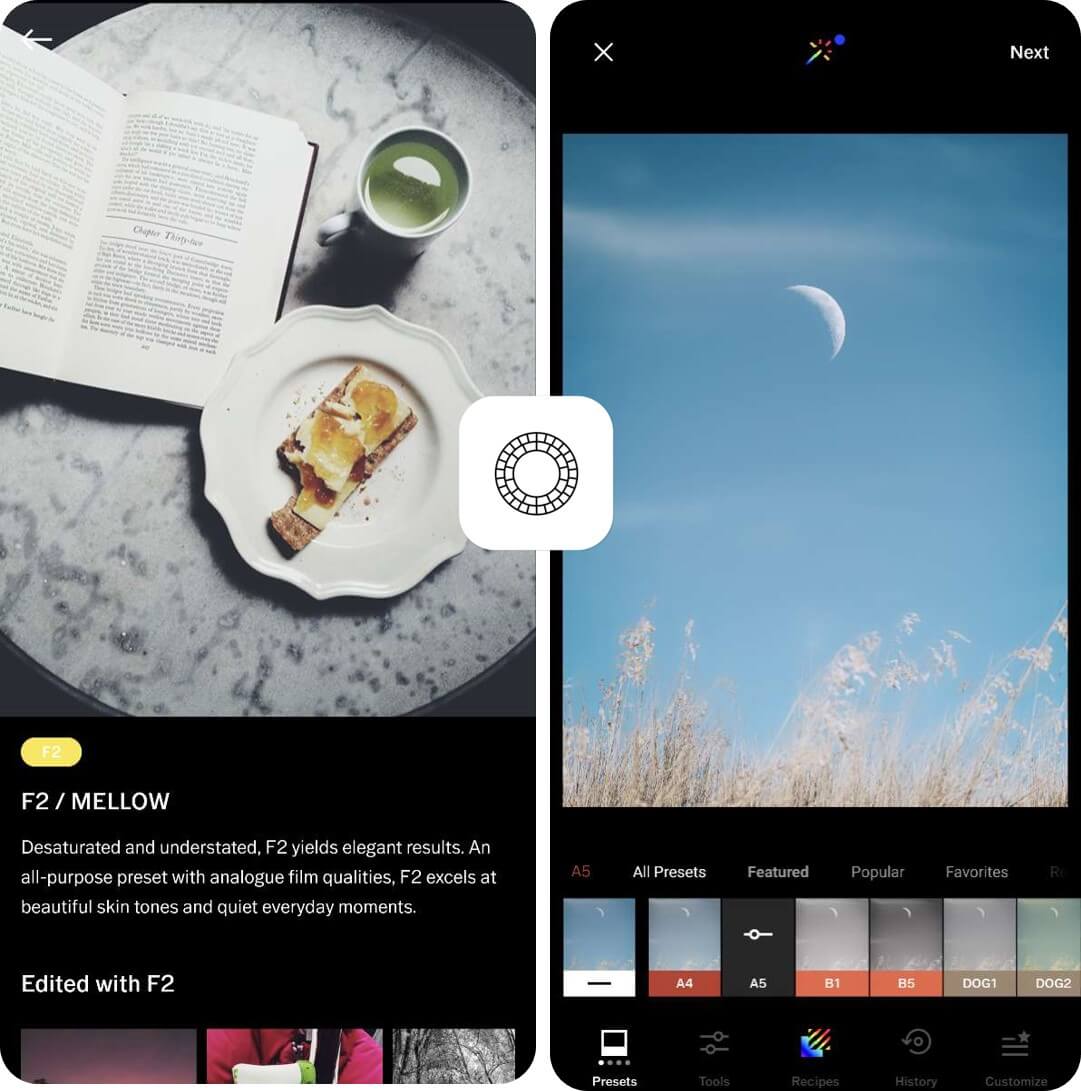 VSCO is a simple-to-use photo editing app that lets you edit your images to perfection. You can get creative and unique photos that you can share with other creators and clients, and craft your photography portfolio.
VSCO also lets you:
Shoot directly from the app's Studio mode and reduce the time spent editing later,
Use more than 200 presets that'll elevate your shots and help your photos stand out from the freelance competition, and
Adjust HSL, exposure, or dodge and burn your photo.
VSCO also comes with a powerful video editing feature that gives you the option to add presets, make color adjustments, edit character, and more.
VSCO's highlight feature
VSCO Spaces give you the option to share your work with other creators or clients, get feedback, and build your portfolio.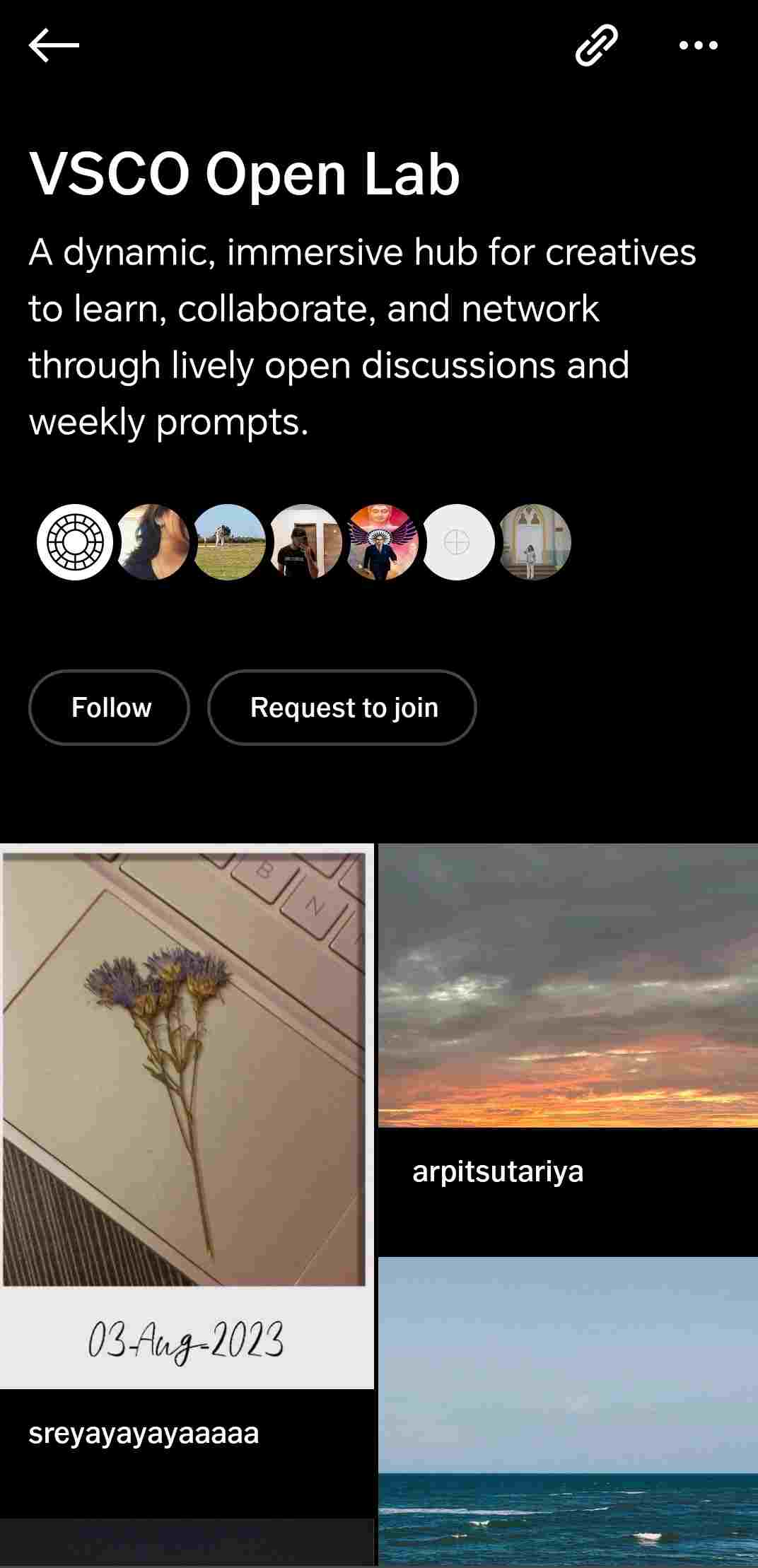 What I enjoyed the most about this feature was the option to scroll around differently-themed hubs and discuss shots with other creators.
| VSCO's biggest pro | VSCO's biggest con |
| --- | --- |
| Easy to use even for beginners | No desktop app |
💡 Clockify Pro Tip
Looking for great places to find your next photography project? Check out this list of websites that cater to freelance photographers looking for work:
Freelancer apps for tutors
Freelance tutors are usually always on the lookout for a reliable communication tool, a perfect digital whiteboard app, and a simple-to-use scheduling system.
Let's look at some of the best ones from each category that could help you make the most out of your freelance tutoring career.
Pumble – collaboration tool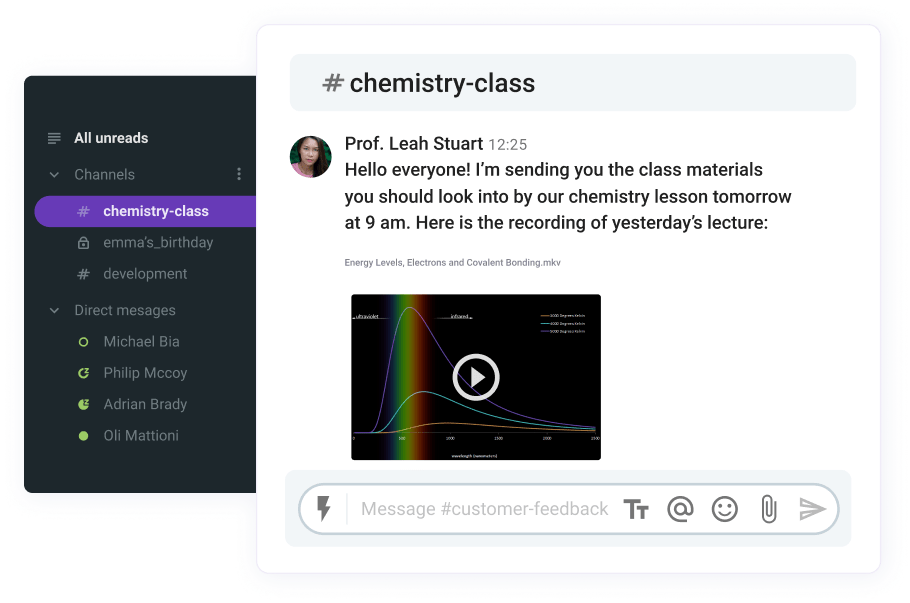 Pumble is a virtual collaboration tool aimed at enabling efficient communication — ideal for online freelance tutors searching for a reliable platform to host their classes and increase their students' engagement.
Pumble also gives you the option to:
Conduct online classes by scheduling a voice or a conference meeting with your students,
Create multiple channels to communicate with different groups, which is ideal if you hold online group classes,
Reply in threads and quickly provide feedback to your students, and
Easily share files with your students, pin them to a channel, and make sure nobody misses their assignments.
Also, the option to share your screen speeds up the process of pointing out important information during the class.
Pumble's highlight feature
Pumble's voice messaging feature lets you and your students quickly share important updates or ideas without having to hop on a call outside of your scheduled class.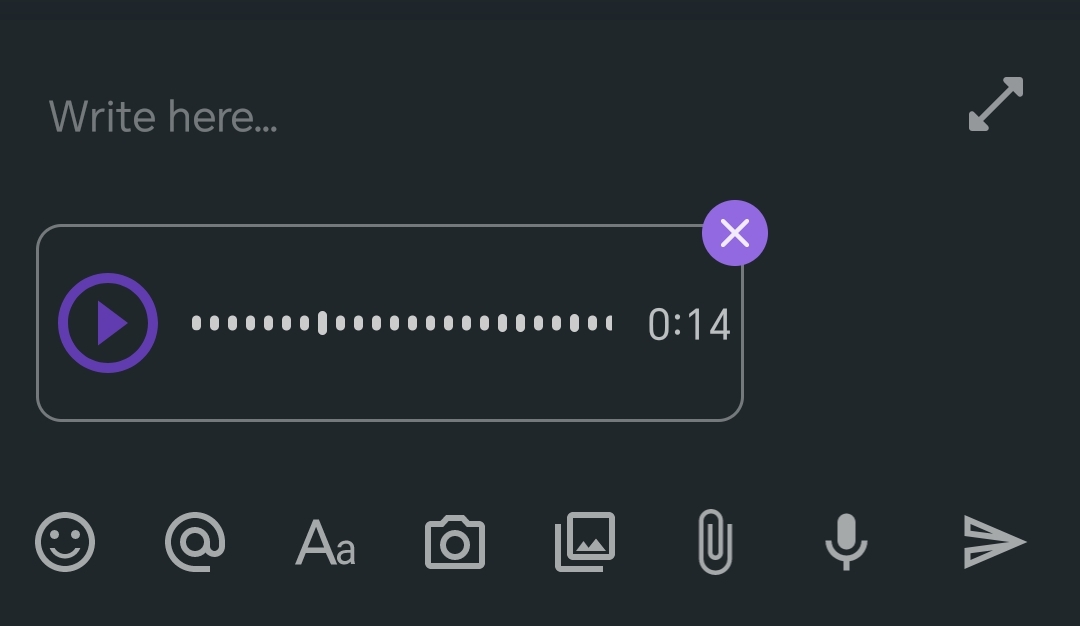 | Pumble's biggest pro | Pumble's biggest con |
| --- | --- |
| Free to use | No 'raise hand' option in calls |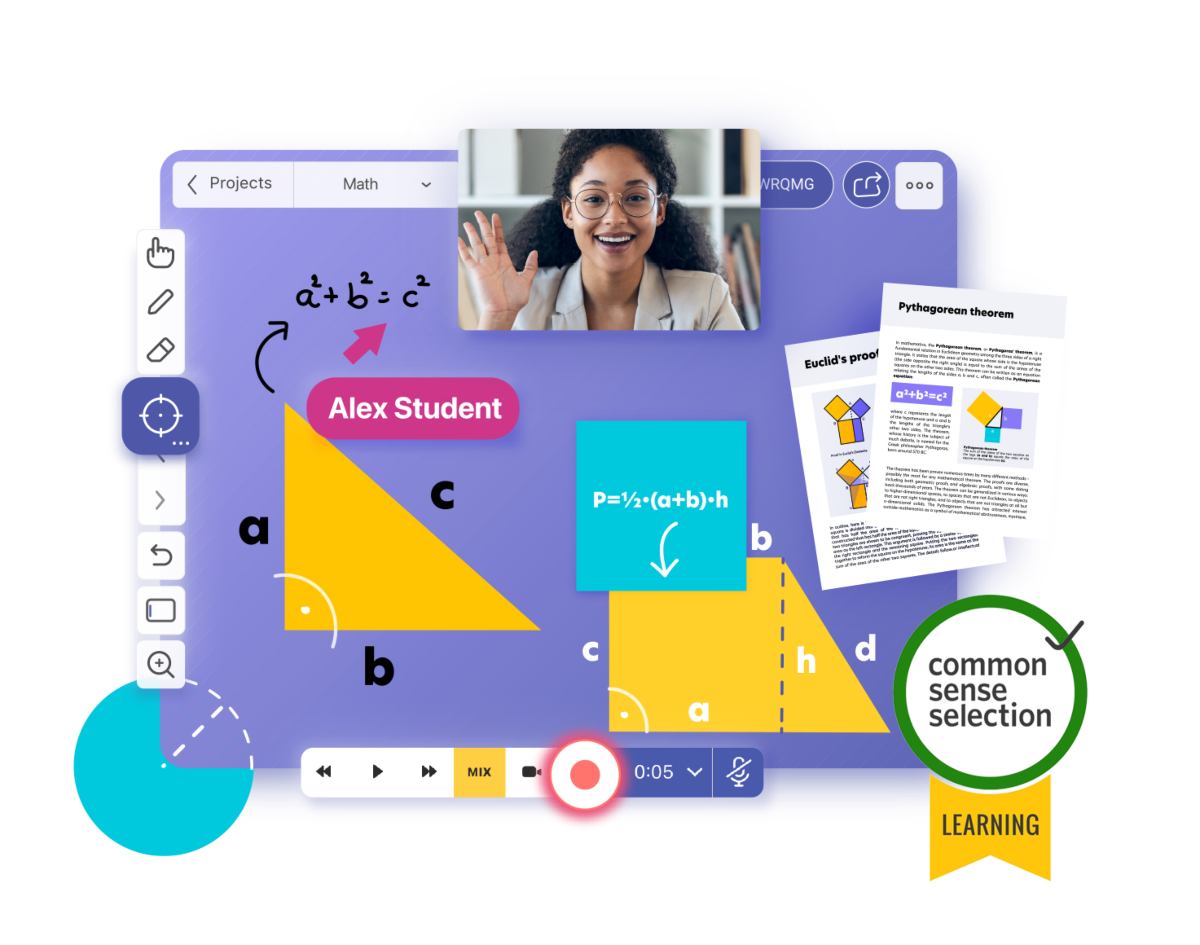 Working as a freelance tutor, you probably heavily rely on a tool that helps you present lessons to your students in a motivating and engaging way — and Explain Everything gives you just that.
Explain Everything works as an interactive digital whiteboard that lets you broadcast your lesson materials and collaborate with students.
It also comes with the option to:
Pre-record your lessons and include them in an interactive presentation, which comes in handy when students miss their class,
Insert videos, images, and audios into your lesson presentation,
Make custom animations for a more engaging online lesson, and
Collaborate and brainstorm with students on an infinite canvas, which turns mastering complex concepts into a joint effort.
Explain Everything also gives you the option to use ready-made images for your lessons, which cuts down the time needed to prepare lesson materials.
Explain Everything's highlight feature
The sketchnotes feature lets you make and animate your own sketches before class and gives visual learners the option to jot down important concepts during the lesson.
| Explain Everything's biggest pro | Explain Everything's biggest con |
| --- | --- |
| Multi-platform availability | Limited options on free plan |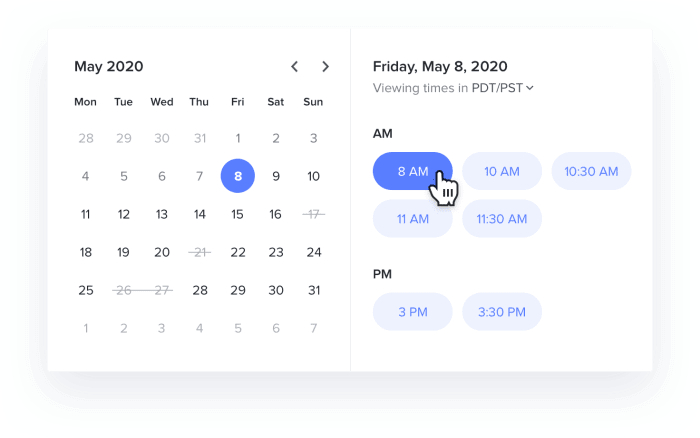 Reliable scheduling software plays a crucial role in ensuring each workday runs smoothly for freelance tutors, and this is exactly where Honeybook shines.
Honeybook is a robust scheduling tool tailored to help tutors manage their online classes and ensure their off-class communication runs as smoothly as possible.
Honeybook also lets you:
Manage student booking and issue questionnaires to make sure you've scheduled a perfect time slot for your lesson,
See exactly whether your students have confirmed the time slot and get reminders for the upcoming classes,
Showcase your availability so that your students are always aware of your working hours, and
Send invoices directly from the app to make sure you get paid on time.
Honeybook's highlight feature
Honebook's payment processor feature lets you receive payment for your services directly in the app, as well as track all the upcoming and processed payments.
| Honeybook's biggest pro | Honeybook's biggest con |
| --- | --- |
| Unlimited number of clients on paid plan | Costly for freelancing beginners |
💡 Clockify Pro Tip
If you're in search of a perfect tutoring platform or you're just looking for a place to advertise your online lessons, take a look at the list we've compiled:
Wrapping up: Fine-tune your freelance workday with the right tools
Searching for the perfect freelancing app might seem like looking for a needle in the haystack — especially given the number of tools available on the market.
However, the apps specifically designed for your line of work could be the ones that'll fit perfectly within your freelance workday and even help you build trust and credibility with clients.
Keep in mind that there's no such thing as one single do-it-all freelancing tool, so pick your favorites, give them a spin, and mix and match until you find the apps that work best for you.
✉️ What are your favorite apps? Which ones help you the most while working freelance? Let us know at blogfeedback@clockify.me for a chance to be featured in this or one of our other articles. Also, if you liked this blog post, share it with someone you think could benefit from it.