The best developer productivity tools
The ability to focus while designing, coding, or maintaining software is incredibly important for developers.
As a software developer, using the right productivity tools will help you:
Improve your performance,
Sharpen your time management skills,
Beat procrastination and distractions, and
Feel more content as a result.
To ensure you maintain your productivity levels high and increase your output, we'll go over the 25 best productivity tools you should try out. After that, you'll get a chance to find out more about how to measure developer productivity and practical tips on how developers can improve their productivity.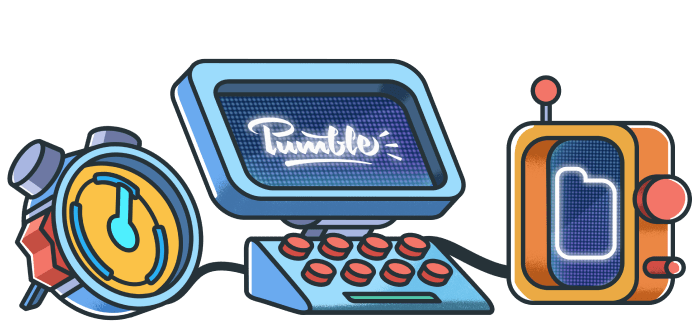 Habitica — gamify your goals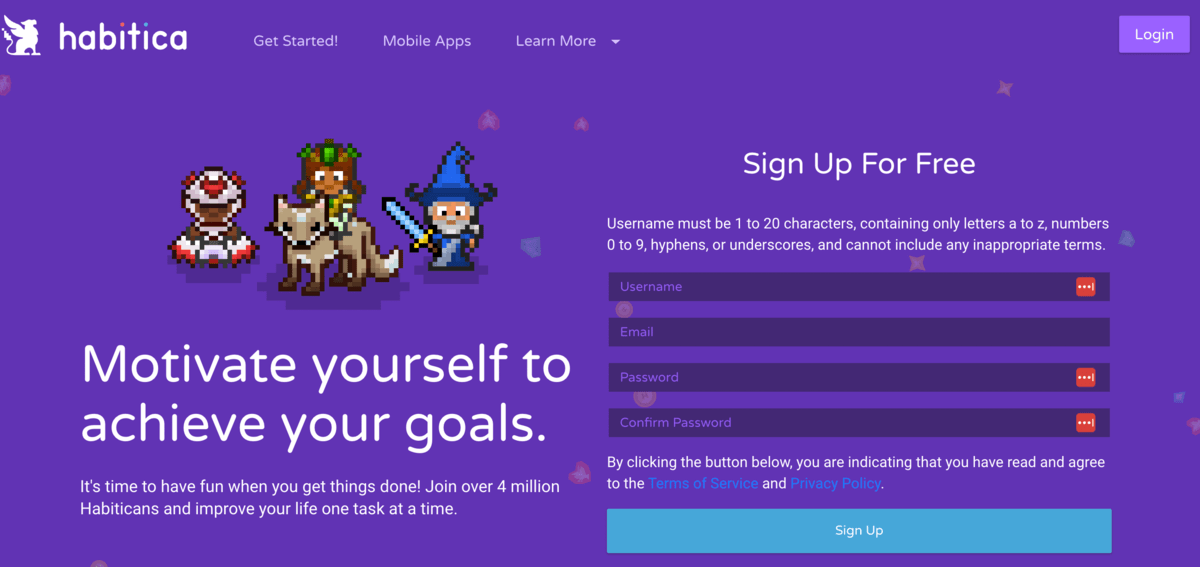 Apps that let you create to-do lists help you track the progress with your daily coding tasks, and Habitica takes this to a whole new level.
Why use Habitica?
This app actually treats your daily workload as a role-playing game where you can level up by completing your tasks. As you make progress with your work, you also find pets, collect coins and equipment, so there is a reward system to help motivate you to keep pushing forward.
How Habitica works
Once you sign in, you first have to create a character. You can then indicate:
Daily tasks — the ones you have to finish every day,
To-dos — the tasks you only have to complete once, and
Habits — everyday activities you perform, either good or bad. If you pursue your good habits, you gain rewards. If you pursue your bad habits, you lose health and mana (i.e., magic).
Unless you finish your tasks in a given time period, your character suffers damage.
Also, if you code in a team, you can try Habitica's guilds and group quests. You can add your entire project activities in a group quest, and link team member's tasks together. If you procrastinate and stop working on your own tasks, your team member's characters also take damage, so you'll learn to be more responsible with your share of the work.
Habitica is available for: iOS, Android
Suitable for: Everyone who needs help with increasing productivity and time management skills
| Habitica pricing | |
| --- | --- |
| Free trial | No |
| Free plan | No |
| Cheapest paid plan | $4.99 per user/month billed annually |
💡 Clockify Pro Tip
Read the following article that contains practical time management advice which may serve like a real lifesaver when busy schedules overwhelm you: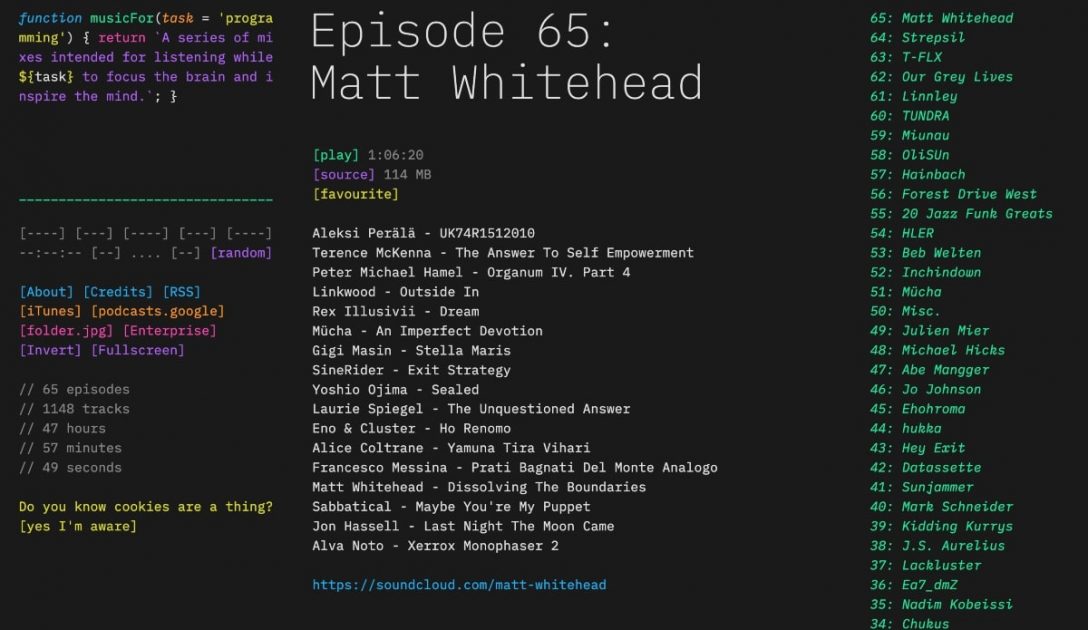 A collection of mixes created with programming in mind, to help with focus and boost output. The playlists vary in length, and most of them are instrumental, which is great, when you consider that one Middle State Tennessee University experiment proved that instrumental music is best to help you focus on work.
Why use musicForProgramming?
The musicForProgramming website is an interesting concept for a music generator meant to increase productivity. musicForProgramming offers the correct amount of cognitive load to occupy the areas of your brain that would otherwise be free to wander and cause distraction.
How musicForProgramming works
Its interface mimics a code editor — when going to the page to change the track, you'll be more likely to keep focus on your coding activities, because you'll visually link this website with your work.
musicForProgramming is available for: Web
Suitable for: Remote, virtual, and hybrid teams of all sizes, freelancers
| musicForProgramming pricing | |
| --- | --- |
| Free trial | No |
| Free plan | Yes |
| Cheapest paid plan | Free |
💡 Clockify Pro Tip
Do you find that you work better with some music in the background? Then check out our blog post that explains how music affects productivity and describes what music genres are best suited for certain types of work:
Pumble – communication platform for developers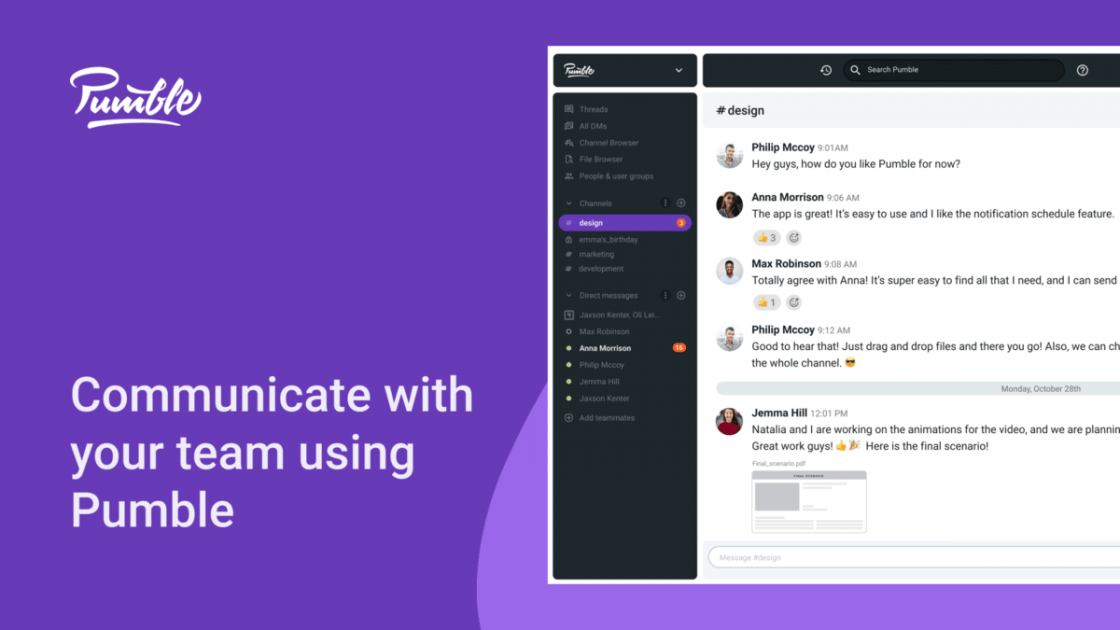 Pumble facilitates every software development process. Developers who cooperate on the same project can effectively exchange ideas and suggestions. This tool offers multiple methods for communicating with your team, whether you need a private chat session or support of threaded chats.
Why use Pumble?
Pumble is a business messaging tool for discussing features, issues, technology and other topics. Pumble arranges talks into direct messages and channels so participants can join to exchange ideas and reach decisions.
With Pumble's help, teams work more quickly and efficiently no matter where they are.
Pumble's message formatting allows developers to quickly exchange code in its original form, whether you need to extract and share a large code block or a short piece of code.
How Pumble works
You can use Pumble to connect to people in real-time by:
Sending direct messages,
Starting conversations in channels, and
Keeping track of what's essential to you.
As a developer working in a team, you surely want to help your teammates be more efficient and know which tasks are a priority. You can use Pumble to pin:
Bug reports,
Important messages, and
A client's comments and suggestions.
Moreover, there is also one cool feature – Guest access option. Use it to collaborate and communicate with the people outside your company.
Pumble is available for: Web, Windows, Linux, macOS, iOS, Android, Chrome
Suitable for: Remote, virtual, and hybrid teams of all sizes, freelancers
| Pumble pricing | |
| --- | --- |
| Free trial | No |
| Free plan | Yes |
| Cheapest paid plan | $1.99 per user/per month |
Plaky – task manager software for developers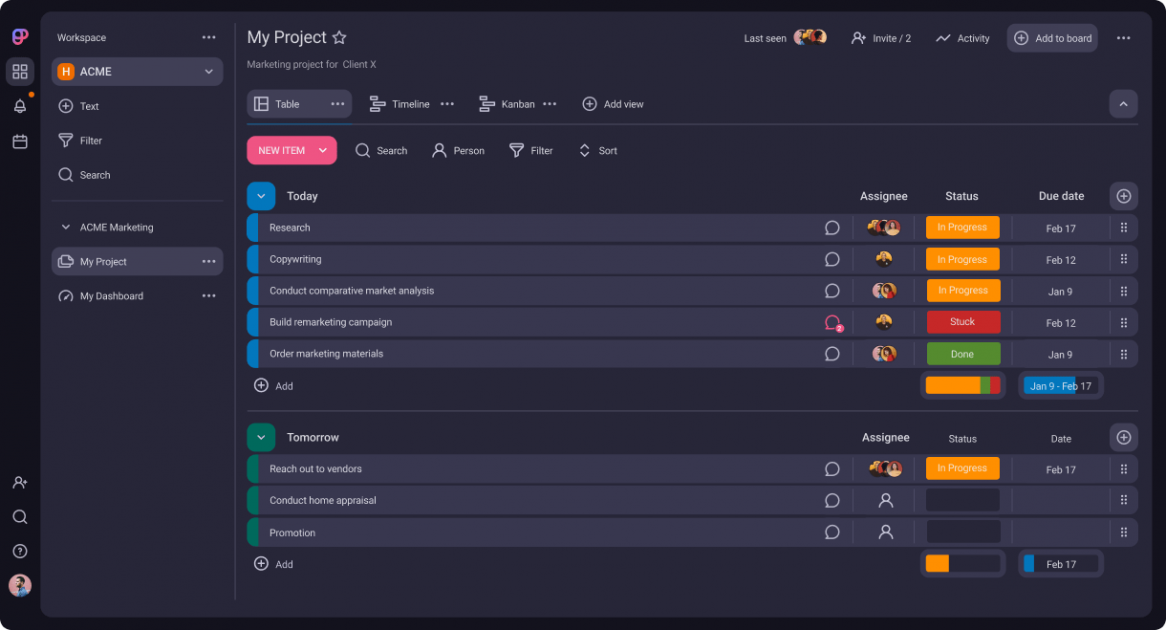 Plaky is a project management tool that provides developers with an easy way to track their own assignments and see what others are working on at the moment.
Why use Plaky?
Plaky is a project planning, management, and tracking application for developers with various practice demands and requirements. In order to focus on the tasks that are a priority, you can arrange your backlog tasks in order of importance.
With Plaky, you can maintain a neat and organized backlog to make it much simpler to complete each assignment.
How Plaky works
Plaky is great for software development teams that collaborate with different departments such as marketing teams and creative teams.
Plaky lets you do the following:
Monitor your and your team's tasks,
Prioritize backlog tasks,
Record and track bugs with Plaky's bug tracking templates, and
Plan a product roadmap.
Another feature worth mentioning is that Plaky enables you to add an unlimited number of users and projects, for free.
Plaky is available for: Web, iOS, Android
Suitable for: Remote, virtual, and hybrid teams of all sizes, freelancers
| Plaky pricing | |
| --- | --- |
| Free trial | No |
| Free plan | Yes |
| Cheapest paid plan | Free |
Clockify — best for managing and tracking time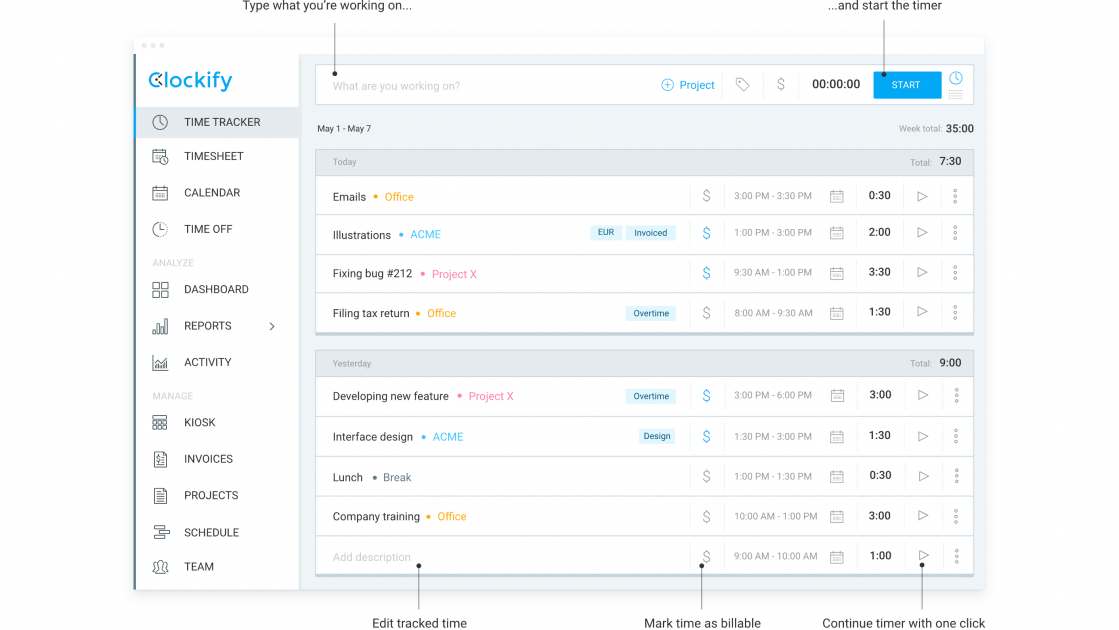 Tracking the time you spend on various programming activities is vital, and there is no better way to do this than turning to efficient and free time tracking software, such as Clockify. With Clockify, you can keep track of your working hours without wasting time on complicated procedures or paper timesheets.
Why use Clockify?
Clockify is primarily a work hours tracker that helps you:
Get data that shows how productive you are (weekly, monthly, or yearly), as well as
How Clockify works
Tracking time is easy and can be done with one click. Just type in what you're working on, and start the timer. When you click end, the timer adds your coding activities to a list of your time entries.
You can also add time manually and fill a timesheet at the end of the day so you know how much time you've spent on each project.
Later, you can analyze how much time you've spent on each project in reports.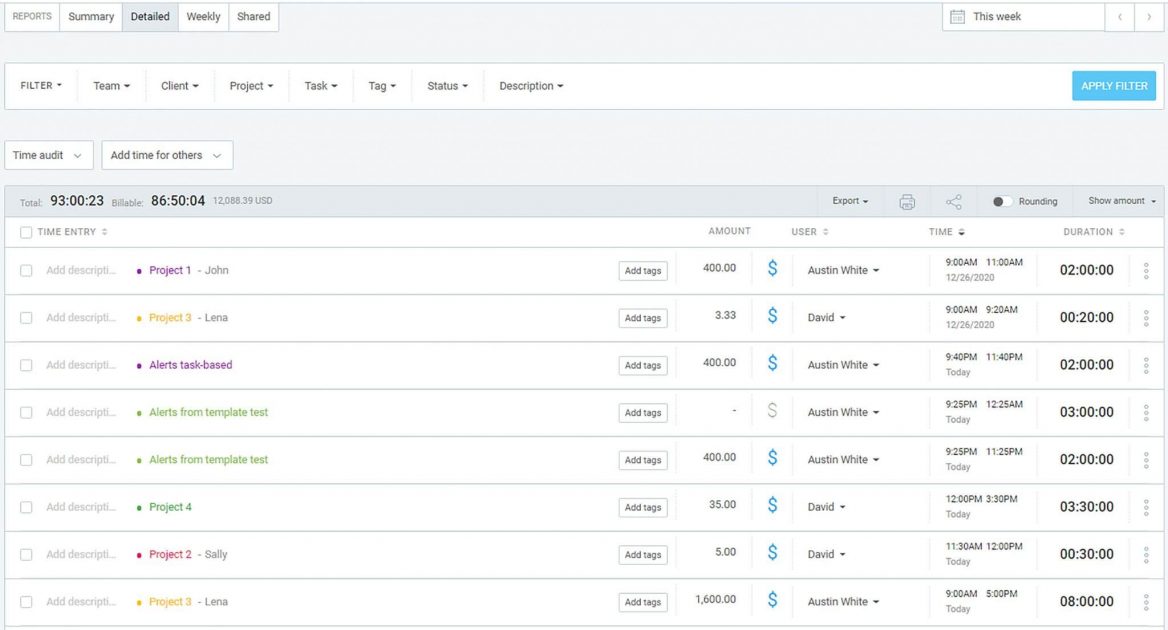 To make work more interesting (and more likely to hold your focus), Clockify can also help you gamify the process of coding. Just set estimates for each task, track time for them, and try to beat the estimated time in a race against the clock.
If you're a Mac user, you can implement the Pomodoro technique and make use of Clockify's Pomodoro timer, which you can choose in the apps' preferences. With this timer, you can set break time (considered important by various studies) and work time, and let the system remind you when it's time to focus on each.
Clockify is available for: Web, Windows, Linux, macOS, iOS, Android, Edge, Firefox, Chrome
Suitable for: Remote, virtual, and hybrid teams of all sizes, freelancers
| Clockify pricing | |
| --- | --- |
| Free trial | Yes |
| Free plan | Yes |
| Cheapest paid plan | $3.99 per user/month billed annually |
F.lux — adjust the lighting of your monitor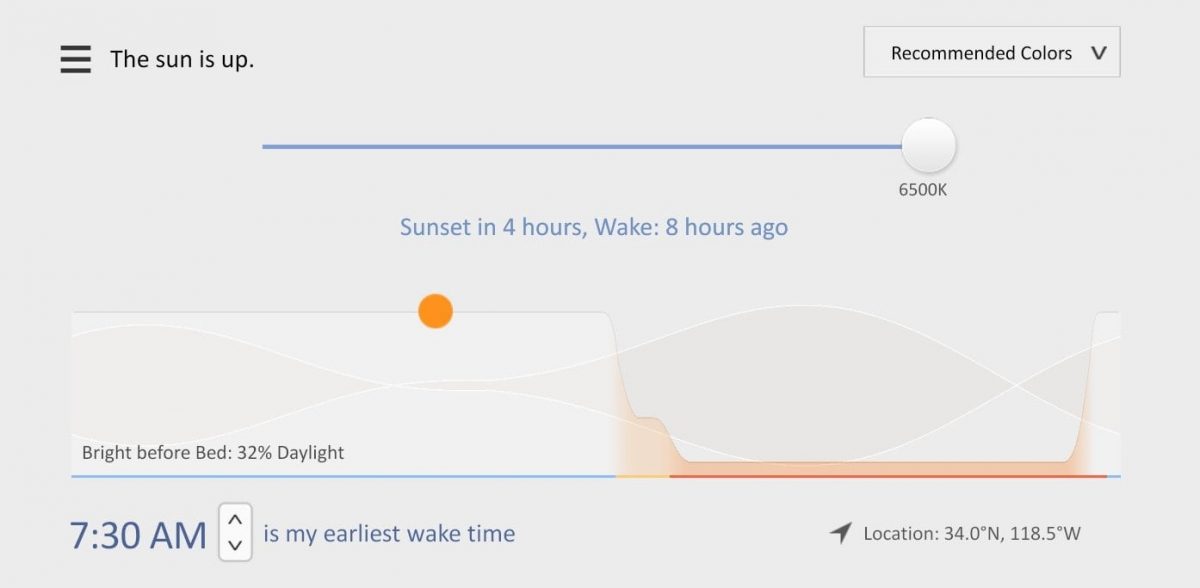 F.lux is a cross-platform that adjusts the color temperature of your display, to help your eyes rest, and ensure you can work on your programming tasks in a quality way, longer.
Why use F.lux?
F.lux follows the premise that warmer colors help you slip into relax and sleep mode faster, and that light-blue colors improve alertness. To maintain healthy sleeping patterns and productivity at the right times, simply adjust the settings to fit your work routine.
For example, if you work mainly at night, you can adjust the program to apply warmer colors later, and disregard the sunrise/sunset times of your location.
How F.lux works
The program adjusts the colors of your computer screen based on your location and the time of day. According to default settings, when the program detects it's nearing sunset in your location, the colors become warmer. As sunrise nears, the program returns the display's colors to usual settings.
F.lux is available for: Windows, Linux, Mac, Android, iOS
Suitable for: Remote, virtual, and hybrid teams of all sizes, freelancers
| F.lux pricing | |
| --- | --- |
| Free trial | No |
| Free plan | Yes |
| Cheapest paid plan | Free |
Scribe — detailed step-by-step guides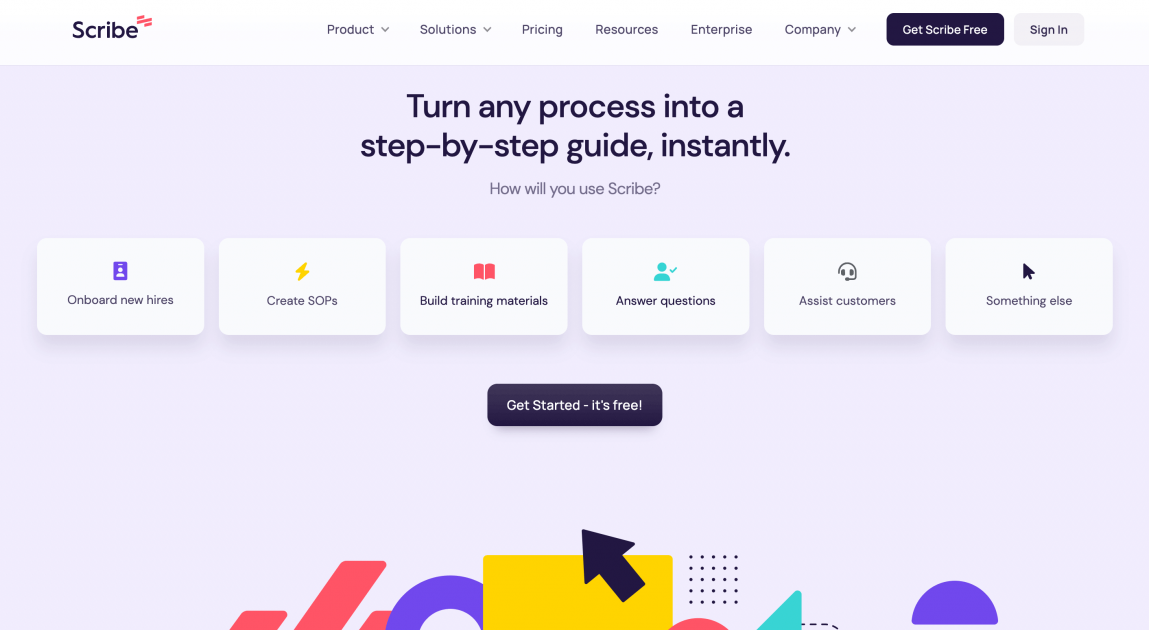 For any programmer that has to document how they built something or share documentation, Scribe is a time-saver. It captures your screen while you execute a process, then converts your clicks and keystrokes into screenshots and step-by-step instructions.
Why use Scribe?
Scribe automatically makes how-to manuals with:
Screenshots,
Directions, and
Clicks.
Scribe also simplifies the process of information sharing and work delegation. Many teams use Scribe to create SOPs (Standard Operating Procedures), software documentation, and help center guides.
How Scribe works
An individual Scribe can be shared to individuals via a link, or with entire teams within the app. They can also be embedded in a wiki, knowledge base, help center, or other platform.
Scribe is available for: Web, Chrome extension
Suitable for: Remote, virtual, and hybrid teams of all sizes
| Scribe pricing | |
| --- | --- |
| Free trial | Scribe offers a free trial of Pro plan |
| Free plan | Yes |
| Cheapest paid plan | $23 per user/month billed annually |
Soundtrack.net — the largest collection of soundtracks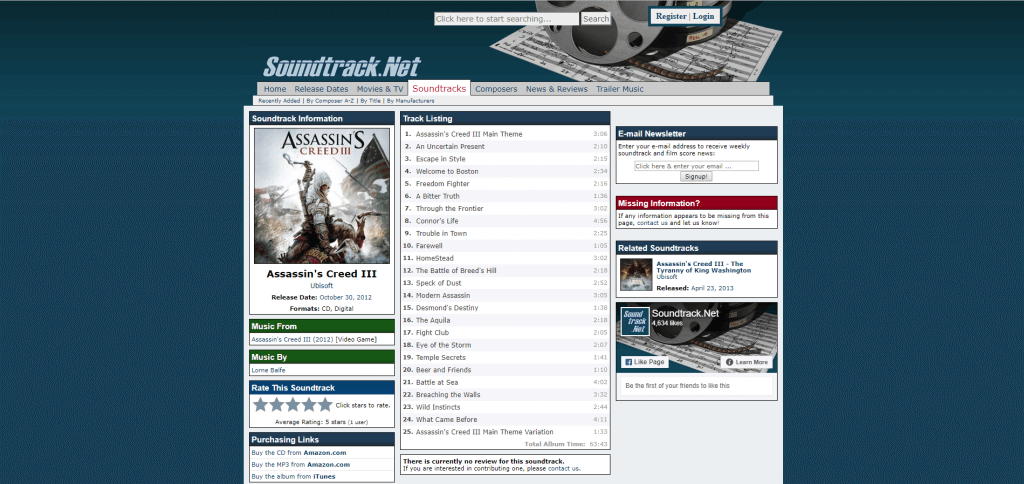 This website is a great resource for soundtracks you can listen to while programming, and it offers a large number of game soundtracks.
Why use Soundtrack.net?
Considering that music helps stimulate the brain, listening to music while working is likely to improve your performance. There are also various studies supporting the premise that game soundtracks are perfect for helping you focus on your work, and you can find this type of soundtracks up on Soundtrack.net.
How Soundtrack.net works
Soundtrack.net offers an extensive list of game, movie, and TV show soundtracks. And the best thing is that you can listen to music from newly released trailers and teasers.
There's also an option to enter your email address and receive weekly soundtrack and film score news.
Soundtrack.net is available for: Web
Suitable for: Remote, virtual, and hybrid teams of all sizes, freelancers
| Soundtrack.net pricing | |
| --- | --- |
| Free trial | No |
| Free plan | Yes |
| Cheapest paid plan | Free |
Intellij IDEA — make programming more enjoyable and productive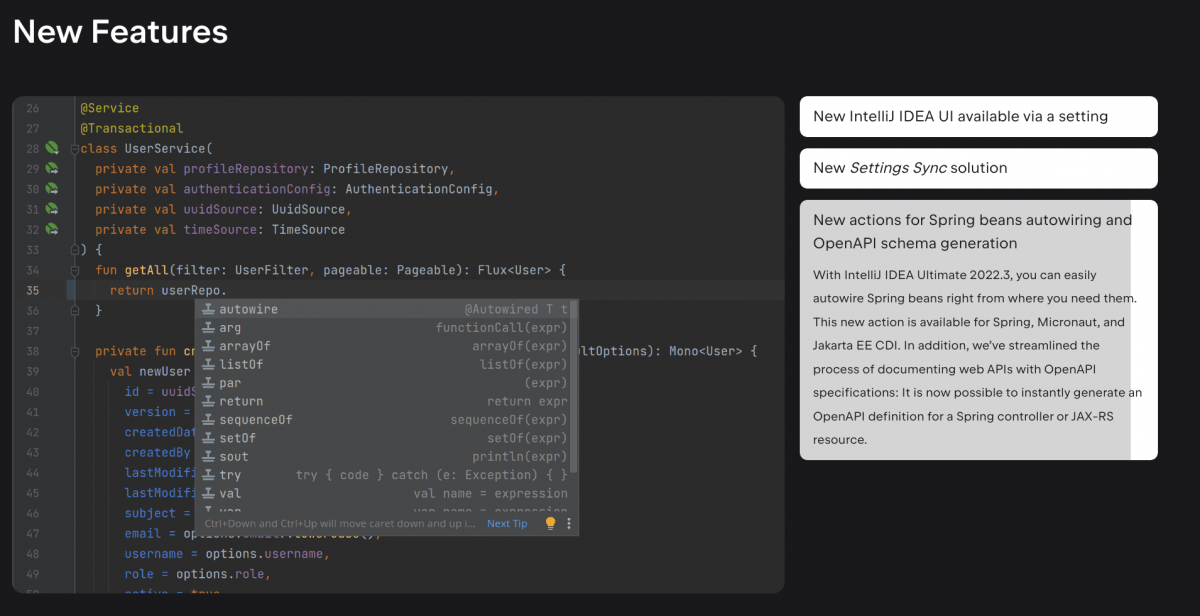 Intellij IDEA is a Java integrated development environment (IDE) that offers a number of functionalities meant to assist you in coding across various frameworks and languages.
Why use Intellij IDEA?
With this Java IDE, you can:
Build tools,
Decompile,
Run tests,
Manage schemes,
Run queries, and much more.
How Intellij IDEA works
Intellij IDEA offers easy access to all the functions and built-in tools as well as a variety of customization choices. Everything can be fine-tuned to support your productivity, including shortcuts, plugins, interface customization, and more.
Speaking of keyboard shortcuts, you can complete the majority of tasks in Intellij IDEA can be completed via these shortcuts, from examining recently used files to launching and troubleshooting projects. Double Shift (Search Everywhere) is one shortcut that works on all devices. What's more, Intellij IDEA enables you to locate almost any item inside and outside the project.
This tool can also analyze your code across various projects and languages, to find connections between them.
Intellij IDEA is available for: Linux, Mac, Windows
Suitable for: Remote, virtual, and hybrid teams of all sizes, freelancers
Intellij IDEA pricing
Free trial
Yes
Free plan
No
Cheapest paid plan
$ 149/1st year for individuals,
$ 499/1st year for businesses and enterprises,
50% for startups
Rainy Mood — rainy mood for sleep and study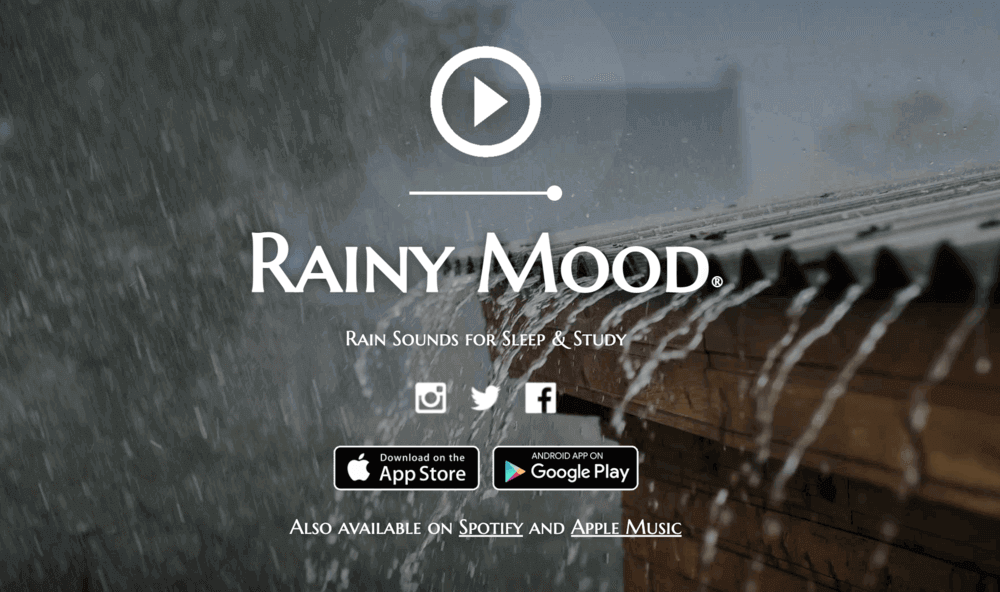 Listening to rain sounds found on Rainy Mood website during an important task boosts arithmetic ability and overall brain performance, according to a study.
Why use Rainy Mood?
If you work in an open office, but find any kind of music distracting to listen to via your headphones, you can try a simple noise generator. Rainy Mood is a straightforward choice, one that offers the soothing sound of falling rain.
How Rainy Mood works
This noise generator will provide you with endless sound of rain and thunder, that'll help you focus and prevent the office chatter from distracting you. This website also offers a different musician every day you can listen to along with the falling rain, but you can ignore this option.
The phone app offers 4 rain scenes you can choose from:
Countryside,
Ocean,
Café, and
Classic scene.
Rainy Mood is available for: Web, Android, iOS
Suitable for: Remote, virtual, and hybrid teams of all sizes, freelancers
| Rainy Mood pricing | |
| --- | --- |
| Free trial | No |
| Free plan | Yes, for a Web version |
| Cheapest paid plan | $2.99 for Android/iOS |
MantisBT — open source issue tracker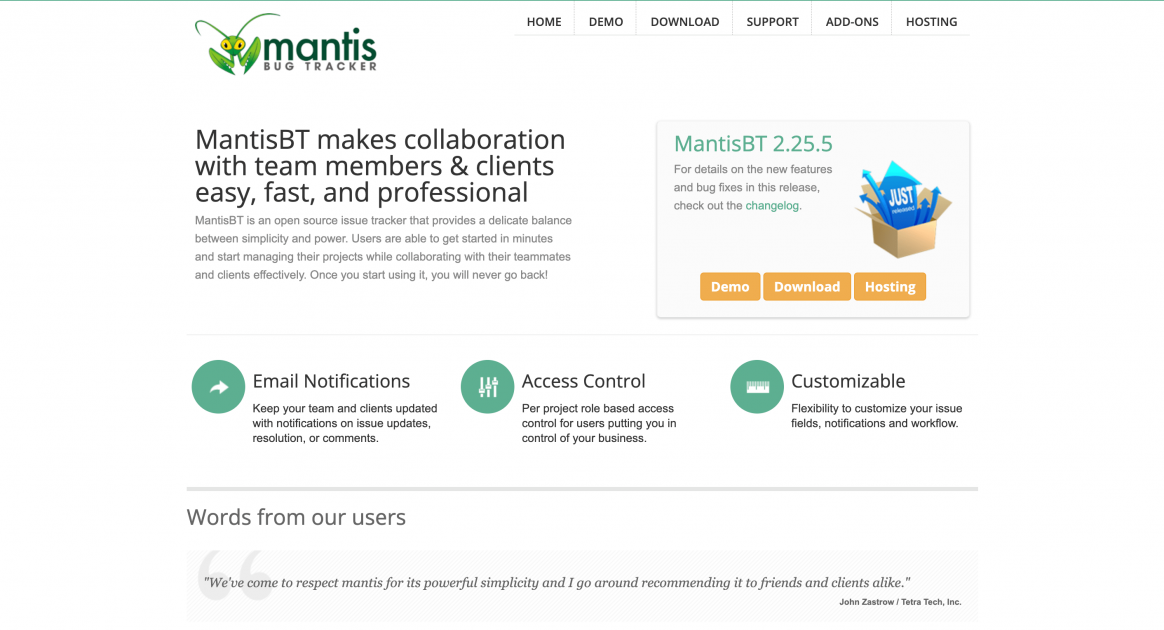 MantisBT is an open source, web-based solution for tracking bugs and issues, and is built on PHP. MantisBT has been in existence for over 15 years and provides an interface in 50 different languages. The software offers options for customizing the workflow for handling bugs and user roles.
Why use MantisBT?
Its main use is to track software defects and report them, but you can configure it so that it works like a project management tool and issue tracking system.
How MantisBT works
This bug tracking cross-platform sends updates to your team on issues, via email notifications. You can set what kind of issues you want MantisBT to notify you about, in terms of type and seriousness.
It records the changes made to issues, so you can easily track them down for analysis.
If you're interested in whether issues in the software you're developing are connected, MantisBT provides you with graphs that show relationships between them.
Some of MantisBT's unique features are:
Progress tracking,
Tagging,
Product roadmapping, and
Project time tracking.
Furthermore, role-based access controls are among the customisation options offered by MantisBT and can be used to authorize numerous users for a given project.
MantisBT is available for: Linux, Windows, macOS
Suitable for: Remote, virtual, and hybrid teams of all sizes, freelancers
| MantisBT pricing | |
| --- | --- |
| Free trial | Yes |
| Free plan | Yes |
| Cheapest paid plan | $4.95/monthly |
ClickUp — keep your work in one place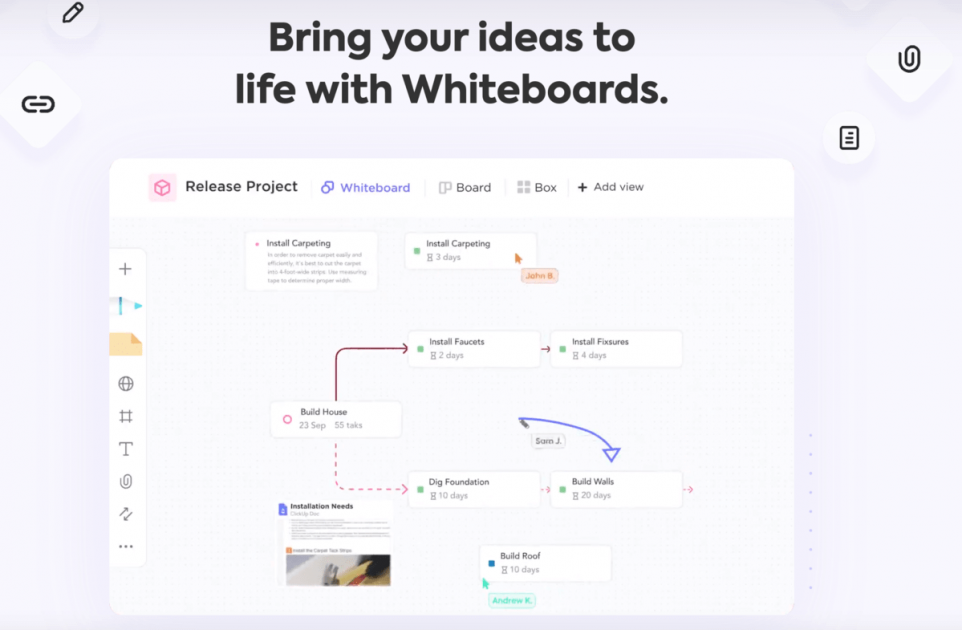 ClickUp is an all-in-one productivity app designed for all users — from solo programmers to large software development enterprises.
Why use ClickUp?
By using ClickUp, you and your team can:
Plan, monitor, and cooperate on any project,
Establish marketing campaigns,
Manage production sprints, and
Construct the ideal workflow.
Whether you use a traditional or agile project approach, this app provides an intuitive experience that lets you:
Manage your workload,
Track project updates, and
ClickUp offers customization options suitable for everyone. There are hundreds of functional and advanced tools to improve team communication.
How ClickUp works
ClickUp offers a user-friendly interface and a drag and drop functionality so you can focus on coding. With ClickUp you can:
Easily collaborate with your team,
Edit work simultaneously with your team members, and
Assign comments and tasks to each other.
Additionally, software teams can choose from 15+ customizable views (List view, Board view, Mind map, view, etc) and access Custom Fields and Custom Task Statuses to satisfy their unique workflow and sprint planning requirements.
Utilize custom Dashboards to provide real-time information to everyone at any time to reduce the number of update meetings, and connect ClickUp to over 1,000 work tools to streamline your team's workflow even further.
💡 Clockify Pro Tip
Check out how Clockify and ClickUp together can help you track your time more efficiently:
ClickUp is available for: Windows, macOS, Linux, Android, iOS
Suitable for: Hybrid, remote and virtual teams, and freelancers
| ClickUp pricing | |
| --- | --- |
| Free trial | No |
| Free plan | Yes |
| Cheapest paid plan | $5 per user/month billed annually |
Git — handle projects with speed and efficiency
Git is a version control system meant to track changes in computer files, and it's mainly used in source code management. It is an open source distributed system created to quickly and effectively manage projects of all sizes.
Why use Git?
Each member of the developer team gets a local copy of the development history, and the system documents and copies all changes across repositories. It operates locally, and one of its main draws is its speed.
How Git works
The Git feature that stands out the most is its branching model — use multiple branches for your ideas, test them, and easily backtrack if they don't work.
You can make use of the Git community, which is a rich resource of ideas, concepts, and useful patches.
Git is available for: Windows, Linux, Mac
Suitable for: Remote, virtual and hybrid teams
| Git pricing | |
| --- | --- |
| Free trial | No |
| Free plan | Yes |
| Cheapest paid plan | Free |
Focusmate — virtual coworking tool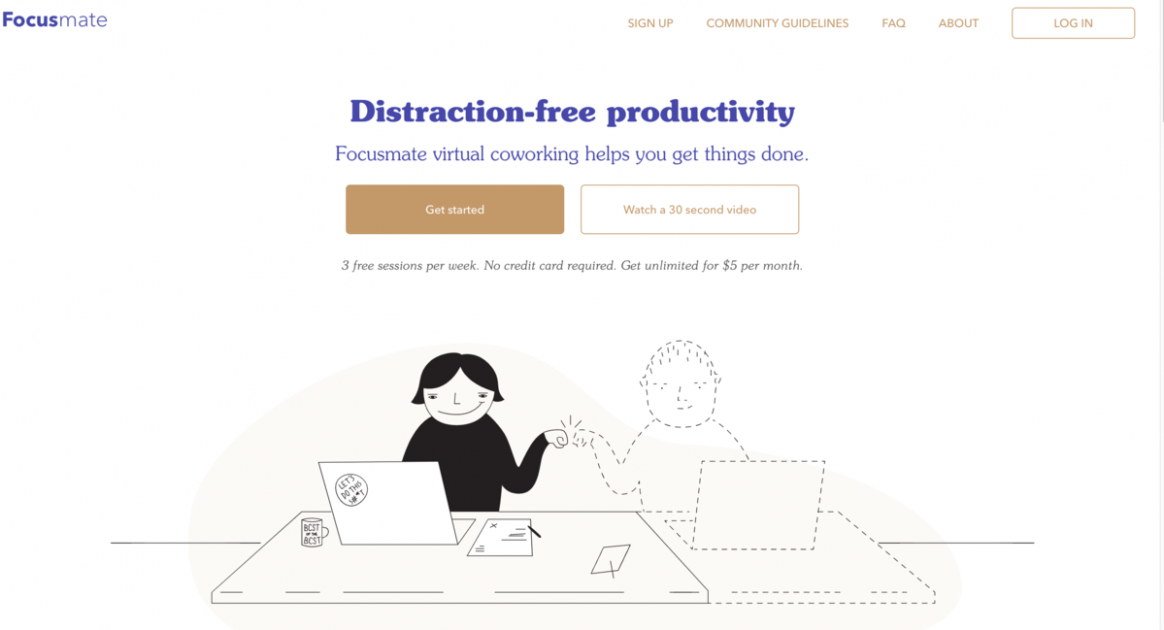 If you're a freelance developer worried that you're prone to procrastinating during the time periods when you should be coding, you can try Focusmate. This is a coworking virtual community, where you get assigned with a partner who makes sure you focus on your tasks.
Why use Focusmate?
This community bases its premise on scientific research, which states there are certain behavioral triggers (such as social pressure and accountability) that ensure people avoid procrastination when working in the company of other people.
How Focusmate works
Focusmate will match you with an appropriate work buddy once you select the time when you want to work and concentrate on your productivity. After that, you'll receive an email to confirm your session. When the scheduled time comes, you'll get to meet your virtual work partner in a live video session.
You can also join a Focusmate group on the Focusmate website.
These groups provide priority matching with individuals who share your interests, hobbies, and professions.
Focusmate is available for: Web (Chrome), Android (Chrome), iOS (Safari)
Suitable for: Teams, freelancers
| Focusmate pricing | |
| --- | --- |
| Free trial | No |
| Free plan | Free for 3 sessions every week |
| Cheapest paid plan | $5 per month billed annually |
AutoHotkey — scripting language tool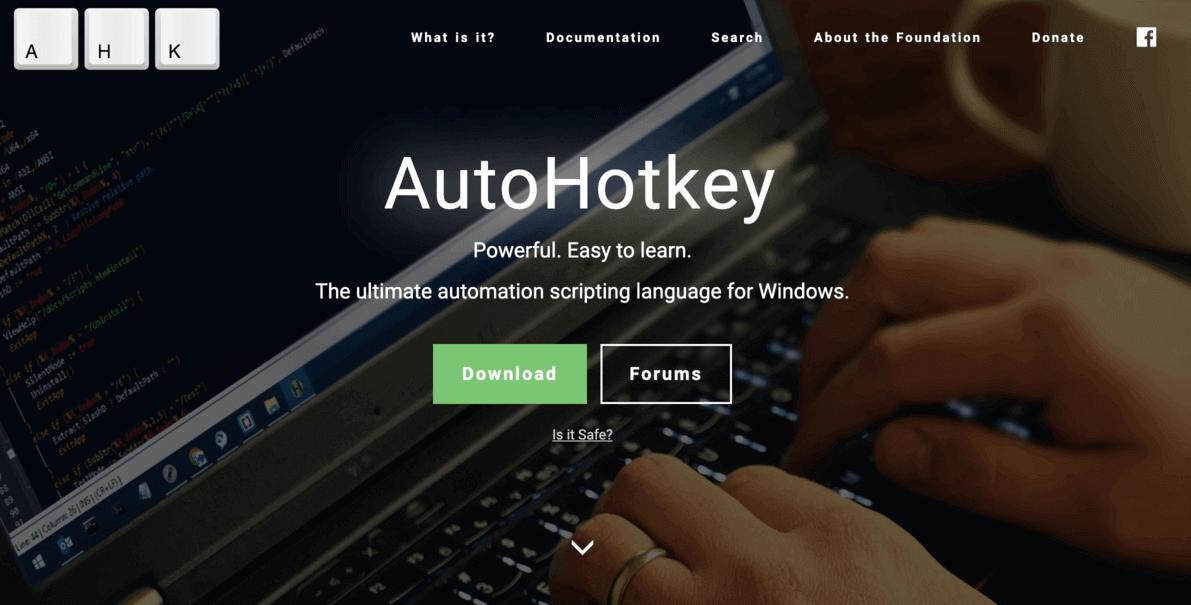 Being a keyboard wizard is essential for any developer, so learning how to use hotkeys for keyboard shortcuts is vital — it automates repetitive actions and saves you a lot of time.
Why use AutoHotkey?
If you're a Windows user, you can turn to AutoHotkey, a scripting language that helps automate recurring actions you have to undertake in Windows applications.
With it, you can manage files, folders, and windows, and perform various other actions that aid developer productivity.
There are a lot of hotkeys available, but you can start with the basic commands, and work your way up, for even faster performance.
How AutoHotkey works
You can use this beginner-friendly scripting language to:
Script keystrokes,
Script mouse clicks,
Open documents,
Start programs, and
Script menu selections.
All of the above can comprise a combination of actions you can use for graphic user interface testing or similar activities.
Additionally, variables can be set, retrieved, and changed in AutoHotkey scripts. You can also execute loops and change windows, files, and directories.
AutoHotkey is available for: Windows
Suitable for: Teams and freelancers
| AutoHotkey pricing | |
| --- | --- |
| Free trial | No |
| Free plan | Yes |
| Cheapest paid plan | Free |
Sublime Text — cross-platform code editor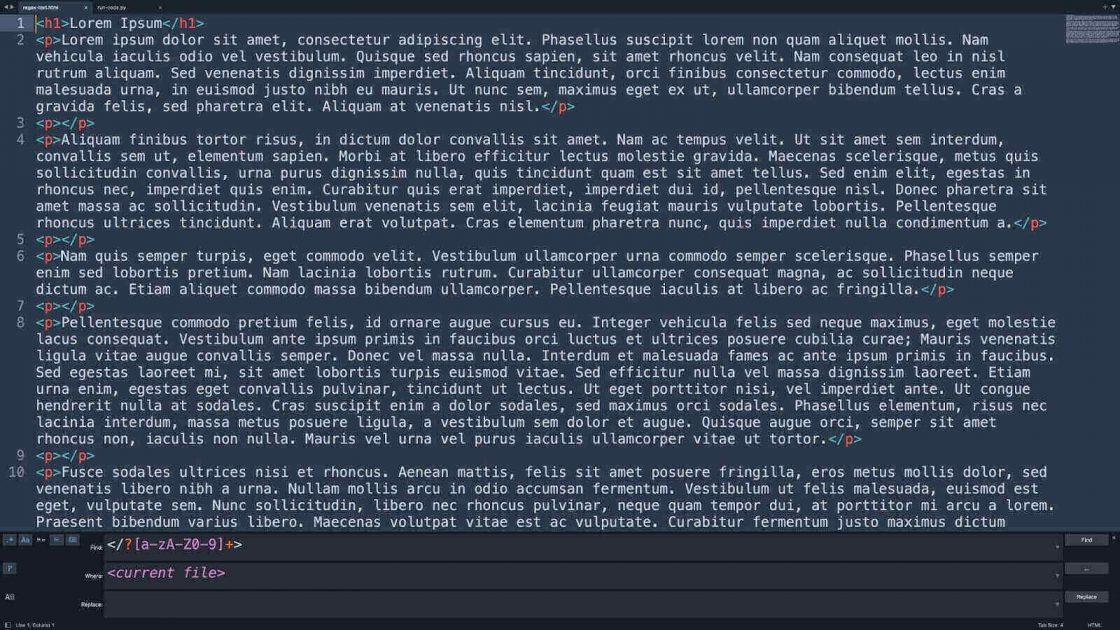 Sublime Text is a cross-platform code editor that supports various markup and program languages. Every developer aiming at productivity must work in a good code editor, and Sublime Text is a pleasing choice.
Why use Sublime Text?
With Sublime Text, you can:
Easily navigate through lines and files,
Make changes simultaneously to multiple areas of your code, and
Switch between projects in an instant.
This code editor even offers a distraction-free mode, so you no longer have to rely on your own willpower to avoid distractions when working. This mode shows your editor full screen, with all UI chrome features hidden.
How Sublime Text works
Sublime Text is a popular text editor that is used worldwide.
Some powerful capabilities are all packed into this tool:
Multi-line editing,
Building systems for many different programming languages,
Regex find and replace option, and
Python API for creating plugins.
Also, you can install plugins to enhance your work and improve productivity.
You can automatically format source code files by the plugin, which keeps code organized and standardized in terms of formatting. Emmet and Package Control are two essential plugins to take into account.
Sublime Text is available for: Mac, Windows, Linux
Suitable for: Teams and freelancers
| Sublime Text pricing | |
| --- | --- |
| Free trial | Yes |
| Free plan | No |
| Cheapest paid plan | $99 for first time users; $80 for an upgrade |
Codeanywhere — code, learn and collaborate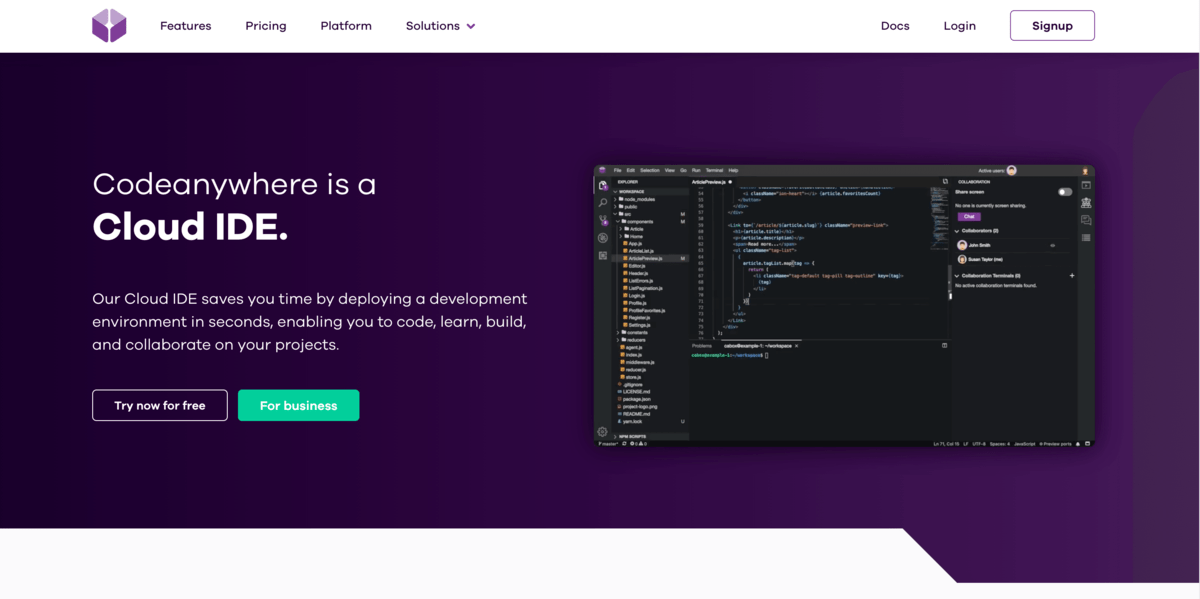 Codeanywhere is a cross-platform cloud integrated development environment. With this tool, users can:
Write,
Edit,
Collaborate on, and
Manage web development projects from a web browser or mobile device.
Why use Codeanywhere?
When developing software in a team, you'll need a straightforward collaboration program, so you can work on various parts of the code simultaneously. Codeanywhere lets you do just that, as it is a code editor that allows developers to code together in real-time, and finish more in less time.
How Codeanywhere works
Codeanywhere's features include:
Support for debugging,
Syntax highlighting,
Intelligent code completion,
Snippets,
Code refactoring, and
Embedded Git.
You can invite your collaborators, by sending them an URL link of the project. Moreover, you can determine the level of permissions for each team member, and invite as many programmers as you want.
Choose among many popular programming languages, and you'll get the corresponding syntax highlighting for it. You'll be able to see the cursors of your colleagues as they move in the editor, so you'll know where they are at any given time.
Users can link their Codeanywhere account with Dropbox and Google Drive, for an even faster sharing experience.
Codeanywhere is available for: Web, Android, iOS
Suitable for: Remote, hybrid and virtual teams
| Codeanywhere pricing | |
| --- | --- |
| Free trial | Yes |
| Free plan | No |
| Cheapest paid plan | $3.60/month for a two-year subscription |
RescueTime — track personal productivity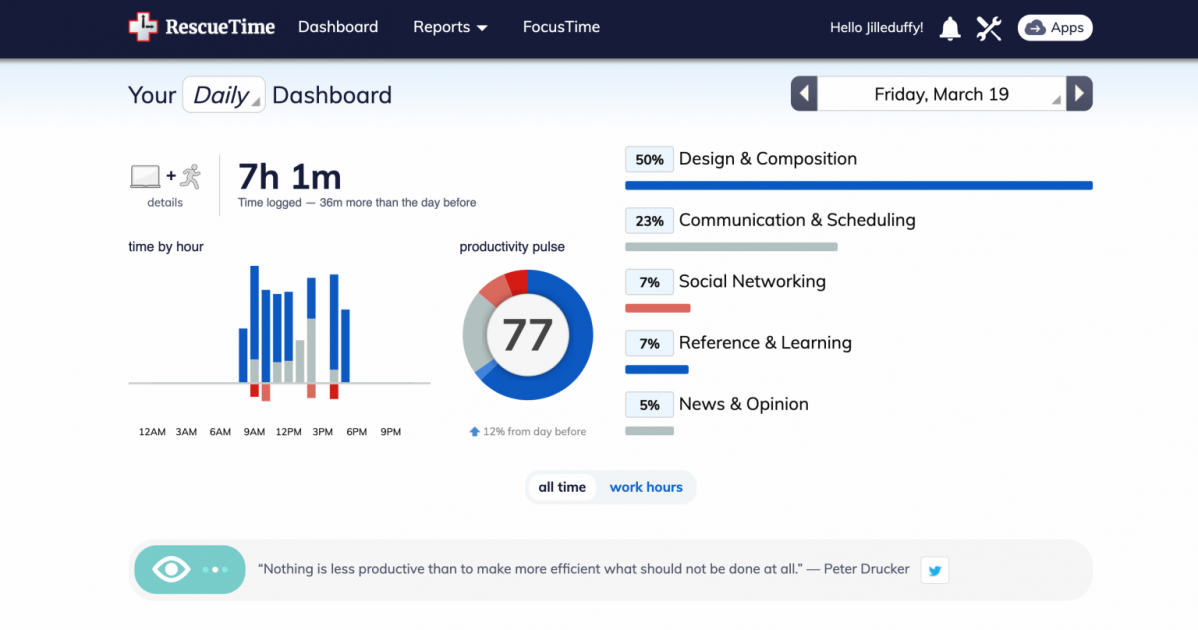 RescueTime is perfect if you're interested in how, for how long, and on what websites you procrastinate.
Why use RescueTime?
It's an automatic time tracker that measures how much time you spend on various software and websites, without you having to click anything.
You just install it on your computer, and each time you switch from one website or software to another, it automatically starts recording the time you spend on it.
Your account is set up based on your career or educational background. The app can start you out with a profile that fits the way you operate thanks to more than 13 years' worth of data.
How RescueTime works
Time data recorded by RescueTime is stored in the cloud, and you get reports on how much time you spend on time-consuming websites such as Facebook, Twitter, or Instagram.
This app lets you set an alarm that goes off after you've spent your limit for the day on a certain website. For example, you can set it so that it warns you when you've already spent 2 hours on Instagram.
RescueTime is available for: Windows, macOs, Linux, Android, iOS, Chrome, Firefox
Suitable for: Teams and freelancers
| RescueTime pricing | |
| --- | --- |
| Free trial | Yes |
| Free plan | Yes |
| Cheapest paid plan | $9/month or $78/year |
💡 Clockify Pro Tip
Did you know that RescueTime embraced the 4-day workweek? You can even set your work schedule to four days per week in your RescueTime account settings.
You can learn more about 4-day workweek, its pros and cons, how to implement it and 4-day workweek trial results here:
WakaTime — track your programming time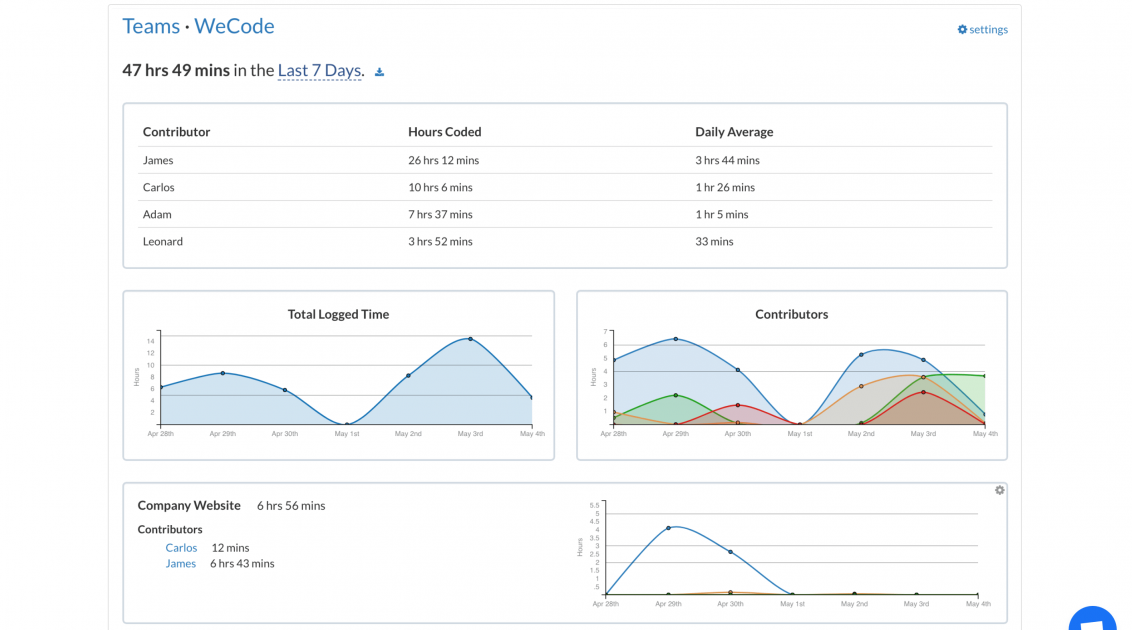 WakaTime is similar to RescueTime, only it automatically tracks the time you spend programming. Just focus on a code, and the program will track and record your start and stop times.
Why use WakaTime?
With WakaTime, you get fully automatic plugins, without having to worry about manual tracking. You'll be able to precisely determine how much time you spent coding and see the exact time spent per issue.
Considering WakaTime is primarily a coding productivity tracker, and that Clockify is primarily a work hours tracker, you can combine the two, to streamline your coding business. Once you have your WakaTime productivity results, just use this data to calculate payroll and billable hours in Clockify.
How WakaTime works
The program provides you with metrics on the time you spend on a particular file, operating system, branch, and language. You can also make use of the text editors and IDE plugins.
The Leaderboard option offers you a chance to compete with your programmer colleagues. Once you all enter the same Leaderboard, you'll be able to compare your coding time results and see who has the highest score in terms of:
Hours you've spent coding so far,
Daily average, and
The languages you've coded in.
WakaTime tracks only when you're typing in your editor. When you stop typing and when you're AFK, WakaTime stops logging your statistics.
WakaTime is available for: Windows
Suitable for: Teams and freelancers
| WakaTime pricing | |
| --- | --- |
| Free trial | For Team and Business plans |
| Free plan | Yes |
| Cheapest paid plan | $8.25 per user/month billed annually |
Todoist – to-do list app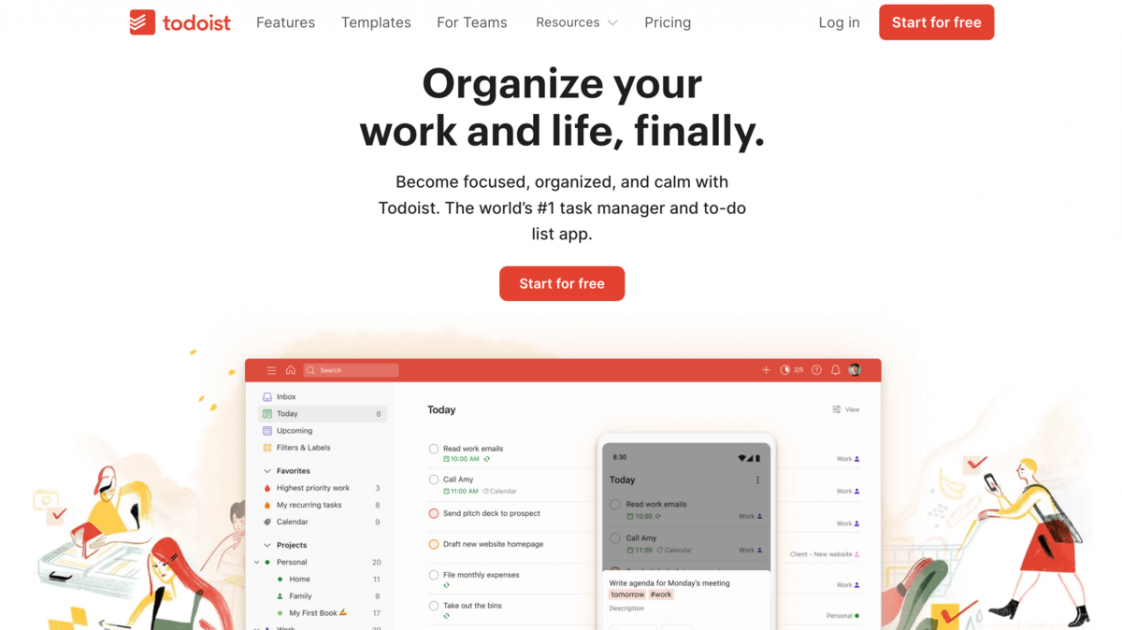 Developers can utilize the Todoist app to schedule their time, arrange their tasks and optimize their workflow.
This tool allows you to add tasks and their detailed descriptions that can even contain important links. You can also set deadlines for specific tasks.
Why use Todoist?
You can add tasks and execute them quickly with the assistance of Todoist. This app has a lot of helpful features. You can enhance your workflow by setting reminders and planning weekly tasks.
It also lets you:
Set due dates,
Keep track of your tasks,
Cooperate with your team by sharing your notes, and
Sync your tasks with your calendar.
How Todoist works
It's simple – just create a Todoist account and start adding new tasks, then focus on completing them. Once you mark each task as completed, you'll get that wonderful feeling of accomplishment. If you mark a task as completed by mistake, don't worry – you can always undo the action and get it back on your to-do list.
Todoist is available for: Windows, macOS, Android,iOS
Suitable for: Teams and freelancers
| Todoist pricing | |
| --- | --- |
| Free trial | No |
| Free plan | Yes |
| Cheapest paid plan | $4 per month, billed annually |
Cold Turkey — block distractions and boost productivity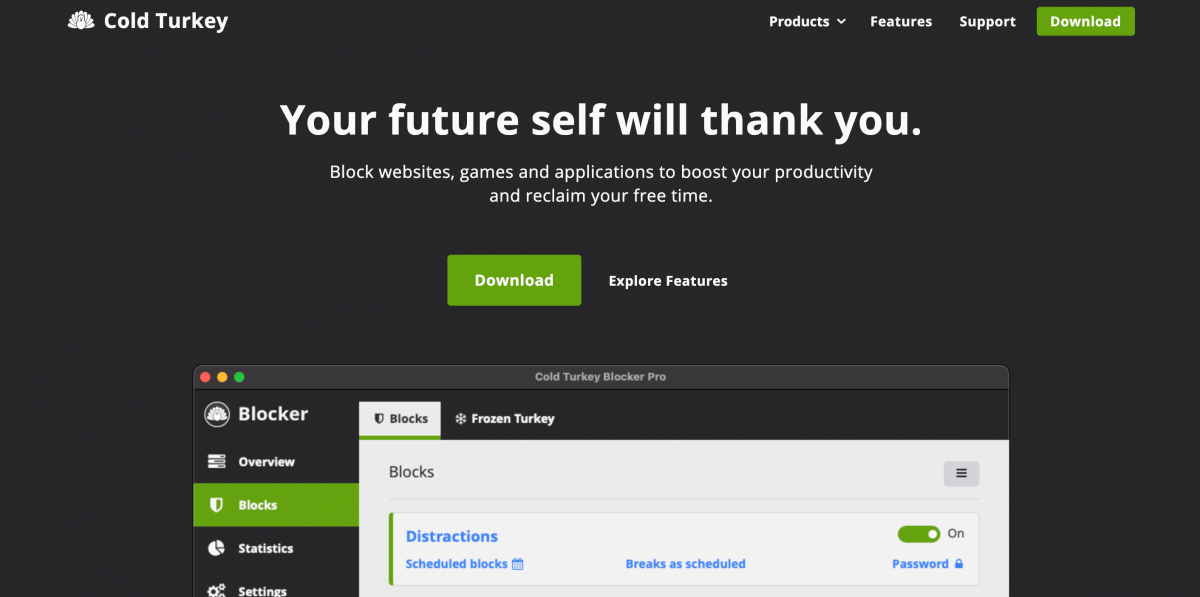 Cold Turkey is a distraction-blocking tool that encourages developers to stay focused on the task they're working on instead of wasting time on unimportant online activities.
Why use Cold Turkey?
Cold Turkey is perfect for beating distractions. Cold Turkey also increases efficiency at work and aids in the user's development of self-control practices.
With Cold Turkey, you can block:
Websites,
Domains,
Specific URLs, and
The entire internet.
How Cold Turkey works
Users can specify a blocking schedule after compiling lists of websites and desktop applications to ban. For instance, you may prevent access to social networking and video streaming websites throughout the working day.
As soon as the workday is over, you can ban work-related apps.
Cold Turkey also allows you to manually switch blocking on and off if you'd like.
Cold Turkey has two remarkable features:
A mode called Frozen Turkey. This mode completely stops you from accessing your computer. If you activate Frozen Turkey, your computer will lock again whenever you attempt to log in, and
Pause for a Cause. This feature allows you to donate to the World Wildlife Fund for a 10-minute break.
Just remember to include the websites you require under the website exclusions tab if you decide to restrict the entire internet.
There is an option that doesn't allow you to uninstall Cold Turkey before a blocking session is finished.
Cold Turkey is available for: Windows, macOS
Suitable for: Remote, virtual, and hybrid teams of all sizes, freelancers
| Cold Turkey pricing | |
| --- | --- |
| Free trial | Yes |
| Free plan | No |
| Cheapest paid plan | $39 (pay once, own forever) |
CodeSandbox.io — online code editor and IDE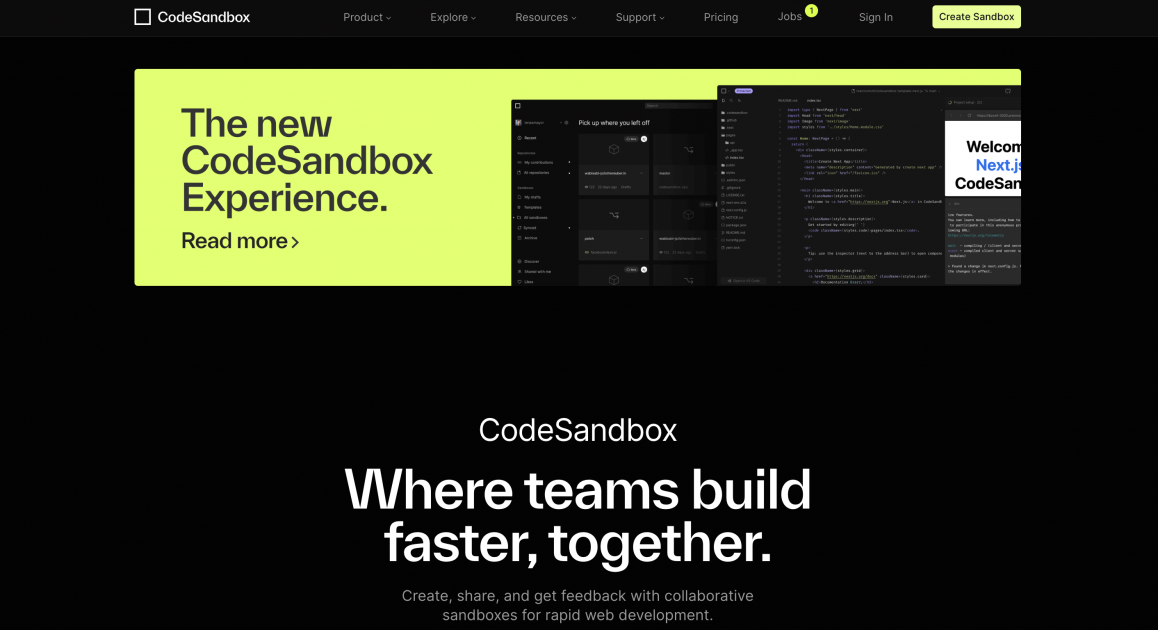 CodeSandbox.io allows you to write code and share it with your team. CodeSandbox.io was designed to make it easier for developers to publish their code and get immediate feedback.
Why use CodeSandbox.io?
CodeSandbox.io is a software development tool for team collaboration, and it uses templates to build new projects rather than requiring programmers to set up any infrastructure.
How CodeSandbox.io works
A cool feature thatCodeSandbox.io offers is a Live Session. You can start a Live Session while working in a sandbox (work environment). This creates a special URL that you can share with others to invite them to join your sandbox and collaborate real time with you.
You can also enable Classroom Mode as the sandbox owner, which lets you control who can change the sandbox and who can only watch it. This is especially helpful in workshops or other settings where more than 30 people are able to connect simultaneously.
CodeSandbox.io is available for: Web
Suitable for: Personal use, remote, virtual, and hybrid teams of all sizes
CodeSandbox.io pricing
Free trial
No
Free plan
Yes
Cheapest paid plan
$9 Personal Pro per user/month billed annually and
$15 Team Pro per editor/month billed annually
Notion — productivity tool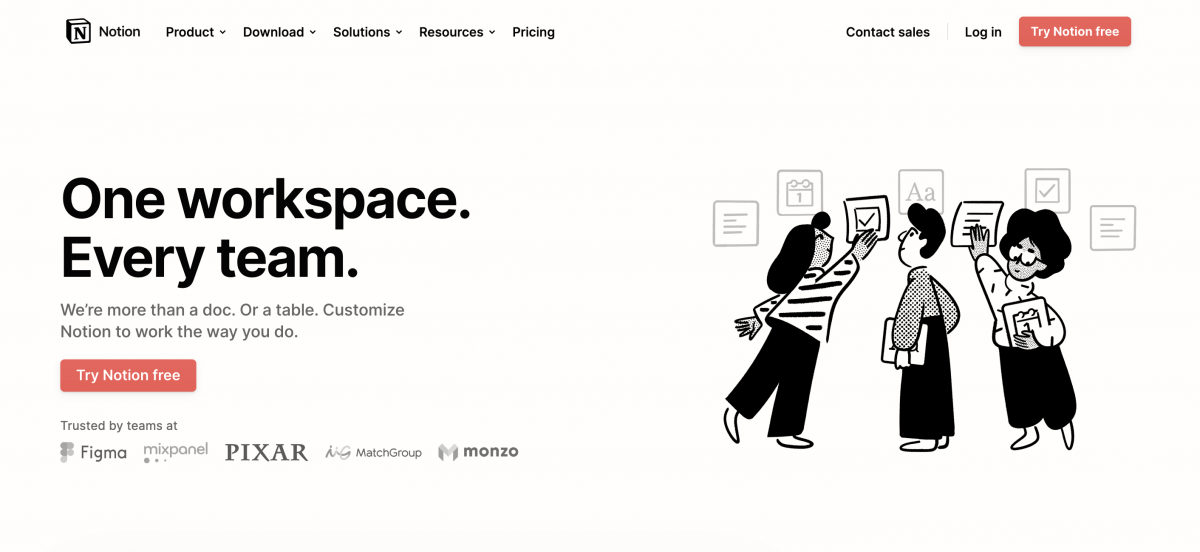 Notion is a productivity tool that you can customize so it fits your needs. It lets you take notes and manage your projects.
Why use Notion?
Notion makes it easy to:
Organize your work,
Manage files,
Save documents,
Make reminders, and
Plan tasks.
Notion can manage every component of any project your engineering team is working on. You spend less time switching between tools when working on projects with Notion because all deadlines and updates are displayed side by side.
How Notion works
This project management and roadmapping software makes it easy to gather all the necessary resources for a project in one location.
In Notion, you can create and distribute documents among team members. You can also mention coworkers and receive alerts for important tasks.
You can organize your folders and subfolders by using layers, then you can see all folders in the sidebar.
Additionally, Notion provides a web plugin that is useful for saving links so you can access them later.
Notion is available for: iOS, Android, Windows, macOS
Suitable for: Remote, virtual, and hybrid teams of all sizes, freelancers
Notion pricing
Free trial
No
Free plan
Yes
Cheapest paid plan
Personal Pro $4 per month billed annually and
Team $8 per user/month billed annually
Toby — tab-organizing tool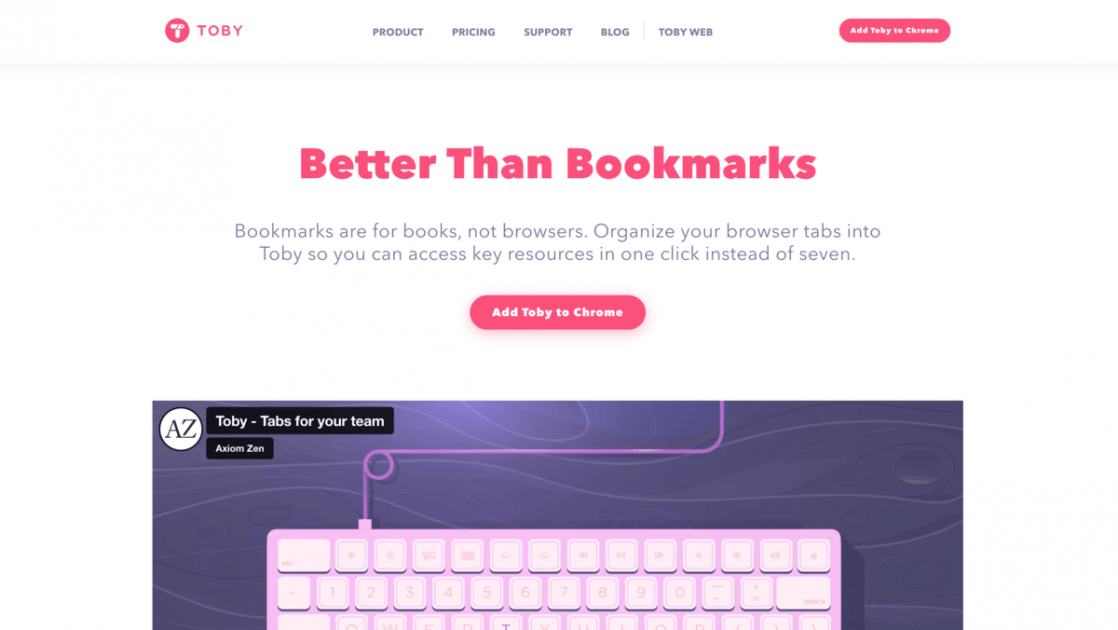 Everyone knows what it's like — unintentionally closing all of the open tabs has probably happened to you at some point. Or you misplaced them in the cluttered bookmarks tab.
Toby is an app that can help with that because it allows you to manage several tabs at once and group them into accessible collections.
Why use Toby?
With Toby, you can keep the tabs you actually need open in one window. You can also save your browser session with just one click and reopen it when you're ready to continue working. You can access everything you searched for in a single click.
How Toby works
Toby makes it easy to join a team and have access to the organization's pooled knowledge. You can even make customized lists for the topics you frequently search on the Internet.
Apart from this Toby allows you to:
With a single click, save and launch browser sessions,
Find any webpage in any collection,
Dial quickly to apps and web pages, and
Access any page by right-clicking.
Toby is available for: Chrome extension, Web
Suitable for: Remote, virtual, and hybrid teams of all sizes, freelancers
Toby pricing
Free trial
No
Free plan
Yes
Cheapest paid plan
Free for individual use.
Teams and enterprises should contact Toby's support team regarding the information on prices.
Brain.fm — science-backed music for productivity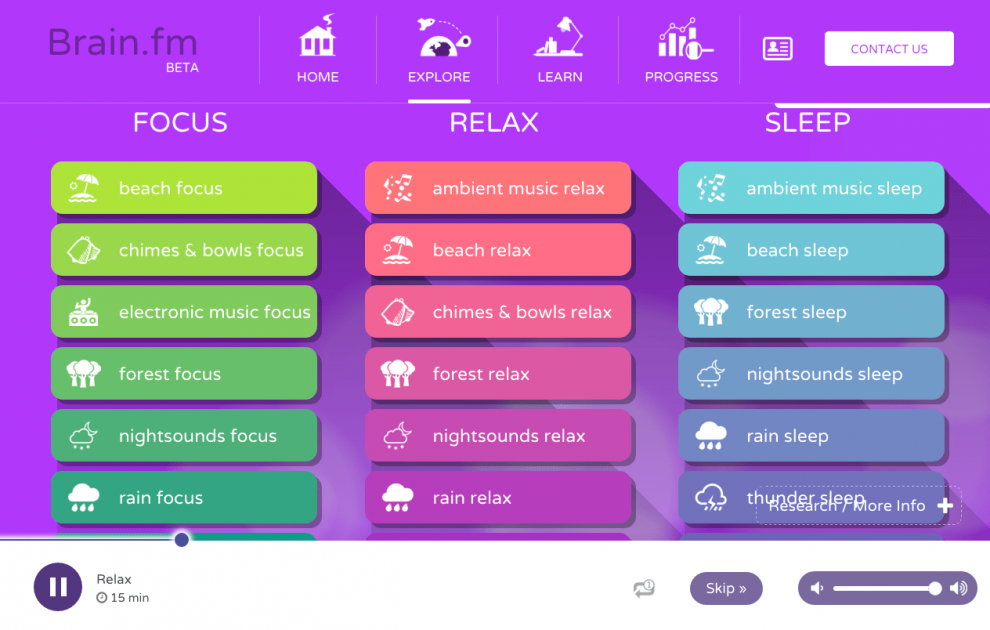 With Brain.fm you can listen to music that helps you concentrate, which leads to increased performance. Since you can concentrate on your coding without any distractions, you won't have to worry about being unproductive. Brain.fm lets you get work done in a calming and stress-free environment.
Why use Brain.fm?
Developer's work may sometimes seem dull, especially when it comes to repetitive tasks. That's where Brain.fm comes into play. Music makes it easier to complete repetitive tasks and increases the overall productivity of your brain.
Moreover, when you are focused, you're able to complete deep work tasks, which are vital because they bring value and help you enhance your skills.
How Brain.fm works
Music, such as that found on Brain.fm, stimulates both of the brain's hemispheres equally, according to a NCU study, which in turn enhances your mental focus.
Some of the Brain.fm's key features include:
Rhythm for training your brainwaves,
Neural phase locking for enhanced mental activity,
Limitless number of music pieces, and
Music with soft, rhythmic pulses that helps you stay focused.
Another cool PRO feature is that you can download any track for offline playback, via the app for iOS and Android.
Brain.fm is available for: Web, iOS, Android
Suitable for: Everyone who needs help focusing on their tasks
| Brain.fm pricing | |
| --- | --- |
| Free trial | Yes |
| Free plan | No |
| Cheapest paid plan | $4.16 per month billed annually |
How to measure developer productivity?
Now that you've found the right tools to help you improve productivity, let's see how you can measure productivity as a developer.
One of the ways to do this is to try the SPACE method.
The creators of the SPACE framework are Nicole Forsgren, along with other researchers from Github, Microsoft, and the University of Victoria.
SPACE is the acronym which stands for:
S: Satisfaction and well-being,
P: Performance,
A: Activity,
C: Communication and collaboration, and
E: Efficiency and flow.
This model aids in offering a comprehensive perspective of developer productivity and equips managers with the resources to analyze changes in productivity.
Let's get to know each pillar.
Productivity metric #1: Satisfaction and well-being
Developer satisfaction, as a productivity element, shows how content developers are regarding their work, team, tools, or workplace culture.
Well-being is the level of developer's happiness and health.
When evaluating satisfaction and well-being, you can better understand and perhaps even forecast developer productivity. According to research results published by Forbes, satisfied and happy employees are 20% more productive in the workplace, unlike their unhappy coworkers.
The following 3 key questions can help managers to assess happiness and wellbeing of the developers in their team:
Are workers content? Would they recommend their job to others?
Do workers have the equipment and resources needed to carry out their tasks?
Are they worn out by high levels of work stress?
Productivity metric #2: Performance
Developer performance depends on their efficiency and effort in the workplace.
Due to the fact that business results frequently cannot be linked directly to developer output — because other factors, such as sales, marketing, and customer satisfaction, are involved — evaluating and tracking a developer's performance can be challenging.
💡 Clockify Pro Tip
Take a look at an employee performance calculator that will ease the process of evaluating workers:
Productivity metric #3: Activity
Developer activity is the total number of actions or products developers produce while working, such as writing code for new features or developing automated tests.
Activity metrics only give a limited representation of developer productivity — depending on how intricate and complex a task is, the amount of time required to complete it might vary. As a result, some tasks may need a developer to spend more time than others.
In her YouTube video, Nicole Forsgren also discusses how it can be challenging to quantify developer activity due to factors like overtime, inconsistent work schedules that cause gaps in the data (missing data when it comes to coding time and number of lines of code), and even support systems and tools.
💡 Clockify Pro Tip
With Clockify's overtime tracker you can automatically and accurately monitor the work of your employees:
Productivity metric #4: Communication and collaboration
For the best level of productivity, developers must successfully interact and communicate with each other. Inherently creative, software development calls for ongoing input and brainstorming within teams.
Moreover, team communication improves productivity, builds confidence among colleagues, and raises morale. More productive teams can:
Concentrate on significant matters,
Develop innovative solutions,
Hold fruitful brainstorming sessions, and
Reach better conclusions.
According to the SPACE framework, the metrics listed below may be taken into account when assessing communication, collaboration, and coordination:
Accessibility to knowledge and documents needed for efficient developer work,
How fast the integration of work is,
Metrics that display how team members are connected to each other, and
Time spent onboarding new members.
Productivity metric #5: Efficiency and flow
A developer's capacity to finish tasks with few disruptions and delays is what efficiency and flow are all about. Managers can evaluate how effective the completion of tasks is by monitoring delivery timelines.
A delivery timeline outlines each step required to complete a project — from project kickoff to project delivery.
The following metrics can be used to measure efficiency and flow:
Time measures — total time, value-added time, and wait time,
Interruptions — interrupted activities, duration, and frequency of interruptions, and
How manageable it is for the developers to stay focused and complete their work.
To track time spent working, both managers and programmers can rely on Clockify — an app that enables automated and accurate time-tracking.
💡 Clockify Pro Tip
Learn more about capacity management and how can it help your business grow:
How can developers improve productivity?
Apart from using the aforementioned apps that can help you stay concentrated and productive, here are some ways to enhance productivity even more.
Tip #1: Improve your hard skills
Improving your knowledge may seem like a clichéd suggestion, but it's valid and effective. You must broaden your professional knowledge and so-called hard skills to be a productive developer.
Hard skills enable you to handle tasks and obligations that are job-specific. These abilities are related to particular processes and tasks, such as using tools, equipment, or software. Hard skills can be picked up through formal education, on-the-job training, and internships.
The following are some examples of hard skills for developers:
Data structures and algorithms,
Database and SQL,
Object-oriented programming languages,
Integrated development environments,
Cloud computing,
Web development, and
Git version control.
If you want to keep your brain sharp and productive, you have to stay a life-long learner.
Tip #2: Set an optimal environment for working
Every developer's ideal workspace most likely looks different. But keeping your workplace free of distractions and pleasant to work in is vital.
Moreover, the proper hardware is highly relevant in your working environment. Equipment is important for all IT workers' workspace comfort and productivity, but it is crucial for developers.
💡 Clockify Pro Tip
Find out how to improve your focus and avoid distractions:
Tip #3: Set rational deadlines
In order to set rational deadlines, you must first determine the scope of the project. Deadlines are great if they inspire a team, and assist in work planning, prioritization, and dependency management. 
However, sometimes deadlines can become stressful and have a negative effect on focus. Research from the Journal of Consumer Research found that deadlines are stressful precisely because they are time-driven. 
When you have a deadline that is still far off, you frequently feel compelled to put off working hard. Gradually, you'll feel the tension building as the deadline approaches, which is frequently not the ideal way to work.
When establishing deadlines, it's important to give a realistic estimate of how long the activity will take, account for potential bugs and obstacles, and other priorities that may emerge.
💡 Clockify Pro Tip
Did you ever have a week to complete a task that you could easily finish in a day? You probably stretched it out and procrastinated unnecessarily.
Did you know that this is called Parkinson's law? Read more about this law and find out how to avoid such behavior.
Wrapping up: Improve developer productivity with appropriate developer tools
Your skill as a programmer is reflected not only in the code you write but also in the tools you pick. Maximum productivity should be your aim as a professional, and you'll need the correct equipment to get there. Make use of the said tips together with the apps that we listed in this article as a starting point, and watch your productivity increase!
✉️ Are you a developer willing to share your experience with the apps mentioned in this article? Or maybe you could recommend some other useful tools for developers? Do you have any other tips on improving developer productivity? Write to us at blogfeedback@clockify.me for a chance to be featured in this or one of our future articles. Also, if you liked this article, share it with someone else you know will find it useful.