How to Choose the Best Time Tracking Software
Understanding the importance of time and utilizing it efficiently is crucial to developing a business. No matter the size of the business, every owner and manager should consider tracking both the time it takes to finish assignments and employee attendance.
The modern way to do it is to invest in time tracking software.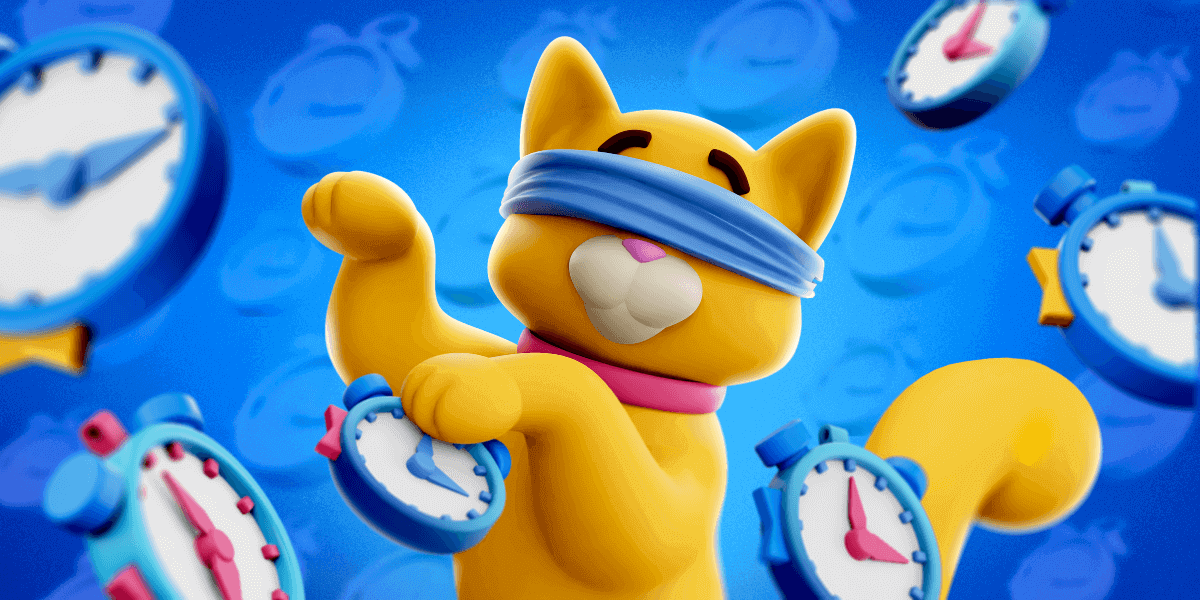 A time tracking software will allow you to track, inspect, manage, and make the most out of:
Reporting features,
A team's capabilities,
Customer support,
Training resources, and
Integrations.
In the following lines, we'll go through:
General things to consider when choosing a time tracking software,
Types of time tracking software,
A list of the current 5 best time tracking software,
The best choice depending on the size of your business, and
General differences in time tracking software.
General things to consider when choosing time tracking software
Before we go into detail regarding the various types of time tracking software, it's important to go over all the external factors that might ultimately affect your final decision.
Such matters could be:
The place of your work,
The way you do business,
Your time tracking needs,
The degree of difficulty of using the software, and ultimately
Your budget.
More on that in the lines below.
Where do you work and what device do you use
Time tracking tools are made with specific devices in mind — some are made for Windows, some for iOS, Android, or Mac, and it's important that you consider them in relation to where you work.
If your job description requires you to often be away from the office, you'll want an easy-to-use app made for iOS and Android.
If you work at an office, you may benefit more from a robust Windows or Mac app with extra features.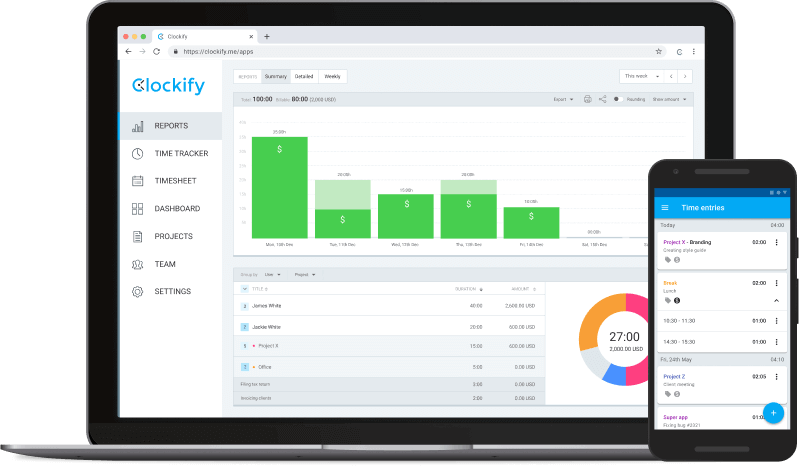 The Clockify app can be synced across all of your devices
If you're a freelancer working from home, who bills by the hour, you'll need a straightforward work hours tracker, so that you can track your billable hours.
A large company would most probably benefit from the Enterprise plan — one that offers additional features, such as:
Payroll,
Invoicing,
Scheduling, and
Employee monitoring, among others.
How do you work
Your daily workflow and working habits should represent a major factor in your decision. So, before you choose your next time tracking software, ask yourself the following questions:
Do you use project management apps such as Trello and Asana?
Do you use development apps such as JIRA and Github?
Do you communicate and cooperate with your clients and colleagues via apps?
Do you use productivity apps to streamline your business?
The key is to look for time tracking tools that integrate with the software you use every day to make your job a tad easier.
Moreover, if deadlines are a big part of your work, you'll want a tool that lets you make estimates and compare them with your actual tracked time.
What are your time tracking needs
Consider your workflow again, and note down all the features your tool should have.
Do you need just the basics, or will you require special features as well?
Will you track time with your team?
Is tracking billable hours important for your work?
Basic features that almost every time tracking software offers are:
Tracking time you spend on activities in real-time,
Editing time entries,
Creating projects, parsing them into tasks, and associating them with the right clients,
Adding tags to indicate the type of work you did,
Indicating billable time and setting your hourly rates,
Generating reports for clients, and exporting them to basic formats (PDF, CSV, Excel), and
Getting an overview of what your team members are doing from a team view.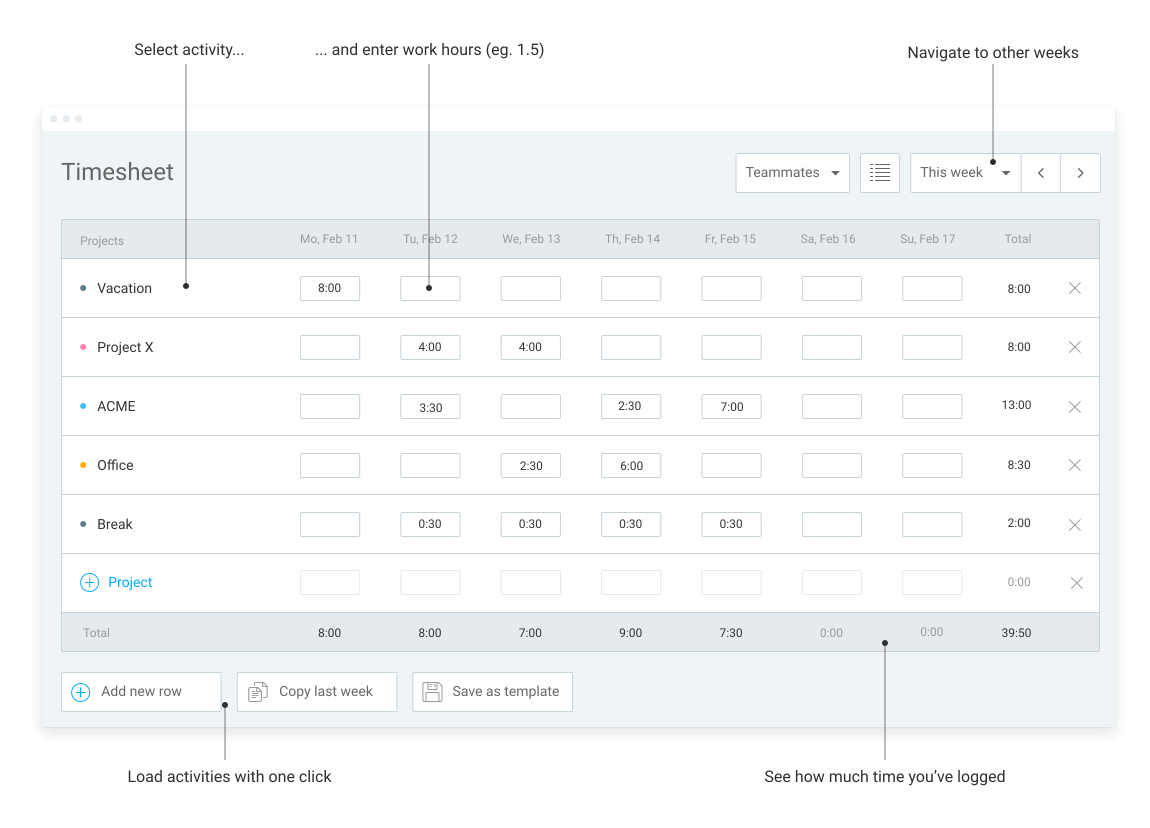 The extra features you may need would be:
Streamlining your time entries management and setting up your timesheets to comply with FLSA and DCAA (locking time entries so that no one can change them past a certain point, rounding them up, and fixing them effortlessly with an audit option),
Customizing your reports for a more professional appearance (branding), and
Managing invoices and payroll.
Also, consider whether you'll need:
Priority user support from the software's developers,
Customized development so that the software fits your needs better,
The software to function offline, and later sync and update the data, and
A software that can be accessed across various devices.
Is the software easy to use?
Whether the time tracking software offers just the basic or additional features it should be straightforward and easy to use.
The main point of time tracking software is to save time by letting you keep track of it, and you won't be able to do that if you have to spend hours learning to use the program and all its features.
With that in mind, it's easy to conclude that the best type of time tracking software has its basic features clearly laid out and its additional features less prominent.
Features should not require more than a couple of clicks to work.
Also, the tool's development team should aim at constant innovations, and keep up with the current trends in the time tracking field.
Before committing to a time tracking software, make sure you test it to see whether it fits your needs — whether your employees feel comfortable using it and whether they do so with ease.
What is your budget?
Even though your budget dictates the software you'll choose, bear in mind that you don't have to splurge a lot of money for an effective solution.
Some companies set a flat monthly or yearly rate, others set the price based on the number of users, and some offer custom pricing.
There is also the fourth type of software — a free time tracking software, which offers all of its features at no cost for an unlimited number of users and workspaces. A time tracking software that exhibits all of these features is Clockify.
Types of time tracking software and their features
Time trackers differ in whether they are standalone or part of a larger, more versatile software. Furthermore, they differ in terms of their:
Function — Enterprise, monitoring, clock-in/clock-out, and
Method of operating — Automatic, location-based, and exception-based.
Standalone time tracker (simple time tracker, with an employee timesheet)
A standalone time tracker is a super simple tool with an employee timesheet.
Such software allows you to:
Record the time you spend on activities in real-time — when you begin working on a task, you start the timer and stop it once you're done. You can later view your time entries in a list or a timeline.
Enter time manually in a timesheet view.
Categorize the time you've entered by project, task, tag, client, or similar parameters.
Make use of the reporting options — generate reports, export, save and send them to clients.
If you're looking for a smart and easy solution, Clockify is a standalone type of time tracking software that suits various businesses.
Part of a project management software
This type of time tracking software integrates project management software within its capabilities. Additional features that you can expect to see from such a software are the following:
Monitoring project resources,
Planning and scheduling projects,
Tracking tasks and adding notes to them,
Sharing files, and
Invoicing and making payments.
Certain time tracking software offers minor project management features, such as: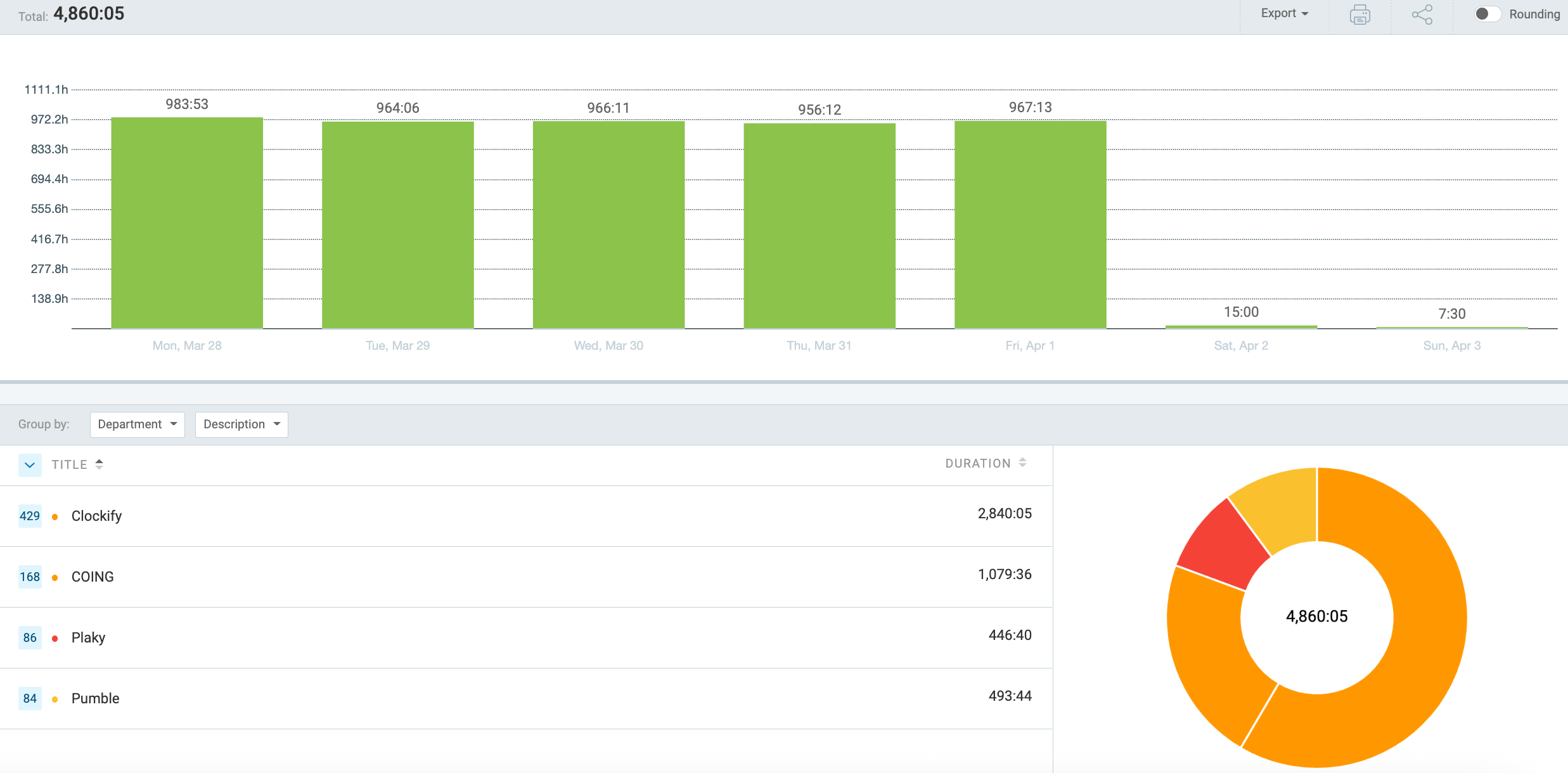 Use Clockify to see all hours worked across all projects and tasks
Part of a billing/invoicing software
When a time tracking option is integrated within a billing/invoicing software, it's usually meant to help you calculate and generate invoices for your clients.
This type of software offers both the option to generate customized invoices and track your time, which in turn enables you to calculate your earnings based on the time you've actually tracked.
Such tool helps increase transparency when working with clients, since you'll be able to provide them with a clear record of your work and bill them accordingly.
Automatic time tracking software
This type of software automatically tracks the time you spend on various activities.
An automatic time tracking software tracks and captures:
Computer usage,
Phone usage,
Time spent on tasks and projects,
PC allocated tasks — time spent on various programs, apps, documents or various websites, and
The time you spend idle or away from the keyboard.
Monitoring time tracking software
Although aimed at tracking the time employees spend working, these tools sometimes come with the option to capture employees' screens at random times, so they basically serve as employee monitoring software.
Another handy feature that this software offers is tracking the number of times employees move their mouse or use their keyboards.
Clock-in/clock-out time tracking software
Clock-in and clock-out tool is the simplest type of time tracking software — the employees clock-in at the time of their arrival to the office and clock-out at the end of their shift.
This tool is also useful for payroll — especially when employees' paycheck depends on their arrival and departure times.
Also, the software shows if an employee has worked overtime or if they haven't fulfilled their designated weekly quota for hours worked.
Exception-based time tracking software
When employees perform the same actions everyday, you can choose to track only the tasks that do not fall under their everyday activities.
Their standard working hours are recorded automatically, and the "exceptions" (such as approved time off) are recorded separately.
Location-based time tracking software
Location-based type of software automatically notes in and tracks the time you spend on a particular location.
This is a handy option for tracking employees, as it indicates whether or not they are at the office. A location-based time tracker is especially useful for field employees who spend a lot of their work time in different locations, and in-between places.
Enterprise type of time tracking software
Enterprise time tracking software offers a number of features meant to help streamline work in a large corporation with multiple departments.
This tool usually offers:
Customization,
Higher security,
Privacy, as well as
Various integrations.
A large enterprise needs a time tracking tool that turns employee hours into insights on how operations within the company can be improved.
This type of software utilizes time tracking to better understand:
Employee costs,
Their availability and use in the company, and
Their capacity — you'll gain insight into whether additional staffing and hiring is needed for a project.
A list of the 5 best time tracking software
Finally, we've reached the final segment of the article that will tackle concrete examples of the best time tracking software right now. We've chosen five of them, and they go as follows:
Clockify,
Toggl Track,
Hubstaff,
Quickbooks Time, and
Timely.
Let's honor them all with a few words in the following segments.
#1 Clockify — The best overall
Naturally, we've got to start with our own — Clockify.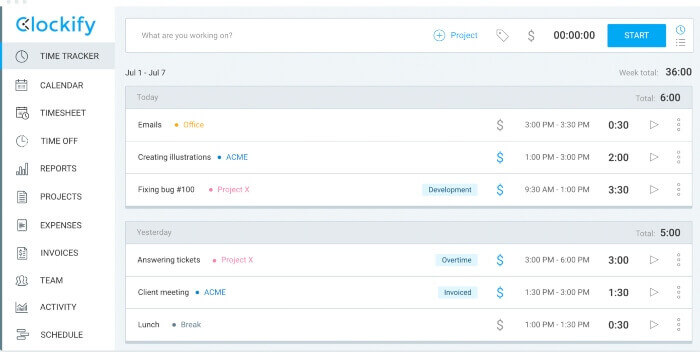 🔹 What is Clockify?
Used by millions, Clockify is more than just a time tracker. With its advanced features and easy-to-use interface, this application allows its users to:
Analyze tracked time,
Pull detailed reports,
Visually block out time entries,
Track billable and non-billable hours, and
Sync data across all devices.
Furthermore, employees can use Clockify to request time off from their managers and workspace admins with an integrated feature.
All of your pending and approved requests are clearly displayed, and you'll always have insight into how many vacation days you have left.
Clockify also has a kiosk app that allows users to punch in their hours from shared devices, track breaks, and managers can even fill employees' timesheets themselves if there are any irregularities.
🔹 Platforms: Browser extensions — Google Chrome, Mozilla Firefox, and Edge —, desktop apps — Mac, Windows, and Linux—, and mobile apps — Android and iOS.
#2 Toggl Track — Best for freelancers
Next up is a runner-up to Clockify — Toggl Track.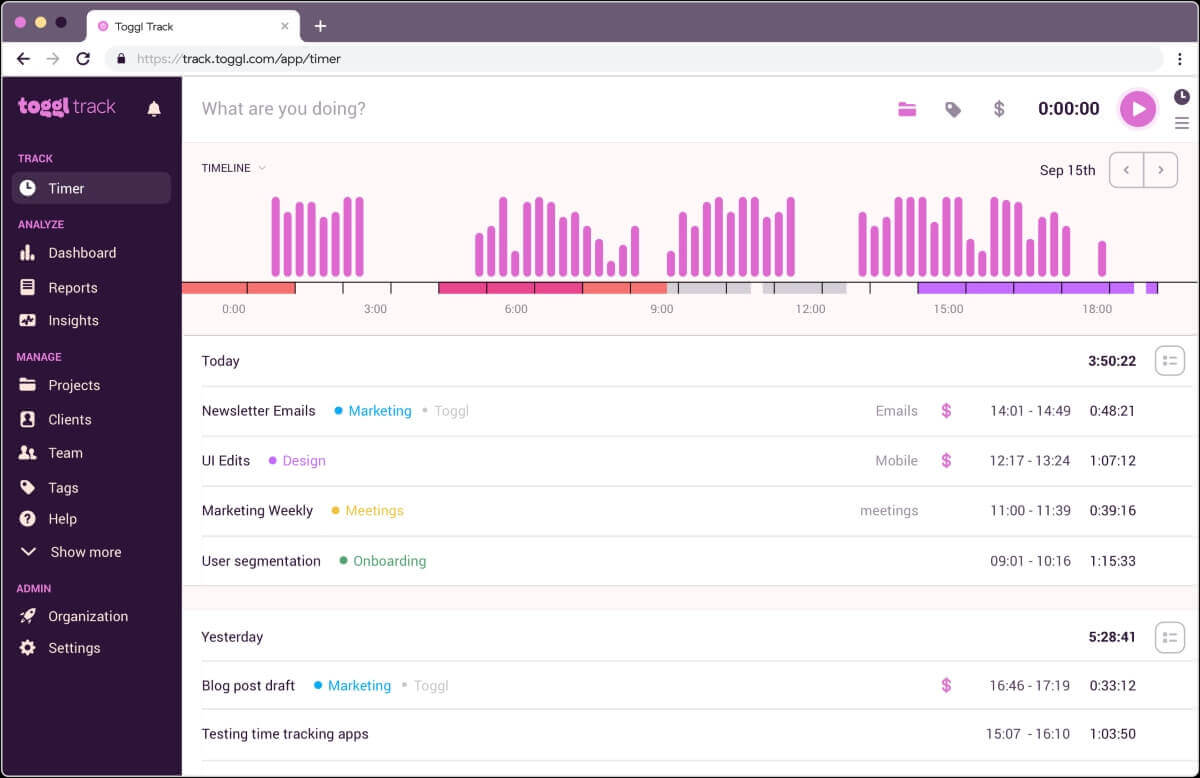 🔹 What is Toggl Track?
Toggl Track is a modern time tracking software that's used for — you've guessed it — time tracking and reporting services. The app allows you to track tasks and mark them with appropriate tags and projects.
With a similar design to Clockify, Toggl is really easy to use and to get a grasp of after just a couple of days of using it. The interface is intuitive and transparent, and you'll be given a detailed insight into your tracked time.
As for some other features, Toggle also offers offline tracking and integrations with many different project management tools, such as Trello, Asana, etc.
🔹 Platforms: Web applications, desktop apps — Windows, Mac OS, Linux —, browser extensions — Chrome and Firefox — and mobile apps — Android and iOS.
#3 Hubstaff — Best for time and project management
Moving on, we've set aside a great workforce management software that helps its users track time and work on projects simultaneously.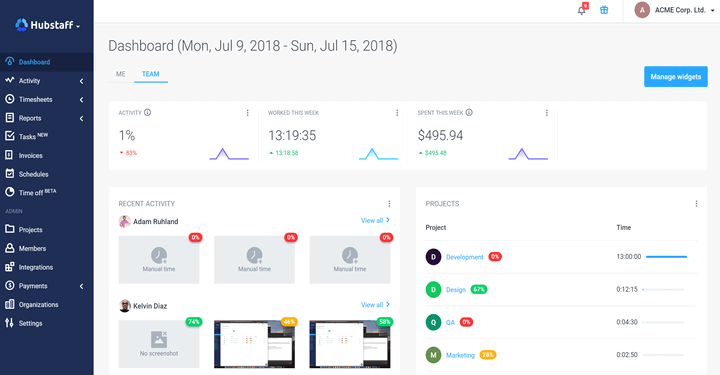 🔹 What is Hubstaff?
Aside from easy time tracking capabilities, Hubstaff allows its users to manage productive teams with Hubstaff Desk — a tool that combines proof of work, timesheets, and payroll.
Furthermore, you can increase your productivity by tracking used apps and URLs and making screenshots of your work throughout the day. Not only does this option help managers keep everything in check, but it'll also help you organize your workload and seize your workday effectively.
Hubstaff also offers recaps of all hours and contributions on projects, as well as automated payroll.
🔹 Platforms: Desktop apps — Windows, Mac OS, Linux —, and mobile apps — Android and iOS.
If your business requires a lot of professional trips and field work, Quickbooks Time could be the time tracking software for you.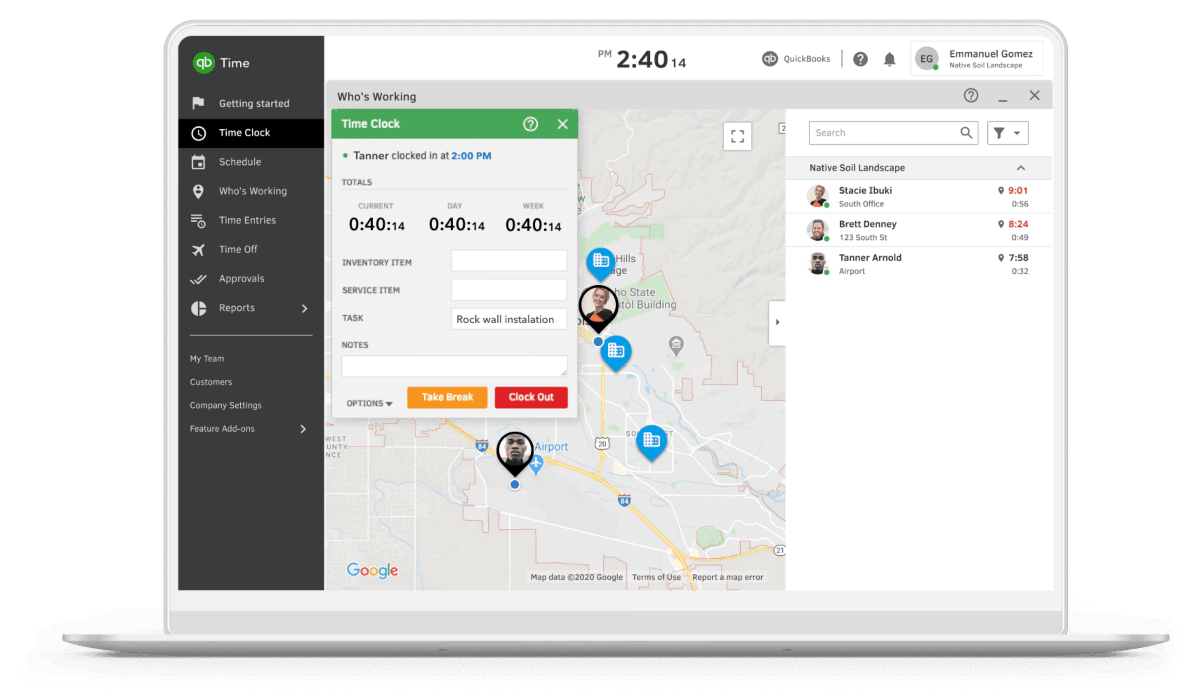 🔹 What is Quickbooks Time?
Formerly known as TSheets, Quickbooks Time is a simple time tracker that specializes in GPS tracking across all devices. Its accuracy is more than acceptable, and it runs like a charm across all platforms.
Furthermore, creating work schedules is incredibly easy with Quickbooks' editing and publishing features.
Wondering what members of your team are currently working on? Quickbooks will let you see and examine their progress on a daily basis.
🔹 Platforms: Desktop apps — Windows, Mac OS, and Linux —, and mobile apps — iOS and Android.
#5 Timely — Best for mid-sized businesses
Lastly, we have another straightforward time tracker — Timely.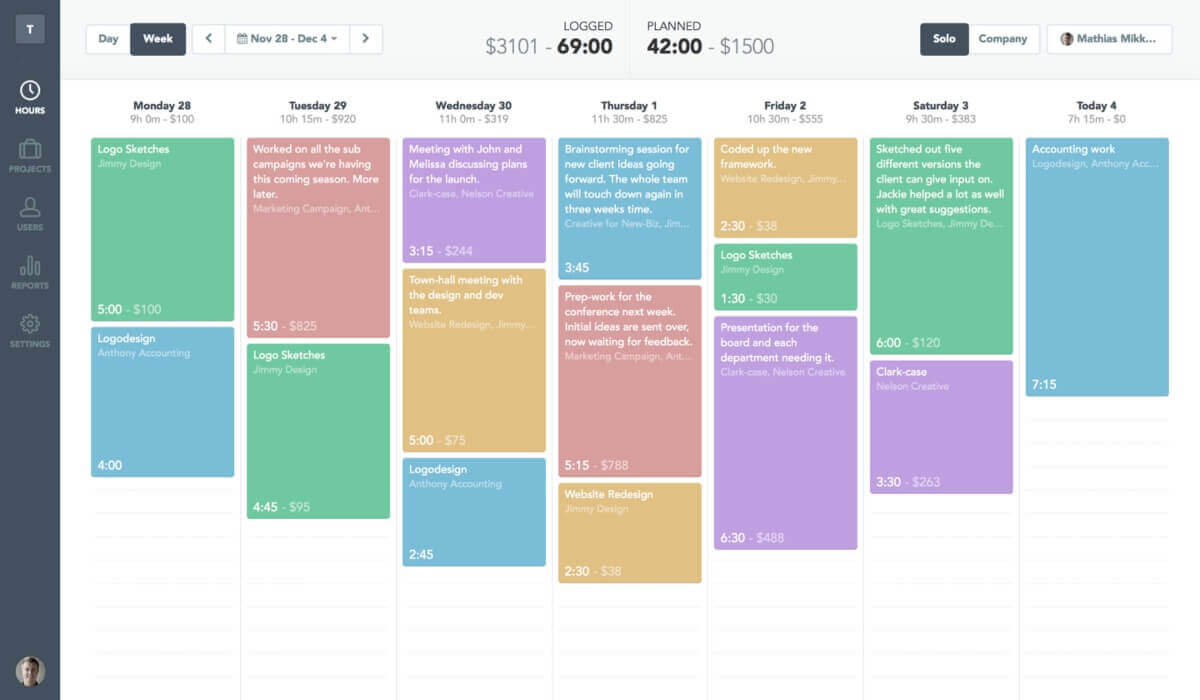 🔹 What is Timely?
With its simple and beautiful interface, Timely's coolest feature is actually the ease of use with which you can track time. If you choose to do it manually, the flexibility of timesheets will allow you to simply drag items over the screen and rearrange them according to your needs.
Sort your entries and have them displayed in beautiful colors and schemes.
Furthermore, Timely excels at capturing billable hours and creating a thorough analysis of all your invoices.
Considering its growing popularity, Timely is perfect for all mid-sized businesses.
🔹 Platforms: Desktop apps — Windows, Mac OS, and mobile apps — iOS and Android.
Which type of time tracking software to choose by business size?
Your needs will differ depending on whether you run a small business or a large company. Here's what you should take into consideration before you choose your next time tracking software.
Time tracking software for freelancers
Most freelancers require a straightforward time tracker, preferably with multiple time tracking options (real-time and manual) and the option to easily edit a time entry and continue tracking time on it with a click.
Also, if you are a freelancer, you will probably complete all the tasks by yourself, which is why you'll need to make your work transparent and easily accessible.
It's best that you opt for a time tracker that offers robust reporting, with various exporting and sending options, so that clients can track your progress on a project and see where each minute of your billable time went.
Time tracking software for remote workers
Working remotely means you'll have to account to your employer for the time you've spent doing tasks which is why you'll require a straightforward work hours tracker.
The difference between a freelancer and a remote worker is that remote workers often have to collaborate in teams, while freelancers usually work alone.
Difference between a freelancer, a contractor, and an employee
So, you'll need a time tracker that also includes a team view to see what everyone in your team is up to, even when you're physically away from them.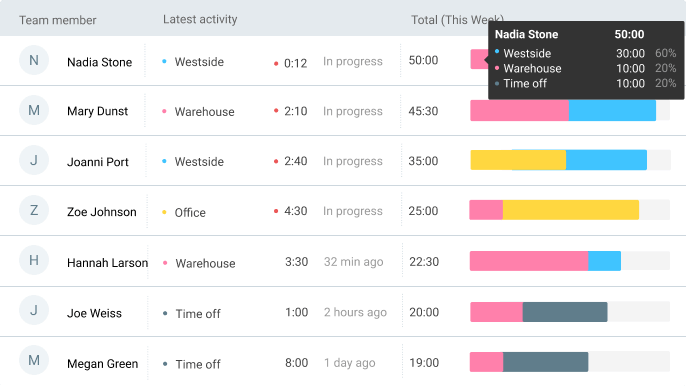 Time tracking software for small business
There are fewer employees in small businesses, but they usually have to perform the same number of tasks as those employed in larger companies.
Small businesses usually have smaller budgets, which call for a low-cost, but effective solution — preferably a software with:
A mobile app available,
Quick access to all data, and
Prompt support for any issues.
The biggest challenge of small businesses is teamwork — a small number of people have to work closely together on a number of varied tasks and challenges.
Due to such challenges, you'll undoubtedly have to look for a time tracking software with team management features — the ability to track time and know what everyone's up to will improve your team's overall workflow and help you stand out among the competition.

Time tracking software for mid-size companies
Even though mid-size companies usually have a larger budget, opting for a low-cost solution with the same features as more expensive alternatives is always recommended.
These companies require team management features — the manager or admin of a workspace must have insight into all workings within their team.
They also must make sure that the time tracking tool is straightforward, comprehensive, and easy to use for everyone — larger teams usually mean less time to explain how to track time to each employee individually.
Mid-size companies are especially concerned about their business metrics, so they might need a robust reporting system and the option to generate custom reports in a few clicks.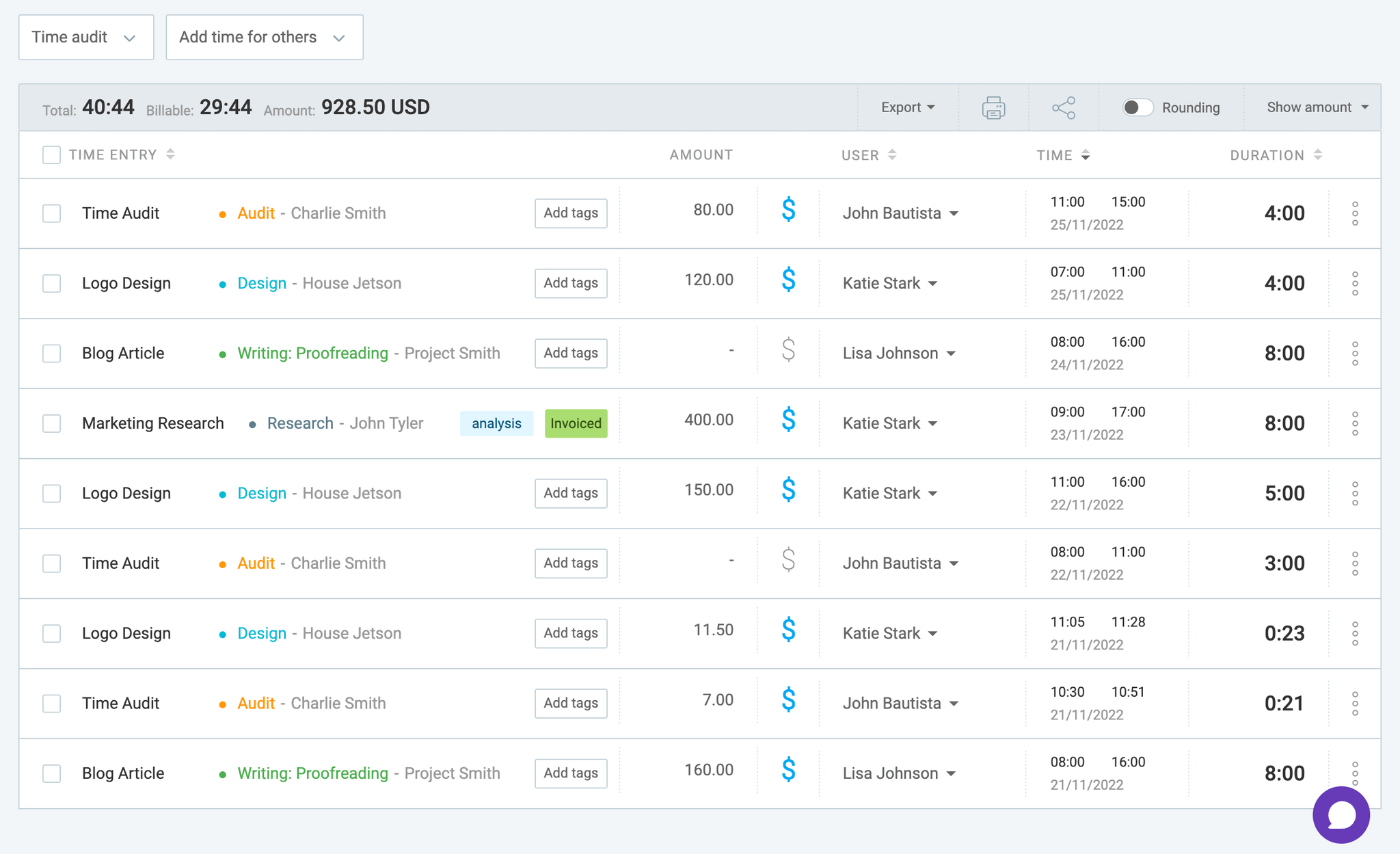 Sharing data is also an important factor, so look into the types of extensions available in your time tracker — Excel and PDF are the basics you should look for.
Another useful feature that helps with maintaining a professional relationship with clients would be the option to share reports with them so that they can track your project progress in real-time.
Time tracking software for large companies
Large corporations have the largest needs, so their best option would be an extensive time tracker with enterprise features.
The essential enterprise features are usually:
Customizations,
Strong security,
Integrations, and
API access.
Considering there is a large staff and a large number of departments, you'll need multiple workspaces and permissions for who can do and perform what — this way, you'll share the admin work with other team members to ease the managing and delegating workload.
Time tracking for different industries
Different industries will have different needs in terms of the ideal features for their time tracking tool.
For example, PR and other agencies will need insight into everyone's availability, costs, and expenses. This, in turn, will help maximize profit, which is why you should look into trackers with team management, and clear billing and hourly rates.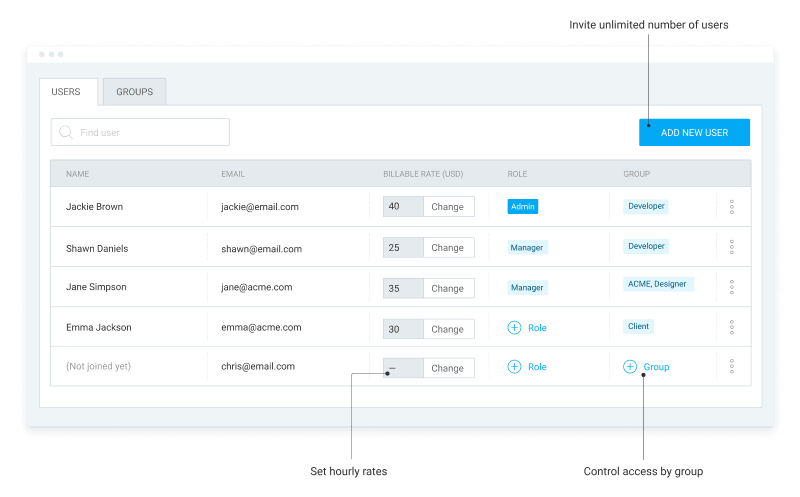 The manufacturing industry usually involves parts of a business located in different states, and it's important to adhere to different federal laws of these states, especially for wages and overtime.
So, the best approach would be to find a way to capture overtime and receive notifications regarding any changes in the work schedule.
The transportation industry is all about speedy deliveries and deadlines, so the basic time tracking features will help you:
Monitor and analyze data,
Set more realistic deadlines, and
Improve scheduling.
In healthcare, time is crucial for adequate patient treatment, and tracking time with basic tracking features helps make medical workers more accountable for their actions.
Differences in time tracking software
In general, differences in time tracking software can be observed through the lens of:
The platforms they support,
Built-in integrations,
Data storage, and
Licensing.
Here are a few more words about it.
Platforms supported
A crucial factor that can hugely impact your choice is the platform you're working on. Most time trackers are available on multiple platforms, but that is not always the case.
The most common platforms you'll be able to run time trackers on are:
Web applications,
Chrome extensions,
Mac systems,
iOS,
Android,
Windows OS, and
Linux.
Consider what type of device you use the most, and make your pick accordingly.
Integrations
Certain time trackers can be integrated with other applications, and used to track the time you spend on those app's features.
So, how do integrations of time trackers and other apps work?
For example, if you add a new item — e.g., "Make a draft for a proposal" in a to-do app, such as Todoist — you'll be able to track the time you've spent on this item directly from Todoist. This option is available through the Clockify extension for Chrome.
You should consider whether your time tracker of choice supports integrations and with what apps — this should represent a crucial factor in your choice, as it determines how you'll be able to further automate your work with apps.
The types of programs that can usually be integrated with time tracking software are:
CRM modules,
Project management software,
Other productivity software,
Invoicing and accounting software, and
Payroll software.
Time tracker integrations can also be limited to specific software — be it Google apps, specific project management apps, or specific productivity apps.
A time tracker may be eligible for integration with Todoist but not with Trello, although they are both essentially project management apps.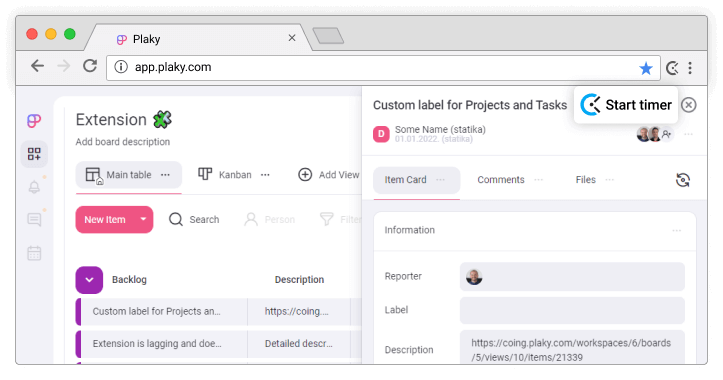 Data storage and exporting options
Depending on your time tracker's exporting options, you can export your time entries as or to:
XML,
Excel,
CSV,
QuickBooks/Xero,
Google Docs, and
PDF.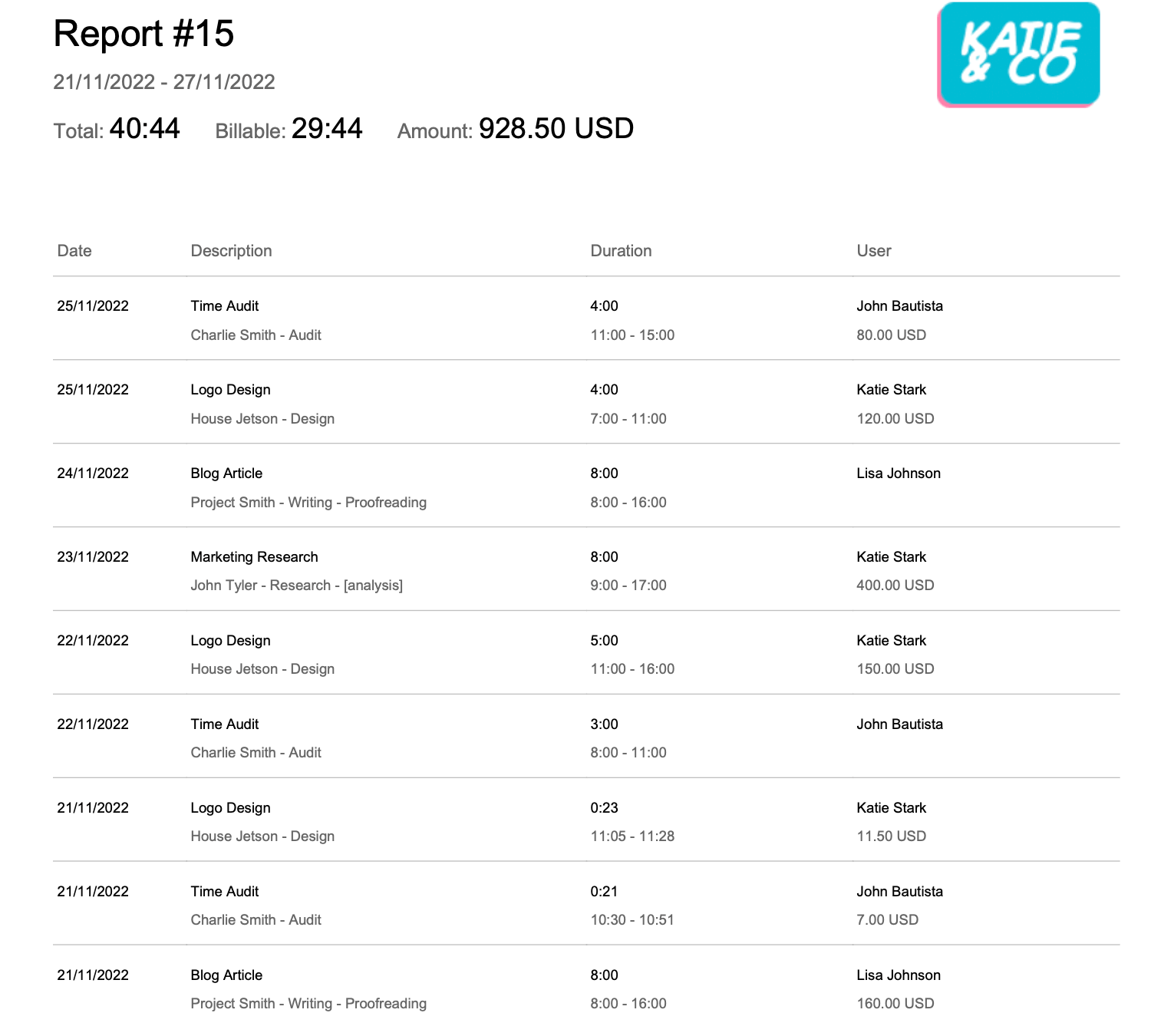 You can also store your data in the:
Local phone storage — with the option to backup on iCloud and Google Drive.
Licencing
Time tracking software also differs in its type of licence, and you should consider:
Subscription-based plan — available after paying a monthly or annual subscription,
License-based plan — you buy a copy of the software and gain the right (license) to use that copy of the software,
Proprietary plan — after purchase, you can only install this type of time tracking software on a limited number of devices,
Free plan — liberty to use the program in any way according to the terms of service,
GPL plan — you can run the program, study, share, or even modify it,
Open-source plan — the source code of the software is released with a license, but the copyright rules allow you to study, modify and distribute it to other users,
Shareware plan — you can use a free trial version that expires after a while, and you have to pay to continue using the software, and
MIT Licence — free software license, with a few restrictions.
Conclusion: Time trackers improve all businesses
At the end of the day, all administrators, managers, and owners understand the importance of time in the workplace.
Using it effectively is what separates good businesses from bad ones, which is where time trackers come into play.
If you've understood the task, listed the pros and cons, and listened to your employees' needs, you'll surely find a time tracker on our list that suits your business model.
See full comparison of the best tracking apps
References
Shweta, (Dec 2, 2022), 7 Best Free Time Tracking Apps of (2022), Forbes
https://www.forbes.com/advisor/business/software/free-time-tracking-apps/
Krishi Chowdhary, (Nov 15, 2022), The Best Employee Time Tracking Software in 2022 | Monitor Your Employees' Performance, The Tech Report
https://techreport.com/business-software/employee-time-tracking/
Stephanie Seymour, (Dec 7, 2022), What Is Time Tracking Software? Analysis of Features, Benefits and Pricing, Finances Online
https://financesonline.com/time-tracking-software-analysis-features-benefits-pricing/