10 Best clock-in and clock-out apps in 2023
It's every manager's nightmare to come to the office and see a bunch of time attendance sheets that need sorting. Sifting through the incredible amount of paper is both exhausting and time-consuming, not to mention the fact that it takes time away from doing actual work.
Luckily, a lot has changed in the last decade and so, and there are many new and improved methods to both track time and manage employee attendance. The magic words are — clock-in and clock-out apps.
In the following blog, we'll be taking an in-depth look at the following topics:
What is clocking in and out,
Why you should get a time clock app, and
The best clock-in and clock-out apps available at the moment.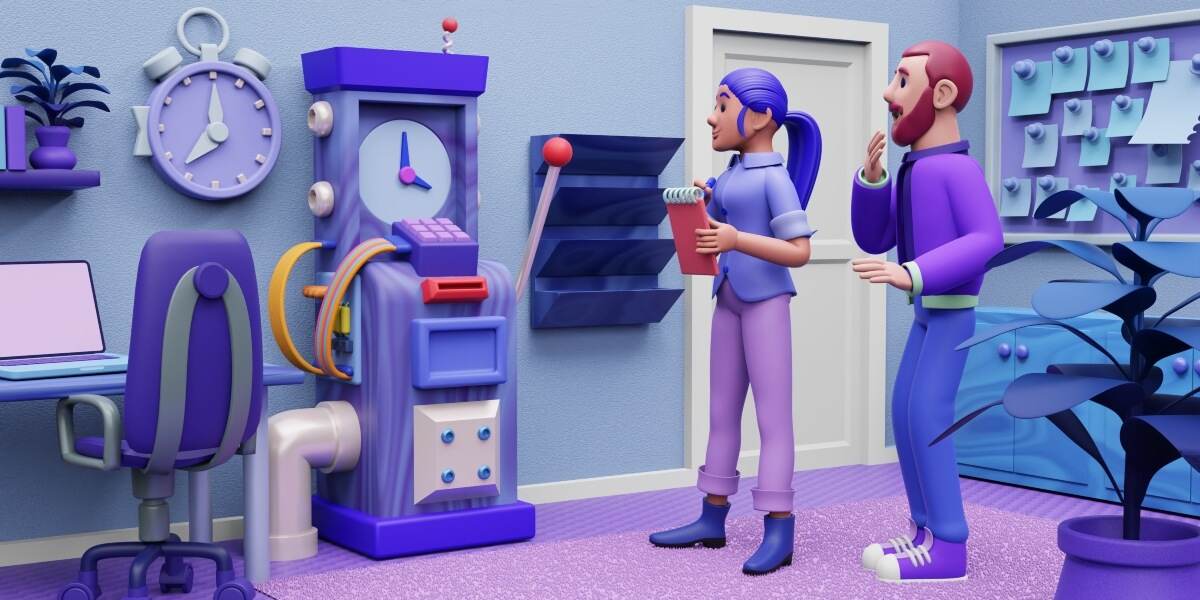 What is clocking in and out?
As the name suggests, clocking in and out represents the process of documenting one's time spent at work. It is most commonly preferred by employers and managers since it allows them to track employees' progress and time spent working.
Nowadays, software has made it truly easy to clock-in/out, which is why many businesses invest in easy-to-use apps that are accessible to each and every employee.
Also, many entrepreneurs and solo practitioners have found value in tracking work hours as it allows them to analyze and search for patterns that are affecting their productivity.
So, if you're looking for a solution for time tracking and management, here are a few industries that have major benefits from using a clock-in/clock-out apps, as well as time kiosk:
Why should a clock-in and clock-out app be your first choice?
Most time clock systems do the work you set them up to do in the first place.
But, a clock-in and clock-out app is specifically designed to:
Streamline your company's payroll process, and
Reduce the time and effort employees invest in tracking their work hours.
Apart from that, a great clock-in and clock-out app can help you:
Eliminate errors when calculating employees' work hours,
Manage employee attendance while wasting minimum time, and
Gain valuable productivity insights.
💡 Clockify Pro Tip
We all dread calculation and typing errors. Yes, autocorrect can sometimes help, but not always. Check out our blog to see how to improve when using timesheets:
The list of 10 best clock-in and clock-out apps
Streamlining attendance-related processes is fairly easy once you've figured out which clock-in clock-out app suits your business needs.
But, you might be unsure of what to look for in an app when making your decision, so you're still far away from having everything figured out.
This is why we did the research for you, put many apps under scrutiny, made our top 10 picks, and listed everything you need to know about them before choosing your favorite.
Still, you might be wondering how these 10 tools qualified for our list. Well, we made our selection based on a variety of factors, such as:
Quick implementation process,
Ease of use,
Additional time management features (scheduling, reporting, time clock kiosk), and
Multi-platform availability (desktop, mobile, and web version).
1. Clockify — best clock-in and clock-out app overall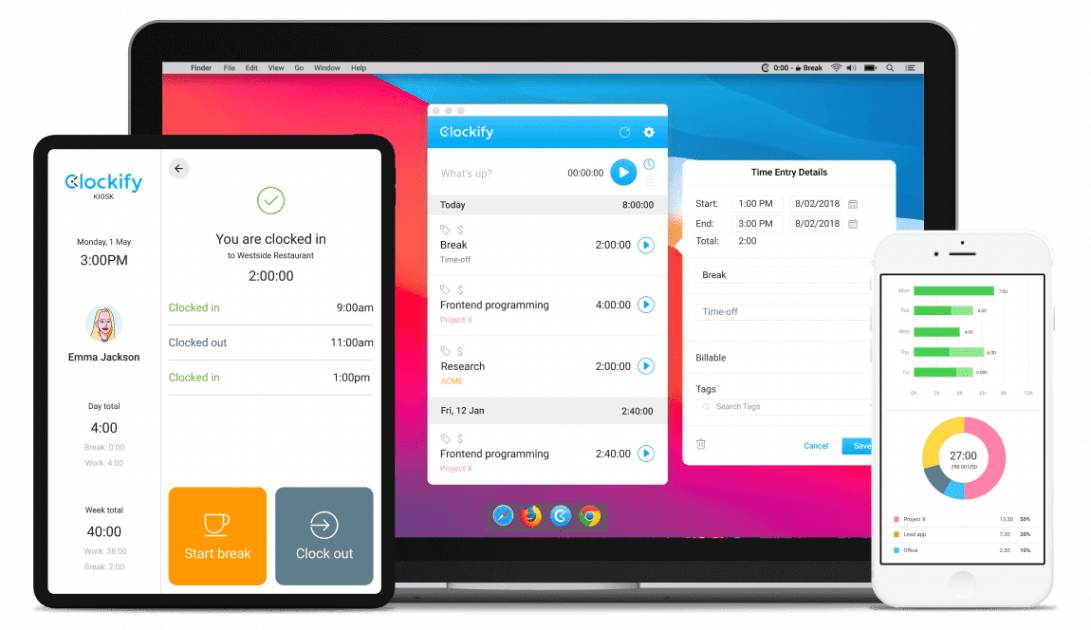 Clockify is a free time clock app used by businesses of all sizes all across the globe.
| Biggest Clockify pro | Biggest Clockify con |
| --- | --- |
| Free and intuitive | Lack of advanced features on the free plan |
The app itself is designed to track time and improve productivity with the help of many handy features, such as a time clock kiosk.
The time clock feature in Clockify helps teams of all sizes conquer piles of paperwork while not giving up on keeping accurate attendance records.
💡 Clockify Pro Tip
There's more to just finding the time to do paperwork when it comes to time management. Find out more here:
Why use Clockify for clocking in and out?
Apart from allowing users to clock in by using any device they find convenient (mobile phone or tablet), Clockify's time clock is great for:
Tracking employee attendance,
Calculating billable hours,
Tracking breaks and time off, and more.
Clockify's intuitive and simple-to-use interface enables its users to quickly set up their time clock kiosk — regardless of whether they'd like to clock in or out from a shared device, or they'd wish to record their attendance from a personal device.
After they've integrated their new clock-in system into their company's workflow, administrators can see who's available but also assign work and export timesheets for payroll.
💡 Clockify Pro Tip
When you're a small business owner, managing payroll is usually a teething trouble. But, did you know you could eliminate the unnecessary stress of payroll management with a couple of simple tricks? Read more about them here:
How to clock in and clock out in Clockify?
After you've created an account and invited your team members, tracking time becomes just a matter of seconds.
Your team can either access Clockify from their mobile devices or via a web browser and use the timer to clock in.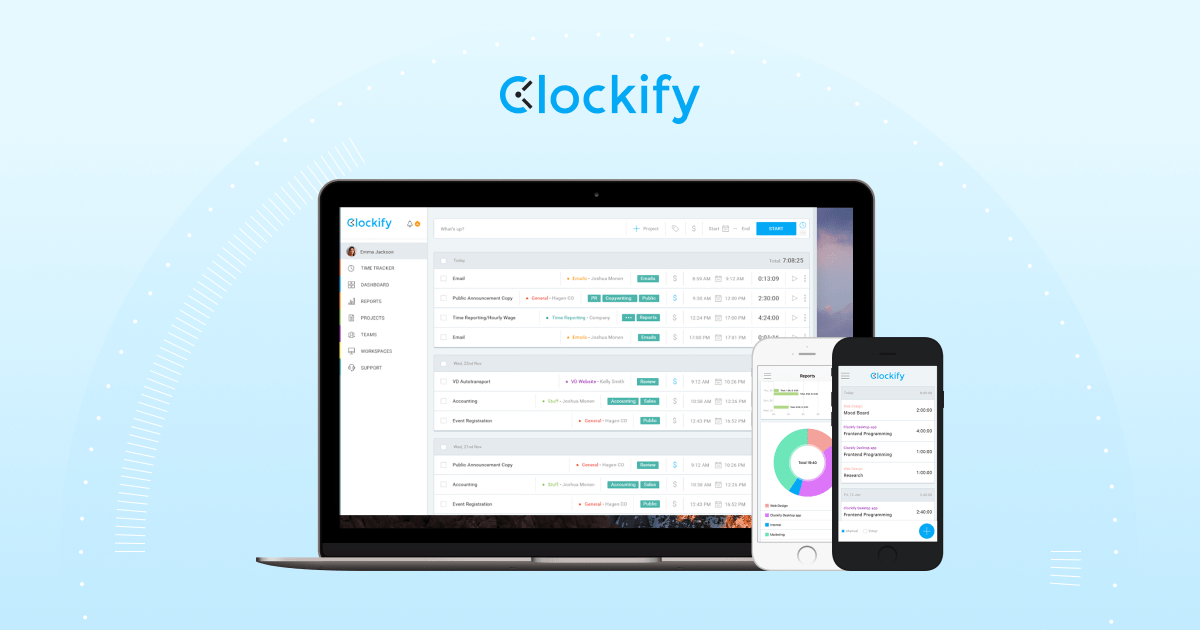 On top of the timer, Clockify comes with an even more convenient option — a free time clock kiosk that your team can use to clock in and clock out with their personal PIN.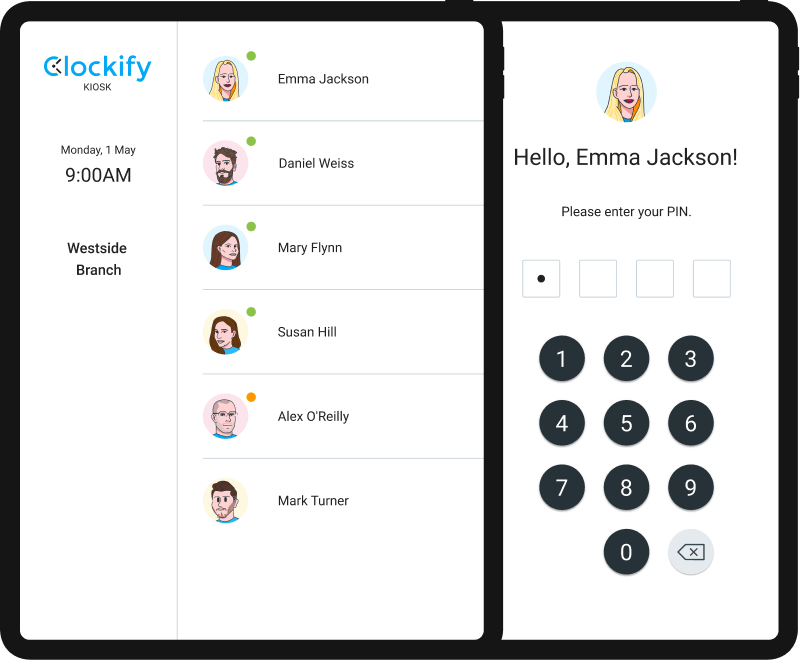 The first thing you need to do is name your kiosk, add your team members, and set a PIN they can use to clock in whenever they start working.
This way, everyone will be able to mark the beginning of their shift either from their own device or a device you've placed at the entrance for the onsite workers.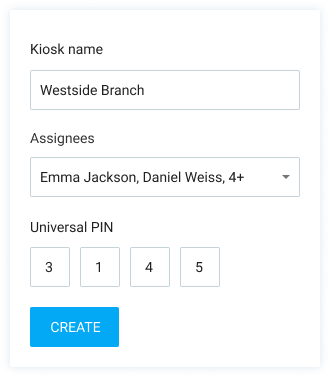 Next, as soon as an employee clocks in, you'll be able to notice a green dot next to their name on the kiosk list.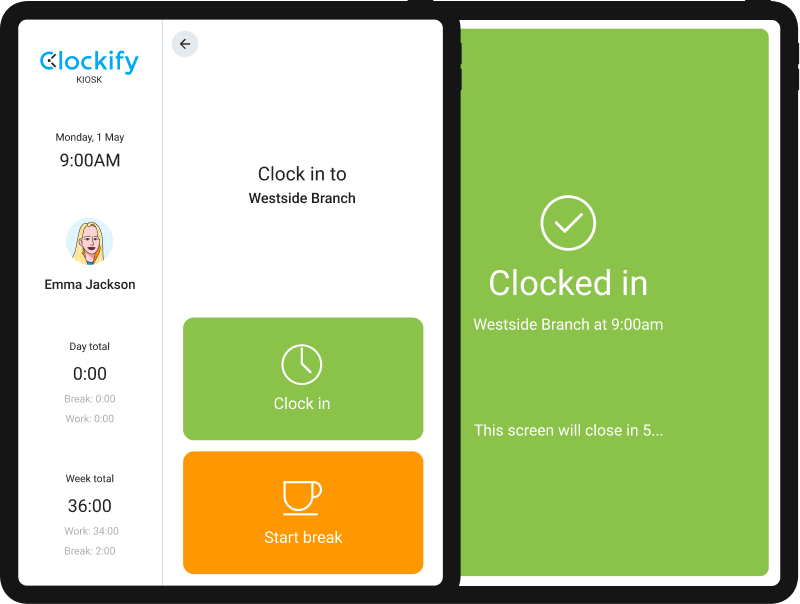 Then, a time clock kiosk also allows your employees to announce their break time and clock out as soon as they reach the end of their workday.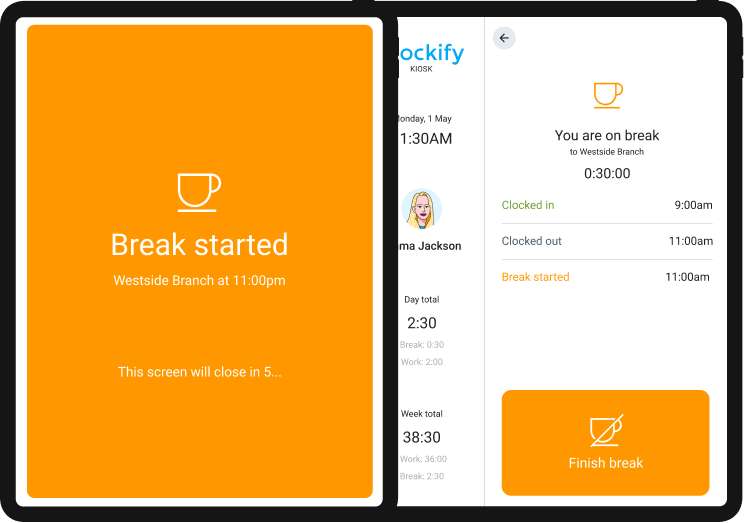 These options enable you to track employees' break time, schedule work, plan projects, and assign tasks more accurately — since you have all the necessary data within reach.
Clockify's highlight feature
Managers and workspace administrators can use the collected clock-in and clock-out data from all the members and analyze them through Clockify's Report feature. Then, when it's time to see everyone's billable time, they can export data and download reports in PDF, CSV and Excel.
2. Connecteam — the best one-touch clock-in app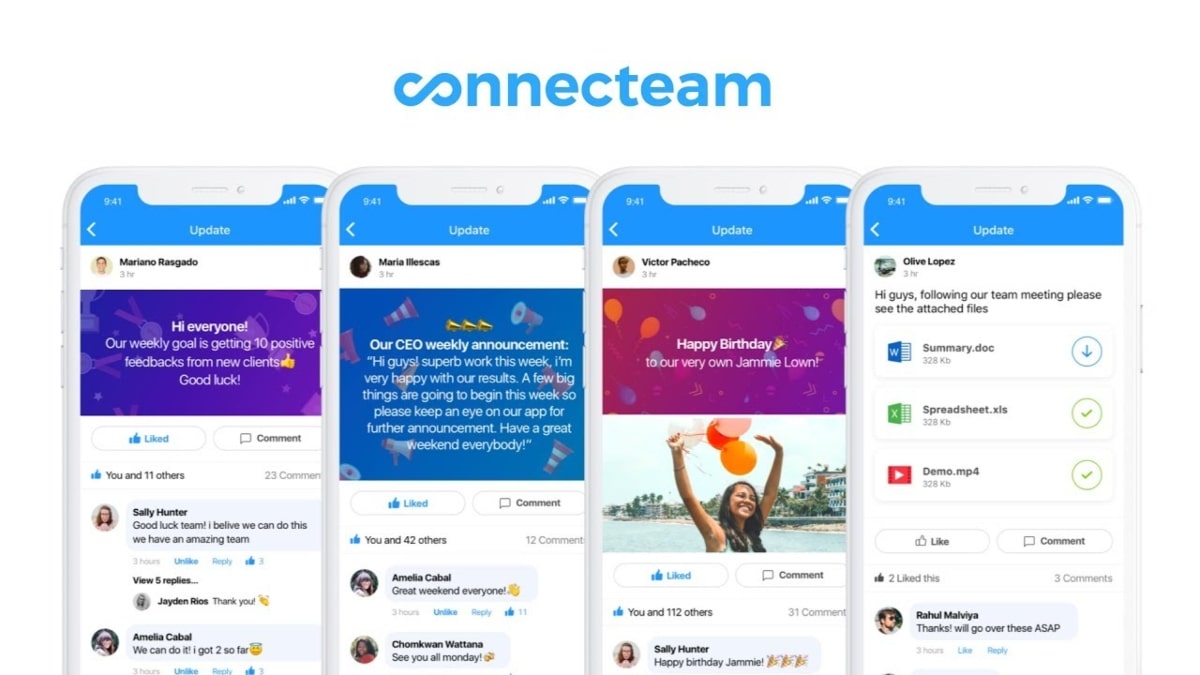 If you're looking for versatility within your clock-in app, such as a proprietary time kiosk feature — Connecteam could be the way to go.
| Biggest Connecteam pro | Biggest Connecteam con |
| --- | --- |
| Precise and specific time tracking | Lack of integrations with other apps |
Aside from its time tracking capabilities, Connecteam helps you:
Perform task management operations,
Create forms and checklists, and
Schedule operations.
Why use Connecteam for clocking in and out?
After testing it, it seems rather obvious that Connecteam has one of the most advanced GPS tracking systems out there. Setting up the app on tablets or PCs onsite allows the employees to log in and clock in via one-touch (one click), while letting the administrators know they're onsite.
Furthermore, employees can opt out between clocking in from their personal devices — iOS and Android — or they can use the Connecteam's kiosk feature.
How to clock in and out in Connecteam?
Luckily for employees, most "main" operations are controlled by workspace admins, which makes clocking in and out extremely easy.
Firstly, your manager will have to create a workspace with all the necessary details, such as:
Jobs,
Tasks,
Invitees, and
Roles.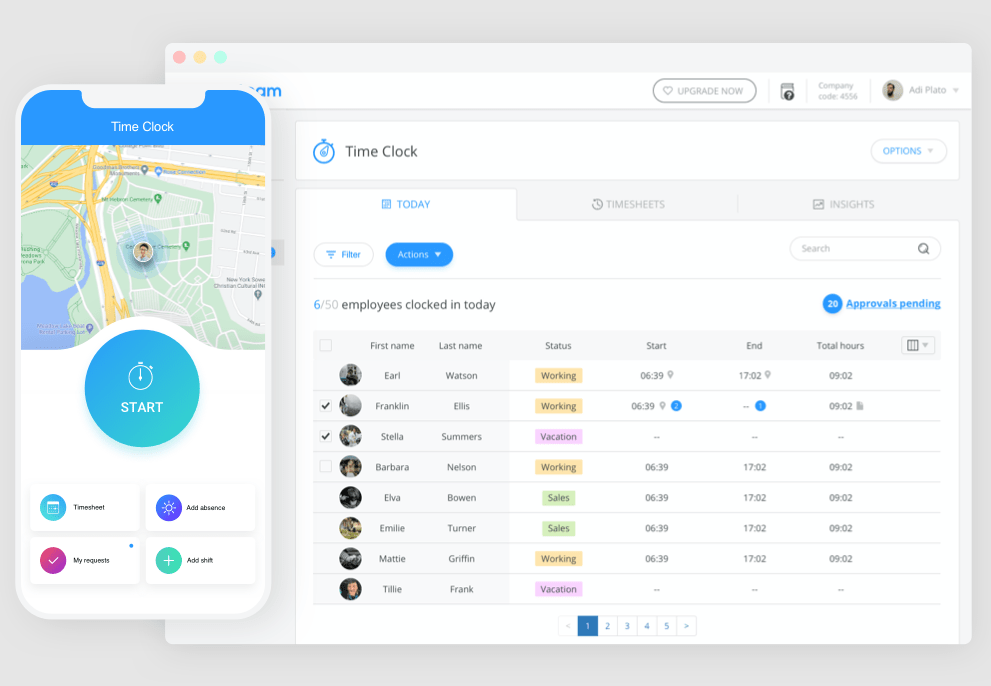 Then, you'll access the company app via email invite — after you've downloaded the app — and go to the main screen. At the top of the home screen, you'll see a quick-action button named 'Time Clock.'
Within the option, click 'Start Shift', and the process is practically complete. The app will let you make adjustments to your shift, such as taking breaks or switching assignments, but everything is performed automatically.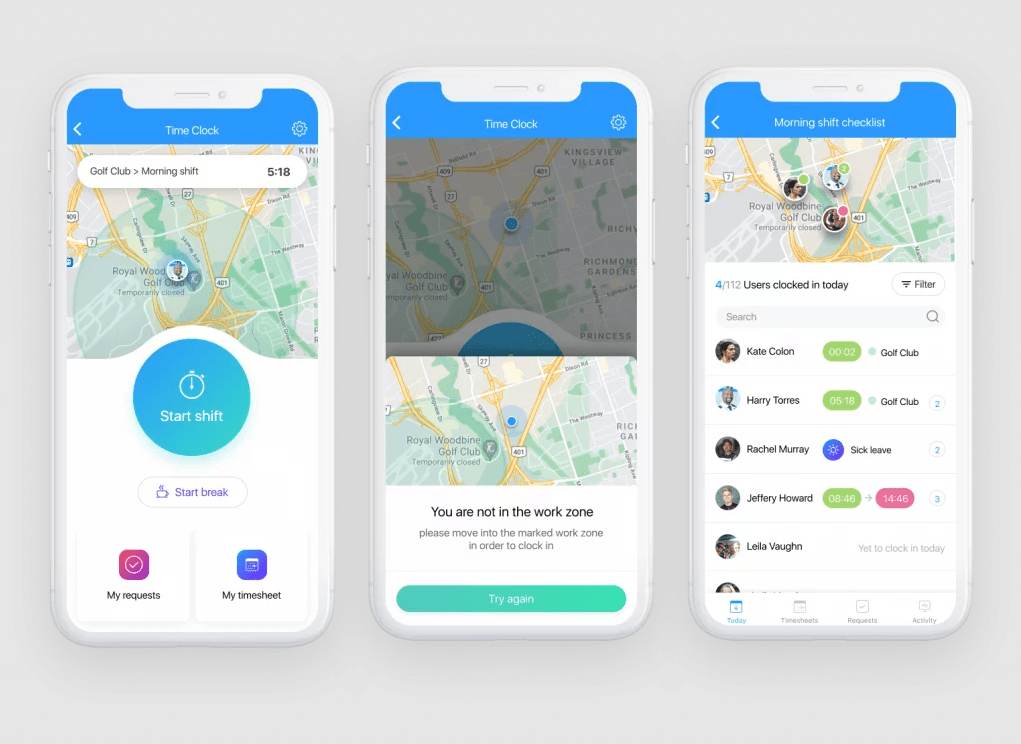 Connecteam's highlight feature
The one thing that's not talked about enough is Connecteam's digital geofence technology. By itself, it's not revolutionary, but the precision with which it operates on a daily basis surpasses any other app we've seen.
This feature allows you to limit the area around your workspace or building, so that in order to clock in or out, the employees have to be inside the area, kind of like Battle Royale games.
3. Buddy Punch — the best for security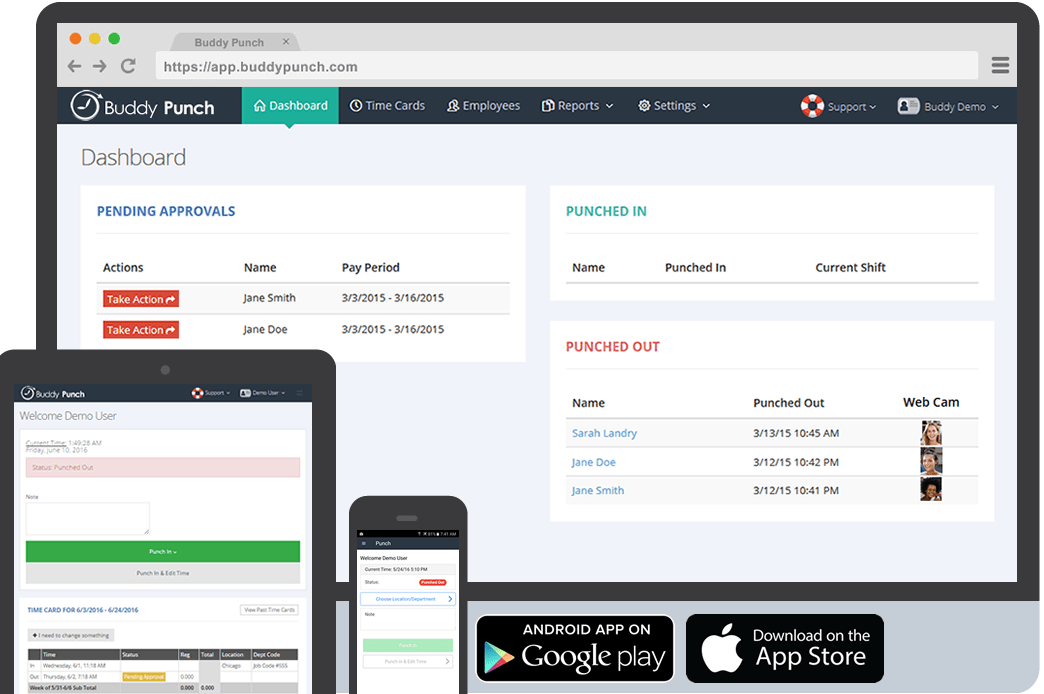 When it comes to added features and functionality, Buddy Punch has got you covered with its versatile software.
| Biggest Buddy Punch pro | Biggest Buddy Punch con |
| --- | --- |
| Face recognition software | Slightly complicated login process |
It's a solid all-around app that offers absolute security when it comes to clocking in, but most importantly, it offers peace of mind.
Why use Buddy Punch for clocking in and out?
The abundance of features that Buddy Punch possesses would be the main reason why you should get it. Clocking in with Buddy Punch lets you:
Track projects for all onsite users, and
Finish your assignments with absolute security.
Even though your workspace is secure with GPS tracking and geofencing, Buddy Punch offers administrative personnel the ability to use IP Address Locking.
Simply put, the IP address you set as the manager will be the default one, and anyone that tries to access the workspace from a different IP location using the universal PIN will not be permitted to do so.
Additionally, the accuracy of your timesheets will be more complete since you'll have the exact time entries from all your employees.
Furthermore, to use Buddy Punch as a terminal or kiosk you'll want to decide how you'd like your employees to punch in and out. They can either use their username and password, or they can use a QR Code.
All in all, if your workspace is in a public area, and you're worried about security breaches, or you simply want to be cautious — Buddy Punch is probably the way to go.
How to clock in and clock out in Buddy Punch?
The design itself is quite similar to other popular time trackers. If you've used one of them, you'll surely work your way around this one as well.
If your job requires you to work from home or an occasional trip to the office, you'll most likely clock in and out from your personal device — phone, tablet, or computer. The invite is regulated through work email, and you'll be able to clock in from the home screen.
Once you log in, you'll see the options for time entries and timesheets on the main screen and go from there.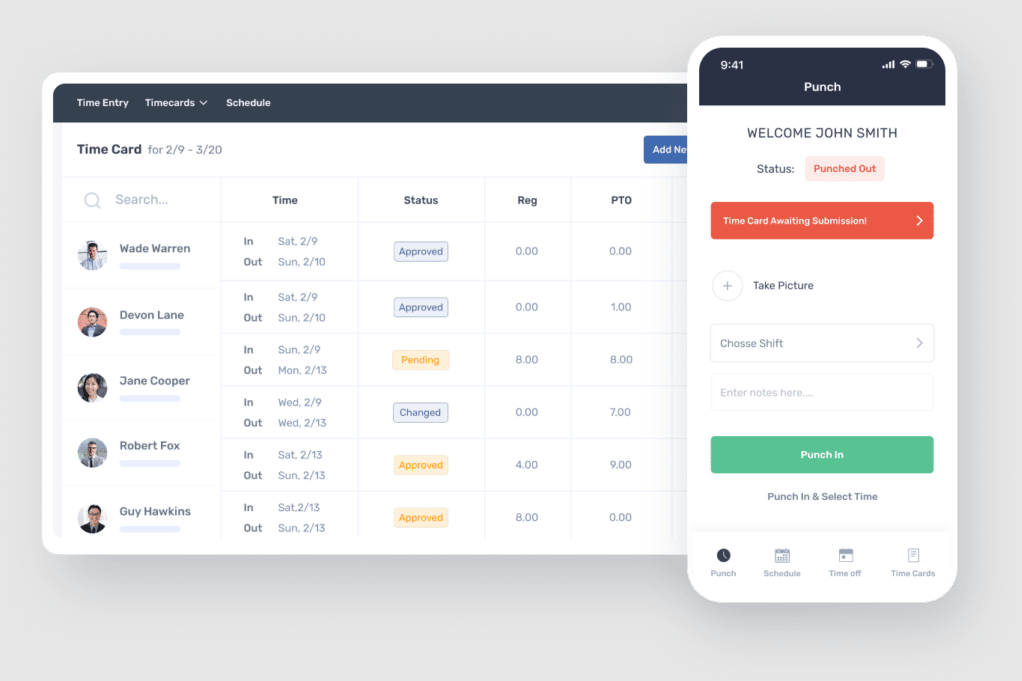 If, however, you're an onsite employee, you'll enter the universal PIN code that all workspace employees are given, pass through a couple of security checks to verify that it's really you, and simply click the "Clock in" button on your profile.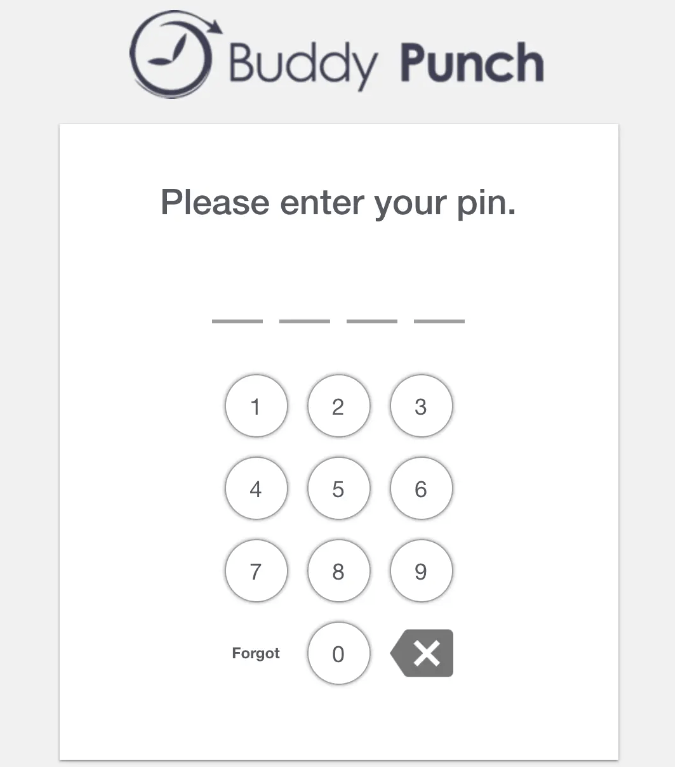 Buddy Punch's highlight feature
Aside from using PIN codes and IP addresses, Buddy Punch software increases its security protocols by incorporating facial recognition and "Photos on Punch." If, for some reason, the facial recognition software won't recognize you, you can take a photo on site for an additional layer of protection.
4. TimeCamp — the best set of integrations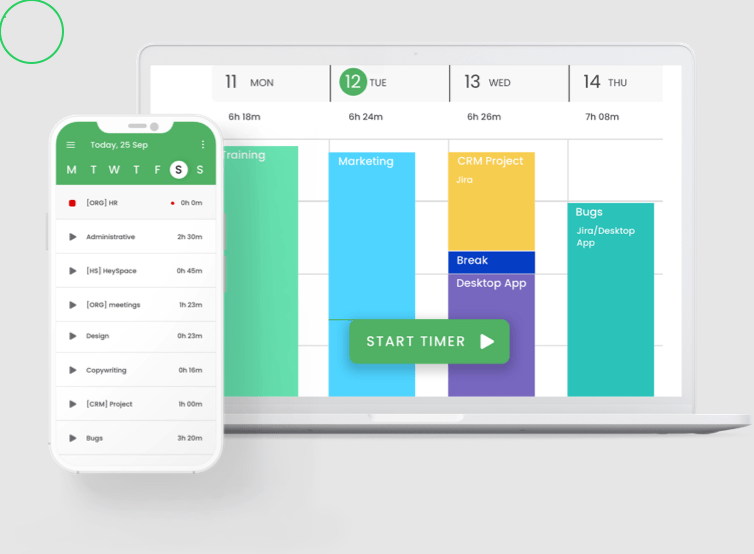 TimeCamp is a time clock tool that helps managers remain up-to-date with their team's performance.
| Biggest TimeCamp pro | Biggest TimeCamp con |
| --- | --- |
| Abundance of integrations with different apps | Doesn't have a time kiosk feature |
The app allows users to see what exactly their team members are working on, track overtime, create custom reports, and more.
Why use TimeCamp for clocking in and out?
TimeCamp offers its users automated clocking in and out but with a little help from a time tracker. The time tracker keeps an eye on computer activity and switches to idle as soon as the activity stops.
This time clock app also comes with a GPS tracking feature, real-time reports, and automatic reminders to clock in and clock out.
However, keep in mind that TimeCamp doesn't offer a time clock kiosk solution — so in case you decide to go with this time clock app, your team will need to log in to the platform and manually start and stop the timer whenever they want to clock in and clock out.
How to clock in and clock out in TimeCamp?
As soon as you've created an account and added your team members, they can begin clocking in and out using the timer option from the Timesheet view.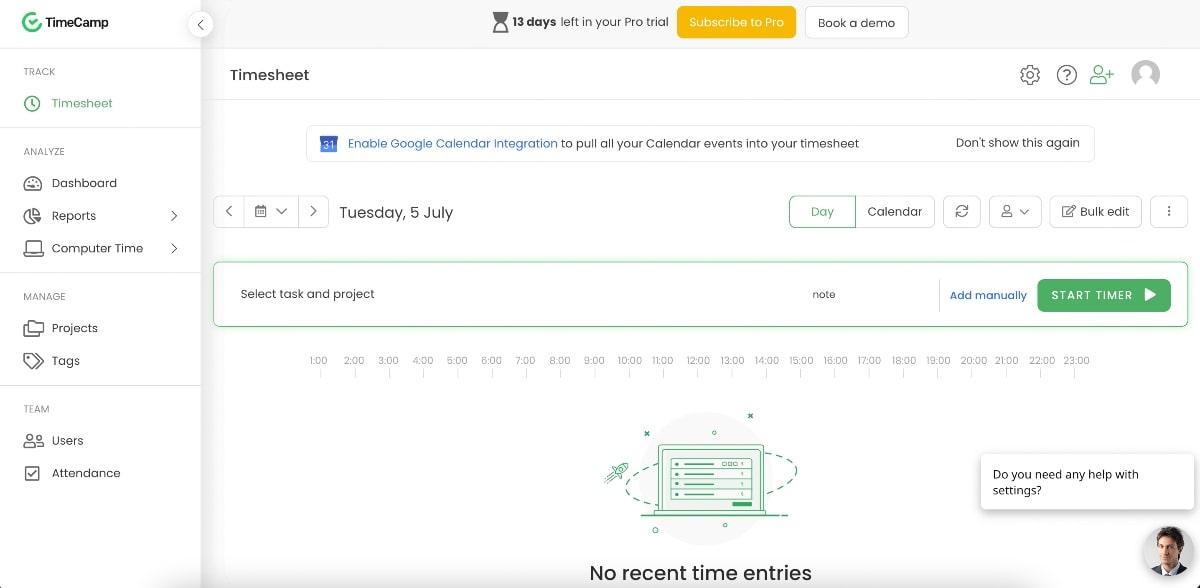 Whenever they're about to begin their workday, employees can select the task or a project they're working on and start the timer.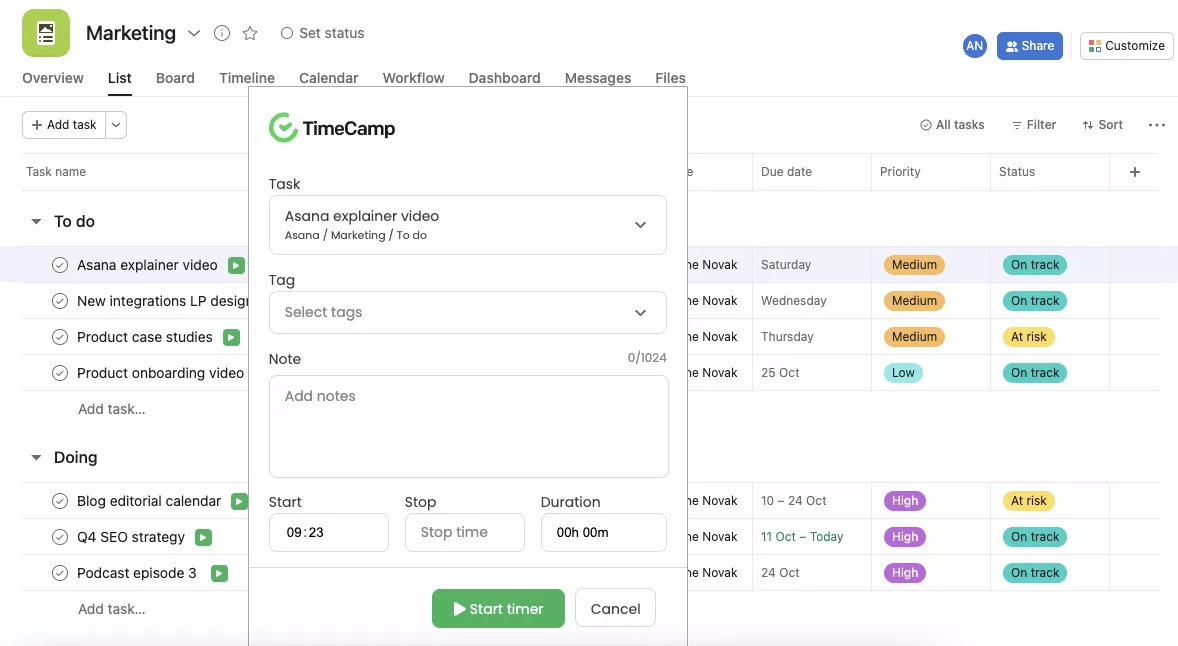 But, in case employees wish to go on a break, they'll need to stop the timer and start it all over again when their break is over. Another option is to create a new project named 'Break' that they can select and start the timer.
The same goes for clocking out. Employees are supposed to stop the timer when the workday's over, and the system will automatically create records of the time they clocked out.
TimeCamp's highlight feature
Clocking in and out is much easier with 'Attendance tracking' — track your attendance by marking days as:
Working day,
Remote work,
Vacation,
Sick leave and more.
There's no need to contact your superiors individually and bombard them with messages, simply put in the request in your time clock app, and the supervisor will get the request.
You can also add notes for additional context.
5. Zenefits — the best HR/time tracking software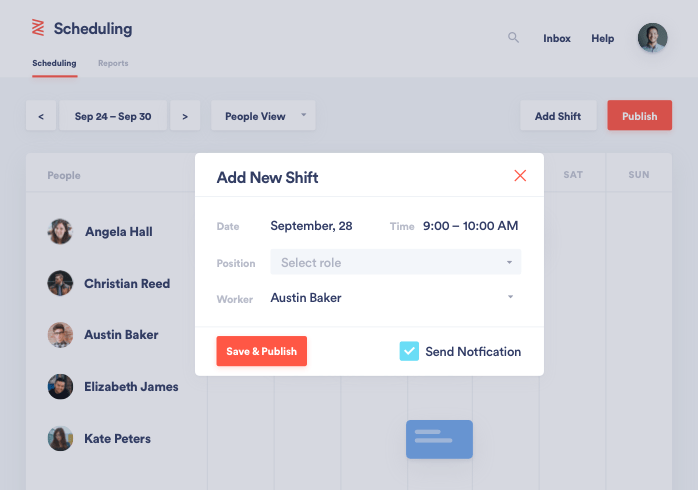 If you're looking for an app that can handle more operations at once, aside from clocking in, you should give Zenefits a try.
| Biggest Zenefits pro | Biggest Zenefits con |
| --- | --- |
| User-friendly interface | Not suitable for small businesses |
Although mainly designed as an HR app, Zenefits comes with an array of handy features — including scheduling, attendance tracking, and reporting.
Zenefits also offers location tracking and a payroll administration option.
Why use Zenefits for clocking in and out?
Zenefits helps capture employees' clocking in and out in real-time, giving its users full visibility of the way they spend their time.
Since this time clock app gives you a detailed overview of your team members' work hours, it also makes customizing shifts and scheduling work much easier.
There's also an option to download and customize the time and attendance reports.
How to clock in and clock out in Zenefits?
Before your employees begin clocking in and out, it's necessary to choose and set up the time reporting option that your company will use.
Even though Zenefits doesn't have a standard time kiosk feature, it offers two options:
Clocking in and out in real-time, and
Self-reporting.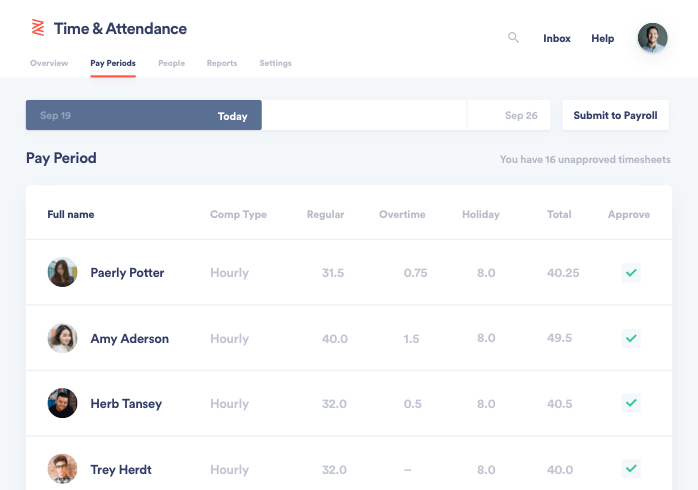 While self-reporting requires manually entering all the hours they've worked before payday, the clock in/out option records the exact moment an employee starts or finishes their shift.
If you've decided to set up the clock in/out option, you can either invite your team to use this option on the website, or through the mobile app.
Whichever choice employees make, they're simply supposed to tap or click the 'Clock in option' to mark the beginning of their shift, and select 'Clock out' when their workday reaches an end.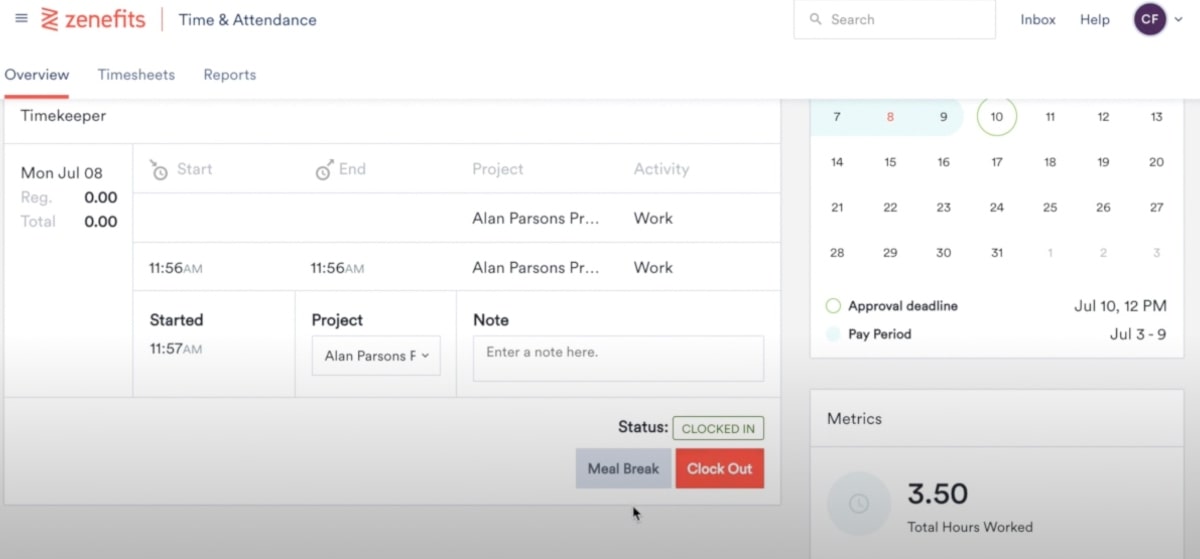 If an employee wants to go on a break, they're supposed to click the 'Meal Break' option and clock back in when their break's over.
Zenefits also gives employees the option to view the history of all their time records.
Zenefits' highlight feature
Zenefits' 'Time & Attendance' can track issues, such as missing clock in or clock out times or taking longer meal breaks than determined by the administrator. By activating this feature, all employees can rest assured at the end of their shift knowing they've clocked in and out accordingly.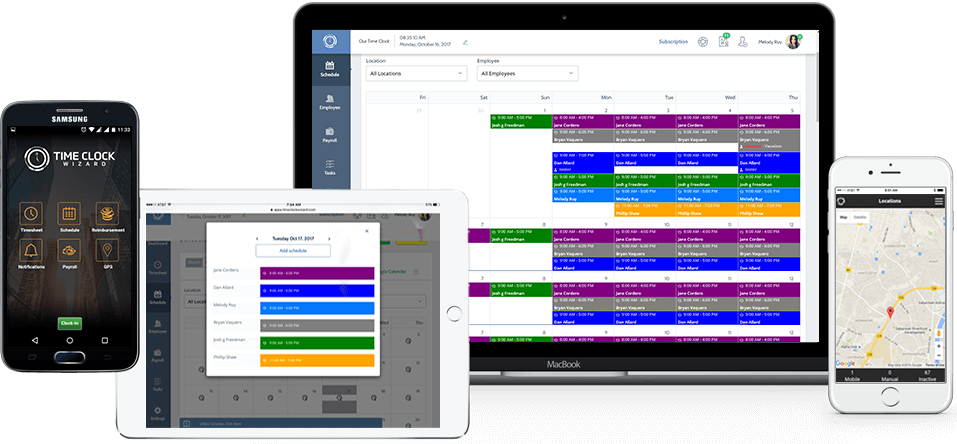 With over 300+ million hours tracked, Time Clock Wizard is one of the best apps out there for both shift management and clocking in and out.
| Biggest Time Clock Wizard pro | Biggest Time Clock Wizard con |
| --- | --- |
| Daily, weekly, and monthly schedules | 'Employee Permissions' issues such as clocking in/out of a mobile device can bug |
Time Clock Wizard is a time clock software that lets you:
Get accurate employee attendance insights,
Streamline payroll processes, and
Track time spent on tasks.
It also comes with a handy photo capture feature that helps in establishing a speedy clock-in process.
Why use Time Clock Wizard for clocking in and out?
Time Clock Wizard helps you streamline your clock-in process by letting your employees clock in from their own devices in multiple locations. Even though it doesn't have a time kiosk feature, you can still log in the dashboard and track your time with the rest of your team as a remote worker.
When it comes to onsite workers, the time clock app allows its users to enable location restrictions and establish different clock points, all of which is managed by the administrators.
How to clock in and clock out in Time Clock Wizard?
First, start by inviting your employees to the Time Clock Wizard app.
After everyone has set up their accounts, you can assign your team members a clock-in location in case they're working on-site, and set up the photo capture feature for identification. Remote workers use a shared workspace from where everyone clocks in, but it's up to the workplace admin to determine whether the photo capture feature is required.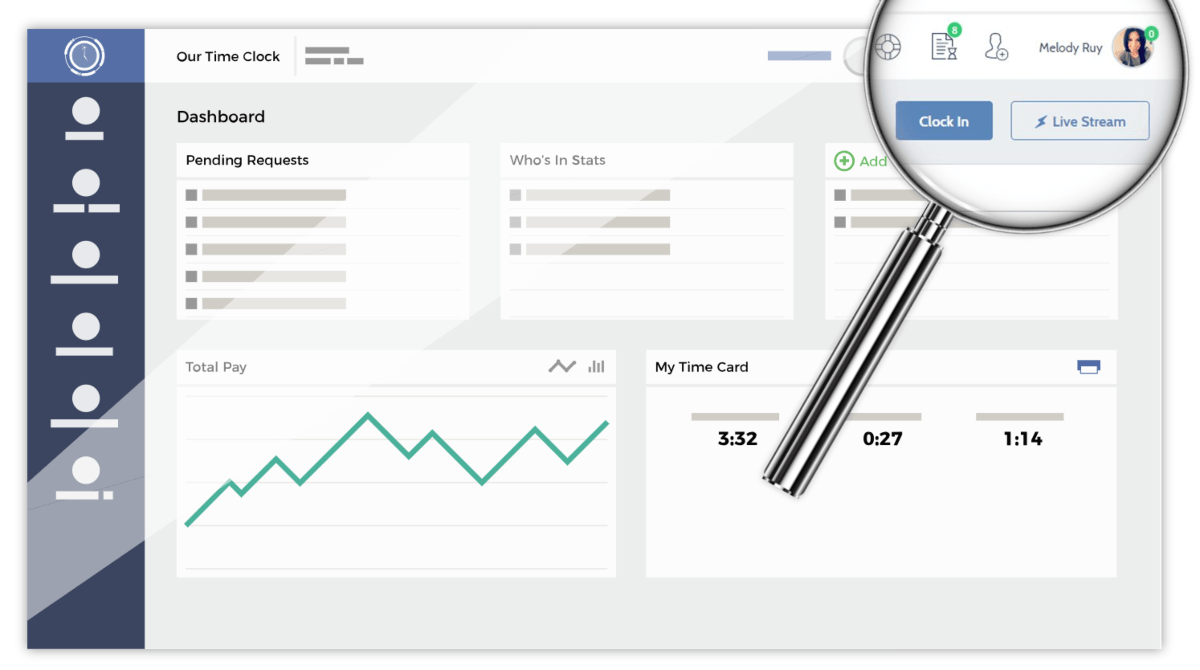 As soon as you've selected the mandatory options for clocking in, employees can begin using the time clock app.
Similar to its competitors, Time Clock Wizard gives its users the option to clock in or out via the website or the mobile app.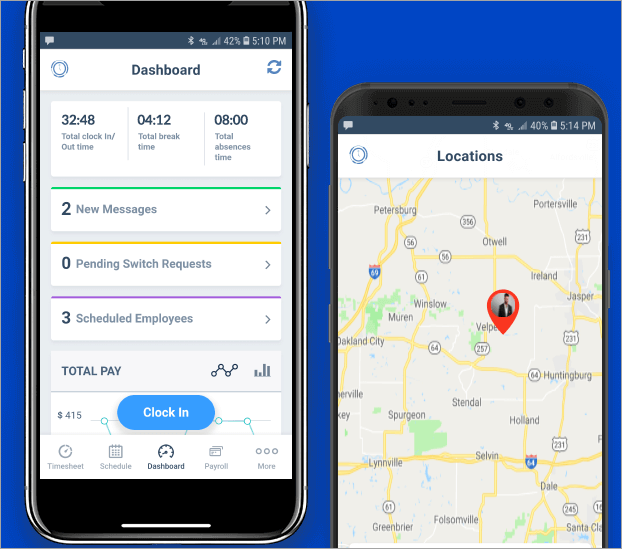 Whenever they're about to start their workday, employees should click the 'Clock in' option.
As soon as they're ready for a break, they're supposed to click the 'Start a break' option button, and 'Clock out' at the end of their workday.
Time Clock Wizard's highlight feature
Workspace administrators can activate the Alarm function to set notifications and customizable mobile alerts to all workspace members, in case they forgot to input their hours or clock in. Therefore, employees can focus on the work and not worry about clocking in and clocking out.
7. Homebase — best for team communication and team tracking in one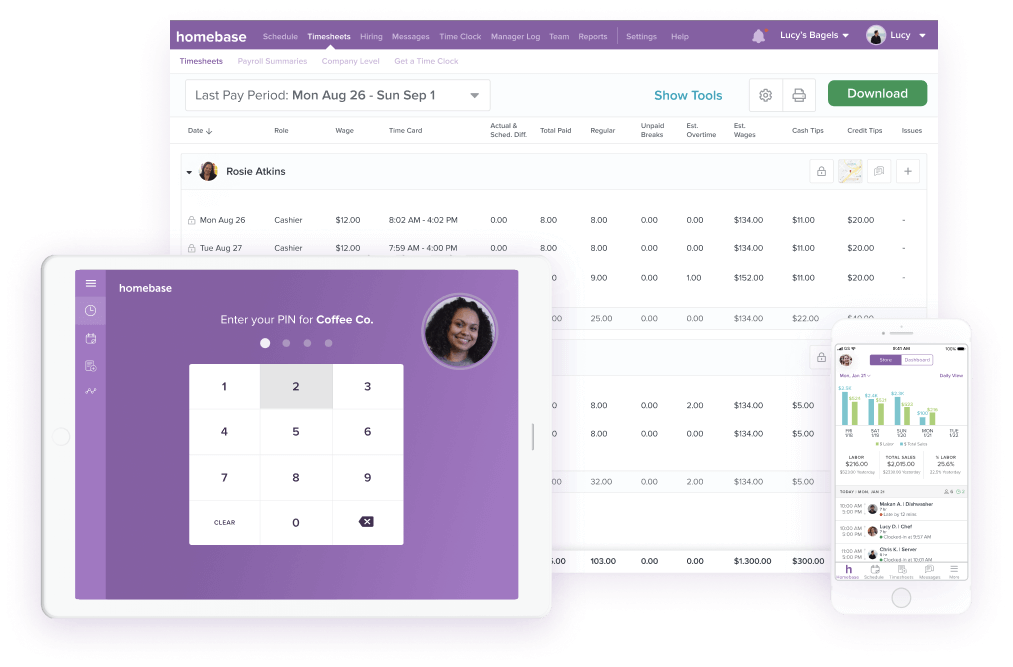 Homebase is one of the rare clock-in and clock-out apps that offers team collaboration and communications features within its workspace platform.
| Biggest Homebase pro | Biggest Homebase con |
| --- | --- |
| Team communication and time tracking all in one | Overtime reports can bug |
Homebase is a time clock tool that comes with plenty of features for:
Clocking in and out,
Automating employee scheduling,
Time tracking, and
Team communication.
The app also lets its users track labor costs based on their timesheets and comes with a proprietary time kiosk feature that makes clocking in and out much easier.
💡 Clockify Pro Tip
Turning labor into profit is one of the main points of owning and managing a business. If you want to know more, check out the follow blog on the topic:
Why use Homebase for clocking in and out?
Apart from increasing the company-wide transparency, the time clock option that Homebase brings to the table also helps with simplifying the calculation of hours worked.
Also, since the app is mainly designed for shift-based schedules, it might be a bit time-consuming and hard to navigate if your company operates on a flexible schedule.
💡 Clockify Pro Tip
A perfect work schedule doesn't exist. Or does it? Well, you can create a near-perfect one with a little help from the following blog post:
How to clock in and clock out in Homebase?
Before you decide to invite your employees to use Homebase, make sure that you've allowed them to clock in/out from their preferred devices — PC, mobiles, and/or tablets.
After they finish the registration process, employees will receive unique PIN codes that they'll need for clocking in.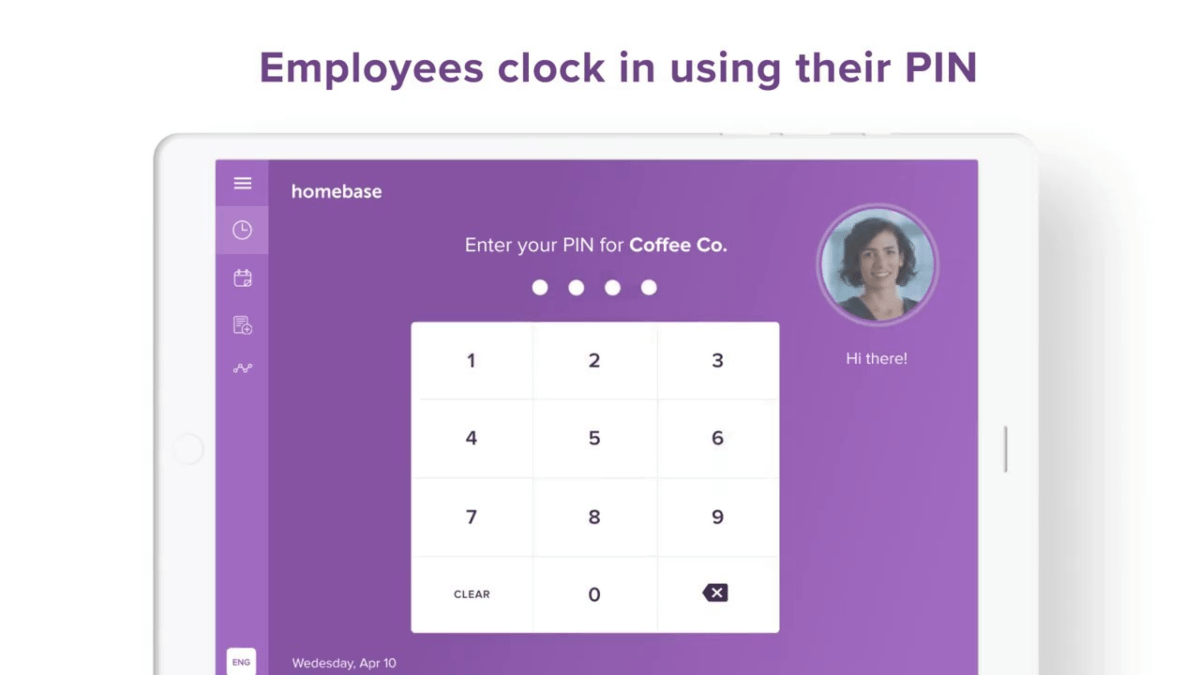 The same goes for taking a break or clocking out.
Every time an employee wants to change their availability status, they'll need to enter their PIN code in the time clock app.
Homebase's highlight feature
Most time trackers, including some of the best ones, don't offer options to both track time and communicate with team members on one shared platform. Any issues that might arise while clocking in can be solved immediately — just text your admin and you'll be good to go.
8. Quickbooks — best for managing payroll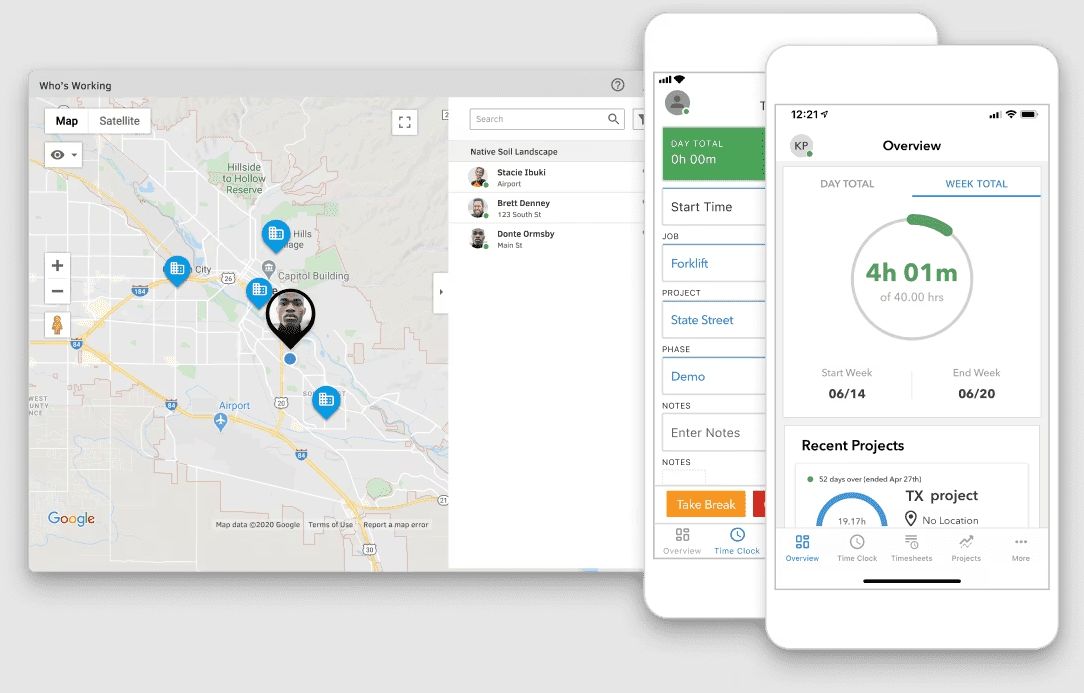 Get valuable insights, control payroll, and track attendance with the all-in-one Quickbooks Time app.
| Biggest Quickbooks pro | Biggest Quickbooks con |
| --- | --- |
| Great for payroll and taxes | No kiosk app on mobile devices (only on tablets and PC) |
Even though Quickbooks is primarily an accounting software, it provides all the necessary features for keeping records of employees' work hours — such as a time clock kiosk, a payroll app, and more.
Why use Quickbooks for clocking in and out?
Quickbooks comes with a time kiosk that completely replaces old-fashioned punch cards. This time clock system can be used on different devices(tablets and PCs), allowing you to tailor it according to your business' needs.
Quickbooks is also easily integrated with a payroll app. So, as soon as an employee clocks in/out, they'll be able to submit their timesheets — and the data will immediately show up in your preferred accounting software.
💡 Clockify Pro Tip
Are you running around in circles in search of the perfect accounting software that's also free of charge? You can put the search to a stop and catch your breath, because we've got you covered:
How to clock in and clock out in Quickbooks?
After you've created an account and invited your team, you can begin by installing the Quickbooks kiosk.
You can choose your clock-in kiosk name, select whether you want employees to clock in or out using a photo (not necessary), and add everyone to the kiosk.
Then, you're supposed to set up PIN codes for each employee to enable them to use the time clock system.
Once everything's set up, employees can clock in to mark the beginning of their shift by using their assigned PIN codes and tapping the 'Clock in' option.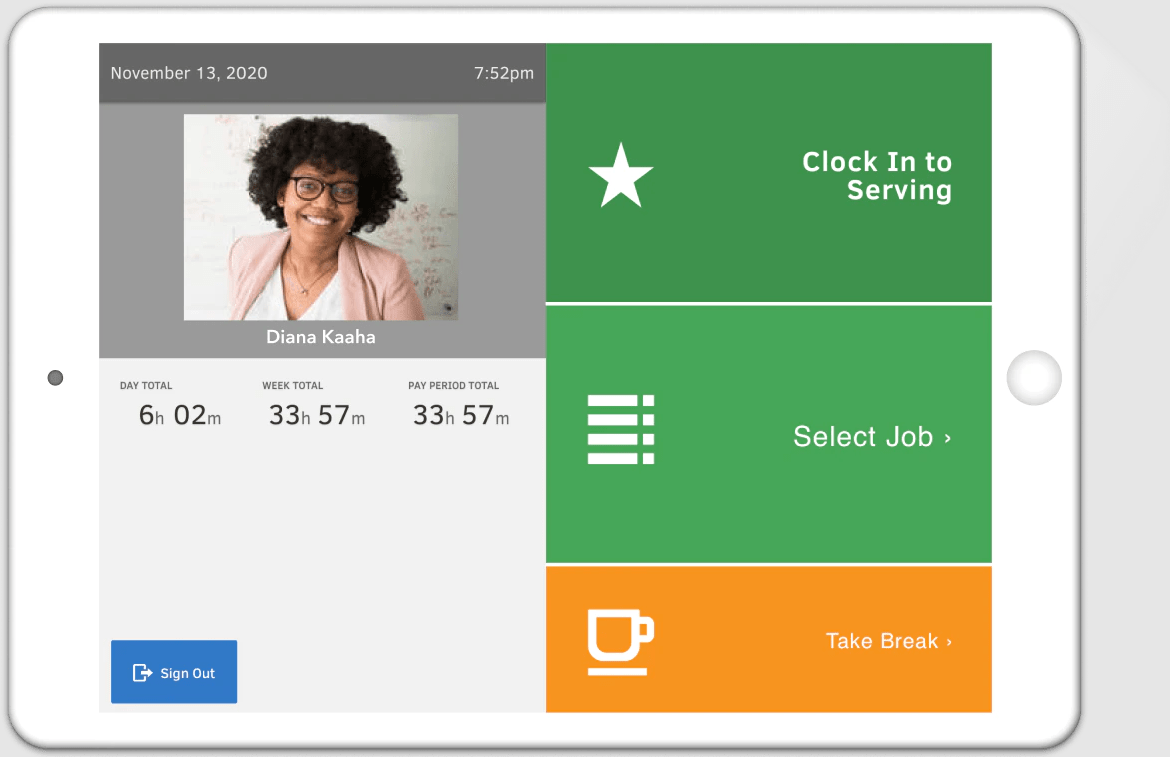 Whenever they'd wish to take a break, employees need to sign in to the kiosk once again and tap the 'Take a break' option.
Clocking out is similar to clocking in — employees should use their PIN code to access the kiosk and click on the 'Clock out' option to wrap up the day.
Quickbooks' highlight feature
Aside from precise time tracking, Quickbooks allows users to track time without having a stable internet connection, or one at all for that matter. This way, all of kiosk tracked time from PCs and tablets will be stored, even if you suffer power or internet outages in a day.
9. Deputy — best for managing shift rotations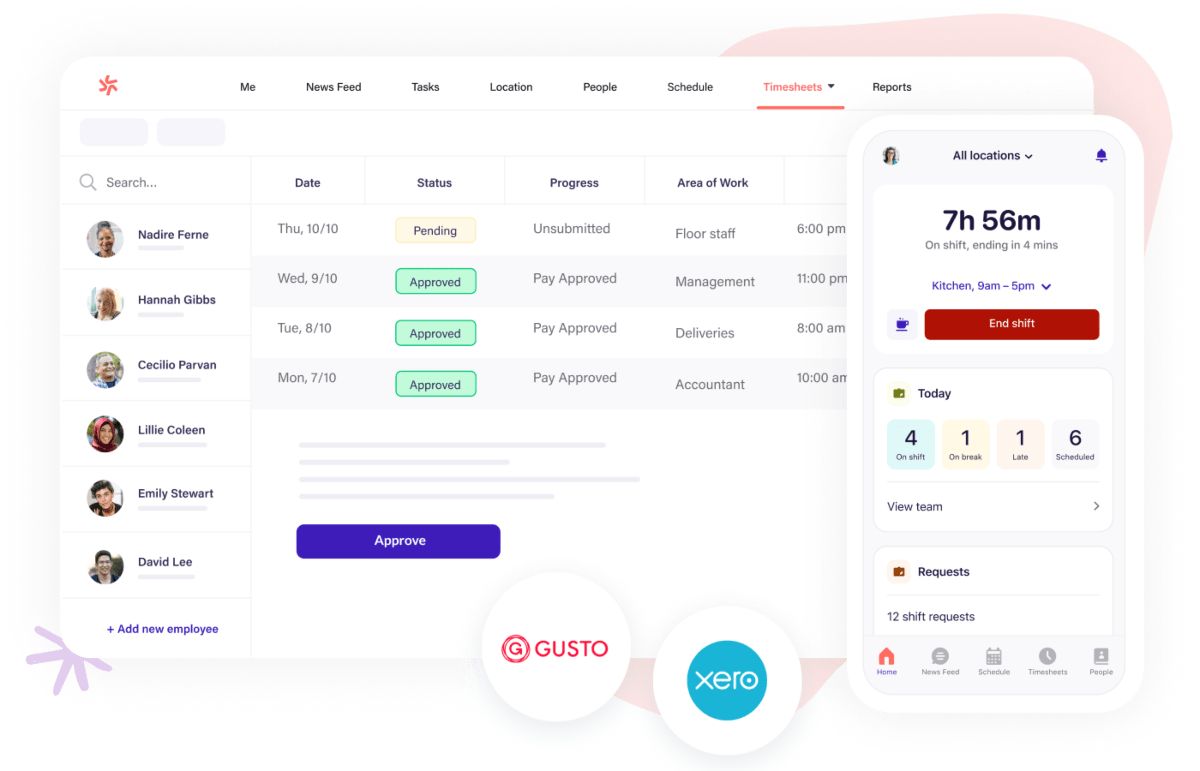 If your business employs people from around the world, you'll surely benefit from using the best clock-in app for managing shift rotations, Deputy.
| Biggest Deputy pro | Biggest Deputy con |
| --- | --- |
| Available on all app platforms, including a web version | Lack of features in countries outside the US |
Deputy is a time clock app that comes with a set of time tracking and scheduling features specifically aimed at helping its users achieve maximum efficiency.
The tool also includes timesheet bulk approval and a speedy report export.
Why use Deputy for clocking in and out?
Coming with a wide array of features that help its users boost efficiency and accountability, Deputy offers a time clock kiosk for keeping track of employees' workdays.
Since the kiosk app can be used on multiple devices — computers, mobile devices, and tablets — it contributes to speeding up the process of clocking in and out.
How to clock in and clock out in Deputy?
As soon as you've finished creating your account, you can either:
Generate a link and send it off to your employees, or
Invite them one by one to join you.
After your team has successfully registered, they can begin clocking in and out in the time clock kiosk either using an on-site device or their own mobile devices. To clock in and out, they'll have to enter the kiosk PIN code or use facial recognition.
Whenever an employee arrives at a location or their workday's about to start, they are supposed to click 'Start shift', and the app will automatically keep a record of the time stamp.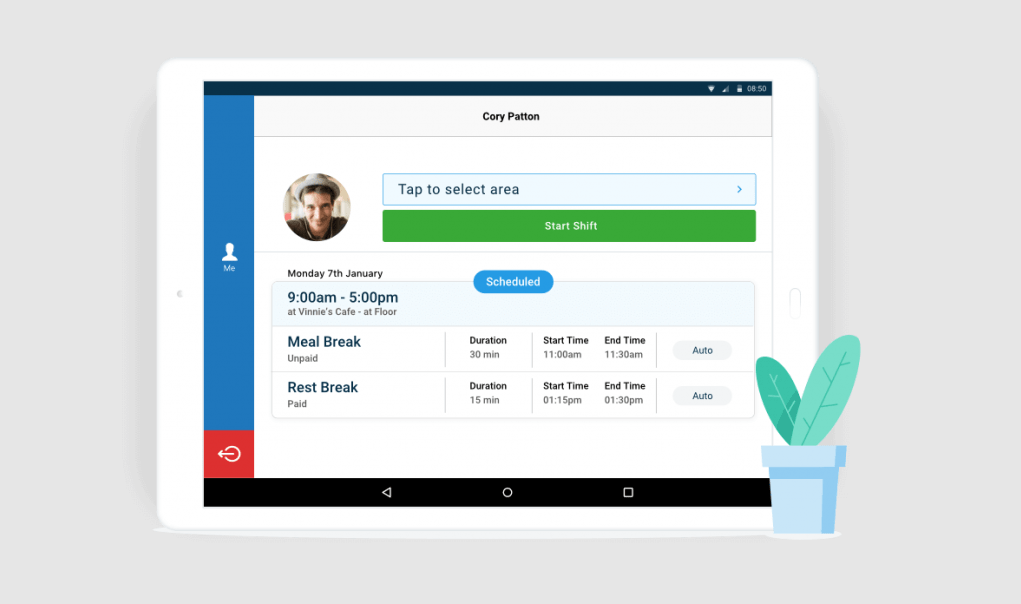 This way, the Dashboard will instantly give managers a clear picture of employee attendance, and help them adjust the schedule if necessary.
When the time for a break comes, employees are supposed to repeat the same process as with clocking in — they should tap or click 'Start break' and the timer will start off.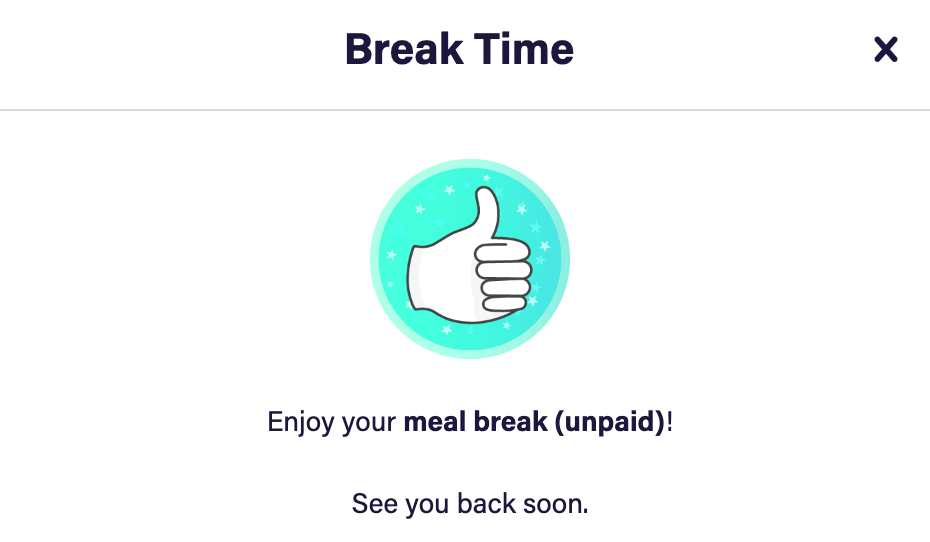 When it comes to clocking out, the employees are supposed to click the 'End shift' option, and their managers will be able to see that they're done for the day.
Deputy's highlight feature
Deputy's time clock software lets users control scheduling in a way that allows for shift swapping, as well as last minute changes.
Moreover, the GPS software improves this functionality by letting the administrator know who can cover the shift at what time by knowing where every employee is during the shift.
💡 Clockify Pro Tip
Are you managing a company and looking for a suitable work schedule? Read some of the following blogs to get a better understanding on how everything works and how you can improve your employees' schedules:
10. Hubstaff — best for large teams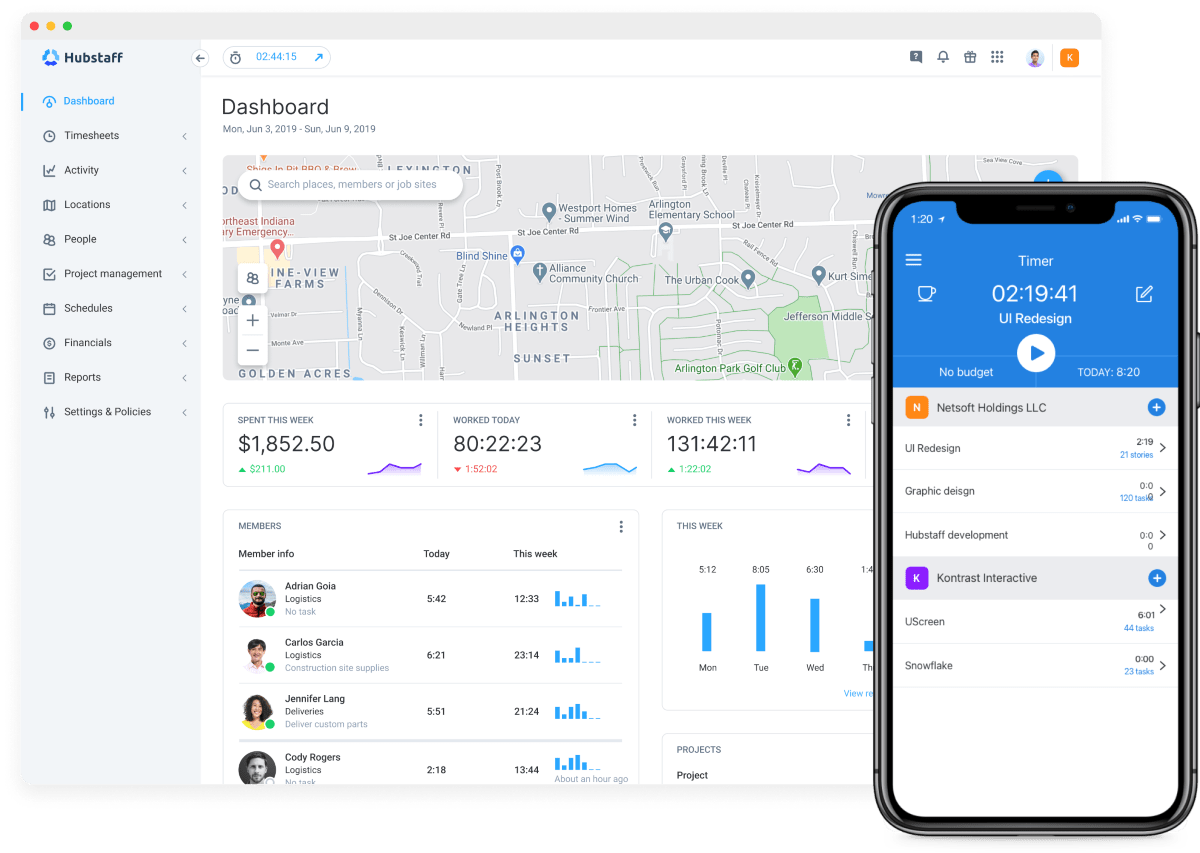 If you're in charge of a large team and you need a powerful clock-in app with handy features, Hubstaff could be the way to go.
| Biggest Hubstaff pro | Biggest Hubstaff con |
| --- | --- |
| Extensive list of features | No time clock kiosk |
A time clock tool that promises a variety of features, Hubstaff helps its users be in control of their time, stay on top of employee attendance, quickly clock in and clock out, and more.
Why use Hubstaff for clocking in and out?
Similar to its competitors, Hubstaff offers an easy-to-use clock-in system that helps reduce the amount of time employees spend checking in.
This time clock app also gives its users the ability to choose whether they want to:
Automatically clock in or out based on their location, or
Clock in or out on their own terms by starting the timer as soon as their workday begins.
How to clock in and clock out in Hubstaff?
After you've registered and sent invites to your team members, your team can start using Hubstaff to clock in and clock out in two ways, by:
Using a timer, or
Simply showing up at a job site, and they'll automatically clock in.
Your team members can start the timer and select a task they're working on as soon as they begin their workday. This way, the timer will automatically start off. When they're ready to call it a day, employees should simply stop the timer.
In case you'd like to automate the process of clocking in and out, you can set up geofencing in Hubstaff. However, this option is mainly designed for onsite workers, so it might not be the best solution for work-from-home teams.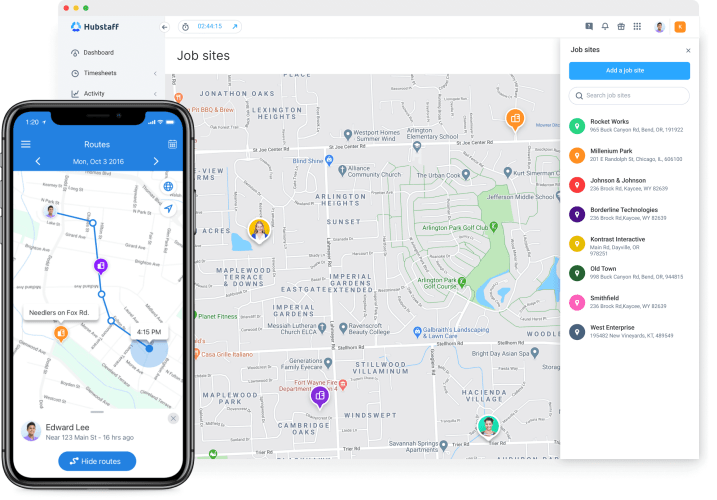 This way, as soon as an employee arrives at the job site, the timer will automatically set off by recognizing your location, either from your personal device or from an onsite device, such as a tablet. The same goes for their departure — whenever an employee leaves the designated location, the timer will stop running.
Hubstaff's highlight feature
Hubstaff keeps employees worry free by incorporating an automatic clock-in process. If you allow the app to track your location and the administrator has set up a geofence grid, your clock will automatically start running the moment you enter the location.
Conclusion: The best clock-in and clock-out app is on you
Many believe that time tracking is not crucial simply due to the mantra — As long as the work is done.
Well, you've seen the apps, and you be the judge. Many businesses have seen both productivity and profit increase by investing in clock-in and clock-out apps, simply due to simplicity and increased organization levels they provide.
Try it for yourself and you'll see the effects right away.
✉️ Did you ever use any of the clock-in and clock-out apps from our list? Let us know at blogfeedback@clockify.me and we might include your thoughts in this one or one of our future articles. Also, share this post with someone that needs a good time management system.