Time tracking in education: an interview with Apex GMAT
Anxiety. Stress. Not getting enough sleep and worrying about the exam. That's how I felt the day of my IELTS exam (an English language test for study, work, or migration). As a non-native English speaker, I had to take the exam to apply for an Erasmus program I wanted so much.
So, I understand how stressful tests can be, especially if you want to get into the university or school of your dreams. Test takers often have to think not only about studying, but also about getting mentally prepared for a test.
Apart from finding a way to reduce your stress levels, proper time management plays a crucial role in taking a test. To learn exactly how to manage your time better when preparing for and taking tests, we reached out to Apex GMAT — a company specializing in GMAT tutoring.
We talked with Fatma Xhafa — their Engagement Manager, who was thrilled to discuss the importance of time tracking in education. Also, we talked about the differences between online and face-to-face learning, and how this company uses Clockify to track work and improve their productivity.
So, let's learn about the significance of time tracking for tutors and students.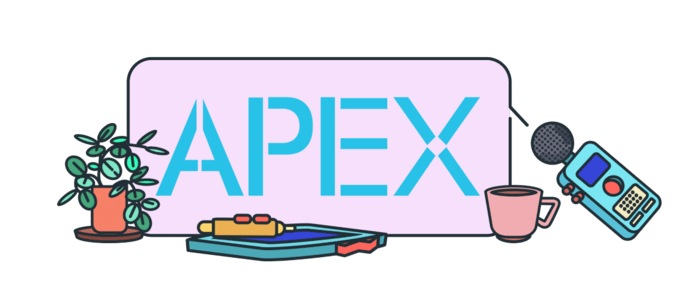 The GMAT test basics
As I already mentioned, Apex GMAT focuses on providing in-person and online tutoring sessions for students required to take the GMAT (Graduate Management Admission Test), as well as other tests, such as the Executive Assessment and GRE. In general, the people who are interested in GMAT tutoring usually come from business or finance backgrounds.
Now, let's see what the GMAT test is all about.
What is the GMAT test?
As Fatma points out, the GMAT exam is a specific exam for people who want to go to business schools, and more specifically, pursue an MBA (Master of Business Administration) or EMBA (Executive MBA).
She adds that the GMAT test is required for most of these programs as an entrance exam.
You can take the test either at a test center of your choice or online. You must conduct your test on a computer. If you opt for an online test, you'll have to ensure that your computer meets all technical requirements.
According to Fatma, here's another invaluable fact to have in mind: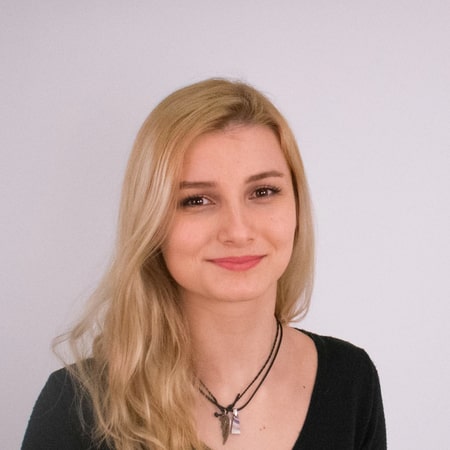 "MBA programs use the GMAT as a core component in recognizing gifted candidates. While programs don't have set GMAT scores, the elite programs generally require a score in excess of 700, or about the top 10% of test takers."
Who should take the GMAT test?
In general, the GMAT test is for people who are seeking an MBA. They often come from the finance and business sector, and entrepreneurship as well.
When asked about their clients, Fatma said that they're usually busy professionals who are looking to go to graduate schools as the next step in their careers.
She added that their clients usually have a target score in mind when preparing for the GMAT test.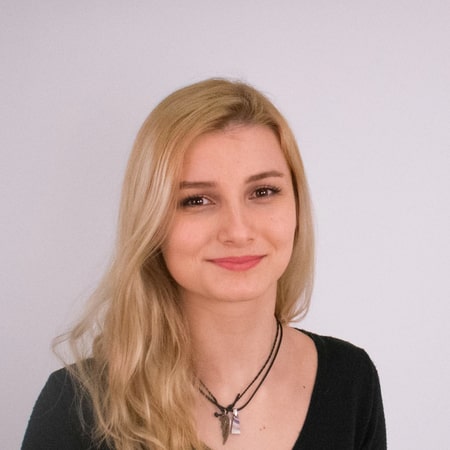 "We specialize in working with high-achievers seeking admission to the best MBA programs. They have a very high target score. And we specialize in this very specific range, taking them from one score to the other."
Fatma also says that they had clients coming from other fields of work, such as sports. For instance, this educational center had athletes who, after doing sports for a while, have decided to go into graduate school.
What are the main issues related to taking the GMAT test?
I was curious to find out what kind of issues/struggles their students face when asking Apex GMAT for help.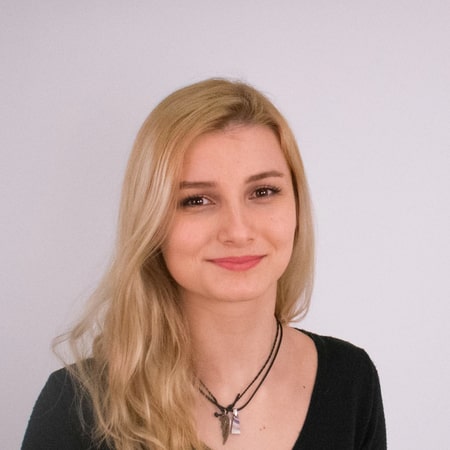 "I think that understanding how the test works and how it's scored in general is a challenge in itself."
The GMAT test is specific because it has a scoring system that's different from other tests.
It's a computer-adaptive exam, and these tests are, by definition, "designed to adjust their level of difficulty — based on the responses provided — to match the knowledge and ability of a test taker."
So, when a student answers correctly, a computer will follow up with a more difficult question.
On the other hand, when a student answers incorrectly he/she will receive an easier question.
Fatma says that the test doesn't just calculate how many questions are right or wrong, but it weighs them based on a particular algorithm. The algorithm determines the value that questions have on the entire exam.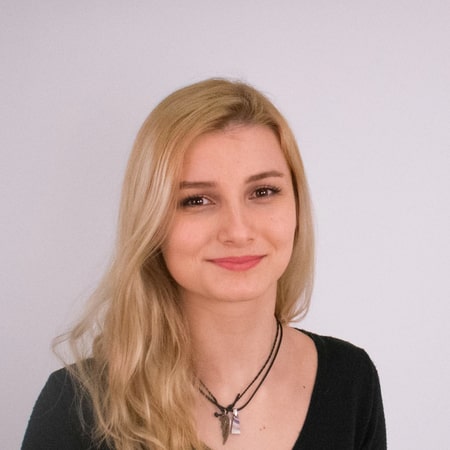 "So, basically, the test result doesn't depend a lot on how many questions you get right or wrong. But it depends on the value that these questions have on the entire exam."
The specific traits of the exam, such as its adaptive nature, make the test more challenging for students because they have no way of knowing which questions are more important than others.
How to set priorities when preparing for the GMAT exam?
Now, when it comes to the GMAT exam, how important are priorities?
Since there are four sections of the test (Analytical Writing Assessment, Integrated Reasoning, Quantitative and Verbal Reasoning), we wanted to know if test-takers should dedicate an equal amount of time to each test category.
Fatma highlights that Apex GMAT offers personalized tutoring, meaning their instructors focus on where the client needs the most help. However, she points out that, since the quantitative and verbal sections contribute to the most commonly cited aggregate score (out of 800), most tutoring tends to focus on these sections.
But, what about setting priorities when taking the test? Here's what Fatma thinks: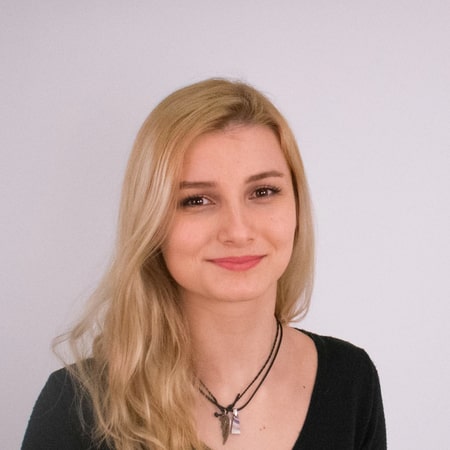 "In terms of the timing, when students are taking the exam, each section has a certain time allocated for it, and so, they know that's how much time they can dedicate to it.

But, for us, specifically, setting priorities largely depends on the client and their needs."
💡 Clockify Pro Tip
If you need help with learning how to prioritize and (re-)prioritize your tasks, make sure to check out this blog:
The importance of time management for GMAT test-takers
The Apex GMAT team claims that time management is one of the crucial skills needed for taking the GMAT test.
So, I wanted to pick Fatma's brain on this subject.
Here are the vital reasons this tutoring center emphasizes proper time management.
Time management helps test-takers achieve better scores
Fatma highlights that time management is of utmost importance for GMAT tests. That's because the GMAT is a test of decisions that need to be made under time pressure. Therefore, pursuing efficient solution paths and navigating comfortably with uncertainty are essential skills for taking the exam. And, you can improve such skills by mastering your time management abilities.
She explains how they teach their students that managing their time better leads to higher scores.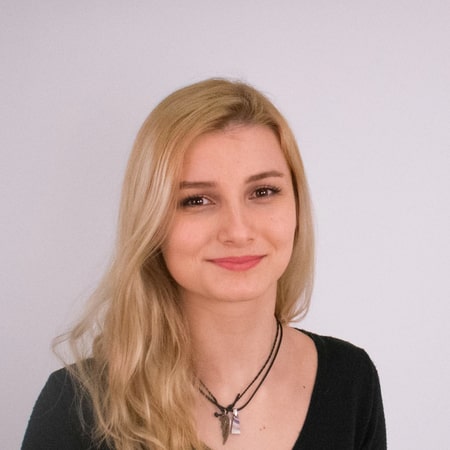 "Generally, we like to tell our students that, if you know what you're doing and if you're well prepared, the timing will take care of itself. You'll only spend a decent amount of time on a question. Because thinking too much or too little about a question will lead to a lost score."
💡 Clockify Pro Tip
To learn about the significance of time tracking for tutors and students, check out our blog post on that subject:
Time management helps test-takers not stress about the clock
In one of Apex's YouTube videos, Mike Diamond, their Director of Curriculum Development, mentions how time management helps students stay focused on the test and avoid any focus switching.
So, I wanted to know if proper time management also allows students to notice when some task or a question is taking them too long.
Fatma answered that, in such cases, instructors teach students to move on to the next question, because every minute is valuable.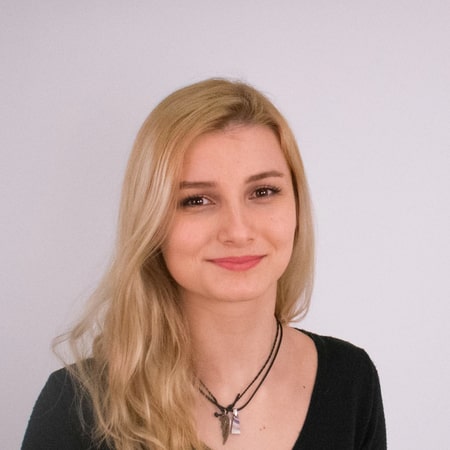 "I don't think that our instructors would recommend looking at the time, but it's good to be mindful of how much time you're spending on a question. I think this is a real skill when it comes to time management, not just looking at a clock and measuring it, but having internal time management that will help you get through the exam. Looking at a clock will just create more anxiety and stress for test-takers."
We can conclude that being mindful of how much time students devote to questions will help them relieve stress.
Another way of lowering stress levels when preparing for exams is to study in shorter periods with high productivity and attention. Fatma claims that very often students make the mistake of thinking that "more is better," when the quality of study time significantly trumps quantity.
💡 Clockify Pro Tip
To become better at time management, you can also try parsing your time into study blocks and breaks, which a lot of YouTubers suggest in their "study with me" videos. Read more about it in the following article:
How to alleviate anxiety when taking the GMAT test
Having watched some of the Apex GMAT's testimonials, I noticed that many students point out that they're usually nervous or anxious when taking the test.
So, how do their tutors help with such a problem?
In Fatma's opinion, their clients usually have some fundamentals about the test, since in most cases, they've already taken it before. And, we should mention that people are only allowed to take the GMAT test eight times in a lifetime, which means that test-takers need to try to use these attempts wisely.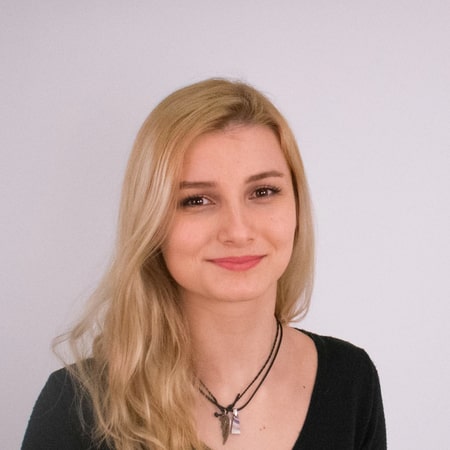 "All these factors combined cause this anxiety that builds up and when people take the test, they know they have to do great, or they don't go to their desired business schools. Once our clients have mastered the fundamentals and the main aspects of the exam, it comes down to using those and leveraging those to serve your performance."
One of the most effective strategies for overcoming anxiety, according to Fatma, is fully adopting time management. Here are some other practical strategies as well: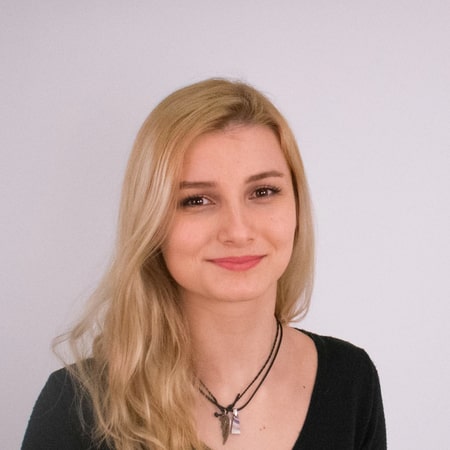 "One thing that our instructors recommend are lifestyle changes, for example, they mention how coffee can help you on the day of the exam. Also, you should postpone the exam if you haven't had adequate sleep the night before. These changes will put you in the best mindset to go there and take the exam — because you'll be well-rested."
Consequently, Fatma says that combining all the external and internal factors will ensure optimal performance.
The pros and cons of online vs. in-person learning
As Apex GMAT organizes both online and in-person tutoring sessions with their students, we talked with Fatma about the advantages and disadvantages of both learning methods.
The pros and cons of online learning
Fatma says that Apex and their clients, over 90% of whom take tutoring online, didn't miss a beat when Covid came into the picture.
Let's look at both the good sides and the bad sides of online learning.
Advantages of online learning
When they get new clients, Fatma pairs them with instructors that are best suited for them — availability-wise or in terms of teaching styles.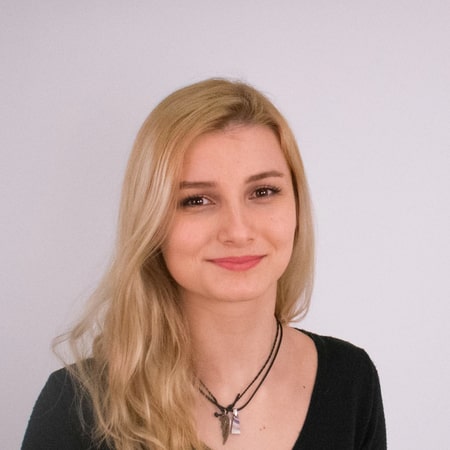 "In terms of online learning, this method gives students massive flexibility that comes with being online. Therefore, online learning allows us to pair clients with the best-suited tutor for them, without having a geographical location as an obstacle."
Disadvantages of online learning
When it comes to the disadvantages of online learning, Fatma believes there aren't any.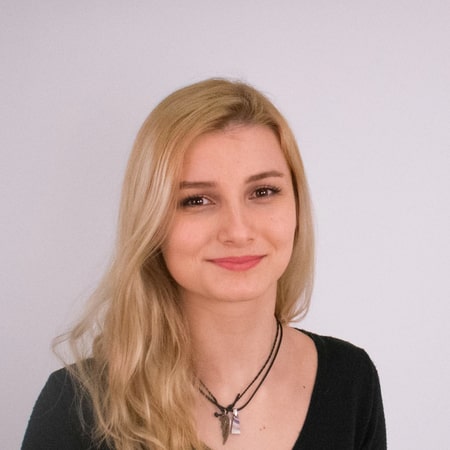 "We're an online learning company, and our studies indicate that there is no statistically significant difference in performance between those who receive in-person vs online tutoring. Therefore it should come down to personal preference."
The pros and cons of in-person learning
On the other hand, there are still some clients who prefer in-person sessions with instructors.
Let's see what the main pros and cons of face-to-face learning are.
Advantages of in-person learning
As Fatma explains, the key advantage of in-person learning is that you're getting personalized tutoring by someone you can ask as many questions as you want.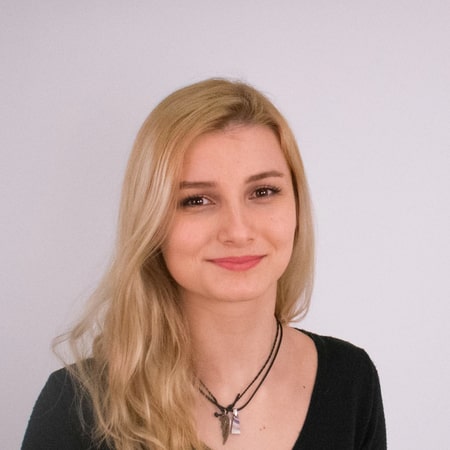 "It removes a barrier in terms of communication. Also, a lot more people prefer to learn face-to-face."
Disadvantages of in-person learning
Speaking of disadvantages of in-person learning, Fatma highlights the main one — coordinating the entire learning process.
It can be a challenge for people to meet both work and family obligations, as well as commute times, factored into the picture. Fatma concludes that this process is often less than time-efficient and learning-efficient.
How the Apex GMAT team uses Clockify
Apart from discussing the GMAT exam and the importance of time management when taking the exam, we also wanted to hear how this educational center uses Clockify. In addition, we asked Fatma about the most useful Clockify features for education.
Where did Apex GMAT find out about Clockify?
Naturally, I first wanted to know how their team discovered Clockify.
Fatma explains that she got a research task from her manager to look for tools that would help them optimize the way they measure time both for staff and clients.
So, Fatma did a lot of research and created free trials for several tools (including Clockify), so she can test them all and see what works for the team.
What made Apex GMAT choose Clockify?
According to Fatma and her research, Clockify was the one that checked all the boxes.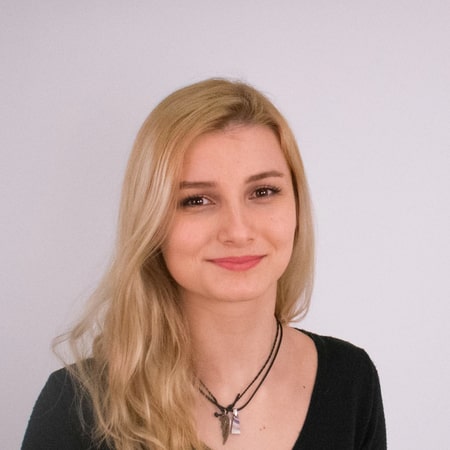 "We wanted a place that could help our HR department with the time management for staff, measuring their hours and productivity. Also, we needed a place where we could measure the time for our clients — how much time the clients are spending in sessions (in billable hours)."
Additionally, Fatma wanted to have all time tracking data in one place, but still separate data for the staff and the clients.
Thus, she decided to create two Clockify workspaces under one account — one for their staff and the other for the instructors(with billable hours tracked). She adds: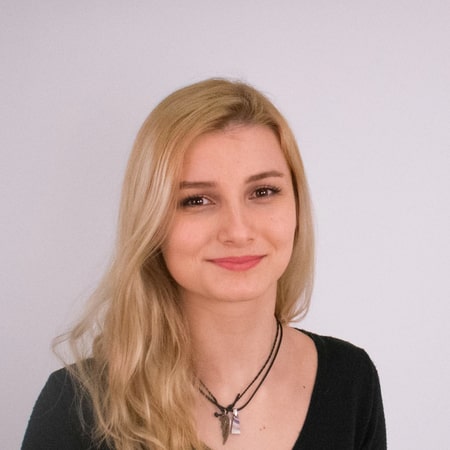 "It's a great tool to increase productivity. It was difficult for me to manage how much time I was spending on specific tasks. And then, with Clockify, I started measuring everything and I created projects and tasks for everything I was working on."
💡 Clockify Pro Tip
Not sure how to calculate billable hours? This article will guide you through all the steps you need to take:
Time tracking as an eye-opening activity
Not only did time tracking become a routine for her, but Fatma also learned that she's been wasting a lot of time. For example, she used to be in front of a computer for 10 hours but only did seven hours' worth of actual work. Fatma continues: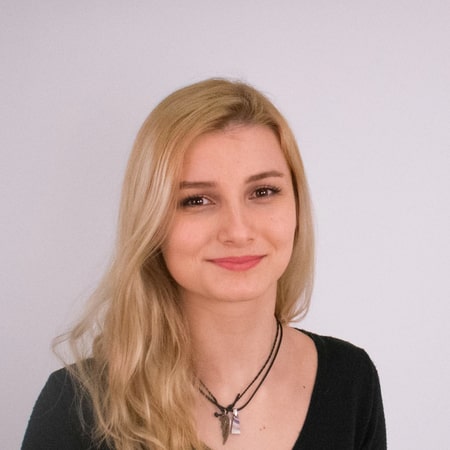 "Eventually, I learned to be better at time budgeting, meaning I would start working from a certain time to a certain time, and then I would allocate some time for a break."
Eventually, this habit helped Fatma improve her overall productivity.
What Clockify features are most practical for tutoring?
Fatma says that using Clockify helps them keep track of billable hours for clients and track staff time.
But, which features are vital for the Apex team?
Fatma claims that they find the Dashboard invaluable because the team can see all the time they're spending on various tasks. Moreover, she particularly enjoys the option of filtering through all the projects. Fatma adds that the Dashboard lets her keep an eye on how much time their team has collectively spent on a particular project.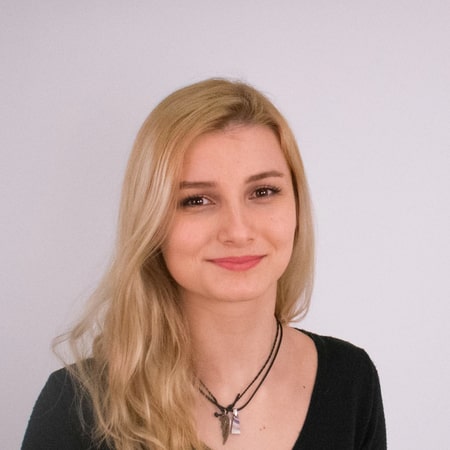 "It helps us allocate our resources and see where we're spending our time. Therefore, we can be better at planning our time and tasks at a team level."
When it comes to instructors' favorites, they appreciate Clockify reports.
Fatma points out that reports are practical because they're customizable. For example, she can customize reports by type of exam.
In addition, she can filter reports by instructors — which comes in handy because each instructor has their own clients.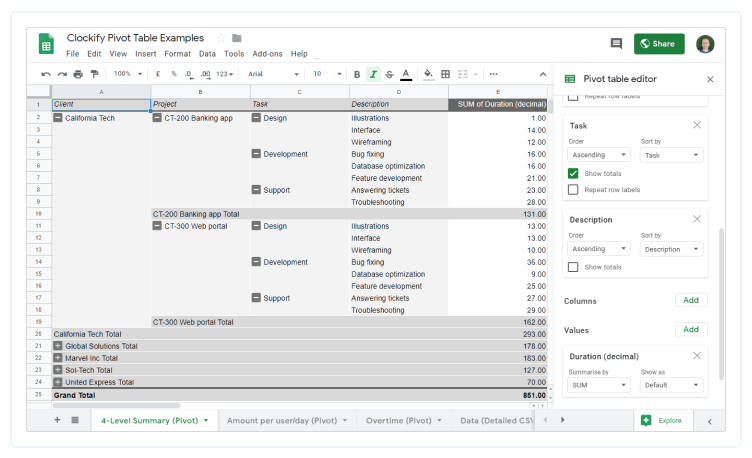 Fatma concludes: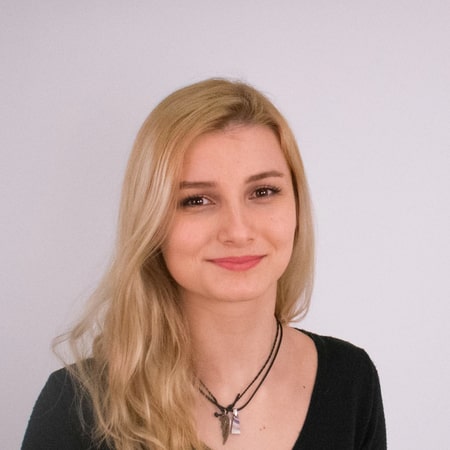 "The other thing I really like is to download the reports as a PDF, CSV, Excel. I do that regularly, especially with billable hours. I can see hours in decimal, I can see start time, end time, it's very comprehensive."
Wrapping up: studying and tracking time as a vital equation in education
What's the link between time management and taking an important test?
According to Fatma Xhafa from Apex GMAT, when test-takers are well prepared, the timing will take care of itself — meaning that students will spend a decent amount of time on each question, which will help them pass the exam.
She adds that properly managing your time while doing a test doesn't mean constantly looking at the clock, but being mindful of how much time you're spending on each question.
Apart from students, tutors can also benefit from tracking time. In their quest to find a tool to track time for both the staff and clients, the Apex GMAT team discovered Clockify.
As Fatma points out, the main advantage of using a time tracker such as Clockify is that they can measure the time instructors spend with clients and calculate billable hours. Furthermore, they can create reports for their clients and export them in various formats.
Finally, when it comes to personal productivity, Fatma highlights that time tracking helped her have a better overview of how she spends her day. Consequently, now she knows how to better organize her time during the day and include frequent breaks, too.
✉️ Calling all students and teachers, do you have a habit of tracking your time? How does time recording help you stay productive? Send your answers, suggestions, and comments to blogfeedback@clockify.me and we may include them in this or future posts.