How Sam Charles uses Clockify to track time in digital marketing
The Times They Are A-Changin' — Bob Dylan once said in his famous song, and the statement still holds true to this very day. The rise of technology, the Internet, and AI has given the working community many opportunities that did not exist before.
Young and smart people get to test and experiment with different job positions until they find their niche, which is something that Sam Charles, the head of Float Digital marketing agency, knows much about.
From humble beginnings to honing her skills, Sam managed to do it all, including starting a family and juggling all of her responsibilities along the way.
The road to her success was a tricky one, but Sam was kind enough to share her story with us, including the tales of:
Her early beginnings,
Finding her niche,
Balancing her everyday responsibilities,
Perfecting her time management skills, and
Using Clockify.
Without further ado, let's see what she had to say.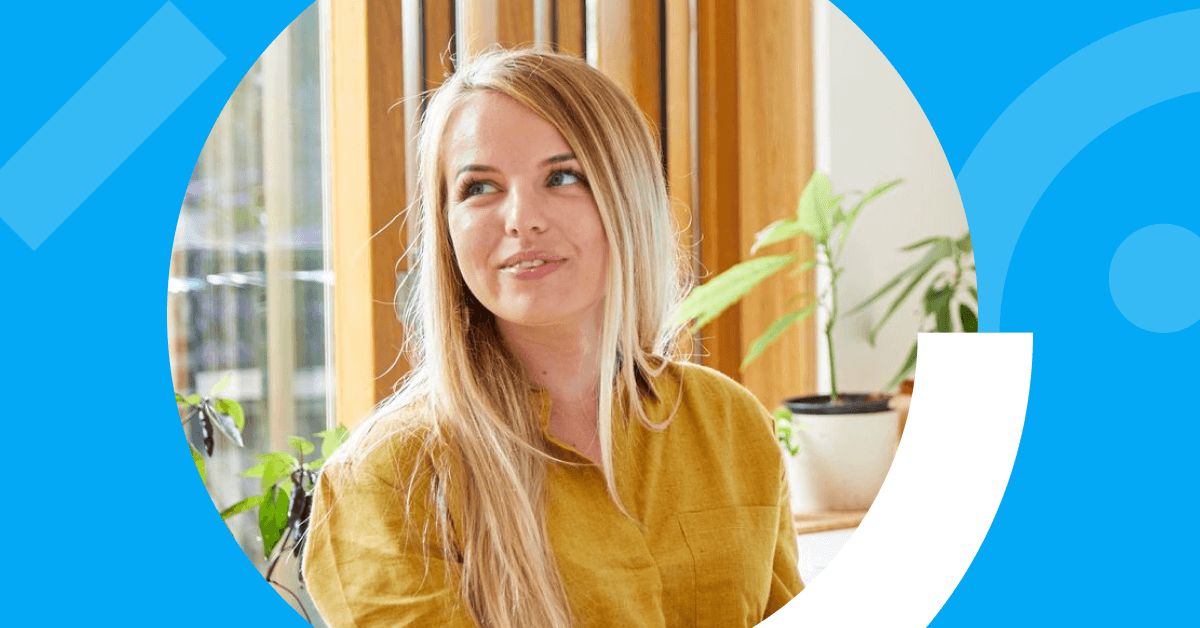 Sam Charles' career: Working hard and taking risks
You don't get to the point of being in charge of the Best Digital Marketing Agency, according to the UK Enterprise Awards, unless you're bold enough to take risks and determined to make it on your own.
That's how our interviewee Sam Charles had to go through a series of challenges before getting to that sweet spot in life.
Sam's beginnings: Finding her true calling in life
Sam attended Falmouth University, where she excelled at Creative Advertising. However, Sam truly discovered herself when she went abroad and attended her second year of college at Griffith University in Australia.
Once she finished the year abroad and came back to the UK to continue studying, Sam felt reborn and determined to start a business of her own: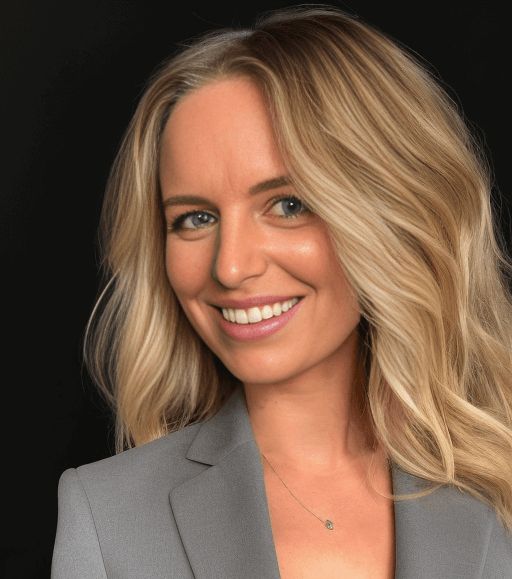 "I came back to the UK with a golden tan, but more importantly, a passion to start something for myself. I set up a website which became a playground to grow my SEO knowledge and exercise my analytical expertise."
So, the situation was as follows — Sam honed her SEO skills via her website, she continued to study advertising, and her main source of income came from working as a project coordinator and PR.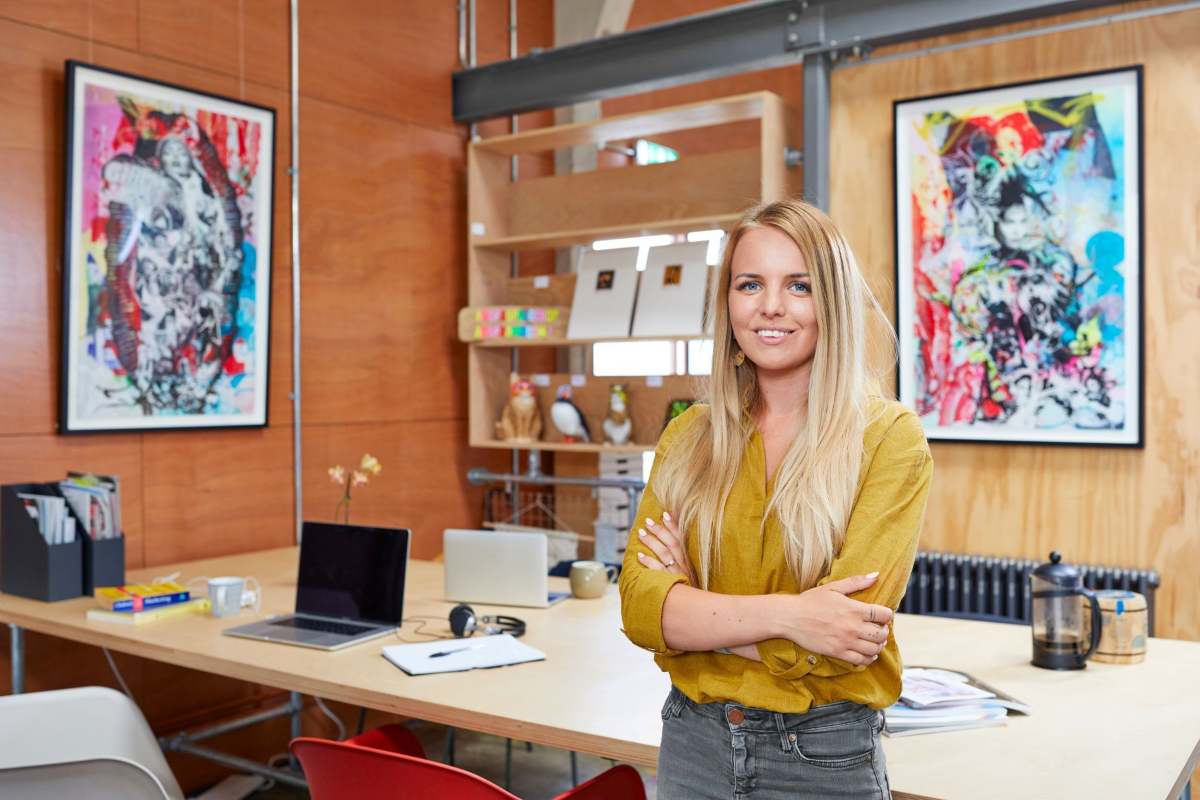 The logical question was — how did she manage to do it all?
Well, everything came with a price since, as Sam pointed out, burnout is a real thing with real consequences: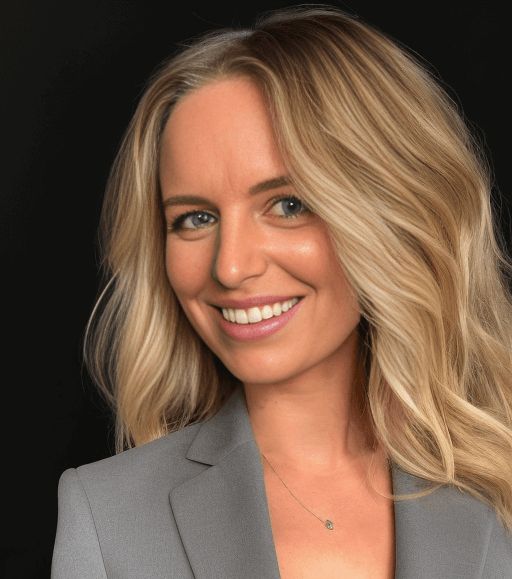 "After experiencing burnout and a desire for change, I had a moment of madness, coupled with some entrepreneurial spirit. I knew that my true passion lay in educating people and helping them get the most out of their digital marketing efforts."
With a new-found rush of inspiration and motivation necessary to start something new and exciting, Sam got to work. However, at the time, the industry did not offer any personalized approaches when it came to conducting digital marketing business, which ultimately led to the creation of her own agency — Float Digital: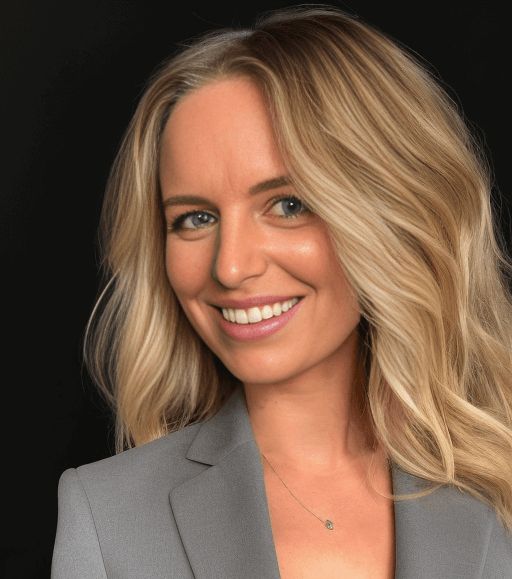 "Having worked in large agencies, I was frustrated with the limitations of my role. I wanted to do things differently and offer a more personalized approach to digital marketing by offering informative and flexible packages."
💡 Clockify Pro Tip
No matter what your job is, the chances are you've experienced burnout and/or overwork. If that's the case and you're not sure how to deal with it, take a look at the following blog posts and find the solutions:
Float Digital: The work and success
Sam opted out to build an SEO and Google Ads agency that helps businesses thrive and grow by utilizing data-driven strategies. Float Digital provides services that are designed to help businesses achieve their digital marketing goals, such as:
Search Engine Optimization,
Onpage SEO,
Link building,
Content marketing, and
Other SEO-related services.
In addition to this, Sam strives to remain individual, authentic, and focused solely on the welfare of the client they're working with at the moment: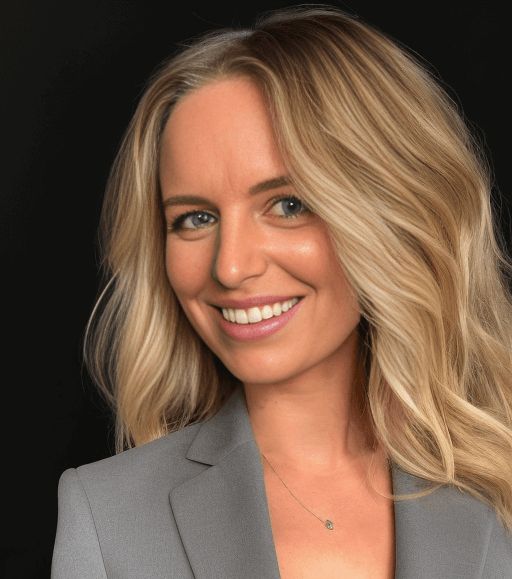 "This is one of the many reasons we remain a small agency, with only four of us steering the helm and support from our partners. We carefully select our clients and don't take on every campaign that comes through, enabling us to maintain our integrity and deliver high-quality campaigns."
Continuous development: SEO practices and staying up to date
When it comes to perfecting a craft and keeping up to date with modern practices, one must wonder what it takes and how it is done.
Luckily, we had Sam to answer that question for us. Namely, following the right people and staying informed is crucial if you want to up your game: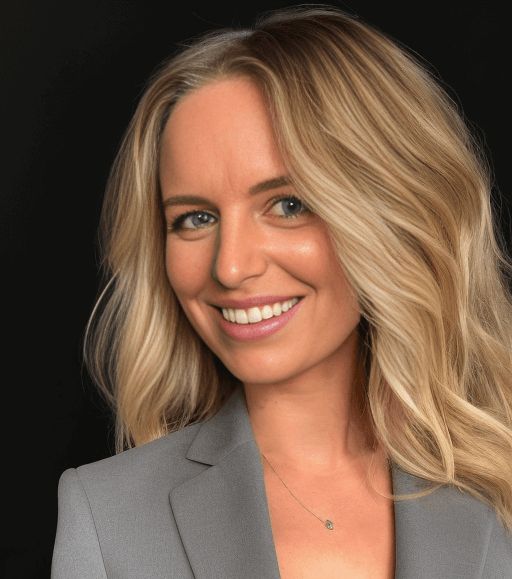 "One way we do this is by subscribing to industry newsletters and publications, which provide regular updates and insights.
We also follow reputable SEO blogs and thought leaders on social media to stay informed about new developments. Furthermore, we attend SEO conferences, seminars, and webinars to learn from experts and network with other professionals in the field."
Finally, Sam notes that it is crucial to constantly review Google's guidelines and their policies to stay up to date, as well as to collaborate with SEO professionals and experts on industry-related topics.
How Clockify helps Sam manage her hectic schedule
Aside from running Float Digital and attending all sorts of industry-related events, Sam also finds time to be a mom. The conclusion? It seems impossible to fit all of it into a regular workweek.
Naturally, we asked Sam to share the secrets of the trade regarding her time-planning skills. As she claims, the key to squeezing everything is becoming a serial planner: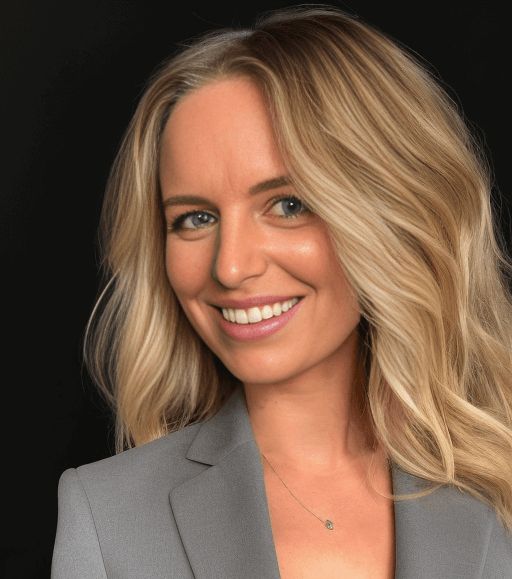 "Everything in my brain is put into my project management tool then scheduled into my calendar. I often set timers so that I have a start and a finish time for a project, which really helps me to stop procrastinating — as well as really seeing how much time I'm spending on individual projects. Habit stacking is also really helpful for finding a rhythm."
Seeing as how the problems she faced, such as time management and procrastination, are not easy to overcome, using Clockify came quite handy for Sam. Let's see how Clockify helped her keep up with work.
Clockify helps eliminate time wasting
Similar to most of our users, Sam wasn't familiar with Clockify before, yet she found it due to necessity.
The way Sam operates is by setting a time constraint for herself during which she is to complete a task in an efficient manner. But using standard stopwatches and timers to track her time proved ineffective.
That's why she started asking around and ran into Clockify — Sam's solution to time wasting: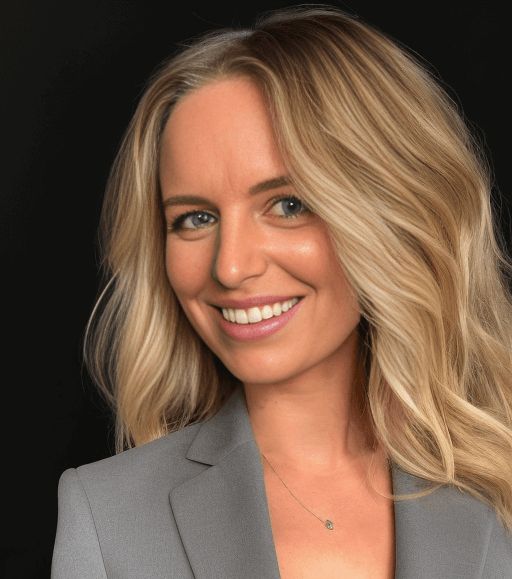 "One of the strategies that has helped me maintain focus and avoid wasting time is setting a time limit for each project before beginning my work.
By setting a timer, I have a clear guide of how much time I should spend on each task, allowing me to stay on track and avoid procrastination. I am also able to prioritize my tasks and focus on the most important ones first."
Furthermore, she notes that this modus operandi helps her maintain a better work-life balance that she did not experience before: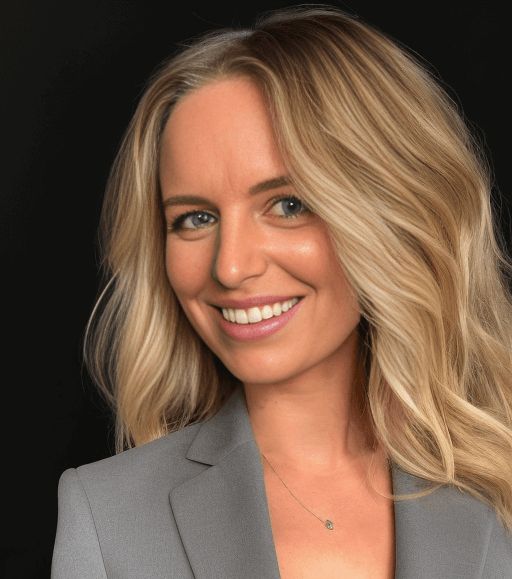 "Another significant advantage of this approach is that it helps me achieve a better work-life balance. With a clear timeline for my projects, I can complete my work within the set hours and not feel guilty about taking time off to spend with my family. This way, I can be completely present with them and not have work-related stress or worries on my mind."
Clockify helps with managing daily tasks and activities
Before trying out Clockify, Sam tried many time management techniques, such as to-do lists, prioritization techniques, and scheduling, but none seemed to work flawlessly.
It wasn't until she tried Clockify that everything seemed to piece together in terms of managing her daily tasks and activities: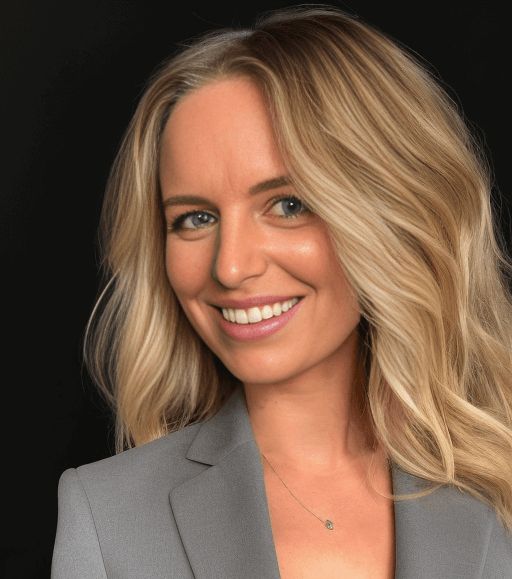 "Clockify has allowed me to track my time more accurately, which helps me plan my workday more effectively. By setting specific time expectations for each task and monitoring my progress in real-time, I am better able to stay focused and avoid procrastination."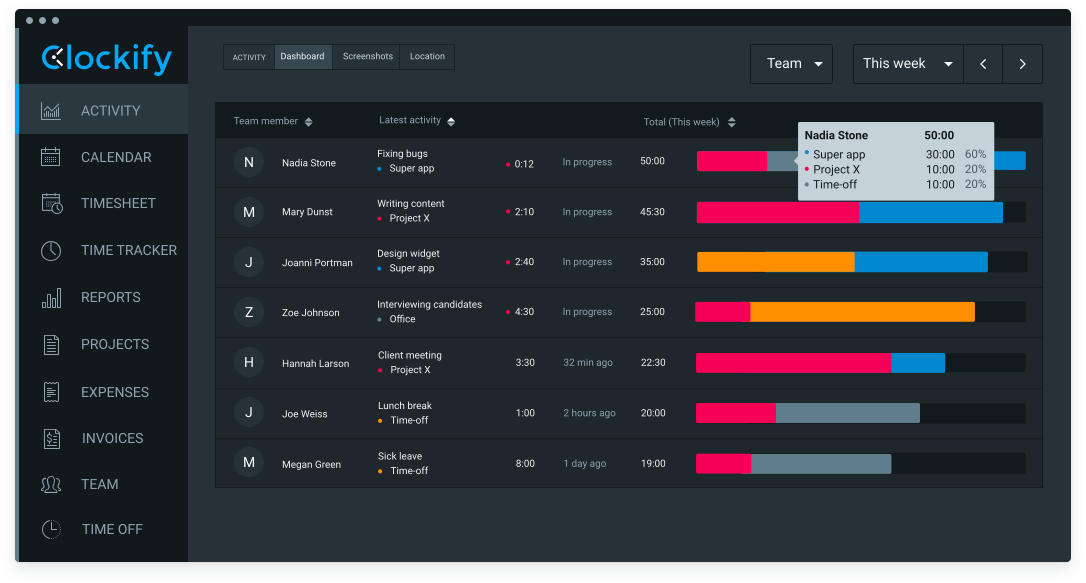 💡 Clockify Pro Tip
If you're looking to up your time management game, there are a few neat tricks you can try out and see if they work for you:
Clockify prevents procrastination
Sam also shared a few words regarding procrastination in her line of work and the way it affects her. Namely, due to unrealistic expectations, Sam used to overestimate or underestimate a task at hand, which naturally led to procrastination.
Well, all that changed once she figured out the true capabilities of time tracking: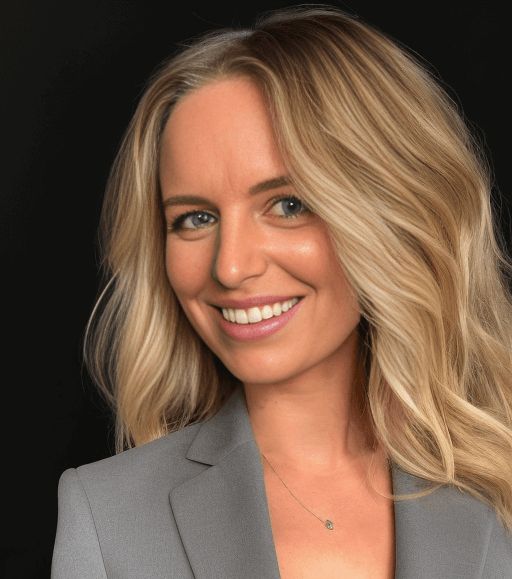 "Before I started using time tracking, I would often overestimate how much time I had to complete a task, which made me feel like I could put it off until later. But with time tracking, I can see exactly how much time I have left to complete a task, which keeps me motivated to stay on track and get it done."
Moreover, she shared additional info on the relationship between procrastination and unrealistic goals: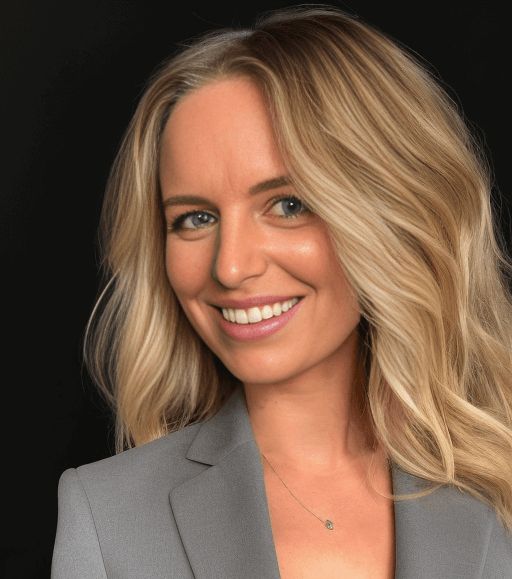 "Another way that time tracking helps prevent procrastination is by making me aware of how much time I'm actually spending on tasks.
If I see that I'm spending more time than I expected on a particular task, it helps me identify areas where I can improve my productivity or make better use of my time in the future. This awareness also helps me avoid procrastinating on tasks that I know will take longer than I anticipated."
Clockify improves planning and resource allocation
Sam also had a few words to share regarding how Clockify helps her analyze her social media strategies and prepare for upcoming projects: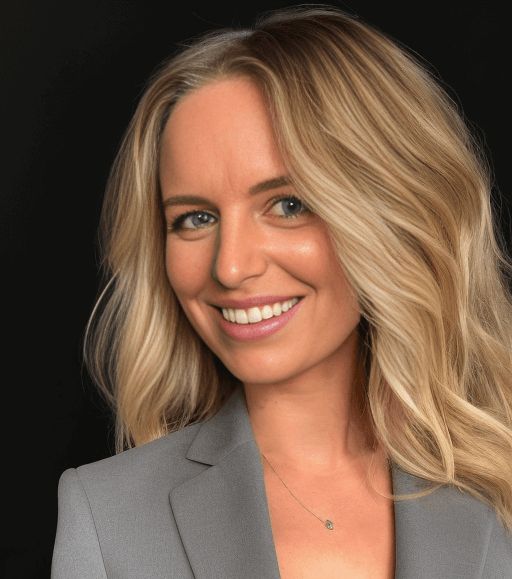 "By analyzing the time spent on our social media strategy, I can determine how many clients are reaching out to us through these channels and how many are converting. This helps me understand the return on investment of each marketing channel and allocate resources more effectively."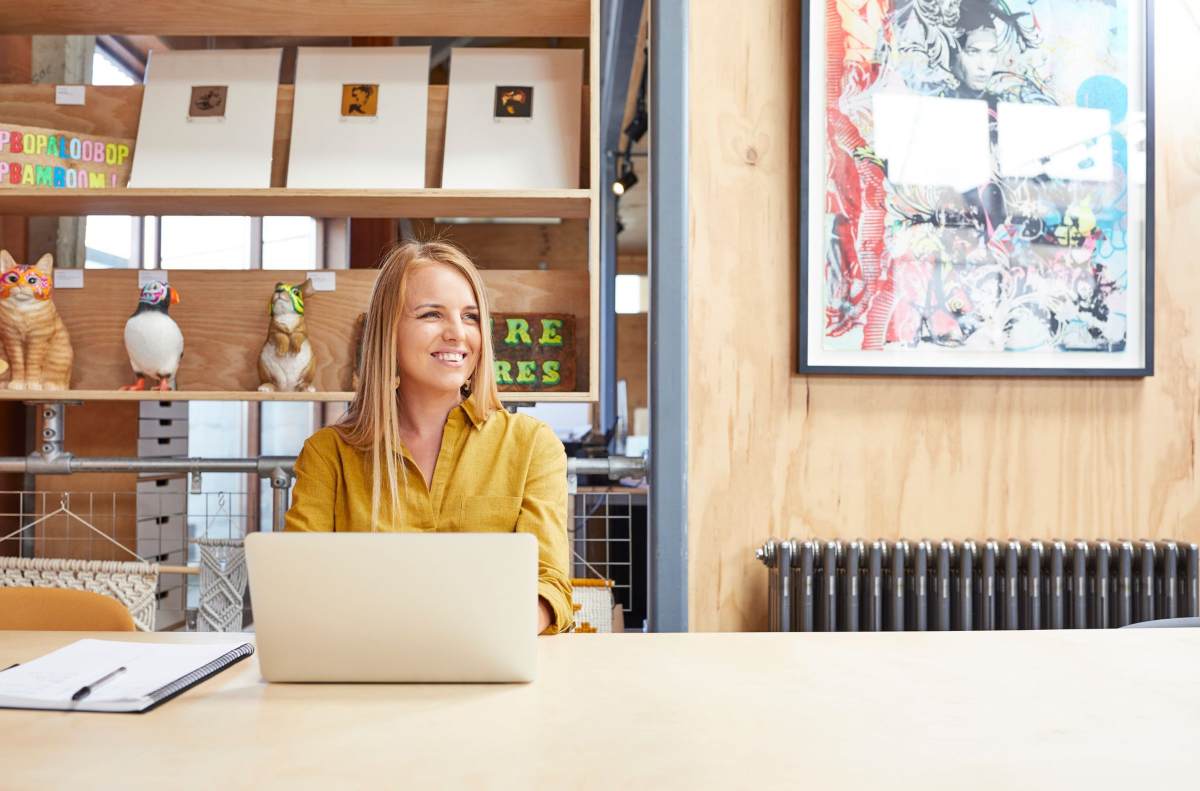 💡 Clockify Pro Tip
Identifying resources' availability and tracking resource utilization are just some of the things you should be aware of when it comes to resource allocation. Read more about it here:
Sam's favorite Clockify features
Using Clockify's Dashboard and Reports has been a lifesaver for Sam since they allow her to have detailed analysis of her overall tracked time. But, there's an additional reason she favors using them, such as identifying wasted time: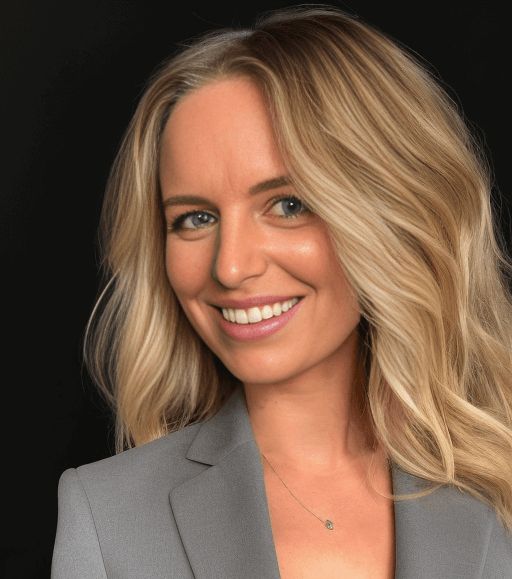 "The data also helps me to identify areas where time is getting wasted or tasks that are not as profitable as others. This information helps me to refine our operational strategy and prioritize tasks that have a higher impact on our bottom line."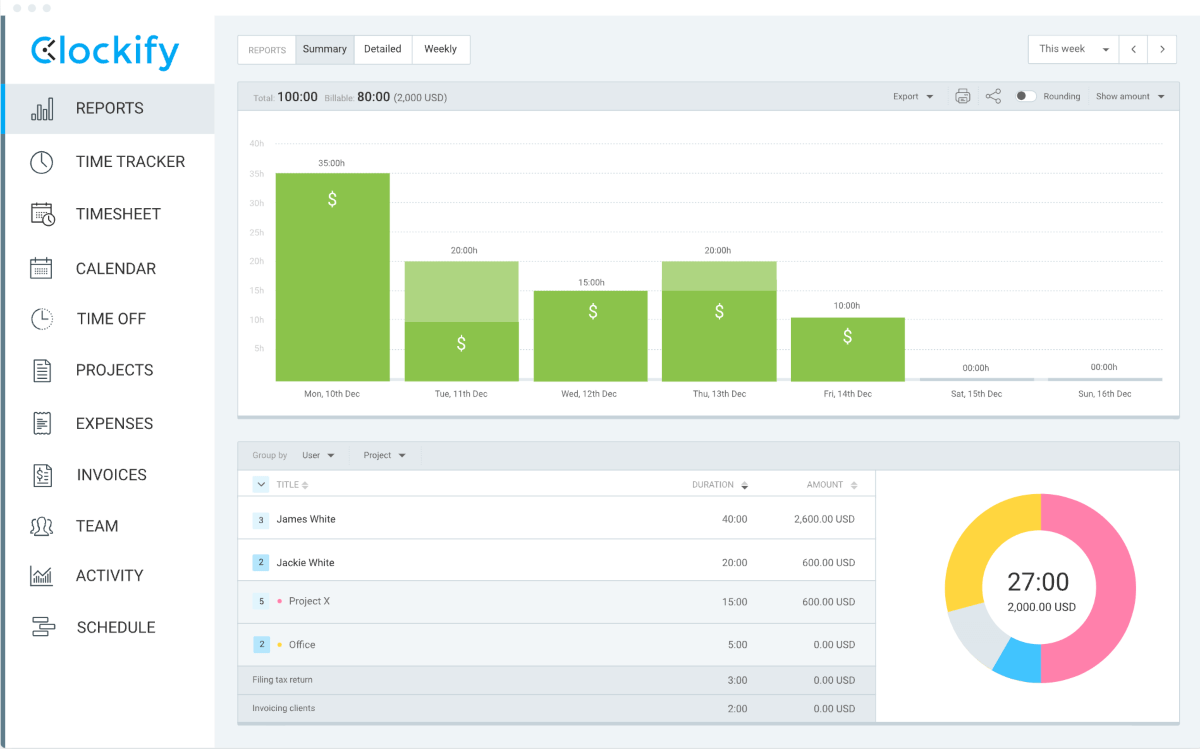 If you are like Sam and believe that deep analysis can help you improve your business, make sure to check out the Summary Reports feature. It lets you and your coworkers analyze the time entries in your account and group them by:
Project,
Client,
User,
Groups,
Tag, or
Date.
Who would Sam recommend Clockify to and why?
As we wrapped up our conversation, Sam wanted to share her love for our product and recommend it to everyone that seems to lose a couple of hours in a day: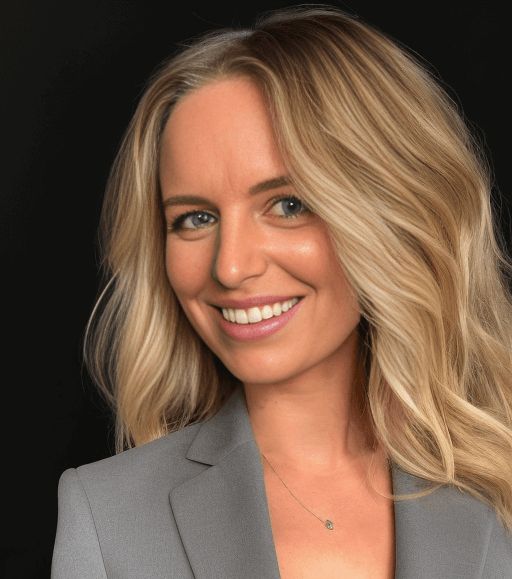 "Clockify can help small business owners and entrepreneurs maintain focus and avoid wasting time by setting a timer for each project, as well as give them a sense of accomplishment and work-life balance by allowing them to guilt-free clock off from work knowing that they've done their hours and given their all to their business."
All in all, if you're a small business owner or you're just starting out, Sam's advice is to track your time, do your job, and go home guilt-free knowing that you've done your best.
Wrapping up: Good time management and hard work bring results
Sam taught us what patience, hard work, and dedication can bring to you. There are undoubtedly things that we can pick up from Sam and incorporate into our daily routine if we want to succeed, such as working hard gets you the results you need.
Also, knowing what your weak points are, addressing them, and not being afraid to work on them will get you to that sweet spot in life.
✉️ Do you have interesting stories to tell about time tracking and how it improved your day-to-day? Feel free to share your thoughts at blogfeedback@clockify.me and we might write a blog about it. Also, share this article with someone that might find it useful.