CUSTOMER STORY
Flobotics
How Clockify helps Flobotics achieve a competitive advantage in the RPA industry.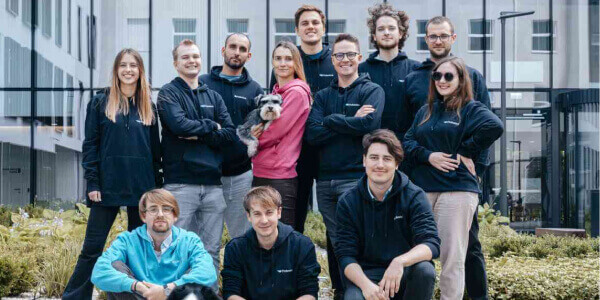 Intro
Flobotics is a Robotic Process Automation (RPA) agency specialized in automating repetitive and time-consuming processes across various industries — from medical, finance, logistics, and real estate, to IT consulting and manufacturing.
They are mostly focused on providing end-to-end RPA development services — developing and introducing bots for speeding up and optimizing their clients' business processes.
Size
Around 30 employees
Industry
RPA
Location
Warsaw, Czech Republic
Most used features
Timer, Reports, Integrations
Challenges Flobotics faced
Being particularly mindful of their time, Flobotics looked for a reliable way of keeping an eye on their projects and staying on top of their work hours.
They also needed a detailed overview of where their time went so they could report to their customers and showcase their invested time without having to prepare lengthy reports from scratch for each individual client.
Solutions Flobotics found with Clockify
Even though Flobotics was initially on the lookout for a time tracker that would provide them with a summary of their work hours, as soon as they started using Clockify they were delighted it worked well with their existing systems too:
"Being a tech-oriented company, our operations strongly depend on data and the right tools that reflect our business requirements — therefore, the fact that Clockify could smoothly integrate with our other systems became crucial to our success."
Also, apart from offering a user-friendly interface, Clockify proved a handy asset in issuing their clients' detailed reports, which consisted of a visual breakdown of how the Flobotics team was spending their time. Since they could now account for their time in a couple of clicks, Flobotics also gained a customer relations-wise advantage over their competitors:
"An unexpected benefit that we got with the tool is the built-in reporting module, which allowed us to gain a competitive edge during our interactions with customers — instead of explaining the time-tracking model (usually we charge our customers per development time), we can simply show them the system's outcome."
Who would Flobotics recommend Clockify to and why?
Since the people behind Flobotics used Clockify from their company's very onset, they are naturally inclined to recommend the tool to small and medium-sized businesses — especially the ones just starting out:
"Speaking from our experience — the tool is a perfect match for small and medium enterprises. With this powerful functionality set — most of the small to medium-sector entrepreneurs will be able to achieve their goals and skyrocket their effectiveness."
Read full post → How Clockify gives Flobotics a competitive edge in the RPA industry