CUSTOMER STORY
Whiteboard Games
How Whiteboard Games used Clockify when building their game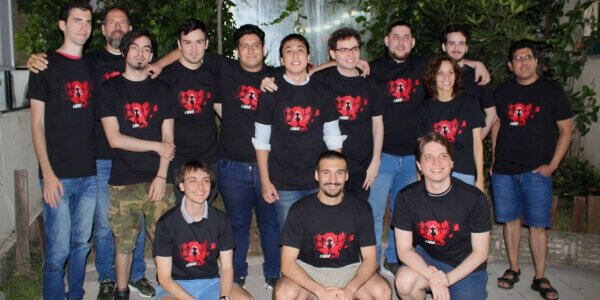 Intro
Whiteboard Games is a video game publisher based in Argentina and also the company behind the newest twin-stick shooter, I See Red.
The company was founded in 2020 as a result of a college passion project by Luciano Musella, the founder of Whiteboard Games, and his friends. After graduation, they started developing and perfecting their crown jewel, I See Red, which went live in December 2022.
Industry
Video game publishing
Size
30 employees
Location
Buenos Aires, Argentina
Most used features
Timer, Timesheets
Challenges Whiteboard Games employees faced
A young team composed of college graduates had little to no experience in organizing and leading a team — they had the skills to do it but no practical experience.
"We learned a lot of different things in college as to how to code, make the art for it, and so on, but not much on how to organize a team and lead it."
When their main project, I See Red, took off, they felt the need to document every step of the development process, as well as track their team's progress along the way.
Solutions Whiteboard Games found with Clockify
As the Whiteboard Games team pointed out, Clockify helped them track the entire progress of the game development phase, from start to finish. They've recorded 40,238 hours across 12 different areas of game production in the span of two years.
The tracked time analysis proved fruitful in many aspects, especially in boosting the team's overall performance:
"When you track everything with the massive precision Clockify gives you, your mind unlocks the ability to calculate tasks more precisely — this makes the work on sprint planning and sprint reviews far easier."
Also, Whiteboard Games employees worked on a flexible timetable, meaning they had to do 40-hour workweeks in any given timeframe. Tracking time with Clockify ensured that everyone followed the rules and stuck to the projected timetable.
Who would Whiteboard Games recommend Clockify to and why?
Luciano mentioned that Clockify is the perfect solution for large teams since you can tell what everyone's working on at all times and track everyone's progress.
Furthermore, he appreciates Clockify's functionality:
"On top of everything you can see that the tool is made with care and love, everything feels smooth, works exactly as you want it to, and that a lot of love was put into it."
Read more about Whiteboard Games' journey, the development of I See Red, and their experience with Clockify here:
Read full post → How Whiteboard Games used Clockify when building their game