Users can submit their weekly timesheets and vacation requests for approval. Then, admins can review and approve them for billing and payroll purposes.
All approved timesheets are permanently locked. Not even admins can make changes to approved time, at least not without leaving a permanent written trace).
Time approval is an extra feature, which you can enable by upgrading your workspace to Enterprise plan. You can try out the feature for free by activating the free 7-day trial (no credit card required).
To use time approval, you first need to enable it in workspace settings.
Submitting time #
Users can submit their time both via Time Tracker and Timesheet.
In Time Tracker, you can click "Submit" under appropriate week, and all time in that week will be submitted for approval. In Timesheet, you can click "Submit" button at the bottom.
You can still edit your timesheets while the week is pending approval. Changes to pending timesheets are automatically reflected and shown when approving time.
In case of a mistake, you can withdraw the submission by clicking X on the pending tag. If you withdraw pending week, the approval request will disappear, and you can submit the week again when you're ready.
If you have an approved week, you can add new time (as long as dates are not locked) but you'll have to submit the new time by submitting the whole week for approval again.
You can submit timesheets even if the dates are locked (but you can't edit the time).
Once entries are approved, they become permanently locked and you can no longer edit them.

Approving time #
Admins can approve and reject submitted time from the Approvals page (available in the sidebar)..
Whenever there's a timesheet that's waiting for approval, you'll see an orange dot as an indicator in the sidebar.
Approvals page lists all the approval requests, and is divided into: pending, approved, and withdrawn.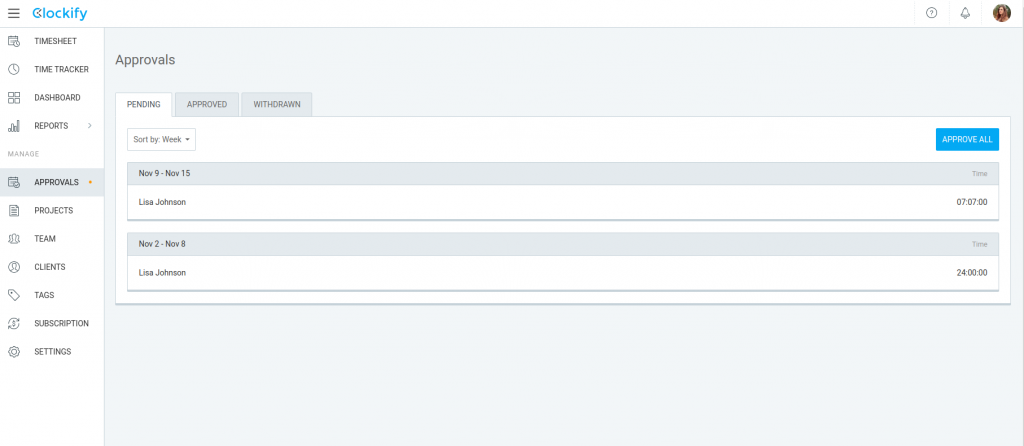 Pending tab lists timesheets that are waiting for approval. You can approve all request at once, or click on a particular one to view it in more details.
To reject a request, open the request, click on the Reject in the upper right corner, and leave a note. The approval request will be deleted, pending label will be removed, and the user will receive an email containing the note.
Once you approve time, time entries are permanently locked and not even admins can make any edits.
Manager approval #
In addition to Admins, team managers can also approve timesheets for the users they manage.
Go go Team page
Click on "+ Role" for the person you wish to make a mangaer
Check Team Manager
Select users for whom they can view and approve timesheets
Save changes
Once a person has a Team Manager role, they can see Approval in the sidebar, and they can see only their member's approval requests and either approve or reject them.
Sharing approved data #
To get only approved time in Reports, you can filter by approval status using the "Status" filter.
To create a public link that will show all approved time:
Filter a report by Status>Approved
Apply any other filters you wish (eg. group or user)
Select date range (dynamic like Last Month or fixed like May 2020)
Click Share icon
Name report and leave as public
Create link and send it to others
To see who doesn't have any approved time:
Go to the Weekly report
Group report by user
Select the week you wish to review
Filter by "Status > Approved"
Click "Show users without time"
Mending timesheets #
Approved time is locked permanently. It can't be edited even if you turn off Approvals or downgrade your account.
Regular users can add new time to their approved weeks, as long as the dates are not locked. If they add more time, they'll have to submit the week for approval again, in which case the manager will be able to approve or reject only the newly added time (previously approved time remains).
If there was a mistake and you need to make changes to approved time:
As Admin, go to Approval > Approved tab
Find the week that needs fixing
Click on the approval request to open its details
Click "Withdraw approval" in the upper right corner
Leave a note, detailing what was wrong, why, and what needs changing
Click Withdraw
Once approval is withdrawn, all time entries approved by that request will become editable by admins in Detailed report (plus by their owners, if the dates are not locked). Both the user and all the admins will receive the email containing the note.
When time becomes unapproved, a permanent copy of all the previously approved time entries (along with their original hourly rates) will be created in the Withdrawn tab for audit purpose, so you always have a written trace of all the changes.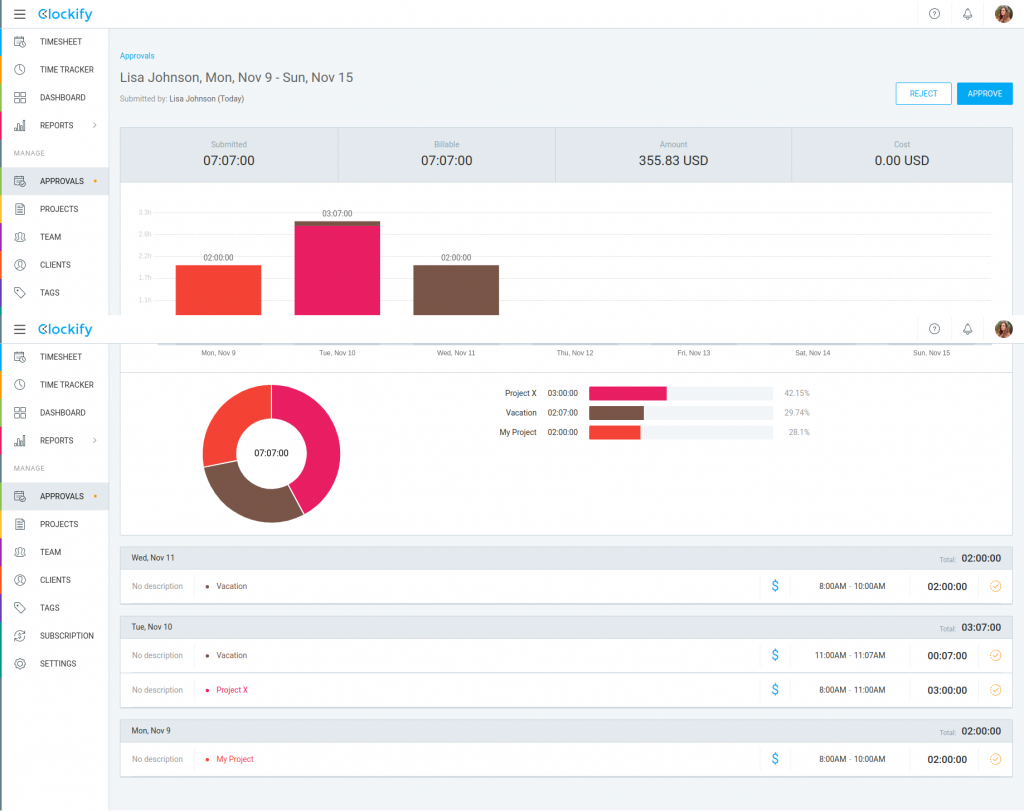 Notifications #
Whenever there's a timesheet that's waiting for approval, the Approvals item in the sidebar will have an orange dot
When timesheet is approved, the user will receive an email
When timesheet is rejected, the user will receive an email along with the note
When approval is withdrawn, both the user and all the admins will receive an email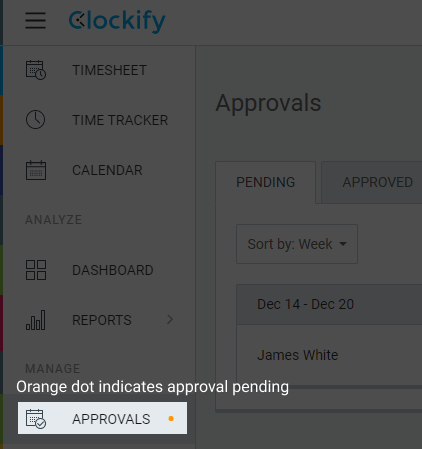 Time approval and apps #
Time entries can be submitted and approved from the Clockify web app only.
Once the time entries are approved, they will be permanently locked, and there won't be the options to edit them from mobile app, desktop app nor browser extension. Also, all time entries that are approved will have a checkmark icon next to them.