You can have an unlimited number of users in Clockify, so your whole team can track time.
Before your team can start tracking time, you have to invite them to your workspace.
Inviting users:
Click Team in the main sidebar on the left
Enter the email of the person you want to invite in the upper left corner
Click Add. The person will then appear and stay in the Inactive tab until they accept your invite
Tip: to invite multiple users at once, enter all the emails and separate them with a comma (eg. mark@domain.com, jane@domain.com)
Accepting the invite:
The person you invited will receive an invitation email with the activation link they need to click
After clicking the link, they need to enter the password they want to use
The invited person can then log in and start tracking time for you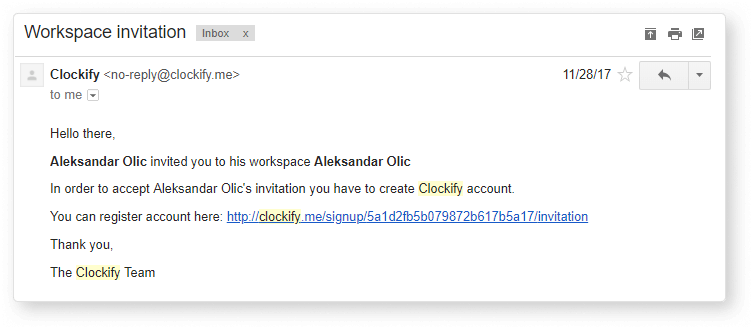 If a person already has a Clockify account, they will receive an email and a notification in Clockify. In that case, they have to open the notification and click Accept. Then, they'll be able to switch to your workspace and start tracking time for your company.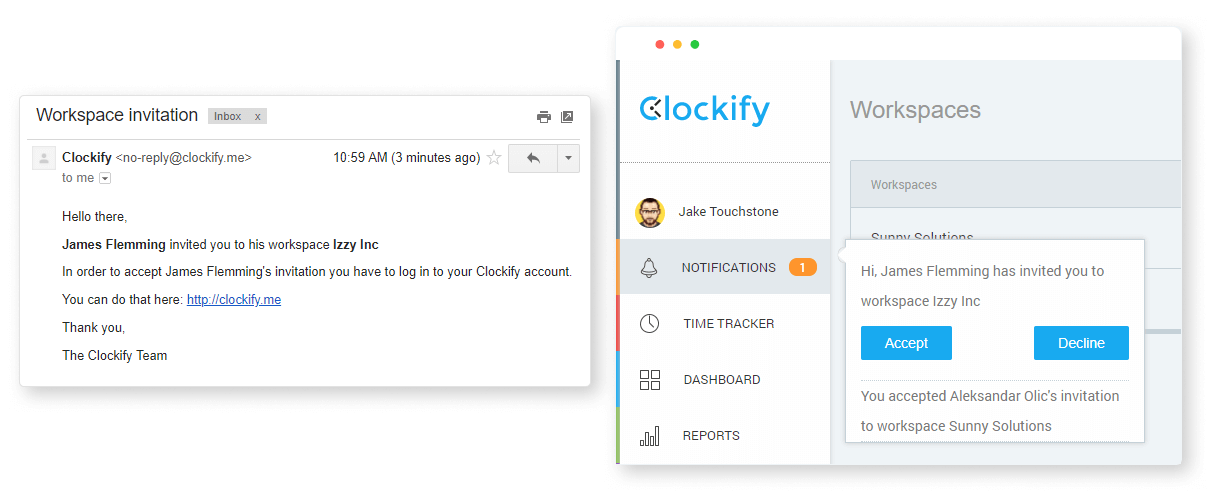 Only admins can invite new users to a workspace and manage their details (set their hourly rate, set as inactive, and assign to user groups).
Deactivating and deleting users #
When you delete or deactivate a user, they won't be able to see and track time on your workspace anymore. The difference between deleting and deactivating is that you can activate a user whenever you want, without them having to accept workspace invitation. But if you delete a user, they won't appear on your Team page and, if you want them back, you'll have to go through the whole invitation process again.
Go to Team page
Click three dots next to the person you want to deactivate/delete
Select "Set use inactive"
Confirm
The time entries of deleted/deactivated users will remain but you won't be able to filters reports by them.
To reactivate a user, go to Teams, click Inactive tab, click three dots next to user's name, and "select Set user active". Once a user is activated, they can log in and track time as usual (although they won't receive an email or a notification that they've been activated).