Nevada Labor Laws Guide
Ultimate Nevada labor law guide: minimum wage, overtime, break, leave, hiring, termination, and miscellaneous labor laws.
Nevada Labor Laws FAQ
Nevada minimum wage
$8.75 if health insurance is included
$9.75 if health insurance isn't included
Nevada overtime laws
1.5 times the minimum wage for any time worked over 40 hours/week
($22.8 for minimum wage workers)
Nevada break laws
Meal break — 30 min per 8 hours
Rest break — 10 min per 4 hours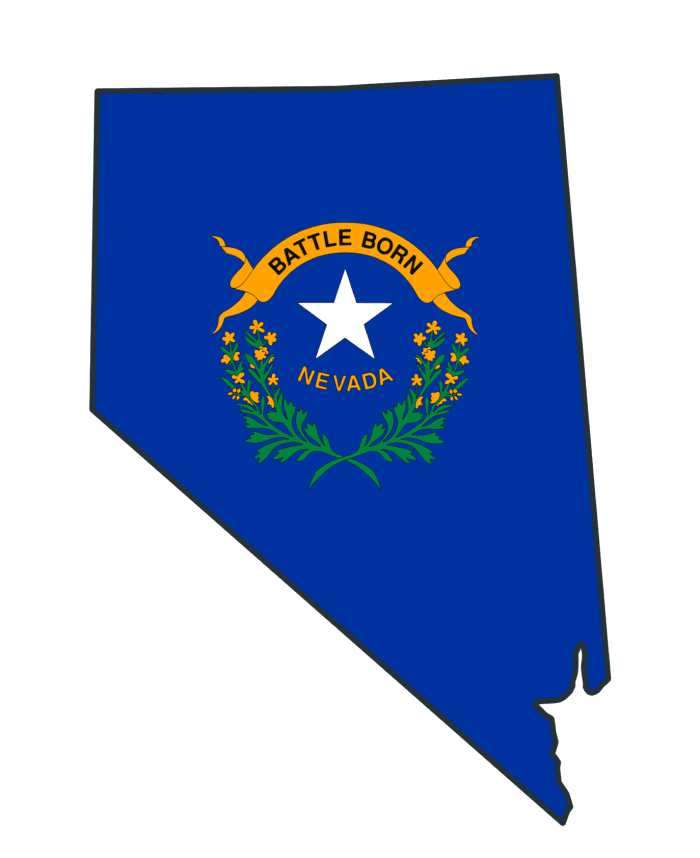 Nevada wage laws
We'll first deal with the most important laws and regulations regarding:
Minimum,
Tipped, and
Subminimum wages.
NEVADA MINIMUM WAGE
Regular minimum wage
Tipped minimum wage
Subminimum wage
$8.75 (with health insurance)
$9.75 (without health insurance)
$8.75+ (standard minimum wage)
$4.25+ (young adults under 20 years)
$8.29+ (part-time employees who are high-school or college students)
Nevada minimum wage
In Nevada, there are 2 different minimum wage rates — depending on the availability of health insurance, or the lack of it.
If an employee's contract includes coverage of health insurance, the minimum hourly rate is $8.75.
If an employer doesn't provide health insurance, the minimum hourly rate is $9.75.
The increase in the Nevada minimum wage has already been announced and will continue to differ for employees who are insured and those who aren't. This is stated in the Nevada Constitution, which requires a yearly increase due to the increase in the living costs.
Therefore, in subsequent years, the minimum wage for employees whose employers provide health insurance and benefits will be as follows:
$9.50 per hour, effective July 1st, 2022
$10.25 per hour, effective July 1st, 2023
$11 per hour, effective July 1st, 2024
For employees whose employers do not provide health insurance and benefits, the minimum wage rate will be as follows:
$10.50 per hour, effective July 1st, 2022
$11.25 per hour, effective July 1st, 2023
$12 per hour, effective July 1st, 2024
Tipped minimum wage in Nevada
According to federal law and the Internal Revenue Service (IRS), tips are certain amounts of money that are freely provided by the customers to employees.
Tips are closely tied with certain professions, especially in the hospitality industry. To provide a couple of examples — you will leave tips to servers and bartenders, as a recognition for their service.
Tipped employees in Nevada are employees who regularly receive such gratuities. Under Nevada regulations, employers are not allowed to offer lower than standard minimum hourly rates to tipped employees. So the tipped minimum wage must be at least either $8.75 or $9.75, again — depending on the availability of health insurance, or the lack of it.
There's a common practice related to tips — tip pooling (or tip sharing), and Nevada employers can require employees to participate in tip pools.
The practice refers to all employees being obligated to share a portion of their tips in order for a part to be distributed to employees who usually don't receive tips, such as cooks, line cooks, prep-cooks, and dishwashers.
Even if tip pooling is not required by an employer, employees can enter into agreements about this among themselves.
Track work hours and calculate hourly pay with Clockify
Exceptions to the minimum wage in Nevada
Certain employment or personal statuses are exempt from the law regarding minimum wage in Nevada. For example — minors under 18 years of age, provided they are employed by a nonprofit organization and only during the first 90 days of employment.
Here are the rest of the instances where minimum wage requirements don't apply in Nevada:
White Collar employees (bona fide executives, administrative workers, and professionals)
Independent contractors
Casual babysitters
Outside salespeople, provided their earnings are based on commissions
Domestic service employees who reside in the household
Agricultural workers
Taxicab and limousine drivers
Subminimum wage in Nevada
Minimum wage for certain categories of workers — such as minors and employees with disabilities — is commonly known as the subminimum wage. This type of hourly rate is also regulated by the rule of law.
The term "subminimum" already implies that employers are allowed to pay such employees a lower hourly wage.
The first category of employees who can be paid at a lower rate in Nevada refers to employees with disabilities.
There is a condition, however — in order to prove a developmental disability, employers must obtain and keep on the record a certificate from the Division of Public and Behavioral Health and Human Services. Only employees who have that certificate and submit it to their employer are exempt from the minimum wage requirement.
The subminimum wage can also be paid to young adults under 20 years of age, and must be at least $4.25 per hour.
Additionally, part-time employees who are high school or college students can be paid at least $8.29 per hour, as the law states their rate can start from 85% of the standard minimum rate.
Apart from those 3 categories of employees, according to Nevada law, everyone else is entitled to at least standard minimum wage.
That means that, unlike in many other states, employees who are trainees, learners, apprentices, and student learners are also entitled to the standard hourly rate.
Nevada payment laws
When it comes to pay frequency for Nevada, employers are required by law to provide regular compensation for their employees on a semi-monthly basis.
This means that every 2 weeks are considered a payroll period.
The only exception regulated by the law refers to monthly payday requirements for:
Executive personnel
Administrative personnel
Professional personnel
It is also legal for an employee to have a different payroll period, provided that both employers and employees agree on different terms in writing.
Track employee payroll with Clockify
Nevada overtime laws
Regulations established by the Fair Labor Standards Act define a working week as any seven consecutive working days. During this period, employees who work up to 40 hours are compensated for their work at least at an hourly rate of a minimum wage, as defined by the Nevada constitution.
Any number of hours exceeding 40 counts as overtime and must be compensated at a higher hourly rate.
Non-exempt employees who do exceed that number are entitled to 1.5 times their regular rate.
In the state of Nevada, this means the following — the overtime rate currently translates to $12.37 per hour, for minimum wage workers whose employers offer health insurance.
For the second category of minimum wage employees, whose employers don't include health insurance in their plan, the hourly overtime rate equals $14.62.
Some occupations and conditions can overrule this 1.5 rate requirement — so that's why we said "non-exempt employees" earlier.
We'll explain everything in the following sections, so read on and check out who is eligible for overtime compensation in Nevada, and who is not.
Track Nevada overtime with Clockify
Overtime exceptions and exemptions for White Collar employees in Nevada
According to the federal overtime rules, which the state of Nevada abides by, white collar employees are exempt from overtime pay.
According to federal law, provided they earn at least $684 per week, white collar employees do not have to be paid at a 1.5 rate for working over 40 hours.
There are 4 main categories of White Collar occupations and those are:
Administration — people who perform non-manual work related to business operations, management policies, or administrative training (provided that no more than 20% of the time is spent on activities unrelated to the position) — this category includes accountants, HR team members, market research analysts, etc.
Executives — business, general, and executive managers who directly manage at least 2 employees.
Professionals — people whose position calls for advanced knowledge and extensive education, such as software analysts or software engineers (The category also includes artists, certified teachers, and other creative work requiring talent, invention, or imagination.).
Outside sales — outside sales representatives who visit potential and existing customers at their premises.
However, Nevada law exempts only the first 3 categories, so outside salespeople are NOT exempt from their overtime requirements in the state of Nevada.
Nevada overtime restrictions for specific occupations
Besides the federal government exemptions, the state enforces overtime restrictions on some other, more specific occupations — including the following:
Outside buyers
Independent contractors
Employees covered by a collective bargaining agreement — provided it contains a different overtime requirement
Employees in retail or service industries, provided they earn at least 1.5 times the standard minimum wage and that more than half of their compensation comes from commissions
Drivers, drivers' helpers, loaders and mechanics working for motor companies who are subject to the federal Motor Carrier Act
Railroad employees
Air carriers' employees
Drivers and drivers' helpers making local deliveries — provided they are paid on a trip basis (or other regulated delivery plan)
Taxicab and limousine drivers
Agricultural employees
Mechanics and salespeople primarily engaged in selling or servicing automobiles, trucks, and farm equipment
Employees working for businesses whose annual sales are less than $250,000 per year
Domestic workers who reside in the household where they work — provided both parties agree in writing that the employee is exempt from overtime pay
Nevada break laws
Employers in Nevada are legally required to provide 2 types of breaks to all their employees — meal and rest breaks.
When it comes to the duration of said breaks, employees are entitled to 30 minutes for meal breaks — provided their shift lasts 8 hours. It's up to employers to decide if meal breaks are paid or unpaid.
Rest breaks are shorter, and last 10 minutes — employees can take this type of break after every 4 hours. Rest breaks must be paid and their main purpose is to maintain employees' productivity levels.
There is another type of break but it applies only to still breastfeeding mothers — a lactating break, which we will elaborate on in the following section.
Track employee productivity levels with Clockify
Breastfeeding laws in Nevada
All working mothers who gave birth recently and are still lactating and breastfeeding are entitled to take a break for this purpose.
In Nevada, the same as on a federal level, employers are obligated to provide adequate conditions for such female employees.
This type of break can be either paid or unpaid, as predetermined by the company regulations and policy.
By "adequate conditions", the law refers to employers providing a room or location with a door that can't be a bathroom stall.
Employers must provide such a location in the nearest possible proximity to the working environment.
Nevada leave requirements
Now, let's take a look into what employers in Nevada are entitled to do if an employee asks for a leave of absence from work. Also, if they provide leave time, will an employee be compensated for it?
It depends on the reason — why is the employee asking for a leave of absence?
The law clearly regulates which types of leave employers are required to provide, without any negative consequences for an employee upon their return to work.
There are 2 broad categories of leave of absence — required and non-required, according to the US Department of Labor.
However, the types of leave included in the 2 categories are not predetermined, as each state regulates them differently.
Here's how the state of Nevada regulates required and non-required leave.
Nevada required leave
There are instances where an employee is entitled to take a leave of absence, without being punished in any way upon their return to work.
While employers do have to offer and provide some types of required leave to all their employees, they don't have to compensate them for that period. But, some company policies will offer paid required leave.
Here's the list of types of leave that employers in Nevada are required to offer by law:
Sick leave
Family and medical leave
Vacation leave
Jury duty leave
Voting time leave
Parental leave
Military leave
Witness leave
Domestic or sexual assault leave
Track employee time off with Clockify
Sick leave
Paid sick leave is a type of required leave for all employers in Nevada, and it's regulated by the Mandatory Paid Leave law. According to the law, employers with 50 or more employees must offer 40 hours of paid sick leave — at least when it comes to their full-time employees.
For part-time employees, the ratio is the same, but the number translates to 0.01923 hours of paid sick leave per 1 hour worked. So, part-time employees are entitled to 1 hour of paid sick leave per every 52 hours worked.
This sick leave in Nevada is applicable only to private-sector employers.
Family and medical leave
This is a type of required leave that all employers in the state of Nevada must provide their employees with. Eligibility for this type of leave is regulated by the Family and Medical Leave Act or FMLA.
The FMLA states that all employees are eligible to use 12 weeks of unpaid, job-protected work absence in a one-year period, for many household and medicinal-related reasons.
The reasons include the following:
Care of the employee's own serious health condition
Care of an immediate family member with a serious health condition
Care of the employee's own newly-born child
Placement for adoption/foster care of a child with the employee
Any difficulty caused by the employee's immediate family member being a covered military member on active duty
To be eligible, an employee must have worked for the employer for at least a year and at least 1,250 work hours. Note that this is applicable for employers with over 50 employees only.
Additionally, in an effort to protect the families of the Armed Services, Congress amended the FMLA in 2008.
Since then, employers have also been required to provide up to 26 weeks of unpaid leave if an employee needs to take care of a member of the Armed Forces with a serious health condition, injury, or undergoing medical treatment or therapy. This is applicable only if said member is an employee's spouse, parent, child, or next of kin.
Vacation leave
Employers with at least 50 employees are required to provide paid leave of at least 0.01923 hours per every hour of work for their employees, which translates into at least 1 hour of paid vacation leave per 52 hours worked.
Employees can start using their vacation time after 90 days of employment.
Employees are required to provide notice in a reasonably timely manner.
Employers are allowed to cap the number of hours to 40 per year and are not required to compensate employees for unused leave upon separation.
There are several exceptions to vacation leave in Nevada The following are exemptions from the requirement — and mean the employers don't have to offer vacation leave for employees:
In their first 2 years of operation
Who have been offered at least the same amount of leave pursuant to a policy, contract, CBA, or other agreement
Who are o temporary, seasonal, and on-call
Jury duty leave
If an employee in Nevada is summoned to perform jury duty, employers must allow them to be absent from work during that time. Employers mustn't require employees to use their sick, vacation, or any other type of leave for this reason.
The law also states employers can't penalize or discipline their employees in any way for the acceptance of jury duty. Additionally, if an employee spent at least 4 hours on jury duty, their shift on the following day can't be in the period between 5 p.m. and 3 a.m.
Voting time leave
Nevada employers must offer paid voting time leave to all their employees — if it is impractical for them to vote before or after their shift.
Employees who take a leave of absence to vote mustn't be penalized in any way upon their return to work.
The duration of this type of leave depends on the distance between the workplace and the voting place. It is set to:
1 hour for up to 2 miles
2 hours for 2–10 miles
3 hours for over 10 miles
Parental leave
When it comes to employees who are parents or guardians, there's another type of required leave in Nevada.
It concerns the attendance of any school-related activities, for which employers with over 50 employees must provide up to 4 hours of leave.
The employer can choose whether school leave time will be paid or unpaid.
Military leave
This type of leave is regulated on a federal level, by the Uniformed Services Employment and Reemployment Act.
The act states that all employees in the US must be granted a leave of absence to serve in one of the following:
The US Armed Forces
The National Guard
The state militia
Upon the employee's return to work, they must be entitled to the same pay increases and other benefits as if they were present at work the whole time.
Witness leave
The law requires employers to provide either paid or unpaid leave for all their employees who are summoned to be a witness in any court.
Domestic violence or sexual assault leave
Employees who are victims of domestic or sexual violence, or have a family member who is, must be offered this type of leave, provided they have worked at least 90 days for the employer.
Employees are allowed to take up to 160 hours per year of protected leave in order to address various issues related to domestic violence or sexual assault, such as:
Diagnosis, care, or treatment of a physical or mental condition
Counseling or assistance
Participation in court proceedings
Establishing or acting on a safety plan (e.g. relocating)
Nevada non-required leave
There are only a couple of categories of leave that, by Nevada state laws, employers are not required to offer to their employees.
Said categories are:
Holiday leave
Bereavement leave
It is important to mention that the law also doesn't prohibit or restrict these types of leave.
If an employer chooses to offer any or all, the exact terms need to be stated in the signed contract of employment.
Holiday leave
The first type of leave that employers in Nevada are not required to offer is for the purpose of holidays.
Bereavement leave
The same is applicable to bereavement leave — Nevada employers are not required to offer this type of leave to any of their employees.
Child labor laws in Nevada
The term "minors'' refers to young people, aged under 18.
The main purpose of both federal and Nevada child labor laws is to prevent the exploitation of minors.
Additionally, it's to help minors put education first — their employment is only meant to enhance their academic and life experience.
Some of the most relevant limitations regarding the employment of minors can be seen in the following categories:
Maximum number of work hours
Nightwork
Restrictions on specific occupations
While different rules and regulations are applicable to different age groups, there is still one thing applicable to all age groups — minors are forbidden to work in any hazardous positions, according to the federal law.
Next, let's take a look at some rules and regulations stated in the Nevada Child Labor Laws.
Specific labor laws for minors
In Nevada, child labor laws enforce specific rules for different age groups. The 2 categories put restrictions on the maximum hours of work and nightwork of minors.
There's another relevant thing to mention — in order to be employed, minors who are under 16 years of age must have written permission from a district court judge.
For the employment of minors, the following rules apply:
The maximum number of work hours for minors under 16 years of age is 8 hours per day, 48 hours per week — provided that school is not in session.
When school is in session, the limit is 3 hours per school day.
On non-school days, minors can still work an 8-hour shift.
There are no restrictions on maximum working hours for minors aged 16 and 17.
Nightwork restrictions only apply to minors under 16 years of age, and they are prohibited to work between 7 p.m. and 7 a.m.
For ages 16 and 17, Nevada has no restrictions on nightwork.
Prohibited occupations for minors in Nevada
There are also some restrictions on child labor in specific industries.
To provide an example, minors under the age of 16 are prohibited from working with any and all power-driven machinery.
Here's the list of other examples that are prohibited for minors under 16 years of age in Nevada:
Occupations related to manufacturing of paints, colors, and white lead
Dripping, drying, and packing matches
The manufacture of goods for immoral purposes
Any distillery, brewery, or another establishment where malt or alcoholic beverages are manufactured, packed, wrapped, or bottled
Switch tending, gate tending, or track repairing
In or about establishments where nitroglycerin, dynamite, dualin, guncotton, gunpowder, or other dangerous explosives are manufactured, compounded, or stored
Nevada Revised Statutes: Employment of minors
Termination laws in Nevada
Like the majority of other states in the US, Nevada also implements an "employment-at-will" doctrine and policy.
What does that mean for both employers and employees?
Employers — they can terminate their employees' work engagement anytime, for any reason, or perhaps for no reason at all.
Employees — they are free to leave a job for any or no reason with no legal consequences.
Nevada also has another, unique statute that prohibits employers from terminating employees based on the reports made by a hired detective or special agent, without letting the employee have an adequate hearing.
The accused employees must be given notice of the report. Moreover, they have the right to confront the person who made the report and present their own defense at the hearing.
Final paycheck in Nevada
Employers in Nevada are legally required to provide a final paycheck, including all the wages and benefits to everyone whose employment was terminated.
According to the Nevada Labor Commissioner, final paychecks for employees who are laid off or fired are due immediately.
For employees who quit their positions, the due date is either by the next scheduled payday or within 7 days, whichever comes first.
Discrimination laws in Nevada
According to federal law, discrimination in the workplace is not only unethical but also illegal.
There are many bases of discrimination in the workplace that operate on a federal scale — but the state of Nevada has added 5 additional ones.
So, here's the full list of reasons, including both federal and Nevada-specific ones:
Race
Color
Age
Gender
Sexual orientation
Religion
National origin
Pregnancy
Genetic information (including family medical history)
Physical or mental disability
Child or spousal withholding
Military or veteran status
Citizenship and/or immigration status
Use of lawful products off the premises and outside of work hours
Use of service animal
Opposing unlawful employment practices
Credit report or credit information
Wage garnishment for consumer debt
Employees who suspect they were discriminated against should file a formal complaint within 300 days from the discriminatory act.
Occupational safety in Nevada
All employees must have a safe and healthy working environment — and both the federal and the Nevada state laws require employers to provide optimal conditions.
The first thing to mention is the federal Occupational Safety and Health Act (OSHA), passed by Congress in 1970 — but there are some additional requirements for the employers in Nevada.
OSHA states that employers are required to:
Provide safe and healthy working conditions,
Continually inspect for flaws and irregularities, and
Strive to improve working conditions, if possible.
Employers are required to provide several things to ensure workplace safety:
Proper training,
Education, and
Continuous assistance to their employees.
The main goal is — to reduce and further try to eliminate the possibility of workplace injuries, illnesses, and fatalities.
Besides providing necessary training and education for employees, employers must create optimal working conditions — free from any recognized hazards that may cause harm.
Moreover, it is obligatory to conduct research regularly, as well as undertake safety demonstrations concerning health matters.
Nevada OSHA is under the jurisdiction of the Division of Industrial Relations — specifically, the Department of Business and Industry.
The Nevada State Plan is applicable to state and local government employees, and non-exempt private sector workplaces.
Exceptions and additions in Nevada OSHA
Here's the list of exceptions, which are not regulated by the state plan:
Maritime employment (including shipyard employment, marine terminals, and longshoring)
Contract workers and contractor-operated facilities engaged in the US Postal Service
Contractors (and subcontractors) on land under exclusive federal jurisdiction
Employment on Indian land
Private-sector employment on military bases and facilities
Working conditions of aircraft cabin crew members onboard aircraft in operation
Hazards, industries, geographical areas, operations, or facilities over which the state is unable to effectively exercise jurisdiction — provided the reasons are not related to the structure of the state plan
Nevada OSHA representatives conduct inspections of compliance to standards, and inspections can occur due to various factors.
Additionally, they can be scheduled and unscheduled.
Unscheduled inspections can result from:
Imminent danger reports
Fatalities
Worker complaints
Referrals
There are many unique standards that are implemented in the state of Nevada — and those are categorized into General Industry and Construction related standards.
The General Industry standards include:
Safety Programs
Cranes
Asbestos
Explosives
Sanitation
Ammonium Perchlorate
Hazard Communication
Photovoltaic System Installation
The Construction standard includes:
Cranes
Asbestos
Steel Erection
Miscellaneous Nevada labor laws
The above-discussed were the most important and common categories of labor laws relevant in the state of Nevada.
Now let's see what else is enforced and mention several additional laws that may be applicable to your situation.
Here's what else is regulated by the rule of law in Nevada:
Whistleblower protection laws
COBRA laws
Mandatory safety training laws
Uniform laws
Background check laws
Credit and investigative check laws
Arrest and conviction check laws
Drug and alcohol testing laws
Employer social media regulations
The employee monitoring laws
Record-keeping laws
Whistleblower protection laws
The main purpose of this set of laws is to ensure that employees can exercise all of their legal rights without negative repercussions as a result.
The term "whistleblower" refers to employees who have inside knowledge of illegal practices or a safety hazard in the workplace. They must be able to report it and continue being employed.
Here's the list of reasons why employees can't be discriminated against, or treated differently in any way:
Filing a complaint
Filing a lawsuit
Participating in an investigation or proceeding regarding civil rights discrimination
Filing a complaint or participating in an investigation or proceeding regarding workplace safety
Reporting information regarding a fraudulent claim to the state, the police, or a political subdivision
The set of regulations is applicable only to employers with 15 or more employees.
COBRA laws
COBRA is a law that operates on a federal level — so let's start this section by explaining what the acronym means. The Consolidated Omnibus Budget Reconciliation Act, or COBRA, allows employees to retain health care insurance and benefits after the termination of employment.
Federal regulations also state the law can be applied to employers with over 20 employees — so many states have implemented their own regulations, also known as "mini-COBRAs", to cover the businesses with fewer than 20 employees.
The state of Nevada does not have a mini-COBRA law — but there is one instance when employers are required to continue paying employees (and their dependents) health insurance and benefits. It is applicable when employees are on unpaid leave due to a total disability.
Mandatory safety training laws
In Nevada, since January 2021, employees working in certain occupations have been required to complete specific OSHA courses within 15 days of hire.
For all supervisors, an OSHA-30 course completion is needed.
For employees in entertainment, the requirement is an OSHA-10 course completion — it is applicable to the following areas:
Live entertainment
Photography
Sporting events
Theatrical performances
Trade shows
Conventions and any other related activities
Uniform laws
When it comes to Nevada employees who are required to wear a uniform or any other accessories with a distinctive style, color, or material — according to the state law, it's their employer's responsibility to provide these uniforms.
The same is applicable to the cleaning costs provided a uniform or other accessory can't be easily laundered, but rather requires a special cleaning process.
Background check laws
Background checks are allowed by all employers (but not required) and are subject to the Federal Fair Credit Reporting Act.
This act regulates the collection, accuracy, and distribution of information in the Consumer Financial Protection Bureau — all employers must ensure they are following those requirements.
Only certain positions do require background checks in Nevada, so let's see which ones.
Medical facility personnel
Childcare facility personnel
Foster home personnel
Administrative personnel at private colleges and universities
Financial personnel at private colleges and universities
Credit and investigative check laws
The state of Nevada implements its own law regarding credit and investigative checks, and in the majority of instances, these checks are prohibited. Meaning — employers are not allowed to obtain credit reports on their employees and applicants.
There are certain exceptions to the rule — so let's see under which circumstances employers are allowed to do so, or even required to do so by the law.
Here's the full list of such exceptions:
Employers reasonably believe that an employee or applicant has committed a specific violation of law
Provided that information in a report is reasonably related to the position because it involves:

The care, custody, and handling of money, financial accounts, corporate credit or debit cards, or any other assets
Access to trade secrets or other proprietary or confidential information
Managerial or supervisory responsibilities
The direct exercise of law enforcement authority as an employee of a state or local law enforcement agency
The care, custody, and handling of personal information of another individual
Access to personal financial information of another individual
Employment with a licensed gaming establishment
Employment with a financial institution — provided it is chartered under state or federal law (including any subsidiary and affiliate of such an institution)
It is also important to mention the following — if employers conduct credit and investigative checks, they must carefully follow the procedures stated by the Fair Credit Reporting Act.
Arrest and conviction check laws
When it comes to arrest and conviction checks, Nevada employers are forbidden to ask about the arrest records that didn't result in a conviction.
Moreover, the initial application mustn't include any questions about the criminal history of a potential employee.
Later in the process, Nevada employers are allowed to make an inquiry about incidents currently within the criminal justice system, such as:
Convictions
Pending charges
Parole or probation
Drug and alcohol testing laws
Nevada employers are allowed to conduct drug and alcohol tests on their employees and applicants, if they want.
However, according to state law — employers are forbidden to reject a prospective employee due to their screening test indicating the presence of marijuana.
There are several exceptions to the rule — the law doesn't apply to the following occupations:
Firefighters
EMTs (Emergency Medical Technicians)
Employees who operate motor vehicles
Employees who can negatively affect the safety of others
Employer social media regulations
State law protects employees based in Nevada, in terms of their social media accounts.
Here's what is considered an illegal practice for employers in this state:
Require, request, suggest, or cause their employees or applicants to disclose any information that provides access to their personal accounts
Discharge, discipline, discriminate against, deny employment/promotion, or threaten with any such action against employees or applicants who refuse to provide any information that provides access to their personal accounts
The employee monitoring laws
Nevada is among the states that are "all parties" consent when it comes to employee monitoring. So, it is illegal to secretly record a spoken conversation without the consent of at least one party.
When it comes to telephone conversations, the Nevada Supreme Court makes it illegal to record those without the consent of all parties. Without the "all parties" consent, such recording is a felony with the potential of civil damages.
Record-keeping laws
Keeping the records of all their employees is an obligation for all Nevada employers. They must do so for the length of 3 years.
So, what types and categories of information should such records consist of?
Here's the full list:
Employee name
Social security number
Occupation of the employee
Date of birth
Address including ZIP code
Regular hourly rate of pay
Basis on which wages are paid
A daily record of beginning and ending work, if a split shift is in question
Total daily or weekly net wages and deductions
Total gross daily or weekly wages
Date of each payment
Records of leaves, notice, and policies under the Family and Medical Leave Act
There are some other record-keeping laws that apply to specific situations. So, here's what else employers ought to keep on record, and for how long.
Records of all job-related injuries and illnesses under OSHA — for 5 years
Summary descriptions and annual reports of benefit plans — for 6 years
Specifically dangerous instances under OSHA (e.g. covering toxic substance exposure) — for 30 years
Conclusion/Disclaimer
We hope this Nevada labor law guide has been helpful. We advise you to make sure you've paid attention to the links we've provided, as most of them will lead you to the official government websites and other relevant information.
Please note that this guide was written in Q2 2022, so any changes in the labor laws that were included later than that may not be included in this Nevada labor laws guide.
We strongly advise you to consult with the appropriate institutions and/or certified representatives before acting on any legal matters.
Clockify is not responsible for any losses or risks incurred, should this guide be used without further guidance from legal or tax advisors.
Need a simple time clock for employees?
Clockify allows you to track time, attendance, and costs with just a few clicks, for FREE.
Your team can track work time via web or mobile app personally, or you can set up a time clock kiosk from which employees can clock in and out.
Later, you can approve timesheets and time off, schedule shifts, run time card reports, and export everything for payroll (PDF, Excel, link, or send to QuickBooks).