Free Online Timesheet & Time Tracking App
These free timesheet templates and timesheet generator offer the basics for every company interested to track and record their employees' work hours. For more timesheet features, and a free, completely digital timesheet experience, you can try out Clockify.
Clockify lets you fill in a digital timesheet for every day, week, and month you spend working, but also every day you spend on vacation, paid time off, unpaid leave, or sick leave.
You and your employees can specify what activities you worked on, for what project and client, for how long, and when.
You can add hourly rates for each department, team member, project, and team member working on a particular project, and have their pay calculated according to the right hourly rate.
Later on, you'll get your hours worked and pay for a project or pay period calculated automatically in just a few clicks. For an overview of your worked hours, you'll have the option to generate visual and weekly Reports based on the time you've entered in your timesheets.
Once you're done with filling in timesheets you can approve them by locking timesheets for a certain pay period - this way, your employees won't be able to make changes to already approved timesheets, and your timesheet data will stay consistent and accurate.
Timesheet features
Insanely simple
No training required, just log in and go.
Fill timesheets online
Log all your work hours in less than a minute.
Unlimited users
The only truly free timesheet app for large teams.
Export data
Export all timesheets in PDF, CSV, and Excel.
Robust reporting
Get all the time data calculated in one click.
Projects and tasks
Track and categorize work activity by project or job.
Hourly rates
Automatically calculated payroll and billable hours.
Apps
Log work hours in browser, or from mobile or desktop app.
Reminders
Get reminders when you forget to log your weekly hours.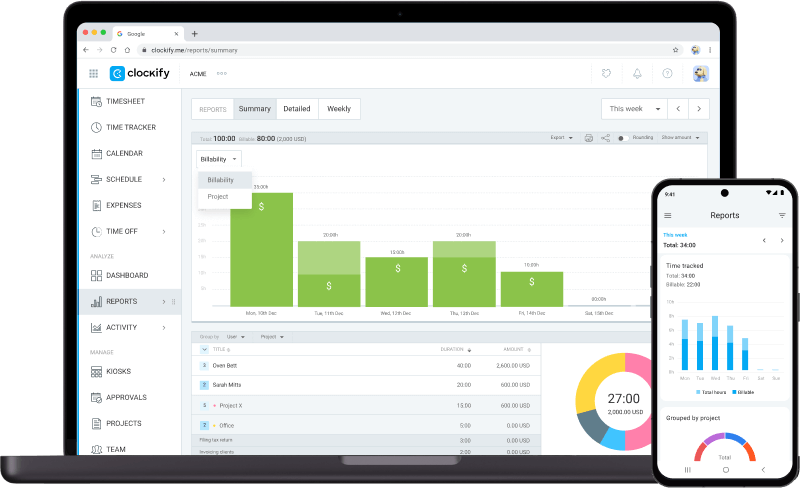 Better than tracking time in a spreadsheet
Our team manages as many as 30 projects every week. Getting real reporting out of spreadsheets was time consuming, and not all that successful. Now, or team can create projects that can be shared and I don't spend 2+ hours a week combining a bunch of spreadsheets to report on which projects our team is spending their time on.

Nenad Milanovic, CEO at COING