Freelancing & Consulting Average Hourly Rates (2020)
What are the average hourly rates that consultants and freelancers charge these days? And depending on your industry, location, and experience - do you charge enough?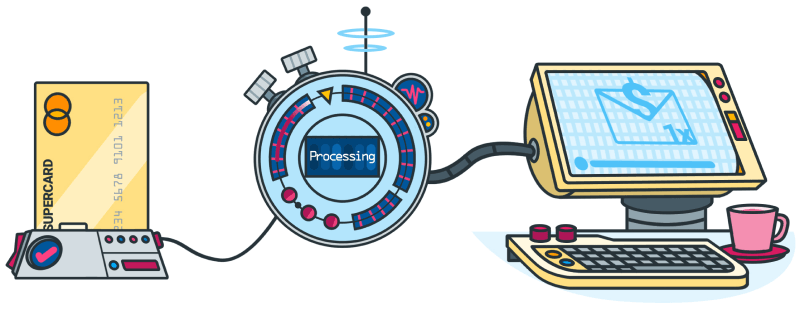 Average freelance and consulting hourly rates
According to the Payoneer survey, without taking into consideration any factor (like industry, location, and skill level), freelancers on average charge $19/hour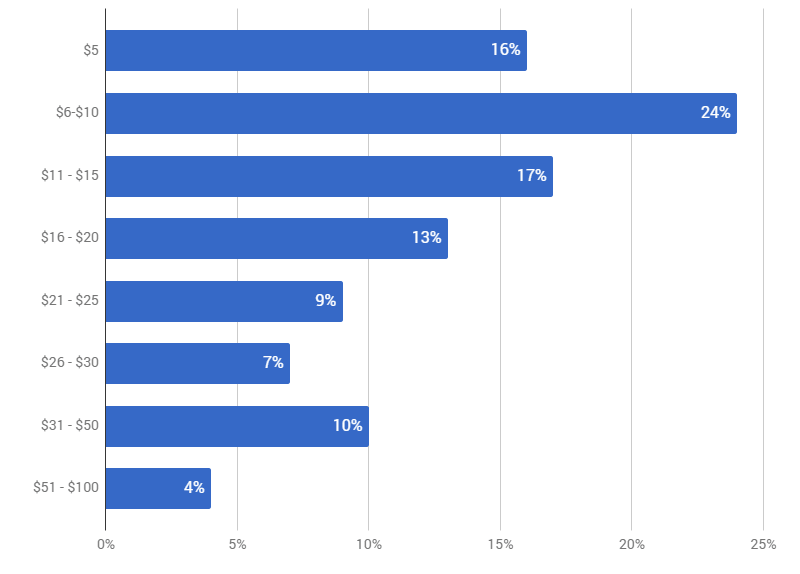 Consulting hourly rates by industry
Hourly rates vary across industries, from $28/hour for the Legal field, to $11/hour for the Customer & Administrative field. Here's what the hourly rates are for 8 prominent industries: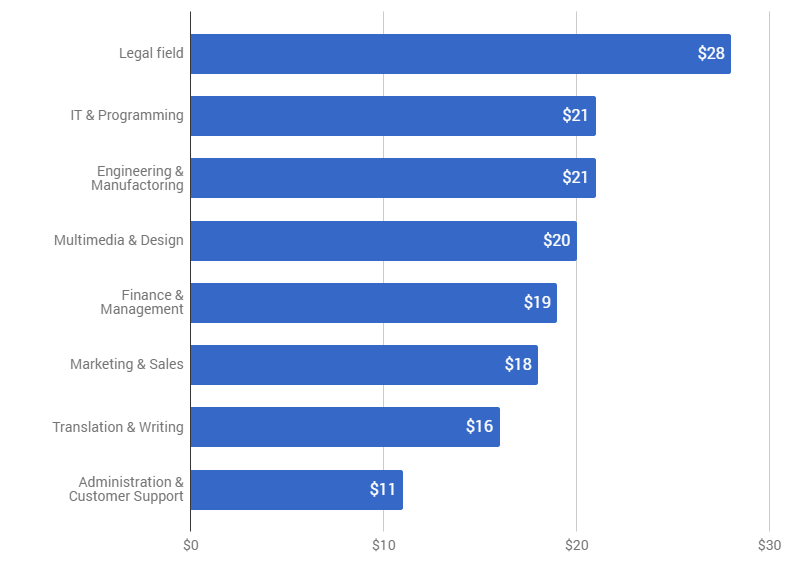 Multimedia & design - $20
Graphic Designer - $17
Illustrator - $19
Web designer - $21
Multimedia production - $23
Legal field - $28
Fraud analyzer - $27
Professional in charge of contracts - $28
Paralegal - $28
Legal consulting - $29
Tax lawyer - $30
IT & Programing - $21
IT Support - $18
QA - $18
Web programmers - $21
Database programmer - $21
Mobile programmer - $22
Developer - $23
Game programmer - $24
Manufacturing & Engineering - $21
Telecommunications - $21
Product designer - $22
Hardware engineer - $23
Management & Finances - $19
Accountant - $18
HR - $18
Project manager - $20
Financial analyzer - $21
Business manager - $21
Marketing & Sales - $18
Social Media - $16
CRM - $18
Sales - $18
SEO - $19
Writing & Translation - $16
Content writing - $15
Web content - $16
Translation - $16
Sales content - $16
Research - $17
Customer & Administrative support -$11
Data entry - $11
Virtual assistant - $11
Administrative support - $12
Customer services - $12
The most profitable industry is the Legal field, with all 5 of its listed jobs being in the top 5 best paying freelance jobs. The freelance job that pays the most is Tax Lawyer ($30/hour).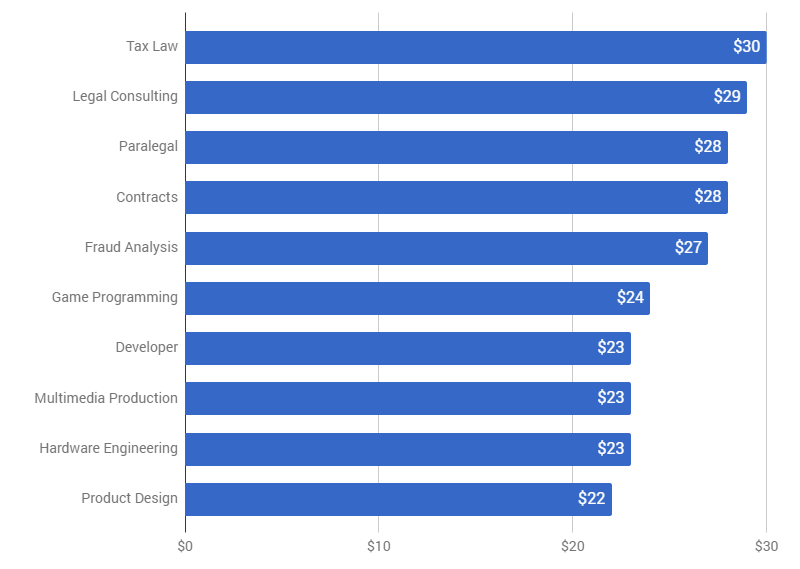 The least profitable industry is Customer & Administrative support, with all 4 of its listed jobs being the bottom paying freelance jobs. The freelance jobs that pay the least are Data Entry Clerk and Virtual Assistant ($11/hour).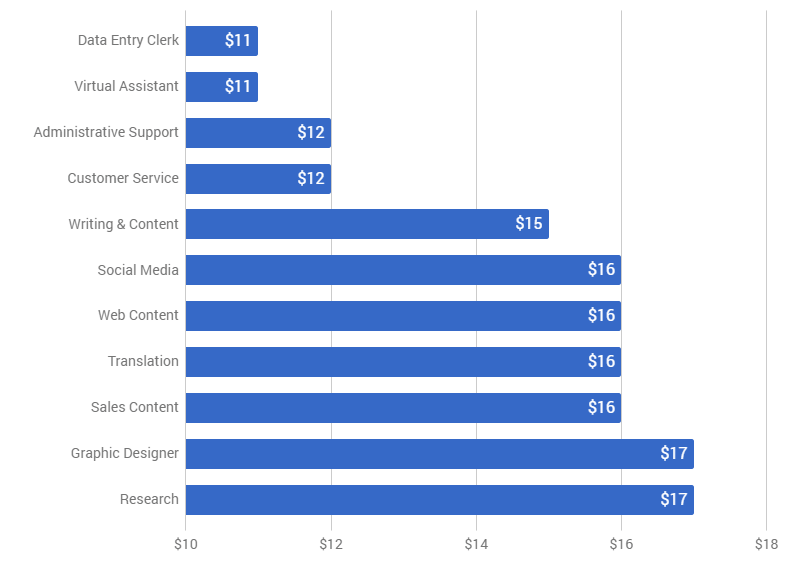 As a comparison, here are the higher end minimum hourly wages for full-time employees around the world. Apart from Switzerland's minimum wage (which is only applicable to one part of the country), freelancer average figures are mostly higher than the minimum wages in countries with the highest minimum wages - one survey even shows that freelance work in general pays off more than traditional work.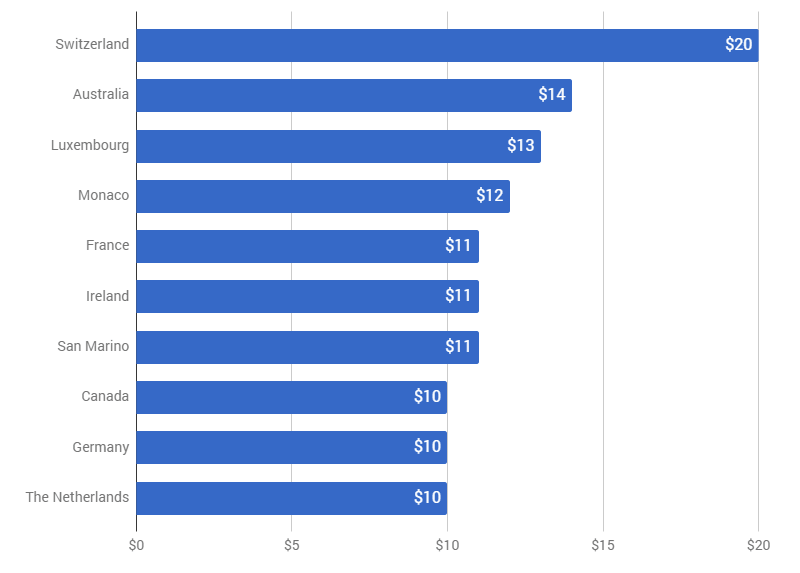 Remote and temporary workers
Certain jobs in certain industries are more likely to involve special parameters, so according to these parameters, we also distinguish between remote employees and temporary workers.
Remote employees
Remote positions don't involve commuting and other activities that require additional expenses for the employer, so people usually think these positions pay less.
But, there are some remote positions that actually pay well, according to this report on remote work trends, that discloses the following figures: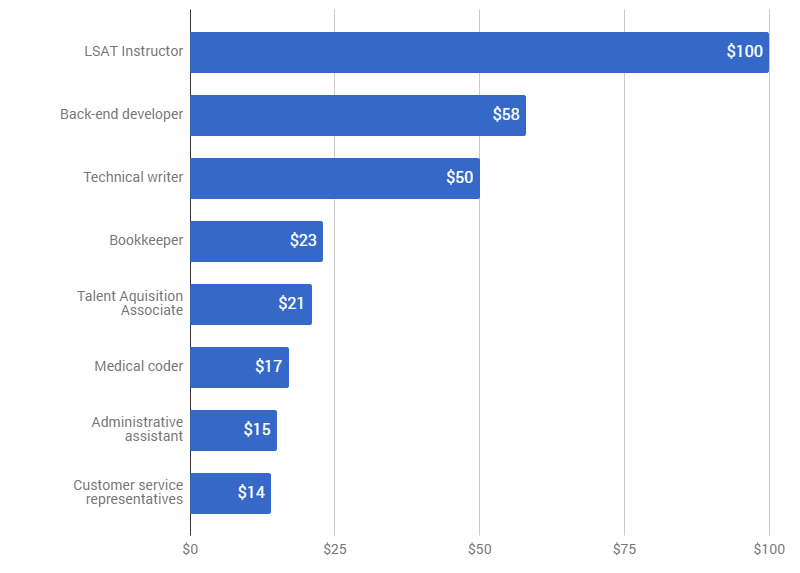 According to the report, the highest paid remote freelance position is a post-secondary, LSAT instructor, a position that can earn up to $100/hour; the lowest items in the list are Customer service representatives, with $14/hour on average.
Temporary workers
The contracts of temporary workers involve a limited period of time, usually based on the requirements of the company who is performing the hiring.
When it comes to temporary positions, the position of a Application Software Developers (IT) pays the most ($48/hour) - this industry is also the most profitable one in terms of temporary employment.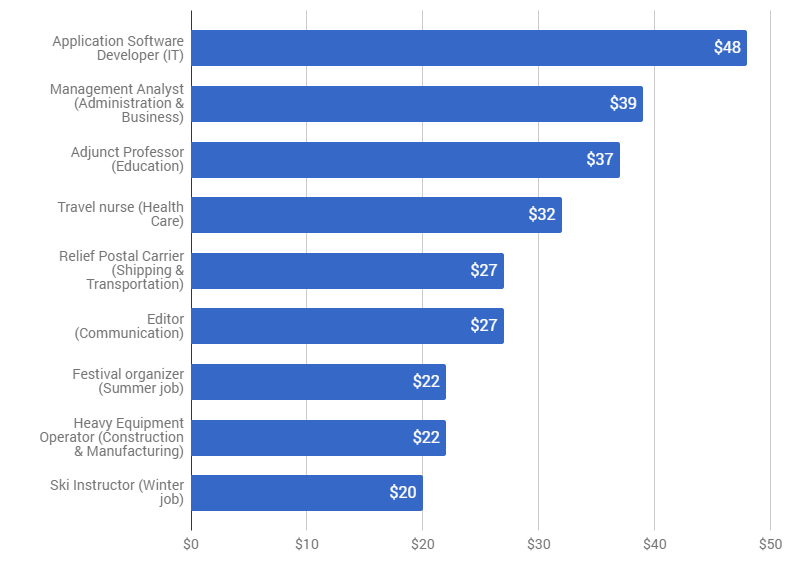 Resort staff member and Santa Clause position pay the least ($10/hour) - summer and winter jobs are also the least profitable categories in temporary employment, most likely because they are strictly seasonal jobs, with no possibilities for contract extension beyond their seasons.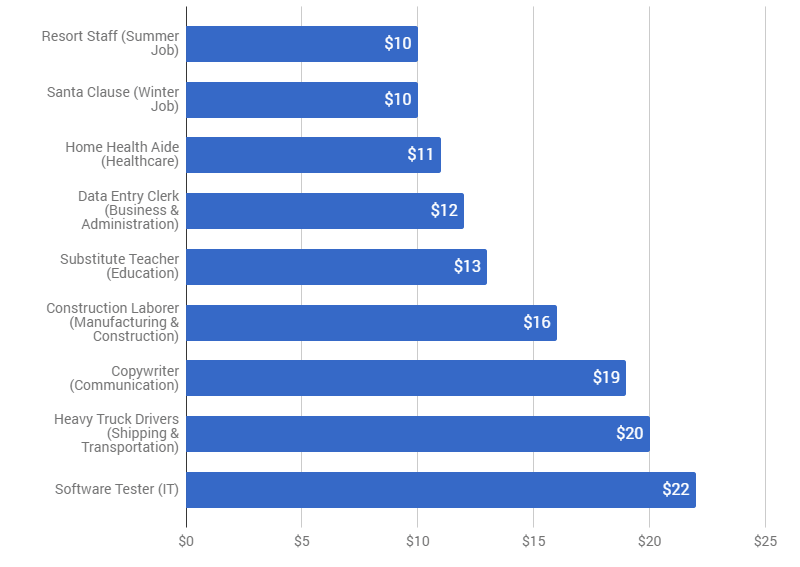 For more details on temporary employment and its hourly rates, visit this report.
Factors that impact hourly rates
Industries are the main factor that determines freelance/consulting rates, but there are several other factors that modify rates per industry:
Location
The world region and country you're living in are one of the biggest factors that determine your hourly rates.
Hourly rates by world region
The regions where English is a native language are usually in advantage when it comes to hourly rates. This is especially a factor in the industries that requires fluency in the English language - the clients are more likely to hire professionals whose native language is English, so these professionals are in the position to command higher rates.
This is the case with developers - according to a survey that included over 5000 freelancers around the world, people from the United States, Australia, New Zealand and Canada command the highest rates, while people from North Africa get paid the least: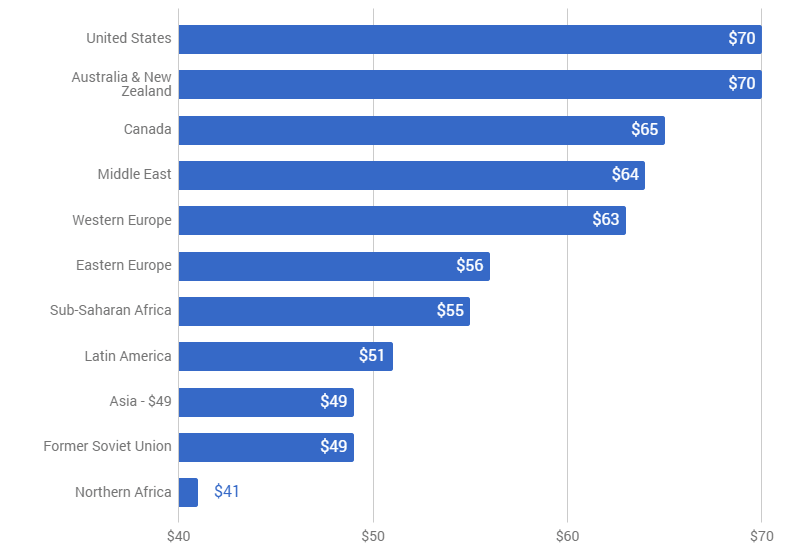 Hourly rates by country
Apart from the world region, the country you're living in determines the hourly rates as well. Again, English speaking countries usually reign in terms of the highest hourly rates.
According to the a same survey that covered developers, Australia is the country with the highest hourly rates, with Switzerland as a close second; the country that has the lowest hourly rates for developers is Pakistan, with $43/hour.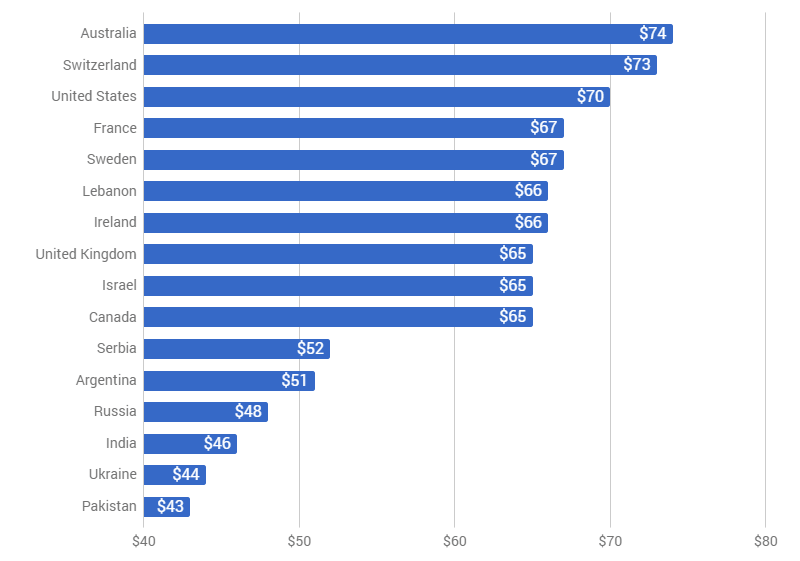 The reports by PayScale show how the hourly figures for most of the same countries (no data available for Serbia and Ukraine) stack up, for graphic designers: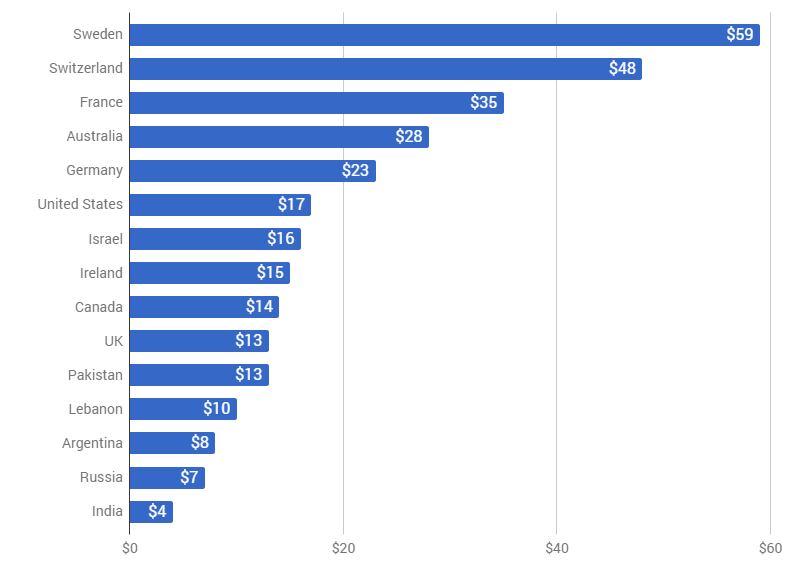 The figures for graphics designers show that Switzerland($48/hour) and Australia ($28/hour) are once again high on the list, while Sweden ($59/hour) offers the highest rates. In comparison to its position on the developers' list, Pakistan has a better position, and evens with the UK ($13/hour). Russia is once again low on the list ($7/hour), but its India who offers the lowest rate ($4/hour).
Consulting rates by skill and experience (engineering and design)
Skills and experience are a vital factor in determining your hourly rates - as an example, here's how the figures unfold for engineers and graphic designers across various experience levels:
Entry-level employees have up to 1 year in experience - because they lack extensive professional experience, their hourly rates are typically lower.
For example, entry level developers earn $26/hour on average, while graphic designers just starting out earn about $24/hour on average.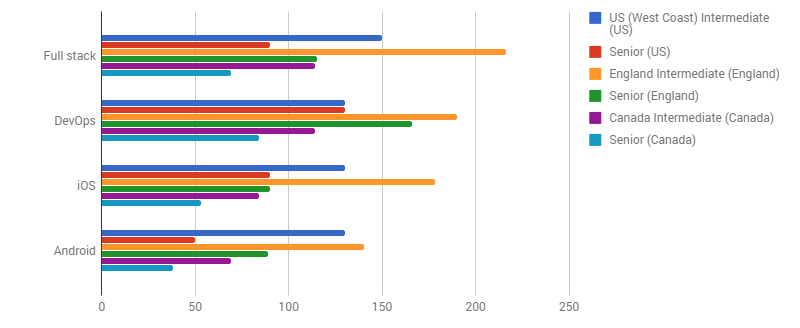 Hourly rates by education
Education can be an important factor for clients who are looking to hire a freelance, but one Payoneer statistics shows that clients actually value experience more than education.
There is little difference between the earnings of a freelance with a high-school diploma, and a freelance with a Bachelor degree - surprisingly, freelancers with only a High School diploma outearn college graduates with Bachelor degrees.
College makes a difference only at later stages of your education - freelancers with Master's and Ph.D. degrees command higher hourly rates than other freelancers: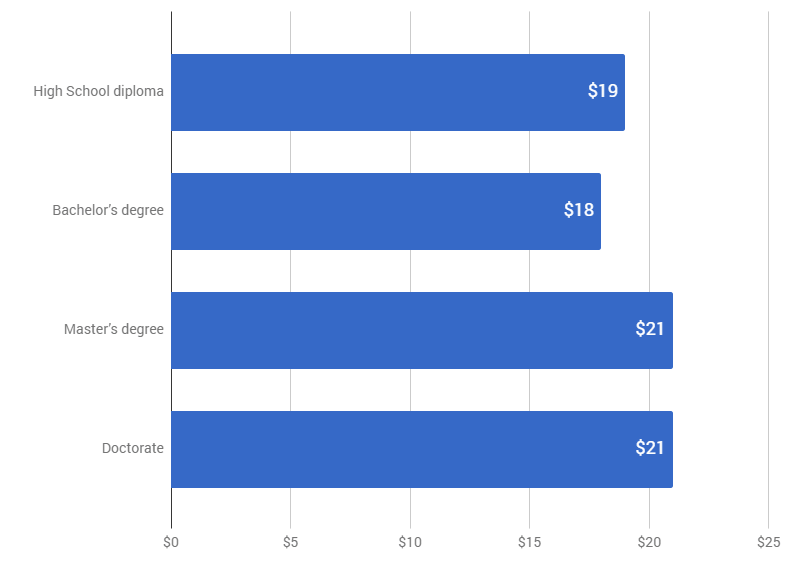 If you're still haven't earned you high school diploma, freelancing isn't out of reach - but, as you're probably still learning your freelance skills and don't have an extensive portfolio, expect to make around the equivalent of the minimum wage in your country.
Hourly rates by gender
Although the idea of closing the gender pay gap is a popular one, the results of the Payoneer survey indicate that the gap persists despite many who speak against it - men still outearn women in all surveyed industries.
On average, freelance men earn $20, and freelancer women earn $16, though the actual figures vary by industry once again: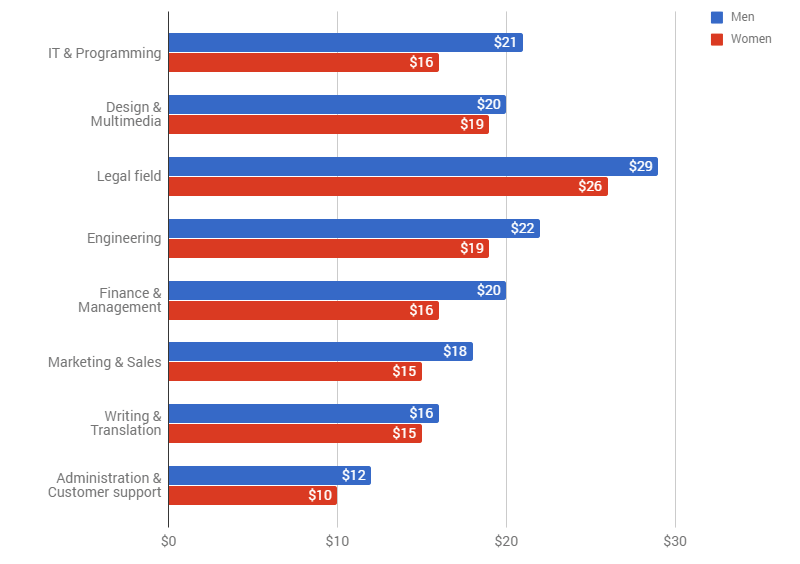 The table shows that men out earn women for $3 on average across industries - the only two industries where the difference is minimal ($1) are Design & Multimedia and Writing & Translation. The biggest difference ($5) is in the field of IT & Programming, where men earn $21 and women $16.
However, despite the gender pay gap being a norm in most of the world, there is a small number of countries where freelance men and women earn the same, like Venezuela (15$) and Romania ($23)
Also, there are a few countries where freelance women actually earn more than freelance men like Bolivia (men $18 vs women $22) and Indonesia (men $18 vs women $19).
Concerning the estimates when the gender pay gap might finally close, one study shows that women will start earning the same in the USA decades from now, with the gender gap being the slowest to close in Wyoming (144 years from now).
In addition, the World Economic Forum estimates that women around the world will have to wait 217 years for the gender pay gap to fully close.
Conclusion
The difference between the highest paid surveyed industry (Legal) and the lowest paid one (Customer & Administrative support) is $17 on average. The difference between the highest paying job (Tax Lawyer) and the lowest paying jobs (Data Entry Clerk and Virtual Assistant) is $19 - but, even the lower paying jobs mostly offer better earnings that minimum hourly wages in the higher paying countries for traditional jobs.
Location is a vital factor that determines hourly rates
For developers, the difference between the highest paid (United states) and lowest paid region (Northern Africa) is $29.
When it comes to individual countries, the difference between the highest paid surveyed country (Australia) and the lowest paid surveyed country (Pakistan) for developers is $31. For graphic designers, the difference is $55 (Sweden being the highest and India being the lowest).
It pays to work remotely
Remote positions and temporary jobs offer substantial income, with the IT industry once again coming out on top (with remote back-end developers earning on average $58/h, and Application Software Developers being the highest paying temporary positions, with $48/h)
Again, Customer Services come out at the bottom of the list, with the lowest ranking for remote positions (Administrative assistant - $15/h; Customer service representative - $14/h). However, this industry ranks better in the temporary jobs category, with Summer and Winter jobs taking last place (Resort staff member and Santa Clause - $10/h).
Having the right skills and experience is more important than education
The difference between people who finished only high school and those with Doctorates is negligible, being only $2. Bachelor degree doesn't up the hourly rates - they are actually lower than for high-school graduates.
The difference between pay for experience levels is substantial, and may actually be the most important one - for example, the difference between full stack intermediate and consulting developer in the US West Coast is $60/hour, and all the figures vary noticeably.
The difference between what freelance men and freelance women earn is smaller, but still unfortunately present worldwide - on average, it's $3.
Need a good time tracker that calculates your billable hours automatically?
Clockify lets you track how much time you spend working on projects and automatically calculates your earnings based on your hourly rates.
How to calculate billable hours with Clockify →