How Freelancers Spend Time
Did you know that more than half of freelancers work less than 30h/week, but only half of it is spent on billable activities? Even though they work less, freelancers need to charge more than traditional employees because half of their work time is non-billable.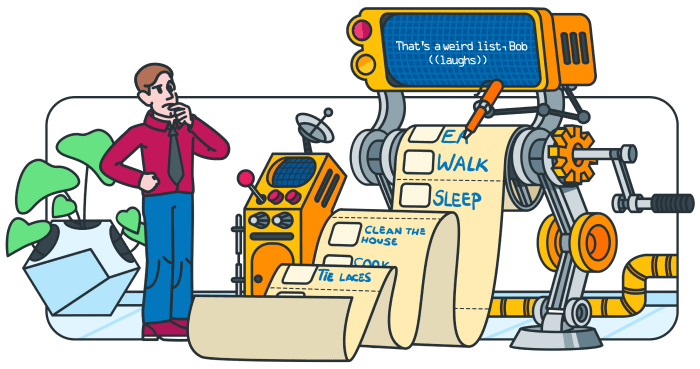 How much time do freelancers spend working
Freelancers spend most of their time on the following activities:
Billable work
Non-billable work, (promoting and managing their business)
Following up on client payments
Considering various improvements to their work routine
According to one survey, freelancers spend the following amount of time on their freelance work per week: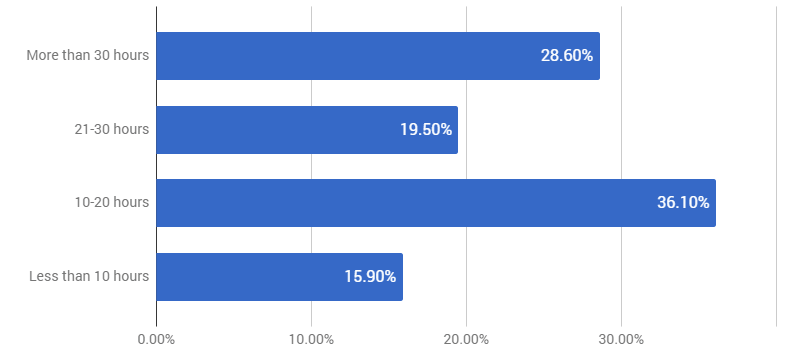 These figures indicate that the weekly norm of a freelancer is shorter than the weekly norm of a traditional full-time employee - however, a larger portion of the surveyed freelancers only freelance part-time, while also pursuing a regular job (66%, compared to the 44% who freelance full-time).
How much time do freelancers spend on billable work
The time you spend freelancing includes both billable and non-billable work, as is the case with full-time employees. Yet, freelancers may spend more time on this non-billable work, because they run their entire business themselves, and have to address a number of additional points.
For example, if we look at the figures from a survey that covered over 1,300 freelance writers (either full-time, or part-time), we get the following data for the time they spend on pure, billable writing: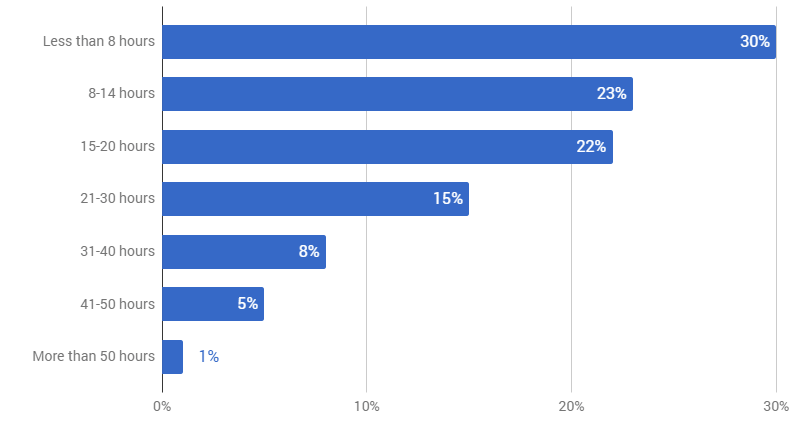 The largest amount of freelance writers (30%) spend less than 8 hours per week on billable writing - these figures may seem small, but also include writers who only freelance part-time.
The percentage of freelancer writers gradually decreases as the number of hours increases - only about 8% manage to draw out 31-40 hours of billable writing time per week.
How much time freelancers spend on finding work
Full-time employees get assigned with work by their immediate superiors, but freelancers often have to look for work themselves. Unless they find work on a regular basis, they aren't able to sustain their business, so they put in dedicated time and effort in this activity.
According to the data from the Payoneer 2017 research, the following industries spend the following number of hours on finding work: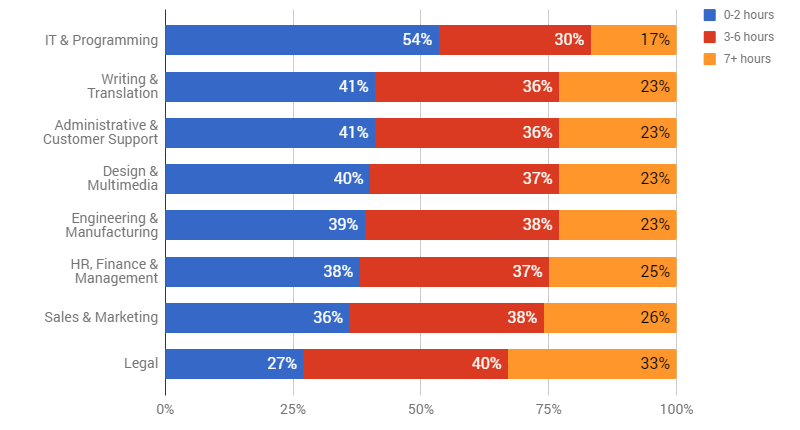 Freelancers in the IT & Programming industry spend the least amount of time looking for new work - more than half (54%) spend up to 2 hours, and only 17% spend more than 7 hours searching for work.
Interestingly, although freelancers in the Legal industry command the highest global average hourly rates (28$), they also spend the most time looking for new work - 33% of them spend 7+ hours, and only 27% manage to find new work in 2 hours or under.
Why? IT experts are more likely to land long-term clients, while legal experts are mostly needed on singular projects, and for one-off legal advice.
How long do freelancers wait to get paid
Pay is an important factor in the freelancer's life, and freelancers shouldn't overlook the amount of time they need to wait for their payments to get processed.
As an example, here's how much time freelance writers have to wait before getting paid: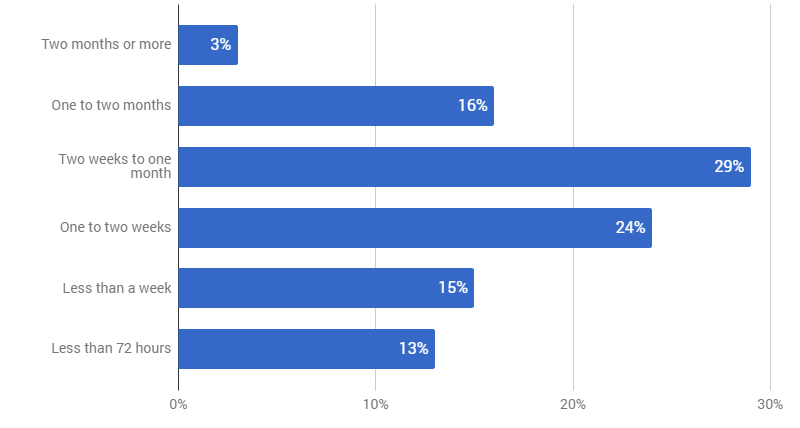 Unless payments are delayed for miscellaneous reasons, most freelance writers don't wait too long to get paid - more than half of freelancers (53%) wait from one week to one month for finalized payments. Only 3% wait more than two months.
How much time do freelancers spend on business management
Appealing to the target market is the best way to secure yourself a steady stream of work, so marketing is an important part of freelancer life, so you should devote enough time to it.
Marketing and promoting your expertise and skills can include:
Obtaining testimonials and referrals from satisfied clients
Displaying results from your successfully finished projects
Handling a business website, or blog where you'll constantly include new content
Guest blogging on relevant websites
Sending out cold emails and pitches to prospective clients
Being active on social media and answering questions on forums related to your field of work
Procuring Social Media advertisement
When it comes to managing your business, it often includes the following activities:
Creating contracts
Generating invoices
Following up on late payments
Traveling to attend meetings, when in-person meetings are required
Various tax preparation
Reporting and considering expenses
Purchasing supplies vital to your work
Networking with prospective associates on relevant events
Managing and promoting your business are both non-billable types of activities, but are both vital to keep your business operating - without them, you'd most likely find yourself out of business in a short time.
When it comes to freelance writers, here's how much time they spend on promoting and managing their business: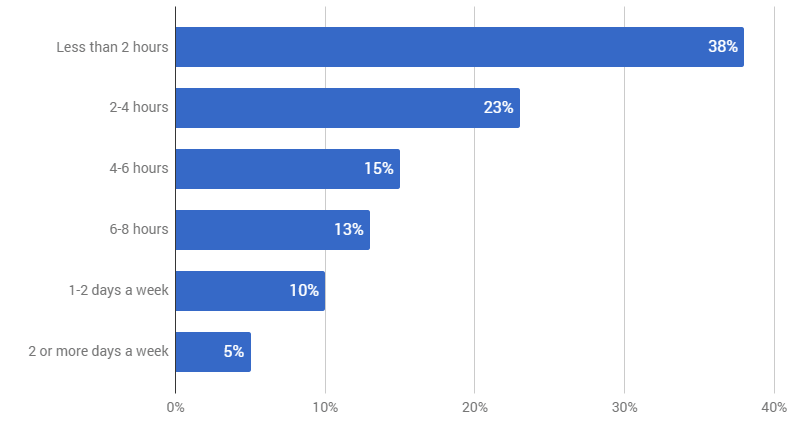 According to this data, freelance writers don't spend too much time on promotion and business management - most of them (38%) spend less than 2 hours on this type of activity. In total, only about 10% spend 1-2 full days, and only 5% spend two days or more.
A typical day in the life of a freelancer
Each freelancer has a different everyday routine - what they all have in common is their difference with traditional full-time employees, who typically have a more structured, less flexible day. Of course, this doesn't mean freelancers' days aren't structured, they're just prone to more changes, dictated by personal needs, or client's requests.
7AM - 8AM - Wake up time. Freelancers don't have a 9-to-5 routine, so they don't have to perform serious work in the morning, if such practice doesn't really suit them. If they have to finish a project, or perform some other important activities before a deadline, they typically get up around 7AM, but other days, they can allow themselves to sleep in until 8AM, or even longer. As freelancers sometime work for clients they don't share a time zone with, they may have to start working at a later time, even at night. When this is the case, they sometimes forgo the morning routine and get up later, to be better rested for the time they'll have to perform meaningful work.
9AM - 9:30AM - Breakfast, coupled with checking the email inbox. Freelancers often communicate with clients via email, so they may check their inbox more frequently, to see whether they have received some updates. This is also the typical time to check the Social Media feed, as well as the news and articles freelancers missed while sleeping.
9:30AM - 10:30AM - Active communication with clients via email or phone. This is the time to go over project details, address potential issues, as well as send a progress report.
10:30AM - 1PM - Working on projects, with occasional short breaks. This is the time freelancers typically do their most meaningful work: writers work on their content, developers code, graphic designers work on their visual concepts.
1PM - 1:30PM - Lunch break. Time to unwind over a nice meal, before going back to work.
1:30PM - 4:30PM - More meaningful work. This may be the time to finish up some projects, address additional issues, go over some details, as well as make adjustments and improvements. As the end of the official workday approaches, freelancers check their email inbox again, and follow up on some client concerns and questions.
4:30PM - 5PM - This is the time to look for new clients and jobs, and otherwise promote the freelancing business. This may include:

Scrolling job boards to look for new potential projects
Finishing up a guest post for a website whose audience typically needs the services provided by the freelancer
Formulating email pitches and outreaching to potential new clients
Other promotional activities

5PM - 6PM - Time to address administration. This includes tax preparation, generating and sending invoices, and other similar administrative paperwork. This is also the time to follow up on late payments, and consider past and possible future expenses.
6PM onwards - Official time for non-work activities - this includes unwinding with friends and family, having dinner, focusing on a hobby, or going out. However, freelancers often have to be on call, as some client communication and additional work is possible in the evening, depending on the type of freelancer work, and the time zone of the clients.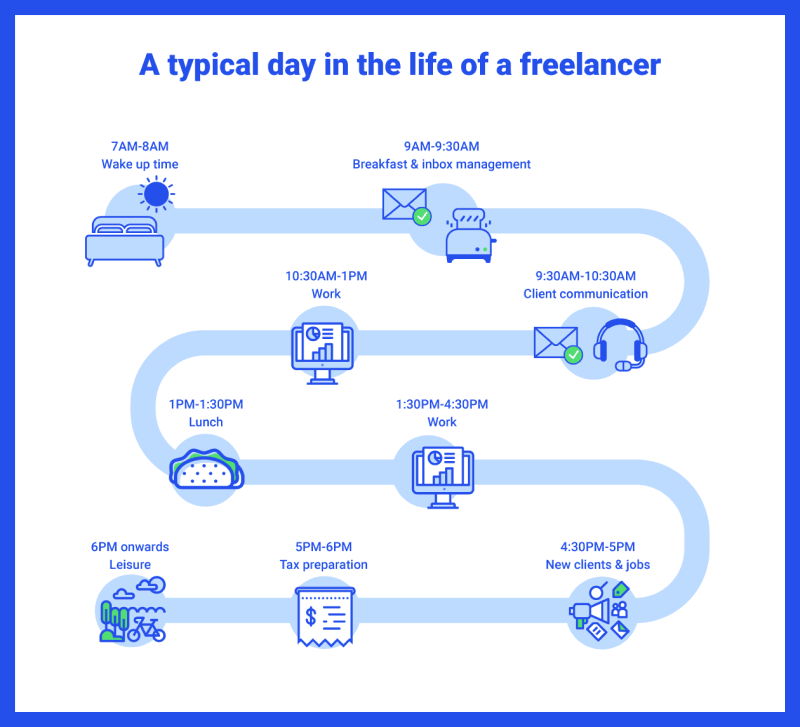 How freelancers can make improvements to their time scheduling
Freelancers decide everything about their time, so they also have the sole privilege to decide how they can make improvements to their time management. This includes every change and tweak that will lead to finalizing projects earlier, taking care of miscellaneous work faster, and everything they can do to perform quality work, but still enjoy enough personal time with family and friends.
The aforementioned statistics are a great starting point, but all freelancers have their own, unique time results. To fully understand your freelancing business, you can use Clockify to track freelancing hours:
Billable vs non billable work
Promoting and managing your business
The time you spend invoicing, and waiting for payments to finalize
Various other important activities
How to calculate billable hours
Once you have these time results, you'll be able schedule your day better, and consider where you can make improvements - work on reducing the amount of time you spend on one, less important activity, so that you have more time for another, more important activity.
Perhaps you'll find that you have room to spend more time on promoting your business, which will in turn up your job prospects; or find that some projects are more profitable, or that you spend too much time on tax preparation (in which case you'll consider turning to a professional agency).
Once you know how you spend your time, you'll be able to manage it better, as well as ensure you make the most of the time you spend on sustaining and improving your freelancer career.