How different types of time tracking software work
Depending on your professional and personal needs, maybe you use a timesheet software for keeping track of your work hours and a simple time clock tool for non-work tasks. Or, you find an automatic time tracker more suitable for all activities. Either way, can you tell the difference between diverse types of time tracking software? And, what's the purpose of each tool? This article will bring you answers to these questions, which will help you choose the best time tracking software for you.
We'll guide you through all the details about:
timekeeping software
timesheet software
time recording software
time clock software, and
an automatic time tracker.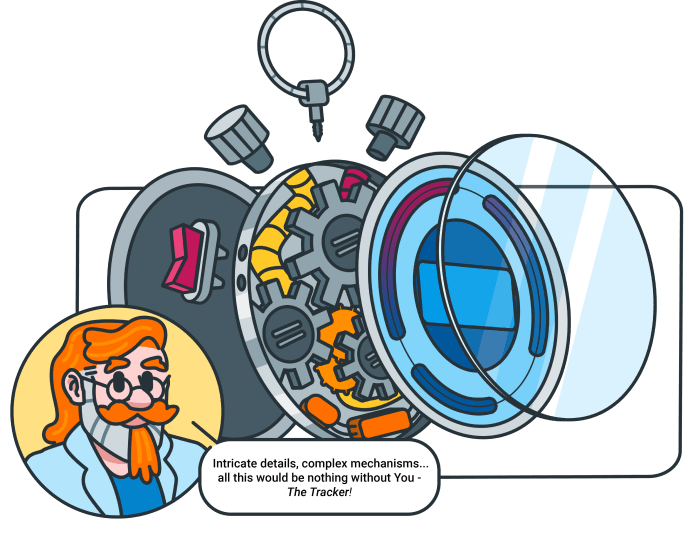 Timekeeping software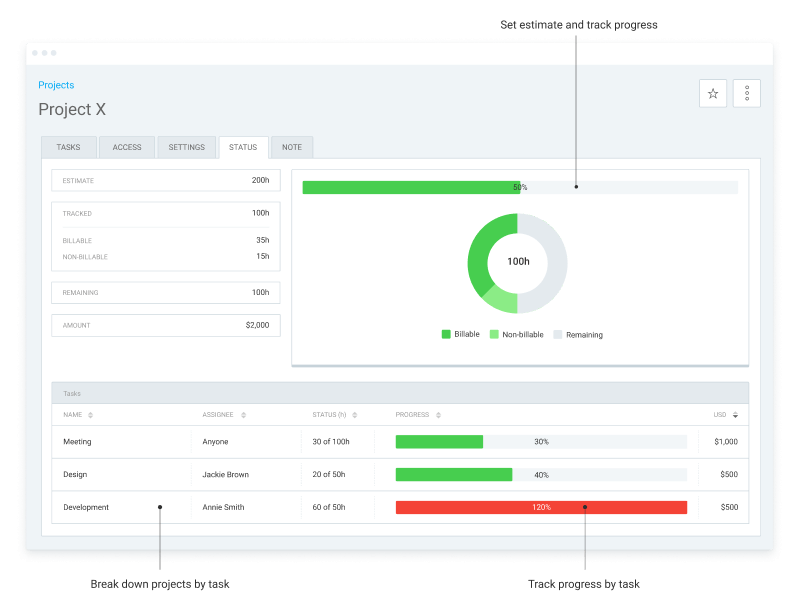 What is a timekeeping software?
Timekeeping software helps you keep a record of your work hours. You can choose between two methods of using a timekeeping software:
you can manually enter your hours,
enter your work hours by filling out a timesheet (timesheet software), or
you can use a timer – a method known as time recording.
In a way, timekeeping software is an umbrella term for logging your hours manually, and for a timesheet and a time recording software, methods that we'll explain later.
Who can use a timekeeping software and in what cases?
Businesses that deal with project allocations. When thinking about project allocations, a project manager needs to make sure that there are enough resources to finish a project during a set period. Therefore, time tracking can help the management and the team figure out if the allocation is done correctly and whether employees are spending as much time as needed on a particular project.
Anyone working for several clients at the same time. Let's say that you're a lawyer who represents five clients. You'll need to meet with your clients or have frequent calls with them, deal with legal and case research for each client, and take care of many more tasks. By the end of the week, you probably won't remember what you did on Tuesday. So, you should start using a timekeeping software to enter each activity and its duration. These details will be invaluable for billing and invoicing. The same rules apply to accountants, freelancers of any type, and anyone working on hourly-based projects.
Remote teams. When telecommuting, you'll need to have proof of your completed assignments and the time you needed to finish them. In some companies, this is a mandatory requirement. Even when it isn't, tracking your work hours will help you learn more about your productivity, which brings us to the next point.
Anyone willing to improve productivity. You won't be able to enhance your productivity unless you figure out what's causing the problem. Thus, start marking down all your daily assignments and soon you'll see if you spend too much time on some activity. If so, you should rethink your work habits.
What do people find useful about a timekeeping software?
"It has become such an important tool in my business. I have several clients for whom I must track specific tasks, and not only can I track those time entries easily, I can look back and see if I'm becoming more time-efficient at those tasks." Elizabeth K.
"Clockify is simple to use and is accurate. Before Clockify, I would underestimate how much time it would take to complete a project and underbill for it. With Clockify, I am able to accurately track my time and bill accordingly. Clockify has saved me and our business time and money!"

Jennifer T.
"As my boss recommended we use a timekeeping tool for 1-2 weeks to help us understand how we use our time, I feel I have gained many benefits. Increased focus, feeling more organized when working on different tasks, and being able to plan my day more effectively are just a few but I believe the more I will use this tool the more useful/helpful it will become. My colleagues used an Excel spreadsheet set up with macro's to track their time however I thought Clockify's UI to be a lot more aesthetic and fun to use."

A quote by one Clockify user
Timesheet software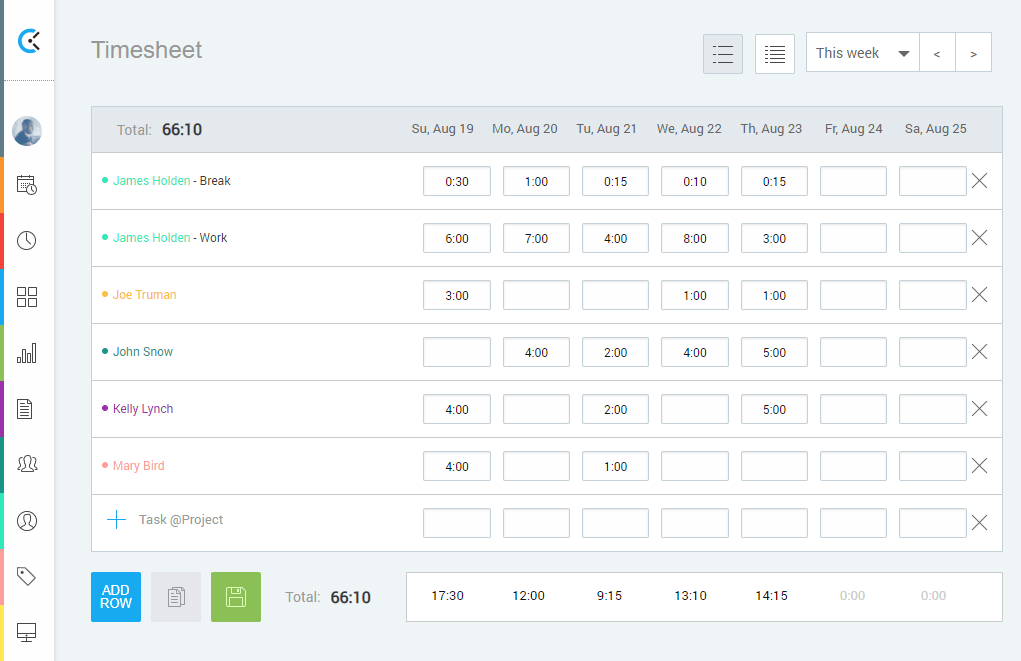 What is a timesheet software?
A timesheet software is an alternative to paper timesheets, which allow you to keep track of the time spent on various tasks by filling out the time entries (time books). Compared to traditional paper timesheets, managing your time entries with software is more accurate and less time-consuming.
Employees are responsible for submitting their timesheets. Then, it's up to managers to approve or reject timesheets.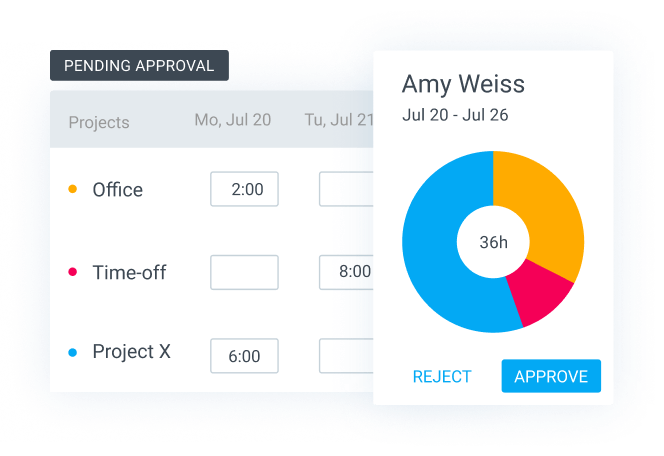 Who can use a timesheet software and in what cases?
Freelancers. If you're a freelancer, it's likely that you work for several clients and on various projects. In that case, you'll need to know exactly how many hours per week/month you have spent on each task and project so that you can charge your clients. Instead of writing down your daily assignments on a piece of paper, opt for a timesheet software. That way, you'll be able to mark down all tasks and your billable work hours. Then, you can simply filter your tasks by a particular client, export your weekly timesheet as a PDF, and send it to your client.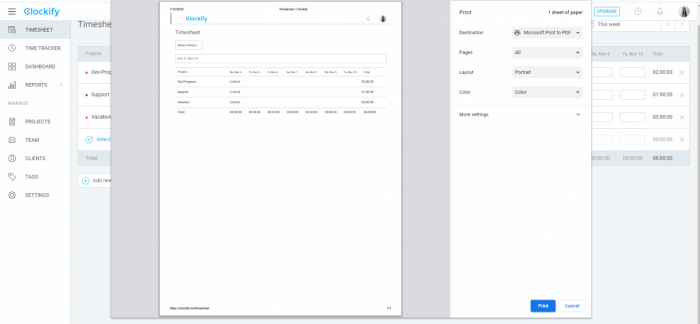 Government contractors. If you work in a company that provides services to the government, monitoring your work hours will be obligatory. This is another case when a timesheet comes in handy.
Managers. If you're a team leader or a manager, gathering employee timesheet data will be valuable for project estimates. By reviewing team timesheets, you'll have a clear idea of the project's progress and whether it will be finished on time.
HR staff. Timesheets are a practical way to keep track of employee attendance and calculate overtime so that everyone should be paid for their worked hours.
What do people find useful about a timesheet software?
"Our newspaper has had tremendous success using Clockify to manage our projects and timesheets. Our staffers are paid fairly for their work on each project and we can personalize their salary, which makes it fairer to the employees."

Shelby S.
"Love that all the timesheets are digitized now, don't need paper timesheets anymore. Easier to collect timesheets, and can lock them."

Carly B.
"I have to keep track of my billable time, which when you're billing by the 1/4 hour, that has the potential to be a lot of entries in a day. Before Clockify, I was hand-writing all my entries in a notebook which was both time-consuming and often forgotten, leaving me to frantically try to recall what I did weeks earlier. Truly, Clockify has been my saving grace."

Nicole S.
"As a developer, I hate timesheets. But, the ease of use to log in your time is incredible and you have real figures that you can adjust to complete the missing minutes."

Parvez S.
Time recording software

What is a time recording software?
A time recording software allows you to track the hours you spend on various activities by using a timer. The rule is simple, you need to start a timer when you begin working on a task and stop it when you are finished.

Who can use a time recording software and in what cases?
Teams looking for a way to track their projects. Recording your and the hours of your team ensures that everyone is doing their part of the project. Besides, it gives you a better understanding of your overall work hours and whether someone is overwhelmed with work.
Teams and individuals who are usually on the go. Seeing a time recording software on your screen will help you remember to start your timer at the beginning and stop it at the end of the day, no matter how busy you are.
Anyone who wants to record their non-work activities. Apart from your work assignments, you can keep a record of your personal daily activities, like running, studying, and other leisure activities. For instance, if you're preparing for an exam, you can record your studying hours. Plus, you can add your university's name as the name of the client and add the course name as the name of your project. This routine will motivate you to better prepare yourself for an exam.
What do people find useful about a time recording software?
"It is a great software to keep your actions in check. How much time you've worked you can keep track of. And many times I used to stay longer in the office just because I didn't remember for how long I have been there. But now I leave the office at the right time so that I have some "Me time". Overall it is great till now. I had suggested some points which are certainly of my use. Using Clockify has improved the quality of my time."

Vishal S.
"The desktop app that sits in my taskbar makes it incredibly easy to record time and then attach PDF reports to invoices. This has saved me a lot of time. I can just focus on getting the work done now and sending out invoices rather than having to manually itemize and record my time."

David J.
"Clockify does exactly what you expect from software to easily capture time records on activities. It also has a high rate of incorporation of new functionalities. We are using Clockify for the time recording of a large support team and although, for now, it requires a manual process to incorporate tasks, it is being very useful to know the evolution of the activity."

Gonzalo M.
Time clock software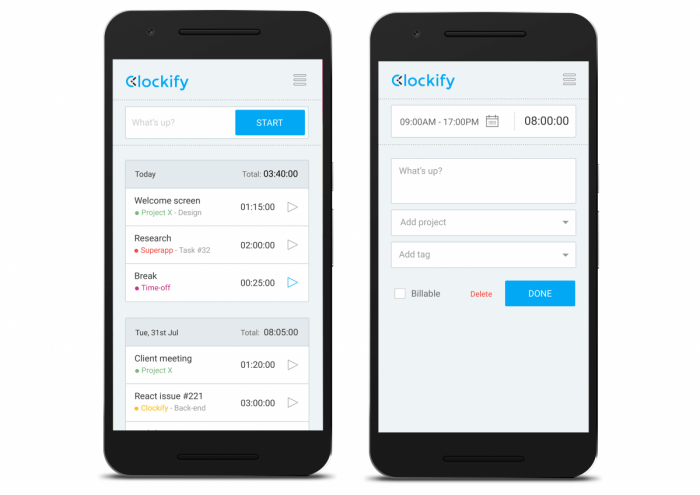 What is a time clock software?
Gone are the days of the punch time cards. Nowadays, employees use time clock software to punch in and out. Thus, time clock tools help you both log your work hours and your attendance, too.
In general, diverse time clock tools offer distinct types of punching in and out:
Employees can use a clock-in clock-out system. In this case, managers/employers should create a project for each employee, place the tablet/mobile phone at the entrance/exit, so that workers can easily log in their attendance and working hours.
Biometric fingerprint punching. This is a method that requires installing a fingerprint reader on office laptops, desktop computers, or tablets. Then, employees should simply punch in and out using their fingerprints.
A GPS time tracking system. Once all employees have logged into their time clock accounts, they need to turn on GPS location tracking, to start monitoring their time.
When it comes to biometric time tracking, some employees believe that this is affecting their privacy. In fact, states like Illinois, Texas, and Washington have decided to regulate this matter. So, they have Biometric Information Privacy Acts (BIPA) to control how biometric time clocks can be used. Speaking of privacy and security, these are the reasons some companies choose only self-hosted time tracking software, as this type of software can be hosted on their own servers, which ensures a new level of security.
Apart from the above-mentioned options, some time clock apps include Time rules as one of their features, an option that doesn't allow punching before a set time. Plus, some time clock tools cover scheduling shifts and requesting time off.
💡 Did you know that the first clocking-in-and-out-machine was invented in the 19th century? Willard Legrand Bundy was the owner of a jewelry store, and he made this machine so that his employees could clock in and out. Here's the full biography of this remarkable person.
Who can use a time clock software and in what cases?
Construction time tracking. When working in the construction industry, tracking time ensures that employees will be paid accurately. Here's why: in this industry, every worker is doing a particular part of the job, but the hours of all employees are calculated together. These are called man-hours or labor-hours. It's vital to get a precise number of man-hours because these hours show how much time was spent on a project. So, in order to avoid miscalculation, the workers should punch in and out. Then, construction contractors will have a better understanding of the project and how long it will take to complete the project. This way, there will be no risks of underpaying or overpaying the workers, so the employees will receive the correct amount of money for the finished job.
Employees working in shifts. Many time clock tools allow you to manage employee shifts with ease. So, if an employee isn't able to work tomorrow morning because she's taking her son to a doctor's appointment, she can pick up the afternoon shift. This is also useful for preventing workers from going into overtime by assigning the shift to someone else.
HR staff and managers. Since there are various time clock apps that offer requesting paid time off (PTO), this feature is handy both for workers asking for holidays and HR staff/managers who are in charge of approving time-off requests.
What do people find useful about a time clock software?
"Our business went from tracking hours on a notepad to this incredible program. What a tremendous difference it has made! It's free AND it allows us to clock in and clock out for specific hours/days instead of the traditional timer."

Gabrielle W.
"The interface is very friendly and I like it has features like clock in clock out. Naming the timestamps really helps as well allowing me to stop and start new timers to indicate when each part was finished."

Luke K.
"It is very simple. Clock in, clock out – that's it! No extraneous features that aren't needed for my workflow, and super user friendly."

A quote by one Clockify user
"My crew clocks in and out at each job and I am easily able to keep track of hours between each person, hours by week, by customer, by year. Will be extremely helpful during tax season."

Samantha W.
Automatic time tracker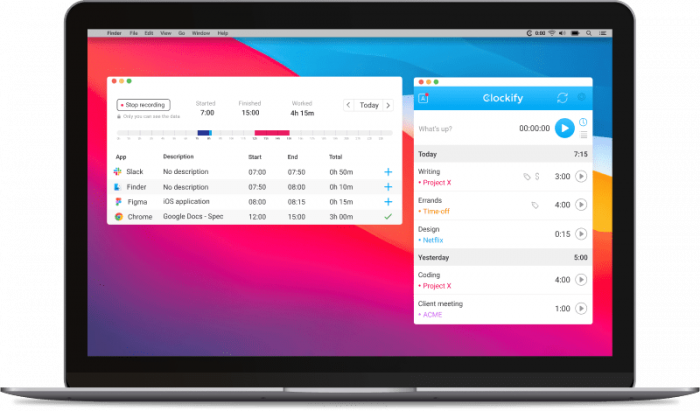 What is an automatic time tracker?
The main advantage of an automatic time tracker over other time tracking options is that you don't need to manage timers or manually enter the time. Instead, your working hours are recorded automatically.
Automatic time tracking tools can be:
Fully automated. These time trackers usually use artificial intelligence (AI) for recognizing tasks and turning them into time entries. Then, workers only need to approve these time entries. Besides, automatic time trackers that rely on AI learn how users spend their time and what their common daily tasks are. Thus, automatic time trackers become smarter over time and provide users with more accurate time entries.
Partially automated. For instance, these time trackers offer automatic timekeeping only when you're using particular operating systems, such as Mac OS. In this case, employees first need to enable an automatic tracker. Then, a time tracker will record any active app or browser tab as time entries.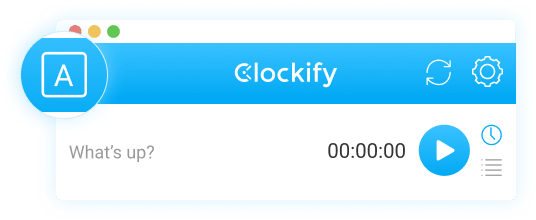 Who can use an automatic time tracker and in what cases?
Teams and individuals who often switch between clients and projects. For example, consultants usually deal with several clients for one day. Some of their activities last only 15 minutes (a quick call with a client), but are as important as those one-hour-long tasks. Therefore, it's vital that employees log each assignment, especially on the days when they're constantly switching gears. Taking advantage of an automatic time tracker means that these workers can focus on what's crucial – their work. At the same time, all the tasks will be added as time entries.
Anyone willing to have an in-depth review of the day. Some automatic time trackers, like Clockify, show you a productivity timeline – an overview of your day and how much time you spent on each app. So, this timeline is your own productivity tracker and a terrific way to find out more about your distractions. If you notice that you've been browsing social networks for 20 minutes, this will be your wake-up call. Being aware of such distractions will prevent you from repeating this behavior tomorrow.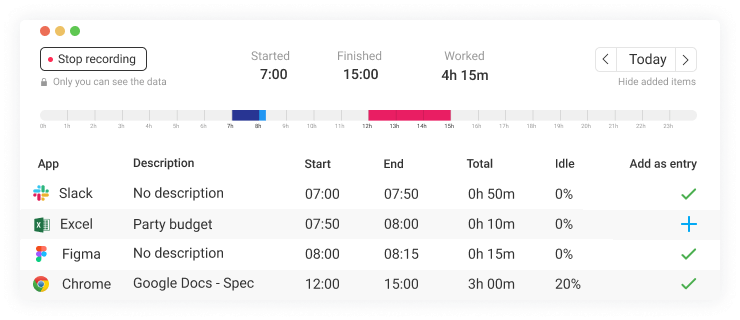 Anyone new to time tracking. Some automatic time trackers offer browser extensions, which are quite useful for time tracking newbies. Here's why: the timer starts once you open a browser window, and it stops when you close your browser. So, you don't have to worry about logging your hours, a time tracker will do that for you.
What do people find useful about an automatic time tracker?
"It's easy for our team to use, and it's great that it's available in the web browser and as a chrome extension so you can automatically start using it."

A quote by one Clockify user
"As the administrator, it requires very little time from me to keep it running and get new team members trained, which is fantastic. Most importantly – it's easy for team members to track their time, and the chrome extension means they don't even have to open a new tab to start/end a tracking session."

Andrew K.
"The service has a Mac tracker, where you can do basically everything, from setting new projects, adding new clients, creating tags for better taxonomy. On the website, I can see the time reports per client, project, etc. The Mac app also detects if I'm not working and asks if it should keep or delete that time. It's perfect for me for freelancing, even on the free tier."

Rodrigo E.
Conclusion
With so many time tracking apps on the market, it's likely that you'll be unsure how each software works. But, one thing's for certain, every time tracking tool has its own, unique purpose. For instance, if you're an employer looking for a way to track employee attendance, consider using a time clock software. Or, if you're a lawyer representing several clients, then opt for timesheet software to log all your billable hours. In the end, tracking time with software is easy and provides you with accurate data, regardless of the type you choose.