Expenses
To use Expenses, you first need to enable that functionality in the Workspace Settings.
Record project-related expenses via web or mobile app, and include them in invoices.
You can also use expenses to record fixed fees (e.g. day rates, retainers, overtime pay, reimbursements, salaries, etc.), and expenses that are unit-based (e.g. hours, mileage, days, materials, etc.)
Expenses is an extra feature, which you can enable by upgrading your workspace to Pro or Enterprise plan.
Adding expenses #
To use Expenses, first go to workspace settings and enable Activate expense tracking in the Expenses section
Click Expenses in the sidebar
Click Add expense
Choose date, project, and category
Enter amount (or unit)
Enter note with more information (optional)
Upload receipt (optional)
Click Save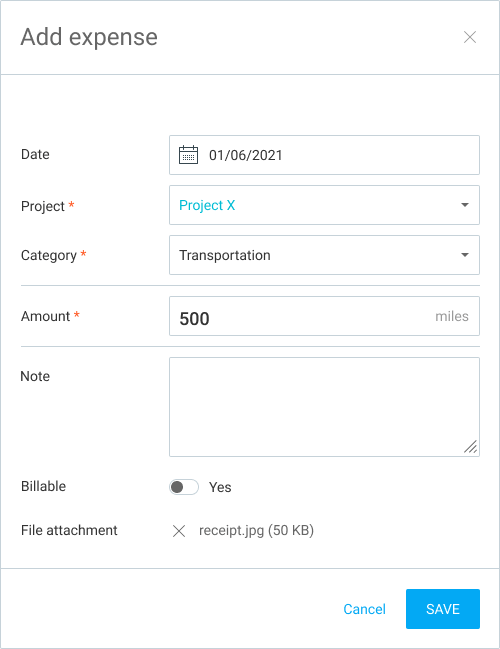 For expenses that have unit, users enter unit (e.g. miles) and the total amount is automatically calculated based on that category's amount per unit.
Note that:
each expense inherits billable status from its project, which you can change on per expense basis
each expense inherits currency assigned to client
you can edit existing expenses or delete them by clicking on the three dots next to the expense
you can view expense's receipts by clicking on the attachment icon
Supported file formats for attachments: .png, .gif, .pdf, .jpg and .jpeg. Max file size: 5MB.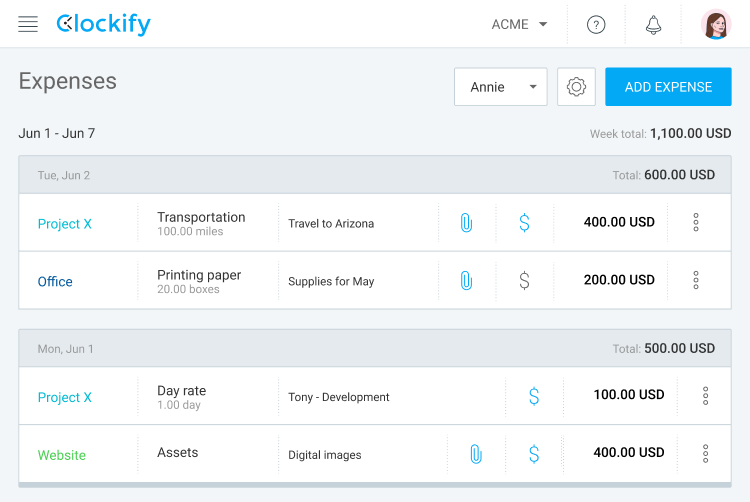 Recording expenses using mobile app #
You can also record expenses via Clockify mobile app (iOS or Android).
Who can add and see expenses #
Each user can see and add their own expenses.
Team Managers can see and add expenses for their team members.
Admins can see and add expenses for everyone.
If you lock timesheets past a certain date, it will also affect expenses, meaning regular users won't be able to edit or add new expenses for past locked dates.
If you're Admin or Team Manager, you can see other people's expenses by clicking on the Teammate picker in the upper right corner, and edit them (if allowed).
Expense categories #
Admins can create new expense categories by:
Click Expenses in the sidebar
Click on the cog wheel icon (Settings)
Click Add category
Enter category name
Click This expense has a unit price if you wish users to enter unit instead of total sum (e.g. miles), name the unit, and enter price per unit
Click Create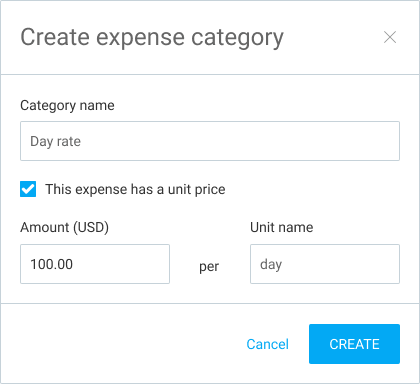 You can update, archive, restore, and delete a category by clicking on the three dots.
When a category is archived, users won't be able to create new expenses for it, but all existing expenses will remain unchanged.
To delete a category, you first need to archive it, and then you can delete it. When a category is deleted, all expenses for it will become uncategorized.
Project status #
If your project has a budget, you can enable Budget includes billable expenses in the Settings.
Once enabled, project budget will include both billable time and billable expenses as part of their progress bar (and alerts).
Expense report #
To see all tracked expenses, open Expense report either from the sidebar, or by going to any Report and clicking on Time report, and selecting Expense report.
You can get the report for any date range you need by choosing the range in the upper left corner and choosing a predefined range or selecting a custom one.
You can filter the report by the following criteria: billable (billable, non-billable), approval (approved, unapproved) and invoicing (invoiced).
You can sort expenses by clicking on the column header in the table.
Expenses that are invoiced are marked as invoiced. Hover over the invoiced tag to see which invoice picked them up.
You can manually mark expenses as invoiced by selecting them via bulk edit and then choosing Mark as invoiced. To mark as uninvoiced, select only the invoiced expenses.
You can export all the expenses to PDF, CSV and Excel by clicking Export.
To edit or delete an expense, click on the three dots next to the expense.
Admins can see and edit all expenses
Managers can see all expenses for their team members or projects, and edit them if enabled Who can edit time and expenses for others in workspace settings
Regular users can see and edit only their own expenses (unless they are locked)

You can also customize a PDF, Excel or CSV export of the expense report in the Detailed expense report page.
Go to report
Click Export
Choose Customize
Choose which information you'd like to get
Save
Each report you export in PDF, Excel or CSV will contain the selected data.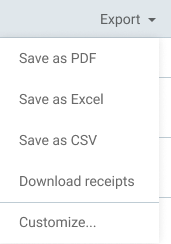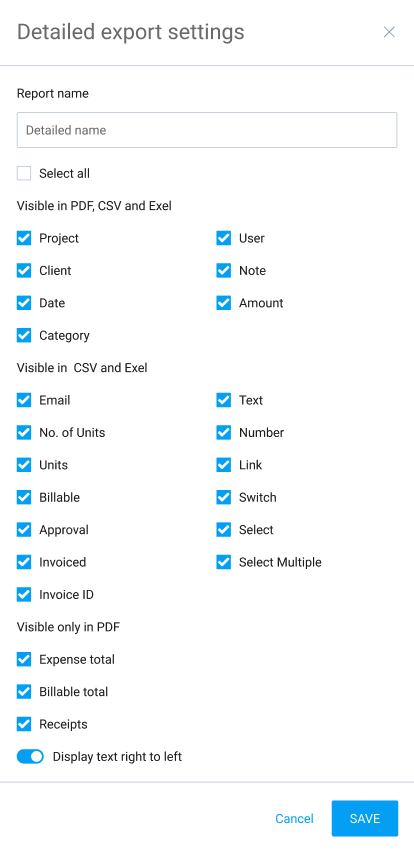 This feature is available on Pro and Enterprise subscription plans.
Approving expenses #
Added expenses appear in the Expenses page.
For expenses to be approved, an Admin or a Team Manager need to perform this action on the Approvals page. Prior to approving, expenses need to be submitted first.
To submit expenses for approval:
Click the Submit button above the Expense label you have created
Submit for approval confirmation modal appears with the specified timeframe and the expenses
Click SUBMIT
The Pending approval tag will be displayed above the submitted Expense that has not been approved yet.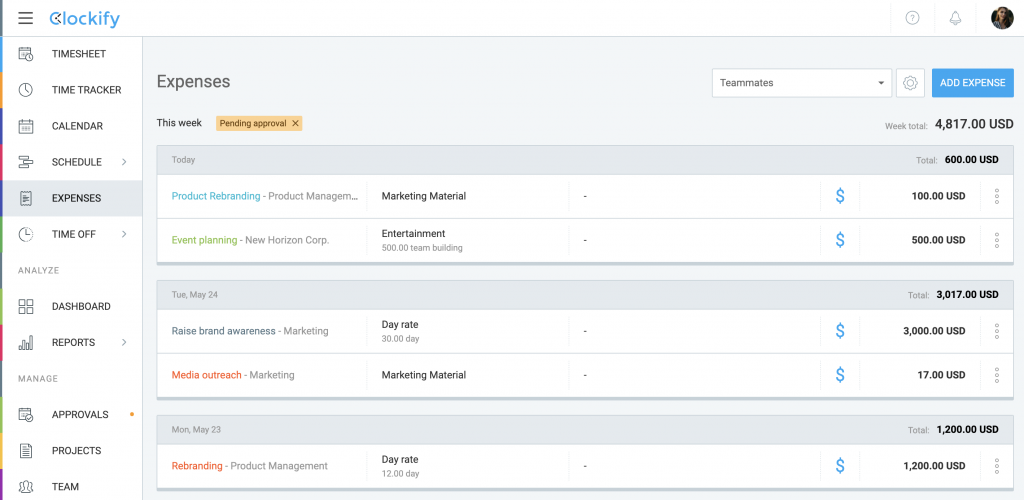 If you hover over the Pending approval tag, you'll see the name of the user who submitted the Expenses. By clicking on the X, you can withdraw the approval. If you do that, an Admin won't be able to approve time and expenses unless you send it again.
Admins and can edit pending expense approvals. Team managers can also perform this action for their team members.
Expenses can also be submitted for approval from the Timesheet and Time tracker.
Invoicing expenses #
Open an invoice
Click Import time and expenses
Select date and projects
Enable Include billable expenses
Choose how you wish expenses to be displayed (display each expense as a new line item, or group them by project, user, or category)
Click import
Only billable uninvoiced expenses are imported into invoice.
If an expense has unit, unit column will take the unit from the expense and the price column will take price from the category. Expenses that don't have a unit will be displayed as one unit.
Imported time will be displayed as Service item type, and expenses as Product item type. You can customize name of item types in invoice settings, as well as hide the item type column from PDF.
Each imported expense will be marked as invoiced so you don't accidentally invoice same expense twice. If you remove a line item that contains imported expenses (or delete the whole invoice), those expenses will be marked as uninvoiced.
You can always mark an expense as invoiced or uninvoiced manually in the Detailed Expense Report by selecting them via bulk edit.